My Greek orzo salad with grilled zucchini and oregano vinaigrette is a light and vibrant dinner option. This orzo salad is both filling and delicious. The best of the summer produce in one colourful bowl.
If you like this Greek Orzo Salad, check out my Coronation Chicken Salad.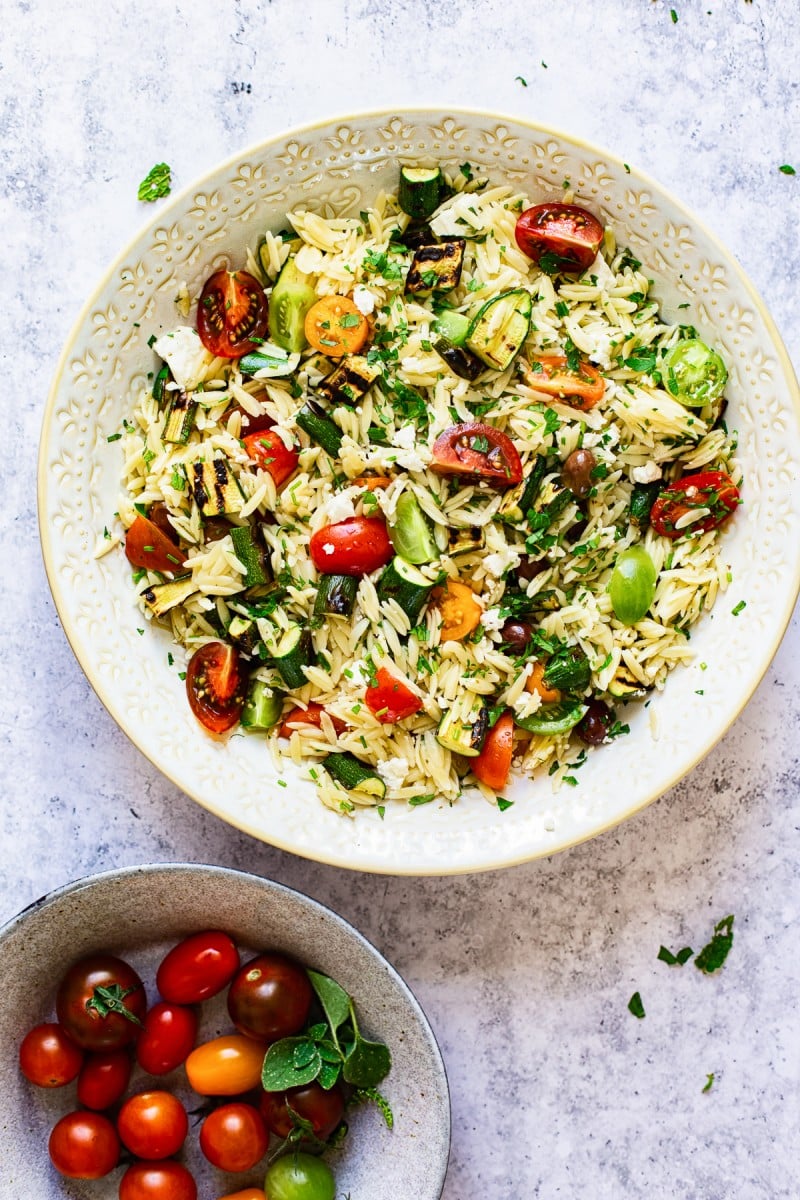 Greek salad flavours are an absolute classic and we crave them constantly in hot summer months. Of course, fresh summer vegetables in their peak make all the difference!
In creating this Greek orzo salad I wanted to capture the freshness and flavour of the summer while making my salad a bit more substantial.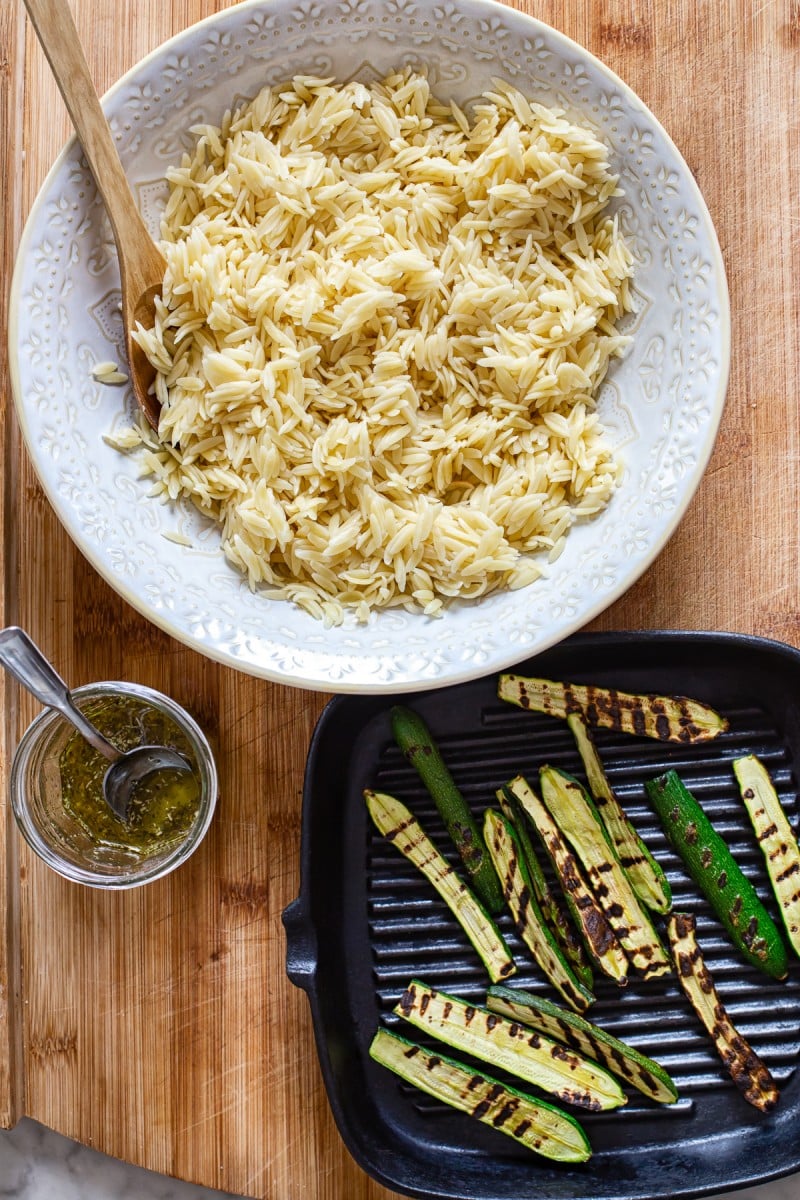 What ingredients are in Greek salad?
Greek salad has the most common vegetables that are used in every home. The taste of this salad heavily relies on the ripeness of the ingredients. So if you grow your own or got them from a farmer's market, you are in for a treat.
tomatoes
cucumbers
onions
kalamata olives
feta cheese
What is Greek salad dressing made of?
Good quality olive oil, oregano, salt and pepper and a dash of white wine vinegar or fresh lemon juice. I also added crushed garlic clove to mine.
How do I make my salad more filling?
I turn to grains and pasta when I want to turn my salad into the main meal. They provide fibre, which gives that feeling of being satisfied at the end of a good meal.
There are so many grains to choose from that will alter the taste, texture and offer various nutritional benefits.
Some of my favourite grains salads are:
Herby Farro Salad with Olives, Cherry Tomatoes and Zucchini Ribbons and Summer Goodness Millet Salad. If you are not familiar with farro or millet, you should change that as they are delicious and so good for you!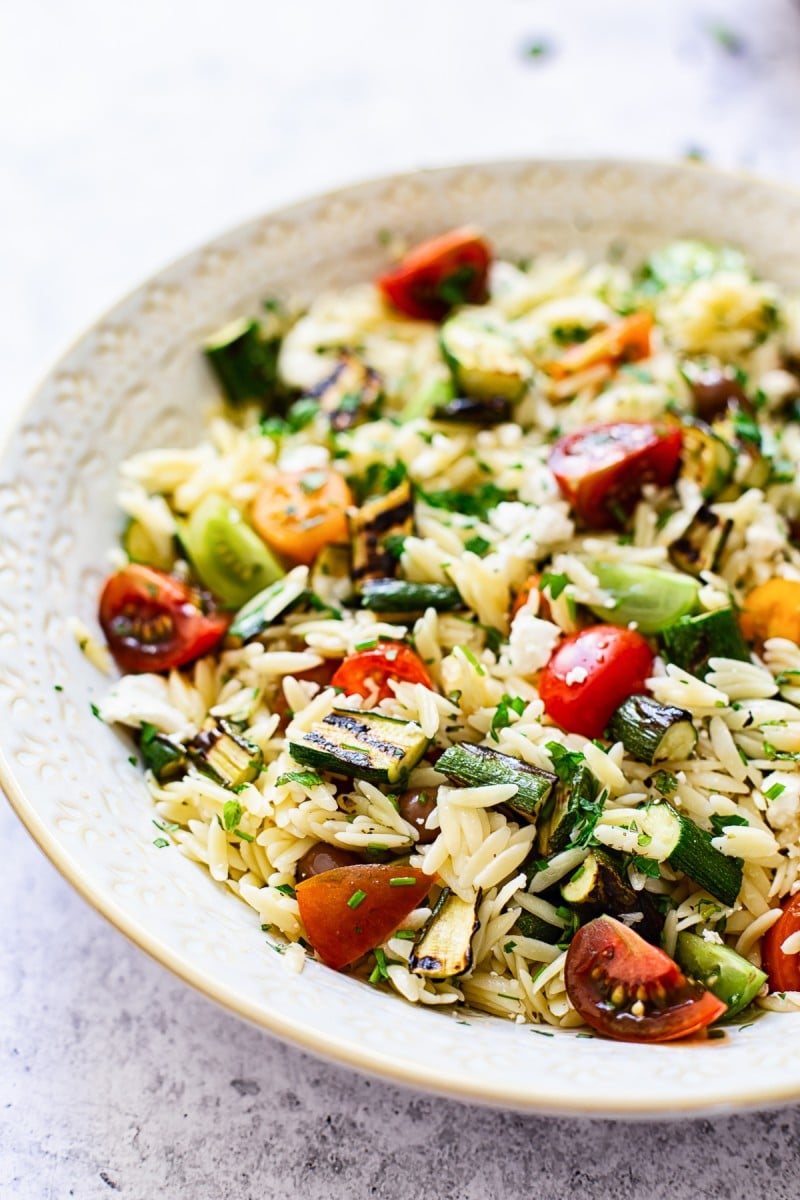 How do I make a pasta salad?
Pasta salads have a special place in my heart. I am sure that will come as no surprise. Pasta is the best vehicle for any flavour. Just choose a dressing and vegetables to change things up.
Orzo pasta is special. It is a type of pasta that is named after a grain. "Orzo" in Italian means "barley". It is ideal for soups and salads because of its shape. It's also amazing in one pan dinners like my Lemon Chicken Orzo or Orzo Pasta with Roasted Butternut Squash.
Or lean into Greek flavours with Greek Chicken and Orzo.
I've mentioned earlier that pastas are perfect to be a flavour carrier but it could also be quite plain if not seasoned sufficiently.
Adding flavour
Make a flavourful vinaigrette for a dressing incorporating herbs.
Dress the orzo with the vinaigrette while still hot. Many people wait for pasta to cool before they mix it with the dressing but pastas take on flavours much better if they are added while still hot.
Use good quality feta cheese with your orzo salad. It will give that burst of saltiness and flavour!
Use cherry tomatoes or good quality farmer's market/homegrown tomatoes. Tomatoes are responsible for much taste in a Greek salad.
Experiment with different herbs. I've used chopped mint for extra freshness and chives instead of an onion. You will have better breath 😉 and explore different flavour combination.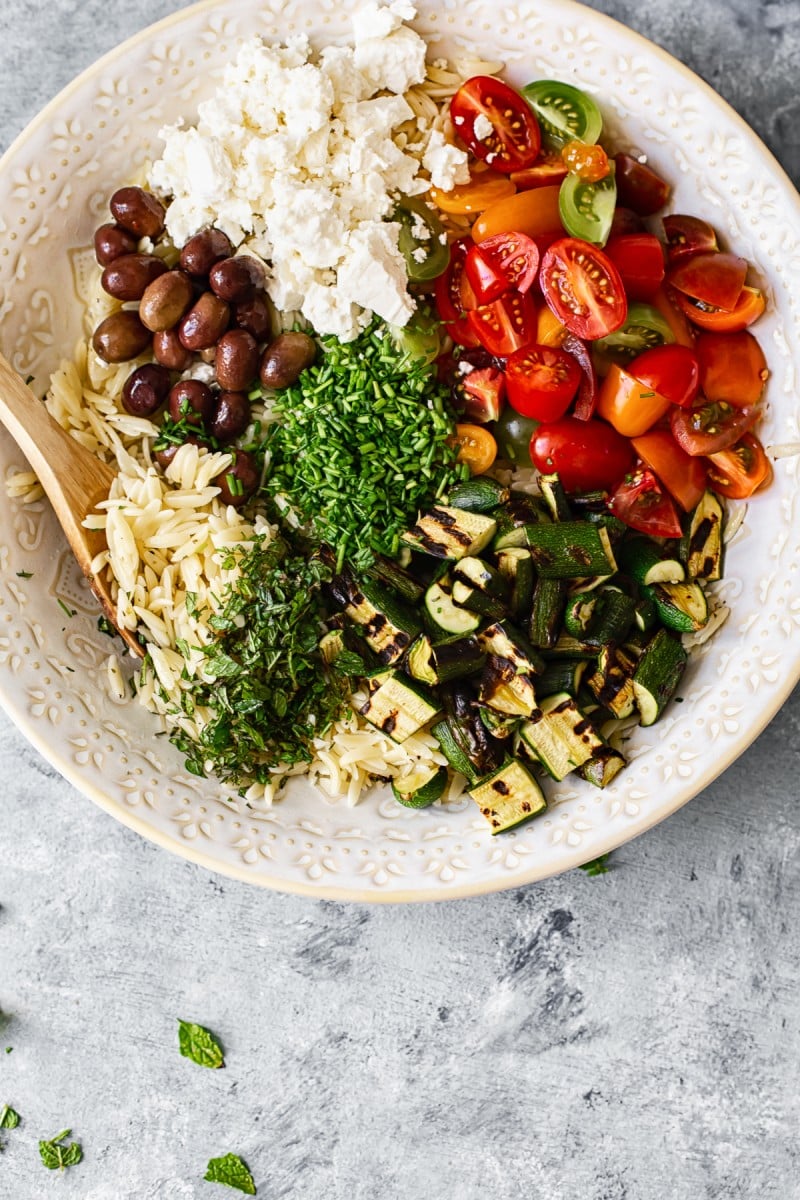 Storage and leftovers
This salad will last up to 3-5 days in the fridge. I extended the freshness of this Greek salad by replacing cucumbers, that only last a day, with grilled zucchini.
This little swap plus orzo pasta turned a simple village salad into a legit dinner option and the most enviable picnic or barbecue side dish!
More pasta salads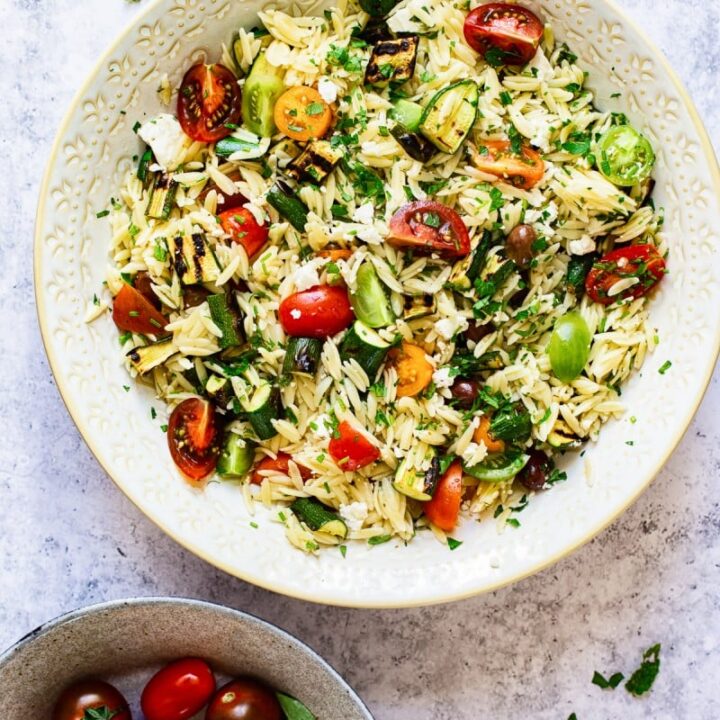 Greek Orzo Salad with Grilled Zucchini
This Greek orzo salad is a fun spin on the traditional Greek salad with the addition of orzo pasta and grilled zucchini. Use the best of the summer produce for maximum taste!
Ingredients
For the dressing
1

tbsp

white wine vinegar

3

tbsp

olive oil

extra virgin

½

tsp

dried oregano

1

clove

garlic

small, crushed

salt and pepper

to taste
For the Greek Orzo Salad
½

lbs

orzo

1

zucchini

small or use 6-8 baby zucchini

100g/1 cup

cherry tomatoes

mixed colours if possible

100g/1/3c

feta cheese

crumbled

3

tbsp

chives

2

tbsp

fresh mint

chopped

4 tbsp/1/4cup

kalamata olives

salt

to taste
Instructions
For the dressing
In a mason jar combine all ingredients, put a lid on and shake to combine.
For the Greek Orzo Salad
Cook the orzo in a pot of boiling and salted water according to package instructions.

While the orzo is cooking, cut the baby zucchini in half and grill for 3 minutes on each side. (If using a regular size zucchini, cut it in 1 inch thick slices.

Drain the orzo and dress with the vinaigrette while hot, set aside to cool.

When the orzo is at room temperature add sliced grilled zucchini, halved cherry tomatoes, crumbled feta cheese, sliced chives, chopped mint and olives. Gently toss the ingredients to combine, taste and add more salt if needed.

Cool in the fridge for 30 minutes to allow the flavours to meld. Serve as a side dish or a vegetarian main.
Nutrition
Calories:
314
kcal
Carbohydrates:
44
g
Protein:
8
g
Fat:
11
g
Saturated Fat:
1
g
Sodium:
8
mg
Potassium:
254
mg
Fiber:
2
g
Sugar:
2
g
Vitamin A:
230
IU
Vitamin C:
10.6
mg
Calcium:
20
mg
Iron:
1
mg