This fresh and nutritious tuna salad recipe is for those of you who won't go near the standard mayonnaise-laden potluck fare. It's a tuna salad made the Italian way!
For a hot tuna option, try this fantastic Tuna Noodle Casserole!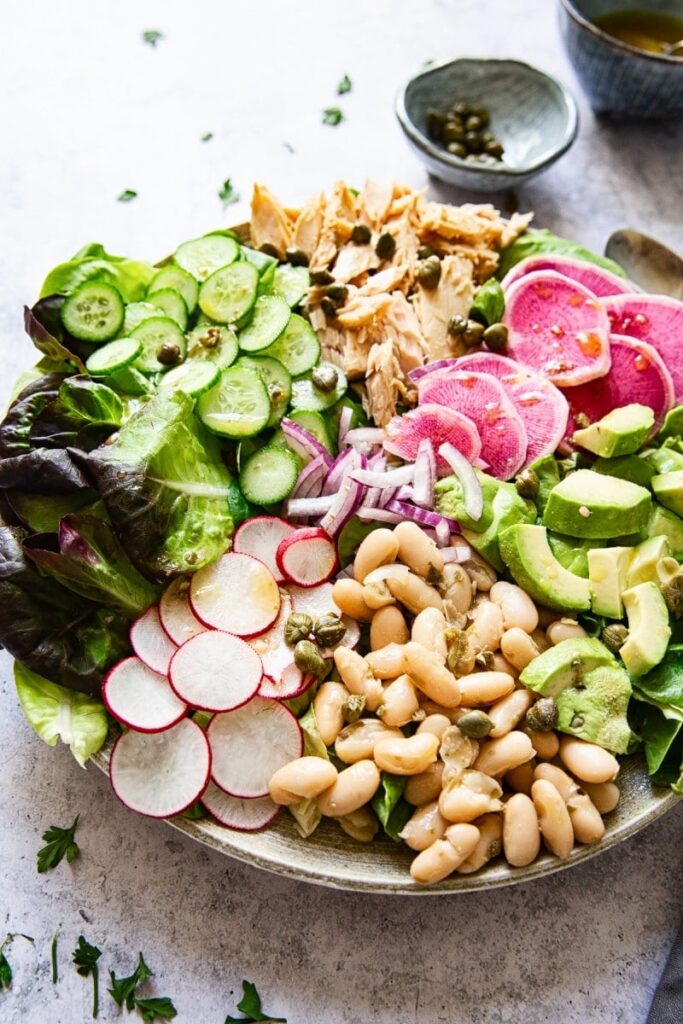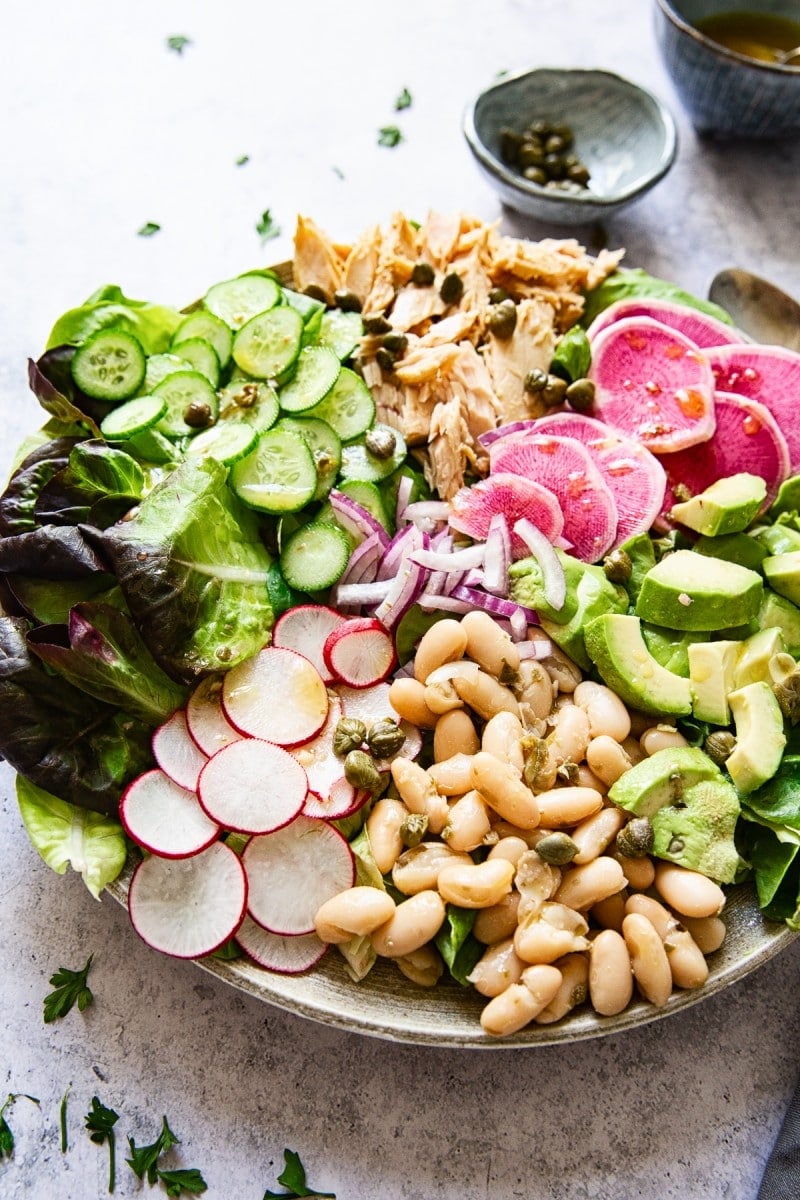 I've been itching to share this recipe for my tuna salad for ages but was afraid that the name itself would put people off. It's no surprise what images emerge in our minds as soon as we hear the words 'tuna salad'.
For the most part, I'm a big fan of mayonnaise in salads. It's what I grew up with and I still make them often. But this tuna salad is made so much better by skipping the mayonnaise and adding a zesty vinaigrette!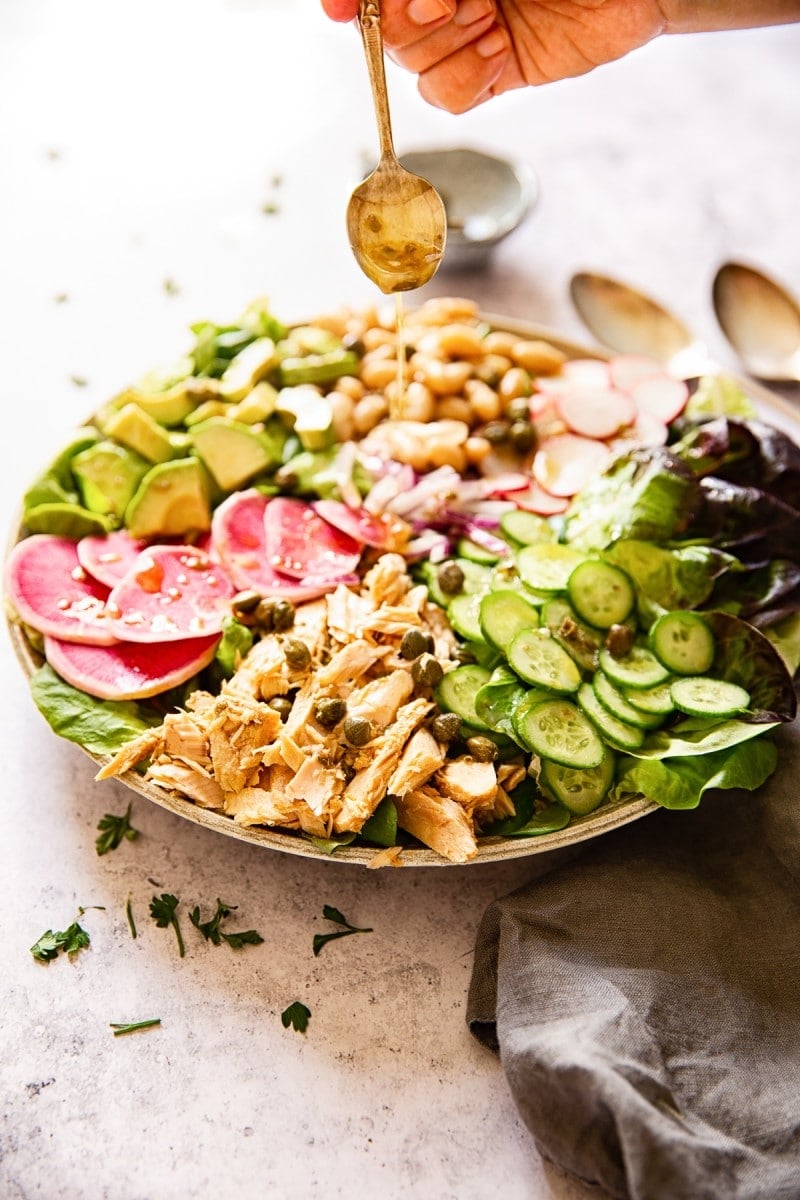 Salad with tuna
Classic tuna salads follow a familiar formula. Usually you can expect canned tuna, celery, pickles and mayonnaise. There is nothing bad about this, it's just predictable and a bit boring.
Then there is this question that often pops up. How good is it for you?
Tuna itself is an excellent source of protein but mayonnaise can pack loads of calories. It can turn a the salad from "good for you" to "proceed with caution". So replacing the fattening mayo with a zesty vinaigrette only made sense!
The French seems to agree, just look at the timeless classic, that is Salad Nicoise. A gorgeous salad consisting of lettuce, green beans, potatoes, eggs, various vegetables and canned tuna dressed with a delicious vinaigrette.
Or take a look at another tuna based salad I once ate in Italy and decided to recreate at home. The Italians prefer their tuna served over salad greens, fresh mozzarella chunks, juice tomatoes and corn with a simple balsamic dressing.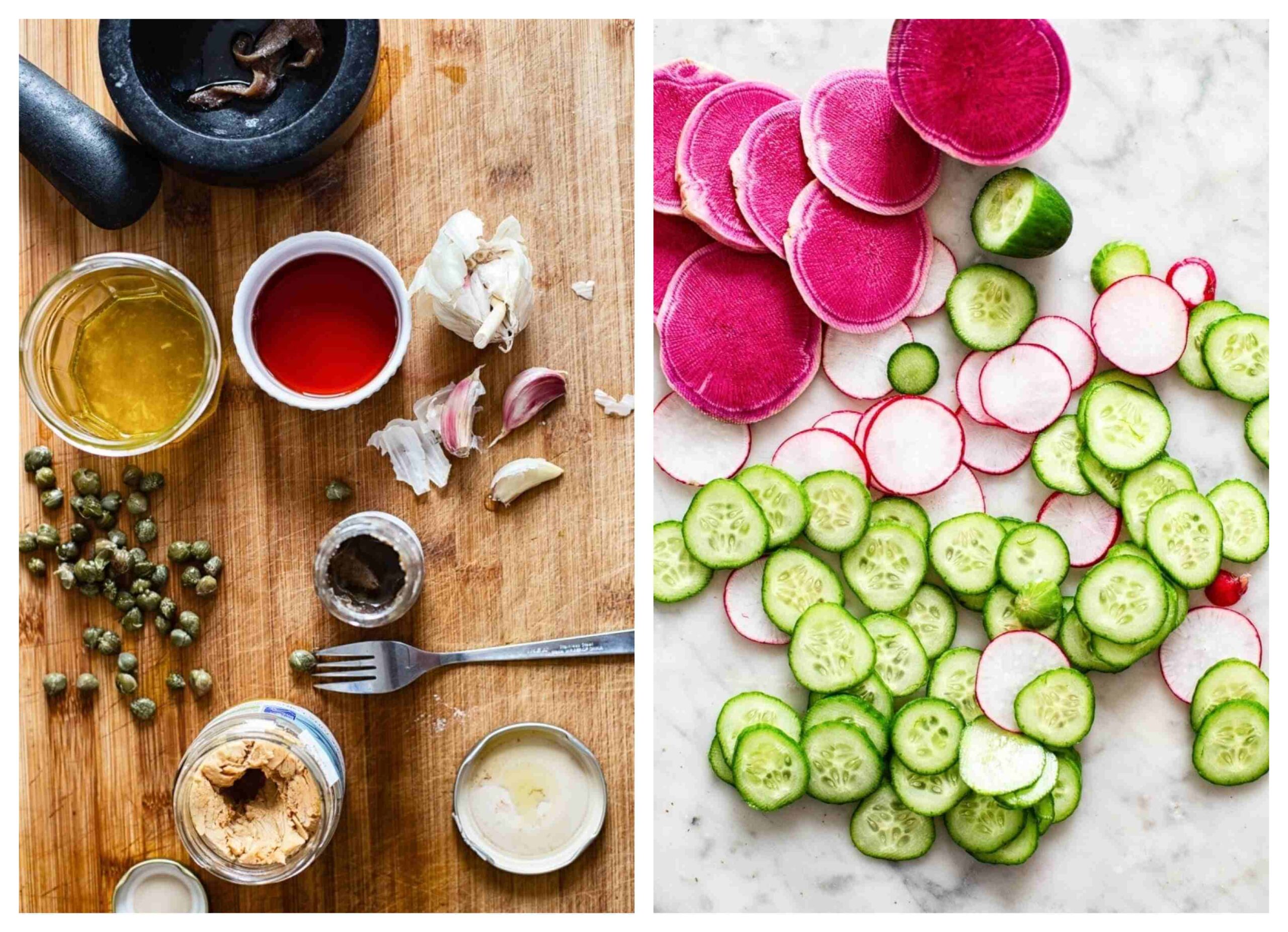 Mayo free dressing recipe
To create a stellar dressing for my healthy tuna salad recipe I once again turned to Italians. I've seen a tuna and white bean salad dressed with a simple oil and vinegar dressing in Italy and I decided to start there.
My vinaigrette is a mix of anchovies, garlic, capers, red wine vinegar and extra virgin olive oil. I used the same olive oil my tuna was packed in for more flavour.
Next I turned to crunchy, vibrant seasonal vegetables. What is a salad without vegetables, right?
This summer I've re-discovered radishes. If you look through my recent salads you will see them pop up quite frequently! There are so many varieties that all bring subtle differences in taste.
My latest find is the watermelon radish. It's that giant hot pink radish at the top of the photo. How stunning is it! Its sharp taste and an incredible crunch add so much character to my healthy tuna salad.
Are you still with me?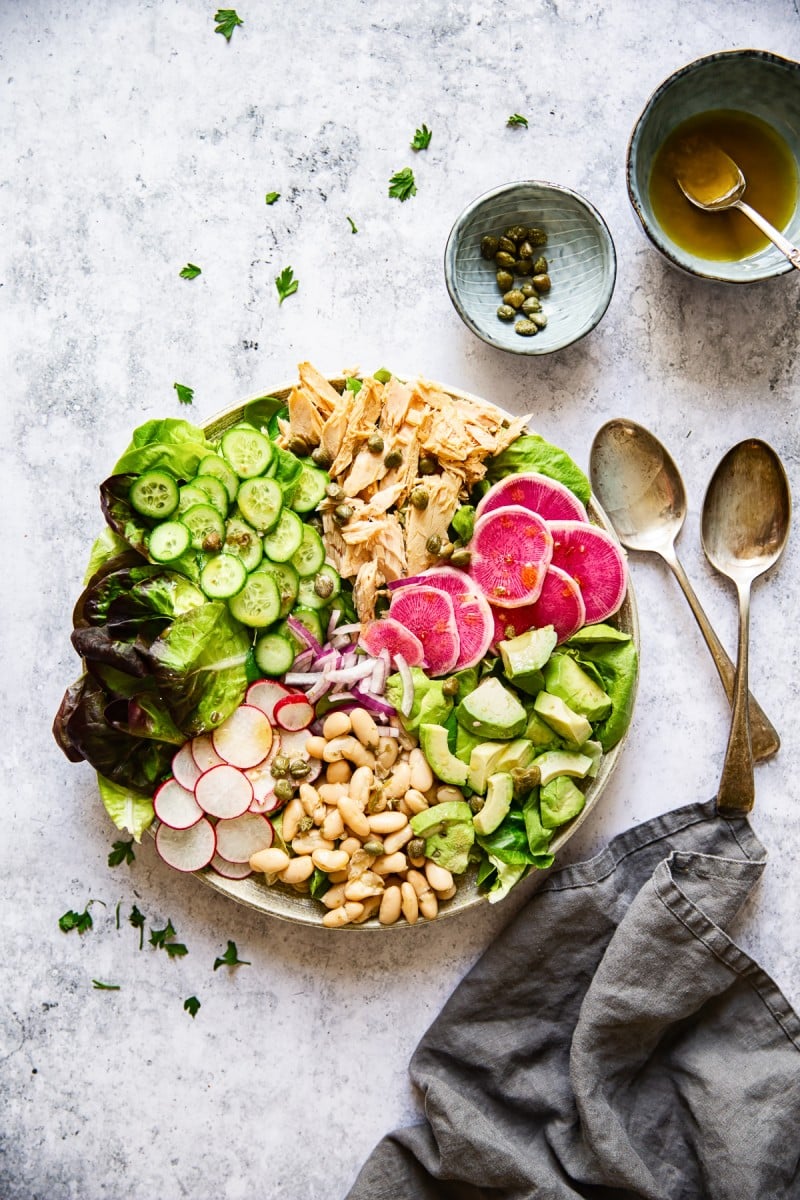 Ingredient Options
The variations are limitless but, since I was inspired by the Italians, I went with cannellini beans, sliced red onions and capers served on lettuce leaves.
Then I looked at my tuna salad again and added avocado because avocado is life. Okay, drama aside avocado adds the creaminess we lost from replacing mayonnaise with a vinaigrette.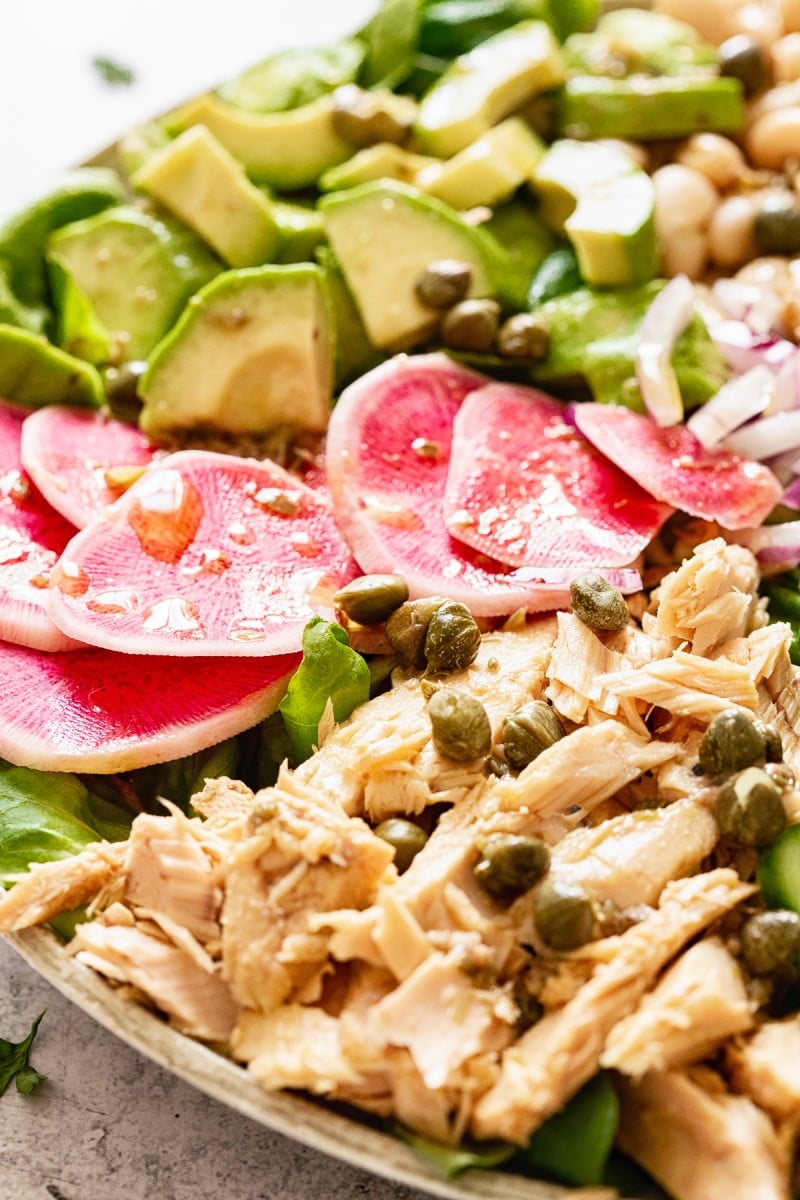 Best tuna for salad
My only piece of advice is to use the best canned or jarred tuna you can afford because it truly impacts the taste. I like to use albacore tuna packed in extra virgin olive oil.
This way you get both tuna and the olive oil for your salad and it's so delicious!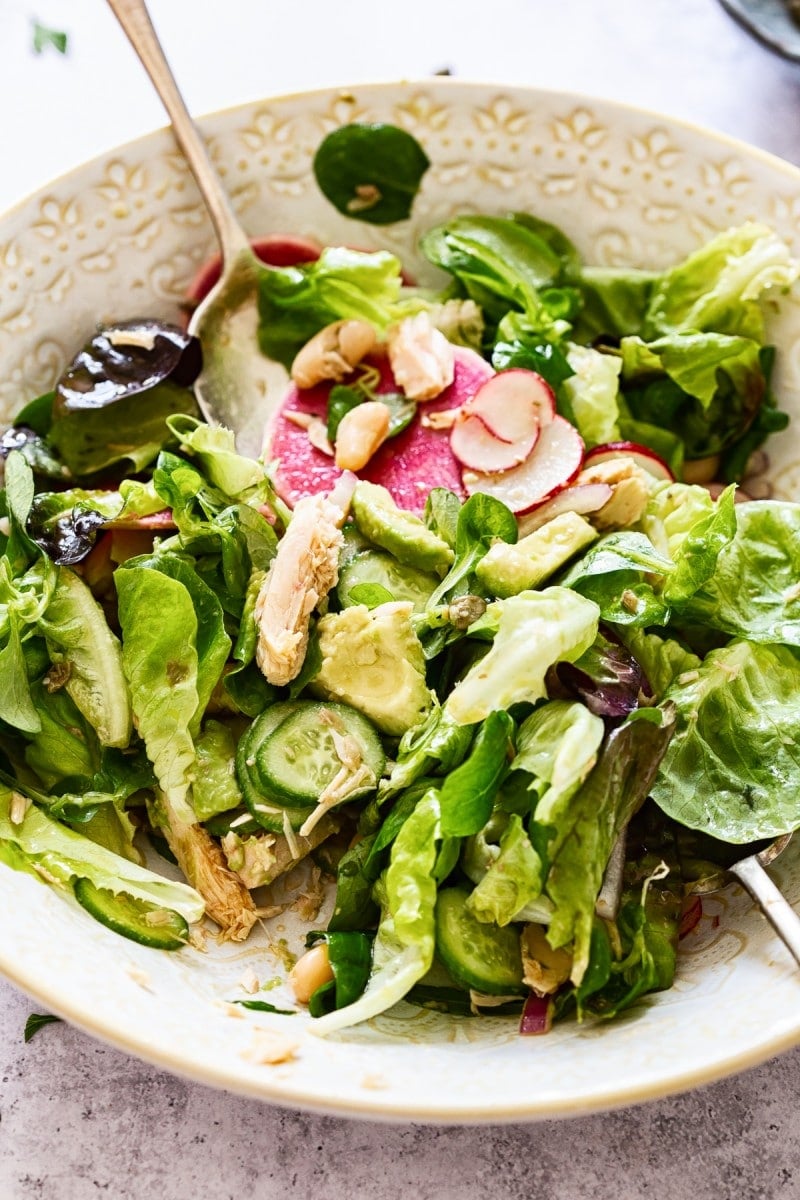 More salad recipes to try:
We have lots more tasty and nutritious Mediterranean salads for you to try: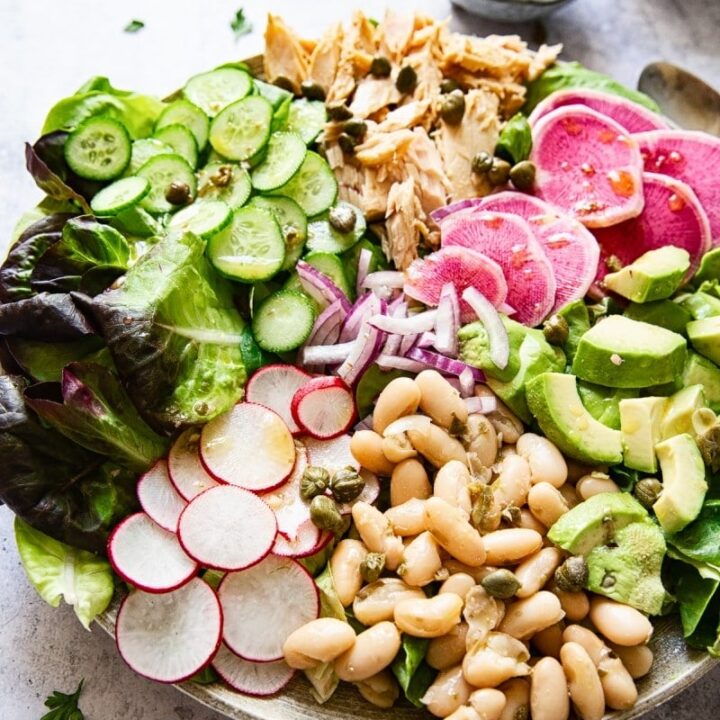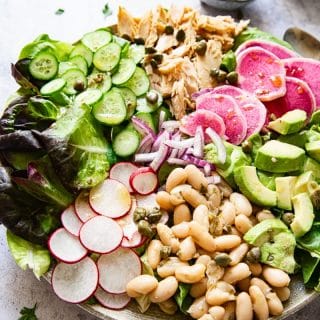 Healthy Tuna Salad Recipe (Italian Style)
This healthy tuna salad recipe is made the Italian way! It's flavoured with a zesty vinaigrette, crunchy vegetables and cannelini beans!
Ingredients
For the vinaigrette
2

anchovies

1

clove

garlic

small

1

tbsp

capers

¼

tsp

coarse salt

4

tbsp

olive oil

1

tbsp

red wine vinegar
For the tuna salad
100g/1 cup

canned tuna

150g/1cup

canned cannelini beans

¼

red onion

sliced

4-5

radishes

sliced thinly

½

watermelon radish

peeled and sliced thinly

4

Kirby cucumbers

sliced

1

avocado

sliced

2

tbsp

capers

120g/2cups

lettuce leaves
Instructions
For the vinaigrette
Roughly chop the anchovies, capers and mince garlic, then add them to a mortar with a pinch of coarse salt and turn them into a paste. Alternatively you can use a blender.

In a mason jar combine extra virgin olive oil, red wine vinegar and the anchovy, caper, garlic paste with a whisk or a fork.
For the tuna salad
In a large salad bowl combine all ingredients and drizzle with the vinaigrette. Alternatively you can arrange ingredients on top of lettuce leaves, then drizzle with vinaigrette and let your guests help themselves.
Nutrition
Calories:
307
kcal
Carbohydrates:
18
g
Protein:
11
g
Fat:
22
g
Saturated Fat:
3
g
Cholesterol:
12
mg
Sodium:
442
mg
Potassium:
725
mg
Fiber:
7
g
Sugar:
3
g
Vitamin A:
2390
IU
Vitamin C:
17
mg
Calcium:
75
mg
Iron:
2
mg