This authentic Italian Salad with ripe tomatoes, tuna, corn and fresh mozzarella on a bed of greens, drizzled with a mix of olive oil and balsamic vinegar is refreshing, light yet satisfying!
If you are a fan of Italian flavours in your salads, check out my Tuscan Panzanella Salad.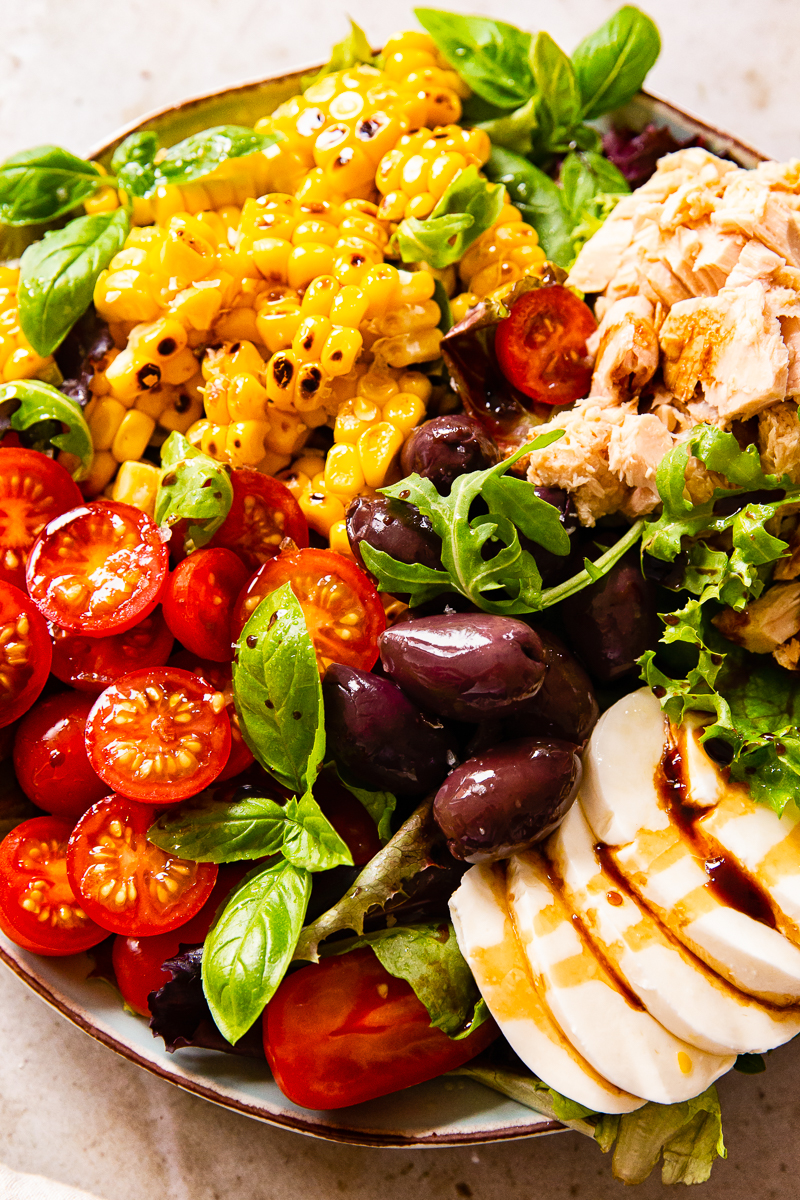 This incredible corn and tuna salad with balsamic dressing comes from Italy. It's not Italian inspired, it's the real deal. This is how the story goes.
We were in Bologna, on the last leg of our journey. As soon as we dropped our suitcases off at the hotel, we went on a hunt for our last Italian lunch…and all I wanted was a salad. Pasta and pizza are great but I NEEDED my leafy greens.
-Insalata? – I inquired as soon as we walked into a small cafe and a tall, slim and gorgeous Italian waitress answered, -Si.
-What kind?- I asked in English because I can only fake speaking Italian for so long.
Next she listed all the ingredients in perfect English and showed us to a tiny and cozy table outside.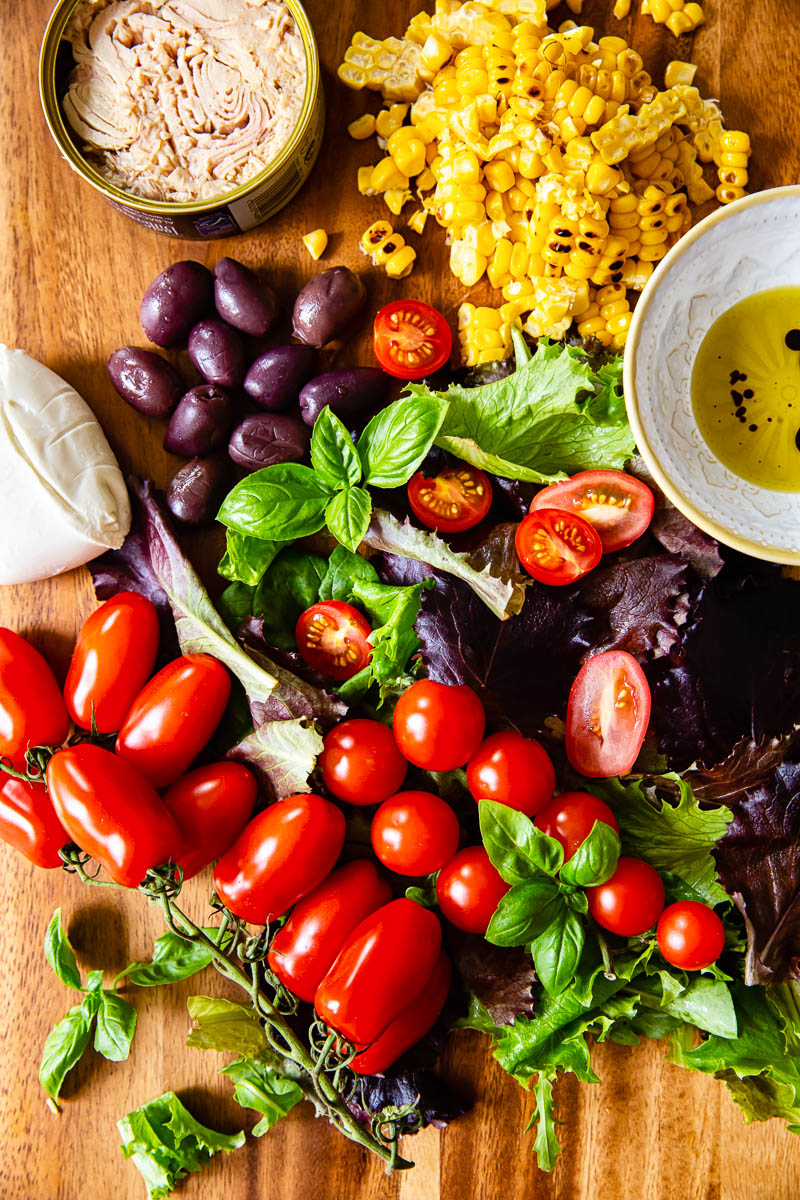 Italian Salad Ingredient List
I will never stop being amazed at how a few simple ingredients produce outstanding results when put together by Italians. How do they manage that? EVERY SINGLE TIME!
As you've guessed by now the recipe for this tuna and corn salad is quite simple. Salad greens tossed with cherry tomatoes, olives and extra virgin olive oil, topped with tuna, corn and fresh mozzarella.
Then slightly drizzled with extra virgin olive oil and balsamic vinegar. That's it. It takes 5 minutes to make. The memory of the gorgeous taste is still fresh in my mind.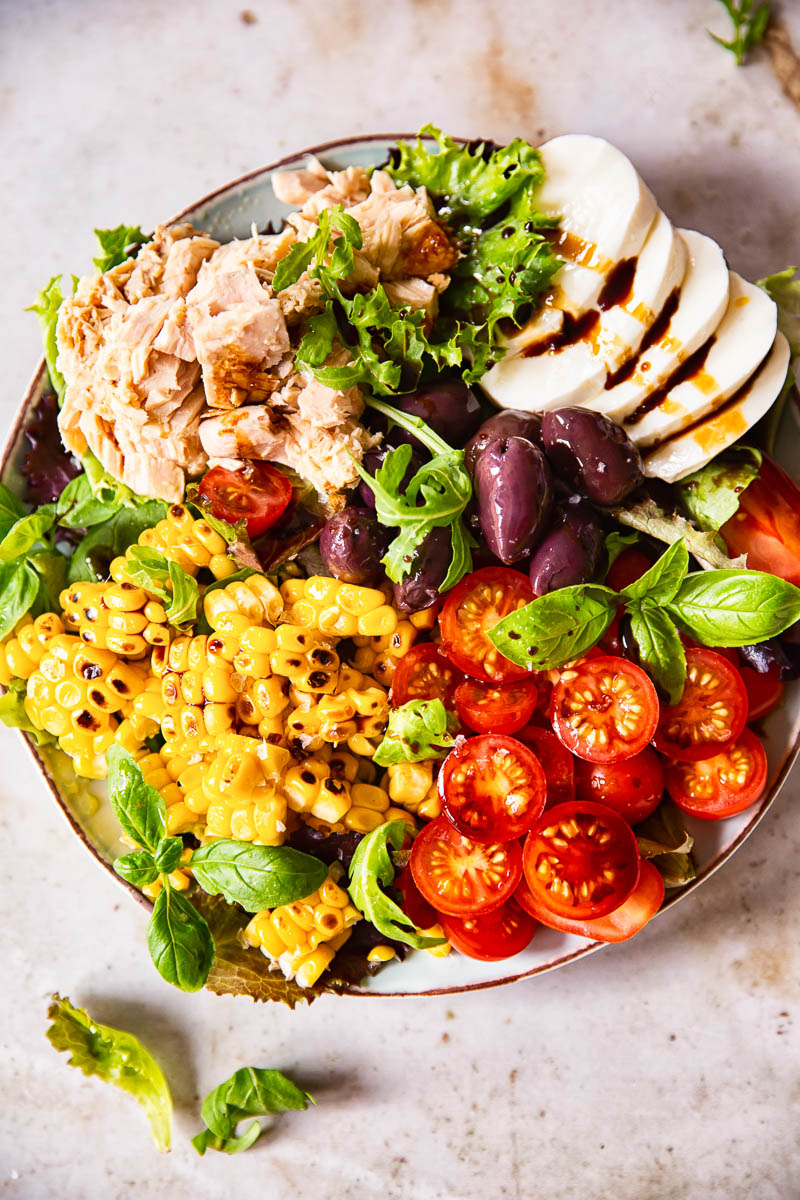 It must be in the air or in their soil because the quality ingredients are a must for this gorgeous tuna and corn salad. I've used a mix of baby lettuce and arugula with cherry tomatoes.
The only liberty I took with this authentic Italian salad is replacing canned corn with fresh corn on the cob that's been charred on a grill. I also used canned albacore tuna steaks in hopes it will taste closer to what I had in Bologna.
The verdict is you CAN reproduce the same taste at home, but unfortunately for the scenery you have to fly to Bologna!
Italian Salad Dressing
I absolutely adore how Italians do not over complicate their salad dressings. In fact it's rare for them to use anything other than
High Quality Extra Virgin Olive Oil
High Quality Wine Vinegar or Balsamic Vinegar
Salt
No herbs, spices or garlic are added to authentic Italian dressing recipes. Creamy salad dressings do not exist in Italy either.
Simply beautiful greens and vegetables dressed in premium flavours of olive oil and vinegar.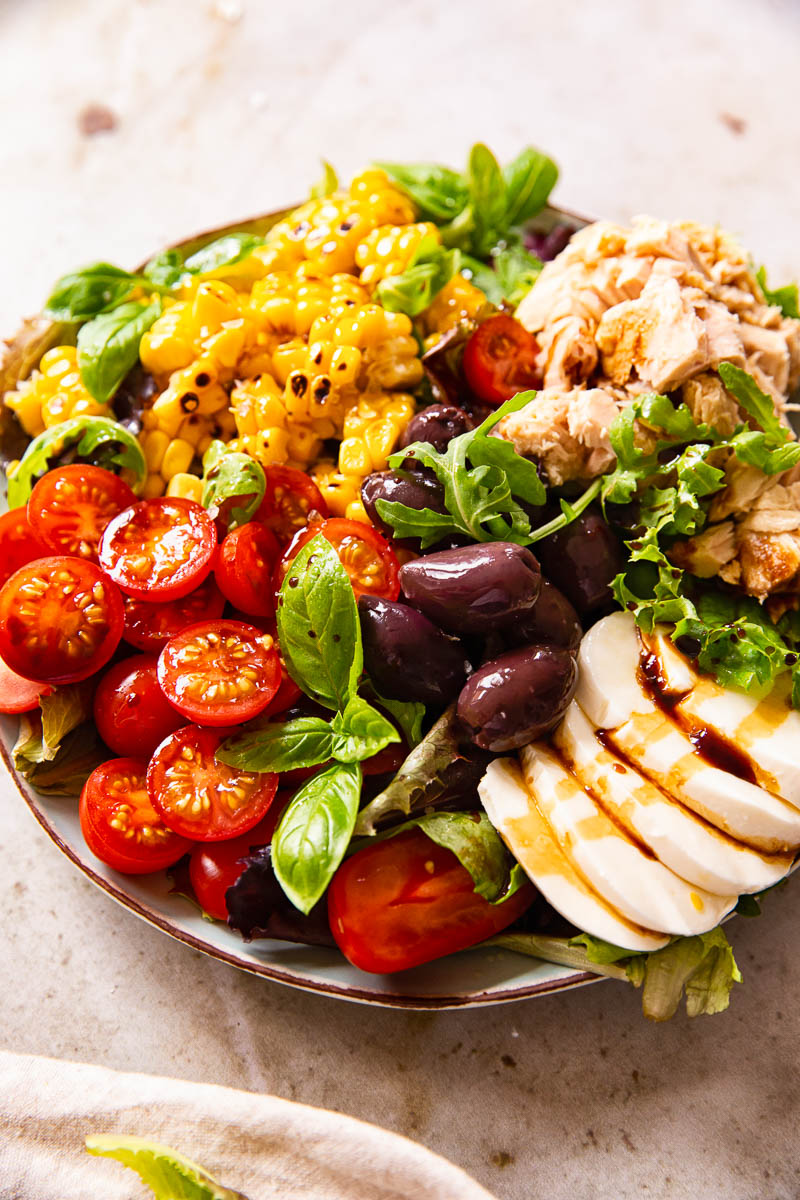 More authentic Italian recipes inspired by our travels:
Originally published in 06/2014, updated with new text and photos in 06/2019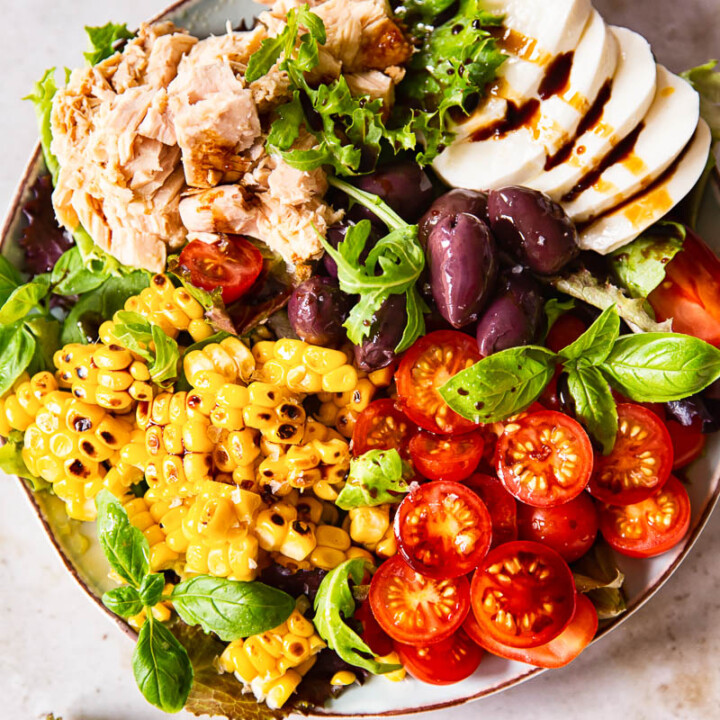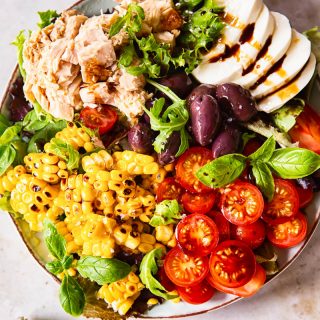 Italian Tuna and Corn Salad
Italian Salad recipe with tuna, corn, mozzarella and balsamic dressing.
Ingredients
120g/3

cups

salad greens

150g/1

cup

cherry tomatoes

halved

90g/1/2

cup

olives

any kind you like

2

ears

corn, boiled or grilled and cut off the cob

150g/1/2

cup

canned Albacore tuna

drained and broken into chunks

125g/4oz

fresh mozzarella

sliced

2

tbsp

extra virgin olive oil

2

tsp

good quality balsamic vinegar

2-3

leaves

fresh basil

optional

salt to taste
Instructions
Cook the corn in a pot of boiled water until done, (approximately 5 minutes after the water has boiled) Alternatively you can grill the corn or use canned corn. Cool the cooked corn, then cut off the kernels off the cob.

In a large bowl toss together salad greens, tomatoes and olives.

Top with corn, tuna and sliced mozzarella.

Drizzle with olive oil, balsamic vinegar and a pinch of salt. Add sliced fresh basil leaves, toss gently and serve.
Nutrition
Calories:
287
kcal
Carbohydrates:
13
g
Protein:
18
g
Fat:
19
g
Saturated Fat:
6
g
Cholesterol:
40
mg
Sodium:
700
mg
Potassium:
339
mg
Fiber:
2
g
Sugar:
4
g
Vitamin A:
940
IU
Vitamin C:
17.7
mg
Calcium:
183
mg
Iron:
1.2
mg