This One Pot Sausage and Broccoli pasta is giving me all the feels! Pasta flavoured with spiced sausage and broccoli, then generously sprinkled with Parmesan cheese and herb and garlic breadcrumbs. You will love it for the savoury flavour and the satisfying feeling you get after the meal!
If you love pasta recipes, check out my basic pasta in cream sauce aka Pasta Alfredo or Sausage Pasta Bake.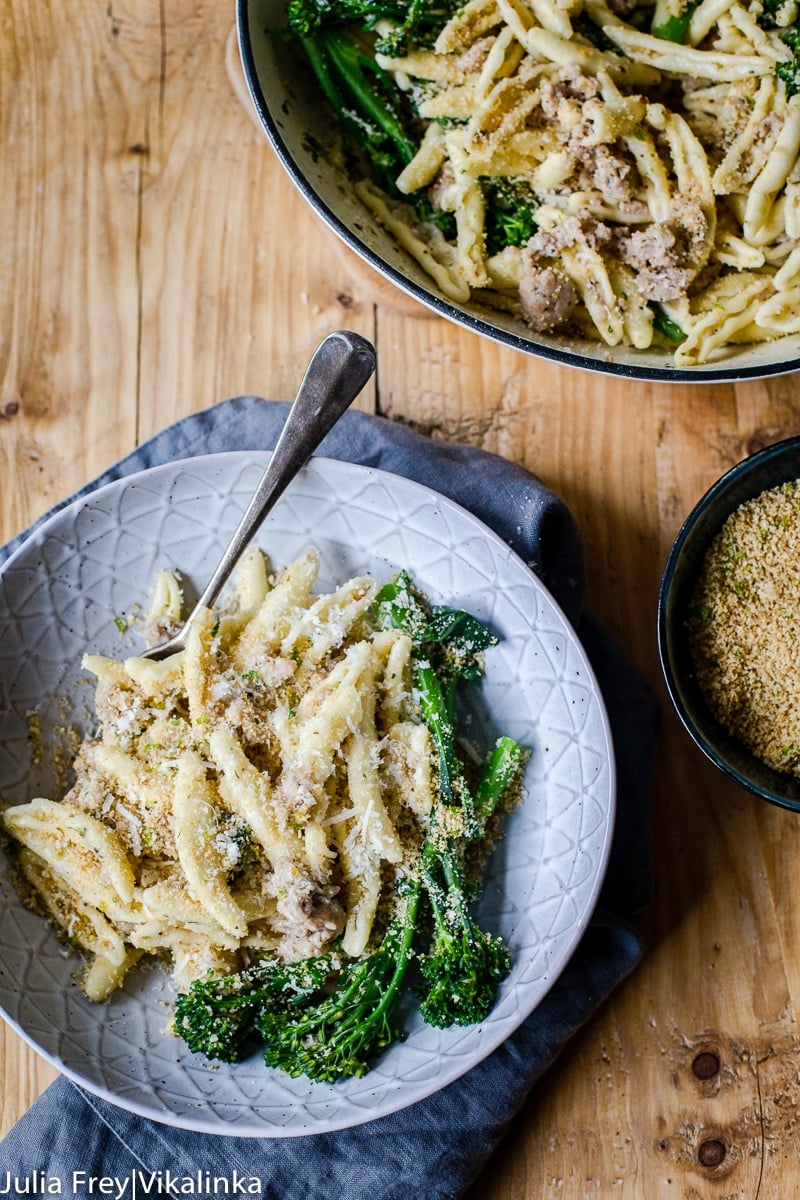 This sausage and broccoli pasta has a cool story. I promise.
A few years ago I was teaching groups of Italian teenagers from Bari. Naturally I asked them what their national dish was and when it comes to Italian food, it's crazy regional, so those groups from Puglia would always reply "pasta with turnip".
Now hold on a sec, are you telling me the food you miss most is turnip pasta? Am I hearing it right? Because even Italians can't pull that off.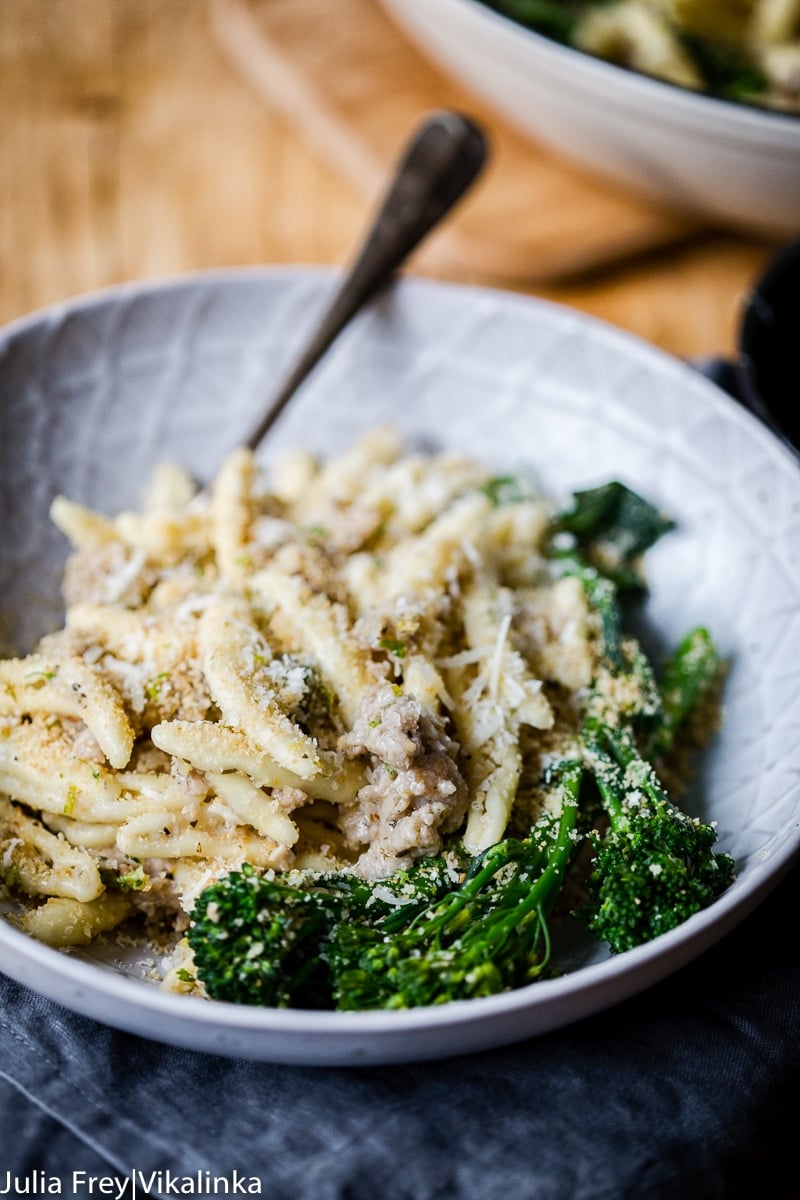 So I kept prodding them for more information until they googled it on their phone and showed me the picture. Orecchiette alle Cime di Rapa aka Orecchiette with Broccoli Raab. Phew… THAT I can understand and get on board with, especially when a lot of pictures looked similar to this one!
As it often happens in cross-cultural situations, the famous and delicious Orecchiette alle Cime di Rapa became the victim of the 'lost in translation" situation as rapa translates into English as turnip!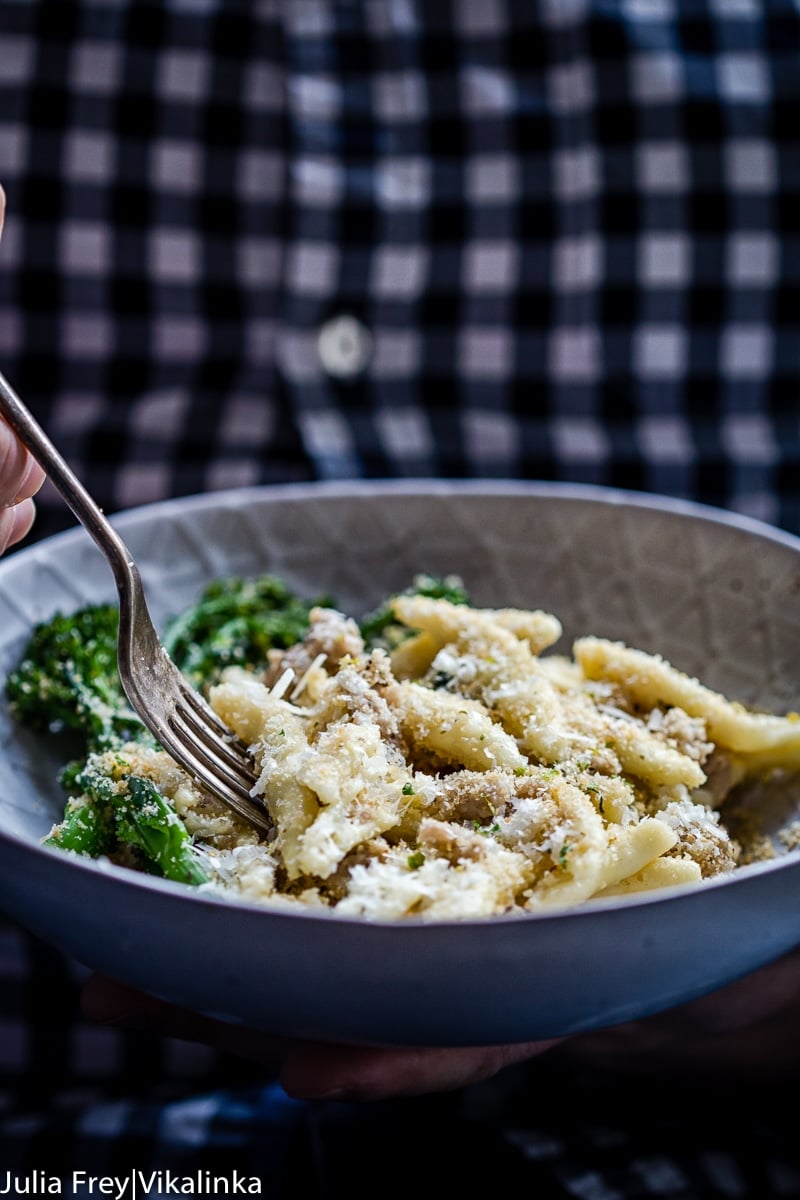 As soon as I learned from my Bari students that the traditional for their region orecchiette (little ears…giggle, giggle) is flavoured with spicy sausage and broccoli raab and piles of freshly grated parmesan, I became downright obsessed with this "pasta with turnip".
I searched for broccoli raab aka rapini far and wide with no luck. I turned to my Italian friend and she informed me it was difficult to find this interesting green in London but she uses tenderstem broccoli aka broccolini in its place.
The same situation with orecchiette although slightly less dire. It is possible to find it in specialty Italian shops but not really sold in supermarkets.
A few months later she came back from visiting Italy from holiday with a package of Capunti pasta from Puglia for me. Not exactly orecchiette but made in Puglia and this pasta shape has the same thickness and chewiness.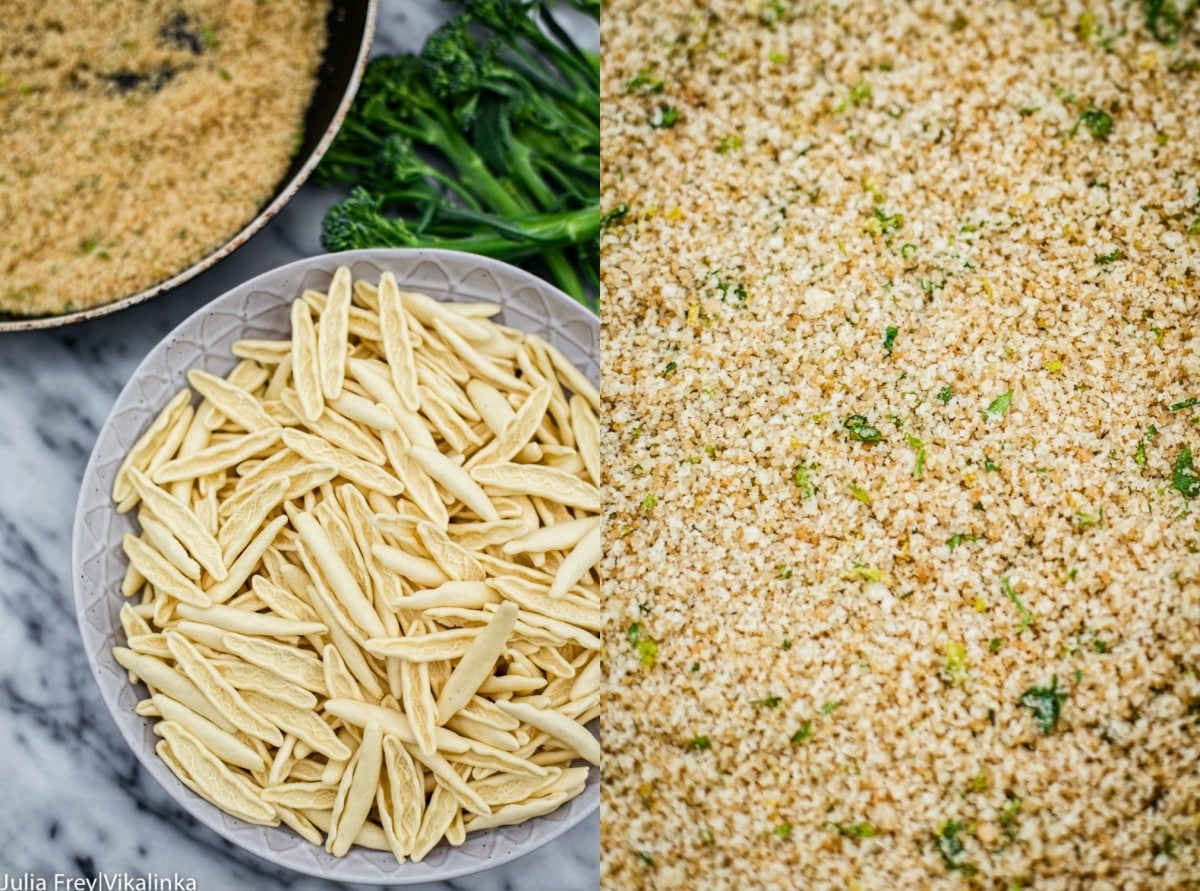 I knew what I wanted to make with it but I had no time and I wouldn't let my family use Capunti for any other dish.
No Bolognese sauce was good enough for it!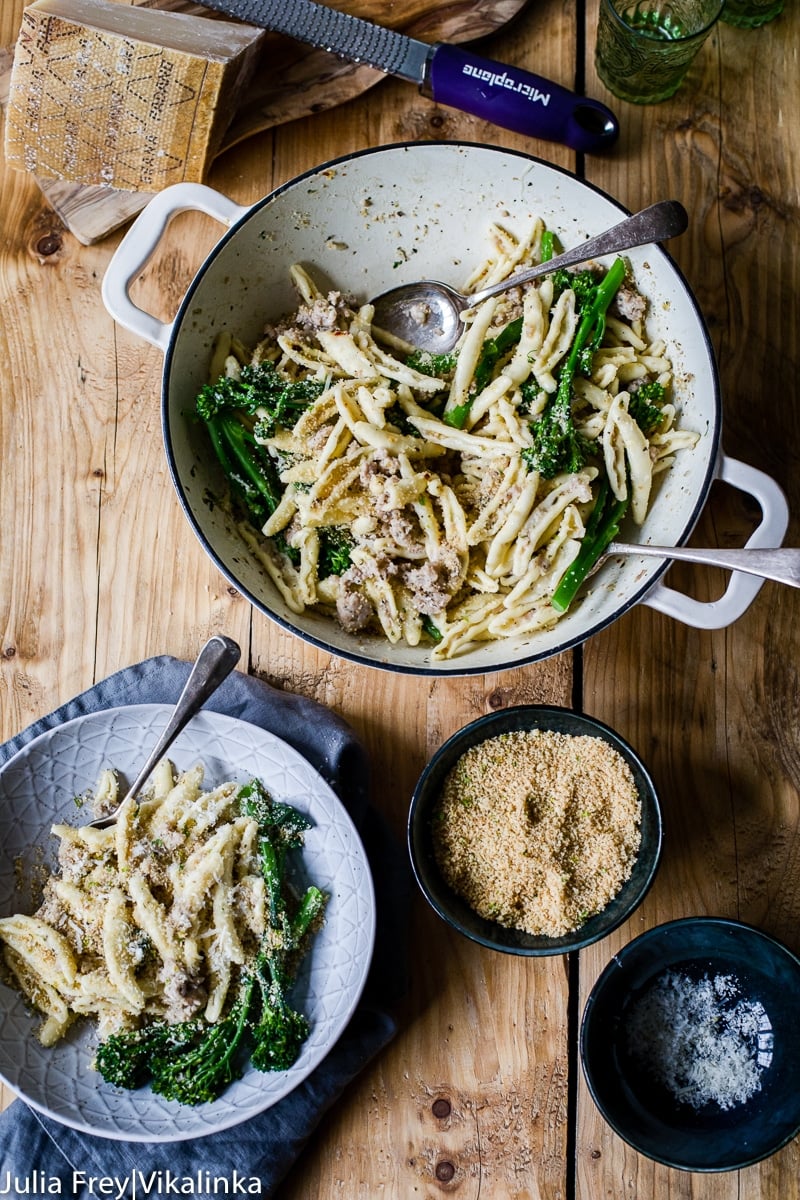 I make a lot of pasta dishes. Every time we visit Italy I talk to amazing home cooks to learn their tips and tricks on how to get the most flavour.
How to cook pasta like an Italian
It might come as a surprise but very few traditional Italian pasta dishes are creamy or cheesy. A handful of parmesan or Grana Padano is how most Italian cooks finish off their dishes, yet they pack huge amounts of flavour!
How? They use only the best ingredients and they let them shine. Italians really distrust food with too many ingredients. They also possess mad cooking skills that allow them to extract maximum flavour!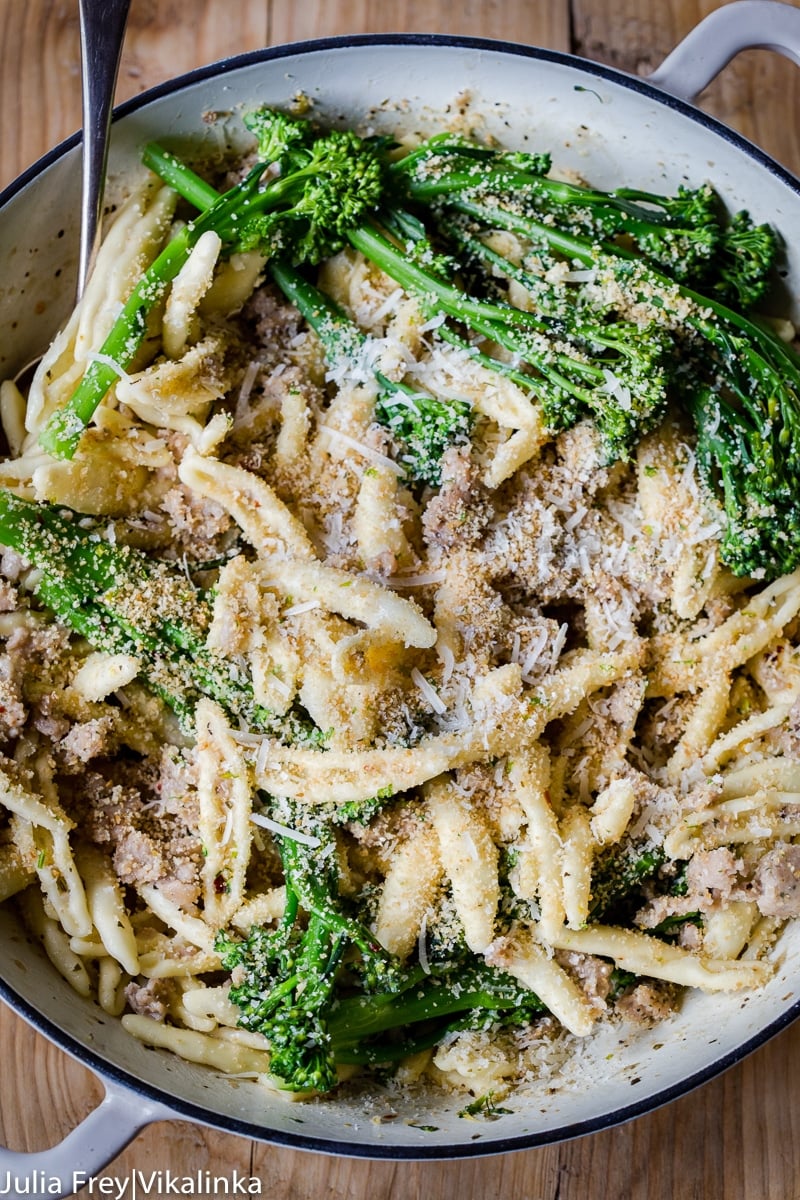 How to make sausage and broccoli pasta:
Buy quality pasta, it should be labeled as 100% durum semolina. It is law in Italy for all pastas to be made with 100% durum semolina, but not the case for most North American producers.
Always salt the water you cook your pasta in. I once heard the water should taste like it's been taken from a sea. Leave it to an Italian to turn cooking into poetry.
Reserve a cup of starchy water to add to the sauce later, it will loosen creamy and tomato sauces and will lighten them up.
Always add pasta to the sauce and then toss it to coat. Do not serve pasta and sauce separately. It's a big NO for Italians.
Do cook your pasta al dente; it should have a bit of resistance when you bite into it, which usually can only be achieved with 100% durum semolina pasta.
Add enough salt to the finished pasta. 90% of the time when people complain about the lack of flavour is due to the lack of salt, which is very easy to fix.
Deglaze the pan you make sauce in after browning with either wine, stock or starchy water, depending on the recipe. That little step is hugely important in creating additional flavour.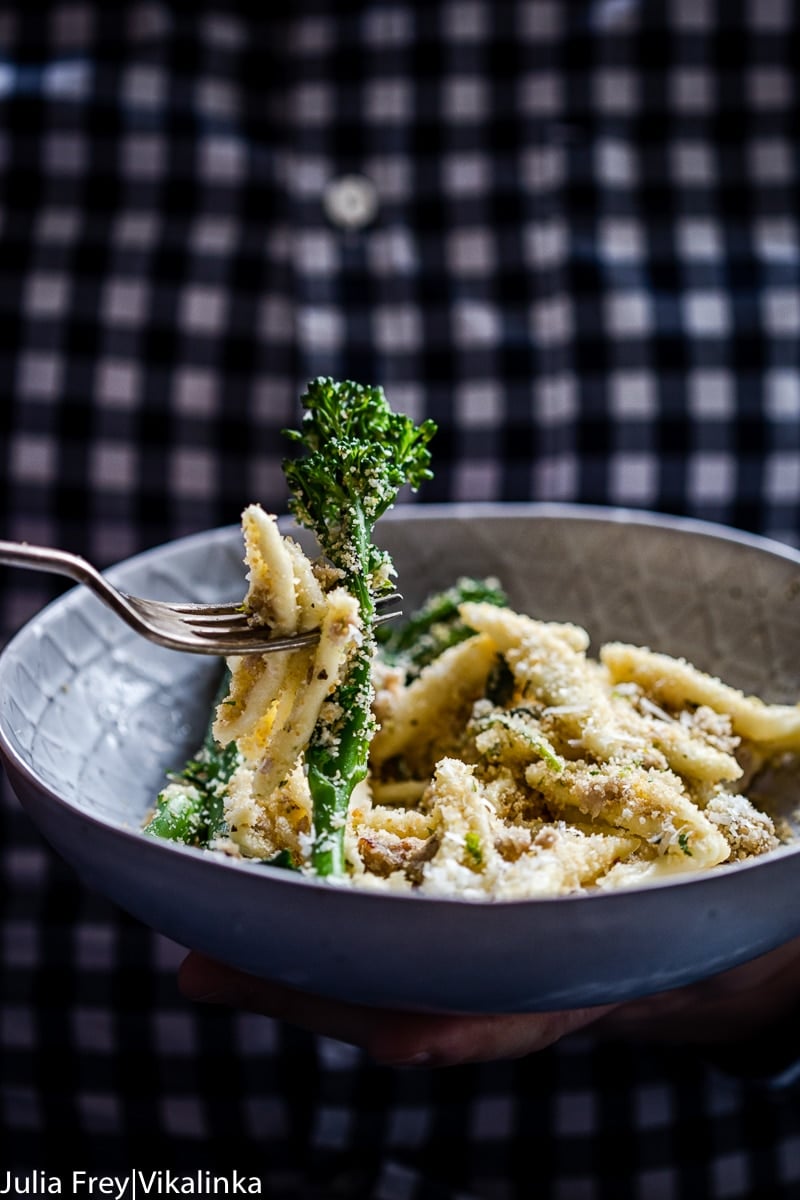 Now let's talk about this sausage and broccoli pasta. It can taste phenomenal or plain depending on how it is made and because of that I decided to throw in a huge flavour maker into the mix.
Herb and Garlic Breadcrumbs (Pangrattato)
Don't even try making this sausage and broccoli pasta without them!! They are salty, garlicky and crispy. They are the perfect topping for this pasta!!
In my humble opinion, they take this bog standard sausage and broccoli pasta to a new height! They make it extra-ordinary.
Now let's make it, shall we?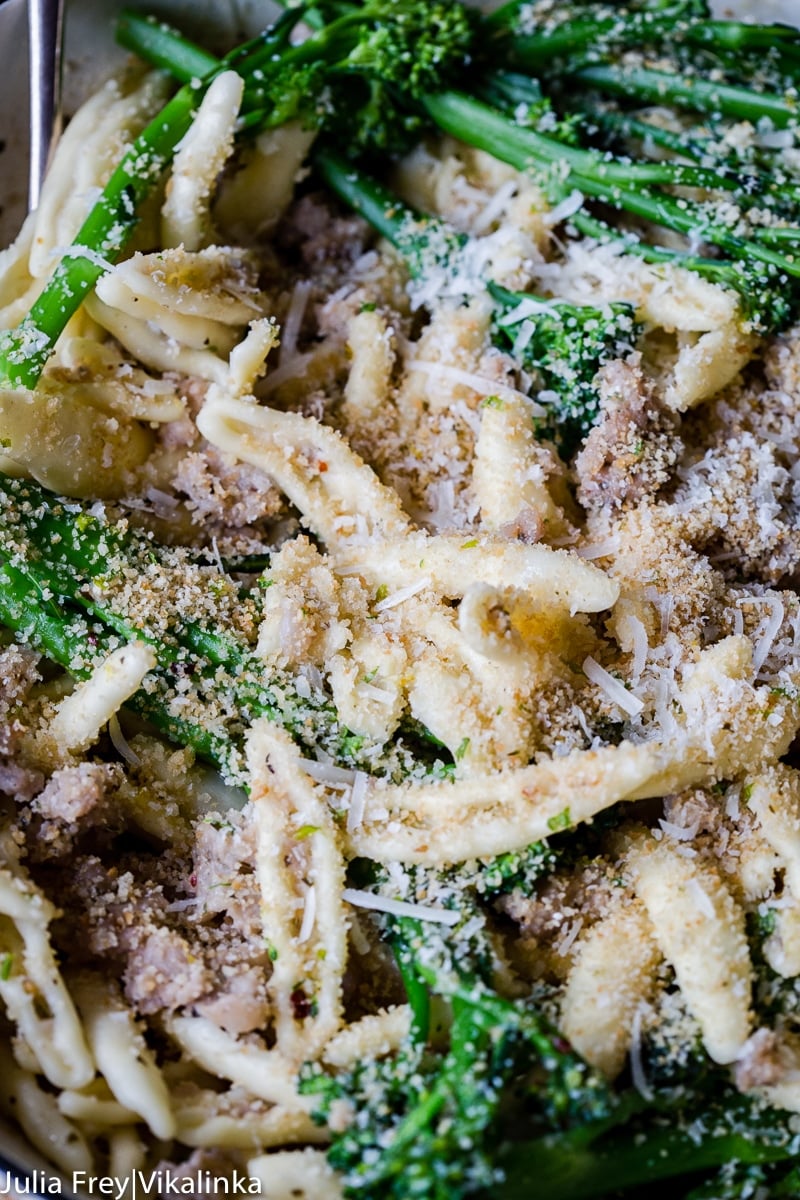 More delicious pasta recipes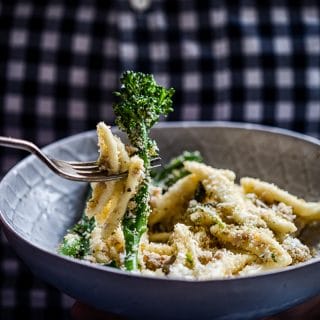 Sausage and Broccoli Pasta with Herb and Garlic Breadcrumbs
Pasta tossed with spicy sausage and broccolini, then topped with flavourful herb and garlic breadcrumbs and Parmesan!
Ingredients
For the herb and garlic breadcrumbs
100g/1 cup

breadcrumbs, prepared or your own

1

tbsp

olive oil

1

tbsp

butter

1

garlic clove

minced

2

tbsp

parsley

minced

½

lemon

zest only

salt to taste
For the sausage and broccoli pasta
1

tbsp

olive oil

13

oz/375 g sausage

2

garlic cloves

minced

1

tsp

dried basil

½

tsp

dried oregano

¼

tsp

fennel seeds

salt

¼-1/2

tsp

dried chilli flakes

1

lbs

short pasta

5

oz/140 g tenderstem broccoli

⅔

cup/80 g grated parmesan or Grana Padano
Instructions
To make herb and garlic breadcrumbs
In a frying pan heat olive oil and butter, then add garlic and fry for a few seconds over low heat, add breadcrumbs, parsley, lemon zest and salt, fry while stirring once in a while until golden for approximately 2-3 minutes. Remove from the pan and set aside.
For the sausage and broccoli pasta
Bring a large pot of water to a boil, add salt and pasta and cook according to package directions. Add tenderstem broccoli to the pot for the last 5 minutes of cooking.

Meanwhile remove sausage from casing and cook in a large and deep frying pan with 1 tbsp of olive oil, minced garlic, basic, oregano and fennel seeds over medium heat for approximately 7-10 minutes until no longer pink.

Scoop out ¼ cup of pasta water and add to the pan with the sausage, scrape the brown bit to release them into the sauce. You should have enough liquid just to cover no more than the bottom of the pan. Take it off the heat until pasta is ready.

Drain your pasta and broccoli while reserving 1 cup/250ml of pasta water.

Add pasta and broccoli to the pan with sausage, add half of the reserved water and parmesan cheese, stir to coat over low heat, add chilli flakes and taste if additional salt is needed. Add more water if the pasta is too stiff, it should jiggle if you shake the pan. You shouldn't have any liquid in the pan but pasta should be coated in silky, cheesy coating.

Serve topped with breadcrumbs and additional grated parmesan. Freeze leftover breadcrumbs for another use.
Nutrition
Calories:
593
kcal
Carbohydrates:
60
g
Protein:
25
g
Fat:
27
g
Saturated Fat:
9
g
Cholesterol:
58
mg
Sodium:
635
mg
Potassium:
352
mg
Fiber:
2
g
Sugar:
2
g
Vitamin A:
760
IU
Vitamin C:
29
mg
Calcium:
204
mg
Iron:
2.3
mg