Make classic Italian carbonara without any meat but just as tasty! Vegetarian mushroom carbonara is so satisfying and packed with savoury flavour. Best of all, it's simple and quick to make!
Ready to try the classic version of this legendary pasta dish? We have you covered, with Easy Carbonara Sauce!
I learned how to make carbonara from an Italian friend, and since then it has become a staple in my house. It is my go-to recipe for whenever I want something quick and tasty that won't make me work too hard.
It is perfect for both lunch and dinner, and pairs brilliantly with a side salad or pretty much any vegetable.
Mushroom carbonara recipe
Traditional spaghetti carbonara is made with guanciale, which I left out to make this recipe vegetarian. I actually find that the mushrooms do an amazing job on their own, but to add a bit more punch one extra clove of garlic was added.
The slightly crushed garlic cloves are removed from the mushrooms after five minutes because carbonara should not be too garlicky. Letting them cook with the mushrooms for a few minutes is plenty of time to let just enough flavour to come through without dominating the dish.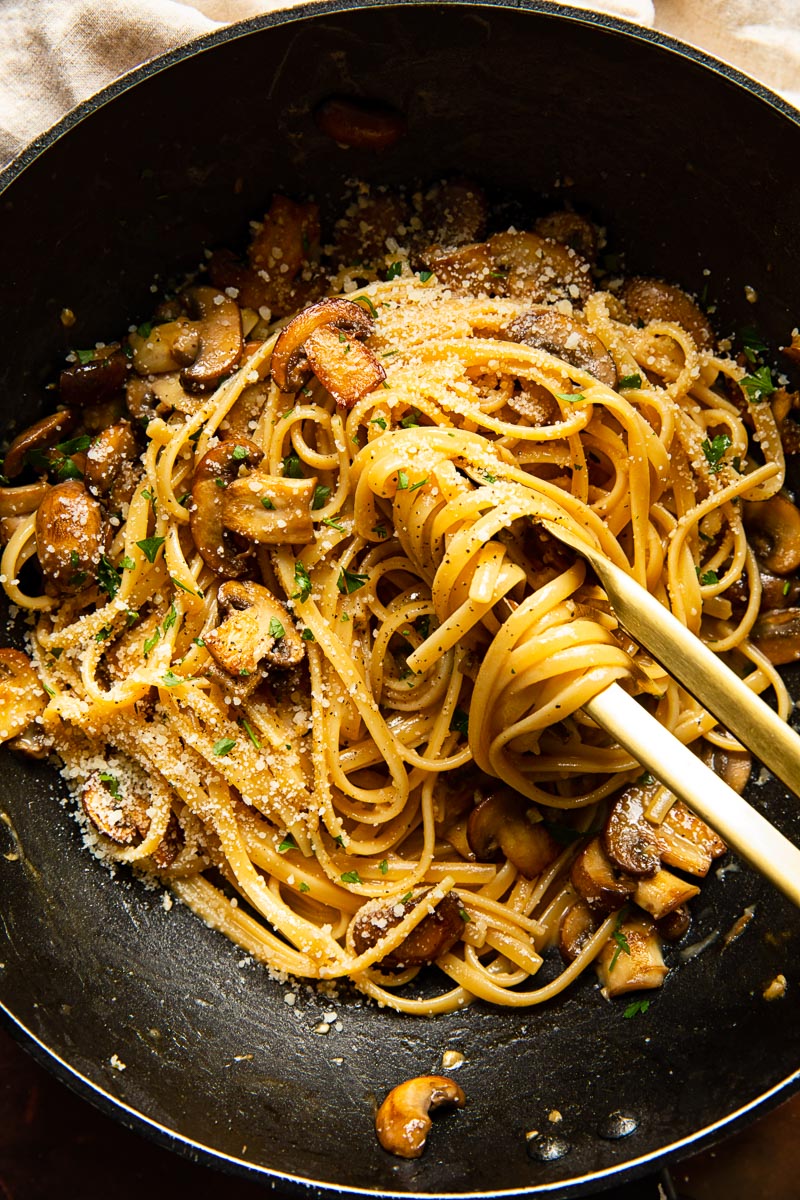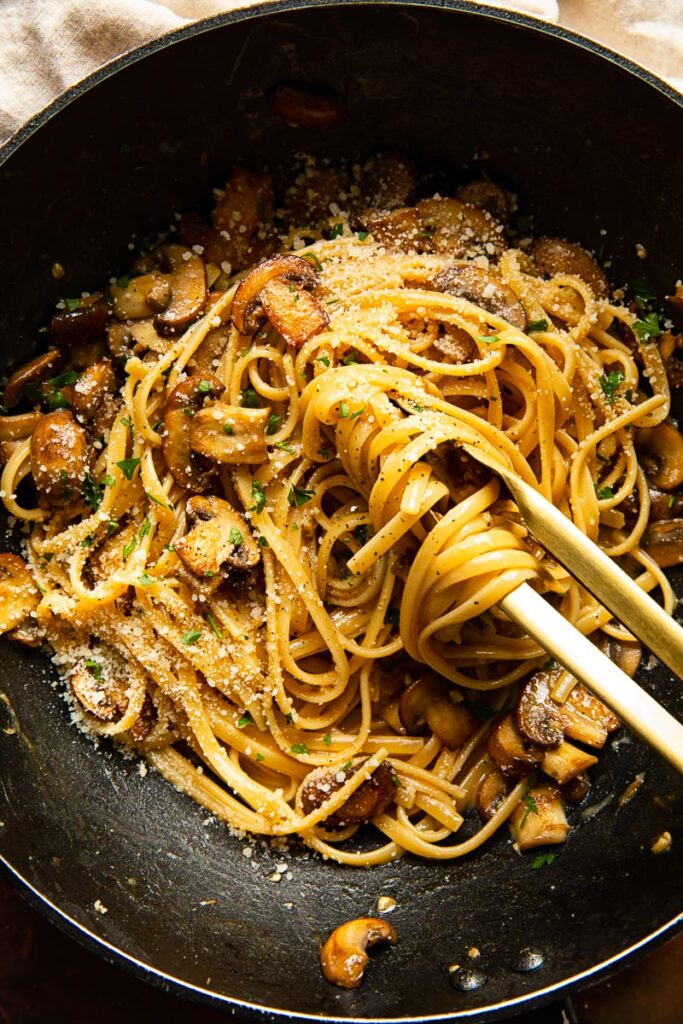 To bring out the best possible rich and nutty mushroom flavour I made sure to brown the mushrooms rather than steam them. To do this, I turned the heat up to give them a bit of caramelization. I also made sure not turn the mushrooms until they had started to get a bit of crispy edge to them.
While this was happening, I had the pasta boiling and was mixing the eggs and cheese. With a bit of practise, you will be able to have everything ready at the same time.
Recipe tips and notes
While traditional carbonara is made with Pecorino Romano, this isn't a vegetarian cheese. To make this a truly vegetarian dish, look for a vegetarian hard cheese. Avoid anything pre-grated they don't contain as much flavour.
I always use the same ratio of whole egg to egg yolk. I use two or three egg yolks and one whole egg for every four people, or one egg per person. It is the egg yolks that make carbonara so creamy. No need to use any cream!
To make the sauce, beat the grated cheese in with the eggs. Add the cooked and drained pasta to the pan when it is done cooking. The key now is to take the pan off the heat before adding the egg and cheese mixture. The residual heat from the pasta will be enough to cook the eggs. If you leave the pan on the heat, you risk having scrambled eggs, which is not what you want!
I also make sure to reserve some of the pasta water in case I want to add it at after the egg and cheese mixture has been added in. A little extra pasta water can make a creamier sauce.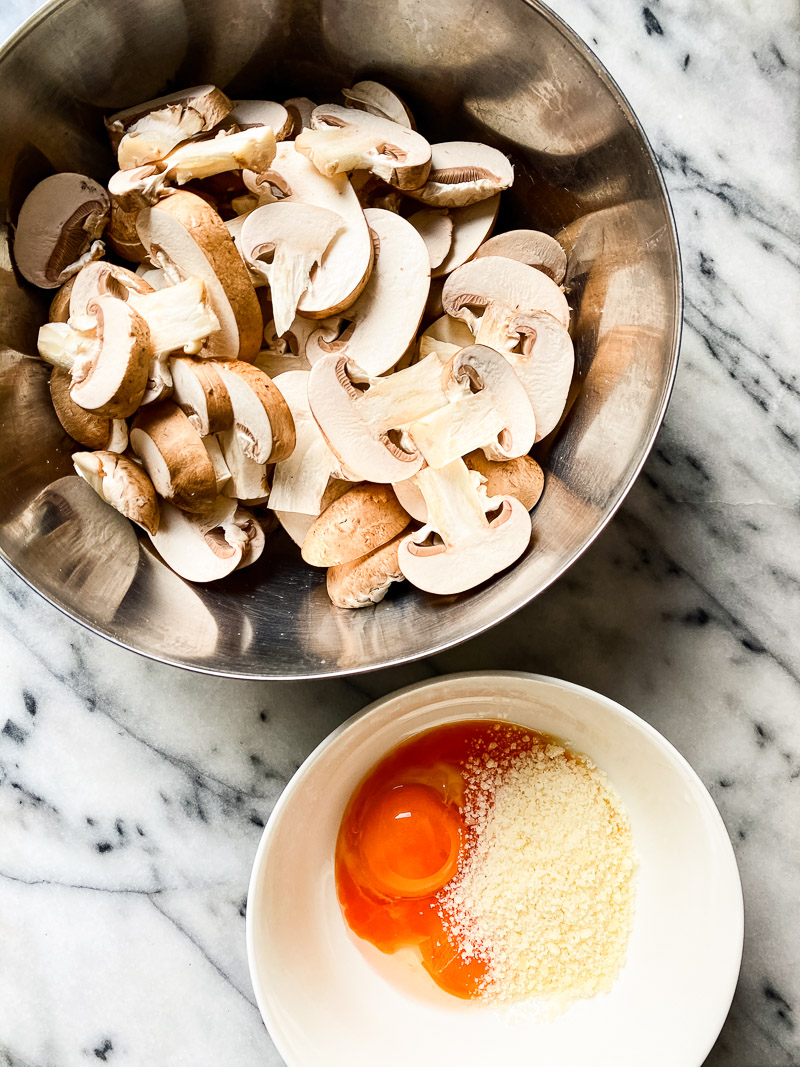 Serving suggestions
Carbonara is a dish few people could complain about, which makes it one you might to bring out when guests come over. But a word of warning: it's hard to properly combine the egg and cheese mixture with the pasta when making a large quantity.
I find that the upper limit of servings is four. Any more than that and the dish is just not the same!
Part of the joy of a mushroom carbonara is they way it can be a convenient meal all by itself. The last thing you want to do is add complicated side dishes to make this simple meal into a chore.
A Caprese Salad is perfectly simple but adds a hit of freshness that is the ideal match for a creamy pasta dish like carbonara. My Summer Tomato Salad does the same thing and is just as easy to make.
For something every so slightly more complex, treat yourself with Chickpea Tuna Salad!
Storage and leftovers
It's definitely not unenjoyable to reheat leftover carbonara, but it's not a dish that improves with age. If you are left with a little extra, keep it in the fridge in an airtight container for 2-3 days, although the pasta will soften the longer it is in there.
It can be reheated in a microwave. I don't recommend freezing pasta leftovers.
More vegetarian pasta recipes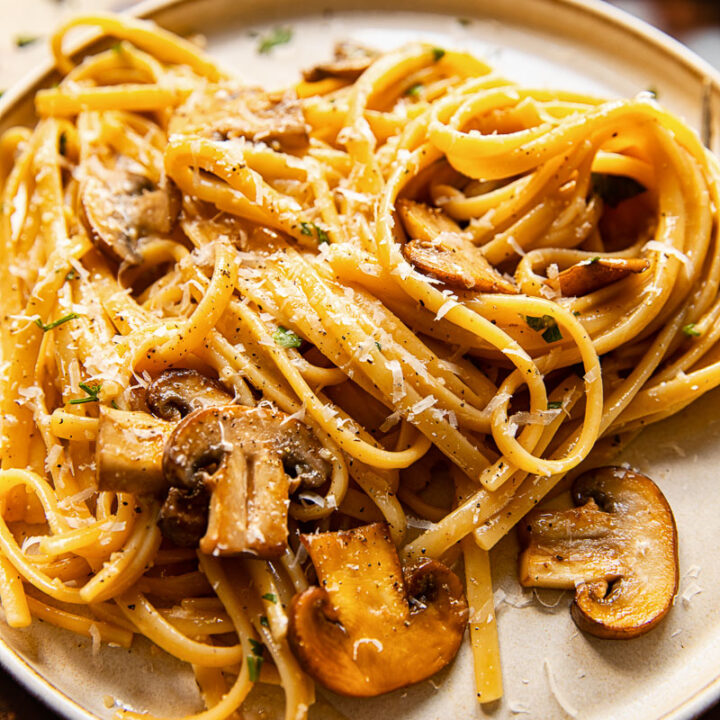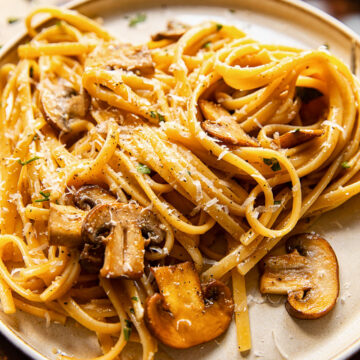 Vegetarian Mushroom Carbonara
Classic Italian carbonara made without meat but with lots of savoury flavour, ready in only 20 minutes.
Ingredients
200

g

/7oz mushrooms

2

cloves garlic

1

tbsp

olive oil

extra virgin

450

g

/ 1lb pasta

I used linguine

80

g

/ ½ cup grated Parmesan cheese

3

egg yolks

1

whole egg

Salt and pepper to taste
Instructions
Cook the pasta according to package instructions in a large pot of boiling water.

Meanwhile mix the egg yolks, one egg and grated Parmesan cheese in a small bowl and set aside for later.

Brown the mushrooms in a heated pan with olive oil with two cloves of whole garlic that have been slightly crushed for about 5 minutes. Discard the garlic cloves. Take the pan off the heat.

Once the spaghetti is cooked al dente, drain in a colander, reserving ½ cup of pasta water. Add the spaghetti to the pan with mushrooms and half of the reserved pasta water and lightly toss to combine. Then add the egg and cheese mixture and toss until the pasta is evenly coated with the sauce. Work quickly to prevent the eggs from scrambling. If the dish looks dry, add the remaining pasta water and continue mixing until the pasta is coated with the sauce. Add salt to taste. Serve with more grated Parmesan cheese and black pepper.
Notes
To make this a truly vegetarian meal, be alert for hard cheese made with animal rennet. Vegetarian alternatives are usually available.
Nutrition
Calories:
605
kcal
Carbohydrates:
90
g
Protein:
25
g
Fat:
15
g
Saturated Fat:
6
g
Polyunsaturated Fat:
2
g
Monounsaturated Fat:
6
g
Trans Fat:
0.01
g
Cholesterol:
204
mg
Sodium:
964
mg
Potassium:
548
mg
Fiber:
4
g
Sugar:
4
g
Vitamin A:
427
IU
Vitamin C:
0.5
mg
Calcium:
236
mg
Iron:
2
mg