This chickpea tuna salad is a summer lunch hero. It's a low-cal, high fibre, protein powerhouse that takes minutes to prepare and is made from typical store cupboard staples. It's light and fresh-tasting, but fortifyingly filling. It's in my Summer Salad Top 3!
Cooling salads are my go-to to beat the midday heat, spring pea and arugula salad with creamy dill dressing is a lighter, vegetarian alternative to this chickpea tuna heavyweight.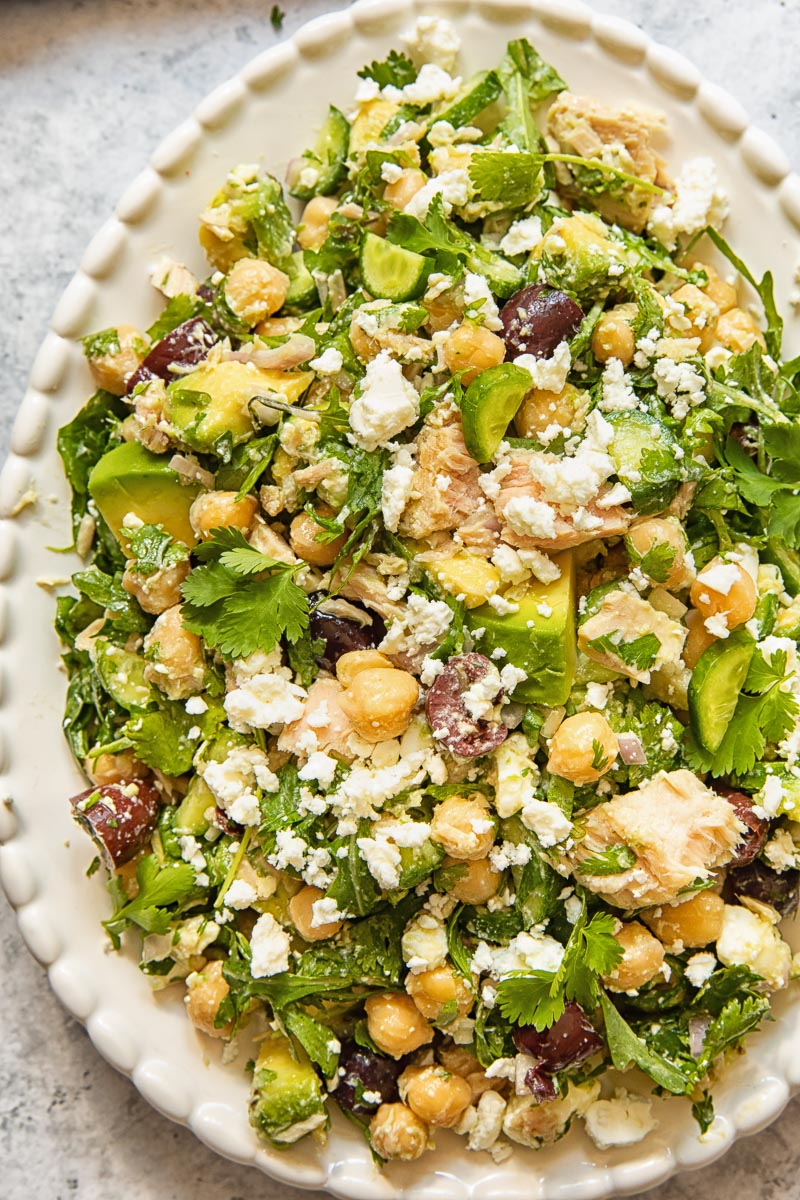 Chickpea salad
There are so many wins to this wondrous salad. Where to begin?!
1) Chickpeas are tiny fibre grenades, making this salad a good kickstart for your digestive system.
2) It's so versatile- serve as a hearty bowlful for lunch, or as a smaller side dish with a kebab like chicken musakhan or on a mezze table at dinner time.
3) And so simple to put together- it takes mere minutes and there's no cooking!
4) It's a thrifty little salad. Not only are the tinned ingredients inexpensive, but you can make use of all the odds and ends wilting away in the salad drawer.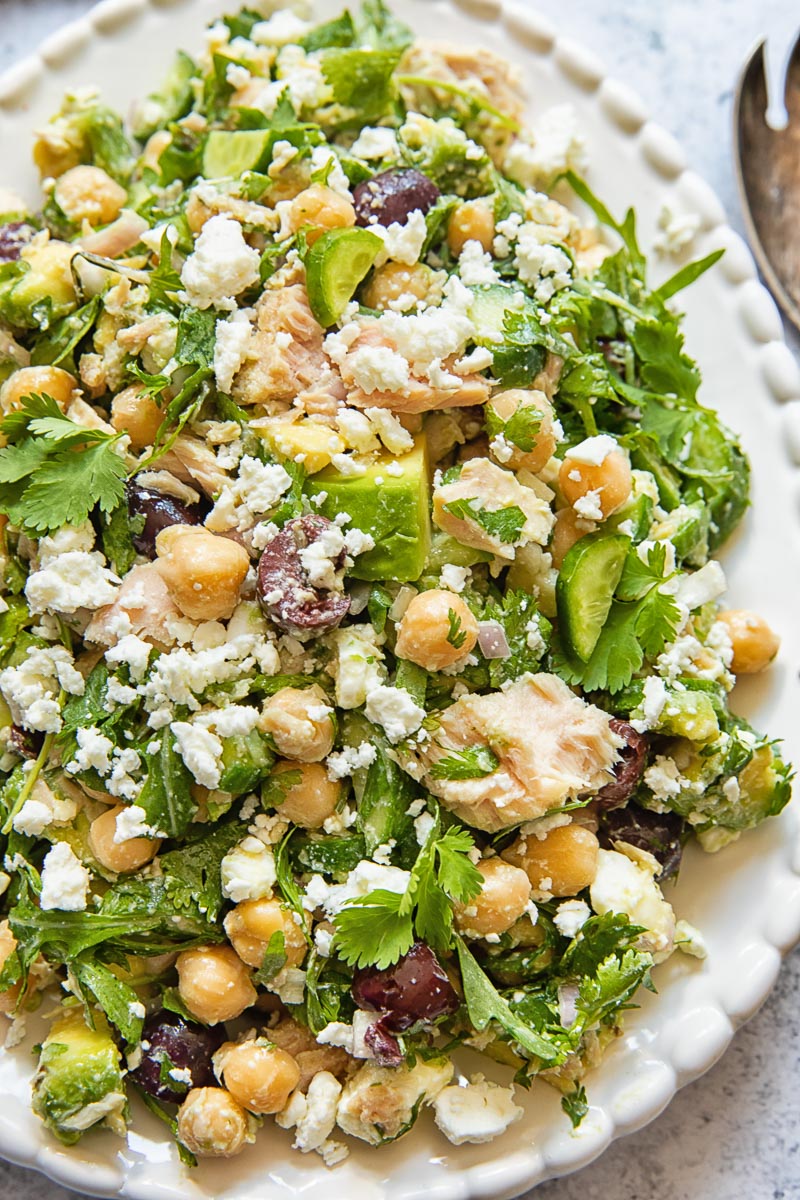 Canned tuna in recipes
Canned tuna is the ultimate convenience. It has a long life, it's relatively inexpensive, it's easy to use and it is exploding with nutritional value.
I always have a couple of tins in my cupboards for using either straight from the tin in healthy tuna salad recipes or for cooking with in hot dishes like my quick tuna pasta with capers.
Tinned tuna has a bit of a bad rep, it's often associated with a soggy, grey sandwich! But this can be down to the type or brand of tuna. If you can invest in a good one, I strongly advise it! Especially if you're planning on eating it in a salad or sandwich.
As a general rule, go for tuna chunks, rather than flakes, and fish that has been ethically sourced. You will taste the difference.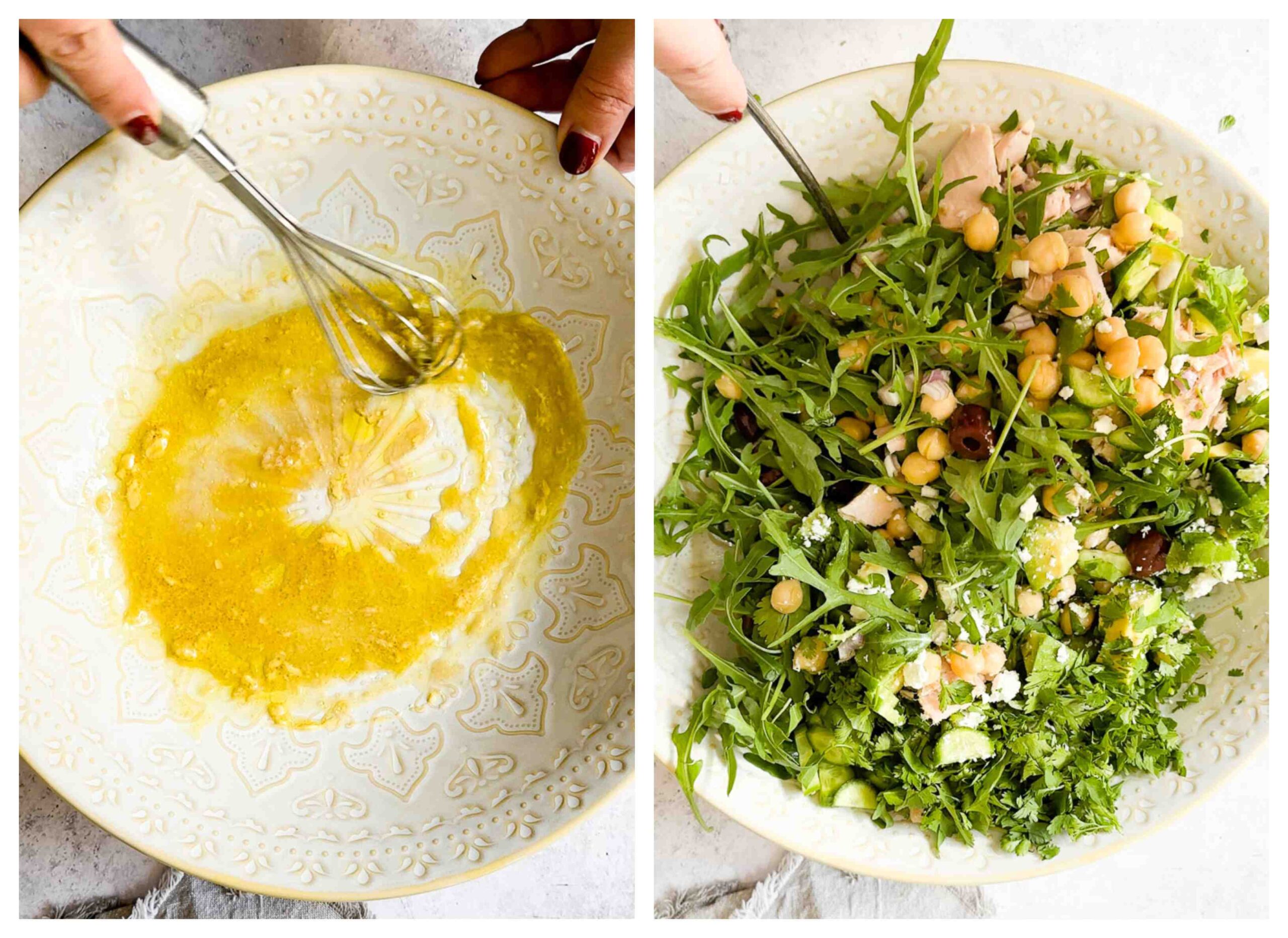 Recipe tips and notes
Through extensive trial and error, I've found that cheaper brands of tinned chick peas can be tough on the tooth and a little flavourless. My chickpea of choice are the slightly pricier ones labelled 'garbanzo', which is the Spanish word for chickpea. They come in a can or jar. Plumper, more tender and with a more distinctive hummus-like taste, they are ideal for eating raw in a salad.
It's worth choosing a decent tuna too. I go for albacore in water for using straight from the can. If you decide on an oil-packed one, you can use the salty tasting oil in the dressing. Don't waste it!
Aside from the chickpeas and tuna, the other salad ingredients can be adapted to your own taste. When it comes to herbs, cilantro (coriander in the UK) is my favourite. Its floral notes offset the fishiness of the tuna. But if cilantro's not your thing, flat leaf parsley works beautifully too to give more of a Middle Eastern vibe.
I tend to use kalamata olives in this recipe, I like the softness of them and the pop of colour. You could use green olives, if that's what you have or even capers if you want a mouth-twisting briny assault!
Finally, feta. If you you're dairy-free, then you can skip it. If not, no excuses! The rich, creamy cheese offers a lacing of luxury.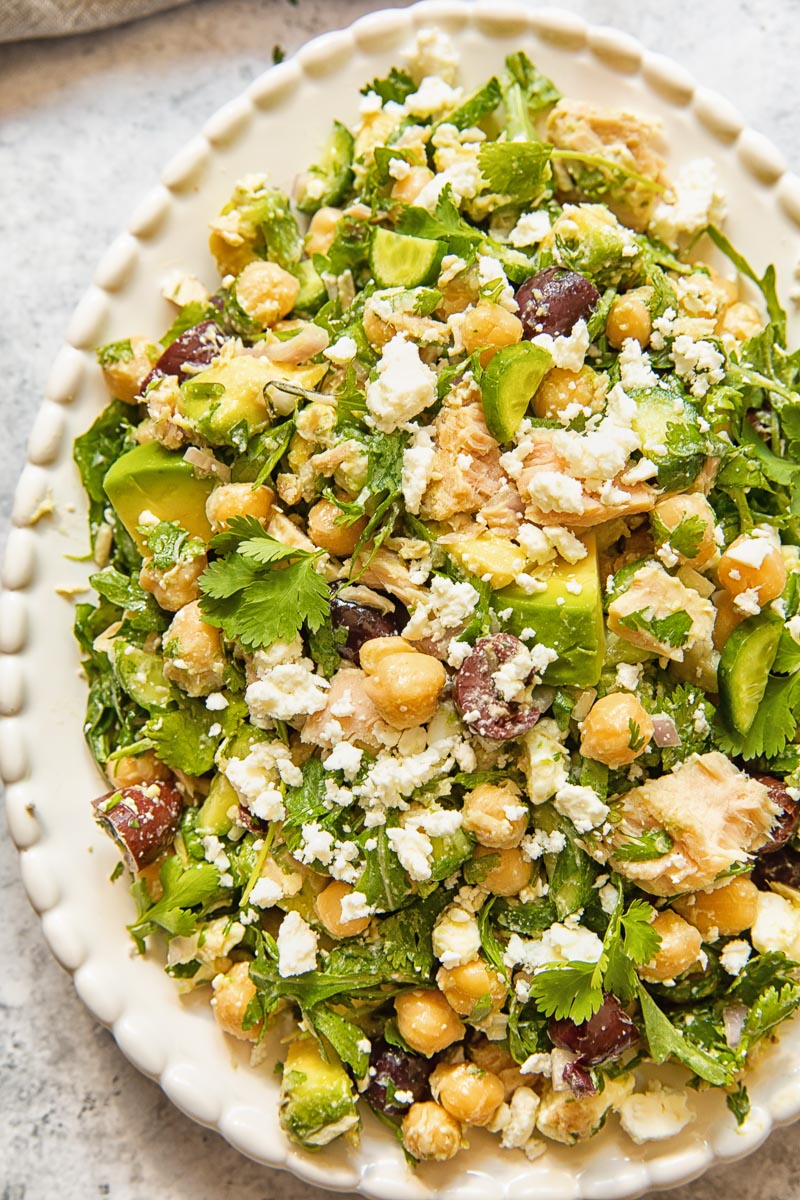 Storage and leftovers
I can easily eat this hearty chickpea tuna salad twice a week. So I make up the 4-serving recipe on a Sunday to use up by Thursday. (That's up to four days in the fridge.)
It's also a hefty enough meal to keep my husband going, so he gets two servings in his lunch box to take to work too!
Other salad recipes to try: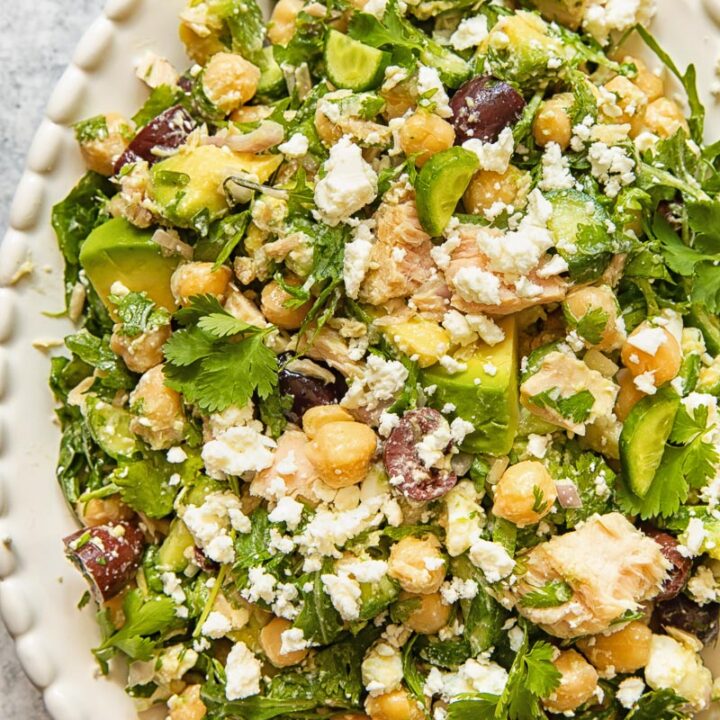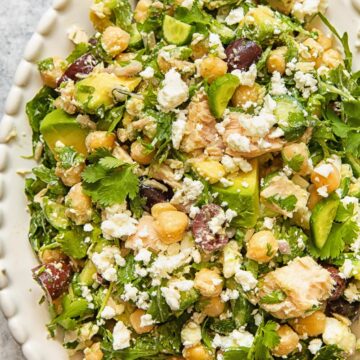 Chickpea Tuna Salad
This chickpea tuna salad is a summer lunch hero that's a low-cal, high fibre, protein powerhouse, whilst light and fresh-tasting.
Ingredients
400g/14 oz

canned chickpeas

drained

120g/4 oz

canned albacore tuna, packed in water

5 small / 1 large

cucumber

30g/1.5 cup

arugula (rocket in the UK)

1

avocado

diced

4

tbsp

kalamata olives

20g/3/4 cup

cilantro

1

shallot

chopped

100g/3.5 oz

feta

crumbled
For the dressing
2

tbsp

red wine vinegar or lemon juice

3

tbsp

good quality extra virgin olive oil, I used unrefined olive oil

0.5

tbsp

Dijon mustard or multigrain mustard

½

clove garlic

grated

salt to taste
Instructions
At the bottom of a large salad bowl make the vinaigrette by whisking together the red wine vinegar, olive oil, Dijon mustard and grated garlic. Season with salt to taste.

To the same salad bowl add the drained canned chickpeas, drained canned tuna, sliced cucumbers, arugula, diced avocado, pitted olives, chopped cilantro, diced shallot and crumbled feta. Toss to combine and serve immediately.
Video
Nutrition
Calories:
519
kcal
Carbohydrates:
44
g
Protein:
24
g
Fat:
29
g
Saturated Fat:
7
g
Polyunsaturated Fat:
4
g
Monounsaturated Fat:
16
g
Cholesterol:
35
mg
Sodium:
1157
mg
Potassium:
1319
mg
Fiber:
15
g
Sugar:
12
g
Vitamin A:
1086
IU
Vitamin C:
24
mg
Calcium:
270
mg
Iron:
5
mg