Quick Tuna Pasta with Capers, the clue is in the name! Or we could call it 'Lucky 7'. Just 7 ingredients, (about) 7 minutes to throw it together, and eat it 7 nights a week. OK, that last one was a bit far. But you'll definitely be tempted by this juicy tuna and tomato pasta recipe.
For a full trattoria experience, make your own garlic bread with this Garlic and Herb Butter recipe.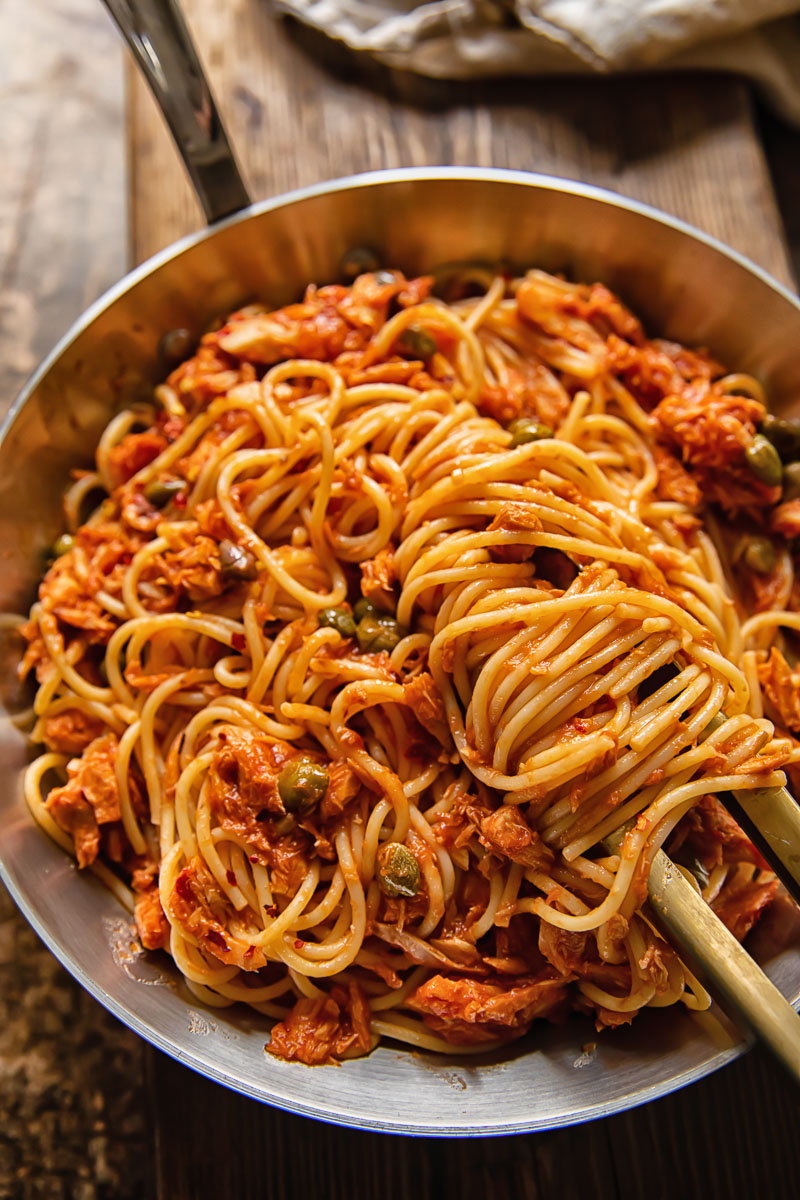 Red checked table cloths, Nessun Dorma blaring through the speakers, a menu that no-one can pronounce properly. Eating out at a traditional Italian restaurant is a family treat.
There's a flamboyant waiter with a big smile and open arms, who charms the baby, offers ice creams to the kids, and keeps the parents' wine glasses topped up. But dining out all adds up. So here's a chef's special to recreate at home.
This spaghetti-slurping tuna and pasta dish will have faces and fingers smothered in tomato sauce. So you might wish you'd gone out after all!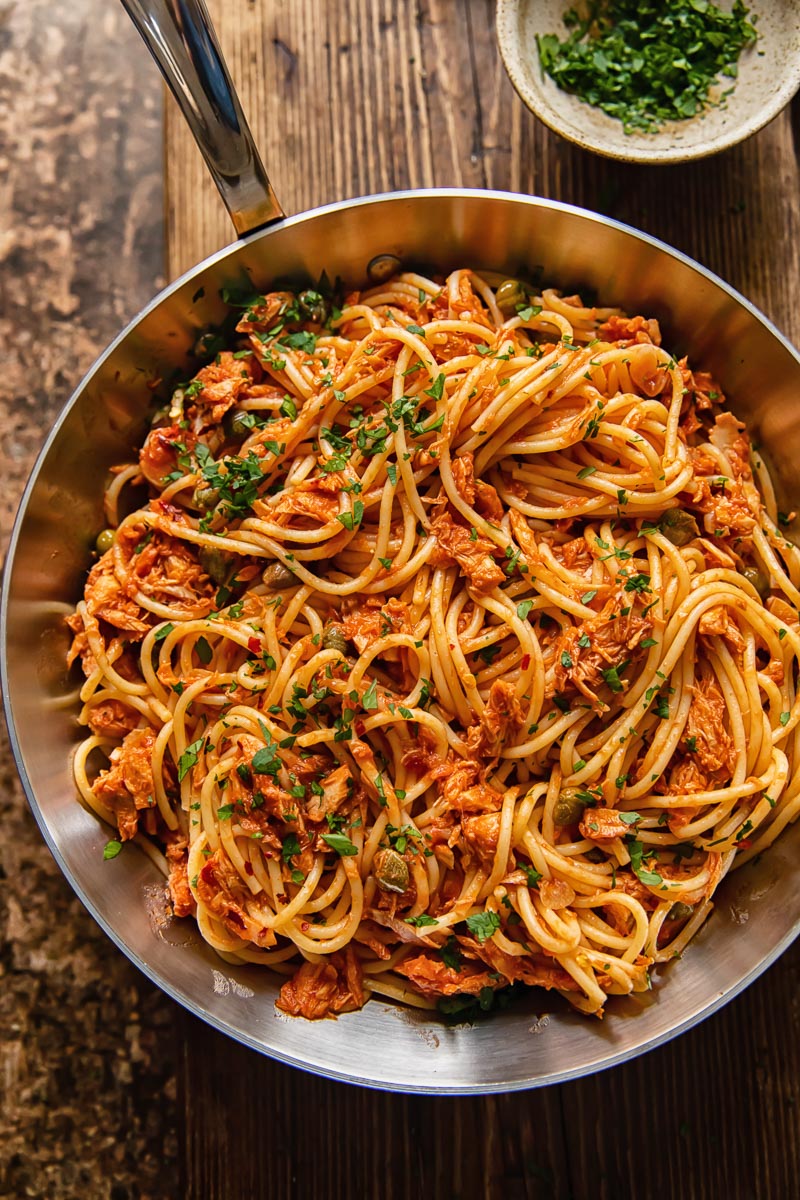 Pasta with tuna
Tuna and pasta make an epic duet. However, outside of the Mediterranean we tend to see tuna and pasta with cheese or cream. Tuna Noodle Casserole is a great example of that.
Tuna pasta bake is an all-time classic, but if you're not in the mood for comfort food or are dairy-free, it's not an option. But this rich tuna and tomato sauce, studded with glistening green capers is a fresh and zingy pasta recipe that is nutritious and lower in calories.
If you fancy your canned tuna for lunch but avoiding pasta, this Italian Salad with Tuna, Corn and Mozzarella is a recipe I brought from Bologna. It was confirmed by numerous Italians to be quite an authentic light lunch option.
For something more substantial yet still pasta free, go for my Italian Tuna and White Bean Salad. Healthy and satisfying.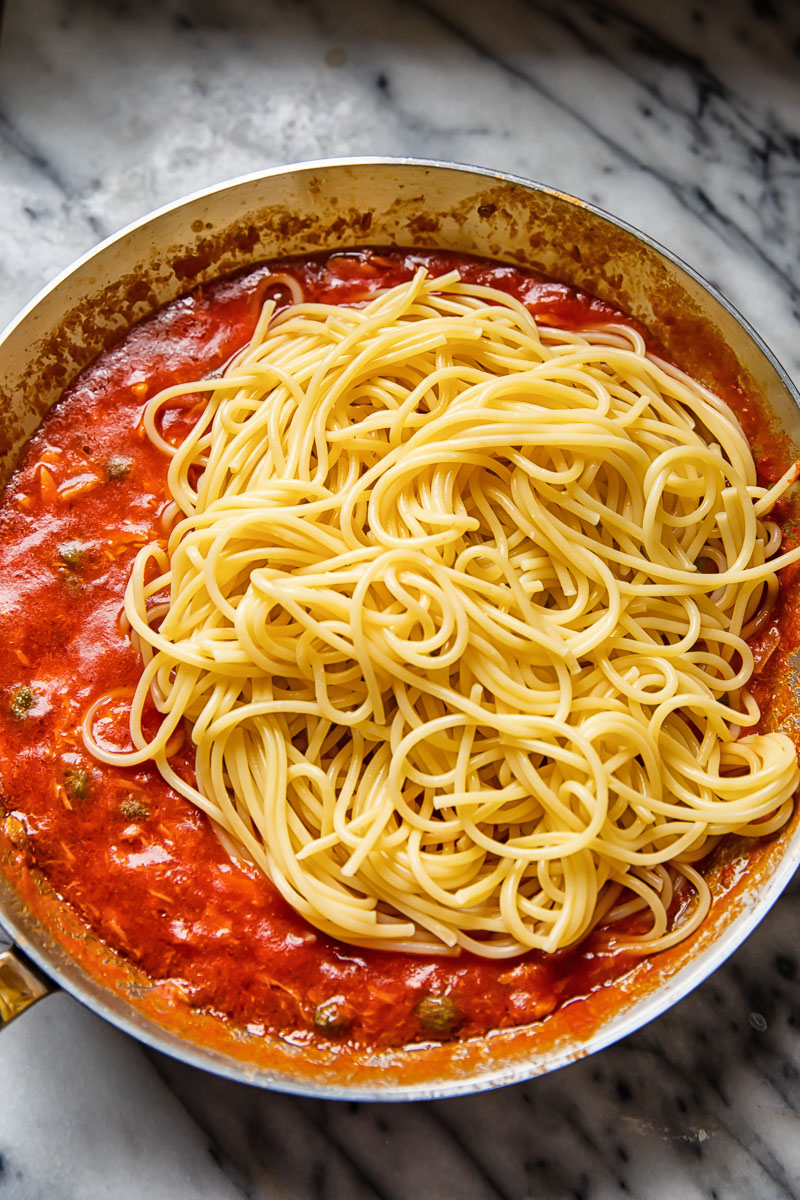 Ingredients
With only 7 store cupboard ingredients, this recipe couldn't be simpler.
In my opinion, it's worth investing in decent pasta and good quality tuna. As both ingredients have a long shelf-life, you needn't worry about them perishing before you've had a chance to use them.
Cheaper canned tuna can be mushy, grey, and bland. This is what puts people off and makes your kids refuse to eat it! So the investment in a higher end product will pay dividends.
Even tinned tuna can be tender and moist with fine flakey chunks. Don't skimp on your skipjack!
Besides tuna and pasta, you'll need capers and anchovies. Anchovies might not be something you usually stock, but they are a vital ingredient to the deep-sea flavour of the dish. What's more, they make a great foundation for so many other delicious recipes. I urge you to buy a couple of cans today!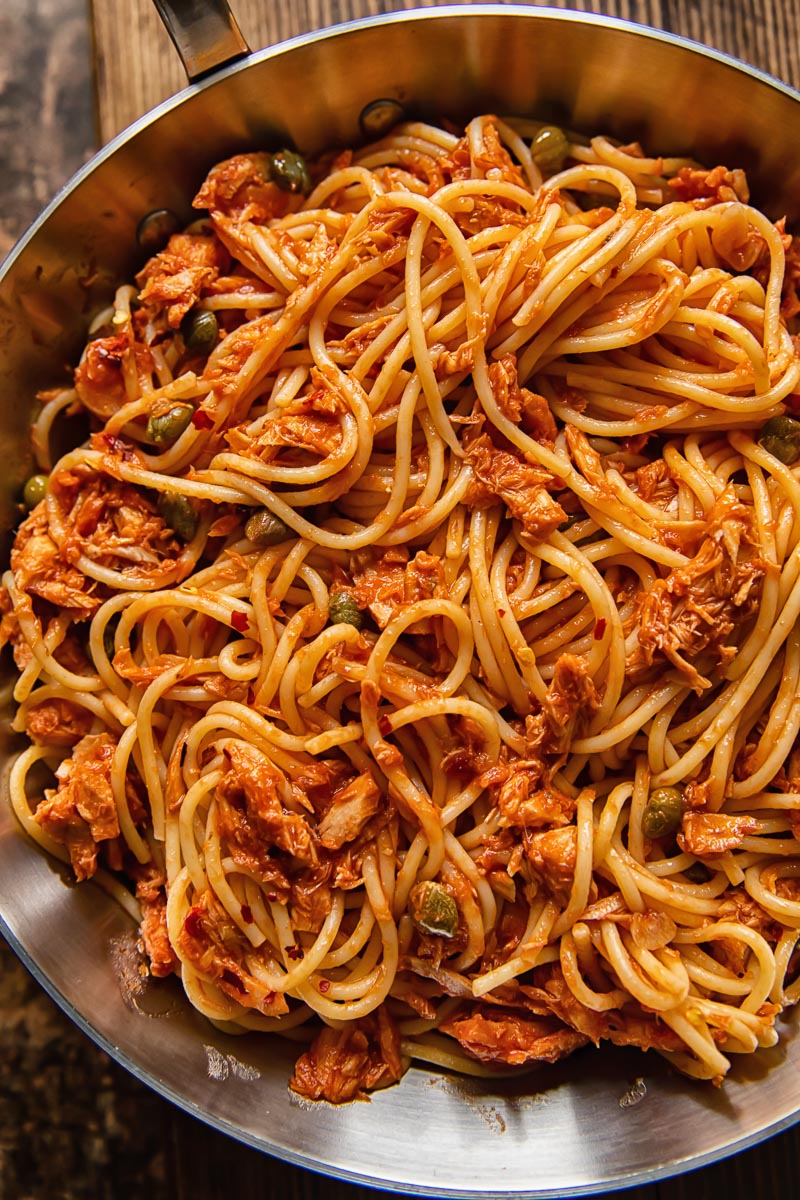 With a similar flavour profile to olives; salty and tangy, capers compliment the tuna and balance the tomato. But again, they're not the most common cupboard dweller. Due to their similarities, green olives make a fine substitution.
Chilli flakes give this a kick. I use a quarter of a teaspoon, which I think is just enough if you buy good quality ones and store them carefully once opened.
I suggest slicing the garlic, as opposed to chopping or mincing, to tone down the pungency and to allow for more caramelisation in the tuna and anchovy infused oil.
And lastly, tomatoes. You can't get more Italian than tomato passata! Passata has been strained through a sieve before canning, so your sauce will be smoother. Crushed or chopped tomatoes will give a chunkier texture. Both work and both will be squisito!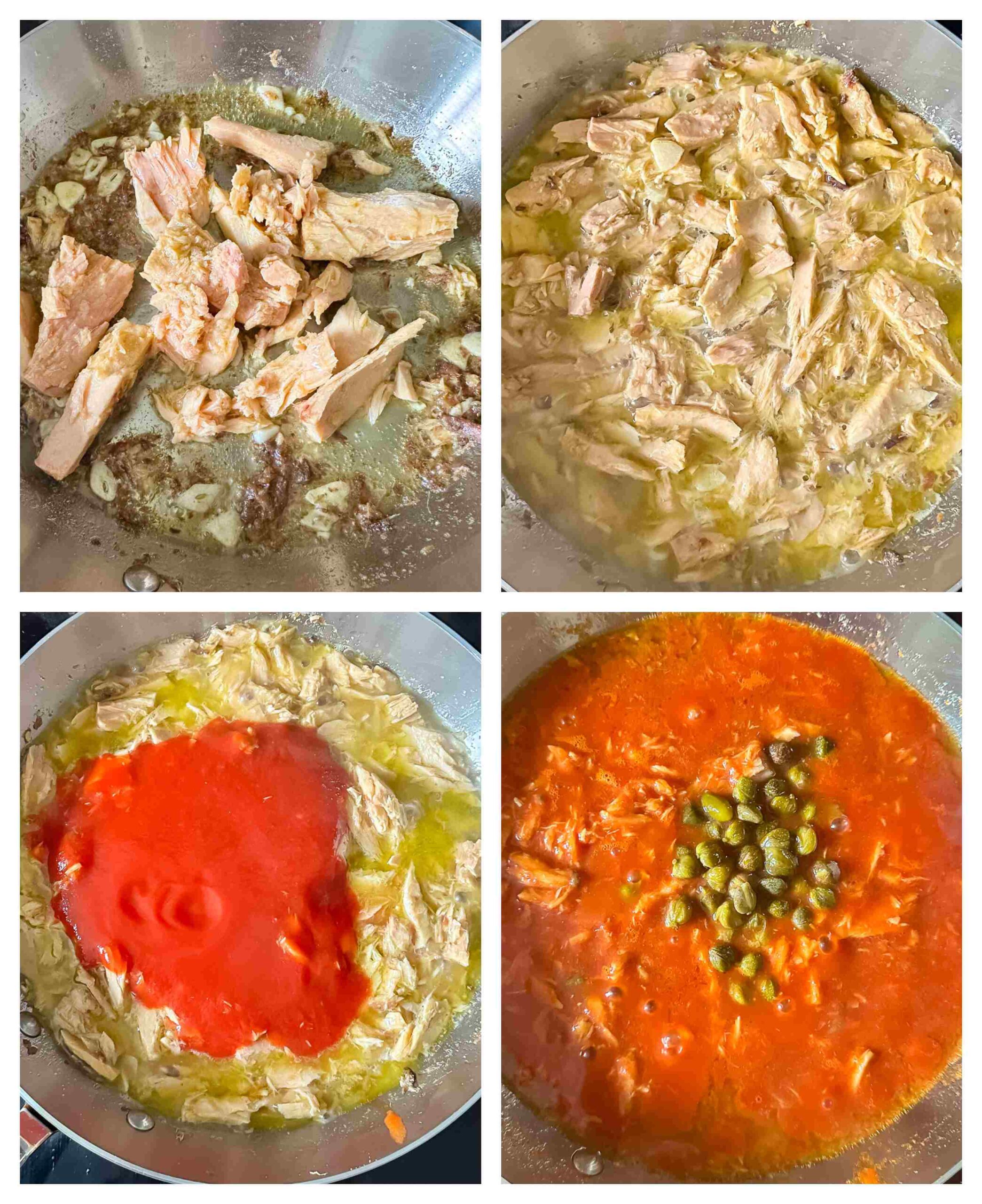 Recipe tips and notes
Spaghetti can get messy, so feel free to try out other pasta shapes. Conchiglie aka pasta shells or orecchiette work as little cupped hands to catch all that sumptuous sauce.

I beg you not to skip the anchovies! The intensity they bring to the dish would be missed. Like leaving the cocoa off a tiramisu. You could do it, but it wouldn't be the same.

I have already stressed the importance of good tuna! I buy packed in oil, it maintains the soft texture of the fish and I like to use it to cook with.

How much chilli is up to you, you needn't recreate Dante's Inferno, but I urge you to use at least a smidge!

If you're not keen on capers, or don't have any to hand, slice up some fat green olives. They'll bring a lemony twist and offer some bite.
Storage and leftovers
The trio of bold flavours; salty, fishy and garlic will marinate overnight gaining intensity. So any leftovers can be stored in an airtight container in the fridge for 2-3 days and will taste even better on the encore.
More Quick Pasta Recipes to Try: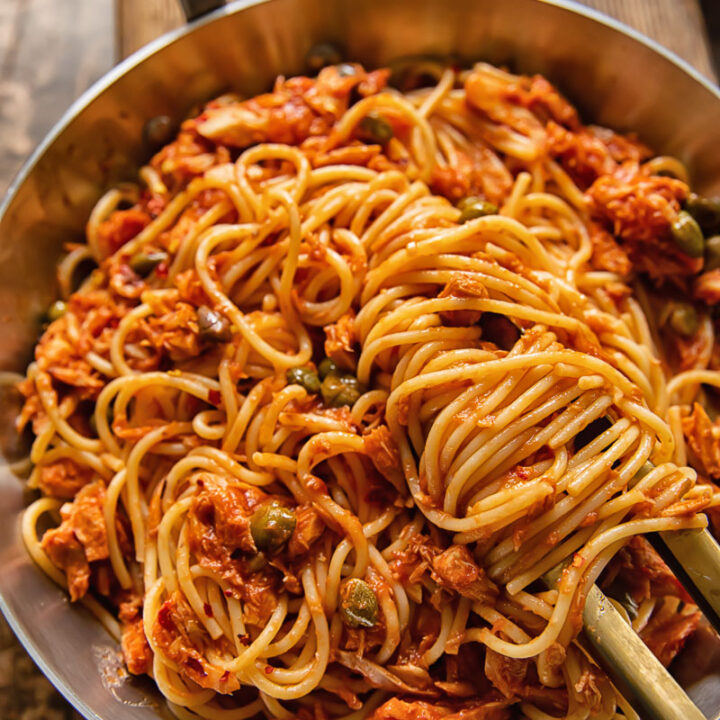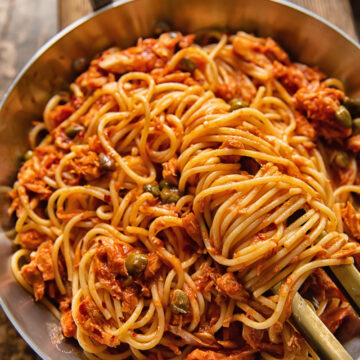 Tuna Pasta with Capers
Quick Tuna Pasta with Capers, the clue is in the name! You'll definitely be tempted by this juicy tuna and tomato pasta recipe.
Ingredients
250g/8 oz

spaghetti

or other pasta

4

anchovies

packed in oil

2

cloves

garlic

sliced thinly

200g

canned tuna in oil

375ml/1 ½ cups

tomato passata or crushed tomatoes

2

tbsp

capers

drained

¼

tsp

red chilli flakes

salt to taste

fresh parsley for garnish

optional
Instructions
Set the pasta cooking in a large pot of salted water. In a large pan heat two tablespoons of olive oil from the tin of tuna, then add the anchovies to the pan and cook over medium heat for a couple of minutes until they start to sizzle, then start to break them up with a spatula, so they melt completely into the oil. Add the sliced garlic and cook for no longer than 30 seconds.

Bring the drained tuna into the pan and cook for a couple of minutes, then add a ladle of boiling water from the pot with cooking spaghetti, let this simmer for a minute of sauce, then add the tomato passata, capers and red chilli flakes. Cook the sauce for 5-7 minutes.

Drain the spaghetti and add to the sauce, toss to coat. Taste and add salt if needed. (I didn't as mine was salty enough from anchovies and capers. Serve with freshly chopped parsley.)
Nutrition
Calories:
342
kcal
Carbohydrates:
56
g
Protein:
23
g
Fat:
3
g
Saturated Fat:
1
g
Polyunsaturated Fat:
1
g
Monounsaturated Fat:
1
g
Cholesterol:
23
mg
Sodium:
919
mg
Potassium:
718
mg
Fiber:
4
g
Sugar:
6
g
Vitamin A:
560
IU
Vitamin C:
11
mg
Calcium:
49
mg
Iron:
3
mg