Bring loads of flavour to your pack of gnocchi by cooking it with chorizo and sun-dried tomatoes in a creamy Parmesan sauce.
Not a fan of dairy? Take a look at our Butternut Squash Gnocchi, that relies on the vegetables to deliver the flavour and the creamy texture!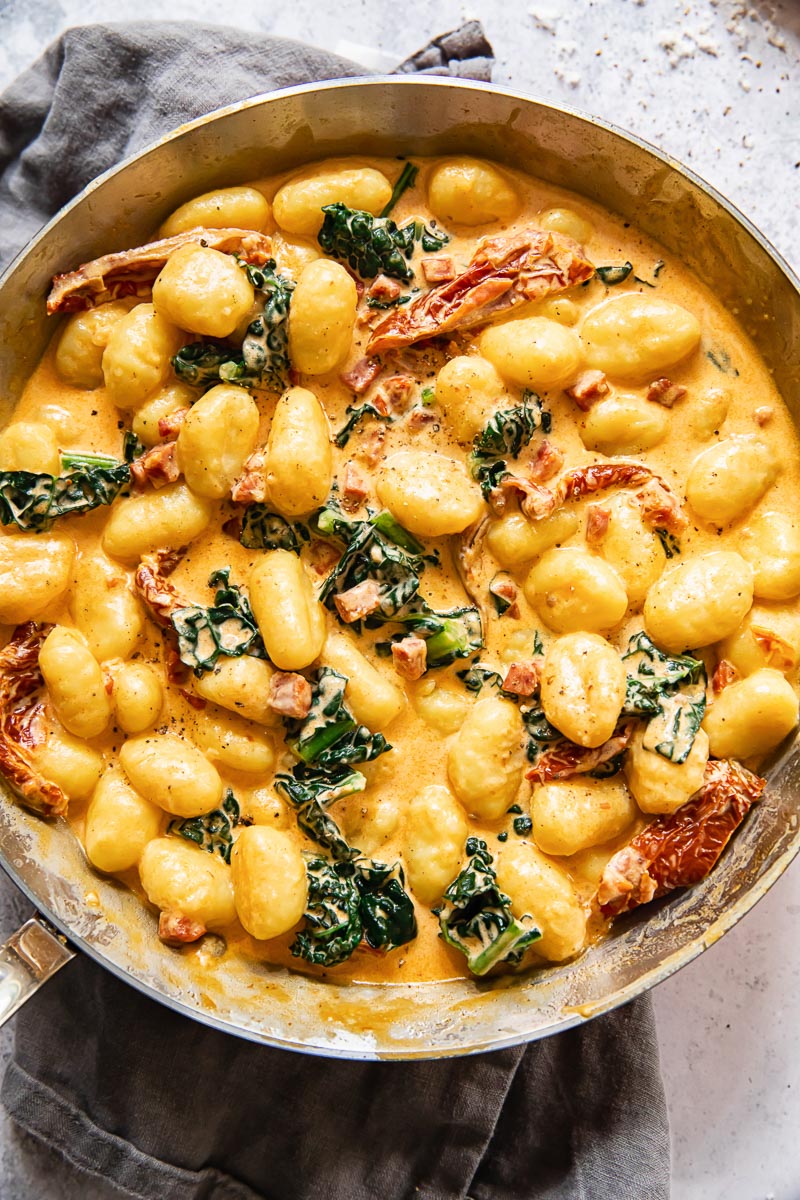 It's no secret that I love my quick pasta meals during busy weeknights. And what could be faster than fresh pasta like gnocchi? Done in 3 minutes flat!
All that is left to do is to whip up a flavourful sauce to bathe those little pillowy bites in! And here is where my beloved Spanish chorizo comes in.
Not too many things in the food world can compare to the intensity of the flavour packed in cured chorizo. Each little bite is an explosion.
I love eating chorizo as a part of my tapas platters but I love cooking with it even more. Just a small amount of this cured sausage, seasoned with garlic and smoked paprika, can impart heaps of flavour. Take a look at my Overnight Breakfast Egg Casserole as an example. Or my Cranberry and Chorizo Dip, which I love serving at Christmas time.
Gnocchi Sauce
If you are not familiar with gnocchi, let me help you discover them. To put it plainly, they are little dumplings, made primarily out of potatoes, and as other types of pasta, they come from Italy.
And when paired with the right sauce, there is nothing plain about them! What I mean by the "right sauce" is it needs to be bold and punchy as the little doughy bites can be bland if not cooked with bright and vibrant flavours.
For instance, this Gnocchi Bake with Meat Sauce and Mozzarella was inspired by the famous Gnocchi Sorrentina, and delivers quite a flavour punch.
My chorizo and sun-dried tomatoes sauce is another example of the bold and the beautiful. It comes together in 10 minutes. Quick and delicious. Just what we are after.
I have added a splash of cream and Parmesan cheese to my sauce because let's face it…creamy sauces are the epitome of comfort food.
However, you can substitute it with non-dairy alternatives like chicken broth or oat milk. The sauces made without the cream will be thinner, so add a little bit of flour or cornstarch to thicken yours.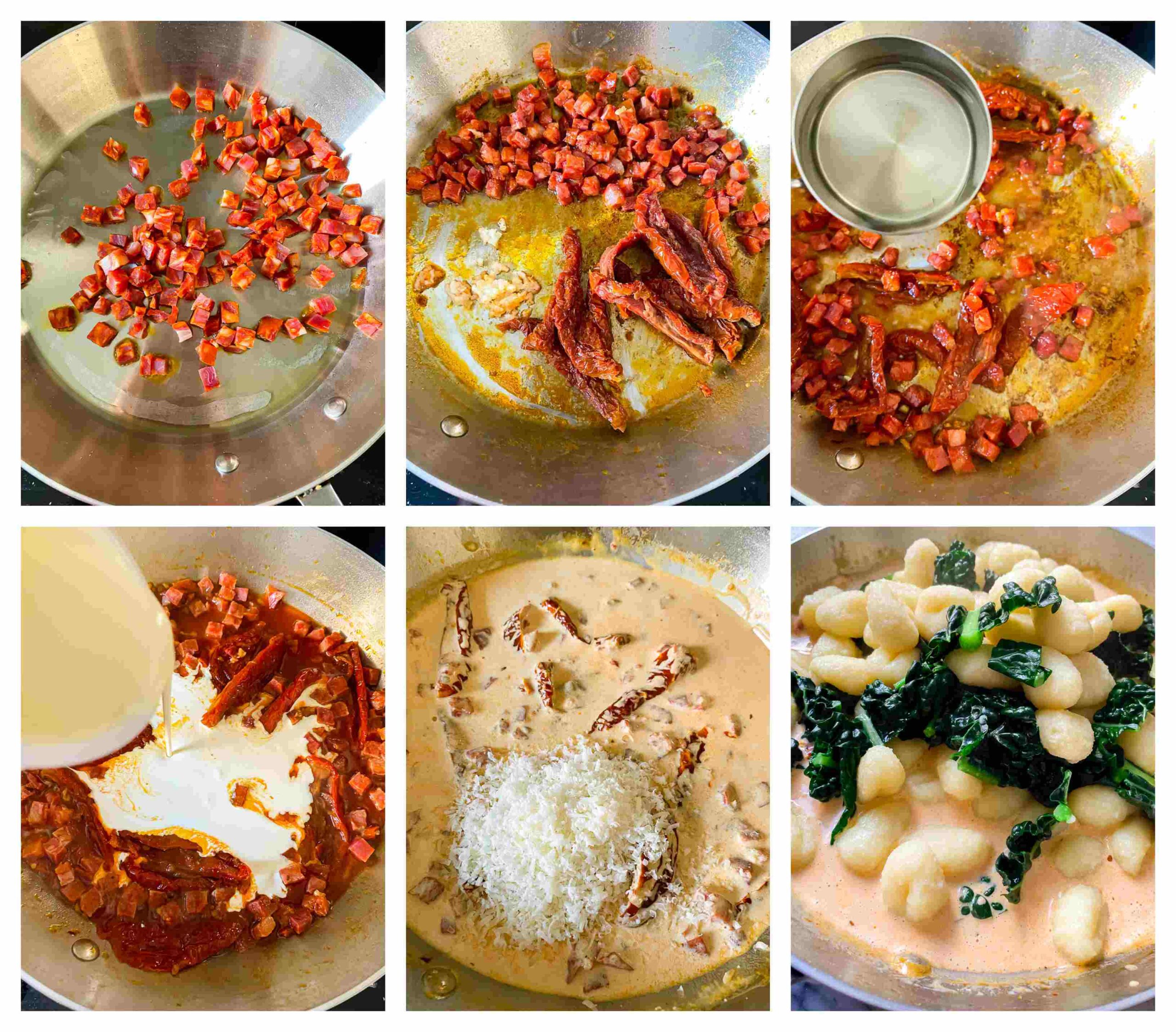 Serving Suggestions
This gnocchi dish is quite rich, so I would recommend serving it as a main dish but it's always nice to add a delicious salad to balance out the meal.
In this case, try my Basil Pesto Caprese Salad or Tomato Salad with Herb Vinaigrette.
If you are looking for starters, take a look at my Antipasti Recipe Collection. So many options to choose from!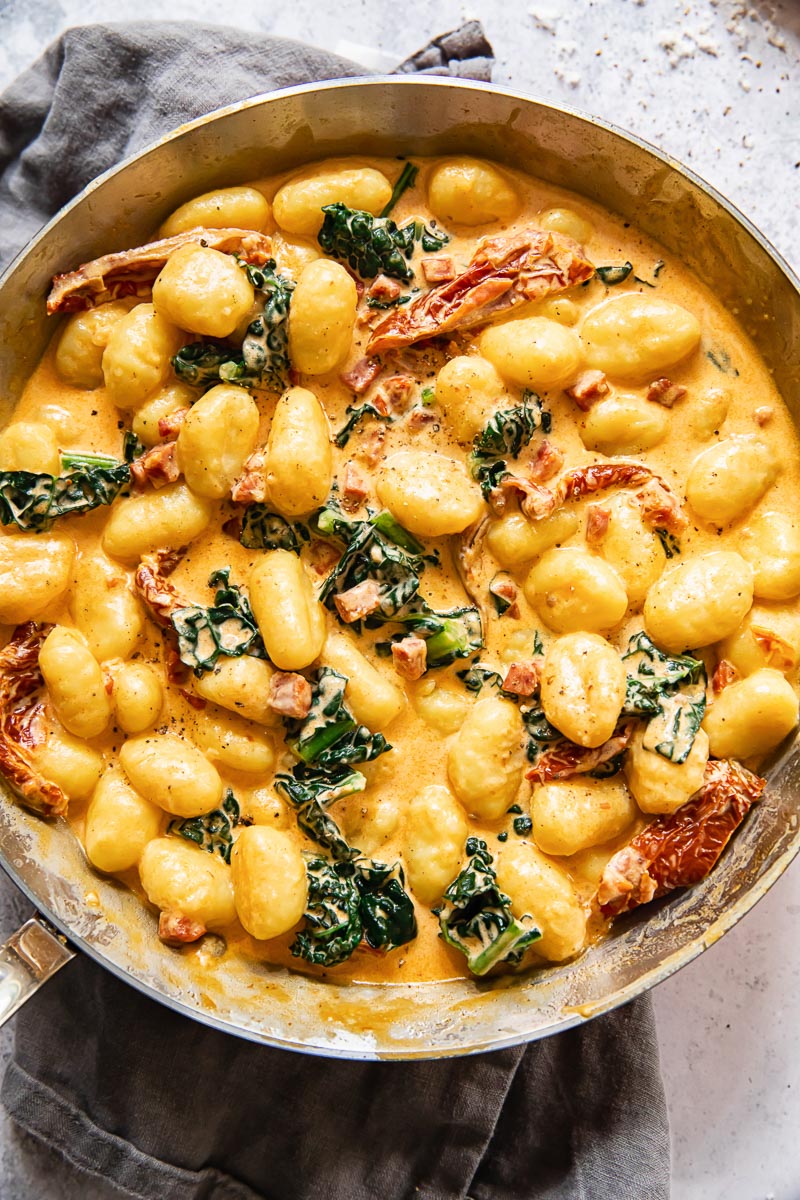 Ingredients
500g/1 lbs

fresh or frozen gnocchi

4-5

leaves

kale

sliced

1

tbsp

olive oil

75g/1/3 cup

cured chorizo

cubed

2

cloves

garlic

pressed

5-6

sun-dried tomatoes

packed in oil

125ml/1/2 cup

dry white wine or Vermouth

250ml/1 cup

double/heavy cream

50g/1/2 cup

Parmesan cheese

grated
Instructions
Set a large pot filled with water on a stove and bring to a boil. Once boiled, add a generous pinch of salt, gnocchi and sliced kale, cook according to package instructions.

Meanwhile, in a large pan heat the olive oil and add the diced cured chorizo, cook while stirring for 1 minutes over medium heat until the chorizo releases its fat and is slightly golden on the outside. Careful not to burn. Add the garlic and sliced sun-dried tomatoes to pan and cook for about 30 seconds, then deglaze the pan with the white wine and let everything simmer until the liquid is reduced in half for about 3 minutes.

Pour in the heavy cream and sprinkle the grated Parmesan all over, stir over low heat until the cheese is incorporated into the sauce. Drain the gnocchi with the kale and add directly to the sauce. Toss gently to combine. Chorizo is quite salty, so you need to taste the dish to determine whether more salt is needed. Serve immediately.
Nutrition Facts
Chorizo Gnocchi Recipe
Amount Per Serving
Calories 613
Calories from Fat 324
% Daily Value*
Fat 36g55%
Cholesterol 106mg35%
Sodium 900mg39%
Potassium 430mg12%
Carbohydrates 55g18%
Protein 17g34%
Vitamin A 6800IU136%
Vitamin C 70mg85%
Calcium 305mg31%
Iron 6mg33%
* Percent Daily Values are based on a 2000 calorie diet.