Italian flavoured sausage and pillowy soft gnocchi, tossed in exciting Romesco sauce, combine the flavours of Italy and Spain in one delicious meal.
If you are a big gnocchi fan, take a look at another recipe for gnocchi with chorizo and sun-dried tomatoes.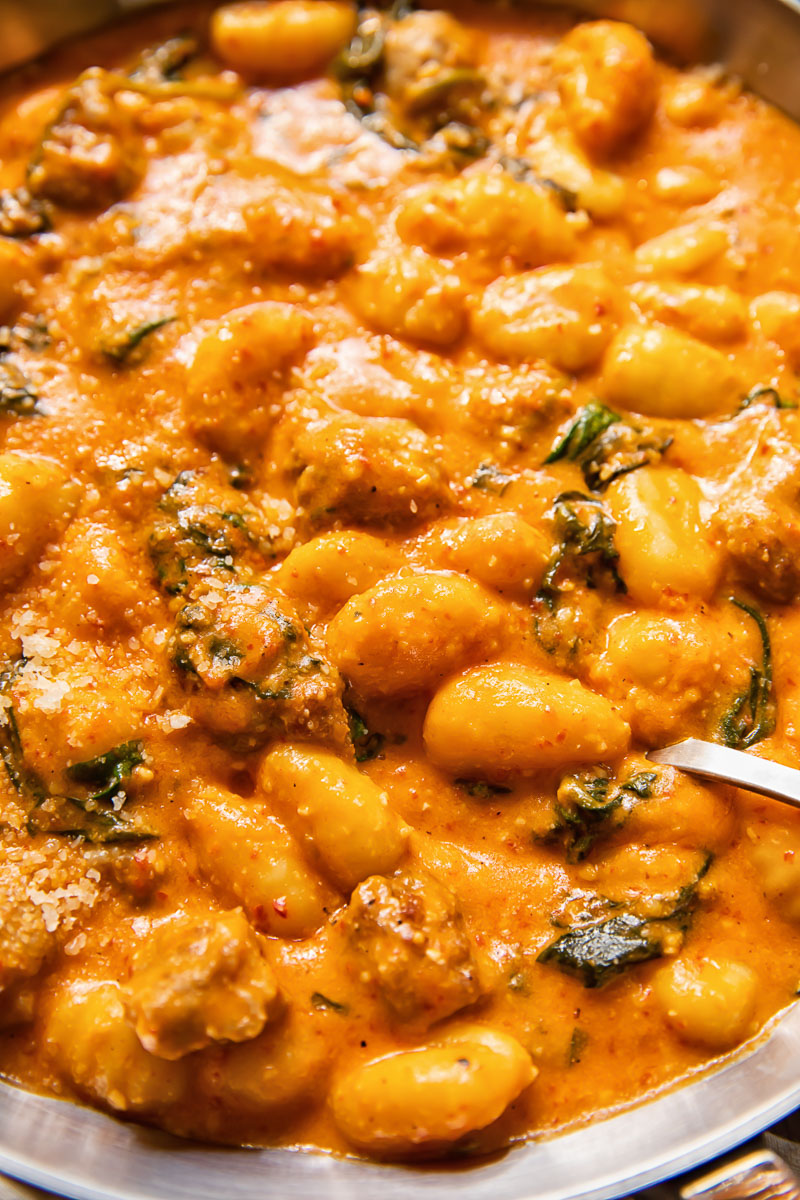 Whenever I think of a quick meal, pasta is the first thing that pops into my mind. And would could be faster than dried pasta? Fresh gnocchi, of course. They cook within 3 minutes and could be paired with a multitude of sauces for a variety of flavours.
Romesco Sauce
This brilliant sauce is Spanish in origin and in so many ways it reminds me of Italian pesto. It has a very similar idea of bold flavoured ingredients blended with nuts and seasoned with salt, paprika, garlic and red wine vinegar.
The end result is the feast of the senses. Sweet, tangy, salty and rich. It was originally created to compliment fish but it works with so many other dishes.
I love serving it with grilled asparagus, roasted cauliflower or padron peppers, which I did on one occasion when friends came for dinner. My friend Angela, who is Italian, mentioned that a similar sauce is used for pasta in Southern Italy as well. And that is how the idea for this recipe was born!
Romesco sauce is very easy to make. Simple combine all ingredients in a food processor and blend till smooth. It takes roughly 5 minutes. I love having a batch of it in my fridge. It instantly makes so many dishes a lot more exciting.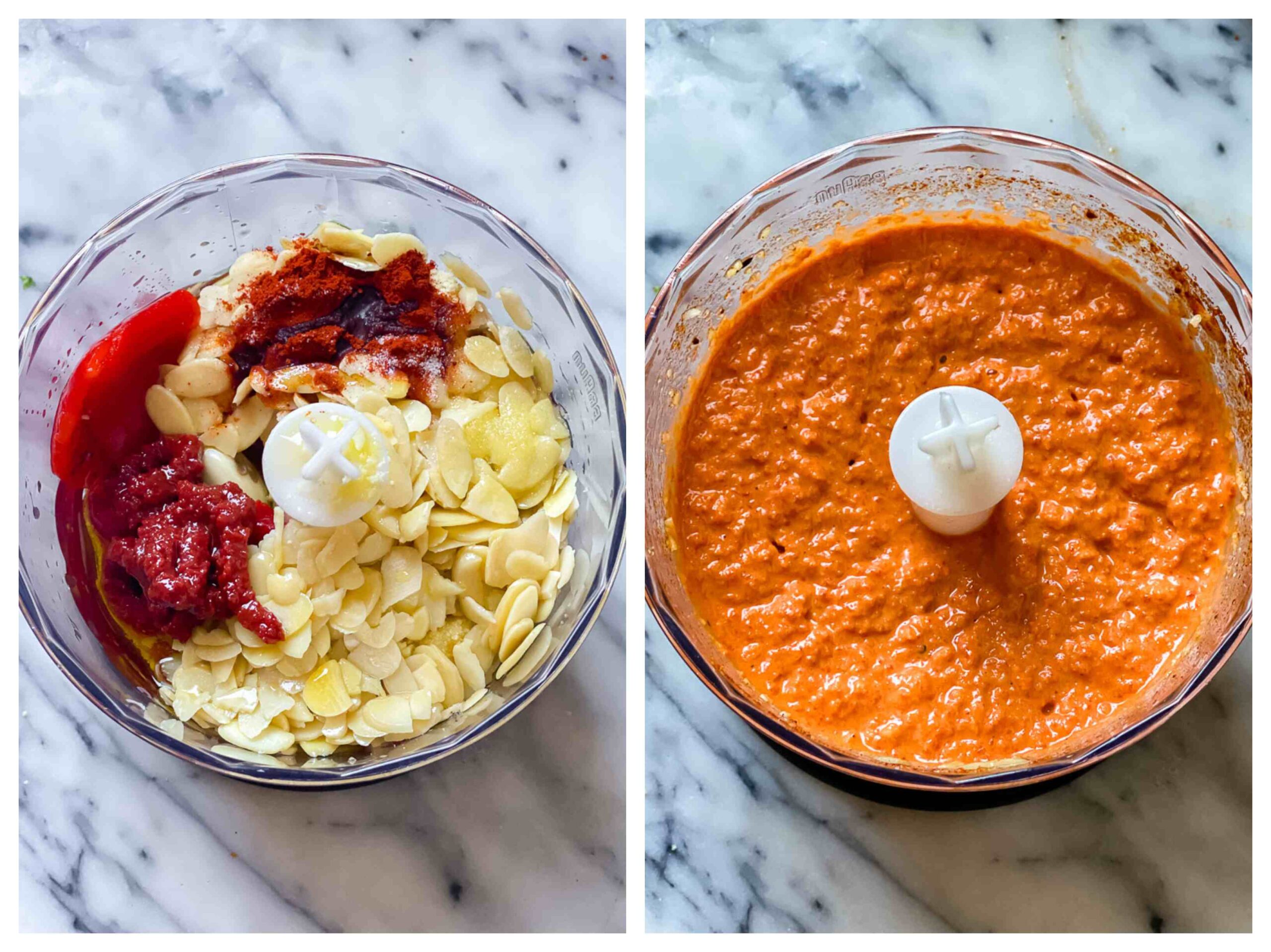 Recipe Tips and Notes
You can prepare the sauce several days in advance. I keep mine in glass jars. The sauce will taste better after it had a chance for the flavours to blend.
The recipe for the sauce makes double of what you will use for the gnocchi. The main reason for it is because it's very difficult to blend anything in small amounts. Once you taste the sauce you will be thrilled you have another jar in the fridge.
Any type of sausage will work in this recipe. I used flavoured sausage but you can also use Chorizo to stay with the Spanish flavours and to add a bit of spice and smokiness to your gnocchi.
I wanted to add a bit of greens to my pasta, so I used spinach. You can also use kale or tenderstem broccoli/broccolini.
Definitely thin out the sauce with a splash of the water you cooked the gnocchi in.
Finally, add a healthy portion of grated Parmesan!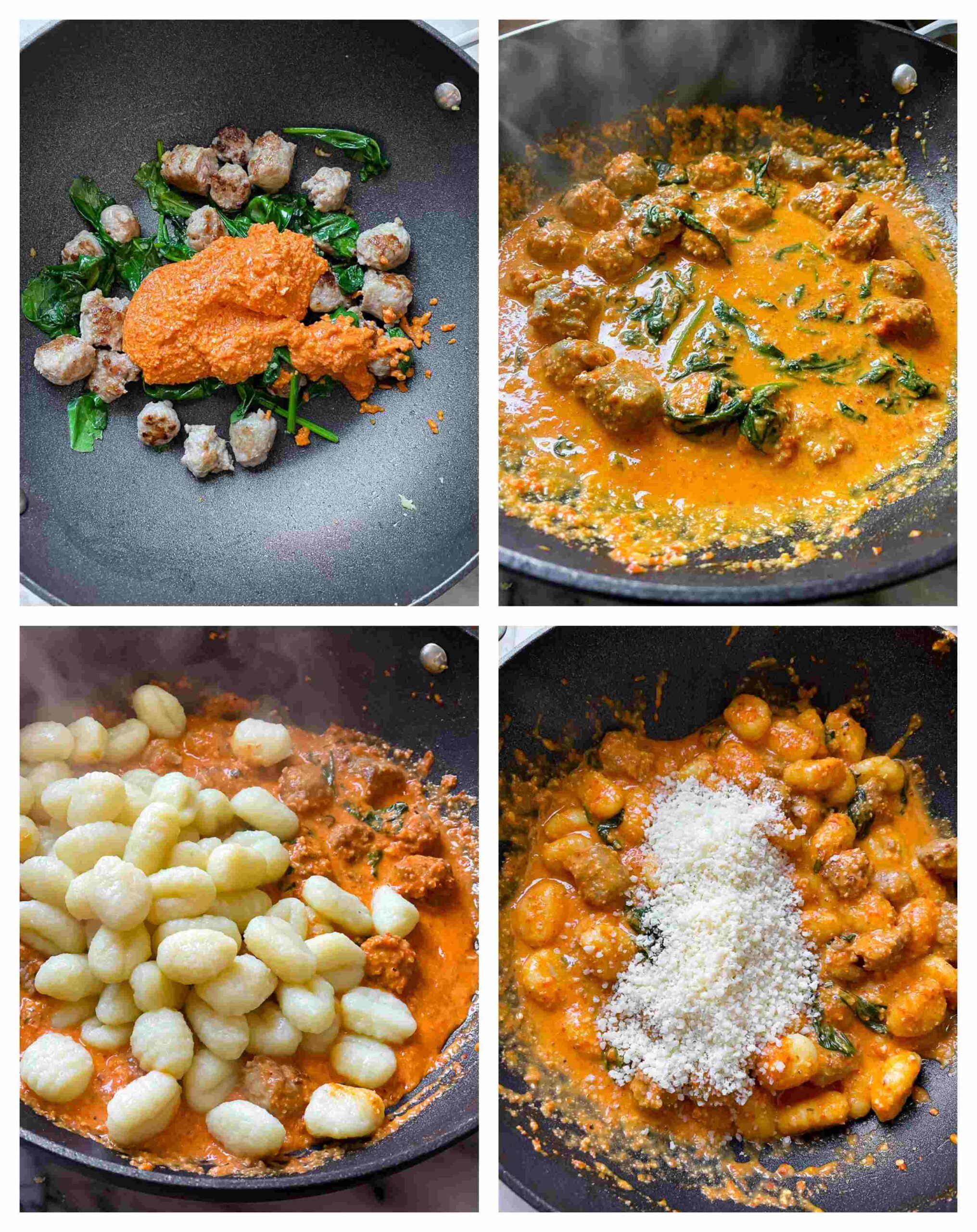 Serving Suggestions
This pasta dish with sausage and spinach could absolutely be served as a complete meal. However, I like adding more vegetables as a side for a nutritional benefit.
I recommend serving a simple green salad for an everyday meal or my Tuscan Panzanella salad for a special occasion. If you prefer cooked vegetables in the colder months, take a look at our pan fried zucchini with basil and Pecorino Romano cheese.
Another favourite and a suitable choice for winter is lemon garlic green beans with Parmesan.
More Delicious Gnocchi Recipes to Try: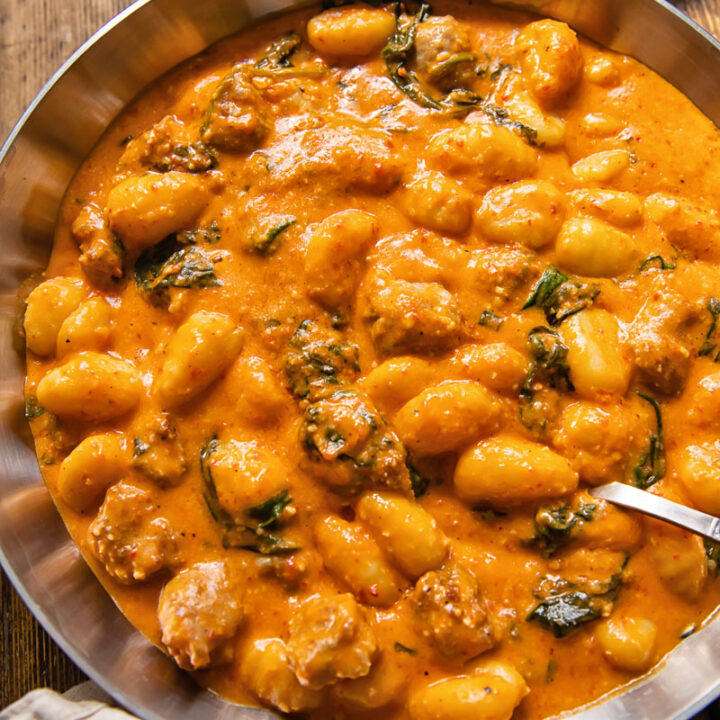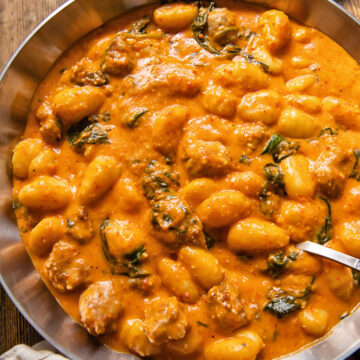 Sausage Gnocchi in Romesco Sauce
Italian flavoured sausage and gnocchi, tossed in exciting Romesco sauce, combine the flavours of Italy and Spain in one delicious meal.
Ingredients
For the Romesco Sauce
250g/3

large roasted peppers

from a jar, drained

1

tbsp

tomato paste

100g/1 cup

blanched almonds

2

cloves

garlic

1-1.5

tbsp

red wine vinegar

1

tsp

smoked paprika

50g/3 tbsp

extra virgin olive oil

salt to taste
For the Sausage Gnocchi
1

tbsp

olive oil

3

Italian flavoured sausages

casing removed

1-2

cloves

garlic

50g/1 ¾ cups

fresh spinach

200g/1 cup

Romesco sauce

½

cup

reserved pasta water

1

lbs

fresh gnocchi

50g/1/2

cup

Parmesan cheese

salt to taste
Instructions
Make the romesco sauce by combining the roasted red peppers, tomato paste, almonds, garlic, sherry vinegar, smoked paprika, extra virgin olive oil with a pinch of salt in a food processor or a blender. Process until you have a paste. Taste and add more salt to taste. Set aside.

Set a pot with water to boil. Once it boils, cook the gnocchi according to package instructions. Meanwhile, in a large pan, heat 1 tbsp of olive oil and add the sausages, crumble them with a spatula while it's cooking. When the sausages are nearly done, add the minced garlic and lower the heat, cook briefly, then add the spinach and cook until it's barely wilted. Pour in 200g/1 cup of the Romesco sauce, (save the rest of the sauce for another use) stir to combine and heat through, then add a splash of the water from the pot with gnocchi, start with a small amount and add more if necessary, stir to combine.

Drain the cooked gnocchi and add to the pan with the sauce. Toss to coat and add the grated Parmesan cheese, taste and add salt accordingly. If the sauce is too thick, you might want to add more of the reserved pasta water.