What would you say to a recipe for the creamiest gnocchi if no actual cream was added to it? This butternut squash gnocchi recipe is just that! Delicious and satisfying meal to cosy up with in colder weather months.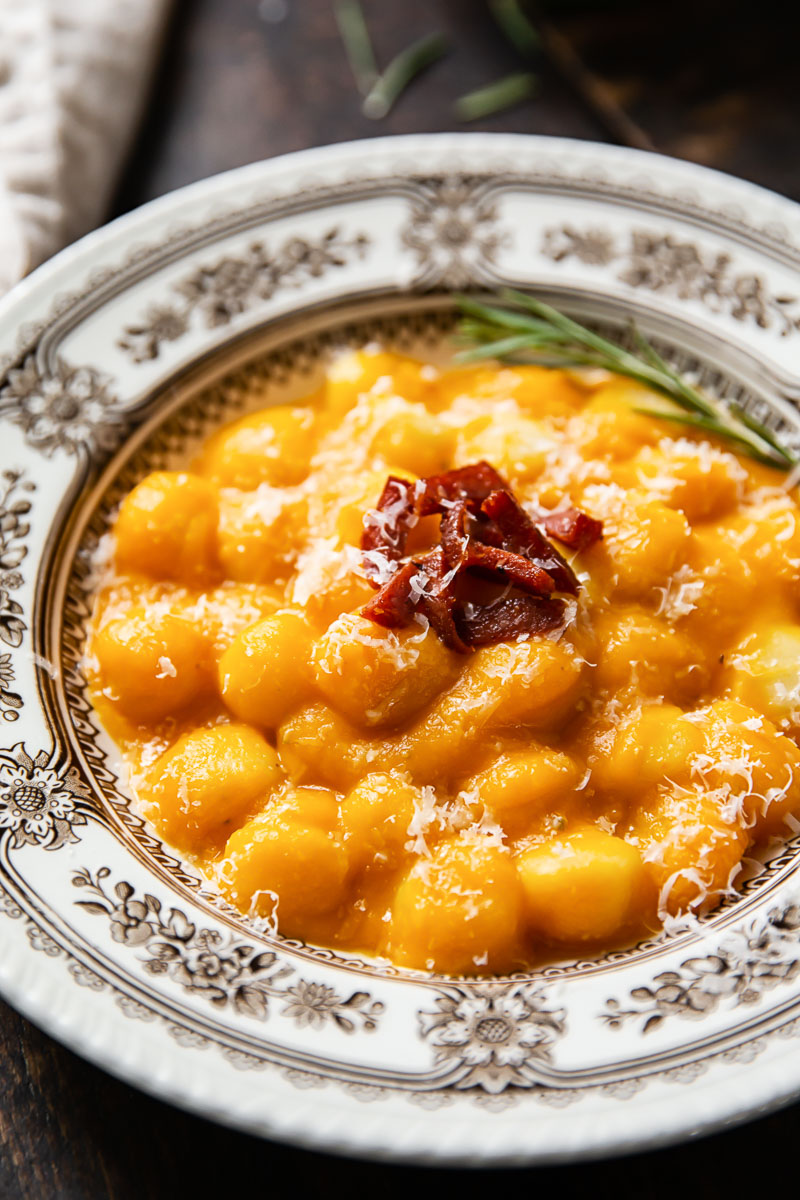 What are the benefits of butternut squash?
It's crazy but it seems that every week when I stock up on groceries, a giant butternut squash always finds its way into my trolley!
What I really love about squash is while it has all qualities and benefits of a vegetable it also can pass off as "meat" in stews and curries or when blended as "cream" in pasta dishes.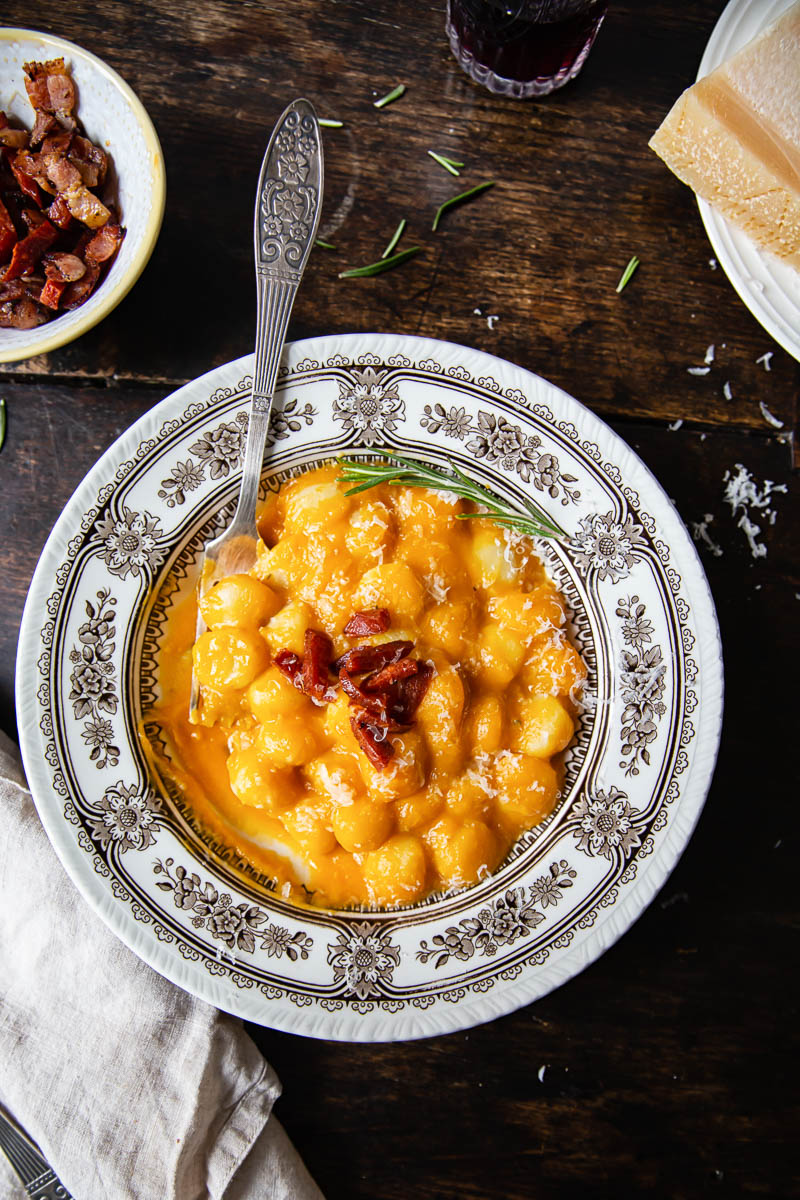 And although squash has a distinctive taste of its own, it's also a bit of a chameleon and takes on flavours that surround it.
Did I say enough in praise of squash? One more thing…It's so affordable!
How do I make butternut squash gnocchi?
This recipe is an all-around winner. It's adapted from Jamie Oliver's Comfort Food book. As soon as I saw it I wanted it in my belly.
Soft and slightly chewy potato gnocchi smothered in creamy butternut squash sauce, seasoned with rosemary, garlic and Parmesan cheese.
I've also topped my butternut squash gnocchi with just a light sprinkling of fried chorizo strips to balance out the sweet and rich flavour of the sauce with savoury, smoky and spicy taste of the cured sausage.
How do I prepare butternut squash for cooking?
Butternut squash is known for being difficult to prepare. Its tough skin and flesh makes it hard to peel and and cut. Not to mention it takes a while to cook!
My best tip for dealing with butternut squash is using very sharp vegetable peeler and knife. Or better yet buy it prepared aka peeled and cubed in your local supermarket. It costs a bit more but sometimes it's worth it to pay for convenience.
There is a trick to cooking it faster. Just sliced it thinly and cook covered until soft. It takes about 20-25 minutes!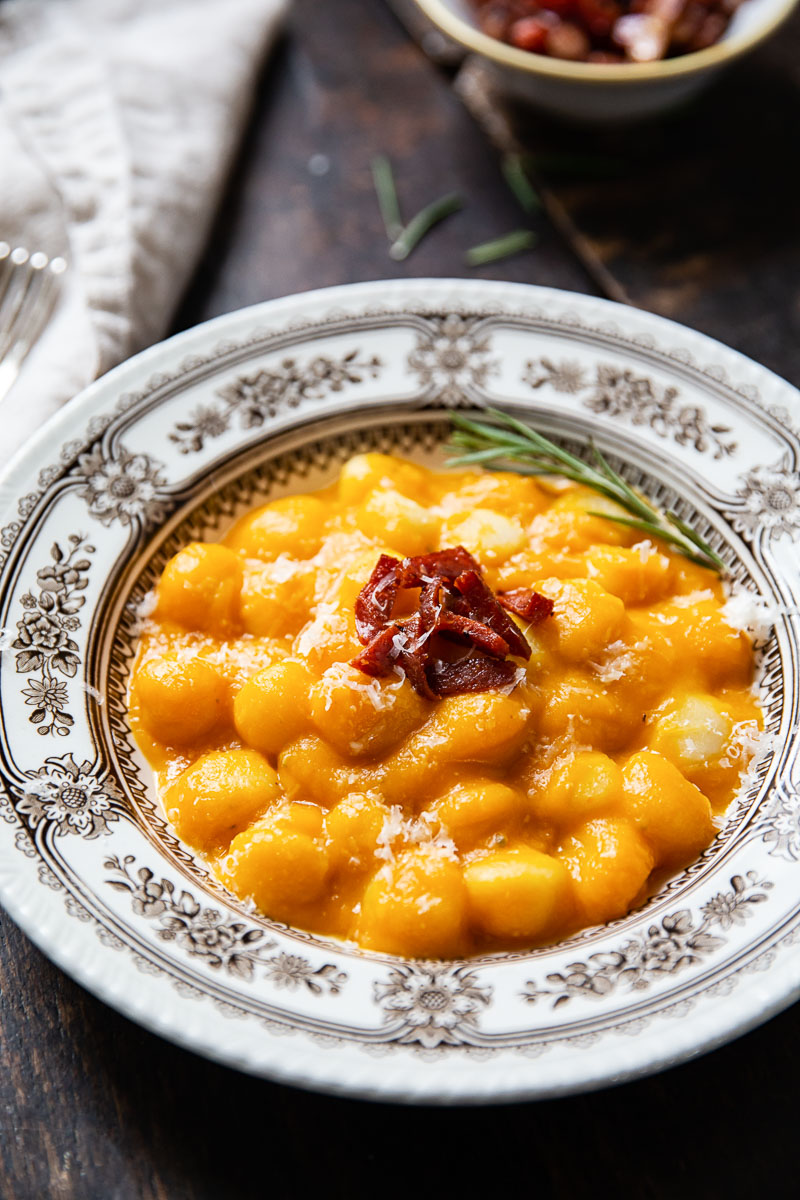 What are acceptable substitutions for butternut squash gnocchi recipe?
If you can't find chorizo, you can use good quality bacon instead.
Sage or thyme can be used in place of rosemary. They all complement and add flavour butternut squash beautifully.
You can also substitute butternut squash with orange-fleshed sweet potato and a bit of stock.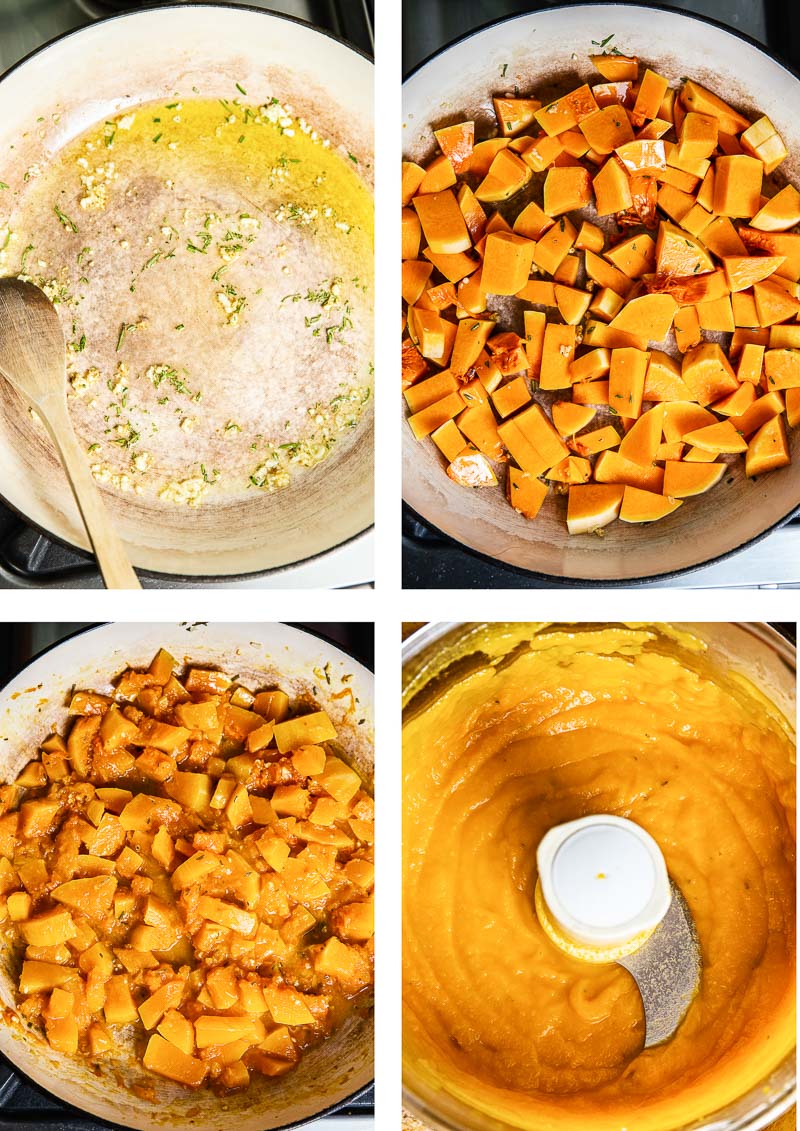 I am using a food processor to blend my cooked butternut squash but a regular blender or an immersion blender will do the job just fine.
I don't recommend using a potato masher as it's impossible to achieve the same level of smoothness that will resemble a cream sauce.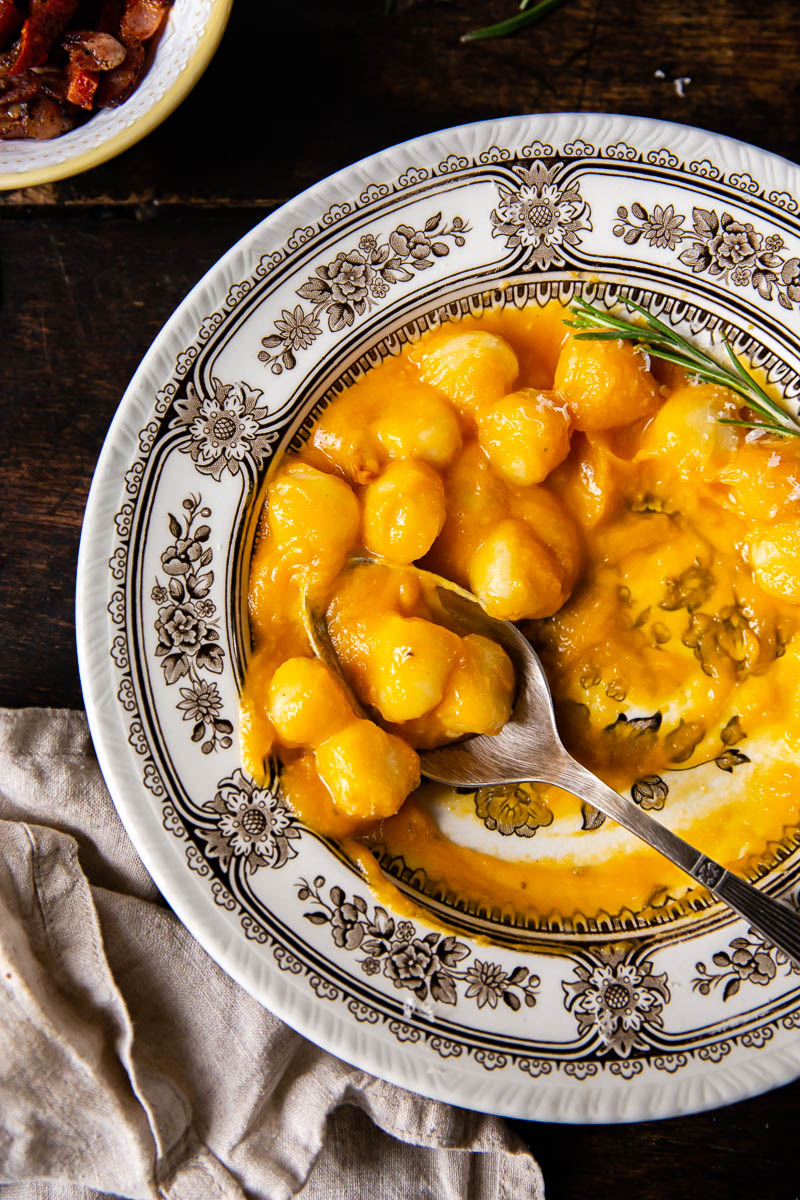 What we are after is creamy, silky smooth butternut squash sauce that will fool you into thinking you are eating the most indulgent pasta dish in the best restaurant in town.
When in reality this butternut squash gnocchi recipe is definitely on the healthier side!
Wait… can you say "creamy" when there is no actual cream involved? Either way it's a soothing, "end-of-a-long-day" kinda dish. It requires just a handful of ingredients and barely any hands-on time.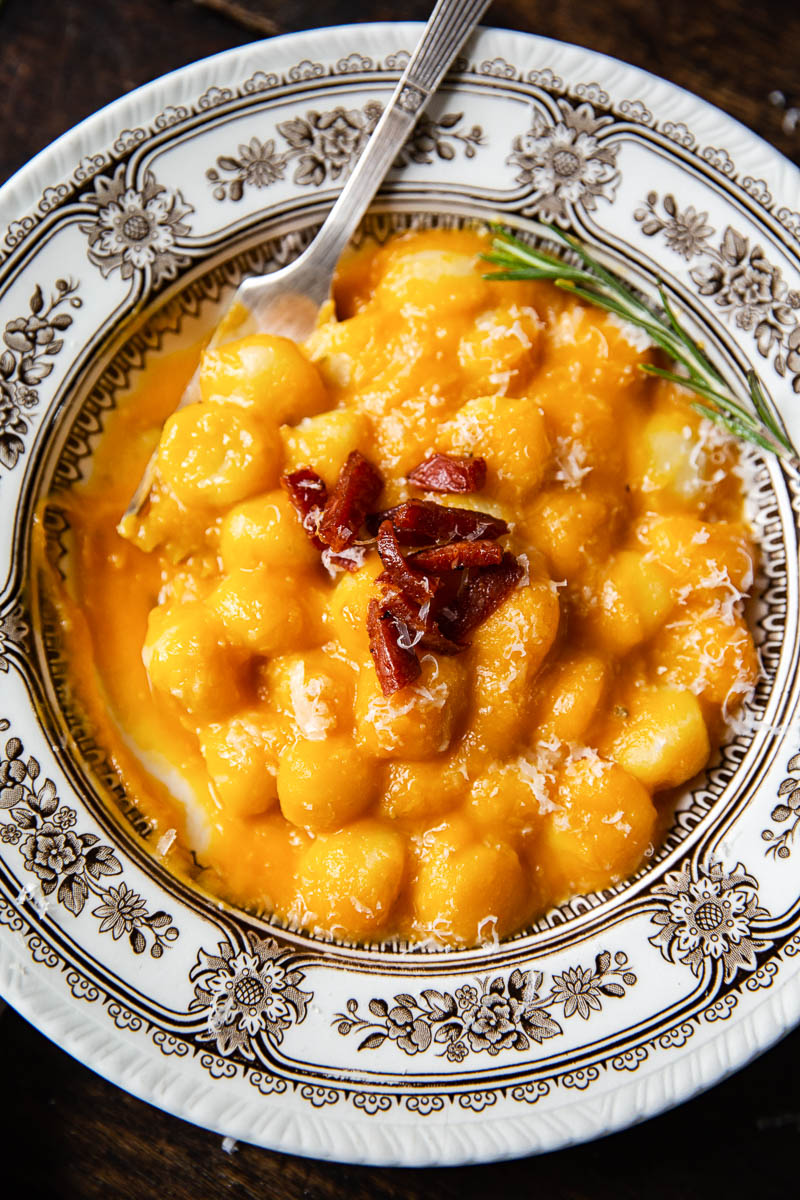 For more butternut squash recipe, check out my favourites:
Roasted Butternut Squash with Spiced Lentils, Feta and Pine Nuts
Chickpea and Butternut Squash Curry
Butternut Squash and Corn Chowder
If you make any of these recipe, tag @vikalinka in your Instagram snaps! I would love to see your creations!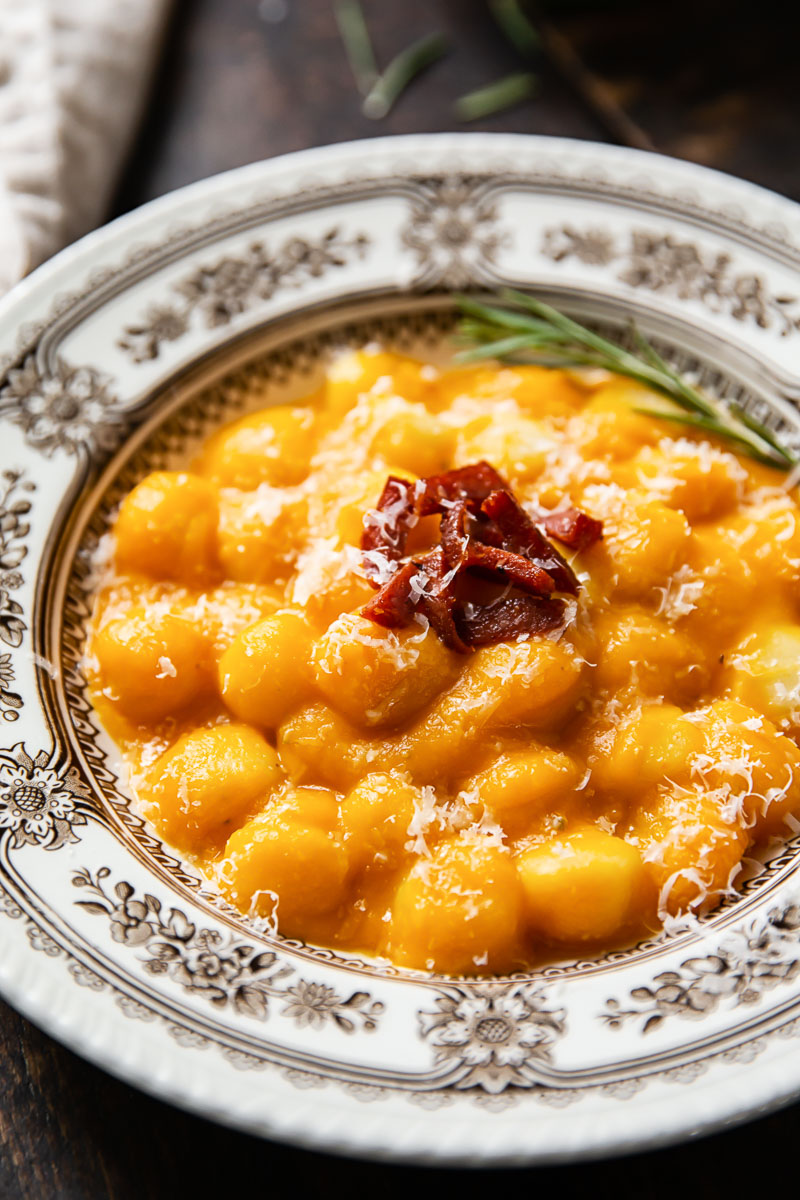 Ingredients
1

tbsp

olive oil

3

cloves

garlic

1

sprigs of fresh rosemary

400g/2 cups

butternut squash

peeled and diced

250g/1 cup

chicken or vegetable stock

40g/1/4 cup

Parmesan cheese

1

lbs

gnocchi

8

slices

chorizo

or bacon
Instructions
Peel, deseed and slice the butternut squash thinly.

Chop up garlic and rosemary and cook in olive oil in a heavy bottomed pan over low heat for 1 minute. Make sure they don't take on any colour.

Add the butternut squash, stock, bring to a boil, then lower the heat and cover with a lid. Simmer for 20 minutes until butternut squash is very soft.

Start cooking gnocchi according to package directions 10 minutes before the sauce is done.

Slice the chorizo and cut into strips, fry with no additional oil for about 1 minute over low heat. Watch carefully as it burns quickly.

When the butternut squash is cooked transfer the chunky sauce into a food processor and bled until smooth and silky, then return it to the pan.

Taste the sauce and stir in grated parmesan cheese, then add salt if necessary (your stock already has salt so be careful not to over-salt).

Strain the gnocchi while reserving ½ cup of the cooking liquid. Add the gnocchi to the sauce with a splash of reserved water to thin out the sauce if too thick.

Serve topped with fried chorizo or bacon and freshly grated parmesan cheese.
Nutrition Facts
Creamy Butternut Squash Gnocchi
Amount Per Serving
Calories 334
Calories from Fat 72
% Daily Value*
Fat 8g12%
Cholesterol 10mg3%
Sodium 663mg29%
Potassium 435mg12%
Carbohydrates 55g18%
Protein 11g22%
Vitamin A 10710IU214%
Vitamin C 21.7mg26%
Calcium 193mg19%
Iron 5mg28%
* Percent Daily Values are based on a 2000 calorie diet.