This butternut squash risotto is the epitome of comfort food. Delicious, satisfying, easy to make and warms you up from the inside. This recipe is a perfect meatless entree that will please vegetarians and meat lovers alike!
For another vegetarian option, take a look at our Spring Asparagus Risotto.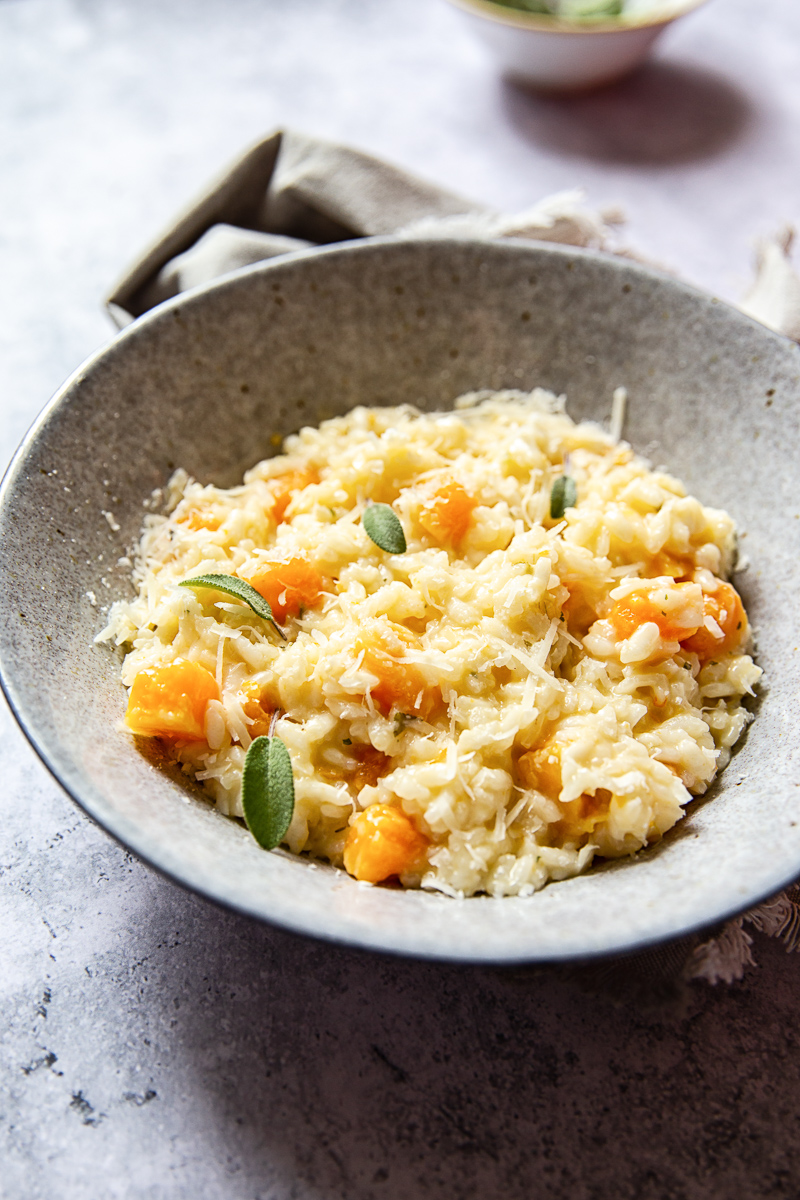 Before I moved to England I imagined English winter days to be long, dreary and filled with mist and fog. What I didn't expect, however, is to be constantly pounded by a relentless wind.
It rips through me as soon as I leave the comfort of my cozy home, it tosses my carefully made hair about, it leaves me feeling chilled to the bone on the short walk from my front door to my car.
But I quickly forget the unfriendliness of the wind when it sends a pile of dry autumn leaves into a carefully choreographed dance. I love London.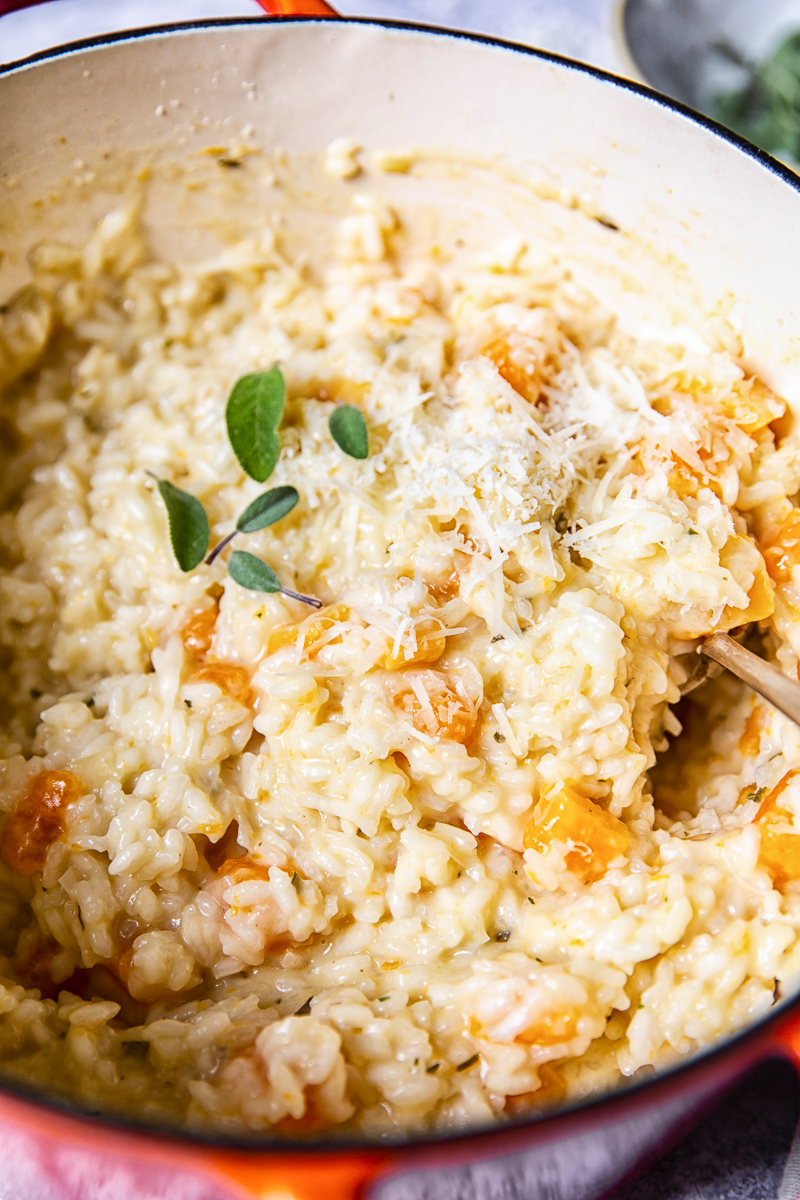 Risotto Recipes
Romantic notions aside, one needs to find a way to warm up on a day like this. My absolutely favourite food to fill my belly with warmth and comfort is risotto.
I make risotto quite often and I love experimenting with different flavours. Chicken and Mushroom Risotto is a great one pan meal for busy night. Or try our Prawn Risotto if you are a seafood lover. Pumpkin Risotto is one of Italian classics, so no ingenuity on my part here.
I used seasonal butternut squash instead of pumpkin and upped the creaminess of the dish by adding mild goat cheese. The result far exceeded my expectations. Sweet butternut squash and slightly tangy goat cheese strike just the right balance in this creamy risotto.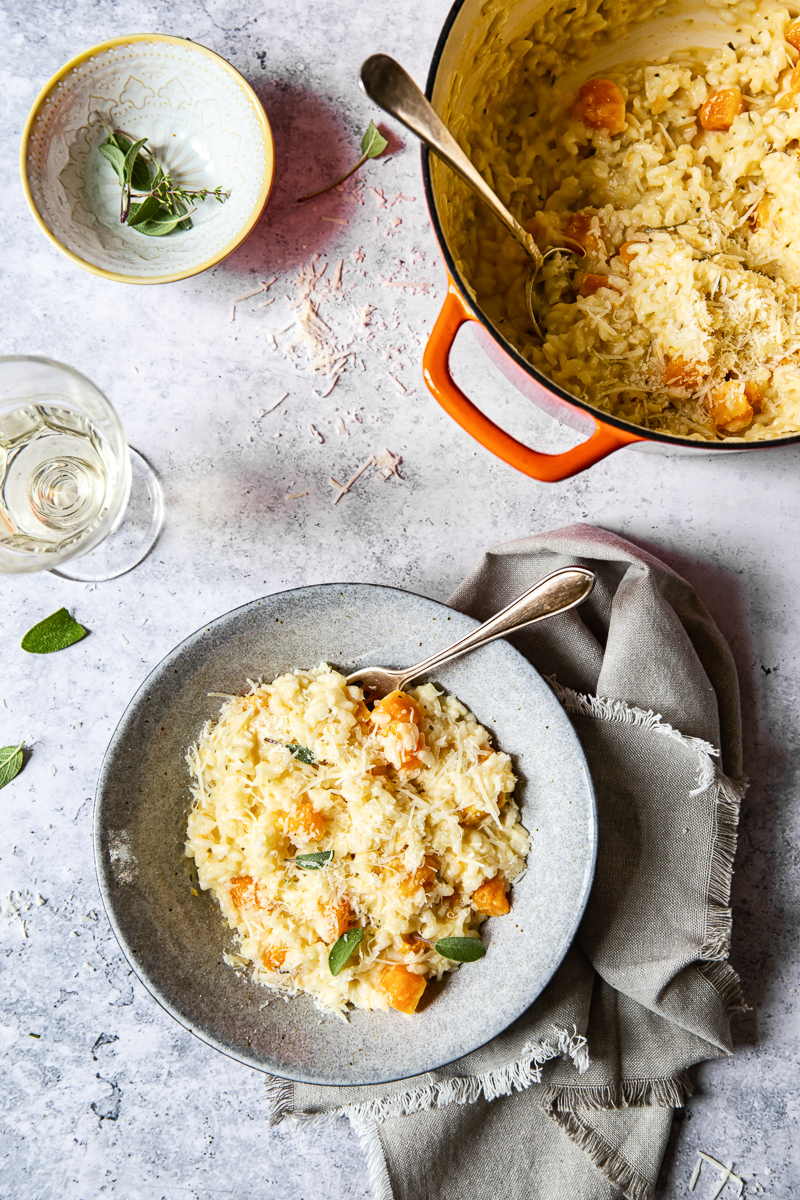 Recipe Tips and Notes
Use a large pot rather than a pan to make risotto unless you have a special risotto pan that professional chefs use. You need it to be deep enough for the risotto to come out properly creamy.
Use risotto rice. The most accessible and affordable rice is Arborio.
Add a splash of dry white wine or Vermouth to add depth and balance out flavours, so your risotto is not just rich and cheesy but also complex and delicious.
Use the best quality stock available. I am not insisting on homemade here since it's not realistic to always have homemade stock stashed in your freezer. However, it makes a difference to use the best tasting stock to flavour your risotto.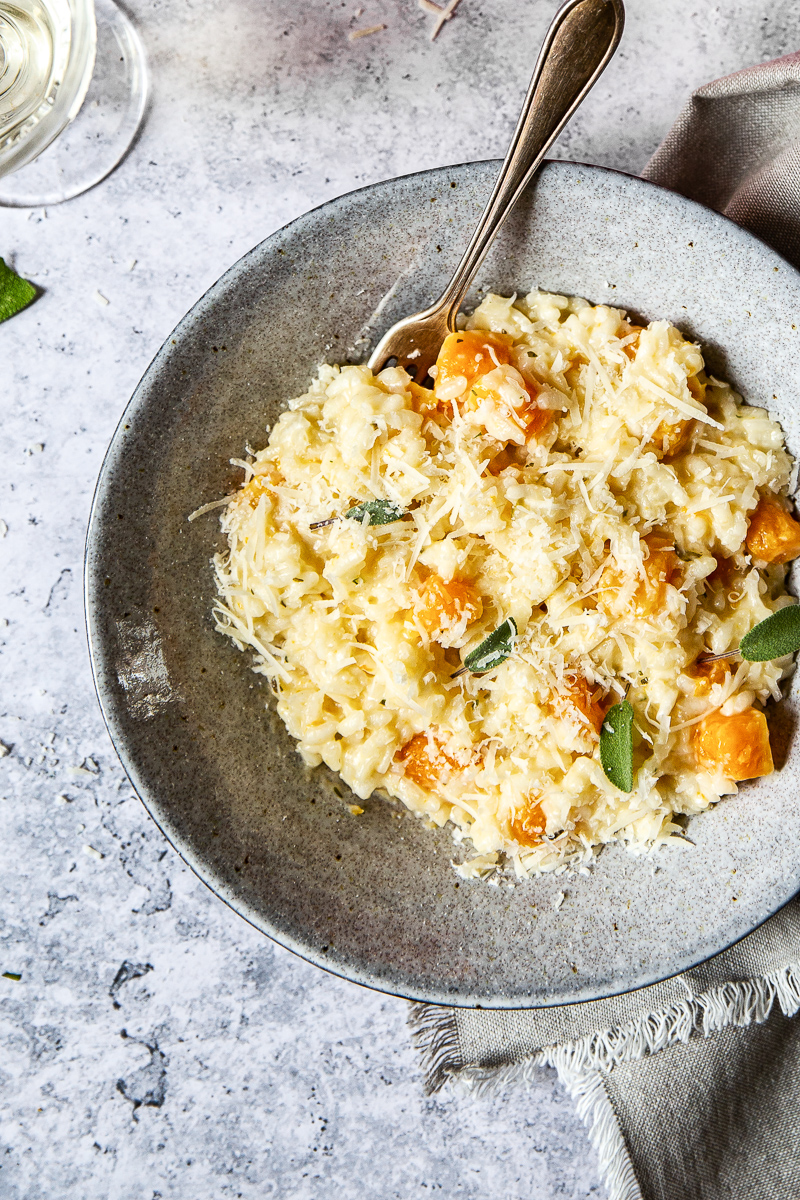 Risotto is known for being a fussy recipe due to "constant stirring". I would say it's a huge exaggeration. I stir for about 30 seconds every time I add a ladleful of stock ,and let the risotto bubble away on its own most of the time.
The texture of a perfectly cooked risotto should be pretty loose. It should ripple rather than hold shape when poured in a bowl. The rice should be cooked but still have a bite to it. If it's soft like a rice pudding, it's overcooked.
Cook the risotto on medium heat in order to maintain constant simmering.
Don't forget to salt when you add each ingredient. Then at the end taste it and adjust the seasoning if needed. Risotto needs quite a lot of salt for the flavours to come through.
Even off the heat your rice continues to absorb stock. At the end of cooking time if you find your rice too dry but you are out of stock, just add a bit of boiling water and stir.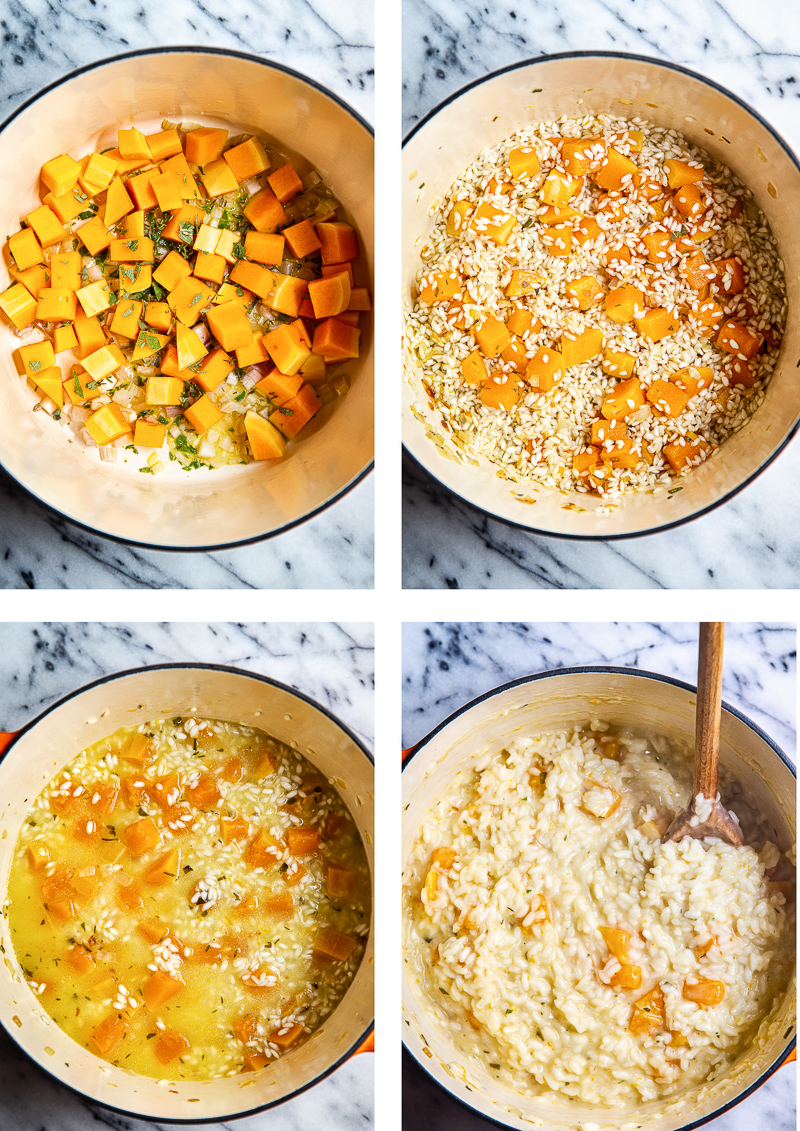 Add-ons and Substitutions
Use dried herbs instead of fresh ones. Sage goes particularly well with butternut squash and pumpkin but could be easily substituted with rosemary.
Use cream cheese instead of goat cheese.
Add pieces of rotisserie chicken, bacon or even chopped up chorizo to make this butternut squash risotto a non-vegetarian version.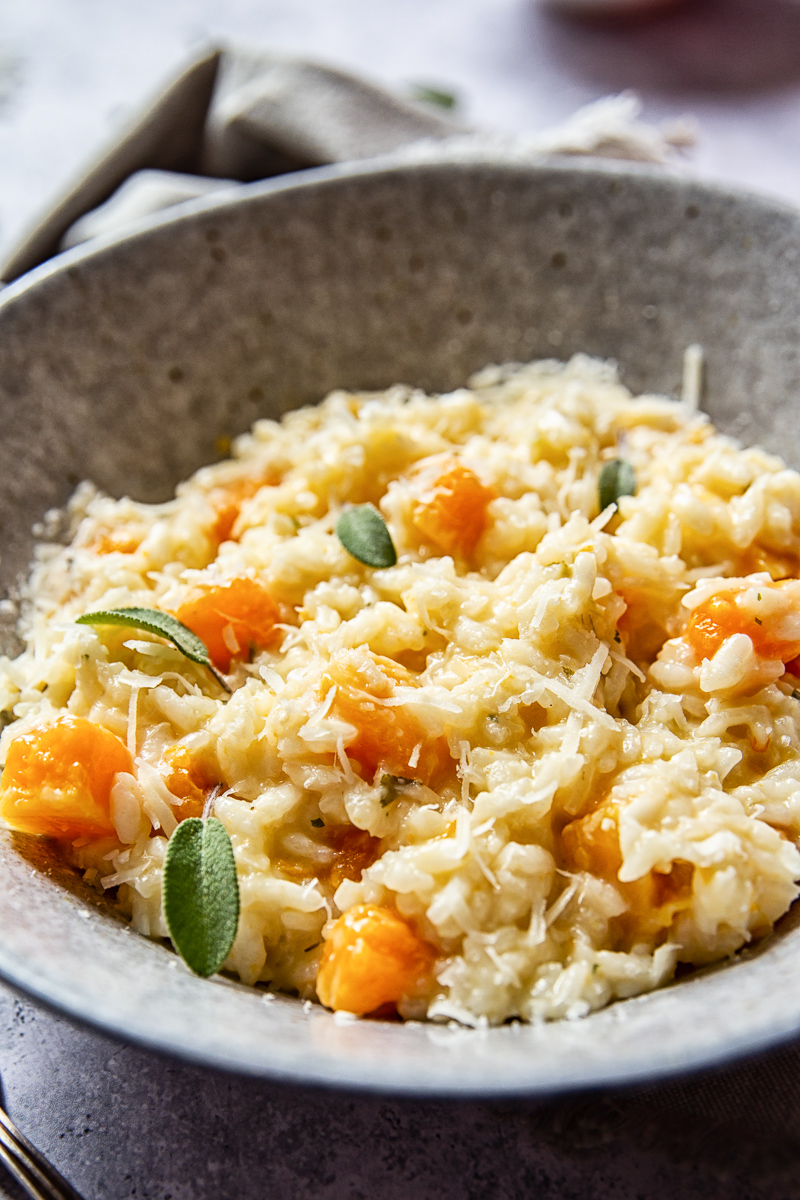 For more vegetarian recipes, check out our favourites:
If you make any of these, I would love to see your photos. Simply tag @vikalinka in your Instagram snaps to show off your creations!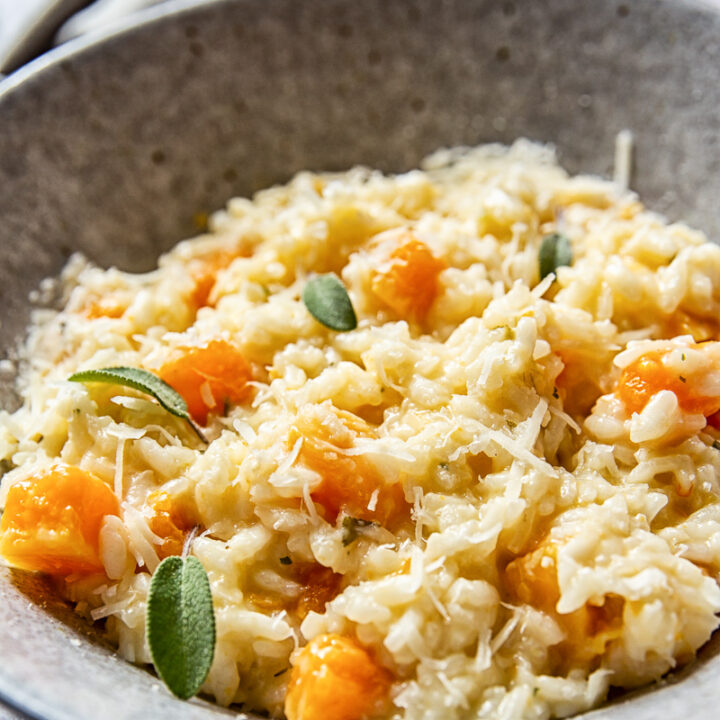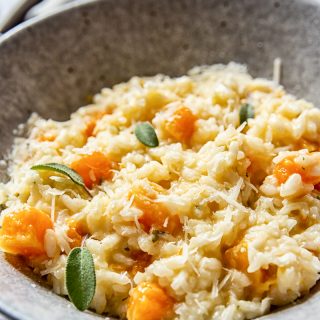 Ingredients
200g/1cup

butternut Squash

1 litre/4-4.5cups

chicken or Vegetable Stock

2

tbsp

olive oil

1

onion

small, diced

4

sage leaves

chopped

2 sprigs/1tsp dried

fresh or dried thyme

300gr/1.5cups

Arborio Rice

125ml/1/2cup

dry white wine

salt to taste

2

tbsp

mild goat cheese

or Cream Cheese

4

tbsp

Parmesan cheese
Instructions
Heat your stock and keep it on the stove.

Dice your peeled butternut squash into 1 cm cubes, chop your onion, sage and take thyme leaves off the sprigs, cook in olive oil over low heat for 10 minutes with a pinch of salt until butternut squash is nearly done.

Add arborio rice and cook while stirring for 2 minutes in order to slightly toast the rice and coat it with olive oil. Add the wine and cook it until most of it evaporates. Add a pinch of salt.

Spoon a ladleful of stock, so the rice is just covered. Your heat shouldn't be too high or too low, adjust it so the risotto simmers.

Continue adding your stock in equal intervals each time the previous ladleful is absorbed and keep stirring to release the starch and ensure your risotto is creamy. The whole process should take you about 20 minutes.

Take it off the heat and stir in goat cheese, then grated parmesan cheese. Taste again and adjust salt if needed.
Nutrition
Calories:
425
kcal
|
Carbohydrates:
57
g
|
Protein:
13
g
|
Fat:
13
g
|
Saturated Fat:
3
g
|
Cholesterol:
13
mg
|
Sodium:
1617
mg
|
Potassium:
528
mg
|
Fiber:
3
g
|
Sugar:
6
g
|
Vitamin A:
5445
IU
|
Vitamin C:
13.3
mg
|
Calcium:
119
mg
|
Iron:
3.9
mg
Originally published 11/2013. Updated 10/2018