This creamy shrimp aka prawn risotto with tomatoes and green peas is an easy one pan meal that is delicious and comforting.
If prawns are not your favourite, take a look at our Chicken Risotto with Mushrooms recipe.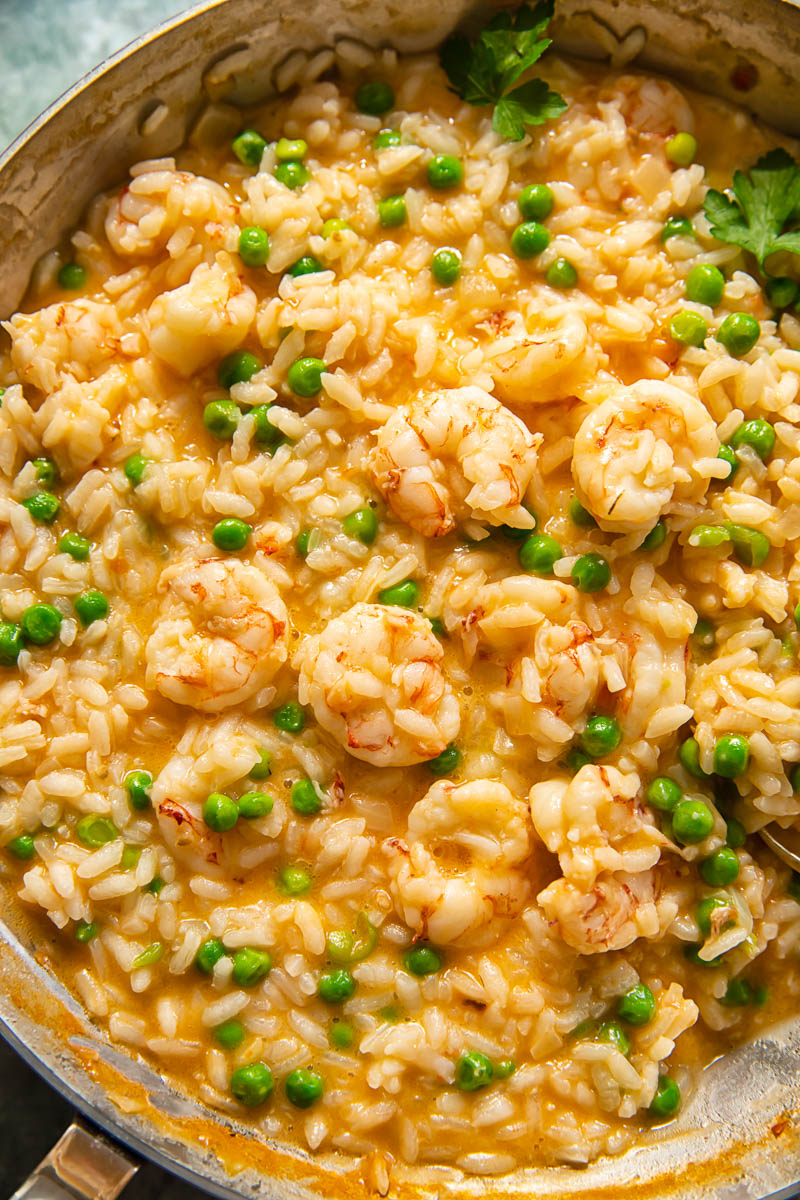 I can't think of a better comfort meal for myself than a creamy risotto. It's hard to resist a bowl of steaming risotto when plump juicy prawns are involved. I can never decide between prawn pasta or prawn risotto. I love them both!
The recipe I am sharing today is inspired by the traditional Risotto ai Frutti di Mare (Seafood Risotto). I've tried numerous versions of the classic in various Italian restaurants, and out of those experiences came this recipe. I simplified the process a tiny bit for the busy modern cook and added green peas to make it a complete one pan meal.
I chose prawns (or shrimp in the US) for my risotto simply because they are my favourite type of seafood. But don't let my personal preference stop you from adding scallops, mussels or clams.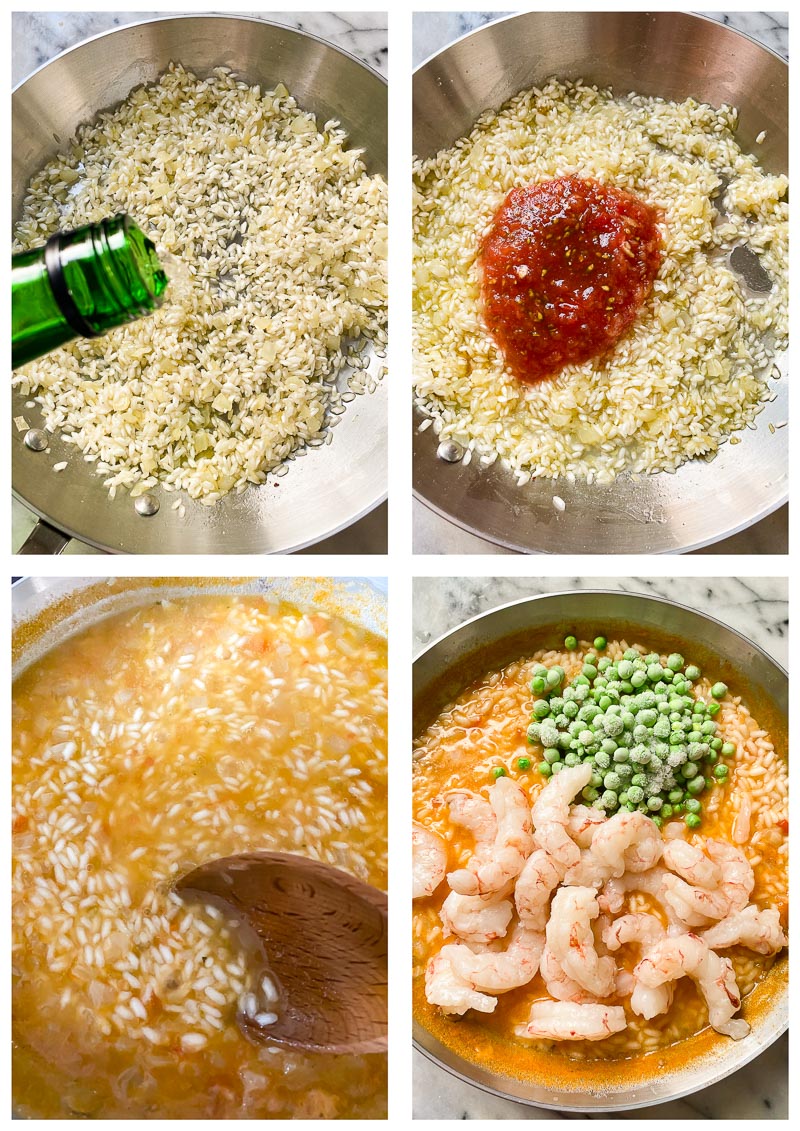 Recipe Tips and Notes
Set yourself up for success by using the right kind of rice. You will need starchy rice, which will make your risotto luscious and creamy. Arborio or Carnaroli rice are the best and the easiest to source.
Add a touch of acidity to your risotto. Otherwise rice could taste a bit bland. I like using either dry white wine such as Sauvignon Blanc or Vermouth.
Seafood risotto often features tomatoes for the same reason as wine. They bring a little acidity and sweetness for a balance of flavour. I grated 1 large tomato into my risotto for a milder taste. You can also use 1 tablespoon of tomato paste instead.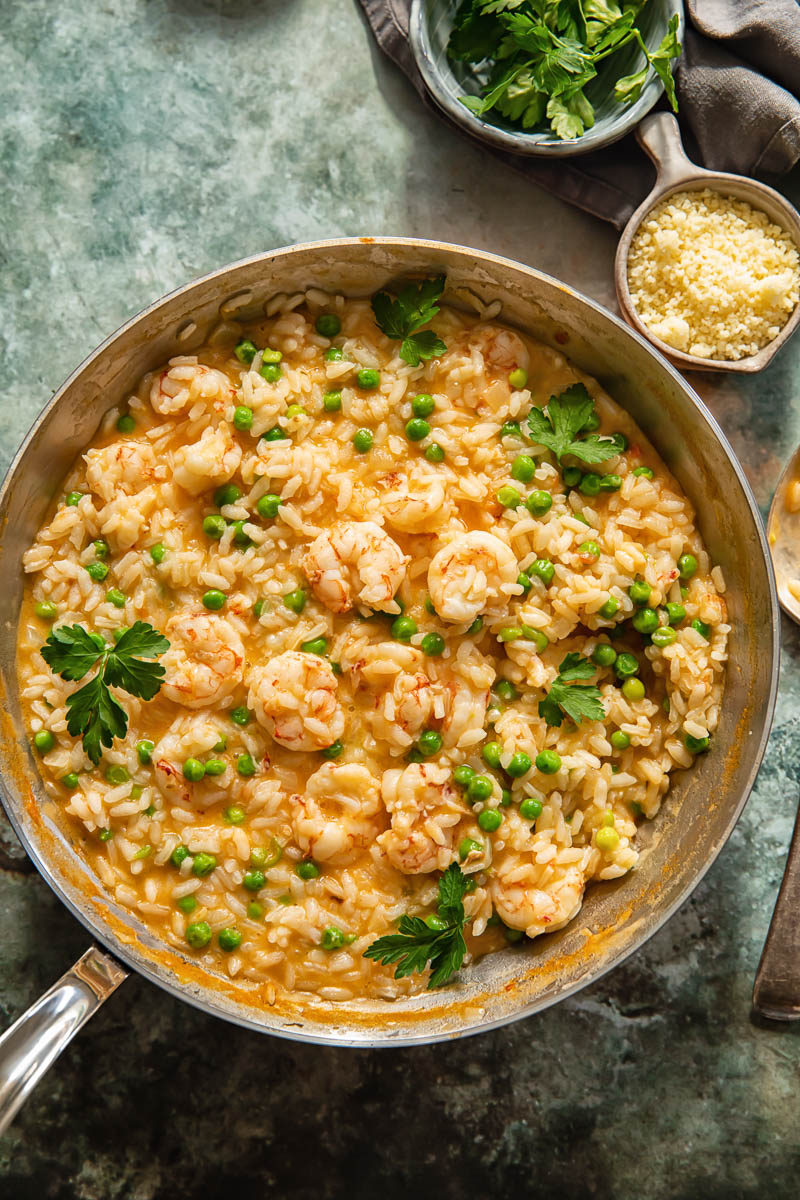 I adore fish and seafood, so to intensify the flavour I used fish stock in this recipe. However, chicken stock or vegetable stock can also work well if no fish stock available.
Add uncooked prawns right at the end of the cooking time. They will only need about 5 minutes to cook, so holding out until the end will ensure the prawns are not overdone.
Feel free to add peas while still frozen. Like the prawns they barely need any time to cook.
Finally, I added a touch of freshly grated Parmesan cheese to my risotto, which is not traditional at all. Italians tend to not mix cheese and seafood. This step is entirely up to you but I highly recommend it. Be a rebel!
More Risotto Recipes to Try:
Also, feel free to explore our Italian recipe Collection, which is full of authentic as well as Italian inspired recipes. If you are planning an Italian themed dinner, there you could find any recipe to suit your taste.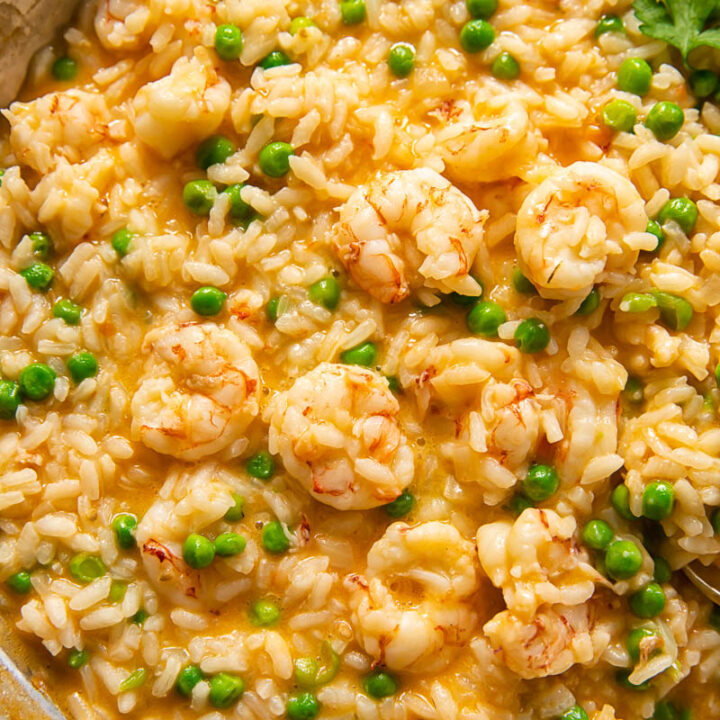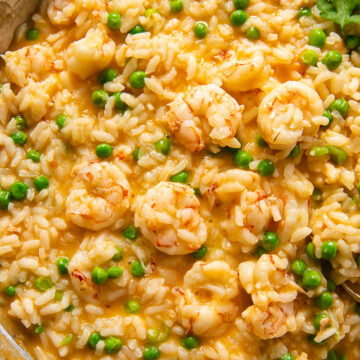 Prawn Risotto with Tomatoes and Peas
This creamy shrimp aka prawn risotto with tomatoes and green peas is an easy one pan meal that is delicious and comforting.
Ingredients
1

tbsp

olive oil

½

onion or 1 shallot

300g/1 ½ cups

risotto rice such as Arborio

1

large tomato

grated

125ml/1/2 cup

dry white wine or Vermouth

1 litre/ 4 cups

fish or chicken stock

250g/ 8 oz

uncooked prawns

100g/ ½ cup

green peas

could be frozen

50g/1/2 cup

Parmesan cheese

1

tbsp

butter

salt to taste
Instructions
In a large and deep pan heat the olive oil and sauté the onion or shallot for 5-7 minutes over low heat until translucent. Add the Arborio rice and stir fry for 1 minute until the rice is fully coated in oil, add the of dry white wine and let it bubble away for 2-3 minutes until it's reduced in volume.

Then add ¼ of the stock, 1 grated tomato and stir. Let it simmer for a few minutes over medium heat. The stock should be just above the rice when you first add it. Once you see the stock going down, add a bit more and stir. Repeat until all stock is gone and the rice is cooked but still slightly chewy. Just before you add the last ladle of the stock, add the raw prawns and green peas (could be frozen) and let them cook with the rice for about 5-7 minutes. Give everything a quick stir every time you add more stock.

Once the rice is cooked and the risotto is nice and creamy, stir in grated Parmesan cheese. Keep stirring until melted, then taste it and season with salt. Cover with a lid and let it stand for 5 minutes. Serve with more grated Parmesan and black pepper.
Video
Nutrition
Calories:
322
kcal
Carbohydrates:
45
g
Protein:
16
g
Fat:
7
g
Saturated Fat:
3
g
Polyunsaturated Fat:
1
g
Monounsaturated Fat:
3
g
Trans Fat:
1
g
Cholesterol:
78
mg
Sodium:
590
mg
Potassium:
259
mg
Fiber:
3
g
Sugar:
2
g
Vitamin A:
422
IU
Vitamin C:
10
mg
Calcium:
136
mg
Iron:
3
mg