Prawn pasta is coated in a lusciously creamy sauce, flavoured with a touch of sun-dried tomato pesto, fresh basil and garlic. This quick dinner comes together in under 20 minutes.
Not a fan of shrimp? Use chicken or scallops instead or take a look at our popular Chicken and Bacon Pasta.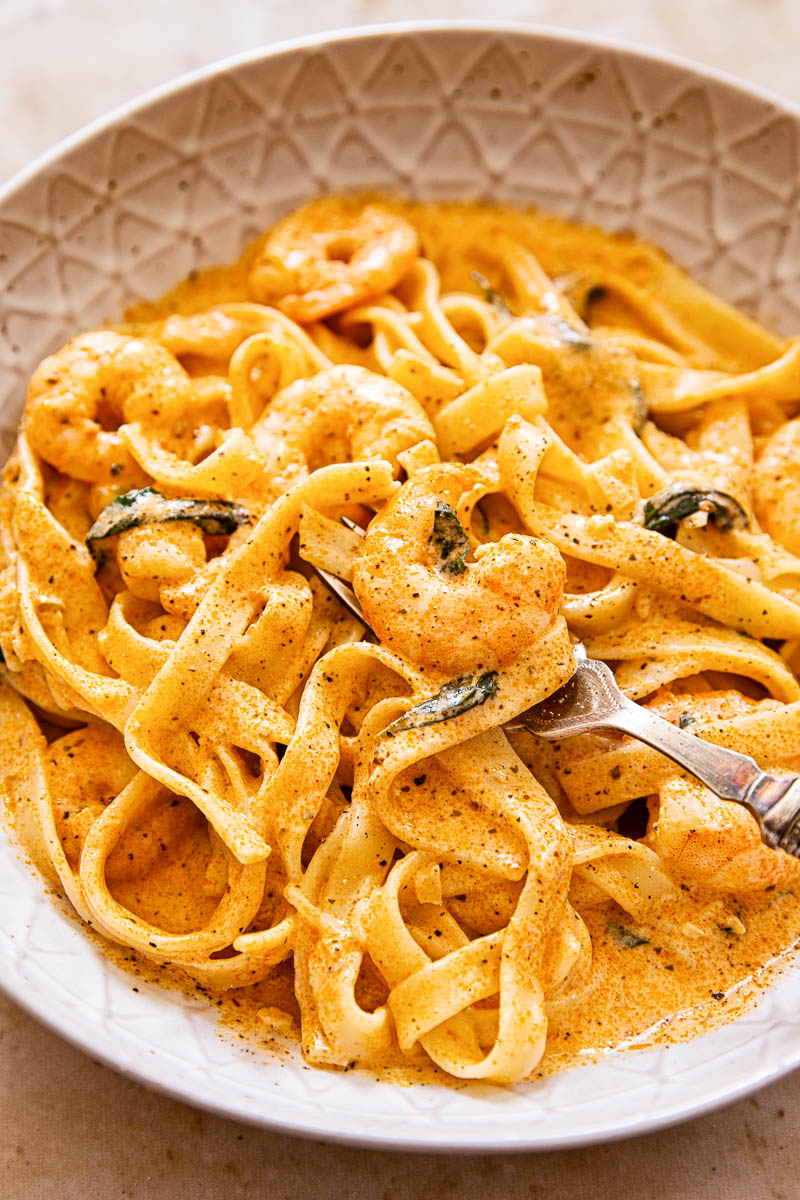 Quick pasta dishes are the real weeknight heros. And this recipe ticks all the boxes.
Quick
Easy
Delicious
Versatile
Crowd pleaser
Prawns or shrimp, as it is called in the US, pair especially well with sauces that don't overpower their mild, sweet taste.
So in order to make them shine in this pasta recipe, I decided to serve them with a delicate yet flavourful sun-dried tomato cream sauce with a touch of basil and garlic.
As much as I am a big seafood fan and prawns are my favourite, I have to admit that the best part of this dish is the sauce.
Tomato Cream Sauce
Very large cookbooks are dedicated to sauces alone. Perfecting them is considered to be the pinnacle of haute cuisine. This creamy sun-dried tomato sauce is not one of the those sauces.
It's quick and easy. It takes literally five minutes to make and requires only basic cooking skills!
One of the my secret weapons for creating quick and complex flavours is store bought sun-dried tomato pesto. It's exactly the ingredient I want to use in my weeknight dinners for maximum flavour. This recipe for Tortelloni with Creamy Tomato Sauce and Spinach is one of the examples.
Adding fresh basil and garlic goes without saying. Big, bold flavours… fast! To put it simply…just do it.
Do cheese and seafood go together?
Controversial topic. According to stric Italian cooking rules, there should be no cheese within a mile of fish or seafood.
However, I have seen Italian chefs in the UK compromise on this rule and sprinkle a good measure of Parmesan or Grana Padano cheese on seafood pastas.
My personal rule is do what feels right for your palate. This creamy sun-dried tomato sauce does not need any cheese in my opinion. But if you add some, you'd still be invited to my house!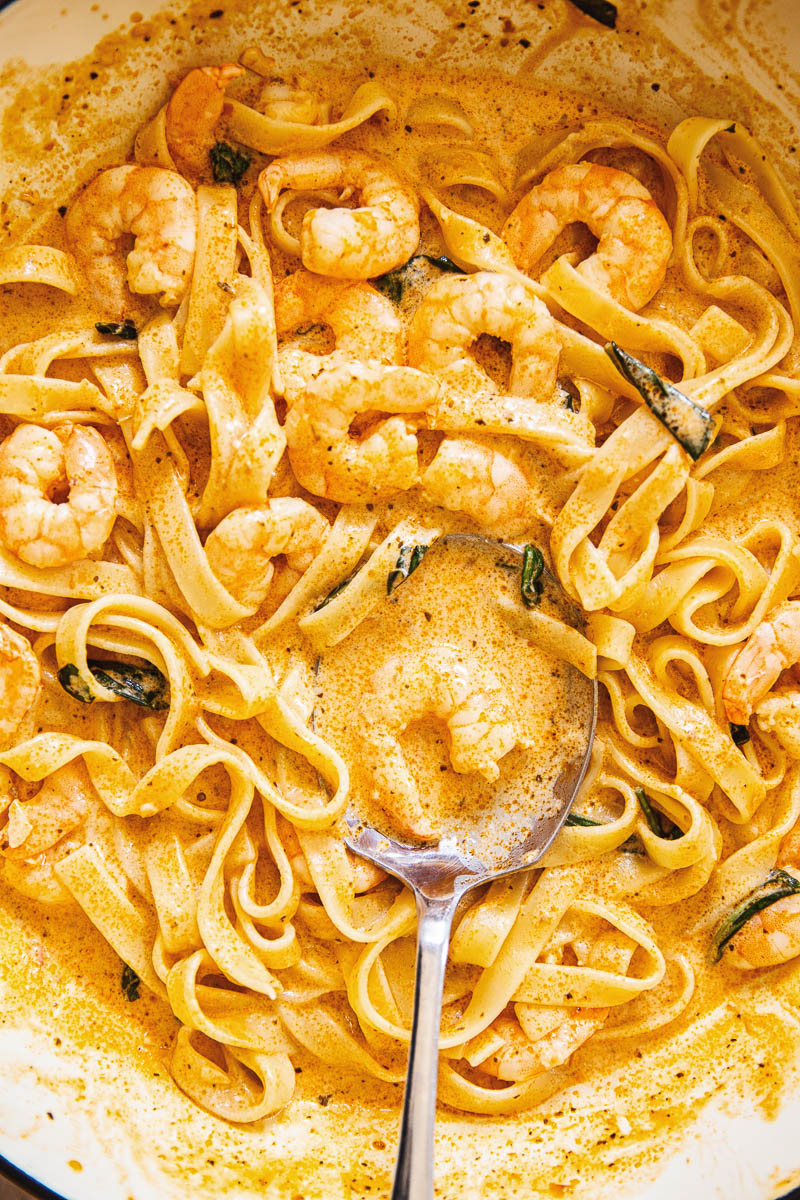 Prawn Pasta Recipe Tips and Notes
I have used raw, frozen prawns in this pasta. In fact, I have added prawns to the sun-dried tomato sauce while they were still frozen, which is absolutely fine to do since they take only a couple of minutes to cook.
You can use cooked prawns or shrimp in this pasta as long as you add them at the same time as cooked pasta, then toss to combine for them to warm through.
Adding cooked shrimp to pasta sauce earlier can result in overcooked, rubbery shrimp.
I also highly recommend adding hot pasta directly to the sauce rather than serving the sauce on the side for the flavours to meld together.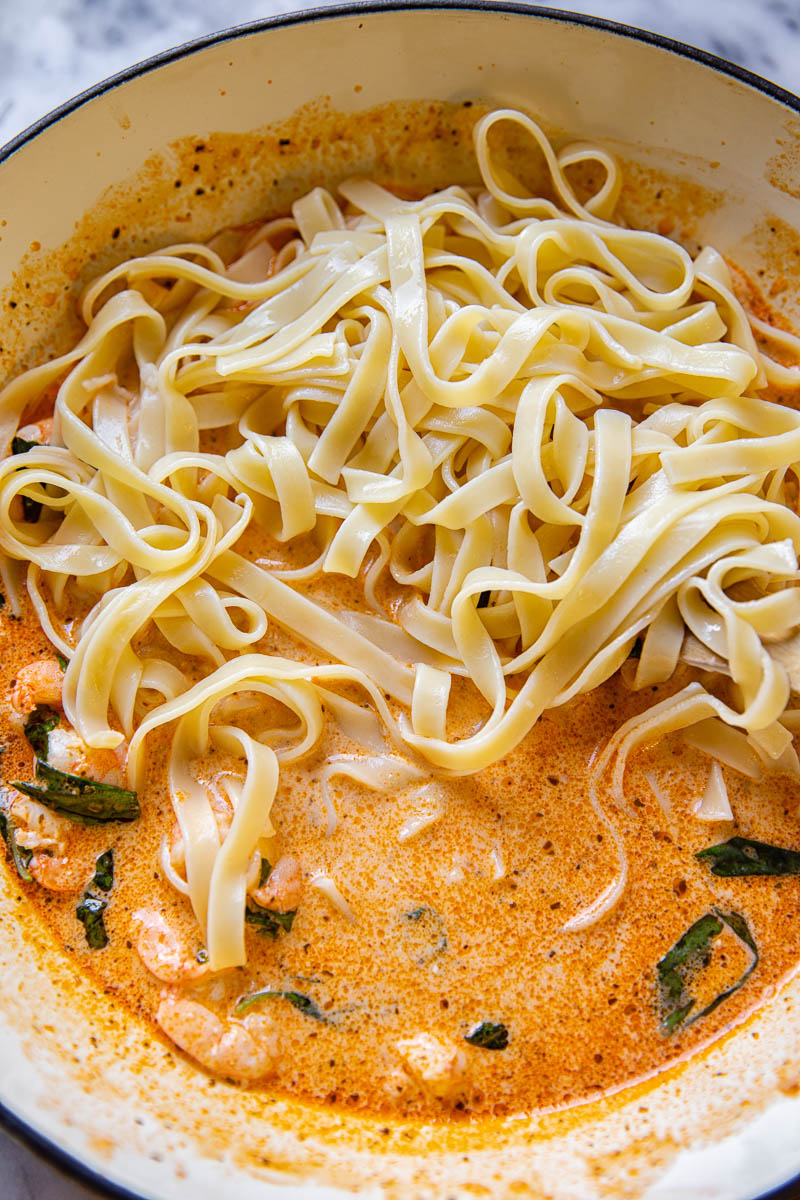 Suitable prawn substitutions
any seafood you love…shrimp, crab, lobster, scallops
chicken
salmon
any other fish you love, just make sure the bones are removed.
Serving Suggestions
Serve this shrimp pasta with our Tuscan Panzanella Salad. Zesty vinaigrette and juicy ripe tomatoes balance out the rich creamy sauce of the pasta.
Finish the meal on a sweet notes with our easy Polenta Cake with Peaches.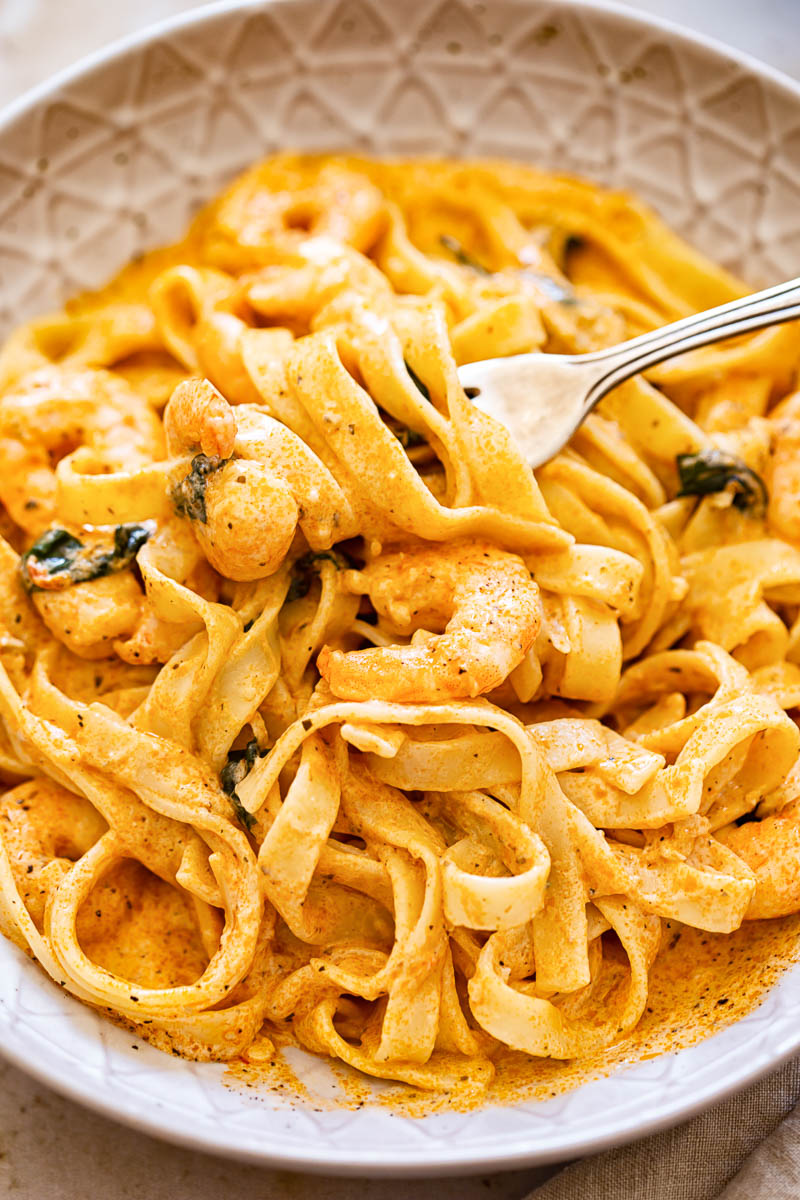 Favourite seafood pasta recipes: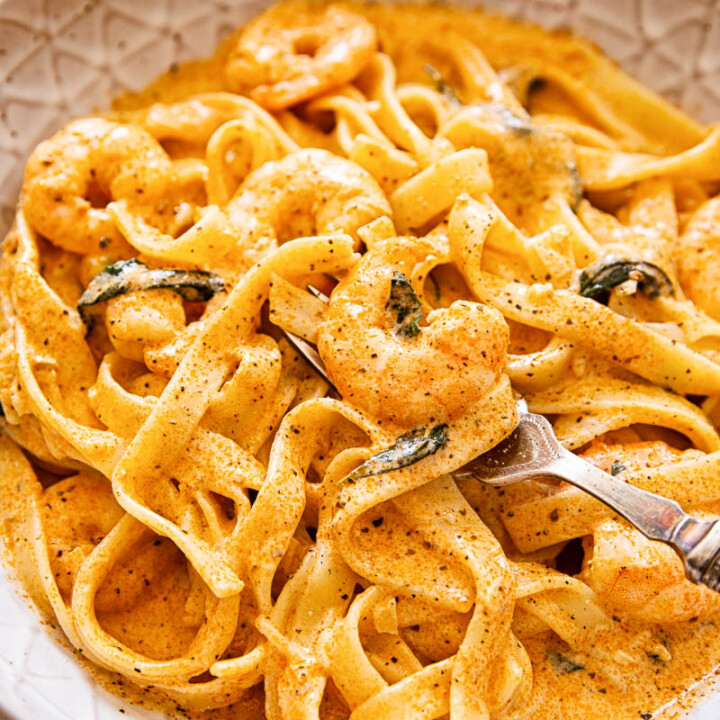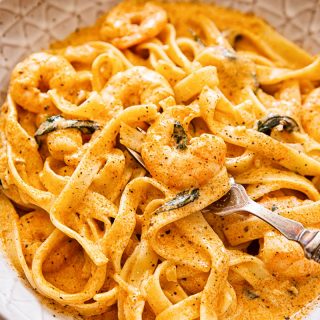 Prawn Pasta in Sun-Dried Tomato Cream Sauce
This shrimp pasta in creamy sun-dried tomato, basil and garlic sauce comes together in less than 20 minutes.
Ingredients
1

lbs

pasta such as linguine or any other kind

3

tbsp

sun-dried tomato pesto such as Scala brand or Delallo in the US

2

cloves

garlic, minced

4-5

basil leaves, torn

125ml/1/2cup

double/heavy cream

1

lbs

prawns or shrimp

125ml/1/2cup

reserved pasta water

salt and pepper to taste
Instructions
Cook pasta according to package directions in a large pot filled with salted water.

While the pasta is cooking, add the sun-dried tomato pesto to the pan together with minced garlic and briefly stir for 30 seconds over low heat. Add double/heavy cream and stir to combine, bring to a simmer, then add prawns and fresh basil, add salt and pepper to taste. (If prawns are frozen, you can cook them from frozen.) Bring the sauce to a boil, then take off the heat immediately after the prawns turn pink.

Drain the pasta and add directly to the pan with the sauce, add some of reserved pasta water if the sauce is too thick. Toss to combine and serve immediately.
Nutrition
Calories:
662
kcal
Carbohydrates:
87
g
Protein:
39
g
Fat:
15
g
Saturated Fat:
7
g
Cholesterol:
329
mg
Sodium:
1005
mg
Potassium:
367
mg
Fiber:
3
g
Sugar:
3
g
Vitamin A:
555
IU
Vitamin C:
5.5
mg
Calcium:
222
mg
Iron:
4
mg