Shrimp flavoured with spicy and aromatic Cajun seasoning, then tossed with creamy tagliatelle pasta, green pepper and onions. The absolute must haves of the Cajun cuisine. The flavour of this pasta dish is full on!
To discover another Cajun classic take a look at our Dirty Rice with Shrimp recipe.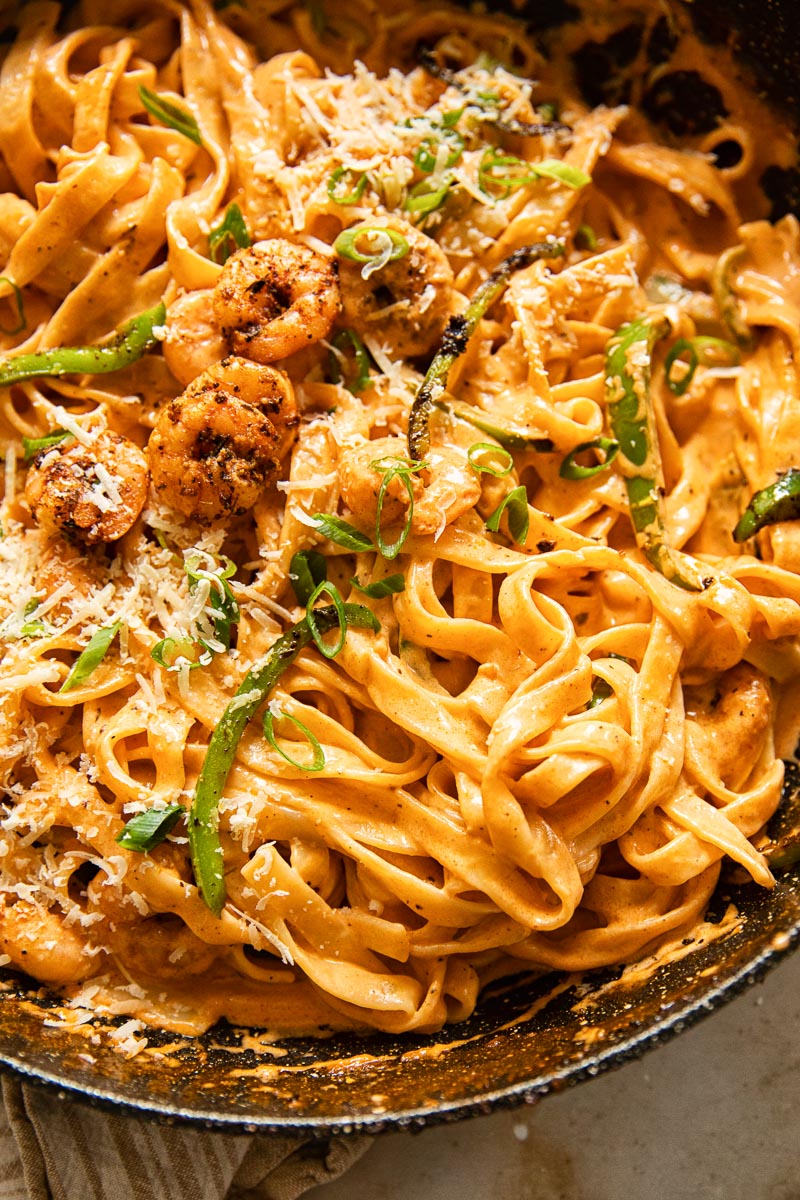 The majority of the pasta recipes on this website is strictly Italian in origin or inspiration. However, the recipe I am sharing today is inspired by the flavours of the American South. New Orleans to be exact actually.
It's difficult not to be seduced by the rich, bold flavours of the Cajun cooking. I love everything about it. The spice, the colour, the seasonality of the ingredients used, and especially the rustic nature.
The recipe for the Cajun shrimp pasta is a quick one to make but it delivers deep and vibrant taste, which usually comes from long hours of cooking.
The distinct Cajun flavour comes from the seasoning, which is very easy to mix together. You can also buy it already mixed. I prefer making my own, so I can control the salt content in my food.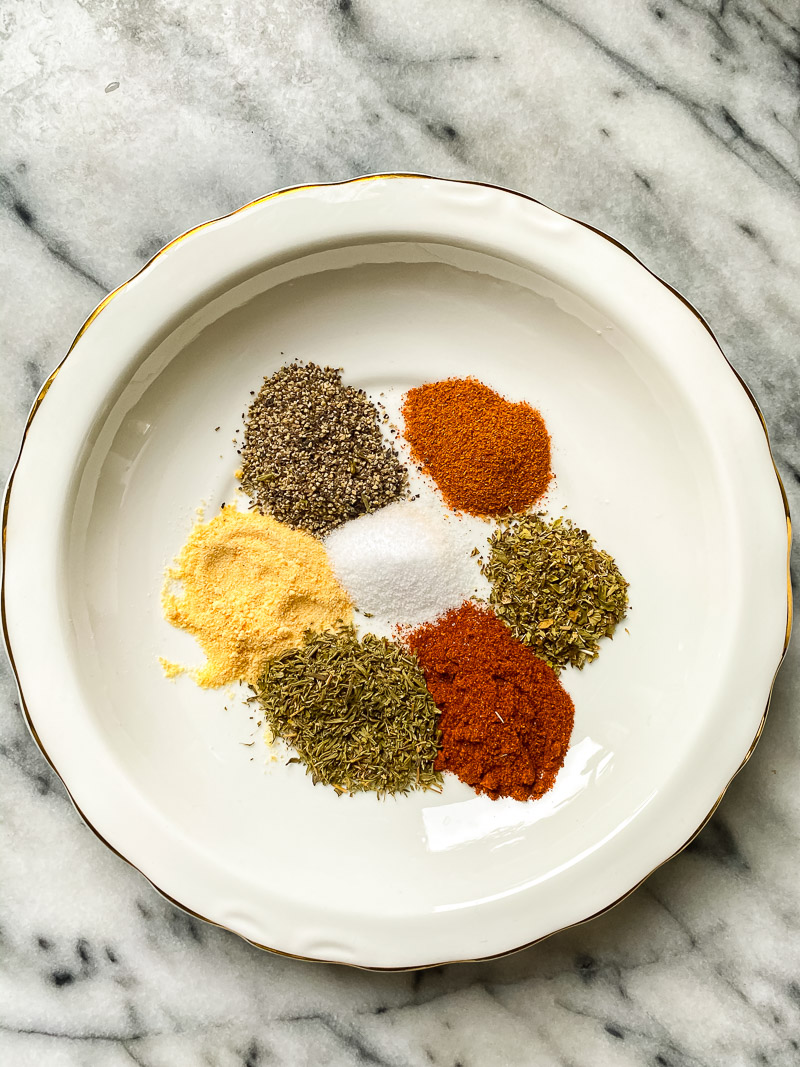 Cajun Spice
Every cook has a slightly different mix when it comes to the Cajun seasoning but the most common and used ingredients remain the same.
Paprika (I prefer smoked paprika)
Cayenne
Oregano
Thyme
Garlic Powder
Black Pepper
Salt
Some people also add onion powder. As I mentioned I prefer mixing my own, so the spices stay fresher, more potent and therefore, more flavourful.
Cajun Pasta Ingredients
Onions, green peppers and celery are considered the holy trinity of the Cajun cuisine and I wanted to use them in my recipe. In the end, I did leave the celery out as I found the crunchy texture clashed with the creamy sauce a bit too much.
Shrimp is another important ingredient and this pasta recipe featured it prominently. Shrimp is well coated with my homemade Cajun seasoning, then browned to create that slightly blackened exterior the Cajun cooking is known for.
Feel free to add sausage, especially Andouille sausage or even chicken!
The sauce is a combination of crushed tomatoes, heavy cream and Parmesan cheese. The mix of the sweet and tangy tomatoes, the rich cream and deeply savoury Parmesan cheese blend well, while holding its own, when paired with the spicy seasoning.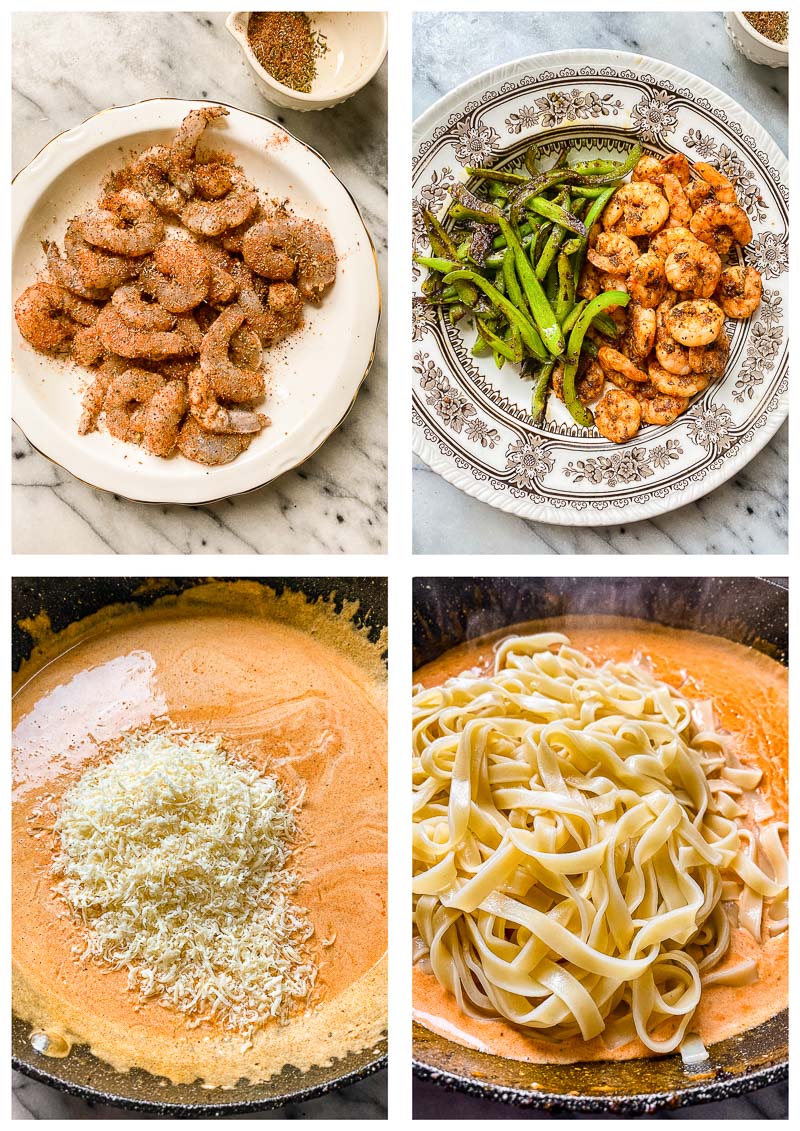 Recipe Tips
If using previously frozen and defrosted shrimp, pat it dry before coating with the Cajun seasoning.
Cook shrimp quickly as overcooking it will result in dry, rubbery flesh.
Sear sliced green peppers over high heat. We want to see some colour on them for more authentic flavour.
I used a combination of crushed tomatoes and heavy cream to make the sauce. You can skip the cream altogether and make this pasta dairy free. Replace the cream with crushed tomatoes or tomato passata and leave out Parmesan cheese if you choose to make a no cream pasta.
Tagliatelle, fettuccine or linguine are my favourite pasta choices for a creamy sauce.
Don't forget to reserve ½ cup of pasta water to add to the sauce later.
Top with sliced green onions and more Parmesan cheese before serving.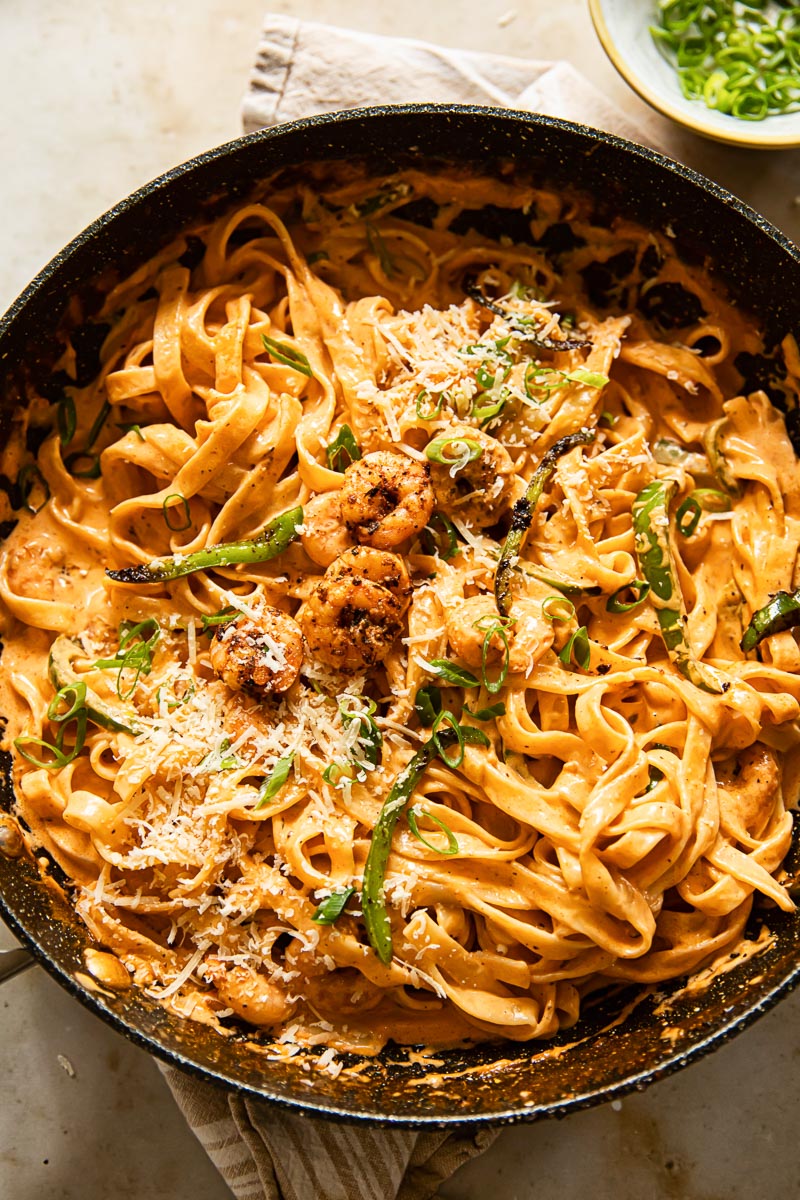 More Favourite Shrimp Pasta Recipes: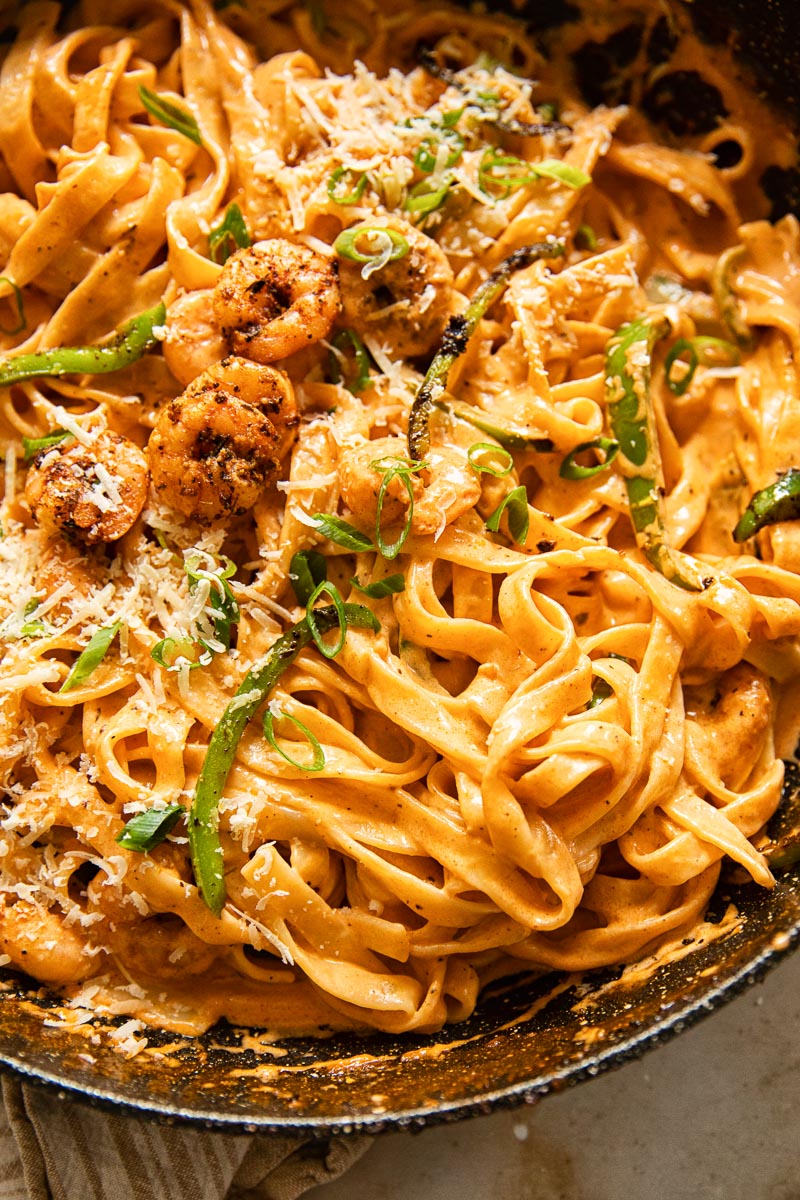 Ingredients
For the Cajun Mix Seasoning
½

tsp

cayenne

1

tsp

paprika

I prefer smoked paprika

1

tsp

oregano

1

tsp

thyme

1

tsp

garlic powder

1

tsp

black pepper

½

tsp

salt
For the Pasta
1

tbsp

olive oil

1

lbs

shrimp

1

green pepper

2

cloves

garlic

125ml/1/2 cup

tomato passata/crushed tomatoes

250ml/ 1 cup

double/heavy cream

50g/1/2 cup

Parmesan cheese

grated

1

lbs

fettuccine or tagliatelle

1-2

green onions

sliced

salt to taste
Instructions
Mix all ingredients for the Cajun spice mix. If using previously frozen and defrosted shrimp, pat it dry with paper towel to get rid of excessive moisture. Add the shrimp to the bowl with the seasoning and toss until all shrimp is evenly coated.

Bring a pot of water to a boil, add salt, then the pasta and cook according to package instructions. Reserve ½ cup of pasta water before draining.

While the pasta is cooking, heat 1 tbsp of olive oil in a pan, then add shrimp and cook for 1- 2 minutes on each side. Depending on the size of the shrimp. Remove from the pan.

To the same pan add sliced green pepper and cook on medium-high heat for 5 minutes. You should see nice colour on your pepper slices. Remove to the same plate with shrimp.

Lower the heat and add 2 cloves of minced garlic and cook for 30 seconds, then add crushed tomatoes, a pinch of salt, heavy cream and Parmesan cheese. Add a splash of reserved pasta water if needed. Add the drained pasta, shrimp and green peppers to the sauce, and toss to combine, season with salt to taste. Serve topped with sliced green onions and more Parmesan cheese.
Nutrition Facts
Cajun Shrimp Pasta
Amount Per Serving
Calories 871
Calories from Fat 333
% Daily Value*
Fat 37g57%
Cholesterol 475mg158%
Sodium 1464mg64%
Potassium 625mg18%
Carbohydrates 89g30%
Protein 46g92%
Vitamin A 1679IU34%
Vitamin C 34mg41%
Calcium 426mg43%
Iron 6mg33%
* Percent Daily Values are based on a 2000 calorie diet.