This Cajun Dirty Rice has been a staple in our house for over a decade! You'll love it too as a delicious and easy one pan meal!
Take a look at our Cajun Shrimp Pasta and Cajun Chicken Alfredo if you can't get enough of these flavours.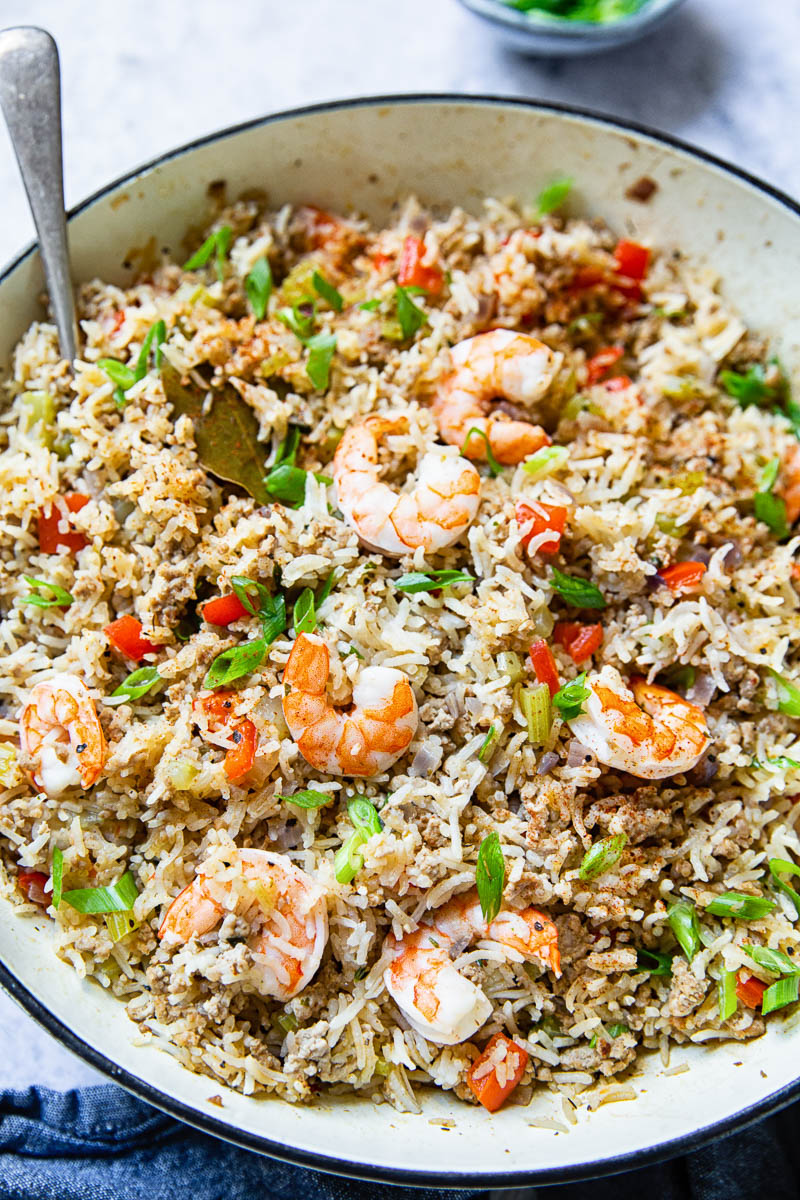 In my quest to deliver the tastiest food to you I am absolutely determined to get dishes out that have been tested and approved by my family.
Dishes that are equally loved by children and adults. Dishes that are quick, easy and inexpensive and preferably a one pot meal.
That's one tall order but Cajun Dirty Rice is exactly that! My whole family cheers when I announce that it is for dinner! It's been our staple for more than a decade and we are yet to get tired of it.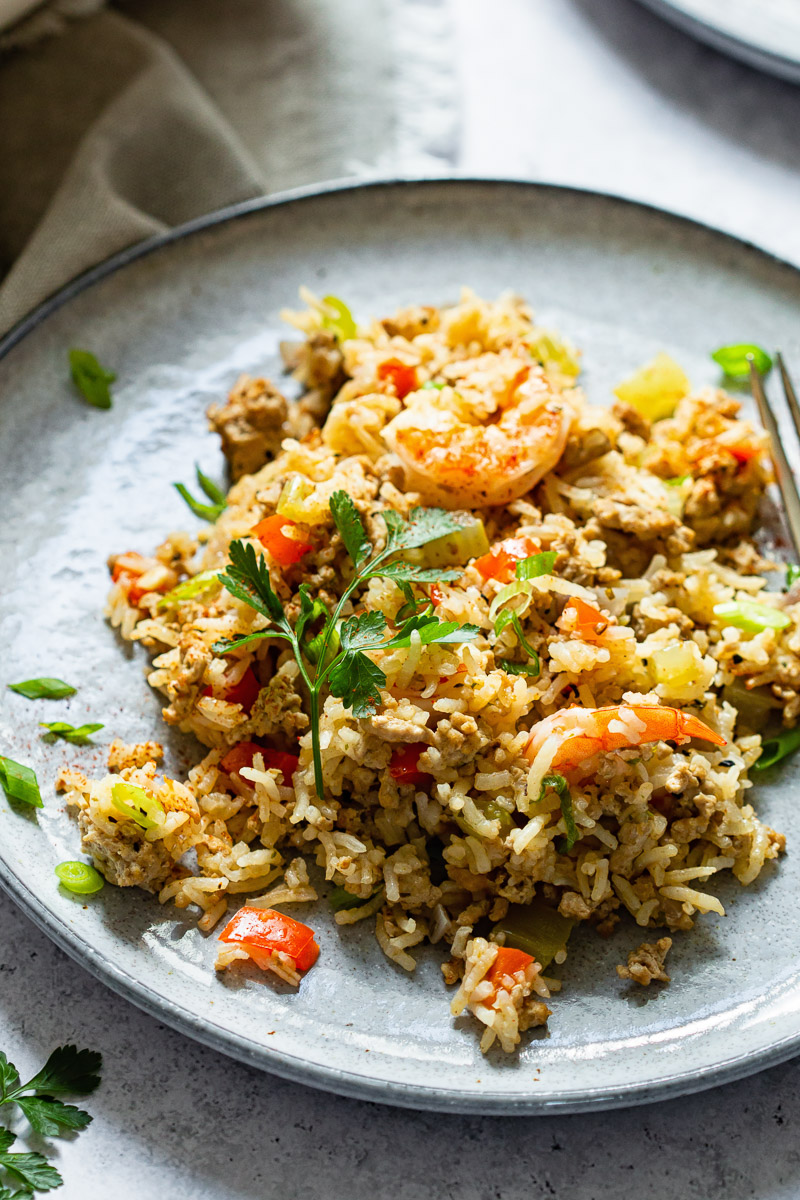 What exactly is Dirty Rice?
The origin of this dish is from the south of the United States, probably Louisiana, where it's still very popular. It takes its name from its appearance as you can see.
As with many classic dishes, it originated as an easy way to feed a lot of people using whatever ingredients were available. A whole range of meats, vegetables and spices could be added without changing how the dish was made.
The assortment of ingredients would make the rice look dark or "dirty". If you have boys in your family the name will be a BIG seller! My boy loves it!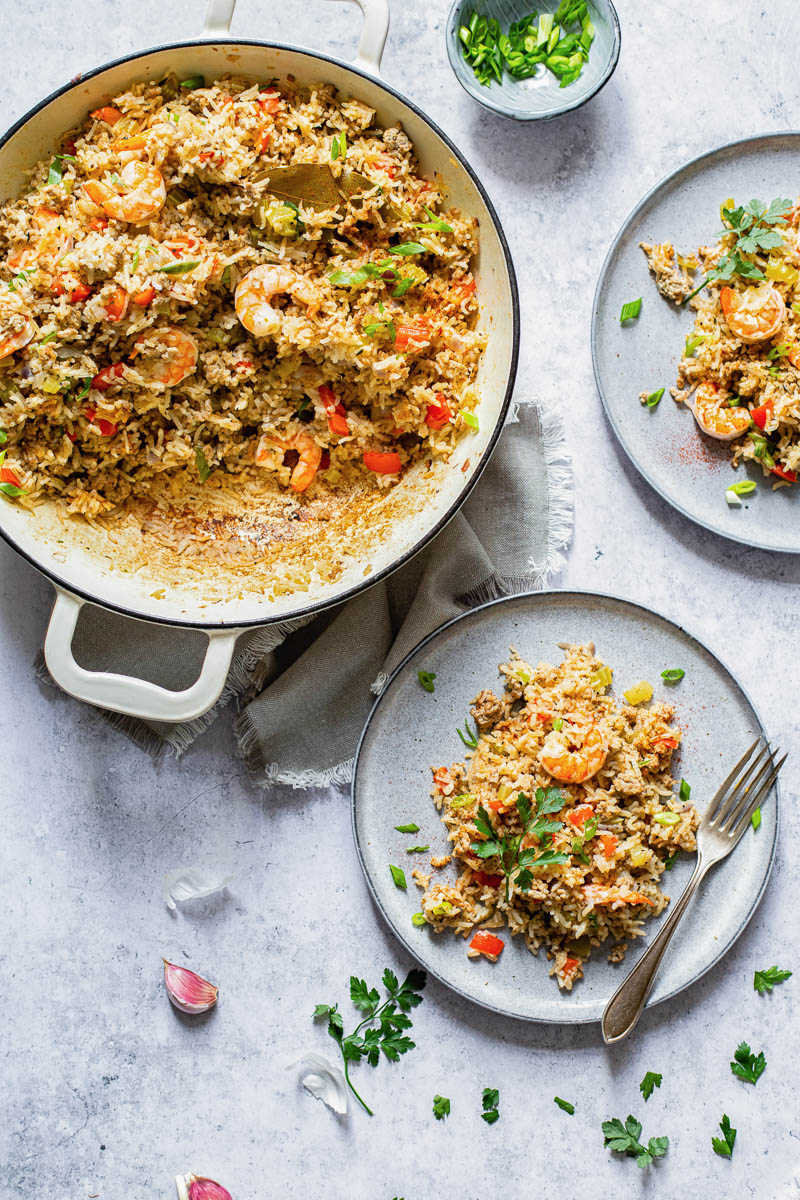 How to Make It
What gives the dirty rice its distinctive flavour is the combination of spices that comes from the Cajun cuisine. You can make your own, as listed in the recipe, or buy a pre-made mix. See recommendations below.
I also use ground pork instead of the traditional gizzards for the obvious reasons. I prefer pork to beef as I find the texture much nicer as well as more flavourful.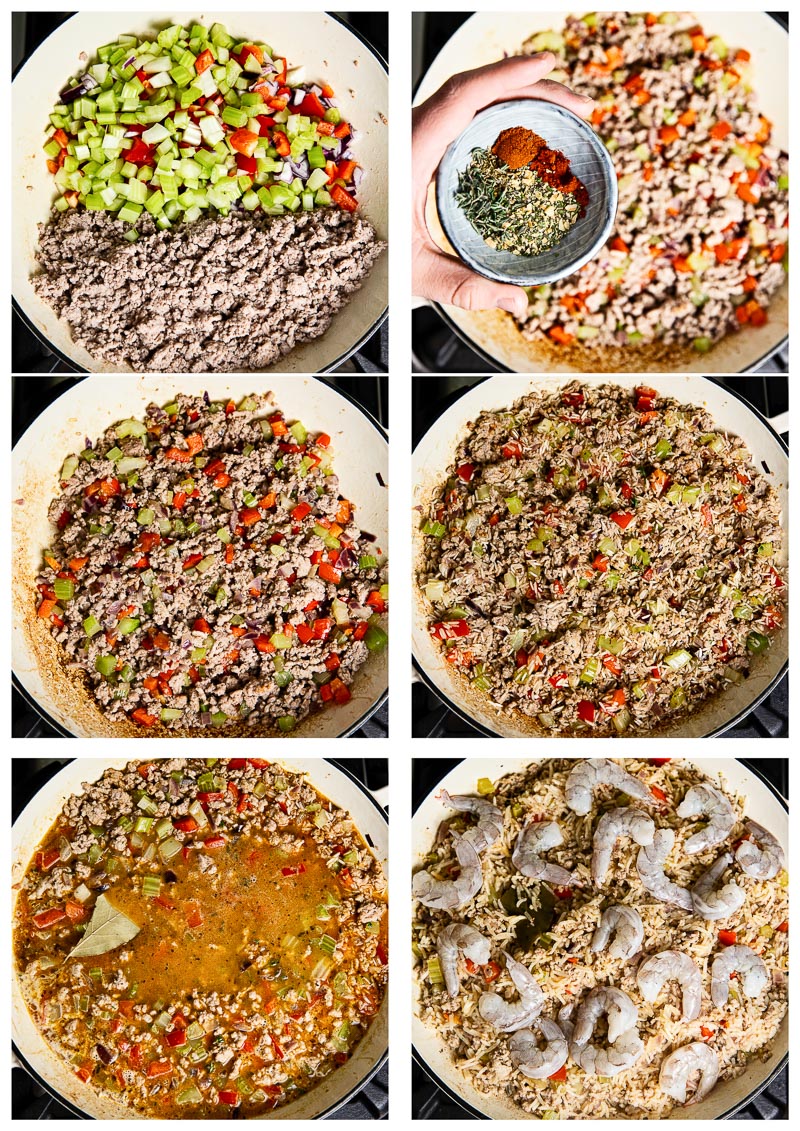 Cajun spices
Instead of adding all spices listed it might be more convenient to use premixed spice. My two favourite ones are Louisiana Hot and Spicy by Victorian Epicure and Cajun Spice by Aromatica Organic Spices. Depending on where you live you can find any Cajun type spice mix from your local grocery store or use what I listed above.
If you want to make your own, it would be some combination of the following:
Paprika (I prefer smoked paprika)
Cayenne
Oregano
Thyme
Garlic powder or flakes
Black pepper
Salt
Some people also add onion powder. The quantities for the spice mixture I love the most are in the recipe card.
I do prefer mixing my own so the spices stay fresher, more potent and therefore, more flavourful.
Recipe tips and notes
The most traditional rice to use would be long grain rice. But I often us basmati rice as it is easier for me to buy in bulk. You can also use jasmine rice or brown rice to add to this delicious Creole inspired dish more fibre.
The combination of spices is what makes this dish Cajun. If you don't have all the spices needed for this recipe, it may be easier to purchase Cajun spice mix.
The recipe uses uncooked shrimp, not pre-cooked. Cooked shrimp will look pink, while uncooked shrimp is grey.
Traditionally green bell pepper is used in Cajun dirty rice. I've used red pepper in mine. Use whatever you have on hand.
Make sure you cook the dish with the lid on. This way the rice will steam. If the lid is left off, the rice won't fully cook.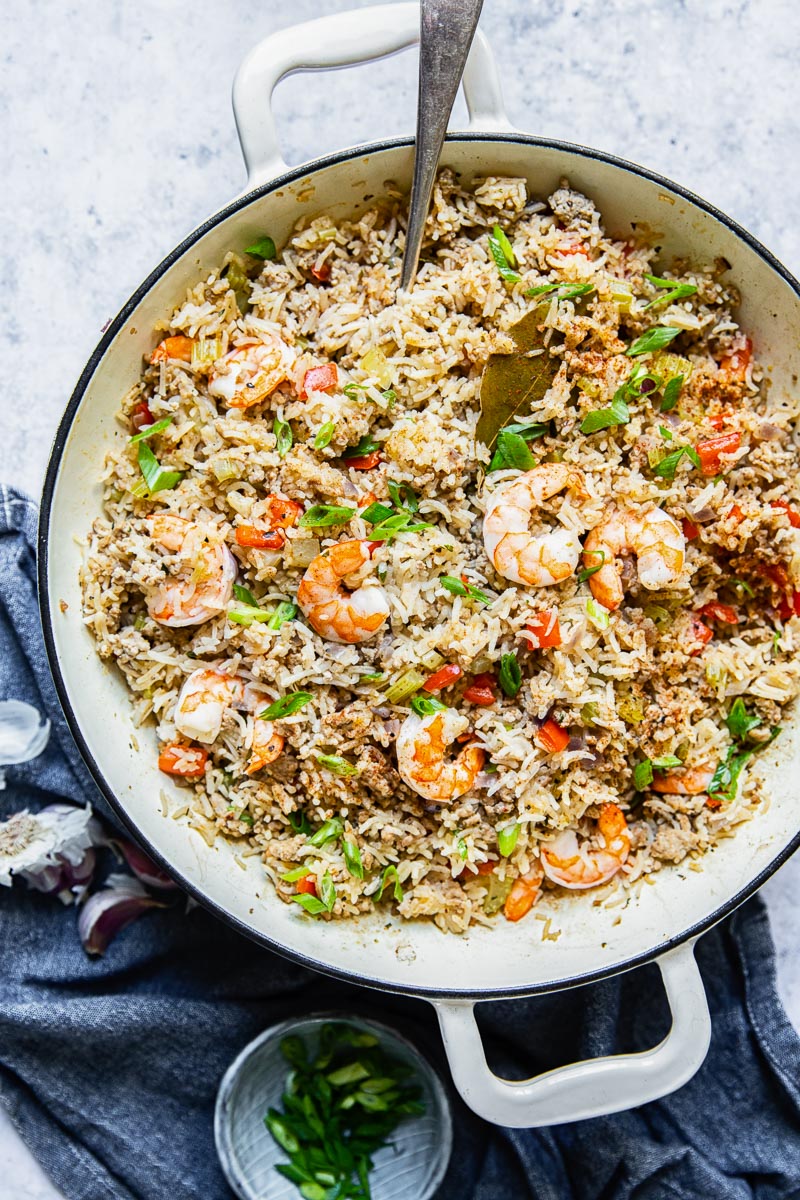 Storage and leftovers
This recipe will keep for a couple of days if kept chilled in a fridge in an air tight container. I wouldn't keep it longer than a couple of days as seafood like shrimp doesn't keep very well.
Leftovers can be reheated in a microwave with an added splash of water to freshen up the rice.
More one pan meals
If you love quick one pan meal recipes, please check out some of my favourites!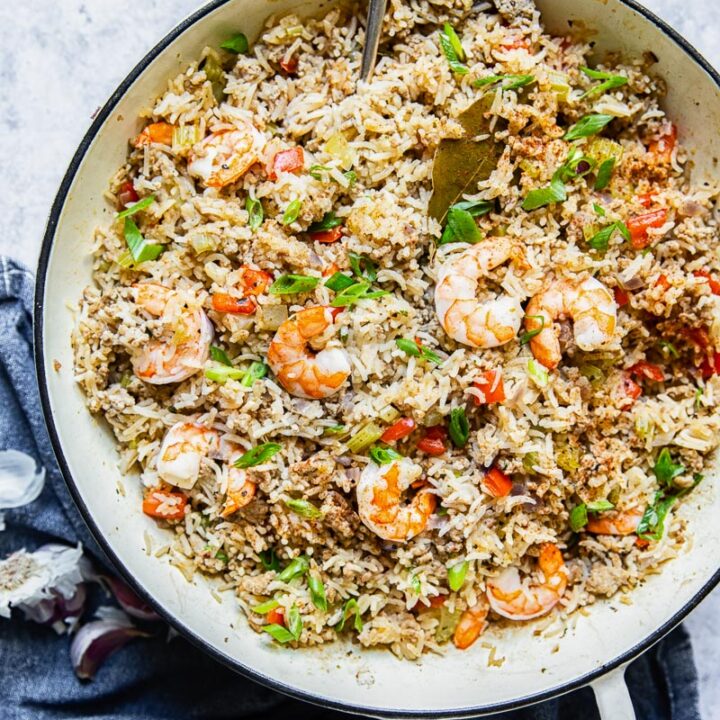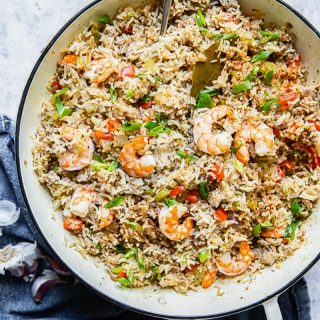 Cajun Dirty Rice with Shrimp
This Cajun dirty rice with shrimp and ground pork is an easy and delicious one pot meal that is ready in half hour.
Ingredients
2

tbsp

olive oil

450

g

/1 lbs ground pork

1

onion, medium

chopped

2

ribs

celery

diced

1

bell pepper, (red or green)

diced

2

cloves

garlic

minced

¼

tsp

cayenne

½

tsp

paprika

½

tsp

oregano

½

tsp

thyme

½

tsp

dried garlic flakes

1 ¾

tsp

salt

½

tsp

pepper

300g

g

/1 ½ cups rice

any kind, not quick cooking

750

ml

/3 cups chicken stock

1

bay leaf

450

g

/1 lbs shrimp

2

green onions

sliced
Instructions
In a large pan heat 1 tbsp. of olive oil and cook your pork over medium heat until no longer pink. Then push the meat to the side of the pan, add remaining tablespoon of oil and add chopped onion, celery, a bell pepper and garlic, cook for 5 minutes, stir in all the spices mentioned, salt and pepper and rice and fry while stirring for 2 minutes.

Add your stock and a bay leaf, bring to a boil, then cover with a lid and cook over low heat for 15 minutes. (Stir the rice half way through the cooking time.)

Take the lid off and if the rice is too dry or burned to the bottom a bit add a splash of water (¼ cup) and stir in your shrimp, cover with a lid and let it cook for 2 more minutes until shrimp turns pink. Taste if the rice is fully cooked. (If not, let it stand covered for 5 minutes, off the heat). Gently stir in sliced green onions.
Nutrition
Calories:
548
kcal
Carbohydrates:
45
g
Protein:
35
g
Fat:
23
g
Saturated Fat:
7
g
Cholesterol:
248
mg
Sodium:
1495
mg
Potassium:
570
mg
Fiber:
1
g
Sugar:
3
g
Vitamin A:
845
IU
Vitamin C:
32
mg
Calcium:
151
mg
Iron:
3.2
mg