This recipe for Chicken Alfredo pasta with a touch of the Cajun spice is such a nice alternative to the classic dish. Exciting contrast of the creamy and spicy flavours!
Can't get enough? Try our Cajun Shrimp Pasta recipe!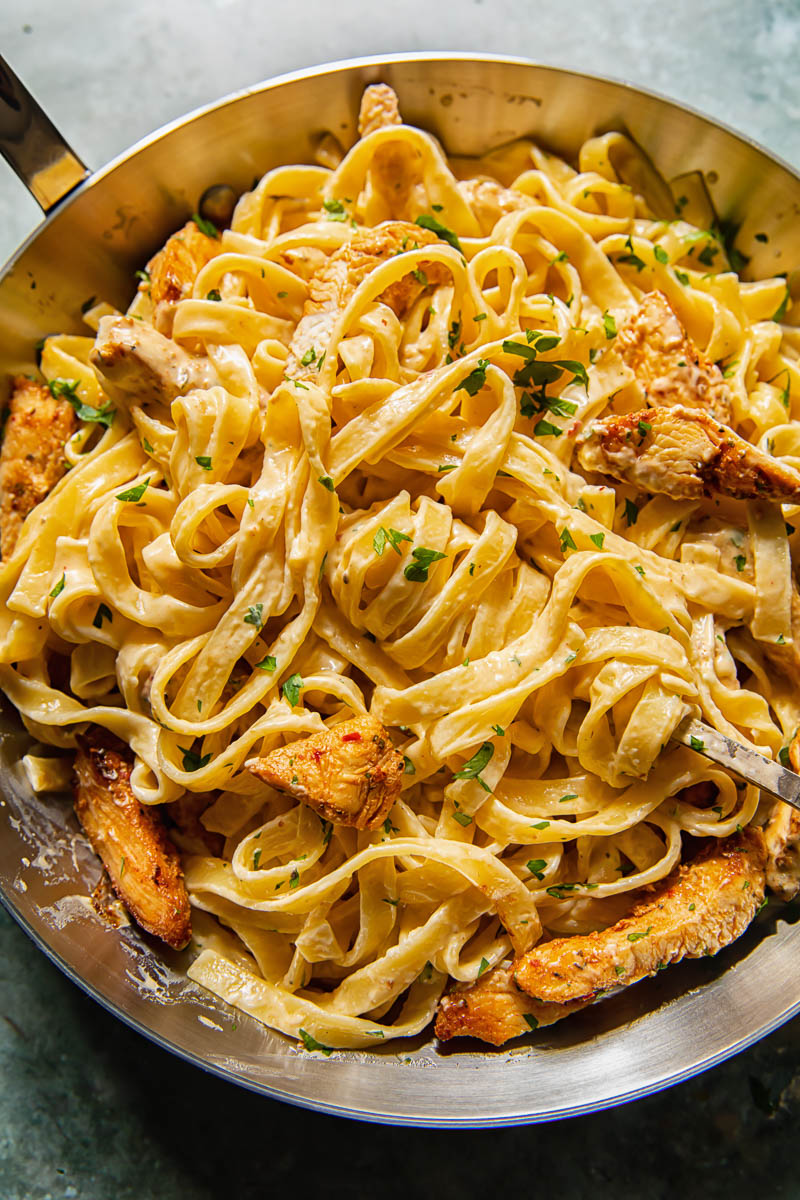 I have so many pasta recipes on the website, including a classic Fettuccine Alfredo. But this one is a delicious combination of Italian and Cajun flavours rolled into one decadent dish.
I've always loved Cajun flavours done the traditional way like this Dirty Rice recipe. However, it's fun to do a flavour fusion sometimes and this Cajun Chicken Alfredo is exactly that!
A mix of fiery Cajun spices and creamy Parmesan sauce. For this pasta you can use a pre-mixed, store bought Cajun seasoning or make your own following my recipe.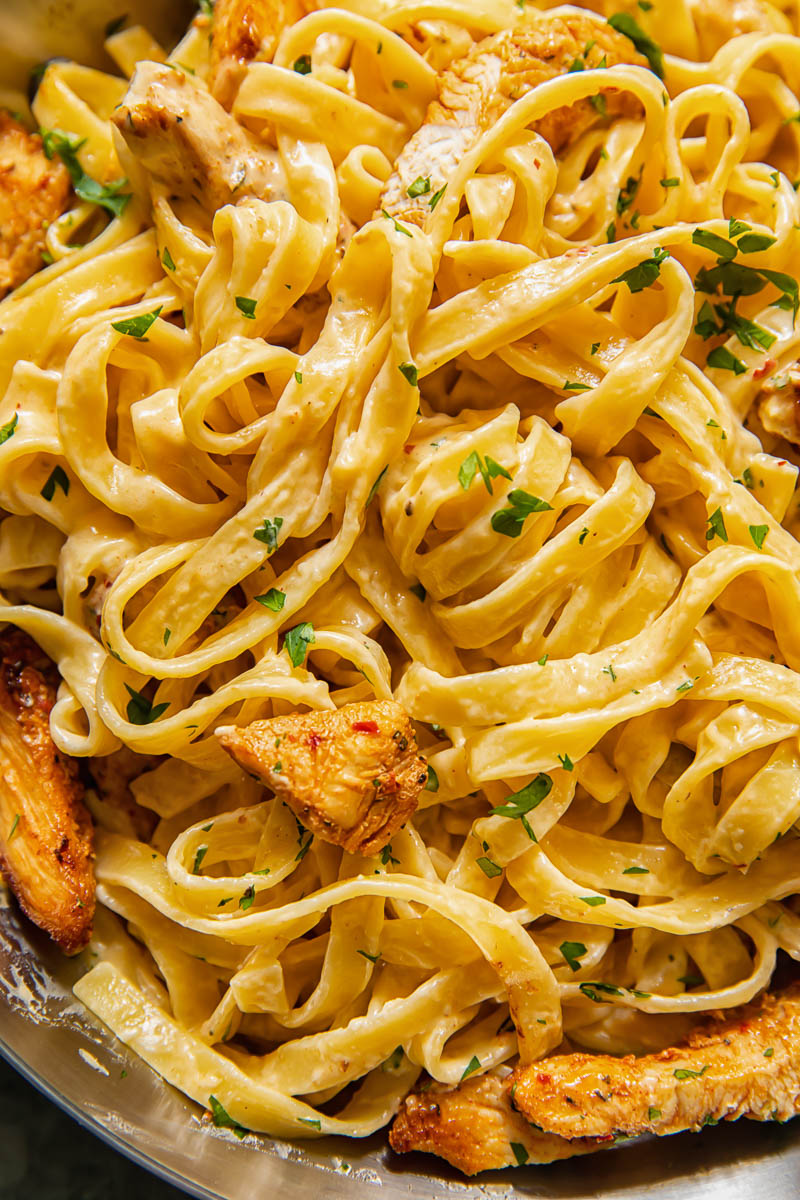 The Sauce
What I love about this pasta is that a classic Alfredo sauce gets mingled with the Cajun spices, the chicken is coated in. This brief exposure turns it slightly spicy and orange in colour. Very pretty to look at and delicious to eat!
The Alfredo sauce is the same recipe I use for my Chicken Broccoli Alfredo. However, the taste is quite different here.
I don't actually add any Cajun spice to the sauce itself, but it picks up the flavour from the pan, the Cajun chicken is cooked in previously.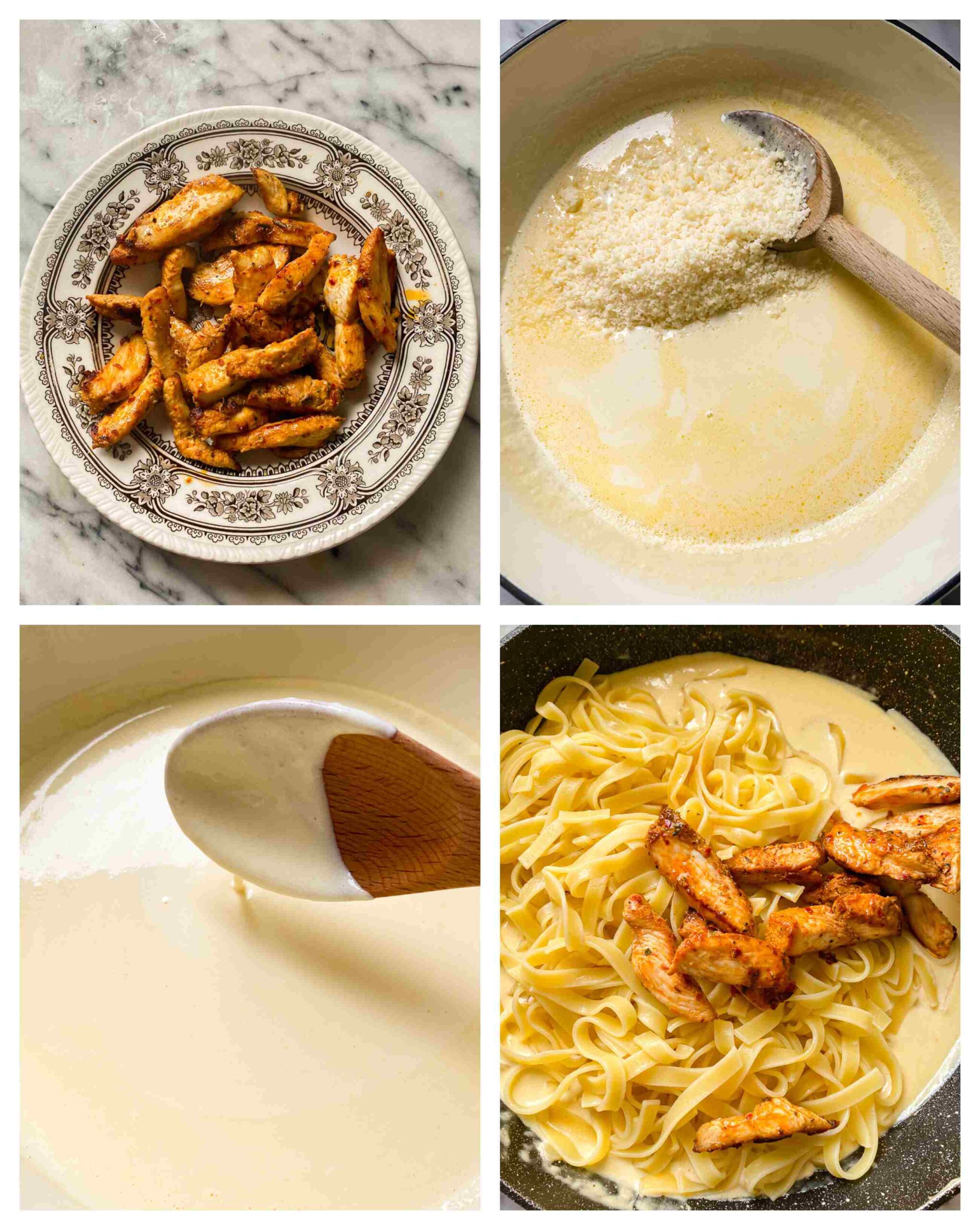 Recipe Tips and Notes
I recommend cutting up chicken in small pieces as it drastically speeds up the process of cooking.
Feel free to adjust the amount of the Cajun spice according to your taste. I personally think 2 tablespoons was perfect.
Make sure the heat is low when making the Alfredo sauce. It should barely simmer. This method allows the cream to slowly infuse and provide the silkiest texture to the sauce.
Fettuccine and linguine pasta are the most suitable to be paired with creamy sauces, however don't let it stop you if you have another pasta shape in mind!
Finally do reserve some pasta water for mixing into the sauce. Pasta has an amazing ability to absorb liquid. One minute you have enough sauce and a few moments later it might look dry. This is where that reserved pasta water comes in handy for a loose and luscious sauce!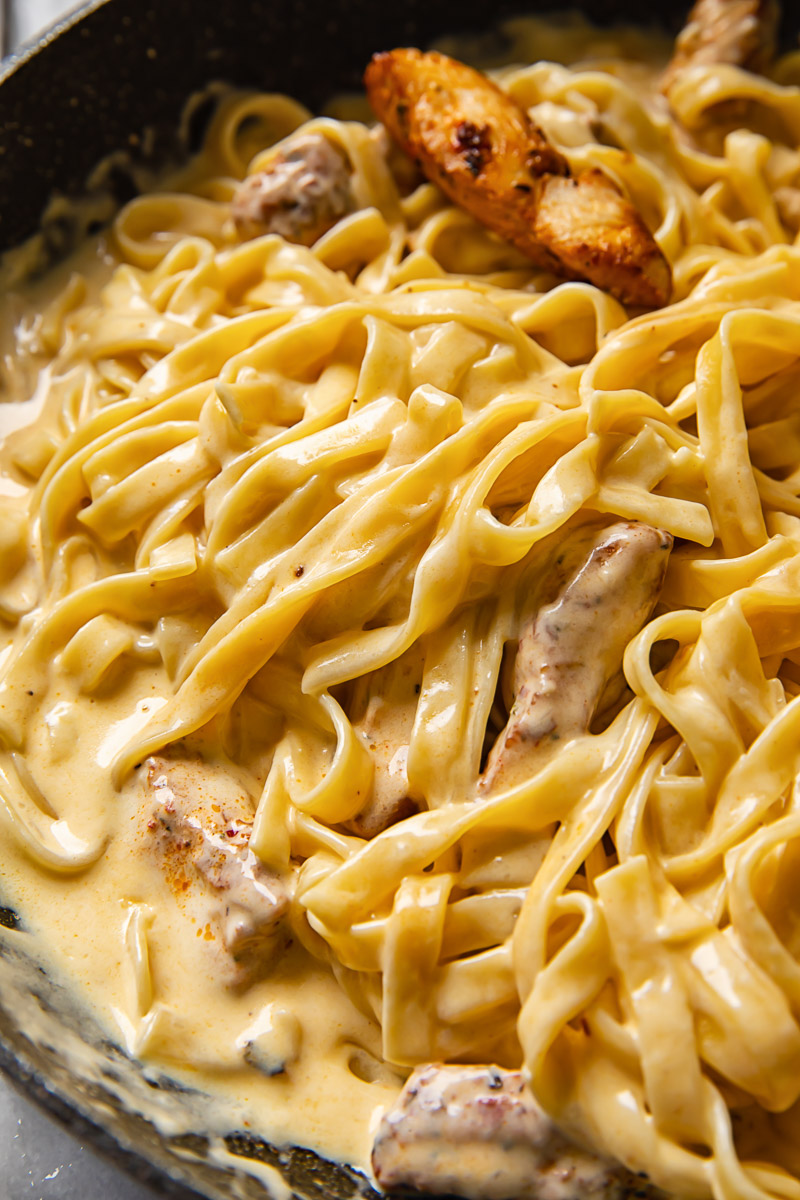 Serving Suggestions
This recipe is absolutely brilliant on its own but you might want to add a side of vegetables or a salad. In that case, I recommend Roasted Parmesan Broccoli or Pan Fried Garlic Mushrooms with Parmesan.
If you prefer to go with a salad to complete your meal, take a look at our Tomato Salad with Basil and Mozzarella (Insalata Caprese).
Favourite Creamy Pasta Recipes to Try: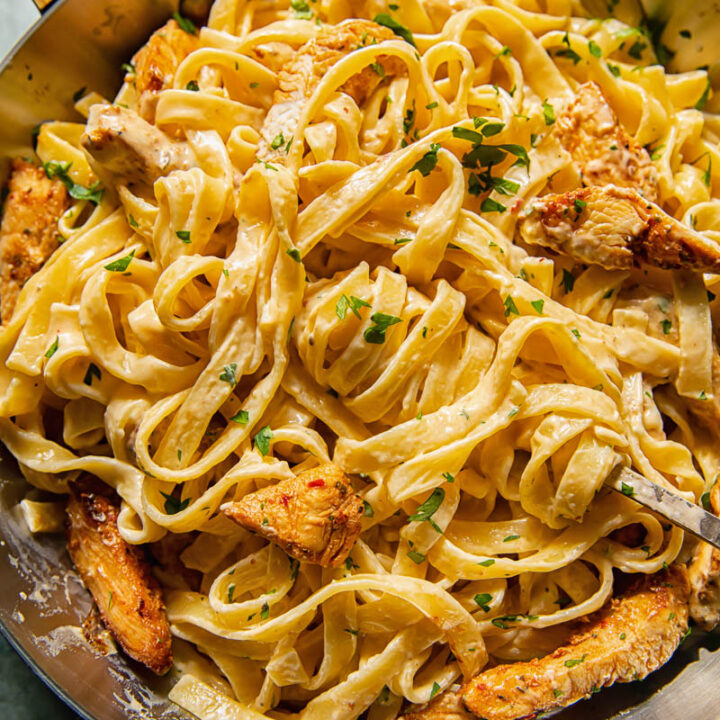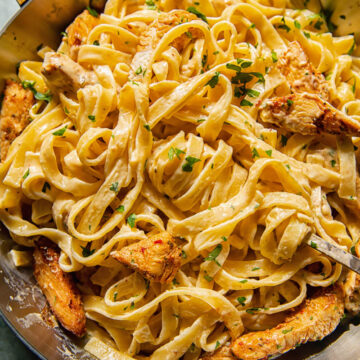 Cajun Chicken Alfredo
This recipe for Chicken Alfredo pasta with a touch of the Cajun spice is such a nice alternative to the classic dish. Exciting contrast of the creamy and spicy flavours!
Ingredients
2

skinless boneless chicken breasts

2

tbsp

Cajun seasoning

2

tbsp

olive oil

1

clove

garlic

2

tbsp

butter

500ml/2 cups

double/heavy cream

120g/1 ¼ cup

Parmesan cheese

freshly grated

salt to taste

1

lbs

fettuccine pasta
Instructions
Start by cooking the pasta according to package instructions in a large pot of salted water. While the pasta is boiling, slice the chicken breasts into bite sized pieces, then coat them in the Cajun spice. You can use store bought seasoning or make mix your own using my recipe. (link in the ingredient list)

Heat the olive oil in a large pan and cook the seasoned chicken over medium heat until done all the way through, which will take approximately 5-7 minutes depending on the thickness of the pieces. Remove to a separate plate.

Lower the heat to low. To the same pan add the butter and let it melt, then 1 clove of grated or pressed garlic and cook for 30 seconds without allowing it to burn, add the double/heavy cream and let it heat for about 5 minutes, then sir the grated Parmesan and allow the cheese to melt slowly into the sauce, continue stirring until the sauce comes together, then take it off the heat.

Drain the pasta and reserve ½ cup of the pasta water, add the pasta to the pan with the sauce together with the cooked chicken. Toss gently to combine, season with salt to taste, add a splash of the reserved pasta water to loosen the sauce if it gets too thick.
Nutrition
Calories:
814
kcal
Carbohydrates:
61
g
Protein:
35
g
Fat:
48
g
Saturated Fat:
26
g
Polyunsaturated Fat:
3
g
Monounsaturated Fat:
16
g
Trans Fat:
1
g
Cholesterol:
186
mg
Sodium:
867
mg
Potassium:
585
mg
Fiber:
3
g
Sugar:
3
g
Vitamin A:
2670
IU
Vitamin C:
2
mg
Calcium:
318
mg
Iron:
2
mg