This pasta is tossed with a silky smooth Alfredo sauce, tender chicken breast pieces and delicious broccoli. A luxurious one pan dinner!
If you are feeling adventurous, why not make your own fettuccine as well? It's much easier than your think if you use our detailed guide to Homemade Fresh Pasta.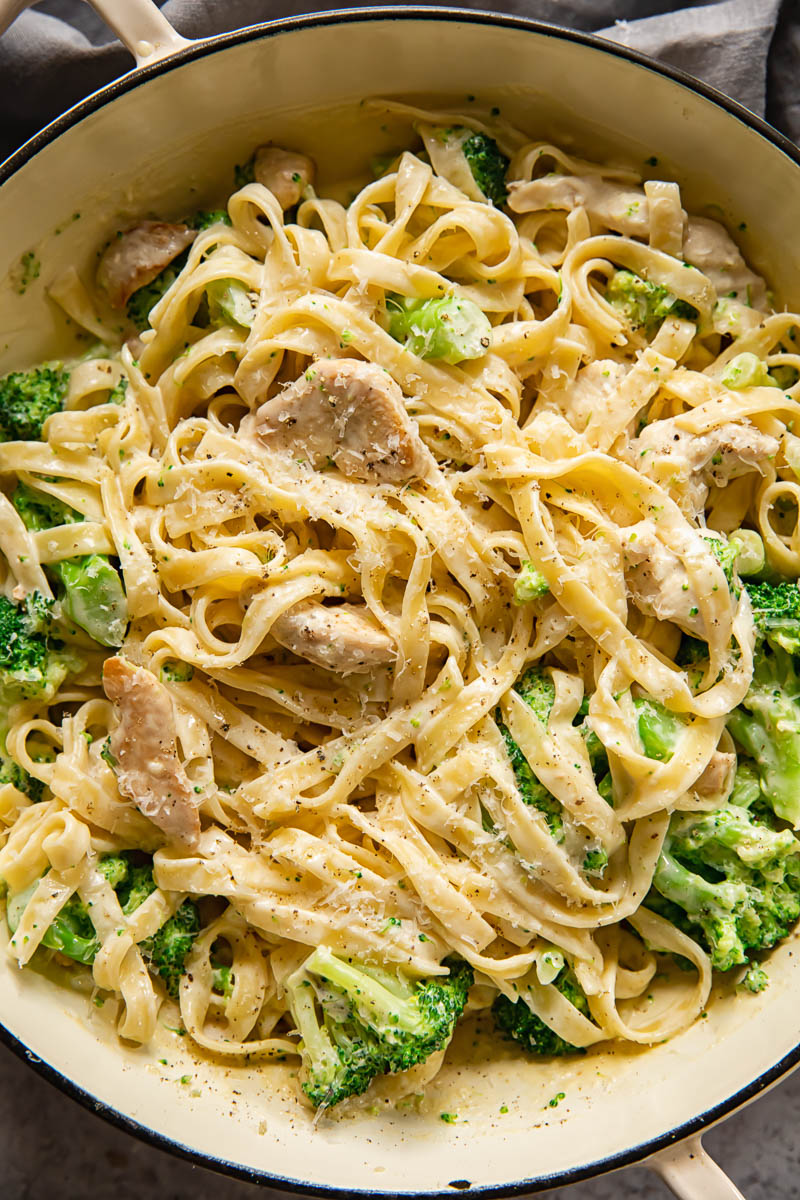 Don't you love it when you can combine the convenience of a one pan dinner and the luxury of the Fettuccine Alfredo?! By adding chicken breast bites and broccoli to the beloved pasta dish you get just that!
This recipe is as simple as it is delicious. It is also incredibly popular among children and adults alike. No more drama at the dinner table!
What is even better, it's all done in 30 minutes like so many of my recipes. Are you hungry for more? Feel free to explore our Quick and Easy Recipe Category for inspiration and weekly menu planning.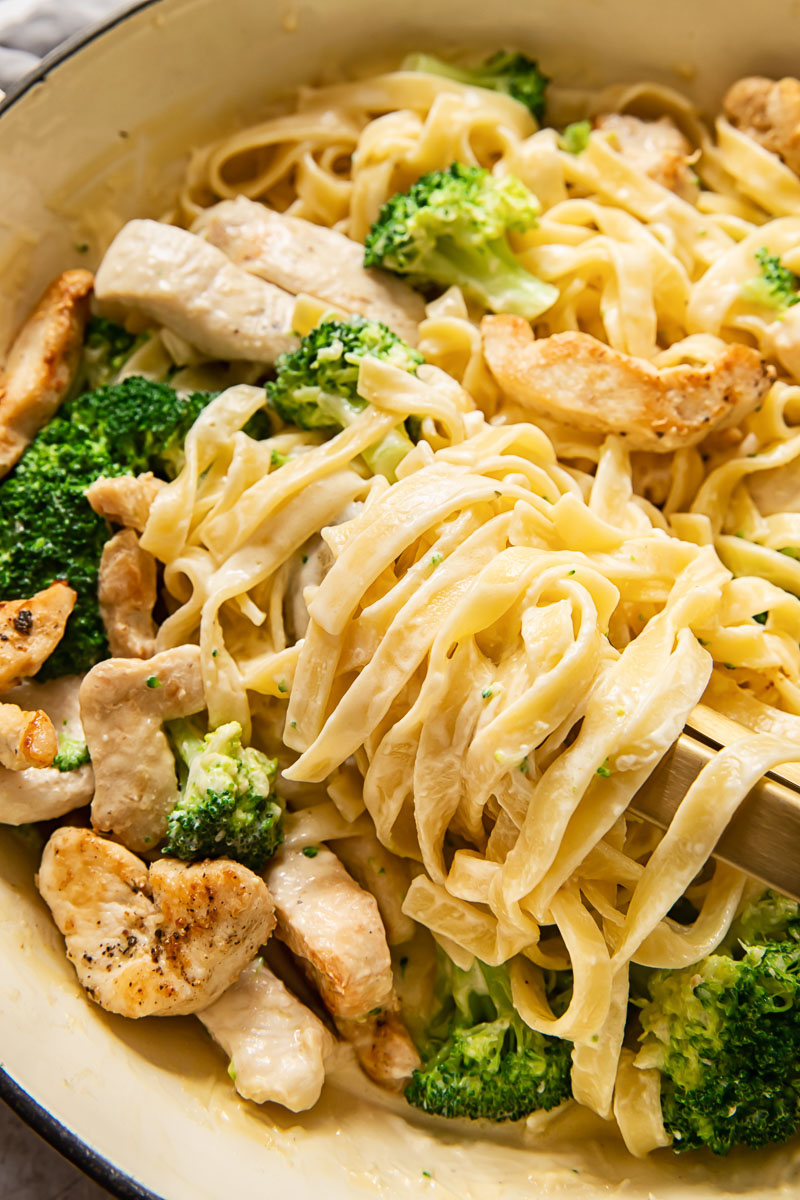 Creamy Chicken Pasta
I've created many recipes for chicken and pasta combination over the years. Although this is not something pasta purists would approve of, the simple pairing just works. It's delicious and satisfying. Everything we want at the end of a long day.
Take this chicken and bacon pasta tossed with creamy sauce for example. It's a reader favourite because it's a straightforward recipe that will serve you well night after night. It also uses everyday ingredients.
There are many ways to achieve that creamy sauce like using a combination of heavy cream and Parmesan cheese or even mixing in some ricotta like I did in my Spinach Ricotta Pasta for a lighter version.
However, today we are bringing out the big guns and mixing our chicken and pasta with the famous Alfredo sauce. I also added some quickly cooked broccoli for a satisfying one pan dinner but any other vegetables could be added instead.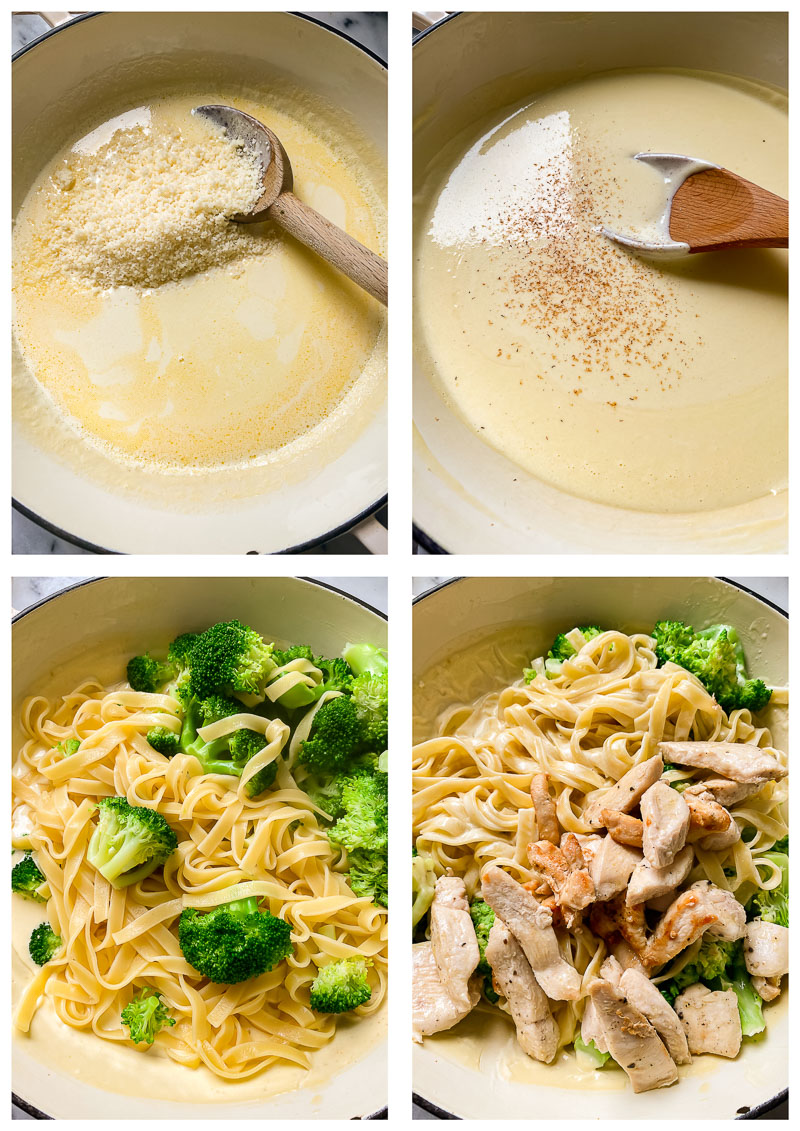 Recipe Tips and Notes
I used skinless boneless chicken breasts because they cook fast and are easy to work with. This recipe would also work well with leftover roast chicken!
Broccoli florets need to be cooked before adding to the Alfredo sauce but to eliminate extra dirty pots I suggest simply adding your broccoli to the pasta pot in the last 3 minutes of cooking. Then drain together and add to the sauce. You can use any vegetables you like instead of broccoli. I personally like adding asparagus or arugula to mine.
Use freshly grated cheese for better flavour instead of the pre-grated Parmesan. Pre-grated cheese loses flavour and dries out quickly so you get inferior product. You will also need more of it to get the same results.
Make your Alfredo sauce over low heat. This way the cheese will melt slowly and incorporate beautifully into the cream.
Add a tiny pinch of nutmeg to your Alfredo sauce at the very end. Nutmeg lifts and balances out the richness of the cream sauce with its strong aromatic flavour by infusing it with warmth and spice. Nutmeg has a very strong flavour, so I recommend adding very little. I also prefer to grate my own using a microplane grater.
Cook pasta al dente as it will soften even more when you combine it with the sauce. And don't forget to reserve some pasta water. Many people skip that step but adding pasta water is very important because pasta continues to absorb liquid even after it's been cooked. By splashing a bit of pasta into the sauce, you will ensure your dish is creamy and not dry!
Finally always add more salt to the pasta after it's been combined. Pasta needs quite a bit of salt for the sauce flavour to come through and especially creamy sauce like Alfredo.
Serving Suggestions
This recipe is a meal in itself but a creamy pasta benefits by being paired with something slightly acidic for a balance of flavours. Try serving our Tuscan Panzanella Salad with a zesty vinaigrette or Tomato Salad with Herb Vinaigrette and see for yourself.
Or you can make our Healthy Eggplant Parmesan if you are craving a hot dish on the side of pasta.
More Creamy Pasta Recipes to Try: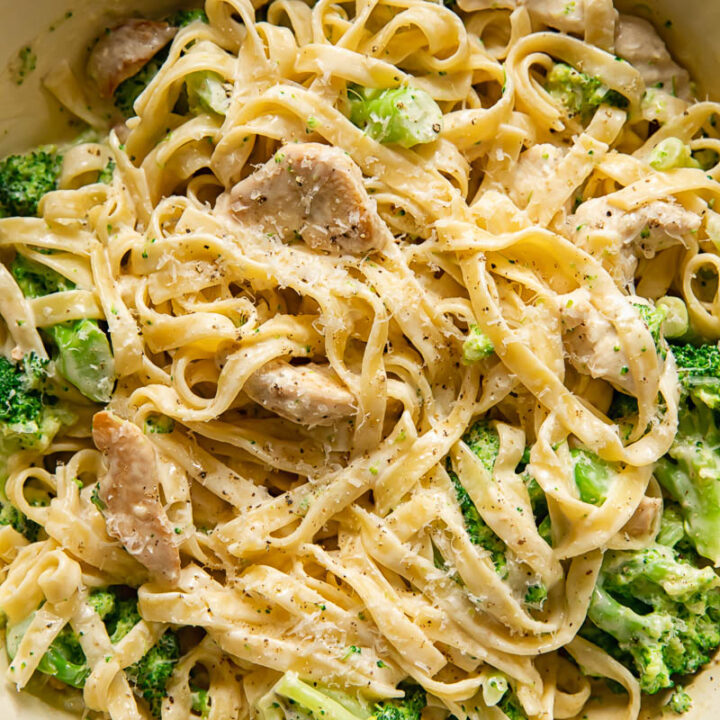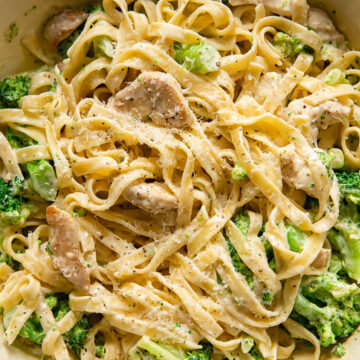 Chicken Broccoli Alfredo
This pasta is tossed with a silky smooth Alfredo sauce, tender chicken breast pieces and delicious broccoli. A luxurious one pan dinner!
Ingredients
1

tbsp

butter

1

tbsp

olive oil

1

tsp

salt and pepper

combined

1

tsp

garlic powder

2

chicken breasts

cut into bite-sized pieces

1

head of broccoli

cut into florets and stalk discarded

3

tbsp

butter

500ml/2 cups

heavy cream

120g/1 ¼ cup

freshly grated Parmesan cheese

a few gratings of nutmeg

salt to taste

1

lbs

fettuccine or other pasta
Instructions
Set the water boiling in a large pot. Once it comes to a boil, add a pinch of salt and the pasta. Cook according to package instructions. In the last 3 minutes of the cooking time, add the broccoli florets.

Cut the chicken breasts into bite-sized pieces, then season with salt, pepper and garlic powder. Heat a large pan with 1 tbsp of butter and 1 tbsp of oil oil and cook the chicken until done over medium heat for approximately 5 minutes Remove from the pan to a separate plate.

To the same pan add the butter, cream and Parmesan cheese and heat it slowly over low heat until the cheese is melted into the sauce. Taste and season with salt if needed, then add a pinch of freshly grated nutmeg.

Drain the pasta with broccoli while reserving ½ cup of pasta water, and add to the Alfredo sauce, then bring the chicken back to the pan. Toss gently to coat the pasta, add a bit of the pasta water is the dish is too dry. Make sure to taste and add more salt to taste. Serve with additional grated Parmesan.
Nutrition
Calories:
832
kcal
Carbohydrates:
62
g
Protein:
36
g
Fat:
49
g
Saturated Fat:
28
g
Polyunsaturated Fat:
3
g
Monounsaturated Fat:
15
g
Trans Fat:
1
g
Cholesterol:
196
mg
Sodium:
1296
mg
Potassium:
632
mg
Fiber:
3
g
Sugar:
3
g
Vitamin A:
1826
IU
Vitamin C:
28
mg
Calcium:
328
mg
Iron:
2
mg