Jazz up your pasta carbonara with golden mushrooms for a light, quick and delicious dinner. You will be impressed with the magic that just a few ingredients produce!
Serve this Mushroom Carbonara with our Tuscan Panzanella Salad and a selection of Bruschetta for a delicious Italian feast.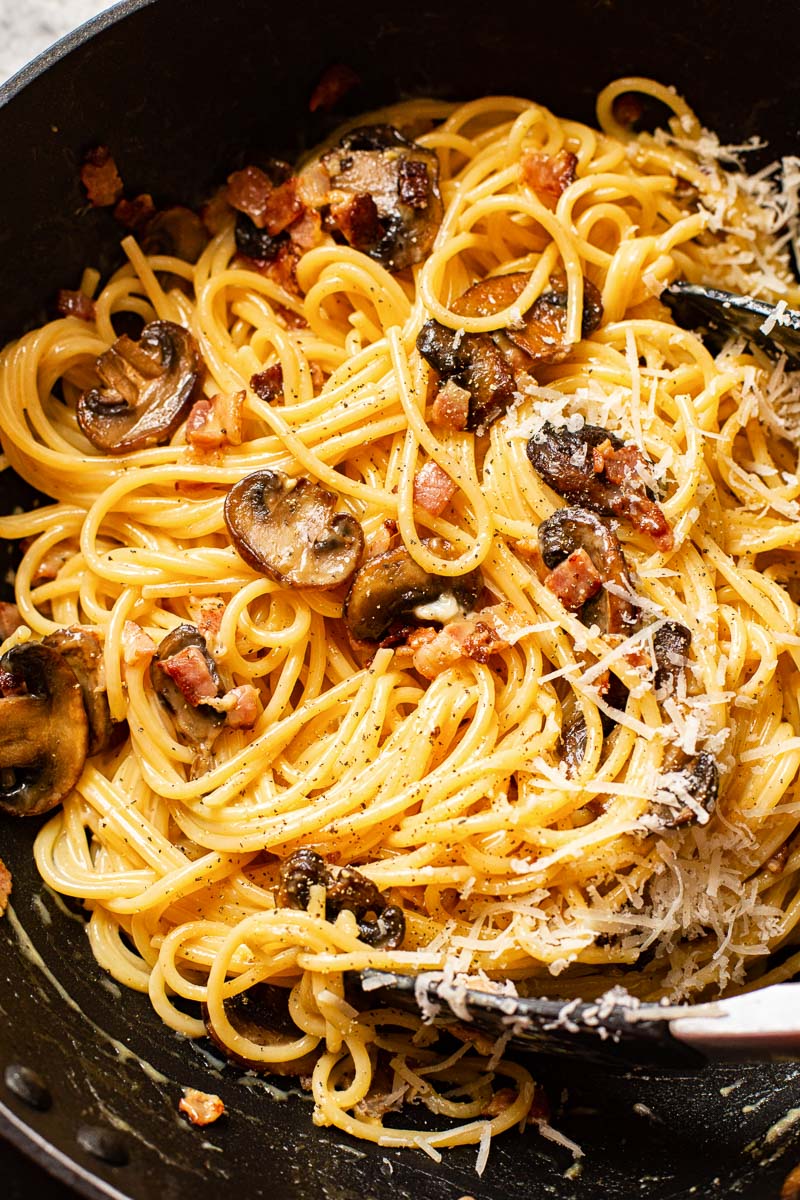 It's not a surprise we are huge pasta fans over here with the classic Spaghetti Carbonara making nearly a weekly appearance on our dinner table. And as much as we love the classic, it's fun to vary the recipe just a bit to keep it interesting. Fresh Pappardelle Carbonara with Arugula is just one of the examples of such variations.
At the moment I am challenging myself to come up with recipes for our dinners using just a few of ingredients found in my fridge and pantry as we avoid unnecessary trips to the store. So adding mushrooms to my beloved pasta dish seemed only natural. Everyone will love a cheesy mushroom pasta with bits of bacon!
How to Make Easy Carbonara
Great news is there is no such thing as a difficult carbonara recipe. At least not when made the proper Italian way. If you want to make this a bigger challenge, why not try your hand at making your own pasta? It's also very simple!
The Carbonara sauce in nothing more but a quick mix of beaten eggs and freshly grated Parmesan cheese. Although Pecorino Romano is more traditional if you ask hardcore Carbonara purists.
However if you are willing to take a more relaxed approach to your food prep, freshly grated hard cheeses like Parmesan, Grana Padano or Pecorino Romano will deliver the classic taste Carbonara is famous for.
The key to the best sauce is using freshly grated cheese. You will need less of it as the flavour is more intense than in lower quality pre-grated cheeses, that are sold in supermarkets.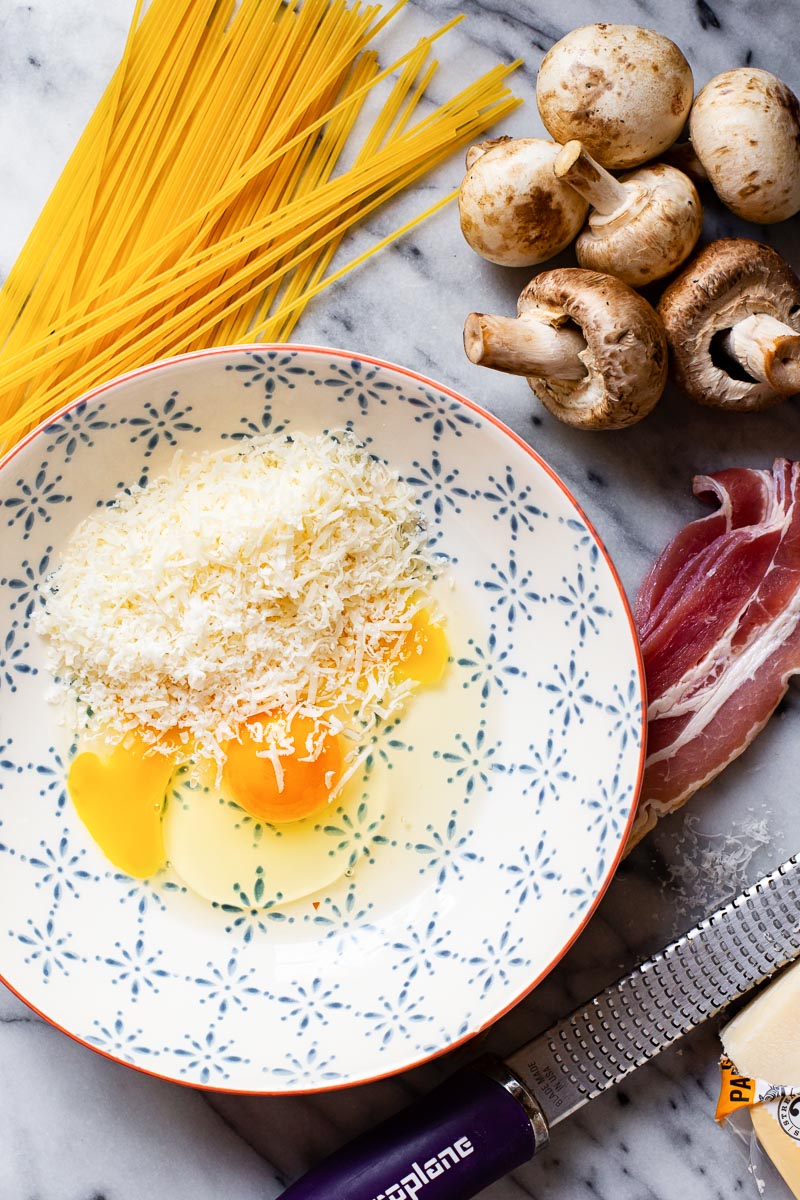 To make the sauce all you need to do is fold in the egg and cheese mixture into the hot pasta. You must do this off the heat to prevent the eggs from scrambling. The residual heat of the pasta is enough to cook the eggs.
We are looking for a smooth sauce coating our pasta not scrambled eggs tossed with spaghetti! This actually happened to my friend in a restaurant in Naples! Talk about major disappointment!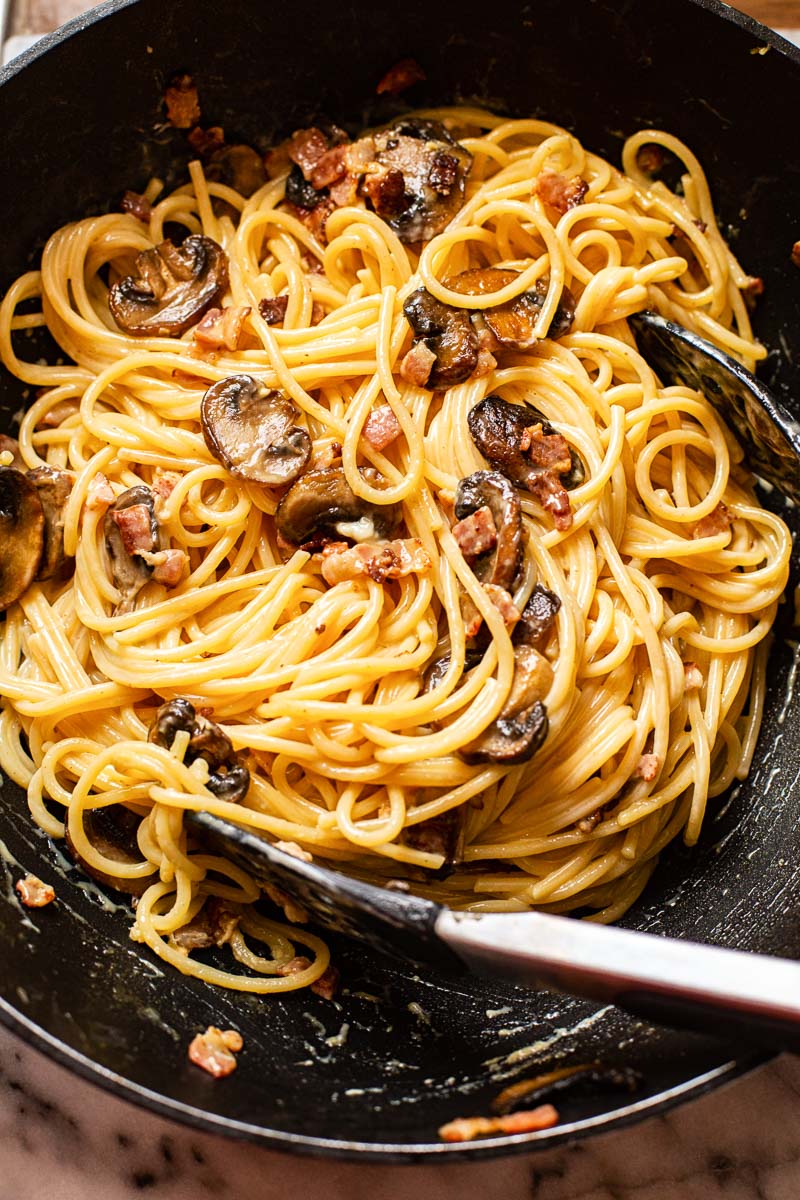 Mushroom Carbonara Recipe
For this mushroom edition of the carbonara I decided to keep the bacon in. I love the saltiness it adds to otherwise quite mild tasting dish. But feel free to leave the bacon out and keep this recipe vegetarian.
The process for it is very simple. Get the pasta going in a pot of boiling water. Meanwhile cook the bacon or pancetta if you have it. Once again guanciale (cured pork cheeks) is traditionally used in Italy but who has it just kicking around in the fridge? Not me and probably not you!
Once the bacon has rendered its fat, remove it from the pan and add the sliced mushrooms. If your bacon is very fatty, remove and discard most fat but 1 tablespoon.
While the mushrooms are browning and I mean browning, not steaming, whip the eggs and grated Parmesan or whatever hard cheese you are using.
My rule of thumb is to use about 2-3 egg yolks and 1 whole egg for 4 people and keep adding 1 egg per additional 2 people. I always have a ratio of 2 egg yolks per 1 whole egg. Egg yolks are what gives the sauce its creamy texture. No actual cream needed!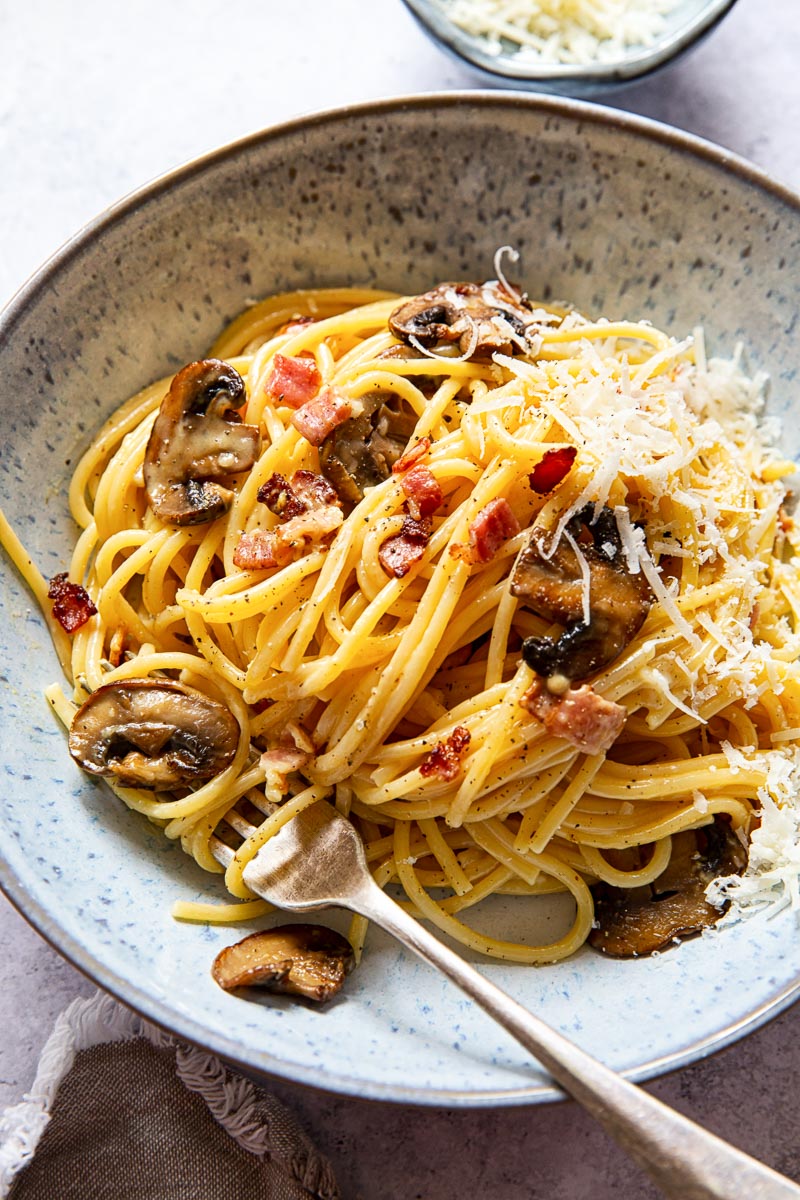 Julia's Tips
Add 1 whole garlic clove when frying the bacon to flavour the fat, then remove it. Real Carbonara is not garlicky.
Use freshly ground cheese for best flavour.
Keep ½ cup of pasta water for the sauce. If you forget to do that, don't panic! Simply add hot water from a kettle, it's not as good but better than nothing.
Always mix in the eggs and cheese into the pasta off the heat for a smooth Carbonara sauce.
Salt to taste! If your Mushroom Carbonara seems bland, always add salt first, then taste again.
Serve sprinkled with extra Parmesan and black pepper.
More bacon and mushroom pasta recipes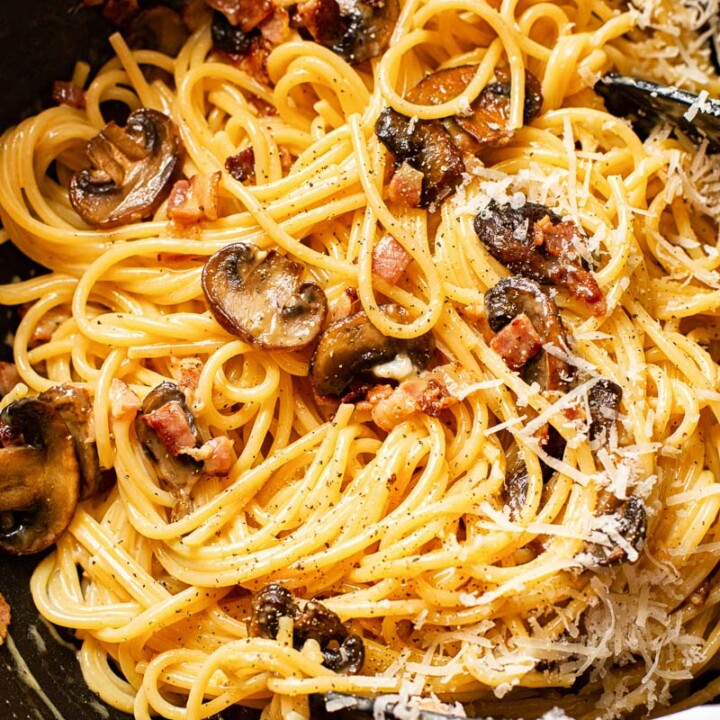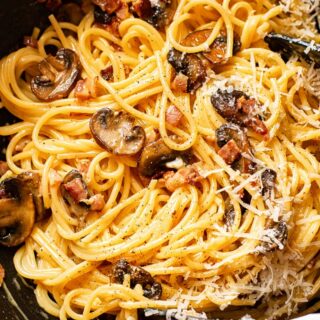 Mushroom Carbonara
Jazz up your spaghetti carbonara with golden mushrooms for a light, quick and delicious dinner.
Ingredients
1

lbs

spaghetti

100g/3.5oz

bacon or pancetta

or guanciale

1

clove

garlic

optional

250g/8oz

mushrooms

sliced

80g/1/2 cup

Parmesan cheese

or Pecorino Romano

3

egg yolks

1

whole egg

salt and pepper to taste
Instructions
Cook the pasta according to package instruction in a large pot of boiling water.

Meanwhile mix the egg yolks, one egg and grated Parmesan in a small bowl and set aside for later. Fry chopped bacon or pancetta with 1 whole garlic clove, that's been slightly crushed, in a pan until the bacon rendered its fat. Remove the bacon to a separate plate and set aside until later. Discard the garlic clove and all fat from the pan but 1 tbsp. Add sliced mushrooms to the pan and cook until golden on medium heat for about 5 minutes, return the bacon to the pan and take it off the heat.

Once the spaghetti is cooked al dente, drain in a colander but keep ½ cup of pasta water. Add the spaghetti to the pan with bacon and mushroom and half of the reserved pasta water and lightly toss to combine. Then add the egg and cheese mixture and toss until the pasta is evenly coated with the sauce. Work quickly to prevent the eggs from scrambling. Add the remaining pasta water if the dish looks dry and continue mixing until the pasta is coated with the sauce. Add salt to taste. Serve with more grated Parmesan and black pepper.
Notes
Feel free to leave the bacon out to keep this recipe vegetarian.
Nutrition
Calories:
677
kcal
Carbohydrates:
88
g
Protein:
31
g
Fat:
22
g
Saturated Fat:
9
g
Cholesterol:
217
mg
Sodium:
518
mg
Potassium:
549
mg
Fiber:
4
g
Sugar:
5
g
Vitamin A:
410
IU
Vitamin C:
2
mg
Calcium:
284
mg
Iron:
3
mg