Try this pappardelle carbonara mixed with with some fresh arugula for a quick dinner that is far from ordinary.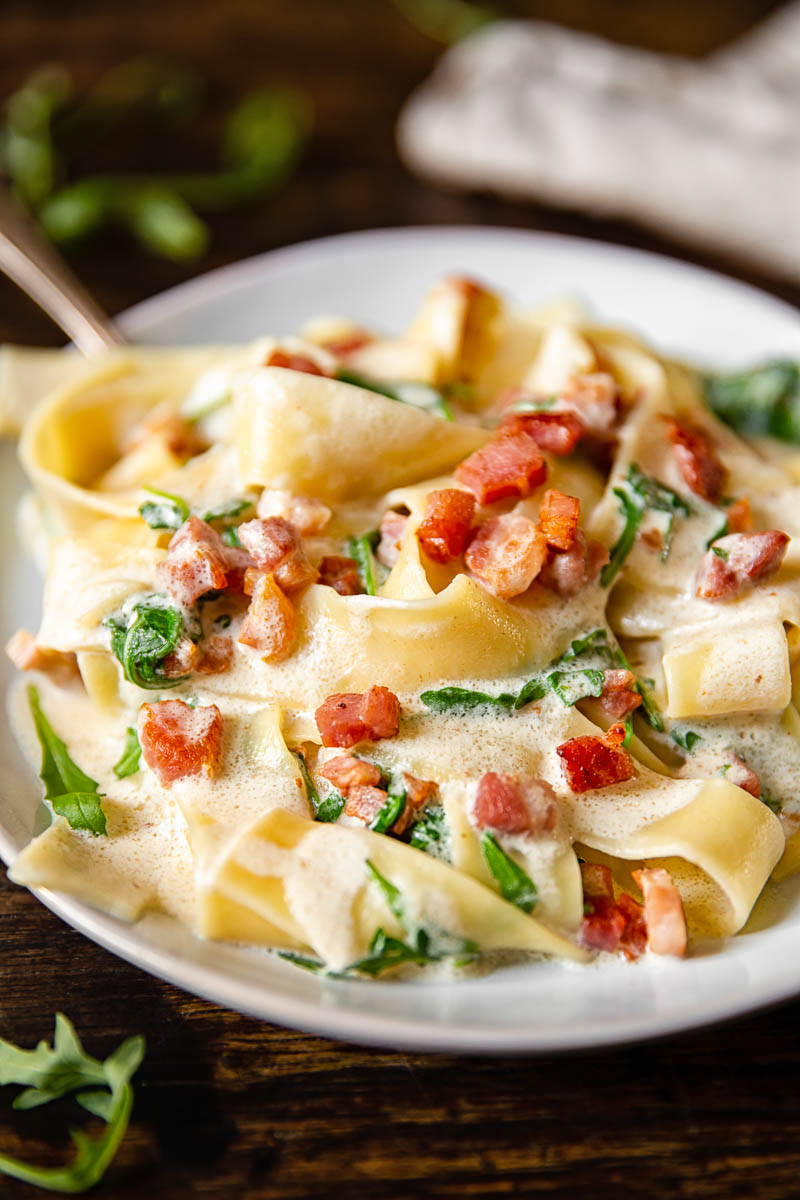 As much as I love to cook and hanging out in the kitchen is one of my winding down times, I can't imagine how I would survive without super speedy recipes that come together in 10-15 minutes. Pasta Carbonara is one of those recipes.
I learned making it from my friend Angela who is 100% Italian and proud. Angela taught me so much about Italian cooking and the main lesson I learned from her is that the key to mastering Italian dishes is improv and simplicity.
"It always makes me laugh when people ask me for my carbonara recipe", Angela says, "it's one of those dishes we throw together for lunch when the fridge content is scarce!
It's the easiest and the cheapest thing to cook!" So in the spirit of Italian cooking philosophy I present you this somewhat improvised recipe.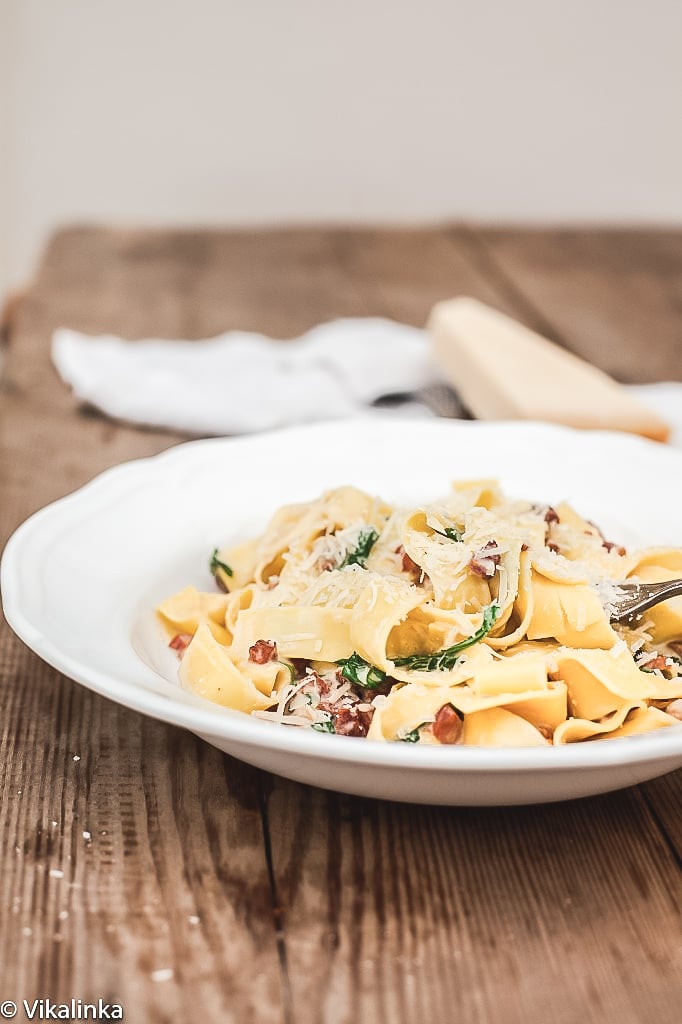 This is how it came together. I was busy making Chorizo Sausage Rolls for which I needed eggwash but there is a lot of egg leftover when done, which usually goes down the drain. No good.
Then I scoured my fridge for anything lunchable. Nothing except for 4 fresh lasagna sheets from Crab, Leek and Mushroom Lasagna I made a couple of weeks ago. I wasn't sure what to make with them as 4 sheets is not enough for lasagna.
Fast forward to the interesting part when suddenly, I find myself cutting those lasagna sheets into wide Pappardelle like ribbons and frying pancetta!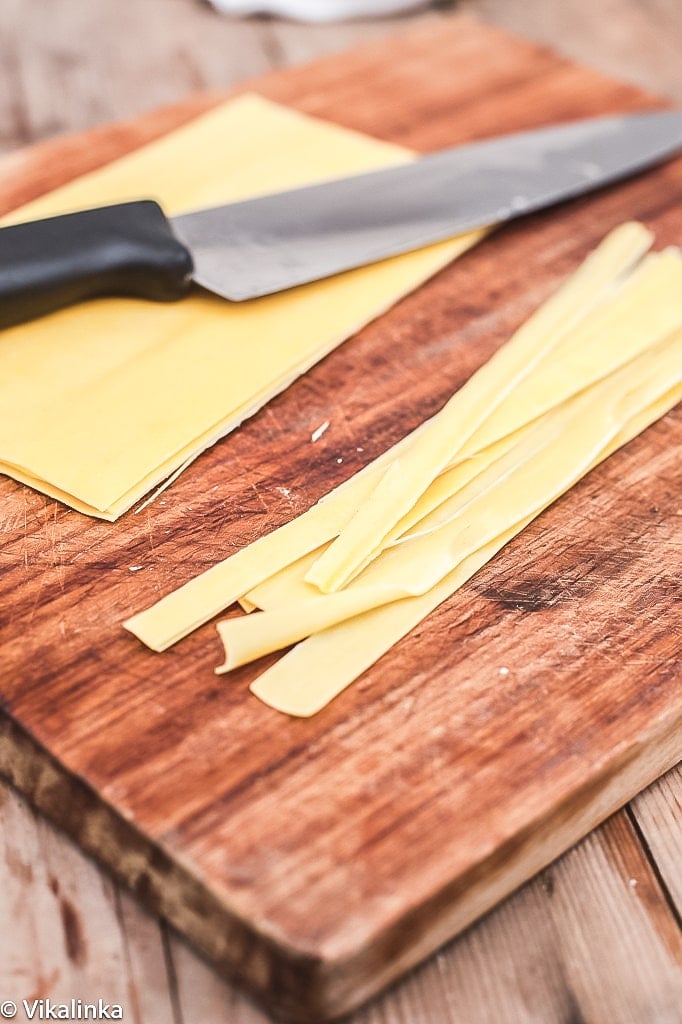 How do you make pasta carbonara?
Fresh pasta only needs 2 minutes to cook so the whole dish takes 10 minutes at most. True Carbonara relies on eggs, not heavy cream, for its smooth and luscious sauce and tastes a great deal lighter than a restaurant version.
The trick to not curdling the eggs and turning everything into pasta with scrambled eggs is to mix in the beaten egg off the heat. What you end up with is nothing short of heavenly.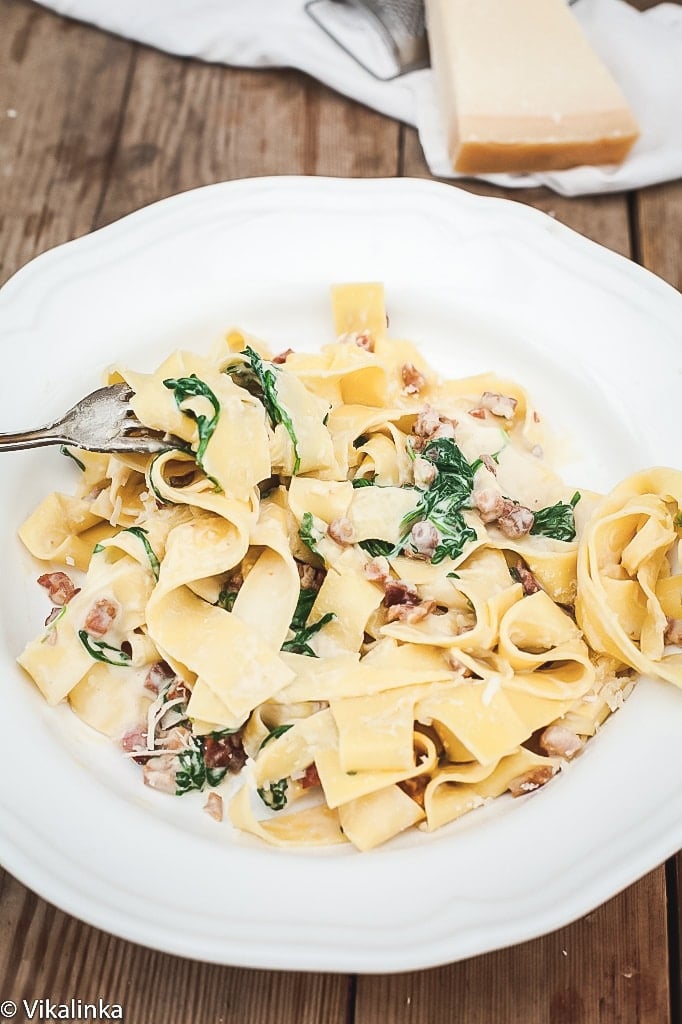 Originally published in 12/2013. Updated in 02/2019.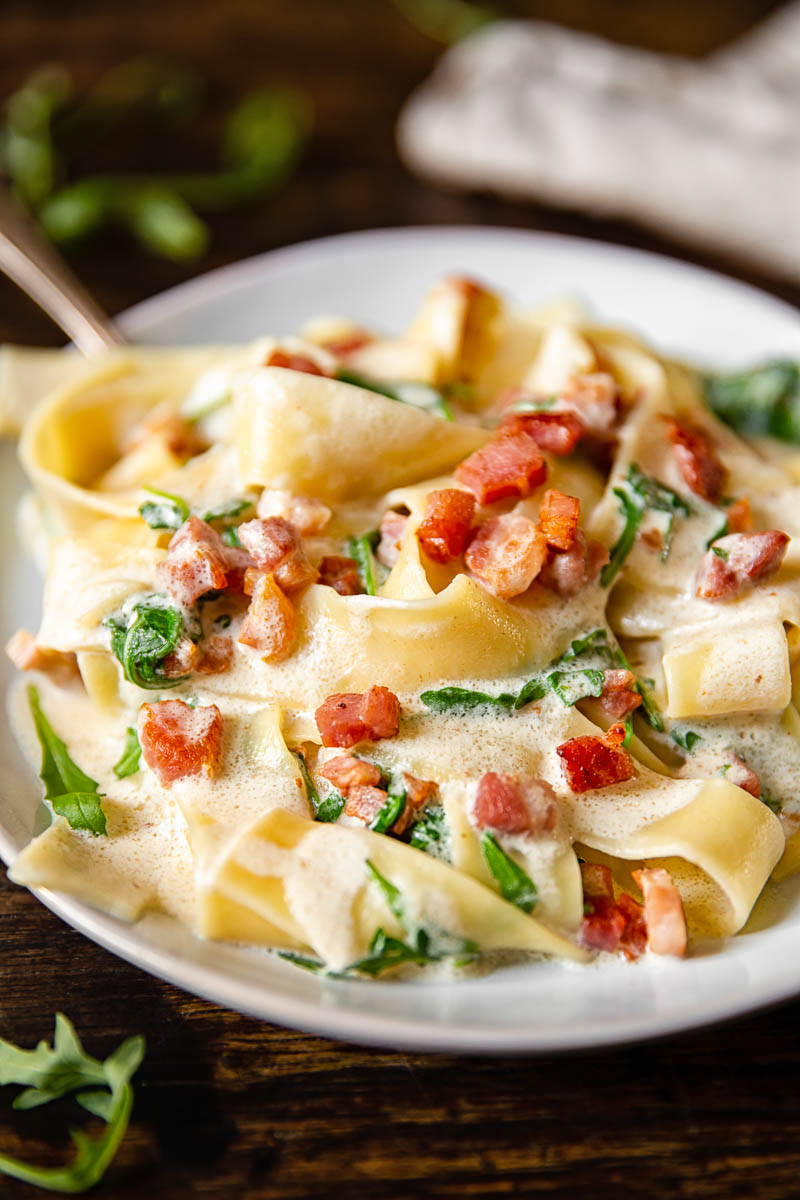 Ingredients
Pappardelle or any other pasta

fresh or dry- 200 gr

Olive oil- 1 tbsp.

Pancetta or cubed bacon- 50gr/ ¼ cup

Single Cream/Half and Half- 1 tbsp.

Egg-1

Arugula- 1 cup/a large handful

Salt to taste

Parmesan cheese

grated- 2-3 tbsp.
Instructions
Cook the pasta in a pot of boiling and salted water according to package directions.

Meanwhile, fry the pancetta, add arugula to it in the last minute just to wilt it. Set aside.

Beat an egg with a fork and add grated parmesan to it, mix everything.

Drain the pasta, reserving ½ cup of water and add pasta to the pan with pancetta and arugula. Mix everything over low heat with a spoonful of cream and a pinch of salt just to coat.

Take your pasta off the heat and mix in the egg and cheese mixture tossing the pasta gently, add a splash of reserved water to keep things slightly runny but it shouldn't be swimming in sauce.

Serve with more freshly grated parmesan cheese.