This Carbonara recipe is where I explain how easy it is to make it the Italian way. I also provide a step by step photo tutorial for the Carbonara sauce using only eggs and Parmesan cheese. No cream!!
For another Italian classic, try my basic pasta cream sauce.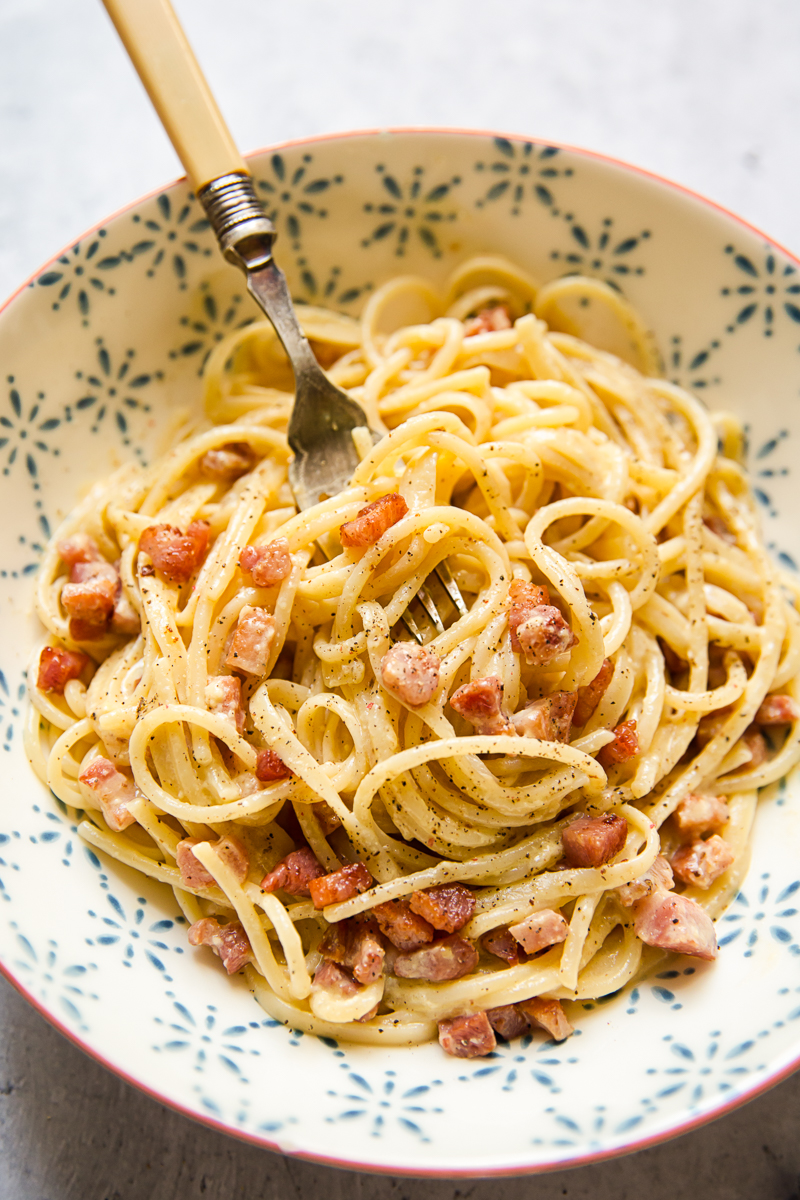 Whenever we visit Italy we are fortunate enough to be able to see the real country, away from busy tourist spots, and eat meals prepared by real women, not chefs. Our friends, who live there, make sure of it.
If you ever ask an Italian where to get the best food they would answer my mamma's house without hesitation. Truth is that some of the tastiest Italian dishes ARE made by home cooks.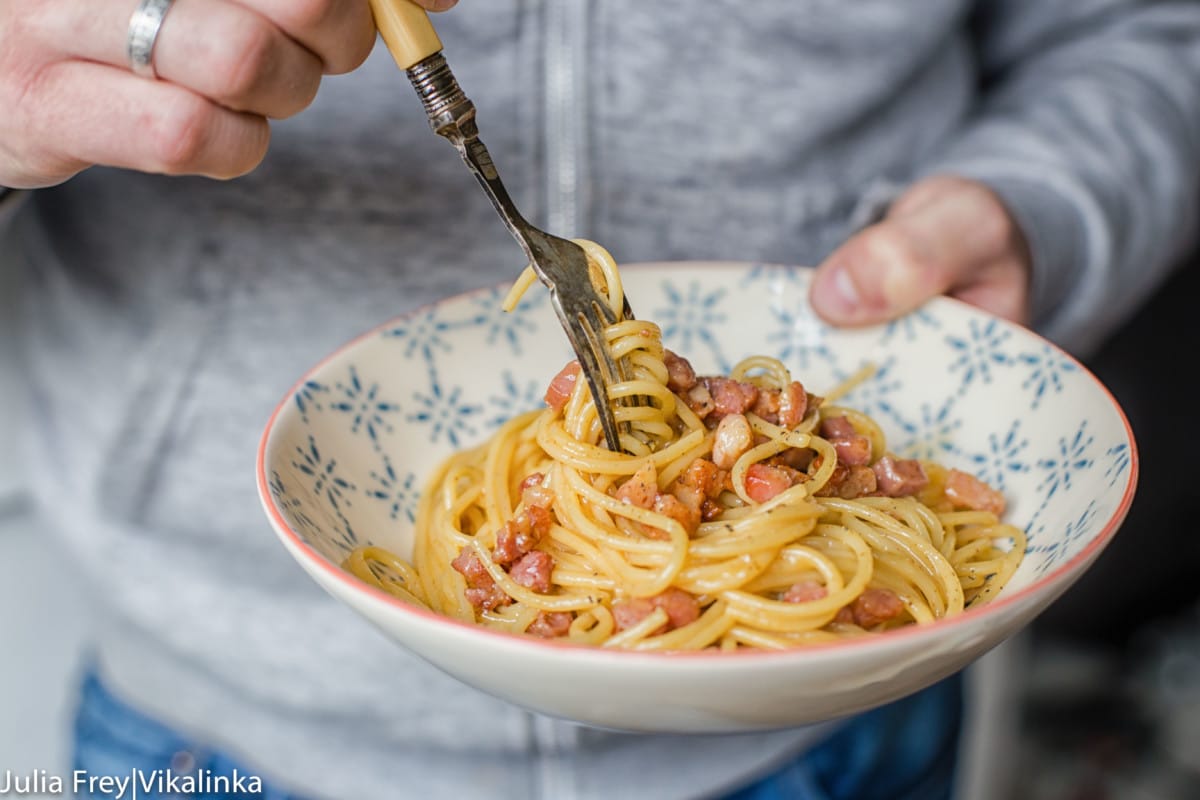 I've heard once that Julia Child said she didn't like Italian cooking because there is no actual cooking involved. Seriously Julia Child? That's my favourite part!!
I love that I can come home from work and no matter what state I am in I can still whip up a quick and satisfying spaghetti carbonara and spend time with my favourite people around a dinner table.
Spaghetti Carbonara is an iconic Italian recipe but often times in restaurants it is absolutely loaded with cream, which has no place in the original recipe.
All the cream and cheese makes restaurant carbonara a hefty dish we often feel guilty for eating. And it does make us feel quite heavy afterwards. But would you be surprised if I told you that the same creaminess could be achieved without the cream and the calories?
What is carbonara sauce made of?
For such a luxuriously creamy sauce, there are surprisingly few ingredients that go into carbonara:
eggs
Parmesan or Pecorino cheese
salt and pepper
1 tablespoon of cream or butter (optional)
So how do we make carbonara creamy with only these ingredients to work with?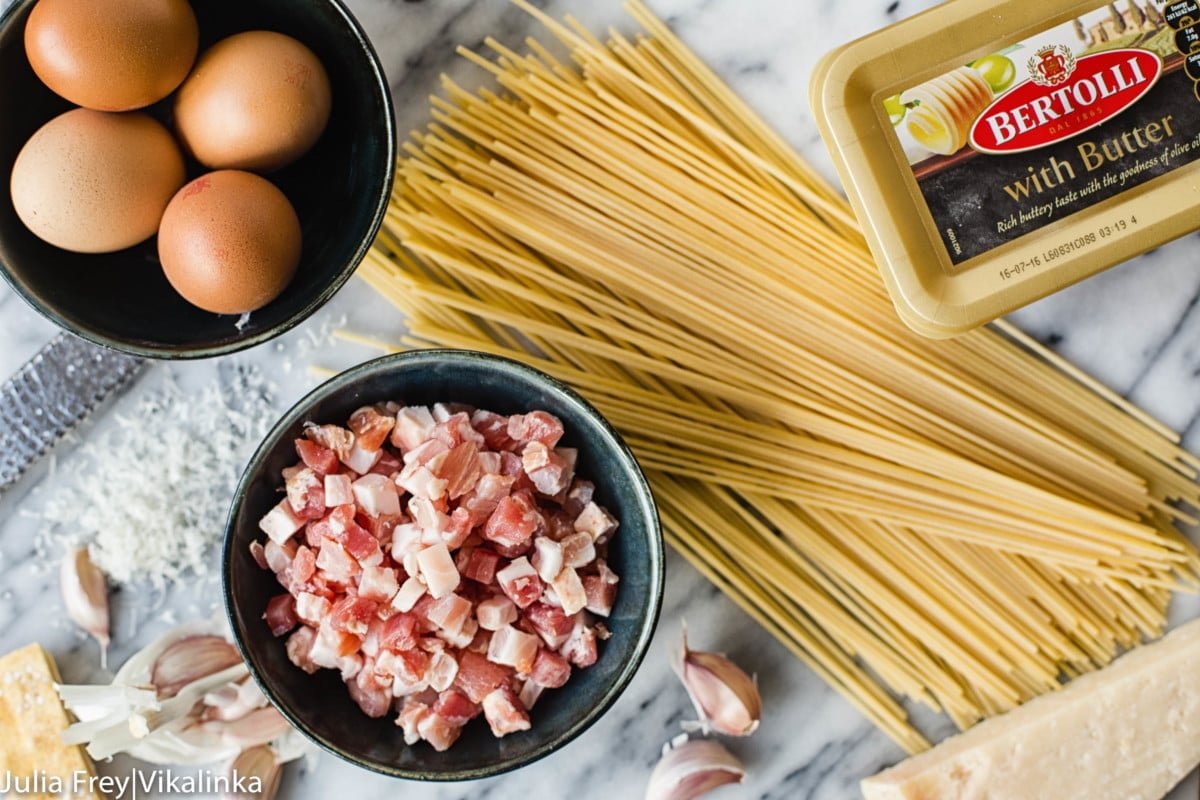 Adding creaminess
Eggs are the main ingredients in the carbonara sauce and to make it seem creamy I use mostly egg yolks. It is the yolks that are responsible for the creaminess in the sauce and that luxurious feeling you get with each mouthful without feeling greasy.
Another trick is to add one tablespoon of butter to start the sauce or 1 tablespoon of cream to finish it, but not both! Well, you can do both but it's not necessary.
How to make spaghetti carbonara
Attention to detail is important in this recipe since it has an incredibly short ingredient list. The flavour rests on the quality of those ingredients plus little finishing touches.
When making pasta, always salt your water before adding the noodles. That's a crucial step as it allows the pasta to get flavoured all the way through. If you salt it your spaghetti later it will only be on the surface.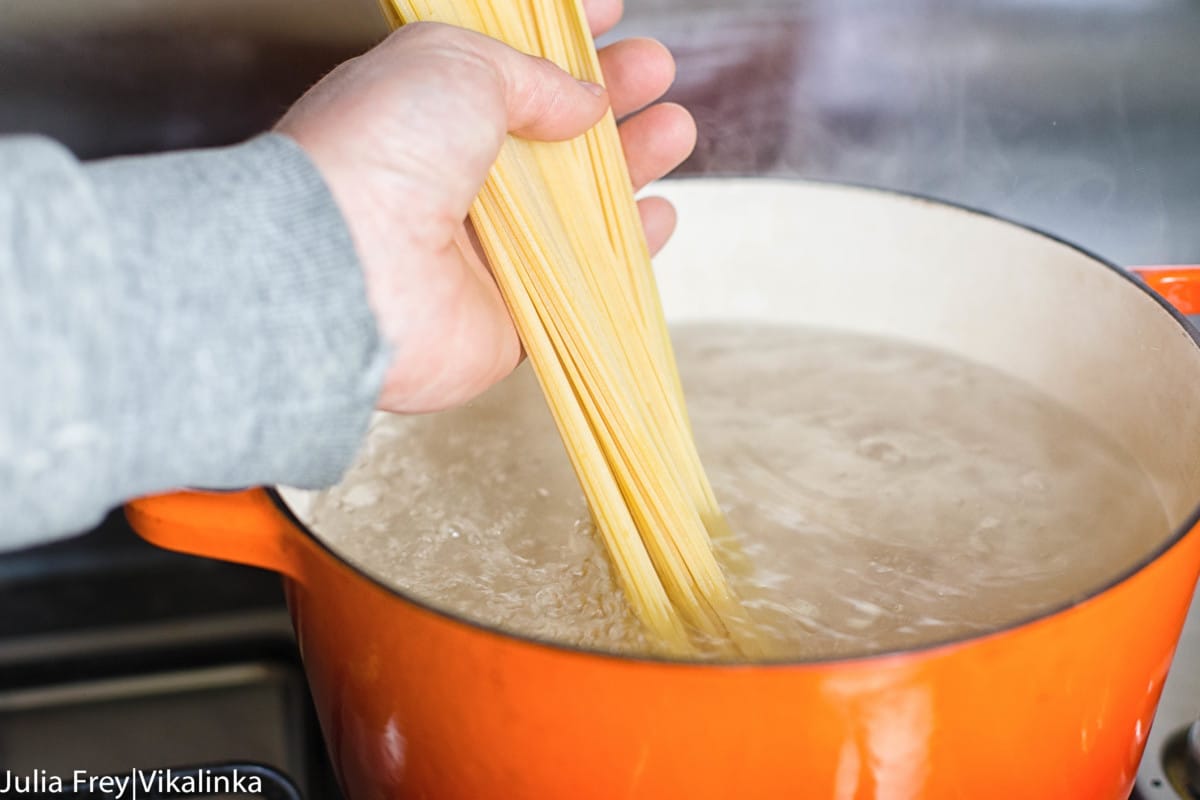 While that's happening, add pancetta or bacon to a pan with butter along with garlic. The garlic is a little trick for adding flavour as it infuses the pancetta with flavour.
I usually add one clove of garlic to the pan when I cook the pancetta, then remove it before the pasta goes in. This way the garlic adds to the delicate flavour of the carbonara sauce without overwhelming it.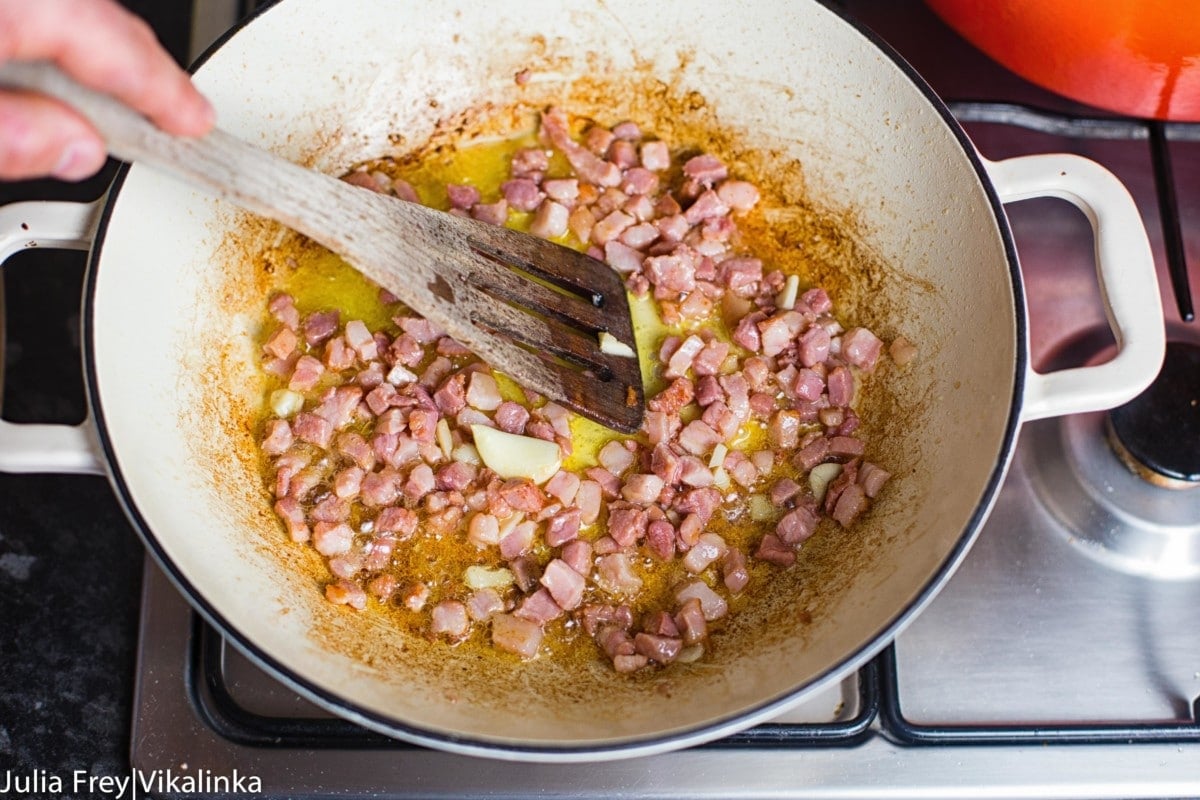 When everything is ready, add the hot pasta directly to the pan with cooked pancetta, then add some pasta water. Because there is no added cream in this recipe, we need some extra liquid to create the sauce and carry the flavours that coat the pasta.
Pasta water is perfect for this role as it has absorbed some starch from the pasta which will help thicken the sauce as well.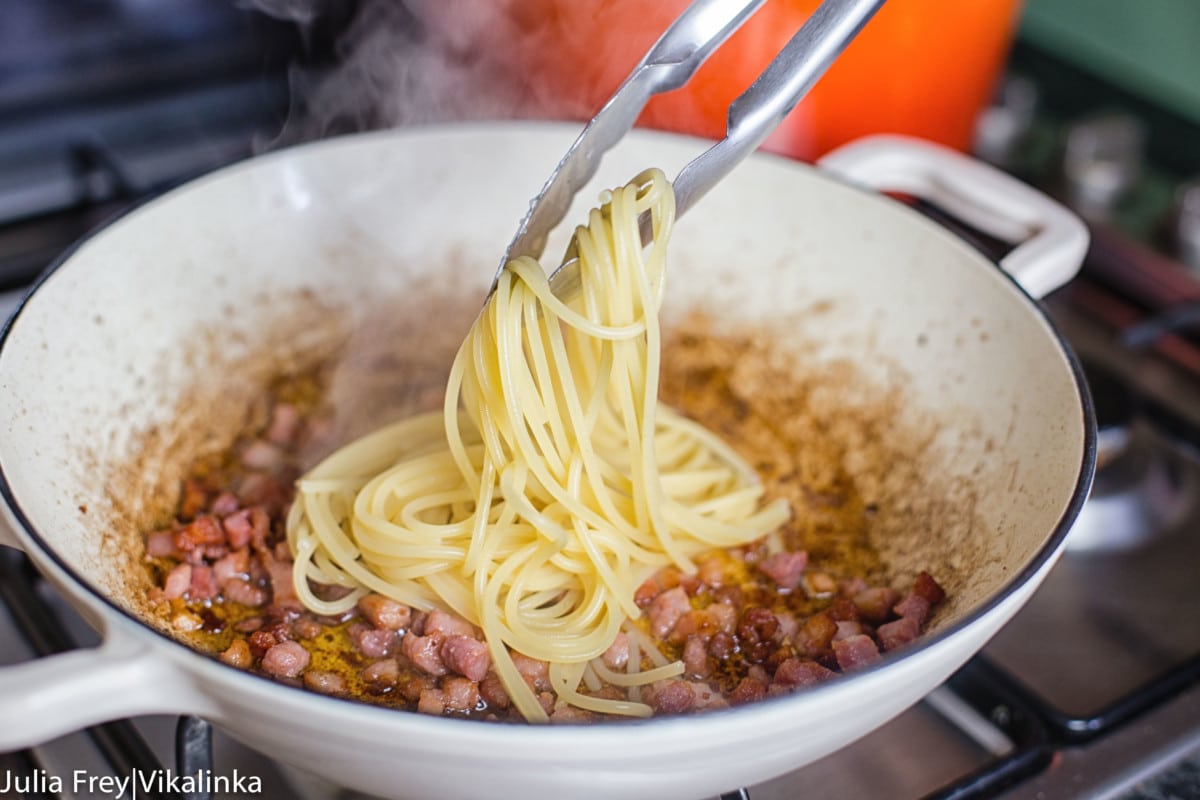 Now the the trickiest step is adding the egg and cheese mixture to the pasta to create the famous carbonara sauce.
I personally find it works best if I add the beaten eggs while the pasta is taken of the burner. This way you get gentle heat that will cook the egg but not curdle it.
If you can manage, it works best if you pour the egg and cheese mixture over the spaghetti while tossing the pasta the entire time. This way the sauce coats the pasta and prevents the eggs from turning scrambled. Finally add more freshly grated Parmesan cheese and salt and pepper to taste.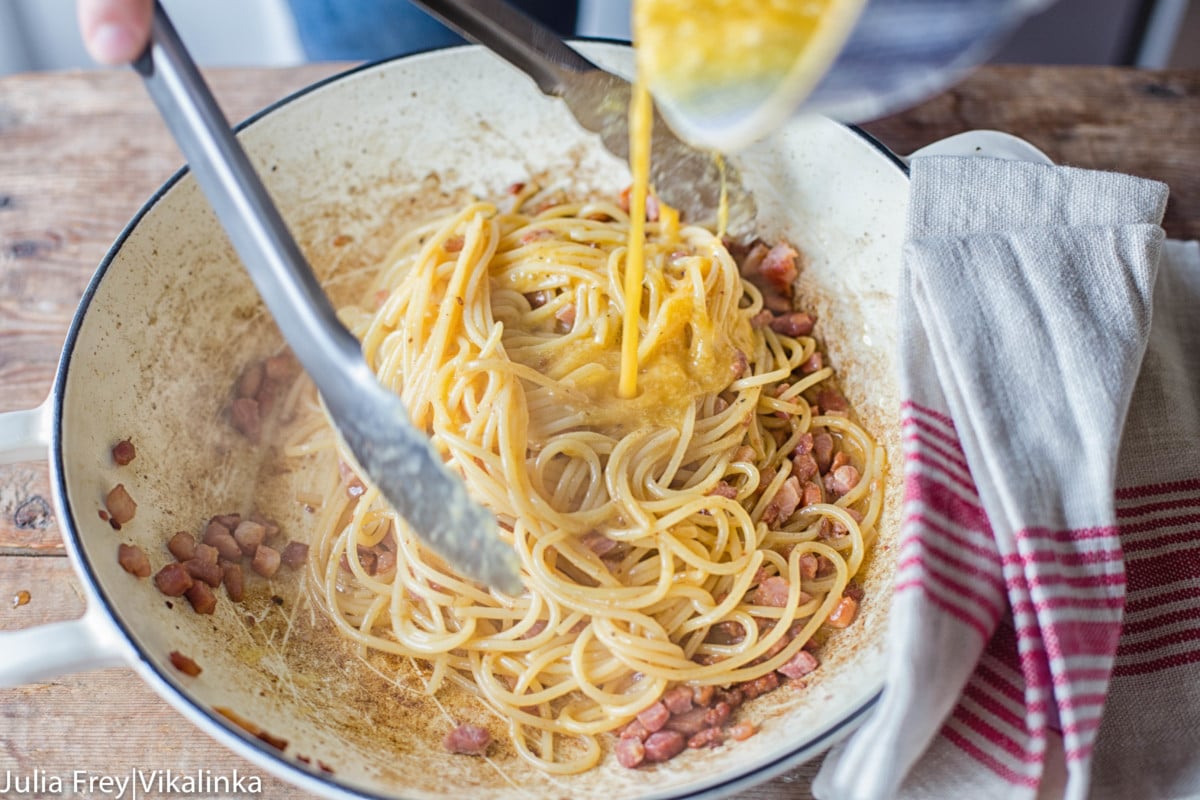 Recipe tricks and tips
I would highly recommend using pancetta and not bacon. If pancetta is not available, try to find meatier bacon.
Remove the garlic from the pan before adding the cooked pasta to prevent it from overwhelming the carbonara sauce.
Take the pan off the heat before adding the egg and cheese mixture. This helps prevent the eggs from scrambling.
Use freshly grated Parmesan cheese rather than store-bought pre-grated parmesan. Parmesan loses moisture and, with it, flavour if it has been pre-grated. Freshly grated parmesan will provide the best flavour and texture.
Spaghetti carbonara pairs well with a simple green salad to balance out the creamy sauce. After all simplicity is what Italian cooking is all about!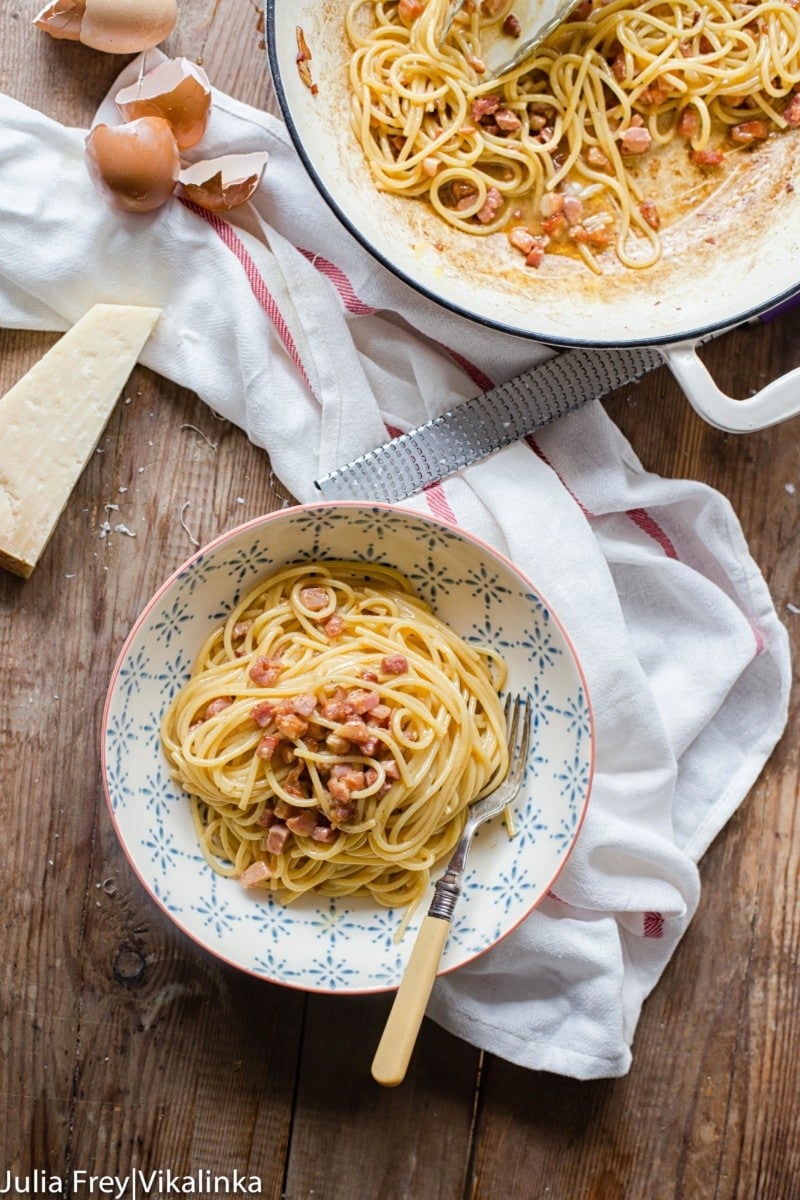 More authentic Italian pasta recipes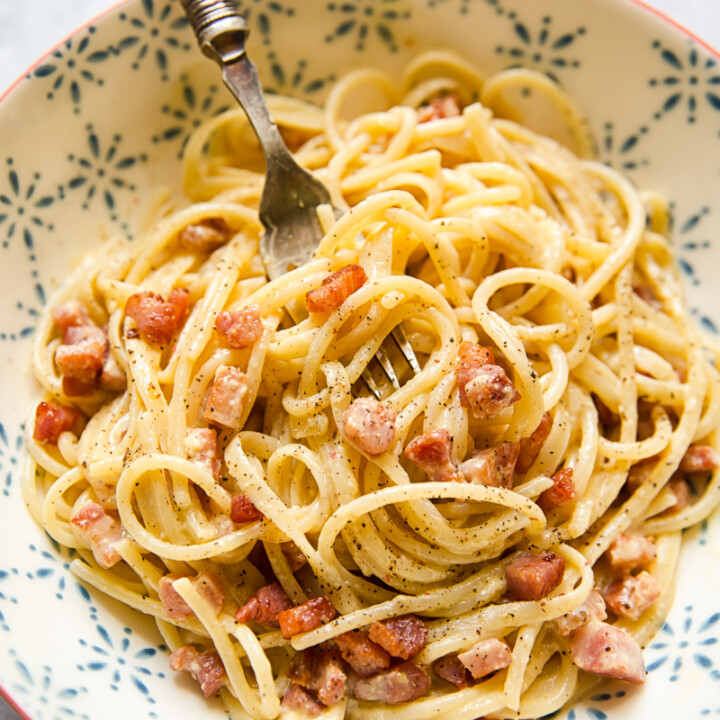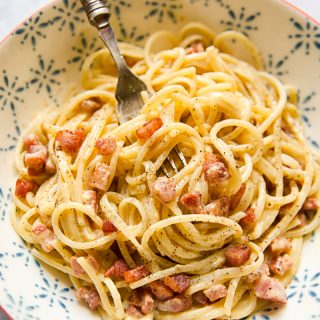 Easy Carbonara Sauce
A step by step recipe for an easy and delicious, no cream Carbonara sauce.
Ingredients
100g/3.5 oz

pancetta

finely chopped

80g/ ½ cup

Parmesan cheese

4

eggs

large

1 lbs

spaghetti

2

garlic cloves

peeled and crushed

1

tbsp

butter

optional

salt

pepper
Instructions
Cook the spaghetti according to package instructions in large pot filled with salted water.

While the spaghetti is cooking, cook the chopped pancetta or bacon in a large pan with 1 or 2 whole cloves of garlic and 1 tbsp of butter until the fat is rendered, then discard the garlic. If using bacon, discard all by 1 -2 tablespoons of fat.

In a small bowl mix 1 whole egg and 3 egg yolks (reserve the whites for another use or freeze them) and freshly grated parmesan cheese until blended.

Once the pasta is cooked, drain it while reserving ½ cup of pasta water. Add the pasta directly to the pan with pancetta and about half of the reserved pasta water. Stir to allow the pasta to be coated with the sauce, then take the pan off the heat.

Pour the egg and Parmesan mixture into the spaghetti while tossing it with a pair of tongs the entire time. Toss quickly not to let the eggs to curdle. Then taste and season with more salt if needed and pepper as well as more grated parmesan if desired. You might want to add the rest of the reserved pasta water to make it saucier.
Video
Notes
Omit butter if using bacon for this recipe.
Nutrition
Calories:
461
kcal
Carbohydrates:
57
g
Protein:
20
g
Fat:
15
g
Saturated Fat:
6
g
Cholesterol:
134
mg
Sodium:
774
mg
Potassium:
254
mg
Fiber:
2
g
Sugar:
2
g
Vitamin A:
320
IU
Calcium:
190
mg
Iron:
1.7
mg