Toasted sourdough bread is topped with sautéed portobello mushrooms makes for a delicious and healthy starter or a snack in this mushroom crostini recipe.
For more topping ideas, take a look at our Favourite Party Crostini 4 Ways.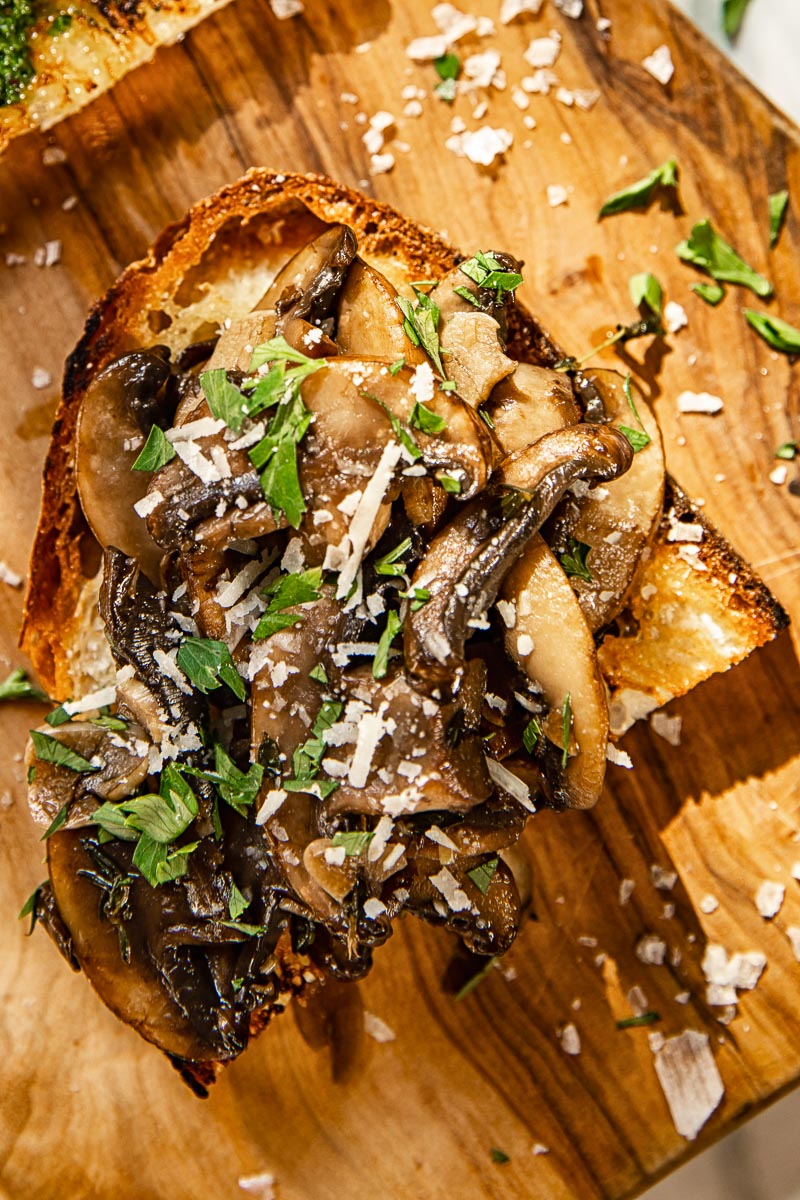 It never ceases to amaze me how the Italians turn the simplest ingredients into culinary triumphs. Mushrooms on toast is not a novel concept but somehow mushroom crostini appeals so much more, especially when eaten in Italy.
Whenever I rate any food, enjoyed on holiday, I add an extra *star because the surroundings always make the eating experience much more enjoyable. However, that added bonus often disappears upon return.
Not the case with these little beauties. They are just as delicious at home. The added star remains but not for the same reason. It comes from the ease of preparation and simplicity of the ingredients!
What are Crostini?
I have been in love with crostini for ages and this recipe is not the first one dedicated to them. I have shared various ideas on what to use as crostini toppings in the past.
There are no hard and fast rules. Let your imagination and seasonal ingredients be your guide and inspiration. I am a huge mushroom fan, so using them as my crostini topping made sense.
But what is crostini anyway? The word itself is plural and refers to crusty bread slices, topped with savoury things, not unlike bruschetta. You are probably wondering what the difference is and I have as well.
The main difference is the type of bread used. Bruschetta is made from fresh bread, that is toasted or grilled over fire, while crostini is made from dried bread. This is the best explanation our Italian friends gave us.
My guess is crostini have been originally invented to repurpose stale bread just like Panzanella salad. While this may have been the origin, nowadays bruschetta and crostini are often used almost interchangeably and served as antipasti.
Both are made using good quality crusty bread, which gets toasted for a delicious crispy exterior. You can use a baguette and slice it into thin rounds or you can use sourdough boule and cut larger slices in half. We've seen both used in restaurants in Italy.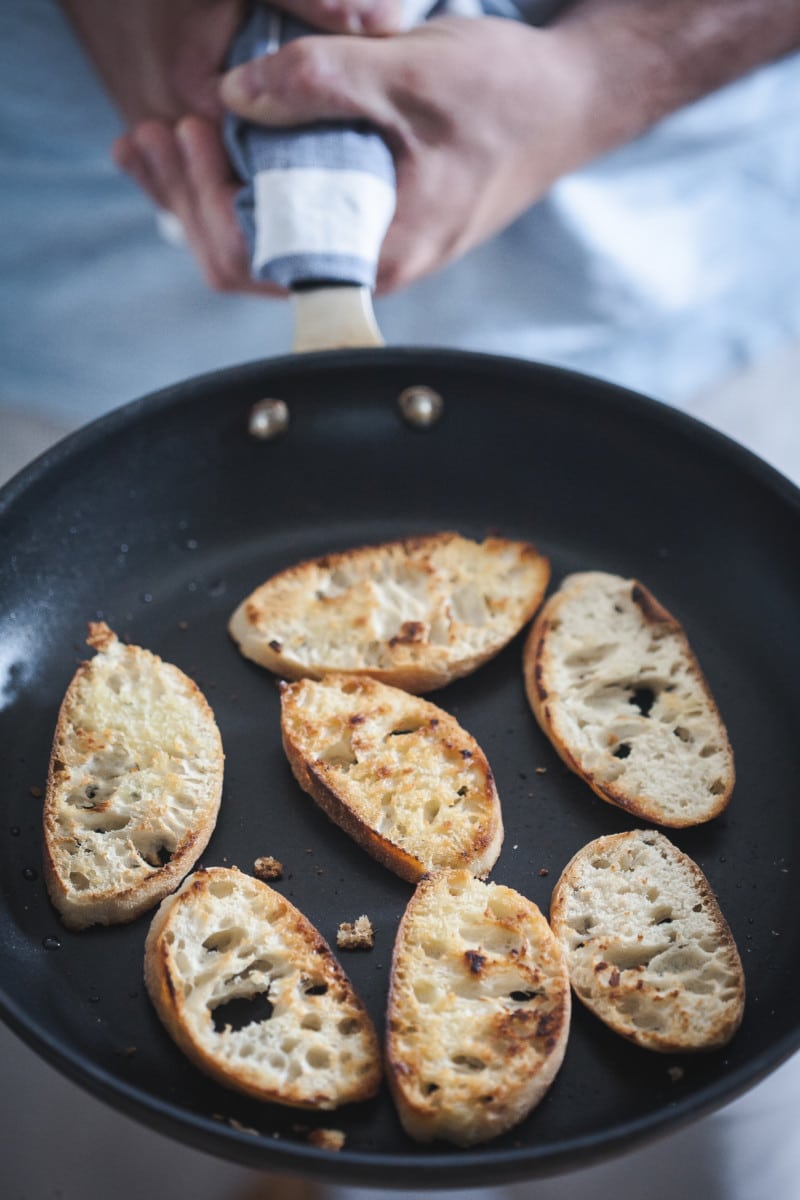 Recipe Tips and Notes
As I mentioned above, Italians tend to use very simple ingredients and they don't like to complicate things in the kitchen. Of course, there are a handful of recipes, which require time and effort. Lasagna or eggplant Parmesan come to mind immediately but for the most part Italian cuisine values simplicity.
Mushroom crostini is one of those recipes with one important distinctions. Quality ingredients are paramount. Good bread and tasty mushrooms are a must.
I used sourdough bread and baby portobello mushrooms. Porcini or chanterelles would taste absolutely outstanding here but they are not as easy to find while portobello mushrooms are.
I recommended cleaning the mushrooms by brushing the dirt off with a kitchen towel or paper towel instead of washing them, which waterlogs the mushrooms. By keeping them as dry as possible we can achieve that golden exterior when the mushrooms are browned.
If you crave a bit more variety, you can add another easy topping such as pesto. I love making pesto using Tuscan kale (cavolo nero) in winter months and fresh basil in the summer. You can also pick up a jar of ready made pesto from your local deli.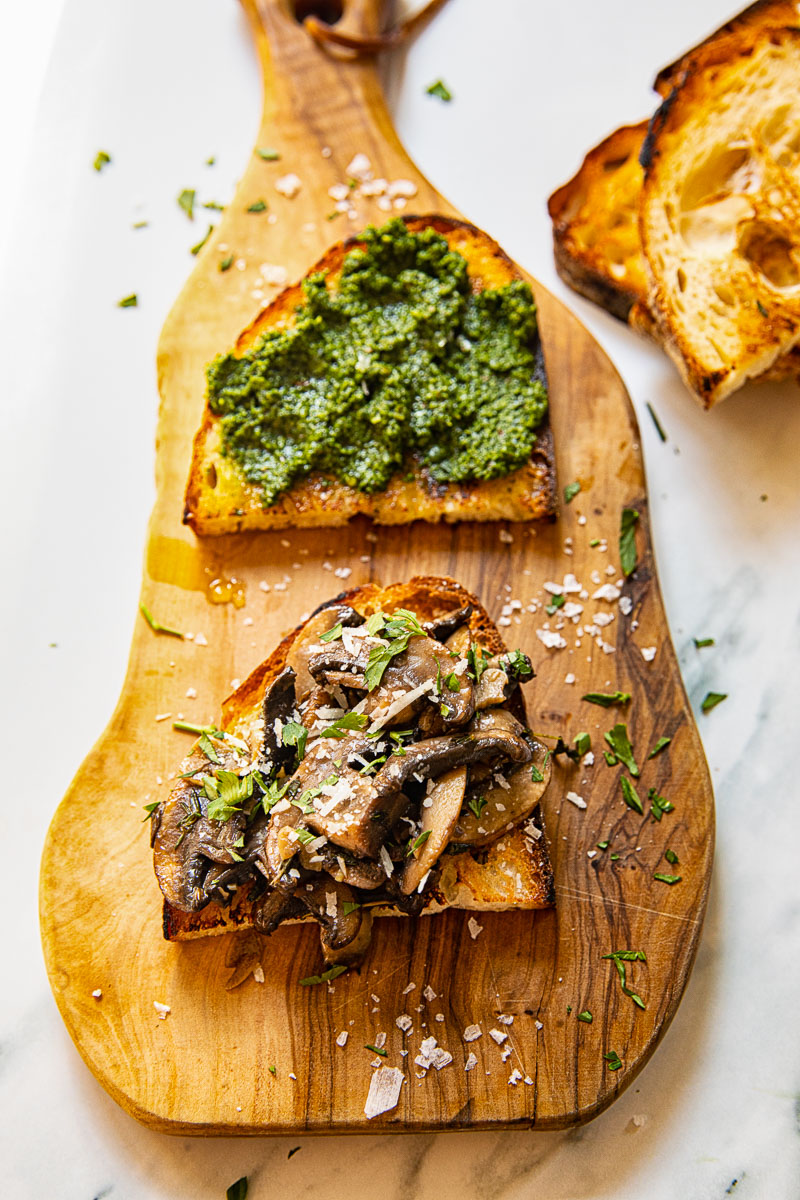 Italian Inspired Mushroom Recipes: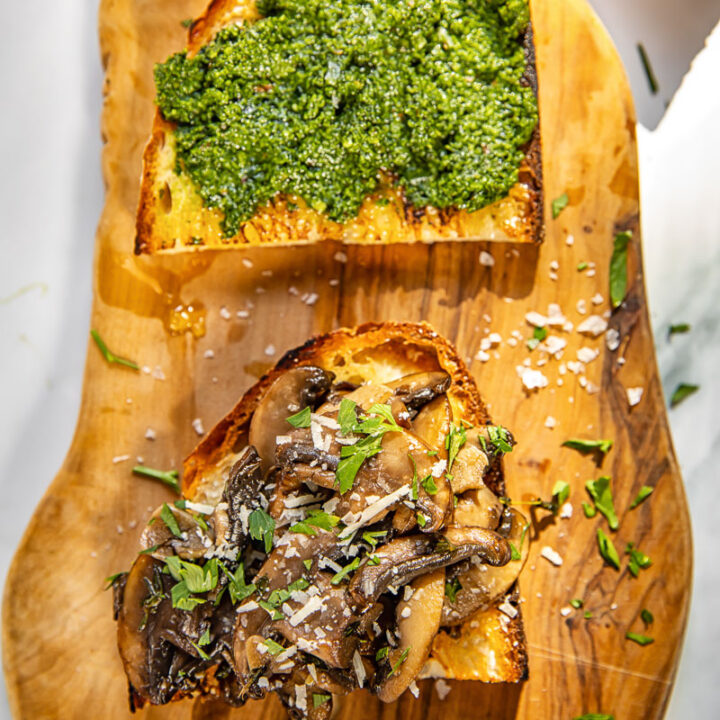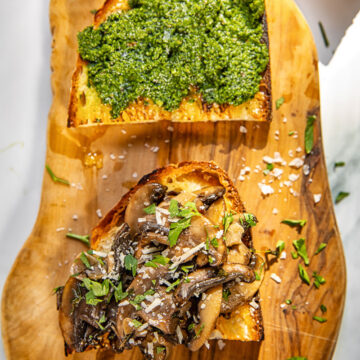 Mushroom Crostini
Toasted sourdough bread is topped with sautéed portobello mushrooms makes for a delicious and healthy starter or a snack.
Ingredients
4

slices

sourdough bread

cut in half

2

tbsp

olive oil

divided

200g/7 oz

portobello mushrooms

2

cloves

garlic

divided

salt and pepper

65m/1/4 cup

dry white wine

or Vermouth

2

tbsp

Pecorino Romano cheese

or Parmesan

1

tbsp

chopped Parsley
Instructions
Slice the bread, then cut each slice in half. Prepare the mushrooms by brushing the dirt off them with paper towel, then slicing them.

Preheat a frying pan with 1 tbsp of olive oil, then toast the bread slices on both sides until slightly golden. Take off the heat and set aside till needed.

To the same pan, add the remaining olive oil and sliced mushrooms, fry them without disturbing the mushrooms for 3-4 minutes over medium heat, then stir and cook for a couple of minutes longer, add in sliced garlic and season with salt and pepper, then pour in the white wine. Allow the wine to cook down until it's completely evaporated.

To prepare the crostini, cut a clove of garlic in half and rub one side of the crostini with the cut side. Then top each slice of toasted bread with the mushrooms. Sprinkle with the grated Pecorino Romano cheese and chopped parsley. Serve immediately.
Nutrition
Calories:
273
kcal
Carbohydrates:
36
g
Protein:
9
g
Fat:
9
g
Saturated Fat:
2
g
Polyunsaturated Fat:
1
g
Monounsaturated Fat:
6
g
Trans Fat:
0.003
g
Cholesterol:
3
mg
Sodium:
1003
mg
Potassium:
282
mg
Fiber:
2
g
Sugar:
4
g
Vitamin A:
95
IU
Vitamin C:
2
mg
Calcium:
67
mg
Iron:
3
mg