This Korean Carrot salad might not be the most authentic Korean recipe but it is delicious and so worth sharing! Grated carrots and cracked coriander seeds in a zesty vinaigrette type dressing.
If you are looking for another summer salad for your picnic basket, give this simple Summer Tomato and Cucumber Salad a try!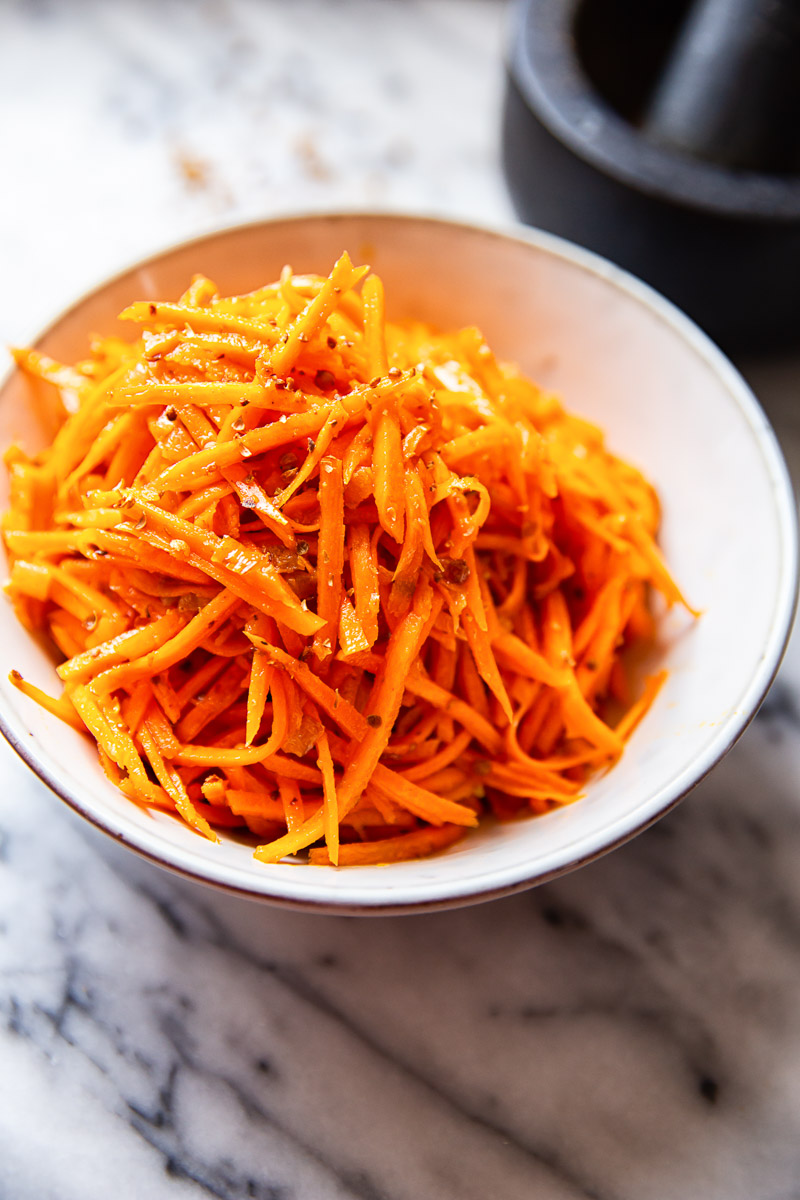 Lately our life has been taken over by cricket. Brad has been playing for the last three years but this summer both kids joined in.
I like everything about the game. The culture around it seems so much nicer than the alternatives. The uniforms are white and crisp. And it barely costs any money.
There is one thing however, I dislike…the game takes up the entire day and since ¾ of the family is involved our weekends fill up fairly quickly.
I am in no way athletic, so Brad is generally in charge of driving them to practices and games but this Sunday I got roped into coming.
I didn't fight very hard though, and to be honest I didn't really want to spend my Sunday all alone at home, while there is a chance of sunshine and a promise of a good picnic while watching our youngest play.
Brad and I quickly threw the usual fare in a picnic basket, then analysed the contents and decided we needed some fruit and veg to balance out sandwiches, sausage rolls and pork pies.
Korean Carrot Salad
I knew immediately what it needed, something fresh, light and zingy. The picnic desperately needed my Russian Korean Carrots.
You are probably wondering what on earth I am talking about it. Russian Korean is not a thing!
This salad is ever-present all throughout the former Soviet Union, and usually sold by Koreans in markets. I am not entirely sure but the story has it that the salad was invented by Korean immigrants to replace their beloved kimchi.
They couldn't find the right kind of cabbage so they had to make do with carrots that are abundant in Russia, and that is how Korean Carrot Salad was born.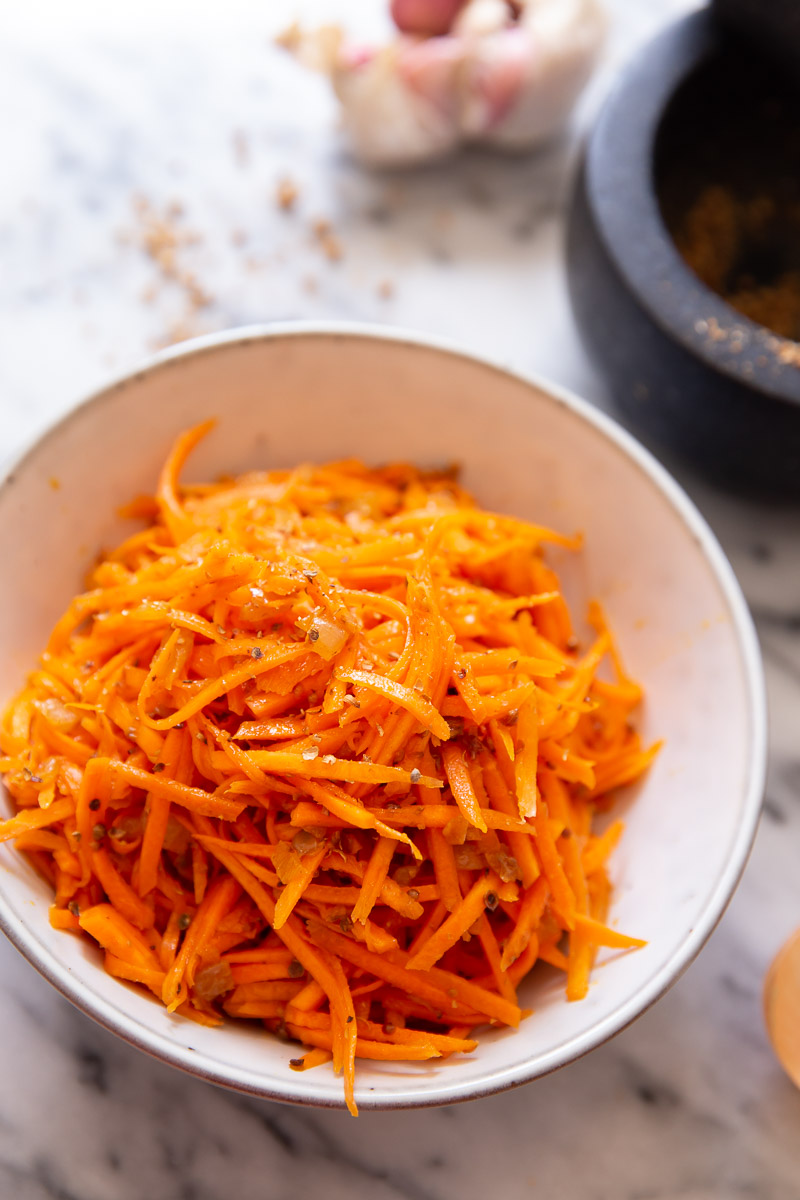 What to serve with it
I absolutely adore this recipe. Korean carrot salad goes well with almost anything but it is especially delicious with grilled meats or as a tasty accompaniment for picnic sandwiches!
Make it for your next BBQ and see how quickly it disappears!!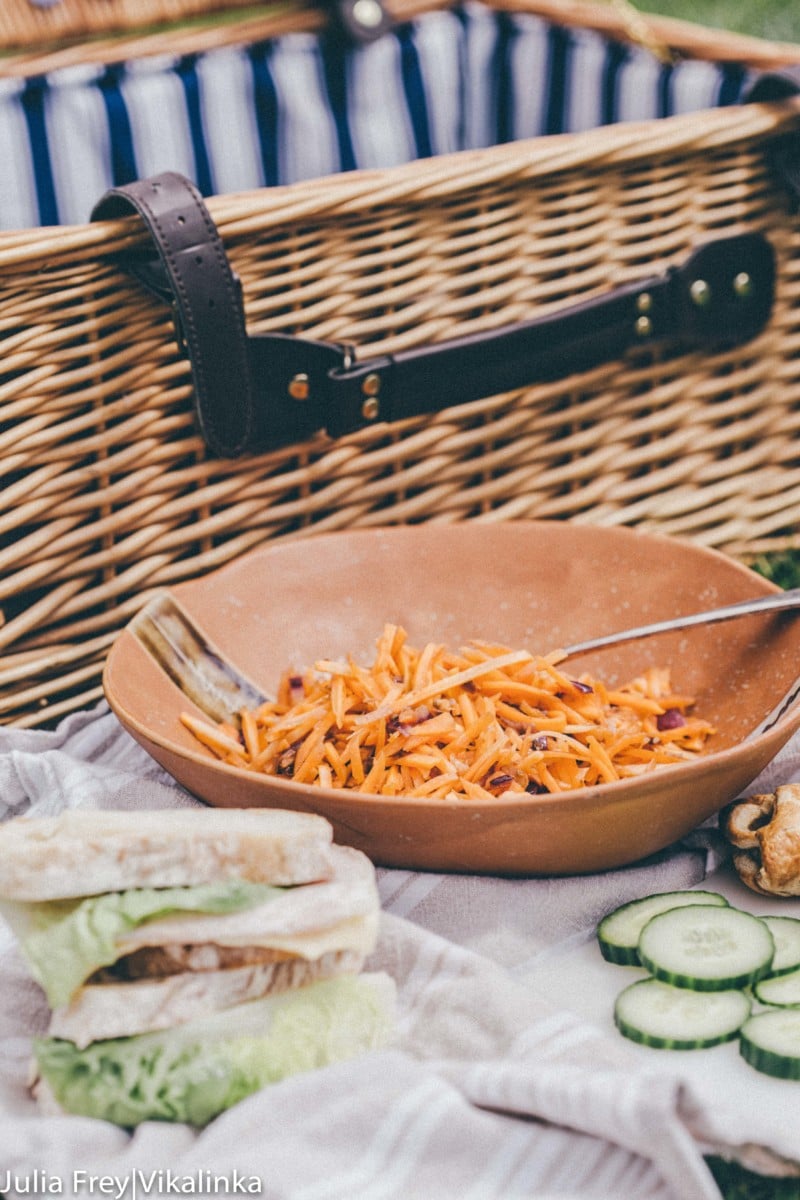 How to store the carrot salad
Since this salad is lettuce free, it's got longevity in its side.
You can keep it refrigerated for up to 3 days without compromising on the flavour if it lasts this long. It never does in our house!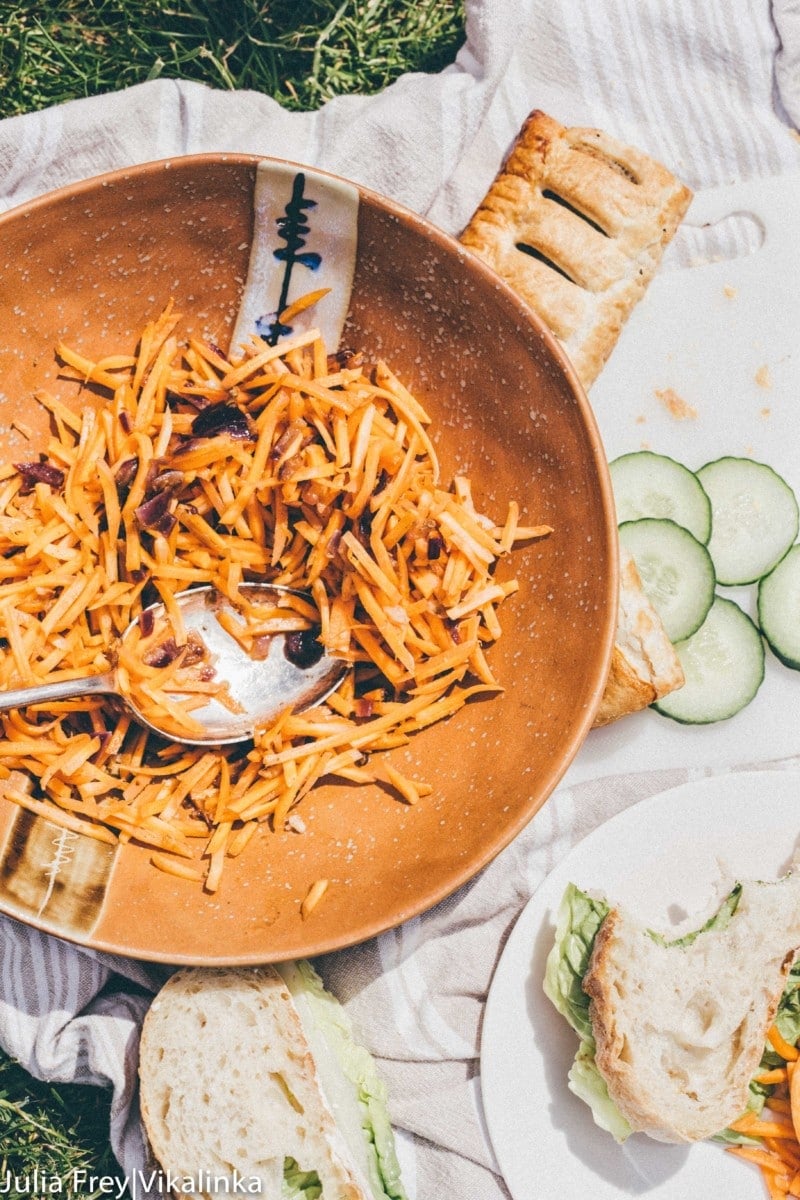 Favourite Summer Salad Recipes:
This recipe was originally published in 06/2016. Updated with new photos and text in 06/2020.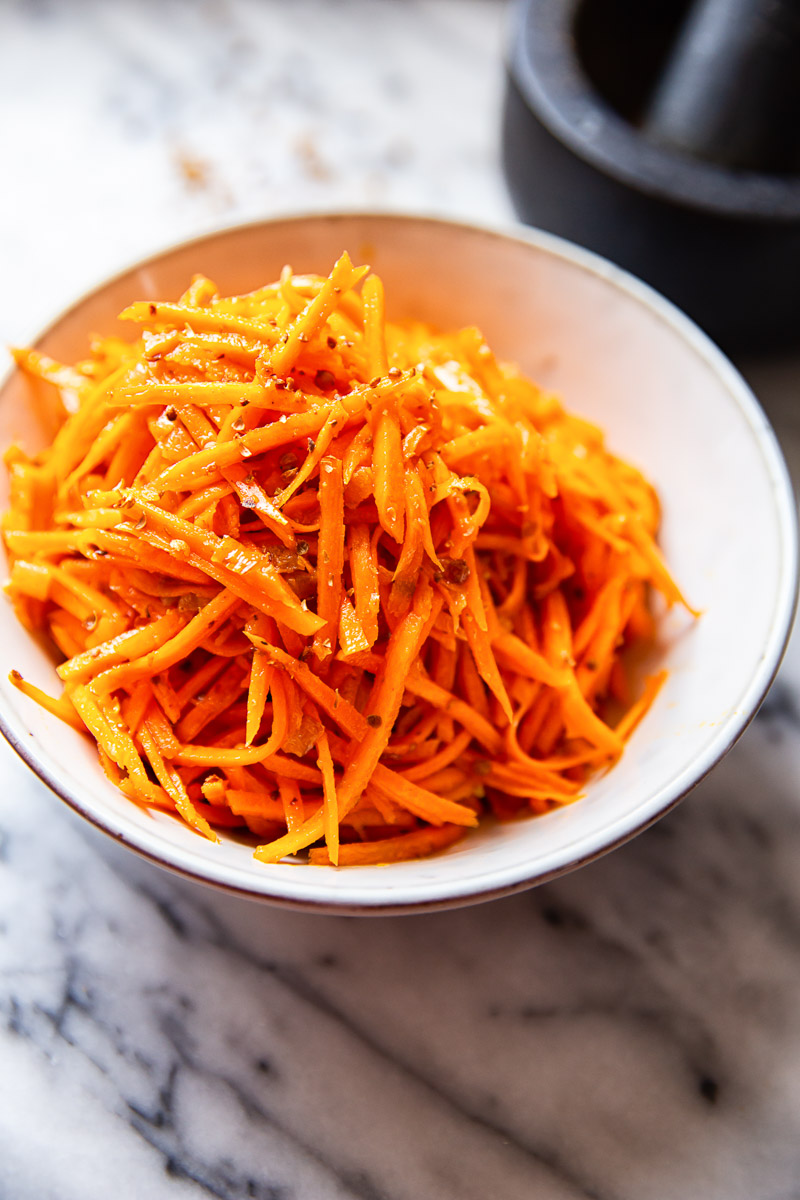 Ingredients
1

lbs

carrots

1

tsp

salt

1

tbsp

sugar

1

tbsp

red wine vinegar

1-2

garlic cloves

crushed

2

tbsp

sunflower oil or olive oil

½

medium onion

diced (I used red onions)

1

tsp

coriander seeds

cracked

½

tsp

cayenne pepper
Instructions
Grate carrots in long strips or julienne them on a mandoline. The traditional recipe uses long square shaped carrot strips.

Dice the onion and crack coriander seeds in a mortar. Heat 2 tbsp of oil in a frying pan and fry the onions with cracked coriander seeds and cayenne pepper over low heat for about 10 minutes until the onions are soft and slightly caramelised.

In a medium bowl combine salt, sugar, red wine vinegar and minced garlic, add carrots to the marinade and then add cooked onions and spices. Mix well and let it chill in the fridge for 2-3 hours to allow the flavours to meld.
Nutrition Facts
Korean Carrot Salad
Amount Per Serving
Calories 65
Calories from Fat 36
% Daily Value*
Fat 4g6%
Sodium 330mg14%
Potassium 191mg5%
Carbohydrates 8g3%
Protein 1g2%
Vitamin A 9524IU190%
Vitamin C 4mg5%
Calcium 22mg2%
Iron 1mg6%
* Percent Daily Values are based on a 2000 calorie diet.