Tired of your usual lettuce and tomato salad? This creamy dill cucumber, radish and egg salad is here to rescue you from the salad rut!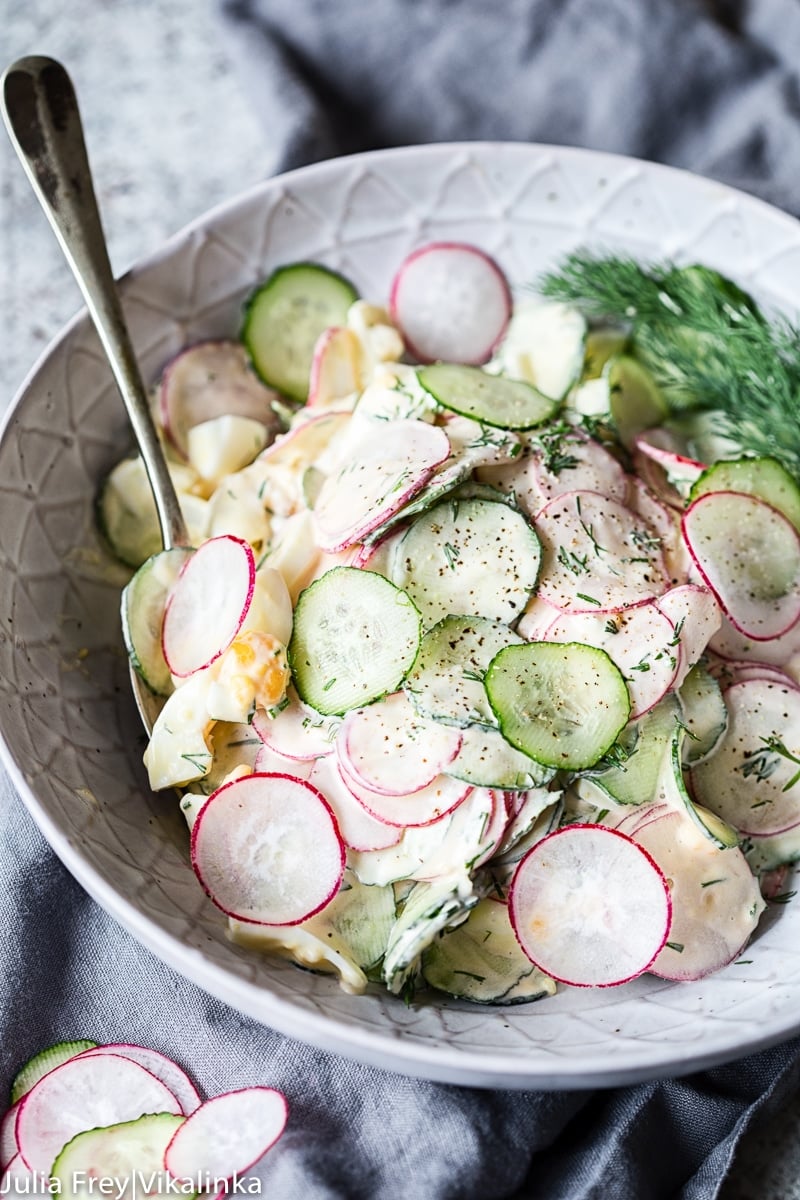 We've been home for about 10 days and I can't stop making all the salads we'd been eating in Russia! So much creaminess and so much dill!!
Correct me if I am wrong but I feel like dill is the most under-loved herb out there. I don't buy it very often myself but whenever I do, it makes me so happy because it screams "summer" to me!
As much as dill is not utilised to its full potential here, it is used to the max in Eastern Europe and parts of Scandinavia. That's how, I suppose the balance is restored.
I, however pledged to my family and myself to find every excuse to throw in a handful of this delicately perfumed herb in any suitable dish I could think of.
Now let me introduce you to this staple salad you would eat in every Russian and Ukrainian home. Creamy dill cucumber, radish and egg salad is usually made in the spring and summer when produce is at its peak.
The ingredient list is so short, you know the flavour solely rests on the quality of those ingredients!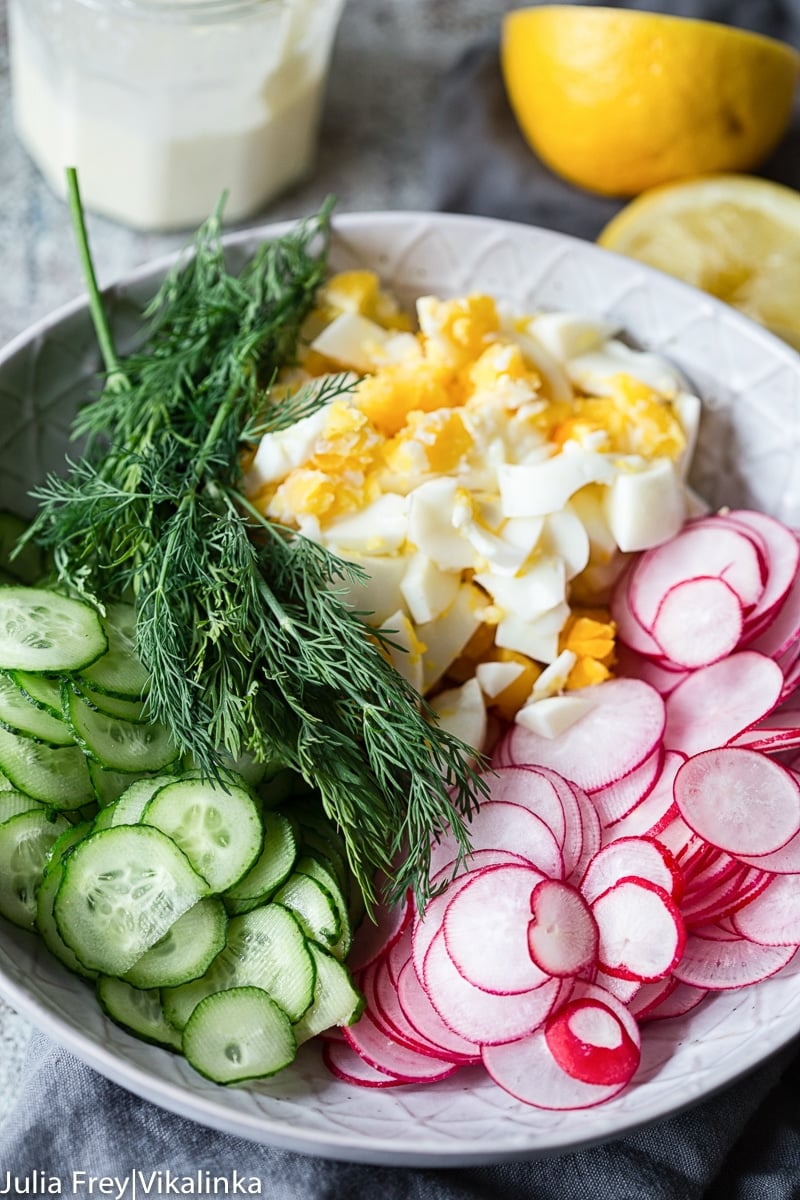 Sometimes it's mind boggling to be reminded once again that simple is almost always better! We ate this creamy dill cucumber, radish and egg salad on our first day at my brother's house and I wanted to blog about it immediately because it was light, flavourful and fresh.
You might be wondering how it could be light as it is loaded with mayonnaise? The thing is that although you do add some mayo to this salad the creaminess comes from the egg yolks and they are GOOD for you!
I have also lightened the recipe by combining a light mayo and yogurt. Same delicious taste but not as calorific!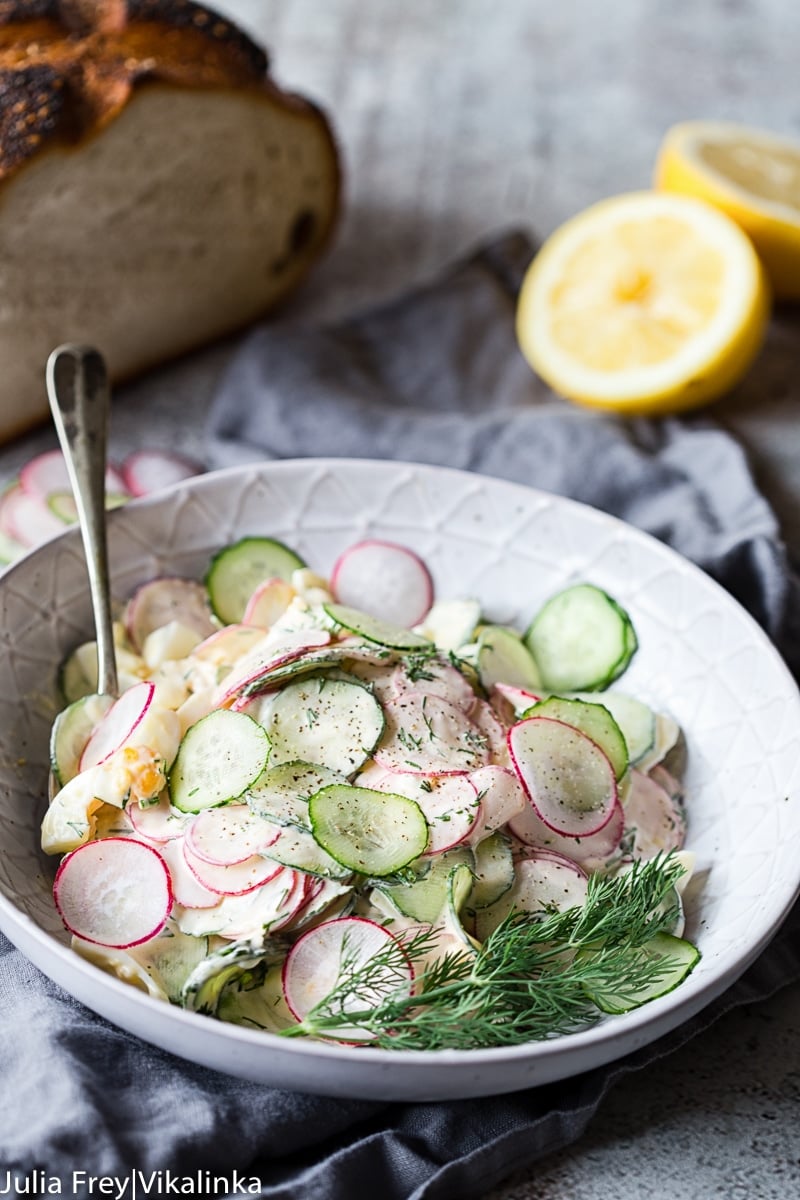 A couple of things you should know about this salad. As delicious as it is, it doesn't keep as leftovers. The fresh cucumbers release too much liquid once they are hit with salt. Which brings me to another point.
Dress the salad right before you are about to serve it to avoid sogginess and please add enough salt, otherwise it will be very bland!!!
This salad is great as a tasty side for grilled meat, hamburgers or on its own as a lunch option. It is delicious with a slice of crusty bread because there will be incredibly tasting juices at the bottom of your bowl!! Get ready!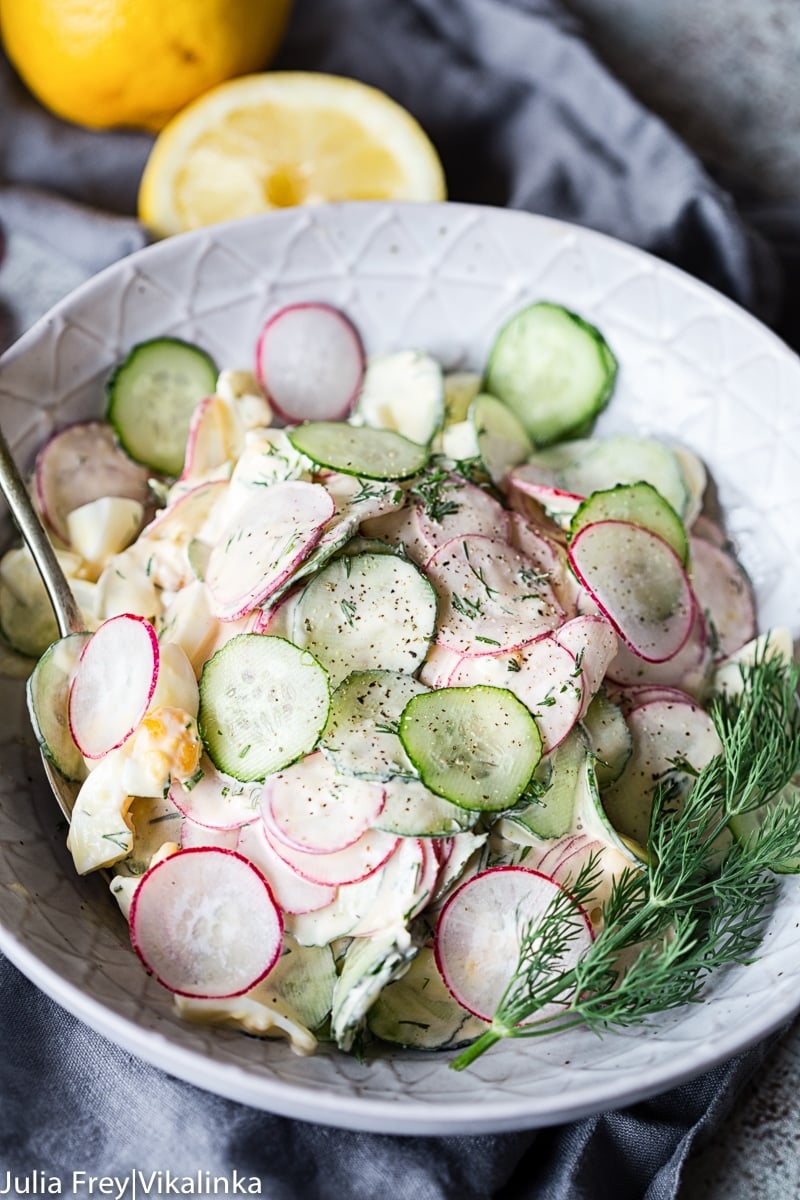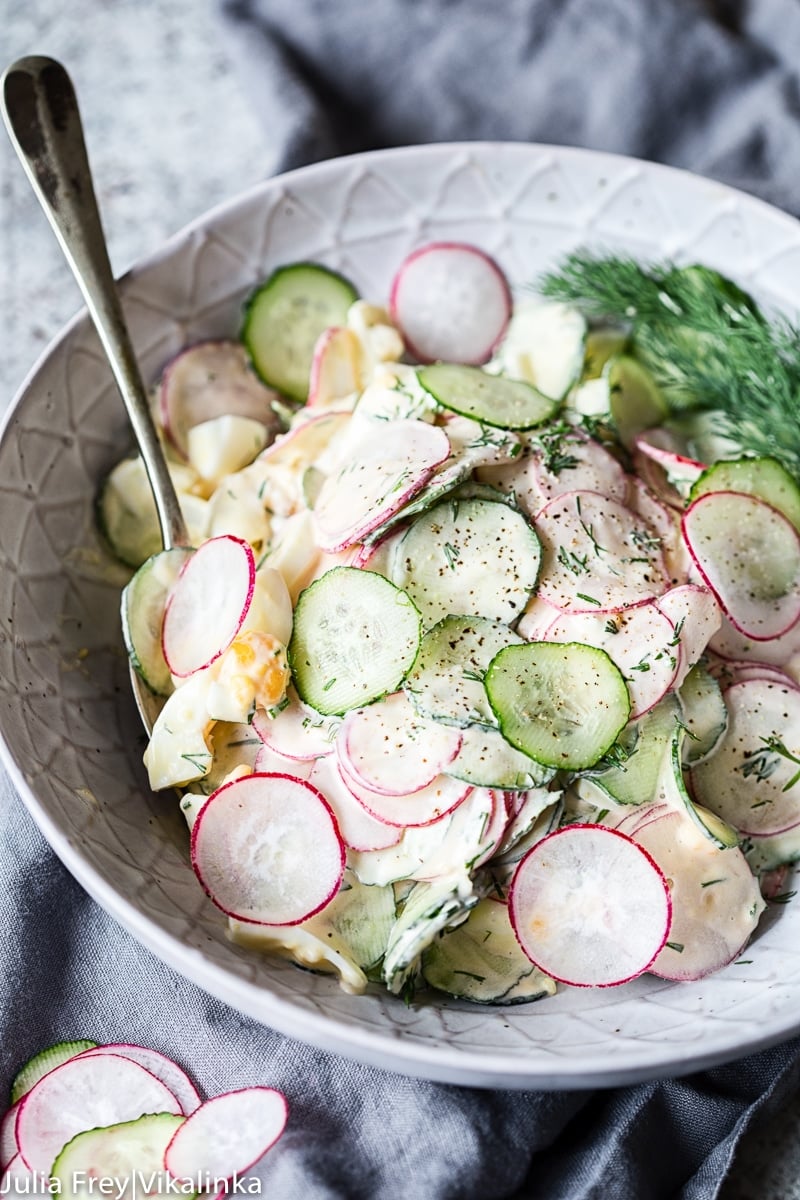 Ingredients
1

long English cucumber or 3 small cucumbers

sliced thinly

1

bunch/150g radishes

sliced thinly

4

hard boiled eggs

salt and pepper to taste
For the creamy dill dressing
⅔

cup/ 200 ml Greek yogurt or sour cream

⅓

cup/ 80 ml mayonnaise

I use light

1

tsp

white wine vinegar or lemon juice

1

tsp

dijon mustard

1

tbsp

fresh dill

chopped

2

tbsp

water
Instructions
Slice cucumber and radishes thinly, use mandolin if available, chop the egg but not too small and combine in a salad bowl.

Prepare the dressing by combining all ingredients in a mason jar, put a lid on and shake vigorously until the mixture is smooth. You might want to add more water to desired consistency.

Add 2-4 tbsp of the creamy dill dressing to the salad bowl and toss gently. Add salt and pepper to taste.

Reserve the rest of the creamy dill dressing for other salads.