Vibrant and ripe heirloom tomatoes paired with fresh mozzarella and fragrant basil, then sprinkled with sea salt and drizzled with extra virgin olive oil. That's all you need for the classic Caprese Salad. Quality ingredients and 5 minutes of your time!
Add our famous Bruschetta recipe to the mix for a delicious Italian antipasti table.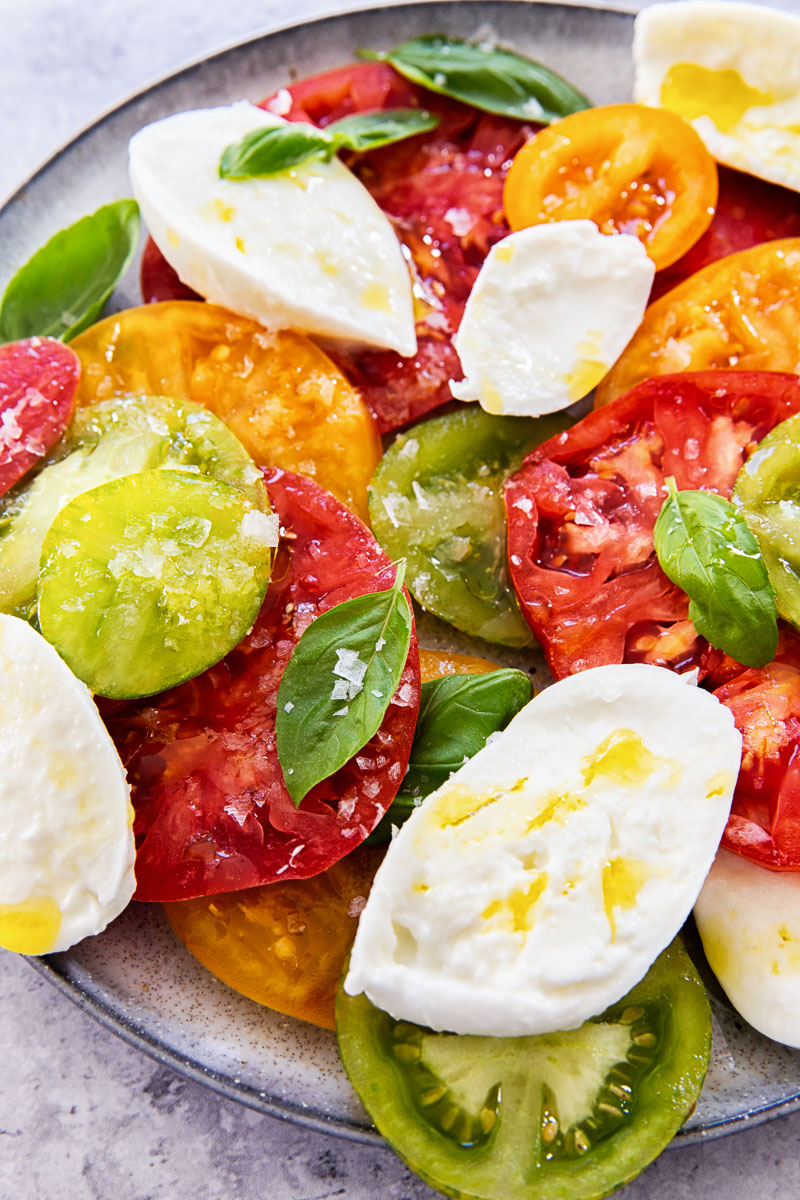 Don't let the remains of the summer slip away before you have your fill of the ripe and juicy tomatoes. There is nothing like vegetables in season, so I take every opportunity to use my beloved tomatoes in a variety of ways.
Tomato Salads
You can of course cook the tomatoes but I love eating them fresh when they are at their peak. Tomato salads are one of the ways I incorporate them into our diet. Summer Tomato and Cucumber Salad in Sour Cream Dressing is something I grew up eating and I still make it regularly for my family.
Cucumber and tomato salad with red onions is another favourite that goes with nearly everything or on its own for a light and flavourful summer lunch. If you are looking for something off the beaten track, take a look at the Middle Eastern Fattoush salad, that features tomatoes as a star ingredient.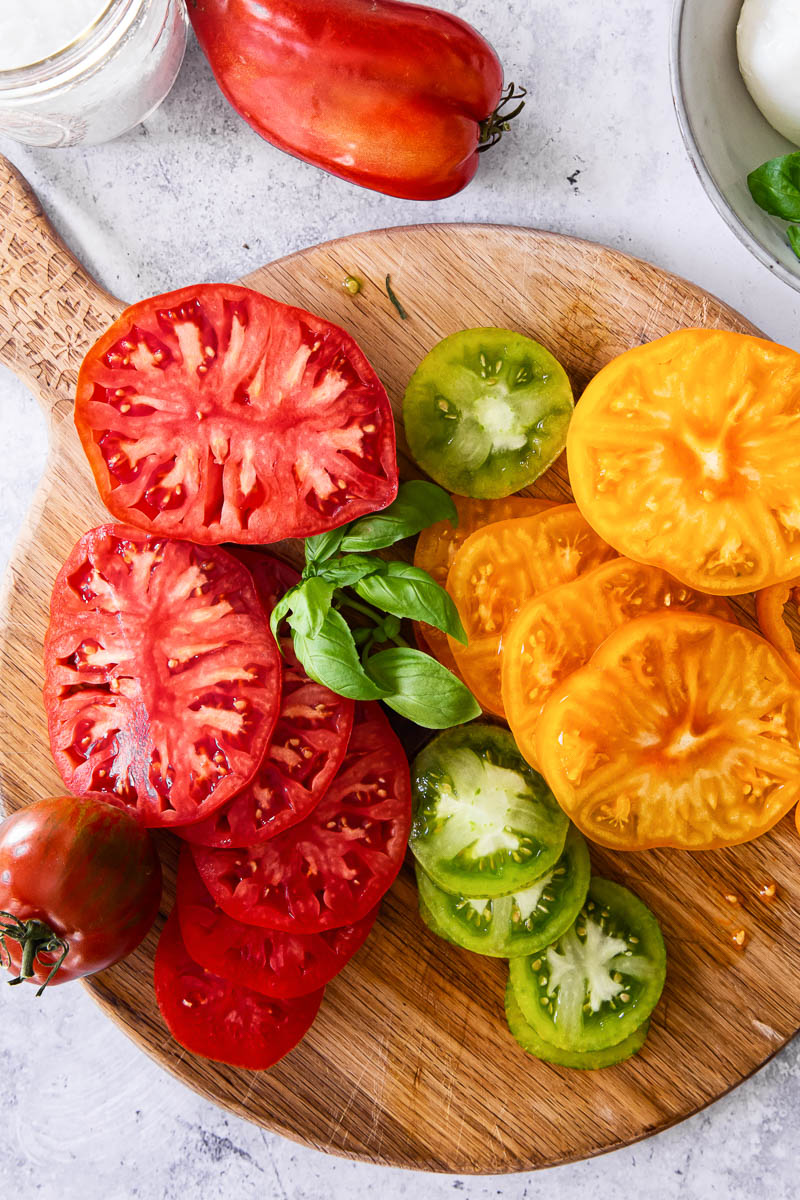 It seems that there is a version of summer tomato salad in every country. Italians are famous for their flavourful, sun-ripened tomatoes, and of course they know how to use them well.
This Tuscan Panzanella salad is a mix of bread and tomatoes. It's amazing how a creative use of simple ingredients can deliver outstanding flavours.
Caprese Salad
Caprese Salad or Insalata Caprese is famous the world over and originated on the Capri Island of the Campania region of Italy.
The Southern part of Italy is especially famous for its produce due to the brilliant climate. Campania is also the birthplace of buffalo mozzarella, the most valued fresh mozzarella!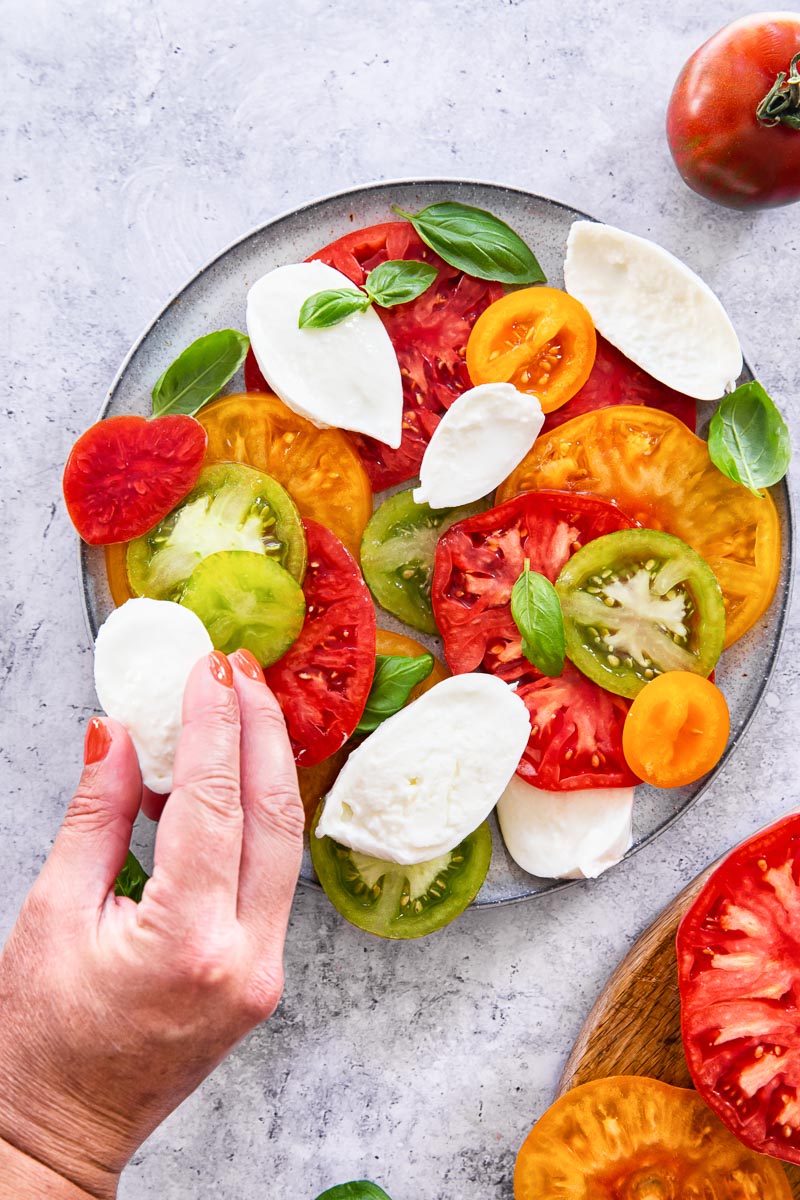 So with that in mind it's fair to say that quality tomatoes and mozzarella are the secret weapons behind the popularity of the Caprese Salad. The ingredient list of the famous salad is surprisingly short.
tomatoes
basil
mozzarella
salt and extra virgin olive oil for the dressing
Balsamic vinegar is a staple ingredient in the North American version of this salad, however it is not authentic. I personally feel like its use distracts from the delicate flavour of fresh mozzarella. I prefer my Caprese without the intense taste of the balsamic vinegar.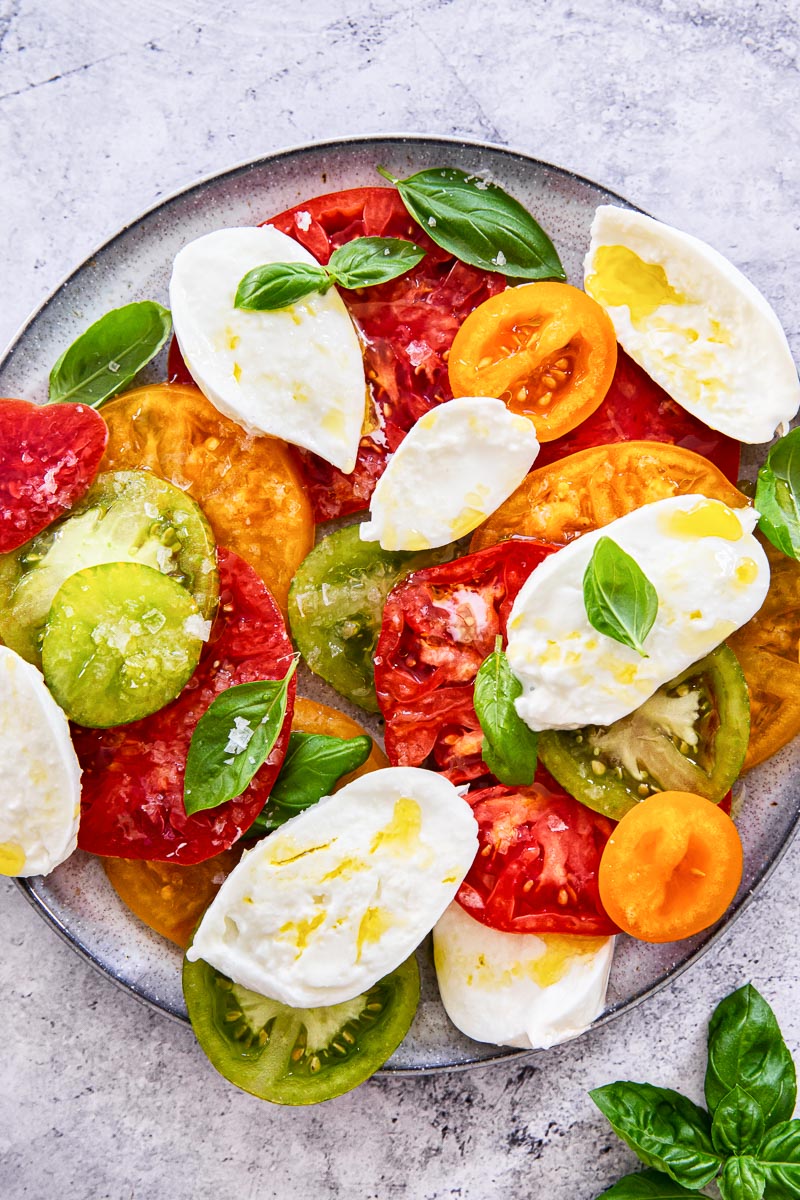 Julia's Tips
To get the most flavour out of your Caprese Salad I suggest the following. Choose the best, ripe tomatoes. I prefer using heirloom tomatoes of different colours. They add a variety of taste and texture. If you can't source heirloom tomatoes, using cherry tomatoes is the second best choice.
Splash out on buffalo mozzarella aka mozzarella di bufala. It's slightly more money than the regular fresh mozzarella but its superior taste and luxuriously creamy texture are well worth it.
Finally a good quality extra virgin olive oil plus Maldon flaked sea salt is all you need to season your salad. Oh yes, one more thing…fresh basil leaves!
Serve this tomato and mozzarella salad as part of elegant antipasti alongside some crusty bread for dipping into the juices that collect at the bottom of the plate. Delicious!
More Antipasti Recipes to Try: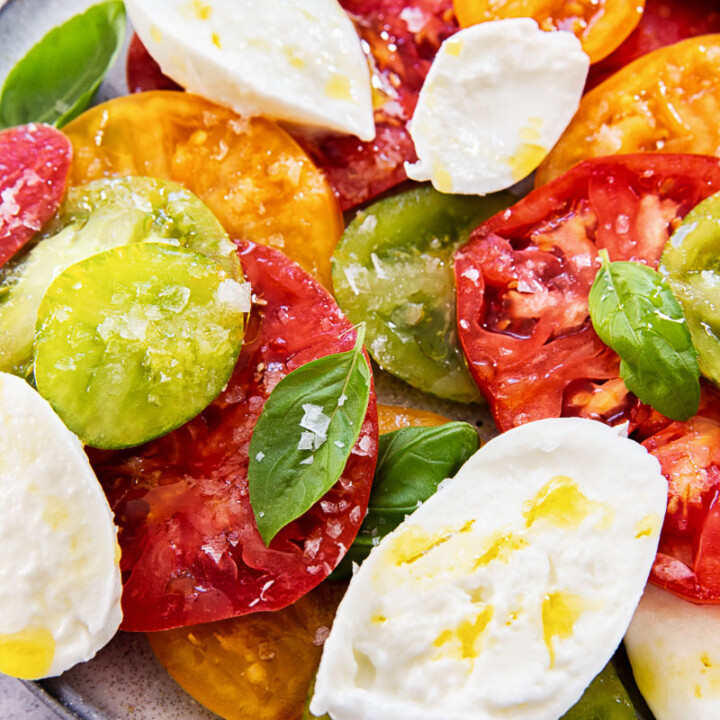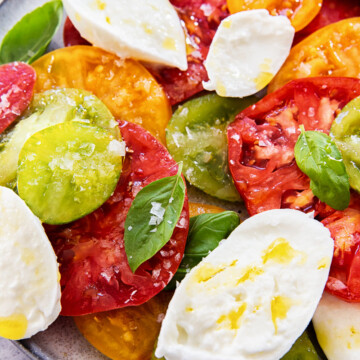 Tomato Salad with Basil and Mozzarella (Insalata Caprese)
Vibrant and ripe heirloom tomatoes paired with fresh mozzarella and fragrant basil, then sprinkled with sea salt and drizzled with extra virgin olive oil.
Ingredients
4

tomatoes

large

2 X 125g/4oz

buffalo mozzarella balls

4-5

fresh basil leaves

1

tbsp

extra virgin olive oil

sea salt to taste
Instructions
Slice the tomatoes and mozzarella balls in thick slices. Arrange them on a plate and scatter basil leaves all over.

Season with sea salt and drizzle with a good quality olive oil. Serve immediately.
Nutrition
Calories:
224
kcal
Carbohydrates:
6
g
Protein:
13
g
Fat:
17
g
Saturated Fat:
9
g
Cholesterol:
48
mg
Sodium:
262
mg
Potassium:
333
mg
Fiber:
1
g
Sugar:
4
g
Vitamin A:
2889
IU
Vitamin C:
17
mg
Calcium:
1406
mg
Iron:
1
mg