Hosting a crostini party is the easiest way to entertain! Toasted bread with a range of tasty toppings dripping with flavour are easy to make and always popular with a crowd. Here are my 4 favourite recipes!
Fans of crostini will adore our Bruschetta Recipe Trio!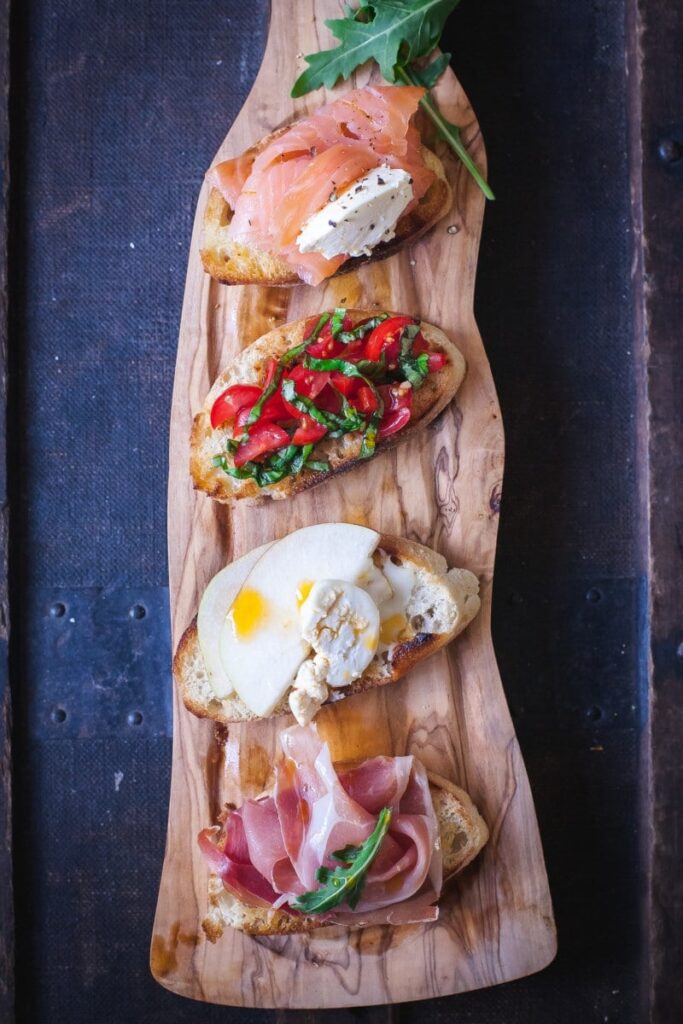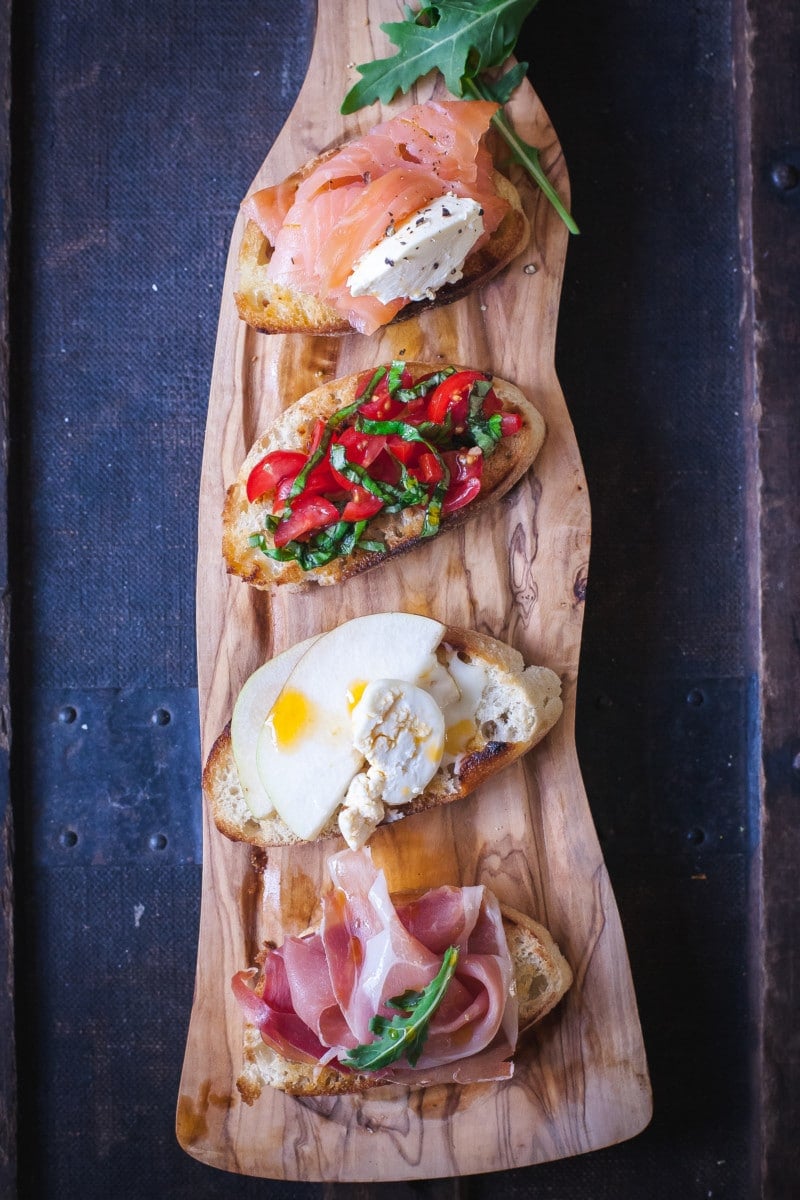 I've long been following piece of advice passed on to me by a professor back in my university days. He said, "You have to celebrate things that are important to you!" A simple truth so easy to overlook.
That's one reason why I always keep recipes like this one ready to go. There is just something festive about these tasty bites, which makes them perfect for a gathering with friends or for a private celebration of your latest success at work!
Best of all, they are incredibly simple to put together. There is precious little actual cooking here. It's all about assembly and getting creative with toppings!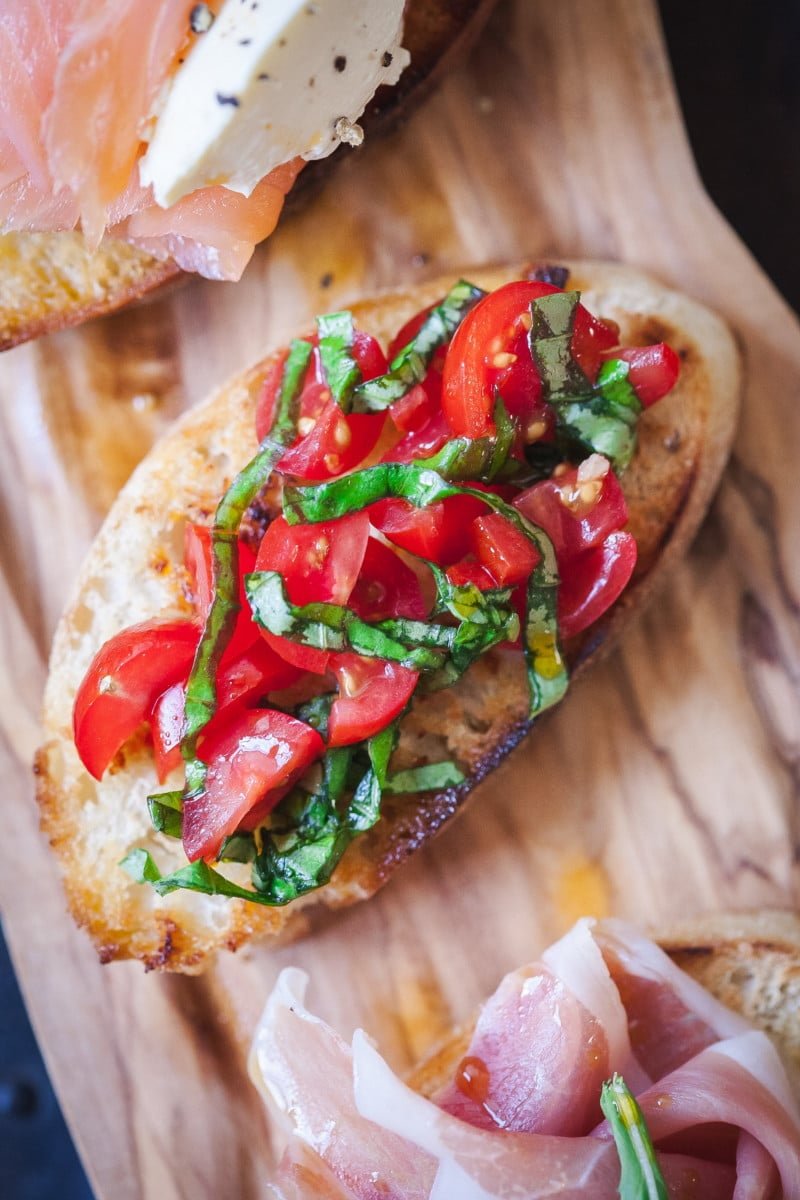 This post was actually inspired by little crostini from Italian restaurants I've been to over the years. Crostini are so often on the menu and are a favourite appetizer. Tasty and fun to eat, topped with all things imaginable!
Because I have so much fun eating them when out, I knew they were something I wanted to bring into my own kitchen. I've played around with a lot of topping ideas, but in this post I'm sharing the four I love the most!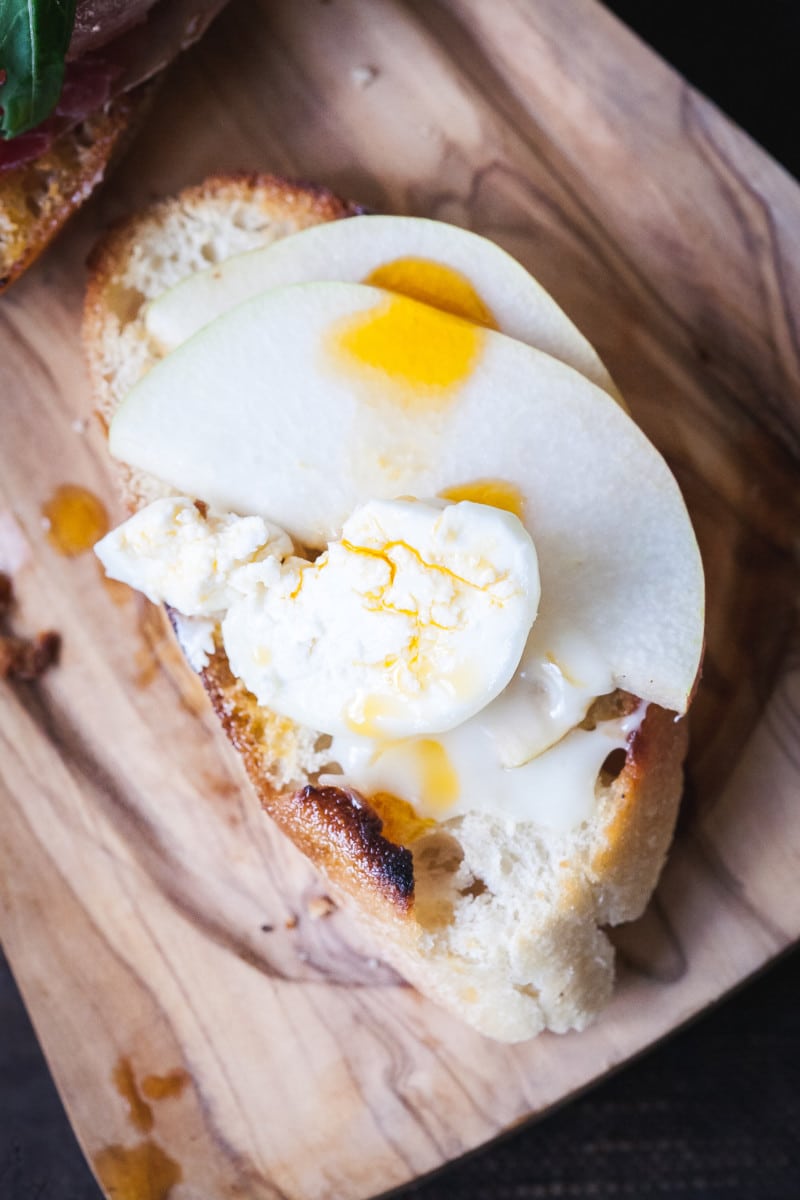 What are crostini?
If you are not familiar with crostini, they are small rounds of toasted bread topped with various delicious things. They are a traditional Italian snack and have a lot in common with bruschetta.
While there are a number of toppings you can expect to find with traditional crostini, there are not really any hard and fast rules you need to keep track of. This means you can let your imagination run wild when choosing toppings!
How To Make Them
Step one
Toast some bread with olive oil. You want a lovely crispiness to the pieces of toast with just a little bit of charring around the edges.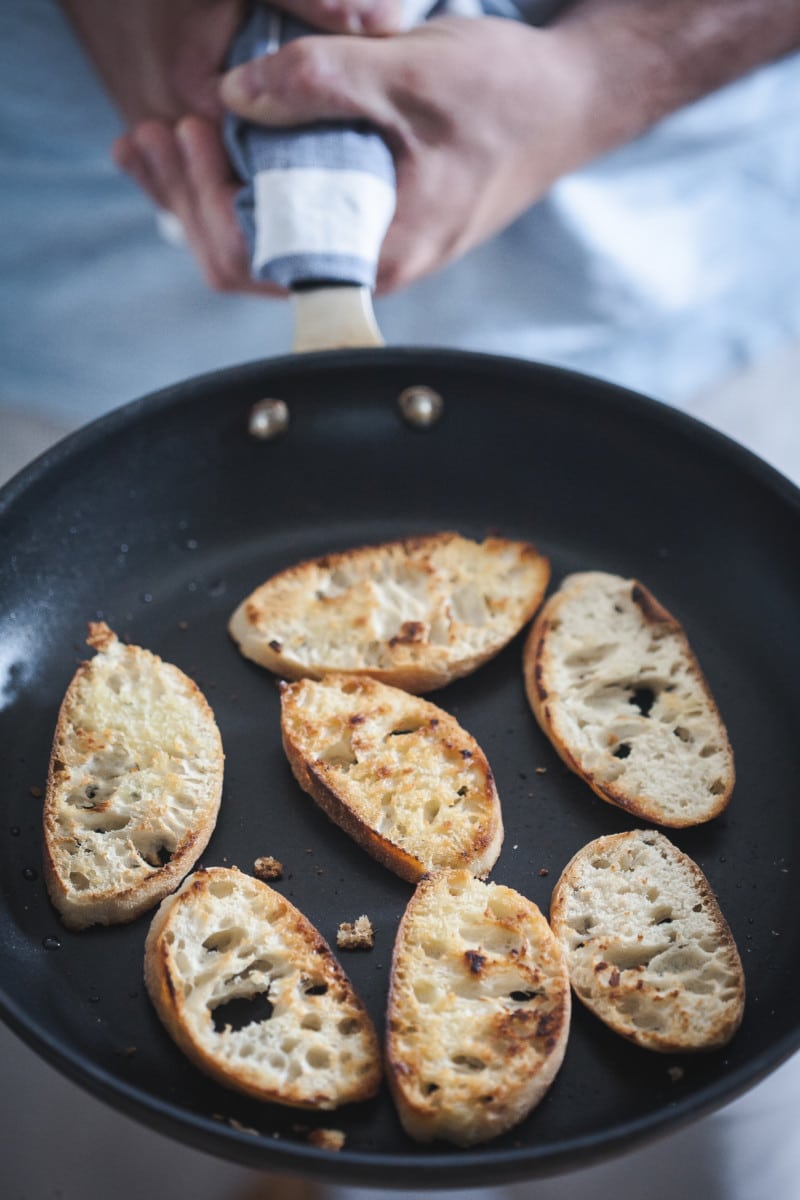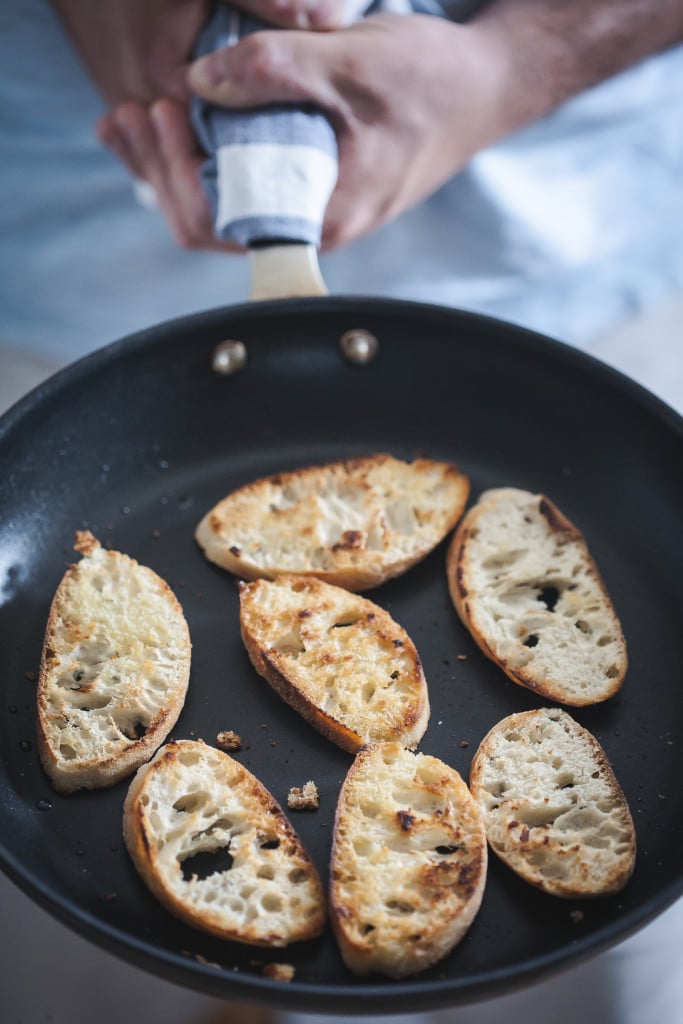 Step 2
Survey your fridge, pantry and countertops and decide on the toppings. Here is what we rustled up.
Prosciutto
Arugula
Smoked Salmon
Pear
Goat Cheese
Cherry tomatoes and basil
I've found it to be important to think of complementary flavours when making crostini. The best spread has a balance of savoury, sweet and creamy.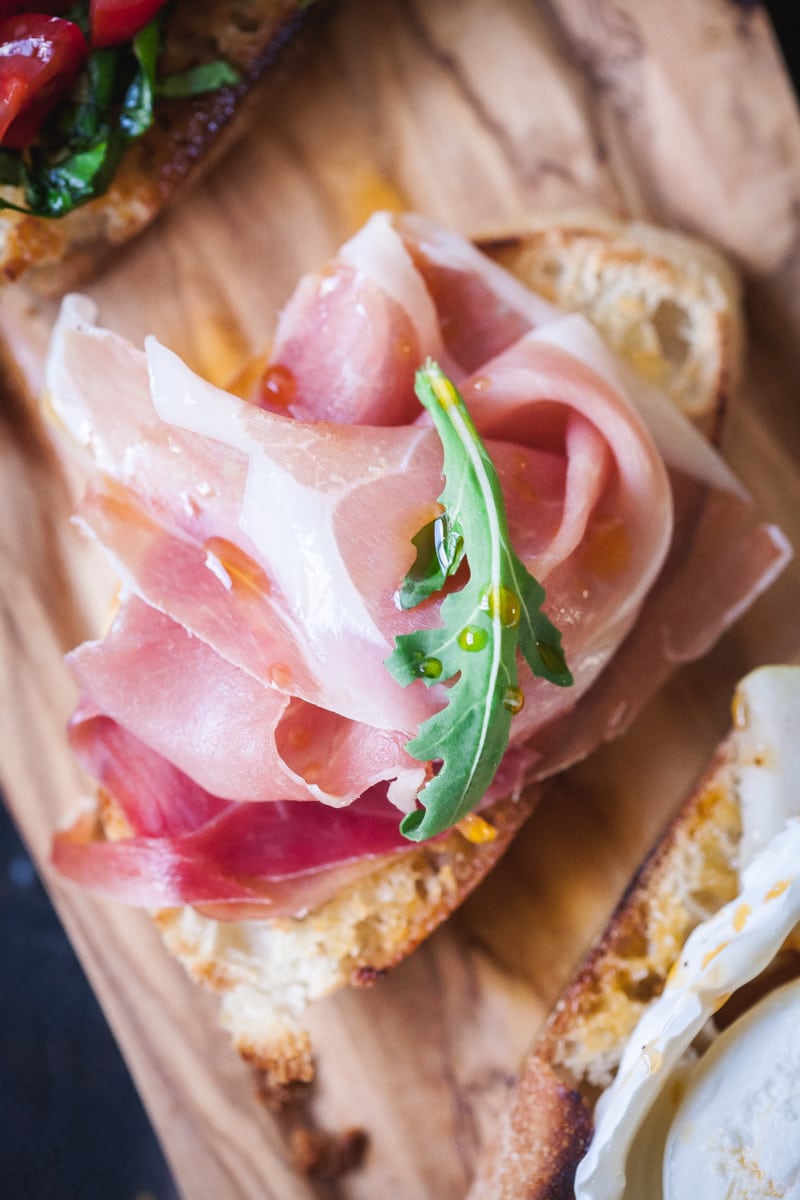 Step 3
Add the toppings to your crostini shortly before serving. You don't want to lose the crispiness of the toasted baguette so best not to leave them for too long.
This is especially true of the tomato and basil crostini as the tomatoes will lose a lot of juice after they have been cut. Either top them immediately before serving or serve the topping separately from the toast.
I hope you will enjoy them as much as we did. These are some of my favourite ways to make crostini, but there are so many other great options out there. If you have any other ideas share the in the comments below!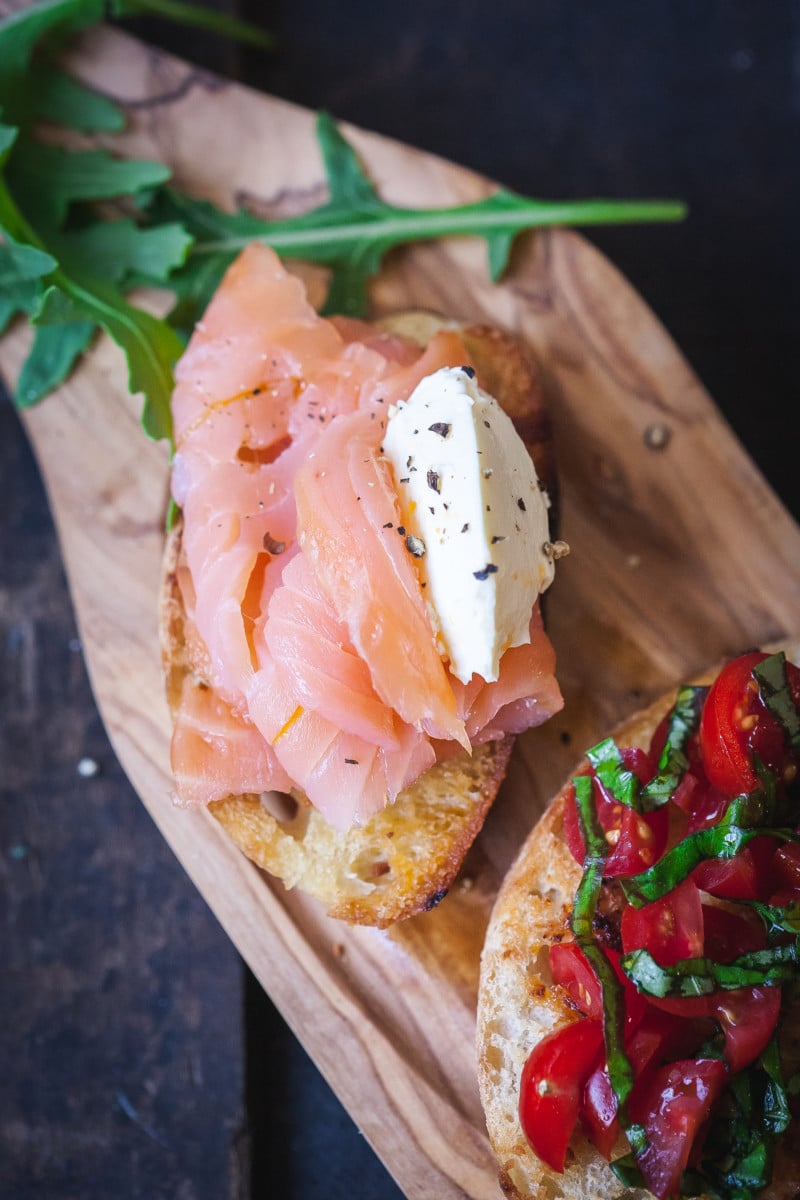 Recipe tips and tricks
To avoid soggy bread, serve your crostini immediately after adding toppings. This is especially true for the cherry tomato and basil crostini.
The best spread of crostini has variety, with sweet, creamy and savoury all available. Aim for balance when creating your crostini spread!
The jam jar method for turning double or heavy cream into whipped cream is an easy trick way to make small quantities. Using a hand mixer will also work just fine.
More recipes for little bites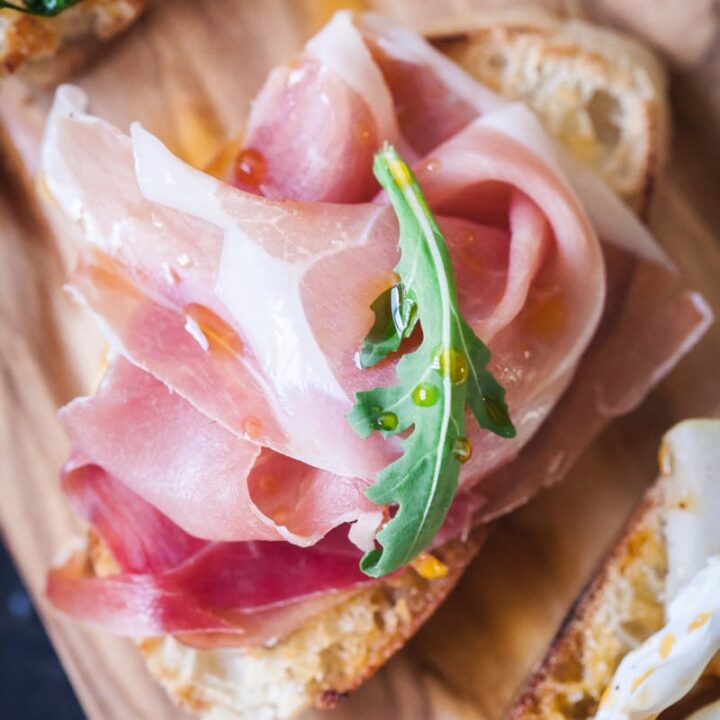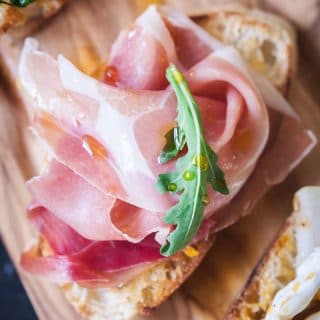 Favourite Party Crostini
Ingredients
1

baguette

1

tbsp

olive oil

extra virgin

1

pear

firm but ripe, thinly sliced

8

slices

of goat cheese

8

slices

of prosciutto

6-8

cherry tomatoes

quartered

3-4

basil leaves

sliced

Salt

8

slices

smoked salmon

1

cup

/250 ml double cream/ heavy cream

8

leaves

of rocket/arugula

Chilli infused olive oil

optional
Instructions
Slice baguette and toast slices in olive oil in a frying pan until crispy.

Combine quartered cherry tomatoes, basil, ½ tsp of olive oil and salt. Set aside.

Slice pear and goat cheese. Set aside.

Pour double cream in a jam jar and put the lid on, shake until firm for about 5 minutes. Alternatively you can whip it with a hand mixer.
Crostini with pear and goat cheese drizzled with chilli infused olive oil.
Top each crostini with 2 thin slices of pear, 1 slice of cheese and drizzle of chilli infused olive oil.
Crostini with cherry tomatoes, basil and sea salt
Top each crostini with the mixture of cherry tomatoes and basil.
Crostini with prosciutto and arugula
Top each crostini with a slice of prosciutto and one small arugula leaf
Crostini with smoked salmon and whipped cream
Top each crostini with a slice of smoked salmon and a small dollop of whipped cream
Nutrition
Calories:
698
kcal
Carbohydrates:
40
g
Protein:
29
g
Fat:
48
g
Saturated Fat:
26
g
Polyunsaturated Fat:
4
g
Monounsaturated Fat:
15
g
Trans Fat:
1
g
Cholesterol:
115
mg
Sodium:
1047
mg
Potassium:
367
mg
Fiber:
3
g
Sugar:
10
g
Vitamin A:
1734
IU
Vitamin C:
8
mg
Calcium:
205
mg
Iron:
4
mg