Learn how to throw a fun bruschetta party with delicious seasonal vegetables this summer. It's so handy to have a trusty bruschetta recipe, then change it up depending on your mood and ingredients.
For more bruschetta ideas, check out Favourite Party Crostini Recipes.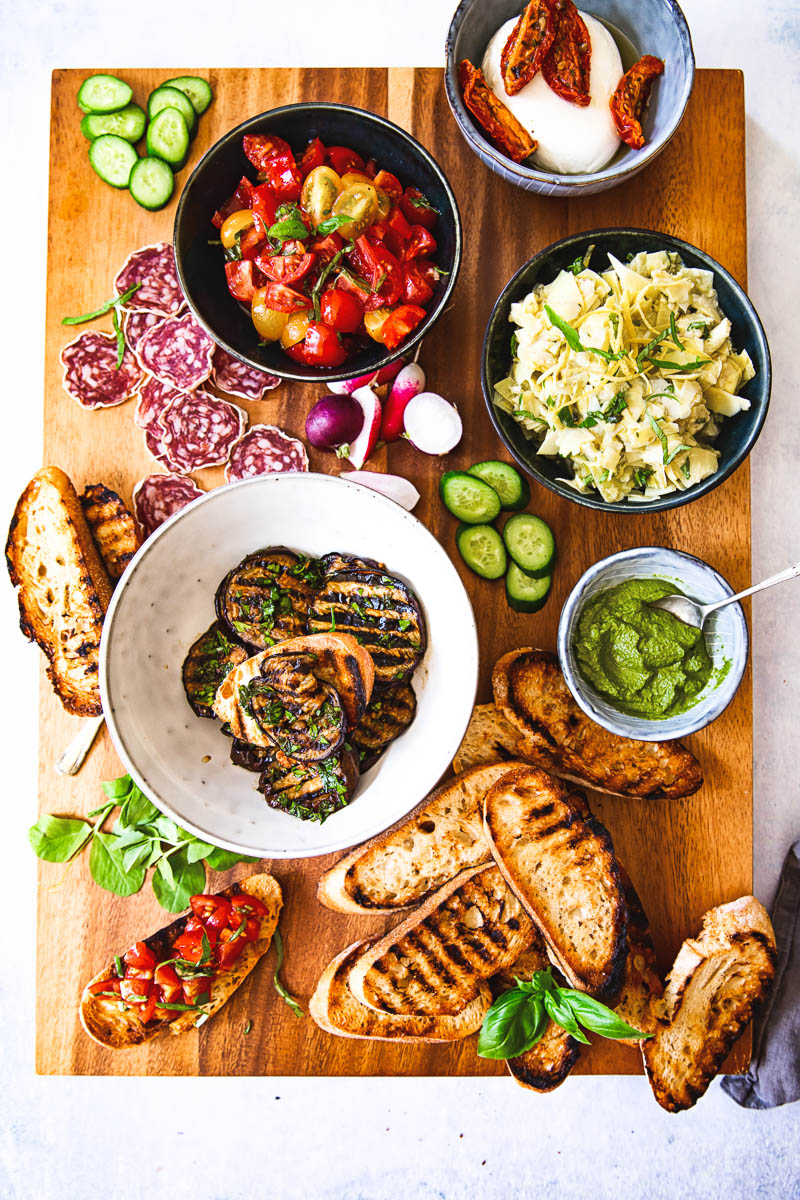 How to Prepare a Bruschetta Bar
Summer entertaining has got to be one of the most uncomplicated and enjoyable things to do. It's so easy to host a successful party with minimum effort.
Take this bruschetta spread above. It takes about 15 to 20 minutes to throw together. Then sit back and let your guests have fun by creating their own meal.
Cheese boards have been so popular for a while now. Serving them is a delicious and convenient entertainment trick but let's be honest…They are also quite expensive.
Bruschetta bar is a much more affordable and accessible alternative that will be a hit with everyone. To master the art of bruschetta you need at least one recipe, which you can customise according to your taste and budget.
To make your bruschetta bar fuller you can always add some sliced salami, olives, cucumbers and radishes, fresh mozzarella or burrata, sun-dried tomatoes and a homemade pesto.
Let me introduce my favourite toppings.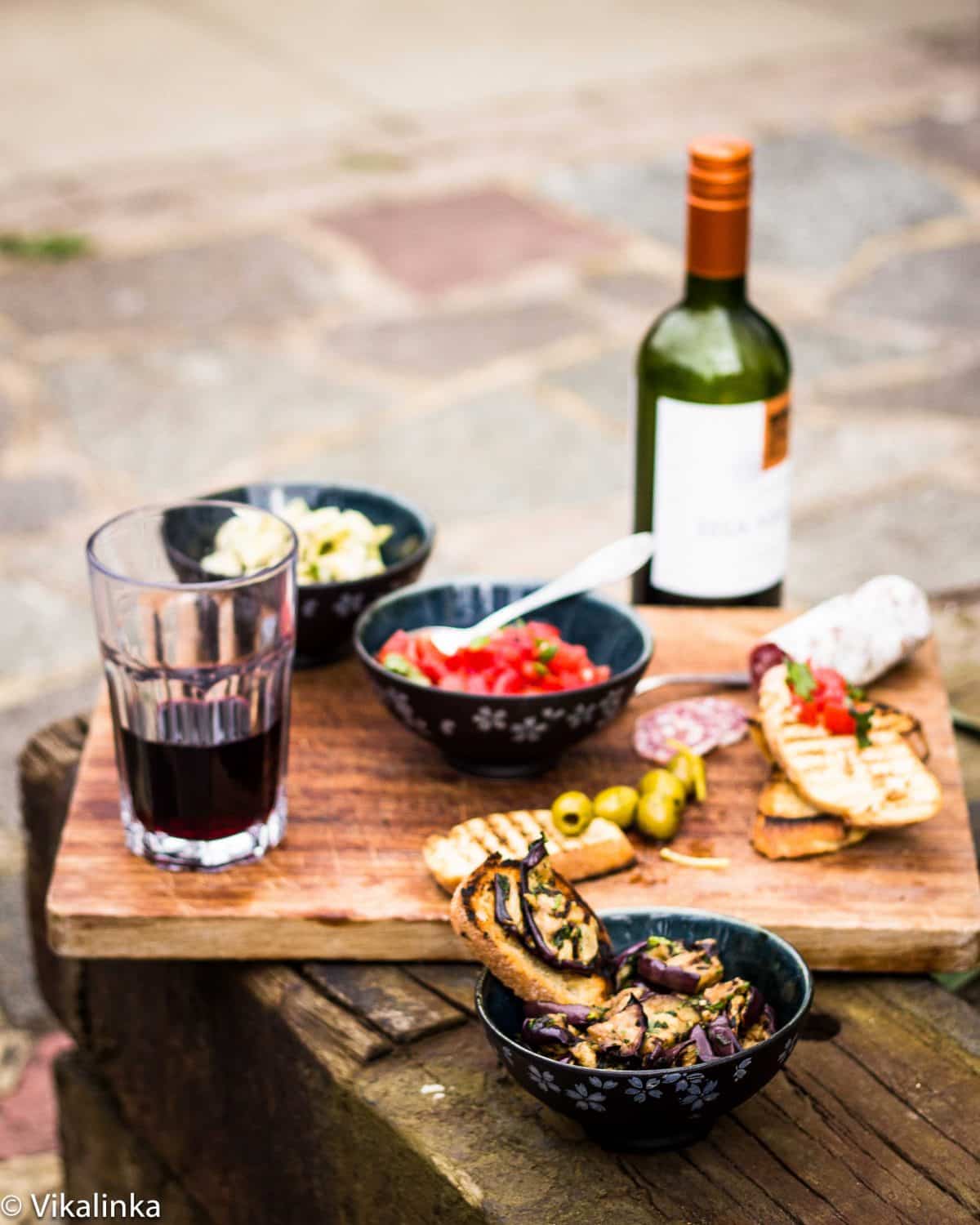 What is bruschetta?
Bruschetta (pronounced 'broos-keta') is Italian toasted bread, that gets topped with a myriad of delicious things. The name itself refers to the bread though, not the topping, which often gets confused.
Classic Recipe
Tomato and basil with a generous drizzle of good extra virgin olive oil is the most classic bruschetta topper. You can't go wrong here. I add just a touch of garlic to keep my tomatoes and tastebuds humming.
Using very ripe tomatoes in season is key to delicious bruschetta topping. I prefer using heirloom tomatoes when available or red and yellow cherry tomatoes.
I cannot stress enough how vital it is to use only very ripe tomatoes and good quality olive oil because that's where your flavour is going to come from.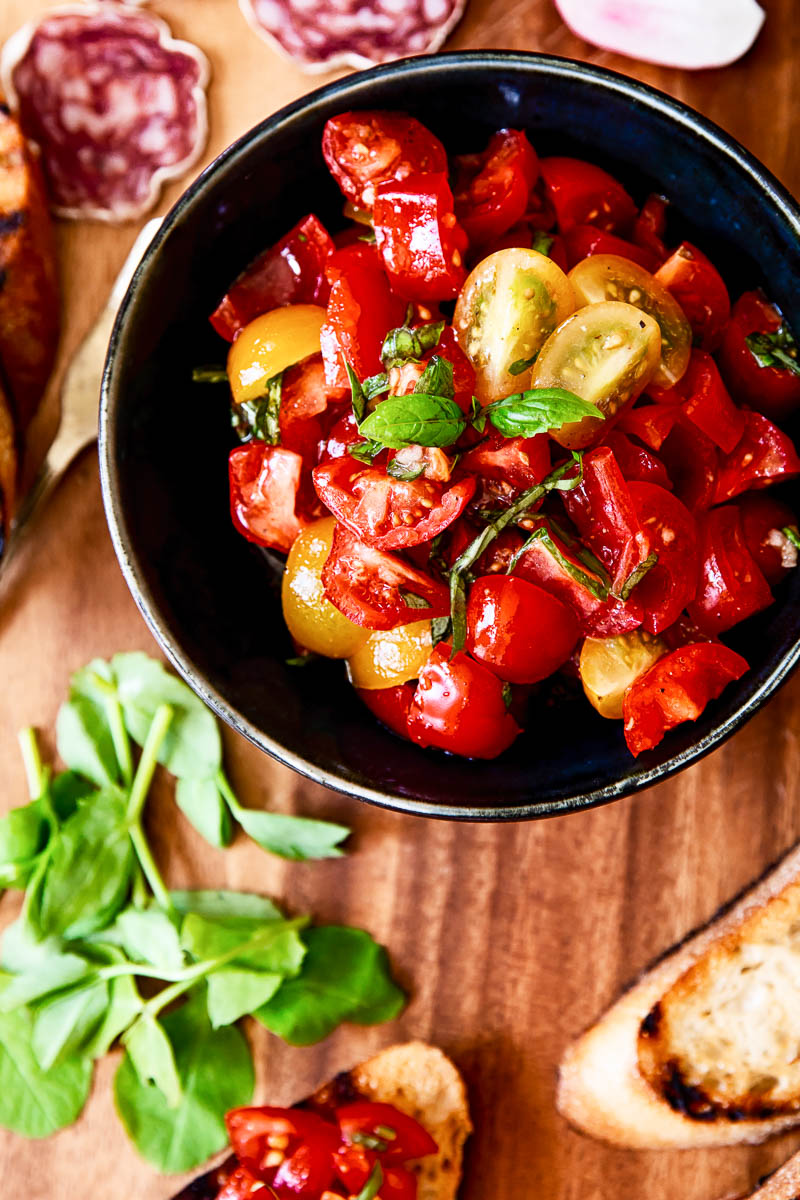 2 More Ideas
My second favourite bruschetta topping recipe is balsamic grilled eggplant with mint. I am a huge eggplant fan and have been since I was a little girl. I inherited the love for this purple vegetable from my mom, who knew numerous, delicious ways of cooking it. Try my eggplant caviar recipe if you don't believe me.
This bruschetta topping recipe is very easy but out of this world delicious. Simply slice the eggplant, grill it, then dunk the slices in the mixture of olive oil, balsamic vinegar, garlic, chopped mint and salt. Let it soak up all the flavours. Done!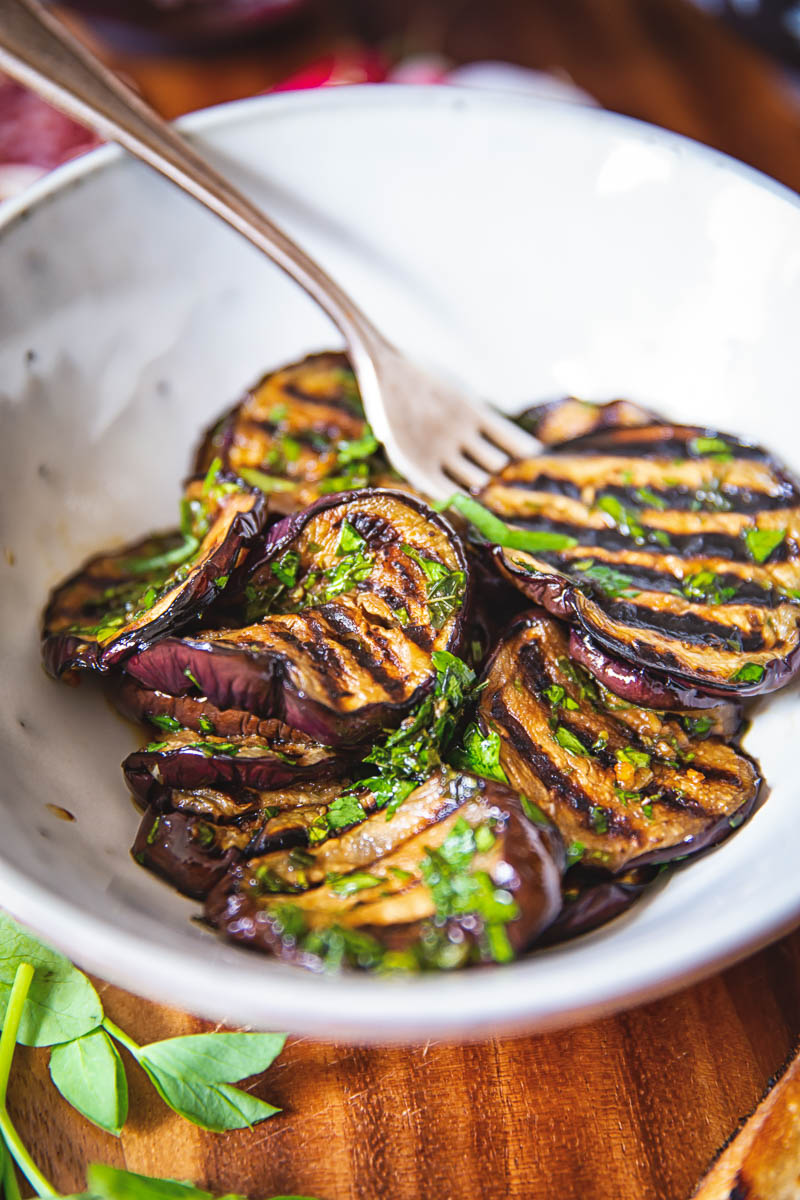 Last but not least, is the simplest bruschetta topping of them all. Lemon garlic artichoke spread flavoured with basil and mint.
It should also be noted that although it might not look as appealing as eggplant and tomato, it can definitely rival them in taste.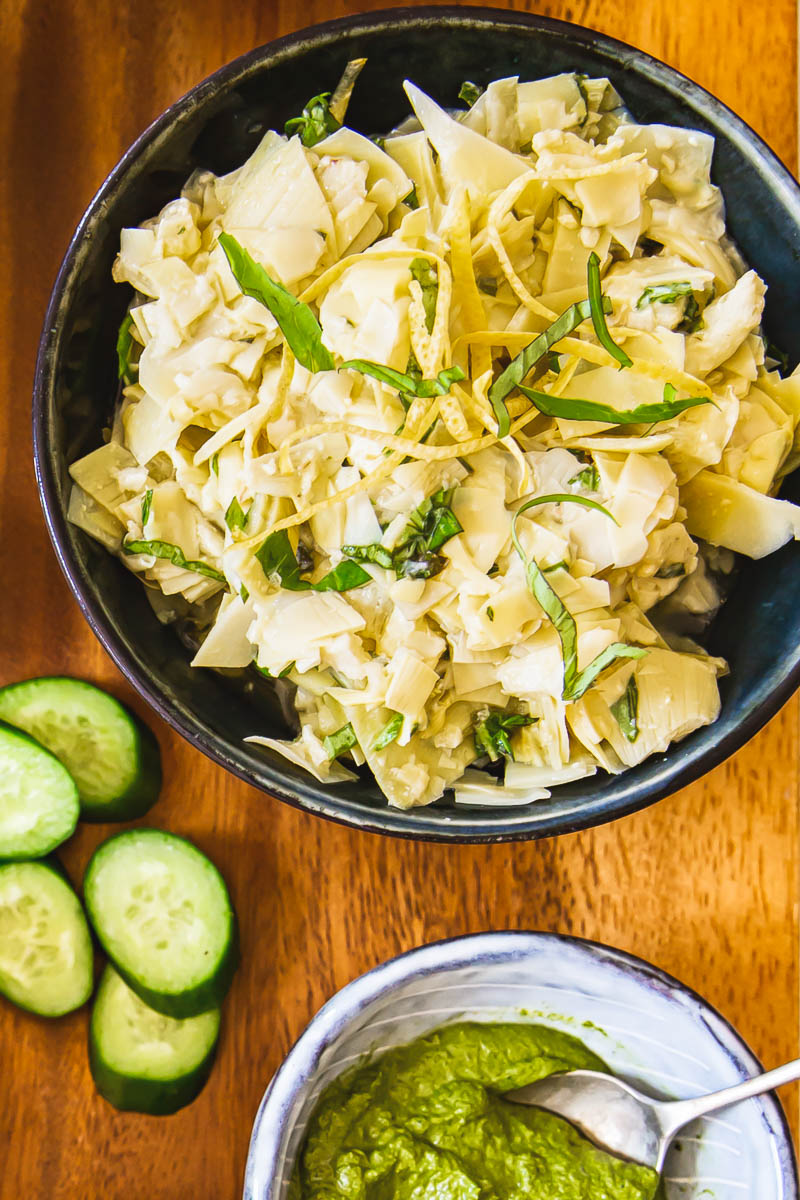 What bread is best?
Excellent question. My favourite bread to use is Italian ciabatta. It has a wonderful, chewy crust and so many holes for the toppings to fill! Sliced baguette is also an excellent alternative and exactly what I used here.
Whatever crusty bread you choose, make sure it is toasted to perfection. It works much better if you brush your slices with olive oil beforehand. It can be toasted on a grill, on a frying pan or broil it. Just don't use your toaster!
How to serve it
Toast the bread slices as described above but let your guests top their bruschettas themselves. You can introduce it as an immersive dining experience but the real reason is it will keep the bread from going soggy!
The toppings could be warm or cold, the same goes for the toasted bread.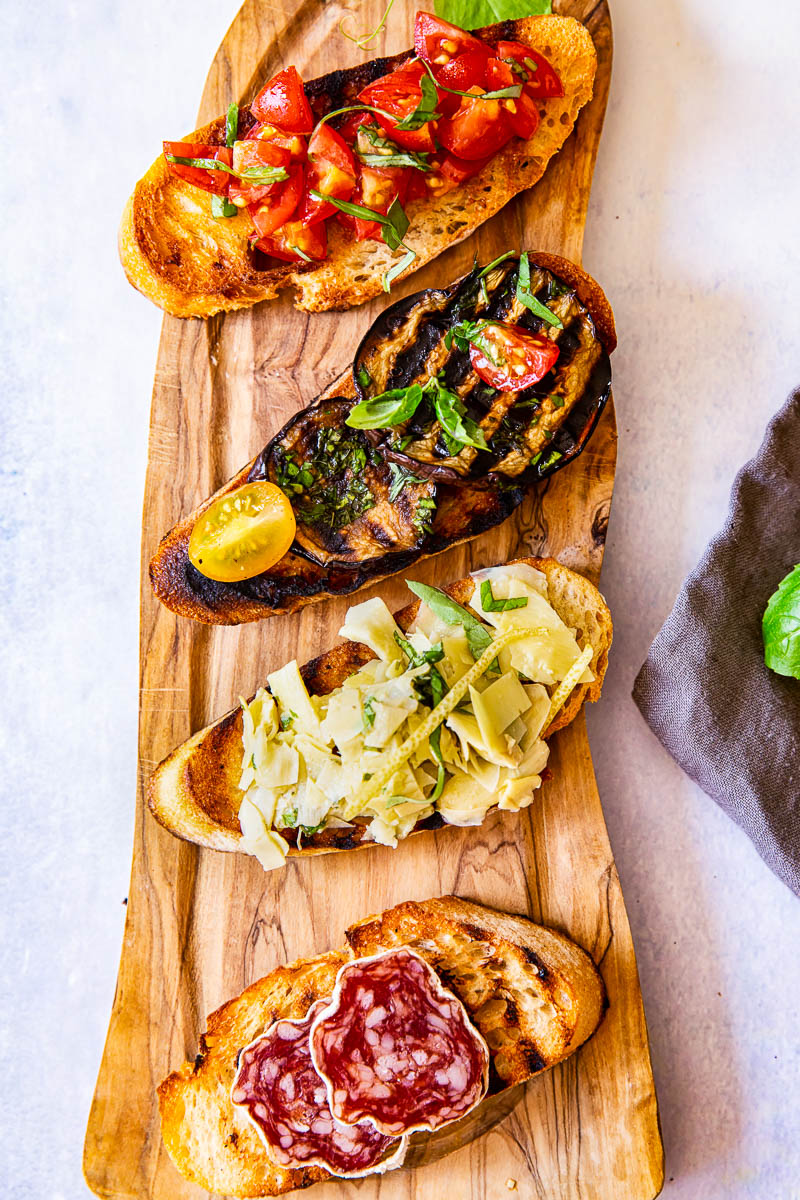 We really enjoy a meal of little bites. One that could be thrown together within minutes but lingers in your memory for days. This is one of those meals!
Colours, smells, textures will send all your senses into overdrive.
More Summer Party Recipes:
The Bruschetta Recipe post was originally published in 05/2013. Updated with new photography and text in 06/2019.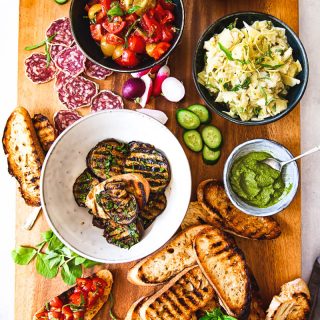 Bruschetta Recipe Three Ways
Three bruschetta recipes for a fun summer bruschetta party.
Ingredients
For the Tomato and Basil Bruschetta
5

ripe tomatoes or cherry tomatoes equivalent

4-5

fresh basil

1

clove

garlic

1

tbsp

extra virgin olive oil

good quality is important

salt and pepper to taste
For the Balsamic Grilled Eggplant Bruschetta
2

eggplants

medium

2

tbsp

extra virgin olive oil

salt

1

tbsp

balsamic vinegar

1

clove

garlic

4

sprigs

flat leaf parsley

3-4

fresh mint leaves
For the Lemon Garlic Artichoke Bruschetta
400g/1.5

cups

canned artichoke hearts

not oil packed

½

lemon, juice and zest

1

cloves

garlic

3

fresh mint leaves

5

fresh basil leaves

1

tbsp

extra virgin olive oil

salt to taste

1

baguette, sliced

long
Instructions
For the Tomato and Basil Bruschetta Topping
Cut the tomatoes in half and squeeze the seeds out, chop them finely or chunky and put them a bowl. (Omit de-seeding if using cherry tomatoes.)Slice basil leaves and add them to the same bowl, add pressed garlic, olive oil and season with salt and pepper.
For the Balsamic Grilled Eggplant Bruschetta Topping
Slice eggplant ⅛ inch thick and brush the slices with 1 tbsp of olive oil. Grill on a hot grill or griddle about 3-5 minutes on each side or until cooked and not spongy anymore.

Meanwhile mix together olive oil, balsamic vinegar, chopped parsley and mint, finely minced or pressed garlic. Add the cooked eggplant to the bowl, mix with a pinch of salt and pepper.
For the Lemon Garlic Artichoke Bruschetta Topping
Chop up artichokes in small pieces ,then add lemon zest and lemon juice, pressed garlic, chopped mint and basil, olive oil and season to taste with salt and pepper.( If your canned artichokes were packed in oil, skip adding oil to your bruschetta topping.)
For the Bruschetta
Slice a loaf of crusty bread (ciabatta or baguette) and grill the slices brushed with olive oil until a bit crispy. Alternatively you can toast the bread in a frying pan. Load up your bread right before serving, otherwise it will get soggy very quickly or let your guests do the work themselves.