This puff pastry pizza recipe is for those times when you need a quick pizza fix. Using pre-made puff pastry significantly reduces the prep and cooking time while delivering the classic pizza taste! On the table in 3o minutes flat!
For traditional pizza recipes, check out my Smoked Gouda and Chorizo Pizza and Grilled Vegetable Pizza Bianca.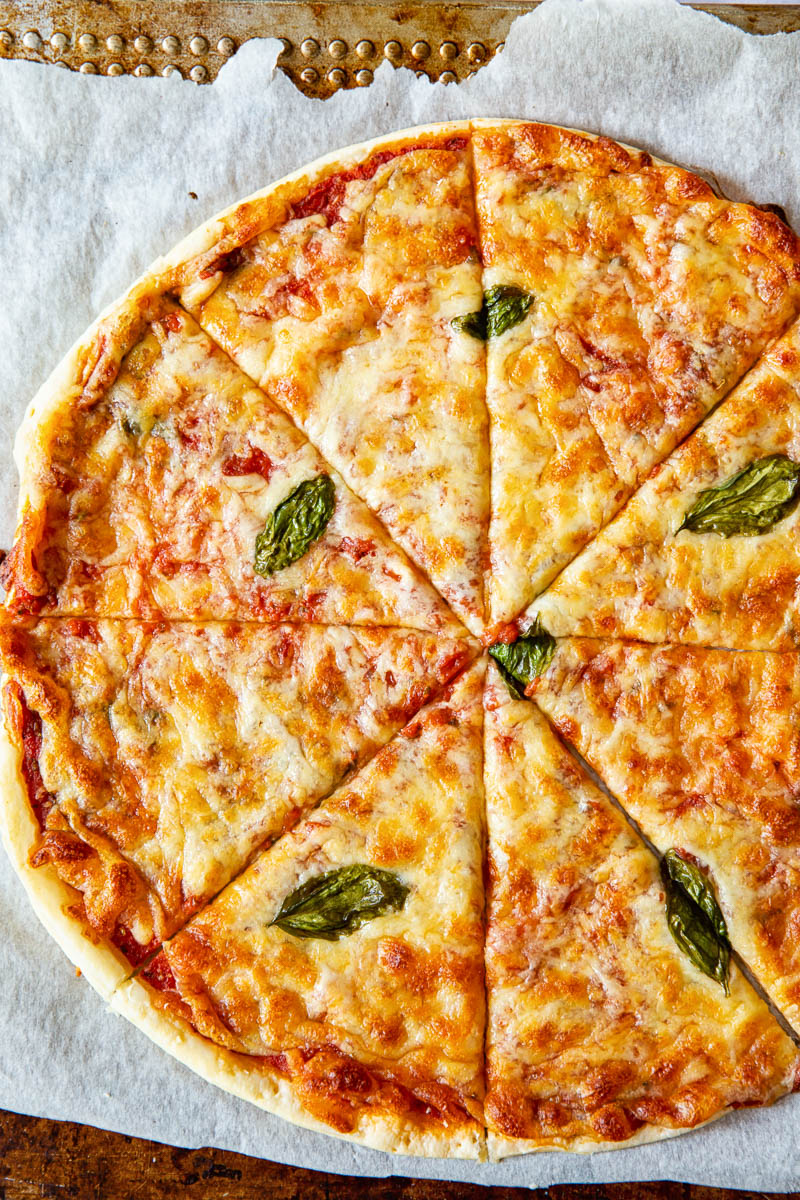 When my kids were still little, I once foolishly promised to them that every Friday night would be Pizza Night. And by Pizza Night I meant homemade Pizza Night.
I have no idea what got into me to make such a promise as we all know making pizza from scratch takes some preparation and time. And to make pizza every Friday takes commitment!
I had to forgo my own promise several times but today I am here to show you a pizza recipe that takes no longer than 30 minutes from start to finish! So if you want to spoil your little ones, it won't cost you much.
How do you make quick pizza?
Without a doubt the lengthiest part of the pizza making is the dough. And although it doesn't take very long to mix it up, it takes a while to wait for it to rise.
My secret to making a quick pizza is using a pre-made puff pastry. I know it tastes slightly differently but hear me out…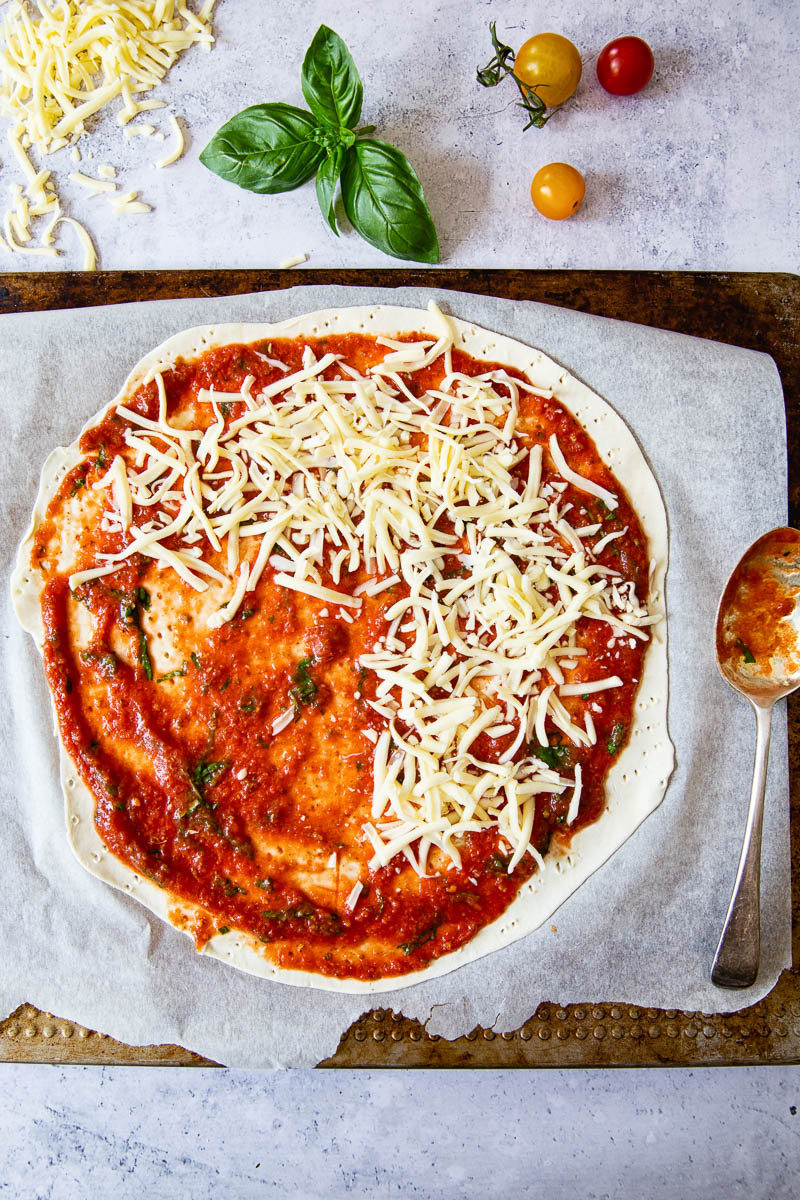 How do I make puff pastry pizza?
The trick for using puff pastry as your pizza base is to roll it out as thinly as possible and prick the pastry with a fork all over to prevent it from puffing up.
The end result tastes so delicious, no one will complain!
Quick Pizza Sauce recipe
Next we need to make a 1 minute pizza sauce because that's how long it actually takes.
Just stir in 1 tablespoon of olive oil into 1 cup of canned crushed tomatoes or tomato passata if you are in the UK, sprinkle in some dried oregano, a handful of chopped fresh basil leaves and a pinch of salt. That is it.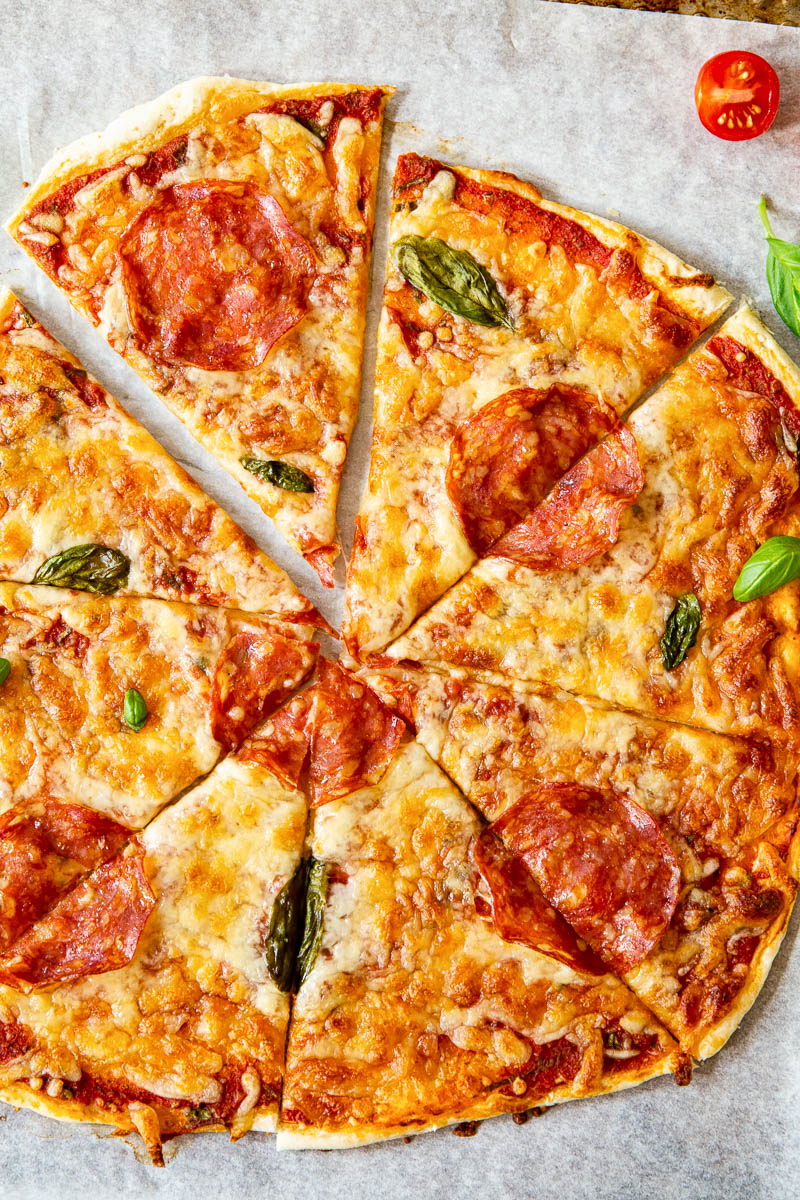 Preheat your oven to 400F/200C. Roll out your puff pastry on a floured surface ¼″ thick ,( it doesn't even have to be perfectly round). Then transfer it on a parchment paper lined baking sheet.
Spread the tomato sauce on your puff pastry pizza base, scatter shredded mozzarella all over, then fill the gaps with fresh basil leaves. Margherita pizza is done.
If you wish to make Pepperoni pizza, add some pepperoni on top of the mozzarella cheese.
Bake in the preheated oven for 15 minutes.
The easiest, quickest and tastiest treat ever! My kids had no idea it was made with puff pastry and not regular pizza dough. It is 1000 times better than frozen pizza!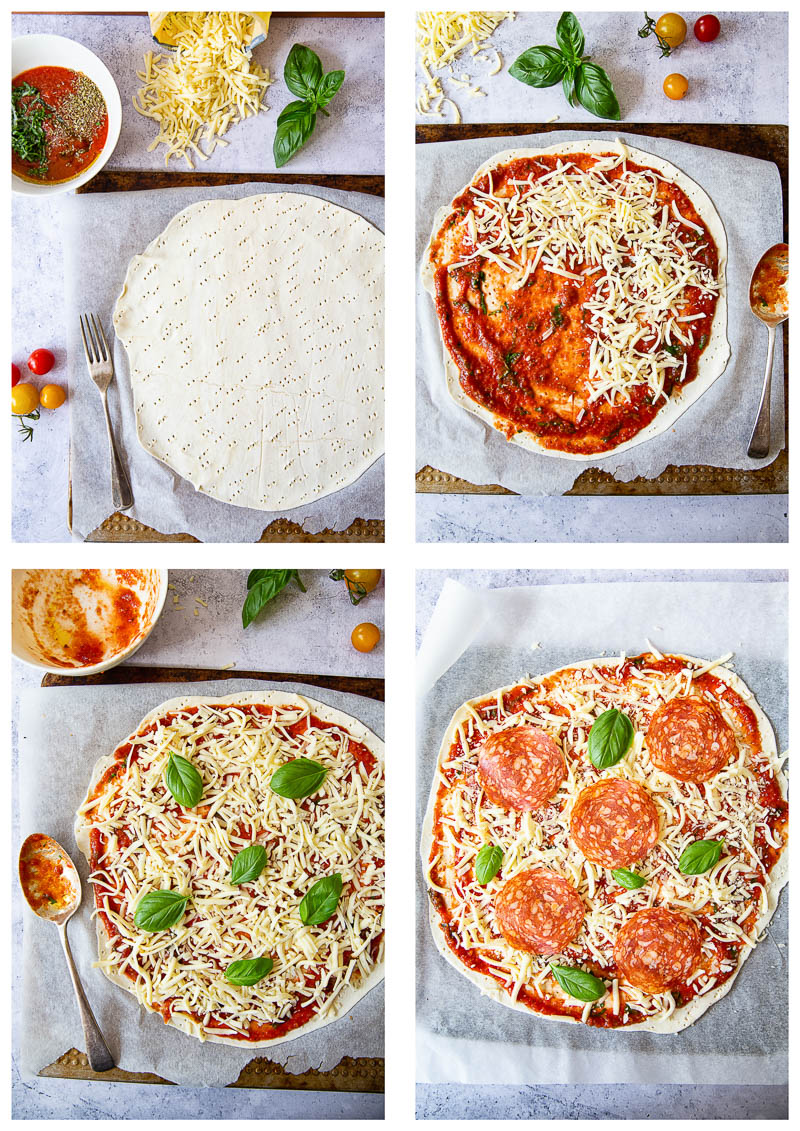 What toppings work best on pizza?
This is a very controversial topic. I am inclined to say anything you love can work on a pizza BUT chicken. Pizza experts and my personal experience tell me that it's impossible to top pizza with chicken without drying it out.
The reason for it is chicken is a delicate meat and pizza is baked at a very high temperature. Those two just don't jive.
Salami is another matter entirely. It loves pizza and we love it on pizza! Another family favourite is Italian prosciutto or Parma Ham Pizza. A word of caution…top your pizza with thin slices of prosciutto after it's been baked, not before!
Mushrooms, red, green and yellow bell peppers, artichokes, olives, grilled zucchini and eggplant are wonderful and traditional pizza toppings.
What are your favourite pizza toppings? Tell me in comments!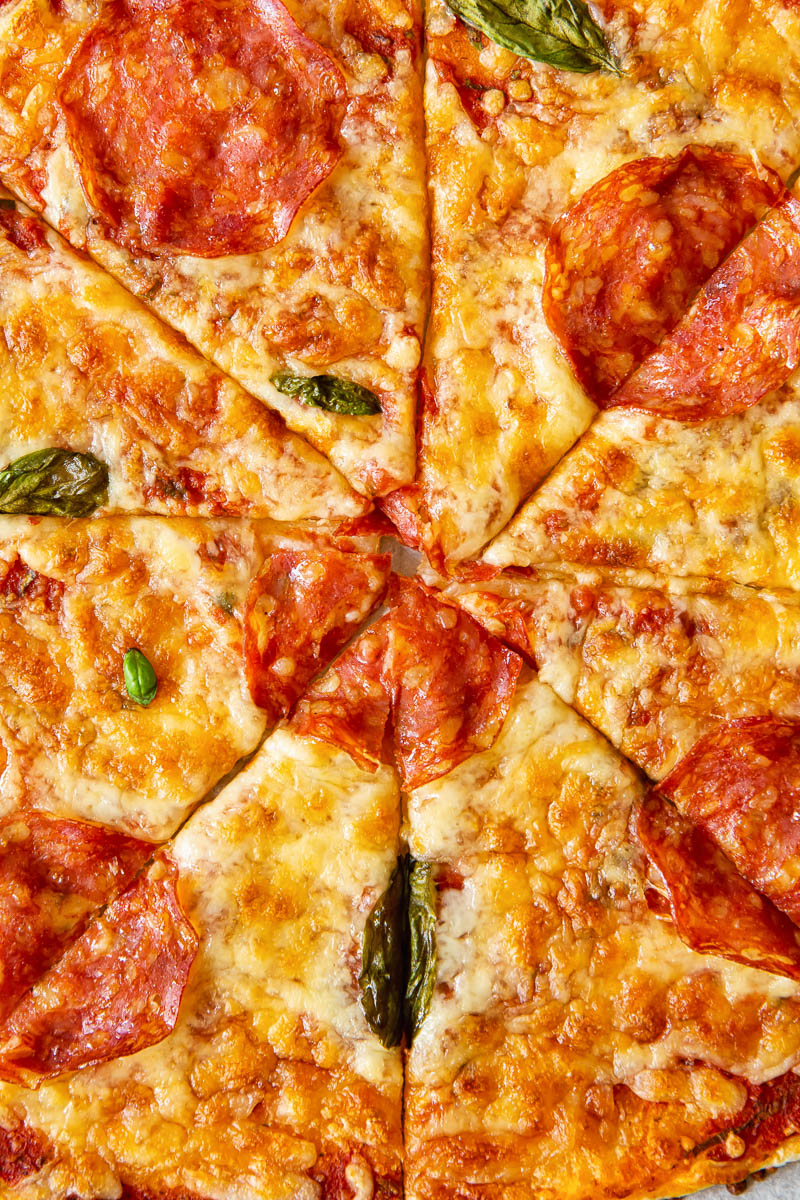 For another quick pizza recipe, check out my 15 Minute Naan Bread Pizza. For a traditional Northern Italian pizza recipe with the best pizza dough, check out my Potato and Pancetta Pizza.
This puff pastry pizza recipe was originally published in 03/2014. Updated and republished in 05/2019.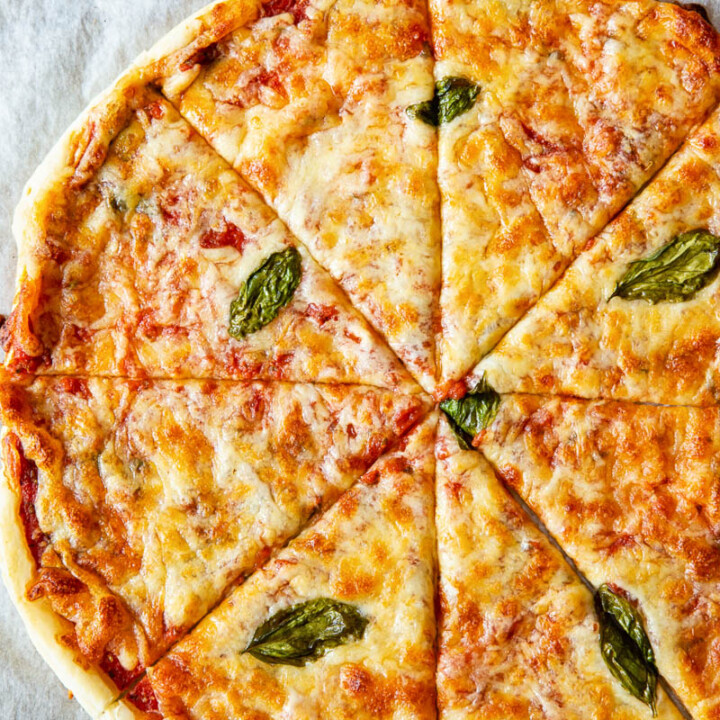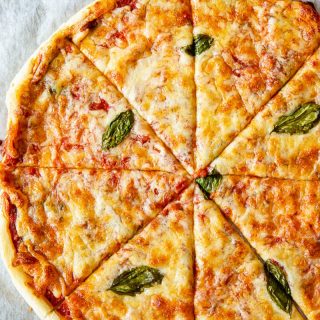 Puff Pastry Margherita Pizza
This delicious puff pastry pizza recipe is here to satisfy your pizza cravings. Done in 30 minutes flat and no waiting for the dough to rise!
Ingredients
375g/13oz

pre-made puff pastry

250g/1cup

canned crushed tomatoes or tomato passata

1

tbsp

olive oil

1

tsp

dried oregano

2

tsbp

chopped fresh basil

½

tsp

salt

250g/1cup

grated mozzarella cheese

5-7

spiced salami or pepperoni slices

optional
Instructions
Preheat the oven to 400F/200C

Stir in 1 tbsp. of olive oil in your crushed tomatoes, sprinkle in some dried oregano and chopped fresh basil leaves with a pinch of salt.

Divide your puff pastry and roll out each ball on a floured surface ¼" thick, prick them with a fork all over, then transfer them a parchment paper lined baking sheets. (If using pre-rolled puff pastry sheets, feel free to keep them whatever shape they came in but they might need to be rolled out thinner.)

Then spread the pizza sauce on your pizza base, scatter mozzarella cheese all over, then fill the gaps with fresh basil leaves. If using salami or pepperoni, place the slices on top of mozzarella.

Bake in the preheated oven for 15 minutes until the cheese is golden and bubbly. You can bake both pizzas at the same time if your oven is large enough or one after another.
Notes
This puff pastry pizza recipe makes two 9 inch thin crust pizzas.
This recipe will feed 2 as a main course or 16 as an appetizer.
Nutrition
Calories:
756
kcal
Carbohydrates:
48
g
Protein:
22
g
Fat:
53
g
Saturated Fat:
18
g
Cholesterol:
49
mg
Sodium:
999
mg
Potassium:
288
mg
Fiber:
3
g
Sugar:
4
g
Vitamin A:
585
IU
Vitamin C:
5.8
mg
Calcium:
350
mg
Iron:
3.6
mg