This quick naan pizza will soon become the first thing you turn to on Friday night!! Just grab naan, smother it with tomato sauce flavoured with basil, oregano and olive oil and top with ham, mushrooms and cheese or anything your like.
For more quick pizza recipes, check out my Puff Pastry Margherita Pizza.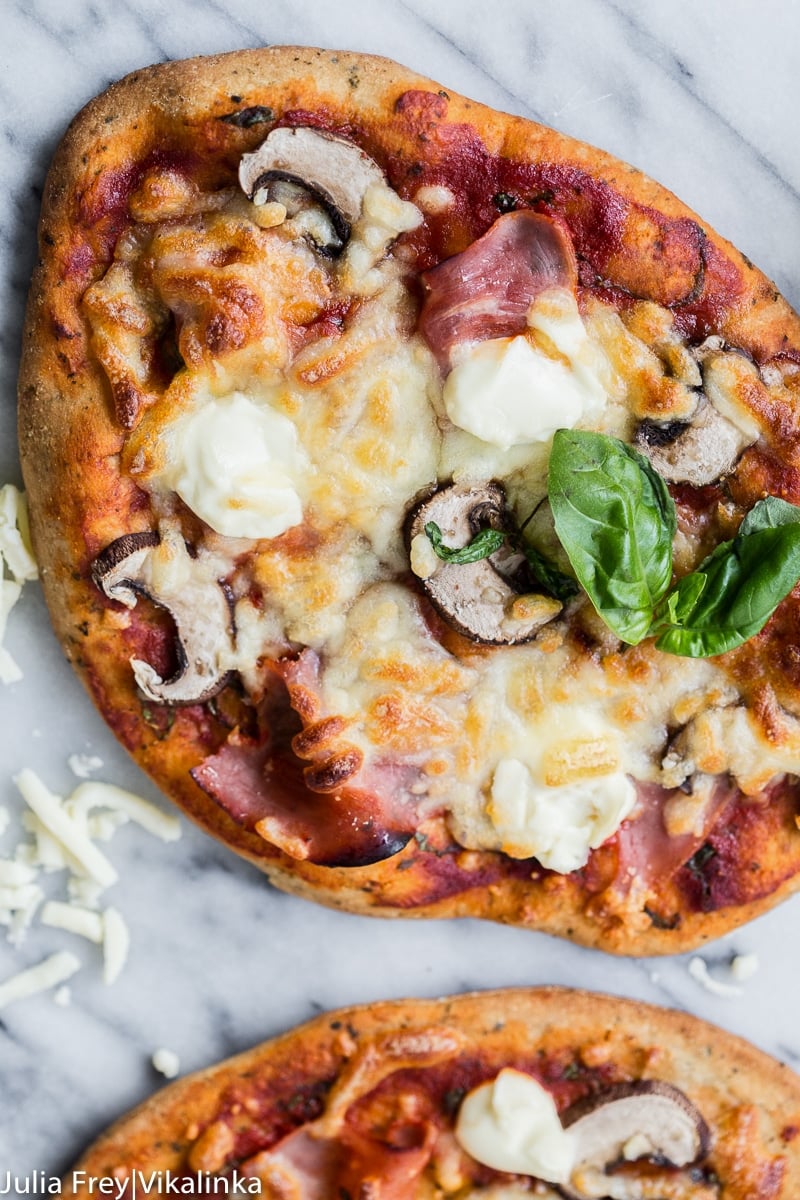 This post is coming to you on Valentine's Day, which is being spent quite unromantically. No, no, don't feel bad for me!!
I was 100% prepared for it and was planning to make up for the loss of this holiday as soon soon Brad is back from India, but then was unexpectedly struck with a bout of sadness. It came upon me when Vika volunteered to play some tunes.
It's not that I don't like music, it's her choice of music. 90s Love Songs on Spotify and the first song on the list was You Say It Best When You Say Nothing At All. It was our song and just liked that I missed him like crazy.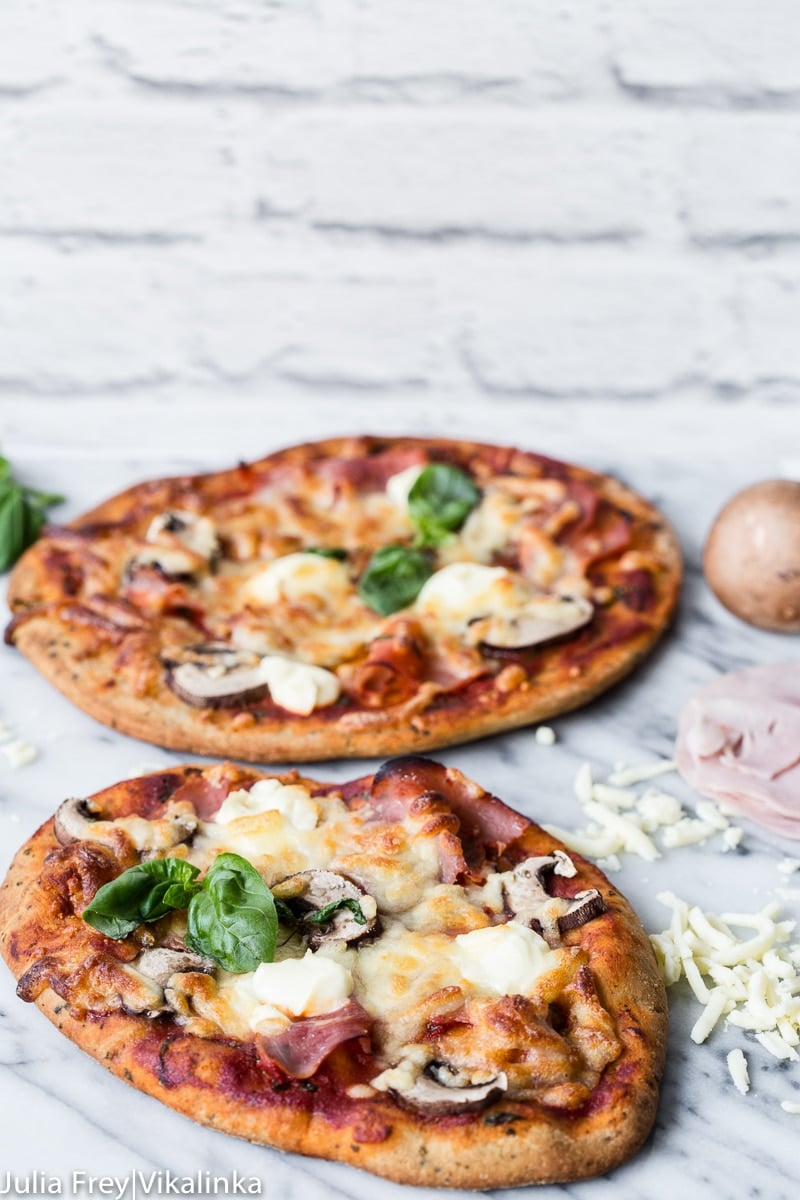 Best remedy for such a thing, of course, is getting busy in the kitchen! Also, it's about time I share these quick naan bread pizzas.
My kids' absolutely favourite dinner and my secret to staying within the budget on Friday nights. 😉 The idea came to me on my first trip to Italy years ago, when I bit into my real Italian pizza and realised it was heavenly and quite different from what I knew as pizza.
The main thing that stood out to me was the crust. It was thin but not crispy. It was soft and chewy and was more reminiscent of Indian naan bread than a pizza pie we used to indulge in back in Canada and the States.
I know…weird! This is how idea for naan bread pizza was born. Yes, travel IS the answer to everything!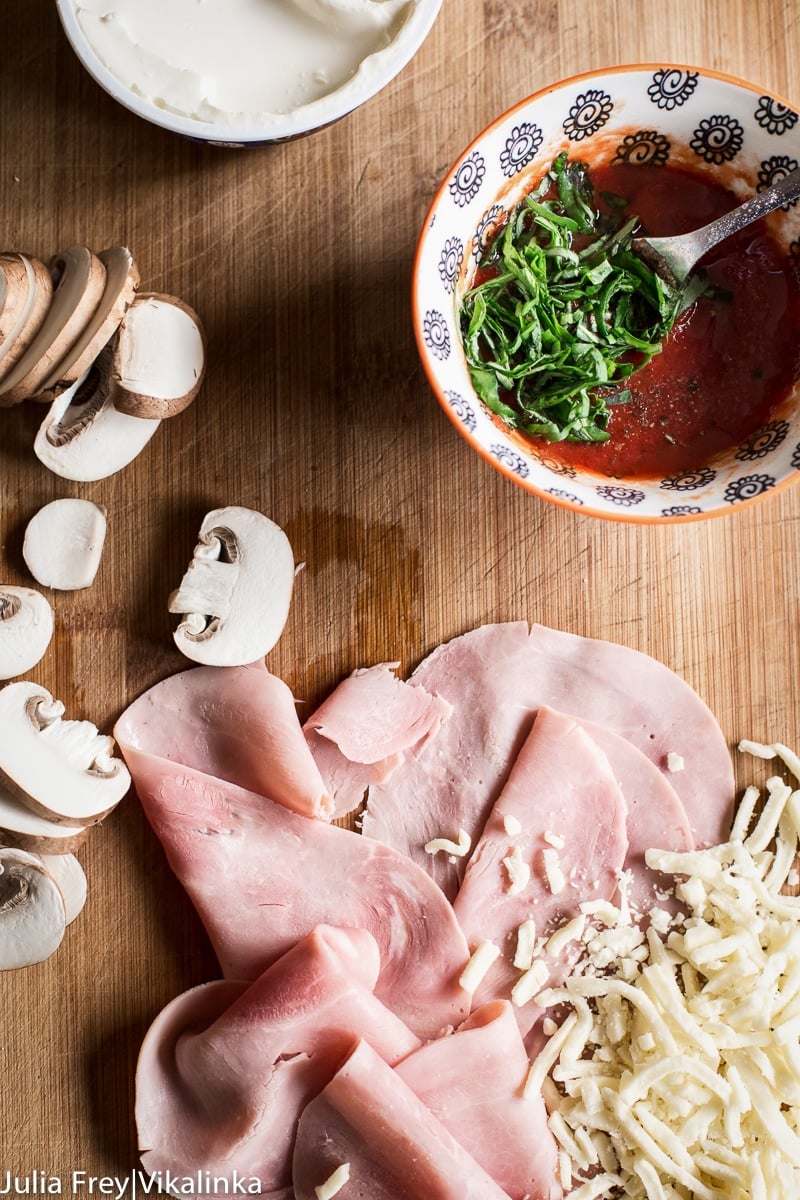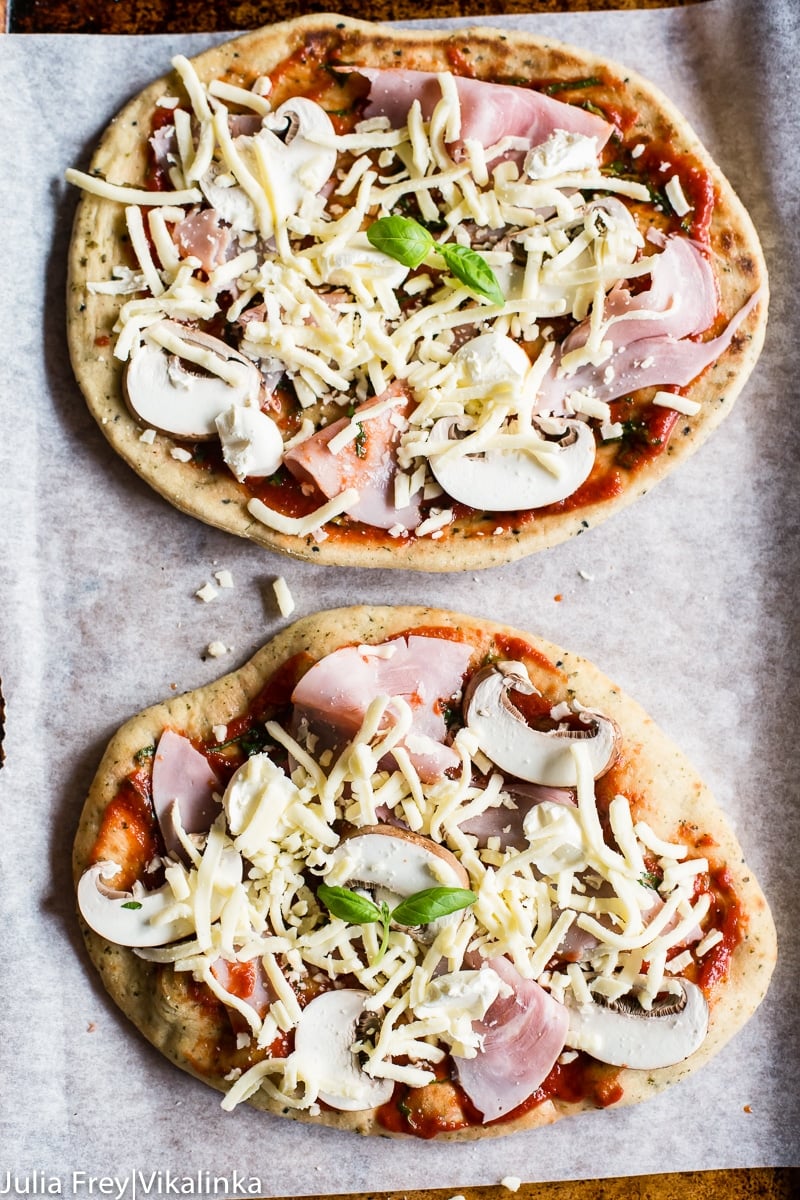 What I absolutely adore about this naan bread pizza recipe is how infinitely customisable it is! You can literally choose any toppings you like! It takes 20 minutes to throw together AND even kids can make it!
Mine do all the time! They actually get more excited over naan bread pizzas than Pizza Hut because they get to make their own, they get to choose the toppings they like and ditch the ones they don't and they taste great!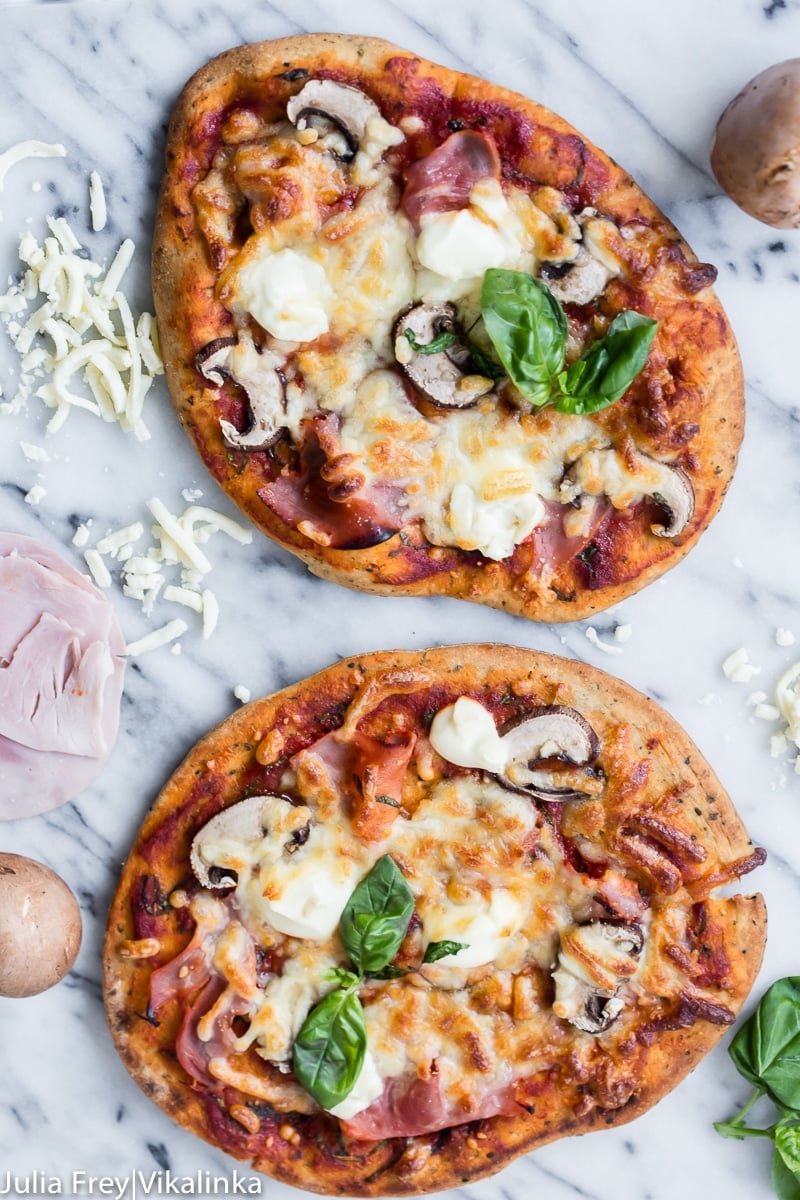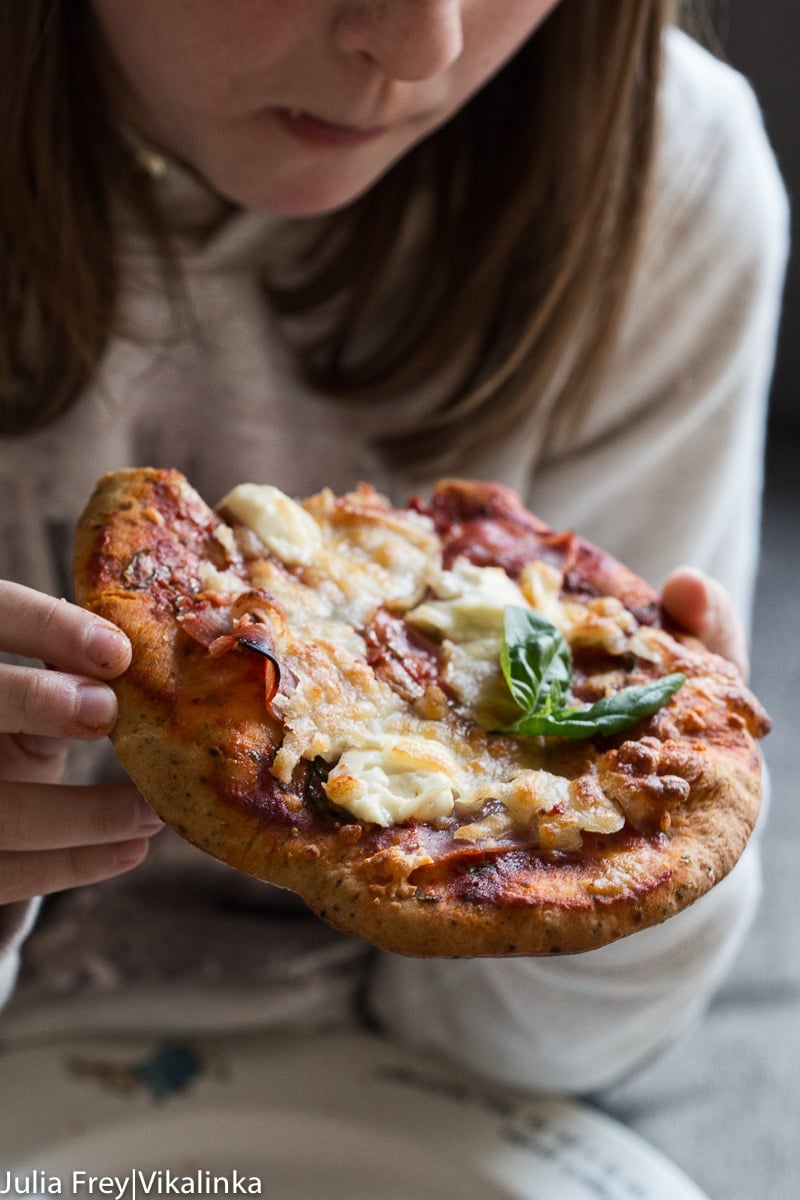 The toppings that I love are thin ham slices, sliced chestnut mushrooms and a few dabs of mascarpone for extra creaminess, all covered up in milky, silky mascarpone.
If you you want to go with something else, I've got you covered. Here are the recipes for Smoked Gouda and Chorizo Pizza, Prosciutto and Arugula Pizza plus 2 more , and finally Potato and Pancetta Pizza (my personal favourite ;-)! As you might've guessed by now, we love pizza!!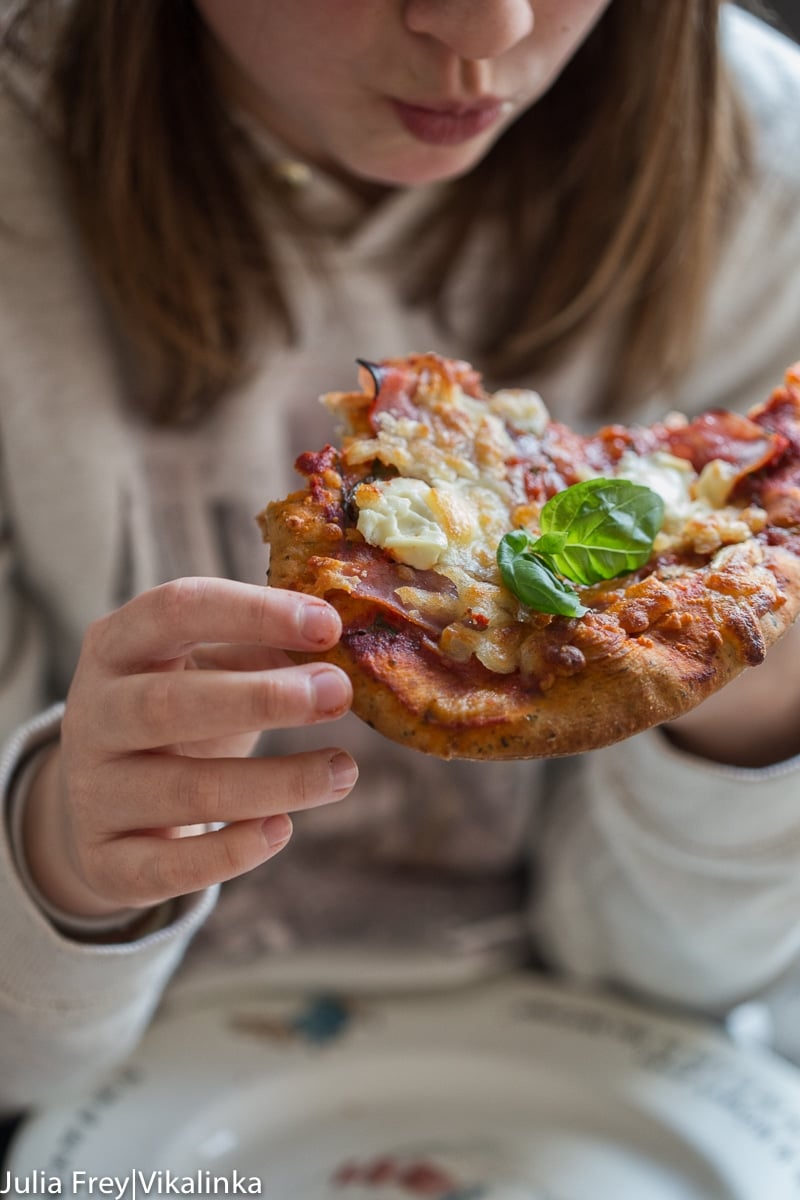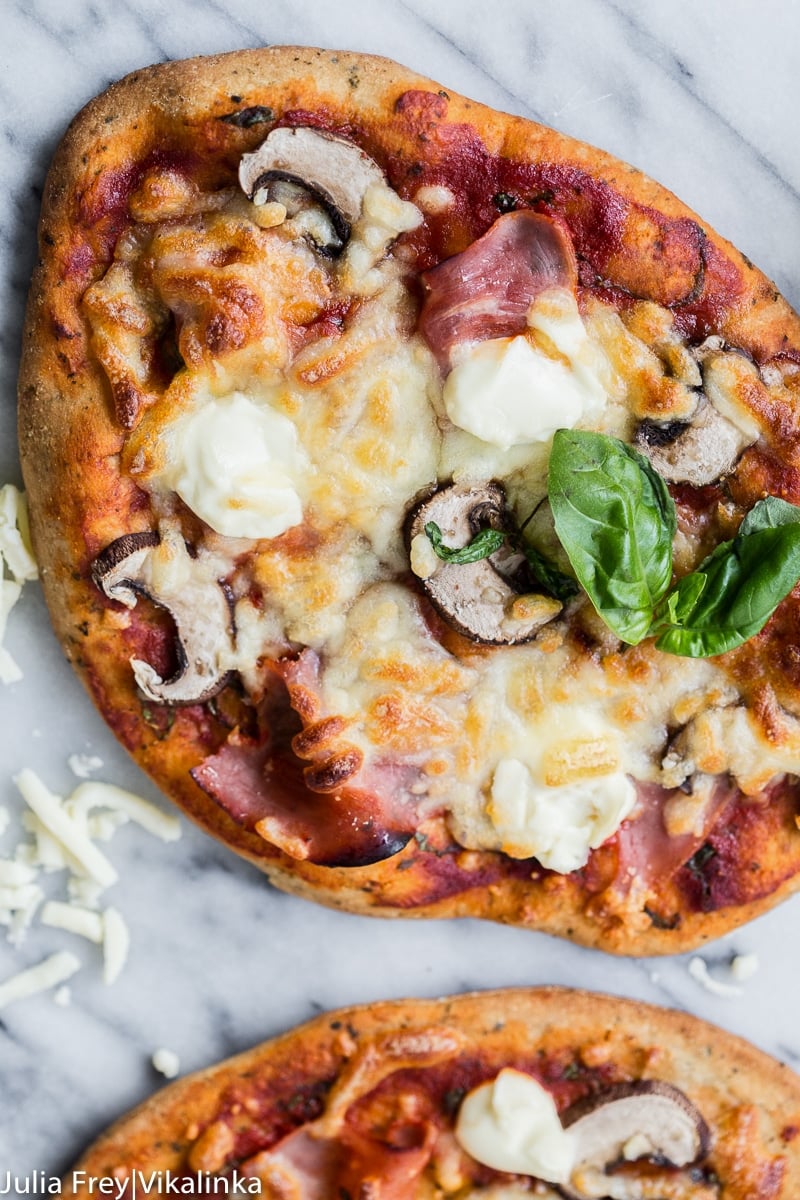 Ingredients
4

naan breads

2/3

cup/ 180 ml crushed tomatoes or tomato passata

5

basil leaves

sliced or 1 tsp dried

1

tbsp

olive oil

salt and pepper

4-6

ham slices

3-4

mushrooms

sliced

4-6

tbsp

mascarpone

1

cup/ 100g mozzarella cheese

grated
Instructions
Preheat the oven to 200C/400F

In a small bowl mix crushed tomatoes or tomato passata, a pinch of salt and pepper, olive oil and sliced fresh basil or dried basil if using.

Arrange naan bread on baking sheets and spread the tomato sauce evenly among 4 pizza bases, top with torn pieces of ham, mushrooms, then dab mascarpone all over. Scatter mozzarella cheese.

Put int the oven and bake for 10-15 minutes until the cheese is bubbly and golden.