This sourdough pizza delivers an authentic Italian spicy sausage and broccoli topping as well as a delicious crust! You can also use this guide to a sourdough crust to make our Smoked Gouda and Chorizo Pizza.
Not into sourdough yet? You can use this recipe for a pizza crust , which uses an easy and foolproof yeasted dough!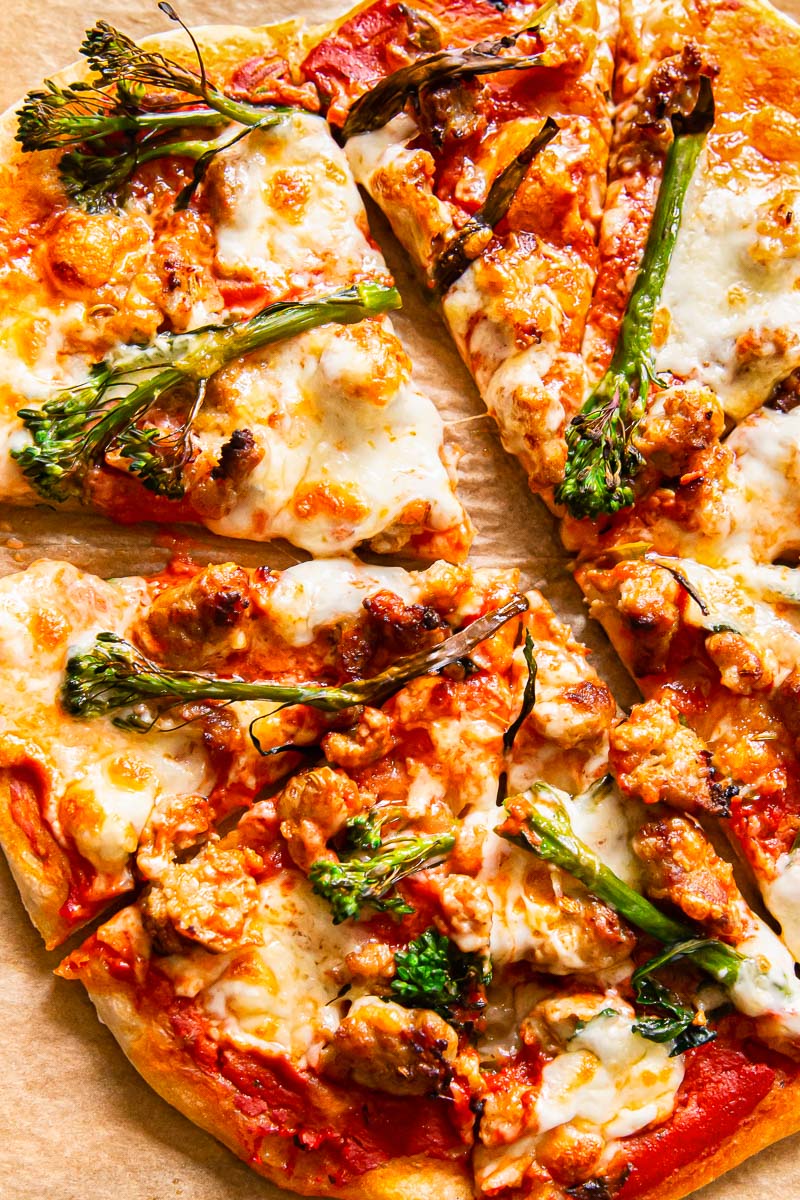 If you are a sourdough fan, it is only natural to extend the bread baking into pizza making! When my kids were little I once foolishly promised that every Friday night will be pizza night.
As you can imagine, I couldn't deliver on my promise. Even I, who cooks for a living, didn't want to make pizzas weekly! That being said, treating your friends and family to a delicious and restaurant worthy homemade pizza once in a while is truly special. And doable!
Adding the sourdough to the mix takes this whole affair to another level of deliciousness! Let's get started.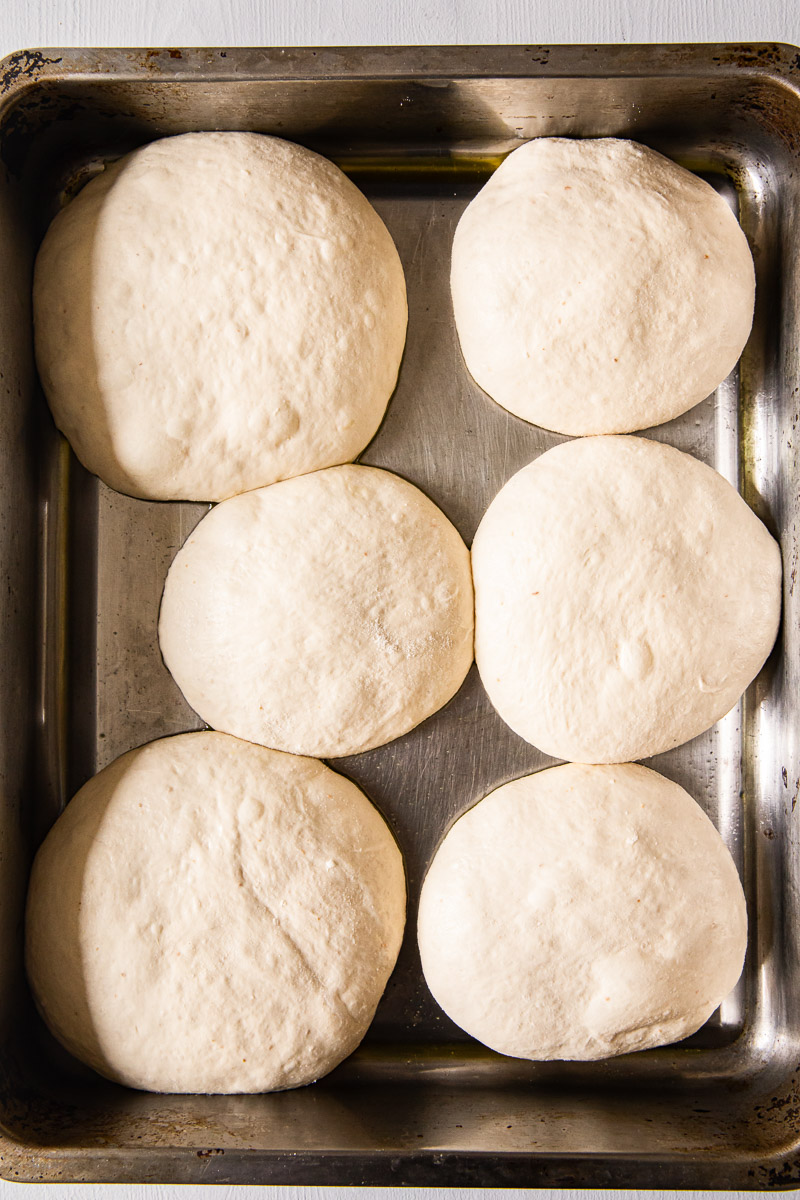 How to Make Sourdough Pizza at Home
The main process for the sourdough pizza is no different than for a sourdough bread. The only difference is in what happens after an overnight fermentation. Instead of of baking a loaf of bread you will portion your sourdough into pizza dough.
Other than that the process is identical. You will have to feed your starter in the morning, wait for it to double in size, then mix a batch of dough as you would for a loaf of bread.
And just like with bread you will have to start on your dough a day ahead. So if you want to have a pizza night on Friday, you need to get going on Thursday morning.
Prepare your dough following this detailed guide. The following morning after 16 hours of fermentation, take your dough out of the banneton and divide it into 4 equal parts. Shape them into balls without handling too much and put them in a well-oiled baking sheet or roasting pan. Cover with a kitchen towel and let them sit at a room temperature for 3 to 4 hours prior to baking.
I highly recommend having your sourdough pizza dough at room temperature as it will make shaping and stretching the pizzas much easier.
Handle your sourdough pizza lightly. Unlike the yeasted dough sourdough doesn't spring back after it's been knocked down. Take care not to squash the bubbles as that will deflate the crust when baked.
Bake your pizza on a preheated pizza stone in a very hot oven. I preheat mine as high as it would go. My oven heats t0 220C-450F but higher is even better!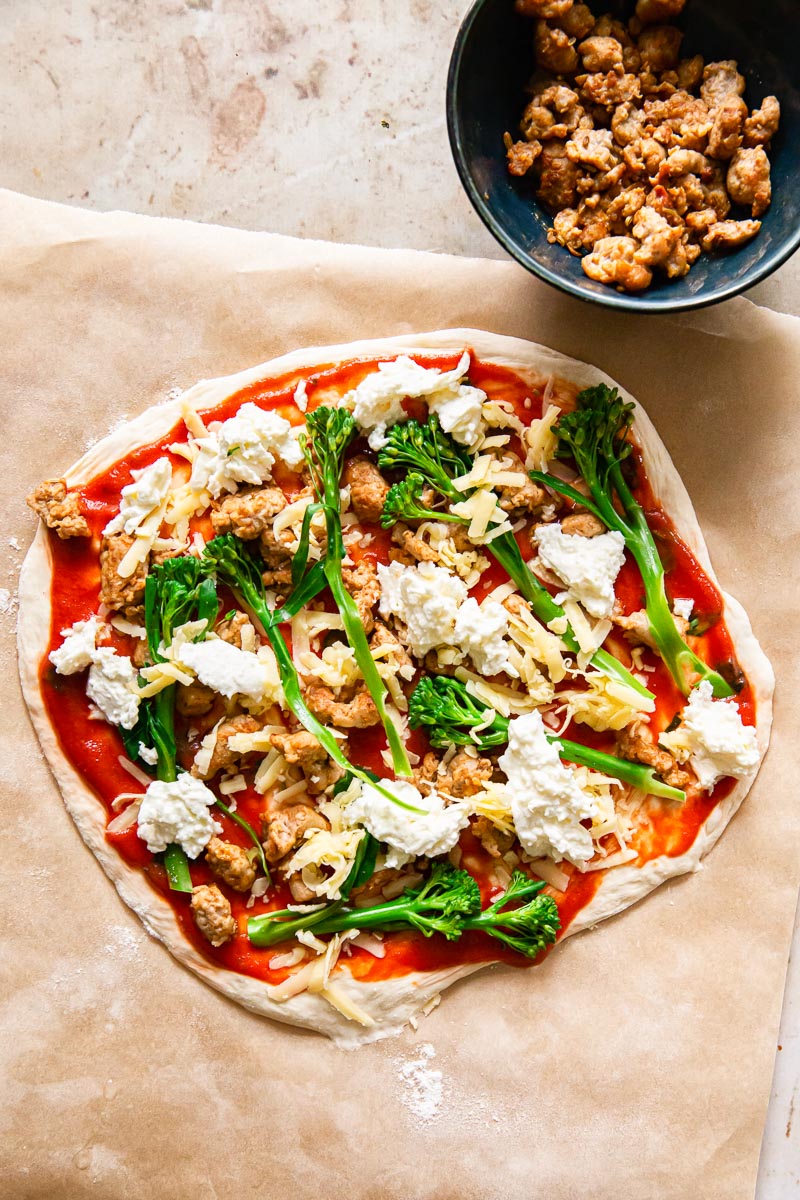 Spicy Sausage and Broccoli Pizza Recipe
This particular pizza was inspired by one of our favourite Italian pizza restaurants in London. Sausage and broccoli rabe is a classic Italian combination that comes from the south. This pasta recipe is one of the incarnations of it.
It's quite impossible to source broccoli rabe in London without going to specialty shops or farmers markets. So I used tenderstem broccoli instead.
I also used a regular cumberland sausage and added the southern Italian flavours like chilli flakes, fennel seeds, dried basil and oregano.
Then topped the lot with fresh mozzarella and a touch of smoked gouda. The latter is optional.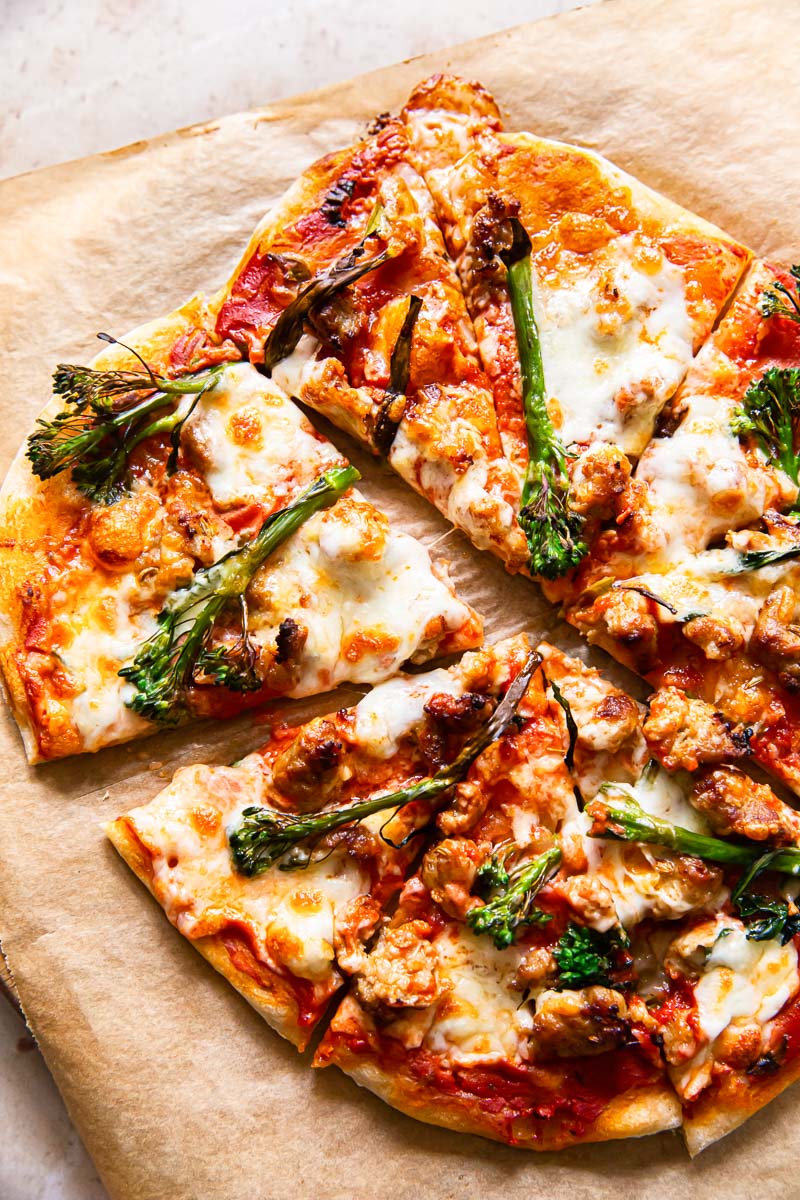 Pizza Sauce Recipe
The pizza sauce I use is homemade and quite basic. I simply mix tomato passata, or you can use crushed tomatoes, with a tablespoon of olive oil, then add 4-5 chopped basil leaves, ½ teaspoon of dried oregano and salt. Easy and delicious.
This recipe makes 4 individual pizzas or 2 big ones. If you want to mix it up and make all 4 in different flavours here are our favourites.
Pizza Topping Options: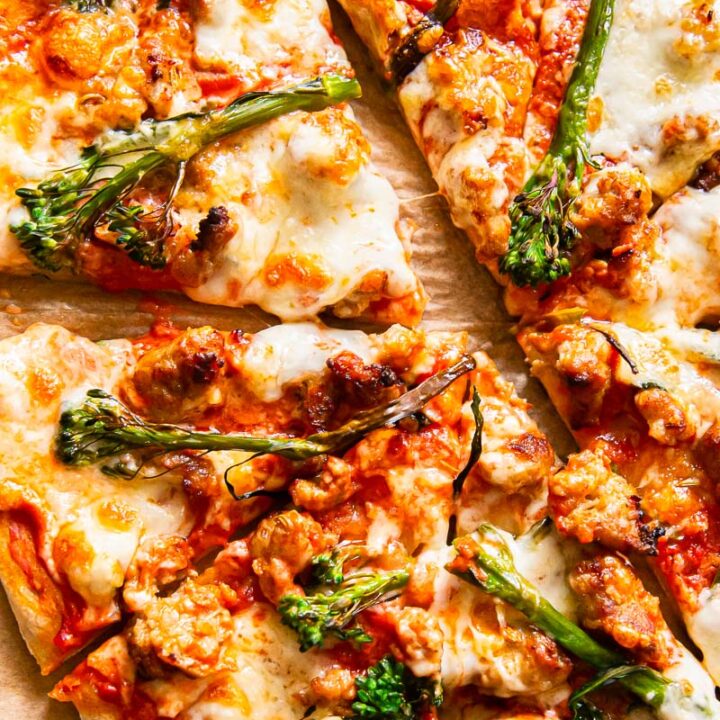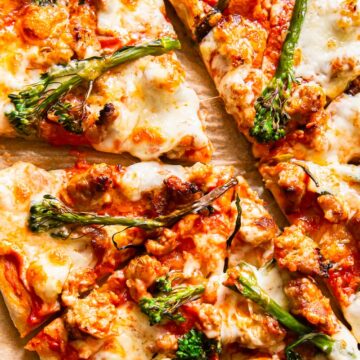 Sourdough Spicy Sausage and Broccoli Pizza
This sourdough pizza delivers an authentic Italian spicy sausage and broccoli topping as well as a delicious crust!
Ingredients
1

recipe

sourdough

1 lbs/8

Italian or cumberland sausages

0.5

tsp

fennel seeds

0.5-1

tsp

chilli flakes

1

tsp

dried basil and oregano combined if not using Italian sausage

200g/8oz

tenderstem broccoli

125g/8 oz

fresh mozzarella

250g/1 cup

smoked Gouda cheese

grated, optional
For the pizza sauce
500ml/2 cups

tomato passata or canned crushed tomatoes

1

tbsp

olive oil

4-5

leaves

fresh basil, chopped or 1 tsp dried basil

0.5

tsp

dried oregano

1

tsp

salt
Instructions
To make the sourdough follow the instructions for the sourdough bread. (Link in the post and in the ingredients. It needs to be started a day ahead and fermented overnight.) The following morning take the dough out of the proofing basket and divide into 4 parts, roll into balls and put them in a well-oiled pan, cover with a kitchen towel and let them sit at room temperature for 3-4 hours.

30 minutes before you are ready to bake your pizzas preheat the oven to as high as it could go with a pizza stone inside if using. Prepare the toppings.

Take the sausage out of its casing and fry in a pan, make sure to break it up with a spatula. Season with chilli flakes, fennel seeds, basil and oregano (for Cumberland sausages only), cook until no longer pink inside, remove to a bowl and set aside.

Cook the tenderstem broccoli until bright green, no longer than 5 minutes after the water boils. Shred the mozzarella balls with your hands and grate the smoked Gouda.

Make the pizza sauce by combining the tomato passata with the olive oil, basil, oregano and salt in a medium bowl.

To shape a pizza take one sourdough ball, place it on a lightly floured sheet of parchment paper and flatten it with your fingertips into a disk, then start gently pulling with your hands from opposite side to form a thin crust, that is slightly thicker around the edges. Don't worry if it's not perfectly round!

Spread ¼ of the pizza sauce on the pizza dough, then top with cooked spicy sausage, broccoli and torn mozzarella, sprinkle with grated smoked Gouda or Cheddar. Pick up the pizza by the edges of parchment paper and transfer to the pizza stone in the preheated oven. (If you have a round cake lifter, it works very well to pick up the pizza and transfer it to the oven. You can also use a rimless baking sheet as well.) Bake for 10-12 minutes or until the crust is puffed up around the edges and the cheese is melted and slightly golden.

Repeat with the remaining 3 pizzas.
Nutrition
Calories:
1163
kcal
Carbohydrates:
86
g
Protein:
57
g
Fat:
66
g
Saturated Fat:
29
g
Cholesterol:
182
mg
Sodium:
2944
mg
Potassium:
913
mg
Fiber:
6
g
Sugar:
12
g
Vitamin A:
1815
IU
Vitamin C:
60
mg
Calcium:
752
mg
Iron:
8
mg