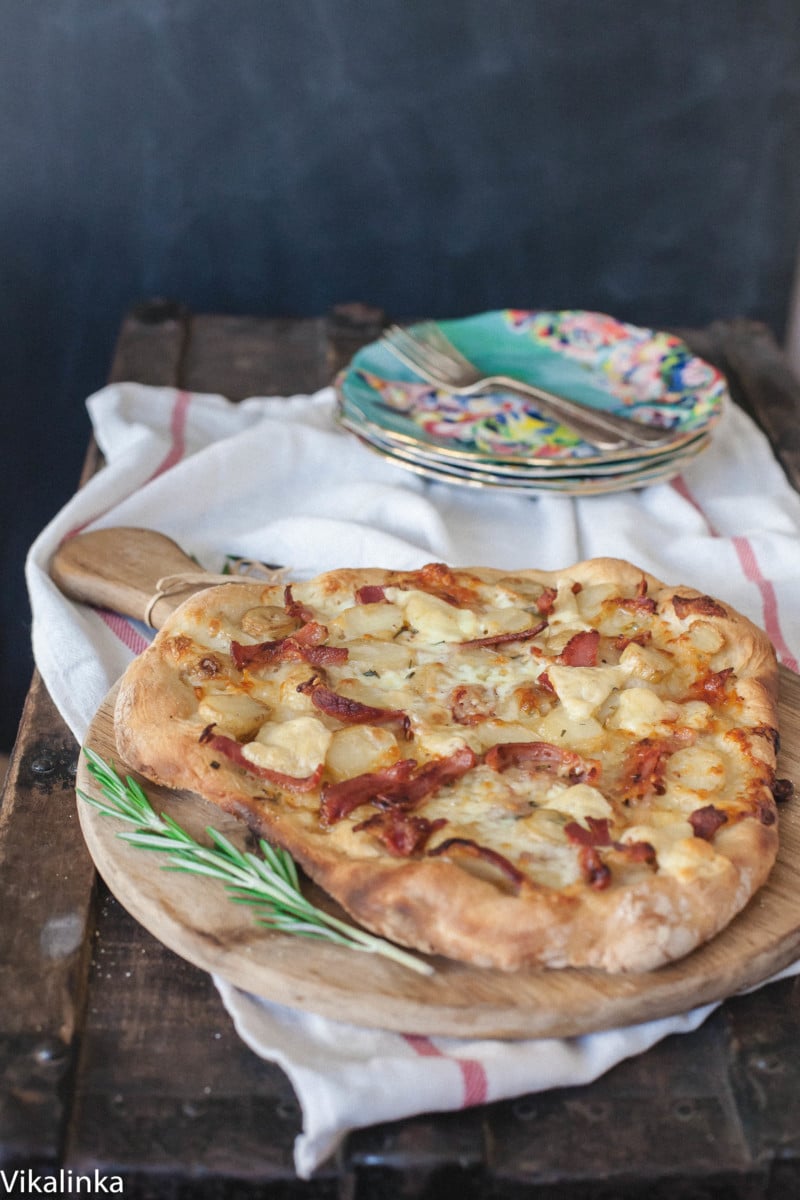 This summer is not like any other year. I am at home with kids instead of working, albeit only for the last two weeks but it feels like a lifetime for someone who is used to getting up bright and early and immediately plunging into a busy work day. To add to this weirdness Vika broke her collarbone, which severely limits what she can do and my hubby is away in Africa for a work trip. I have to confess he is the fun parent. He always knows what to do with kids and how to keep them entertained. I seriously lack imagination.
So after running through a very short list of things we could do together I proposed pizza making and that was met with massive enthusiasm from both of them. Whew! What a relief!
When asked what pizza they were going to make they both replied they wanted "pizza with Parma ham and rocket", which translated in North American English means "pizza with prosciutto and arugula". My babies are really growing up. They used to always go for a simple Margherita pizza or put in simple layman's terms "cheese pizza".
Pizza with Prosciutto and Arugula is one of the family's favourite and I blogged about it a while back.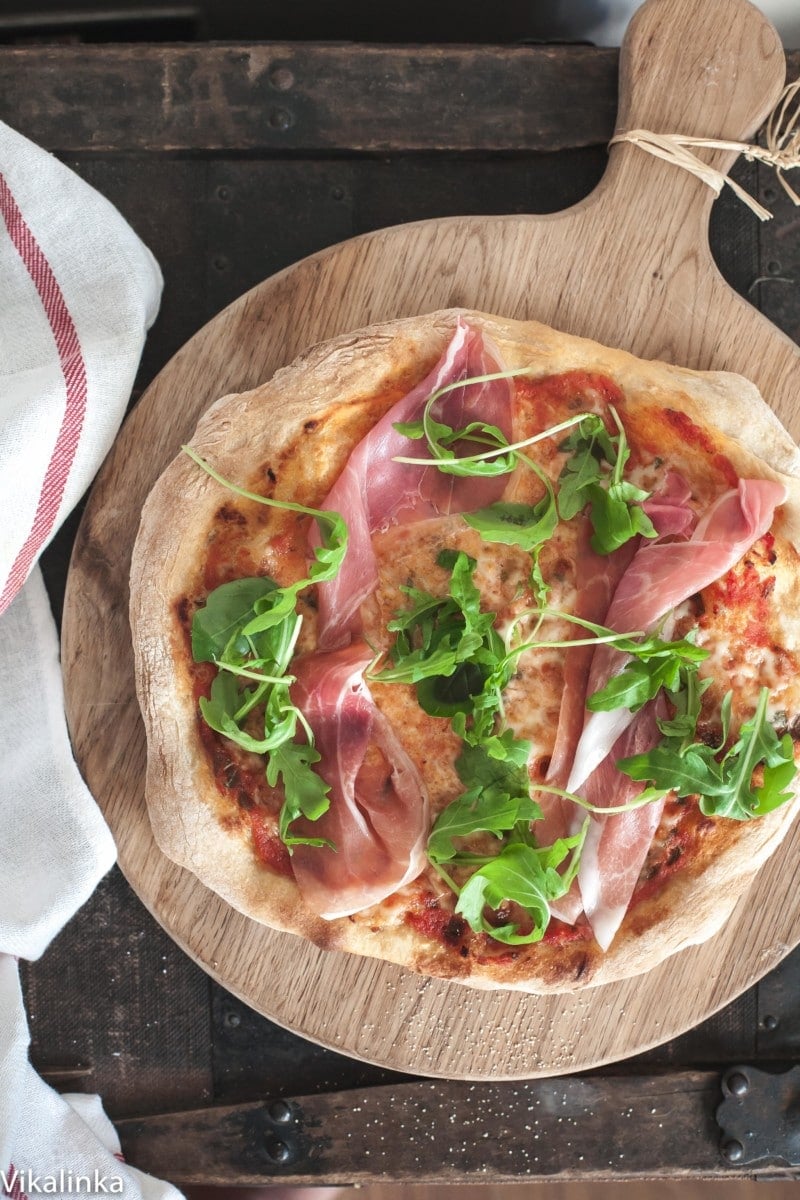 As much as I love it I was in the mood for something different. About a year ago when we were visiting Trento, Italy our friends took us to their favourite pizza place and I was finally introduced to the potato pizza I heard so much about. The city of Trento or Trent is situated in the north of Italy and being so close to Germany it has a lot of its influences, which is quite obvious in the type of food and beer consumption.
When I spotted potato pizza on the menu my curiosity was peaked and I had to order it! This pizza would be considered a pizza bianca since no tomato sauce is involved and the main flavour comes from cheese.
Let's get back to that potato pizza I had. Sounds bland, right?  But it's actually anything but bland! The crust itself is paper-thin in the middle, which serves only as a carrier for the delicious topping, and puffed up and chewy around the edges. I am not new to making or eating pizza and truth is you can always get good pizza, given your toppings are yum, pizza dough is a different matter altogether. It's hard to mimic incredibly hot wood-fired ovens they use in Italy but we can come pretty close. Each time I make pizza I think this pizza crust was a little bit better but I can improve it even more. After this one Mitchell said that he especially loved the crust. YESSSS!
If you are interested in the nitty-gritty of the perfect Italian pizza crust Laura from Blogging over Thyme wrote a really good and detailed post about it.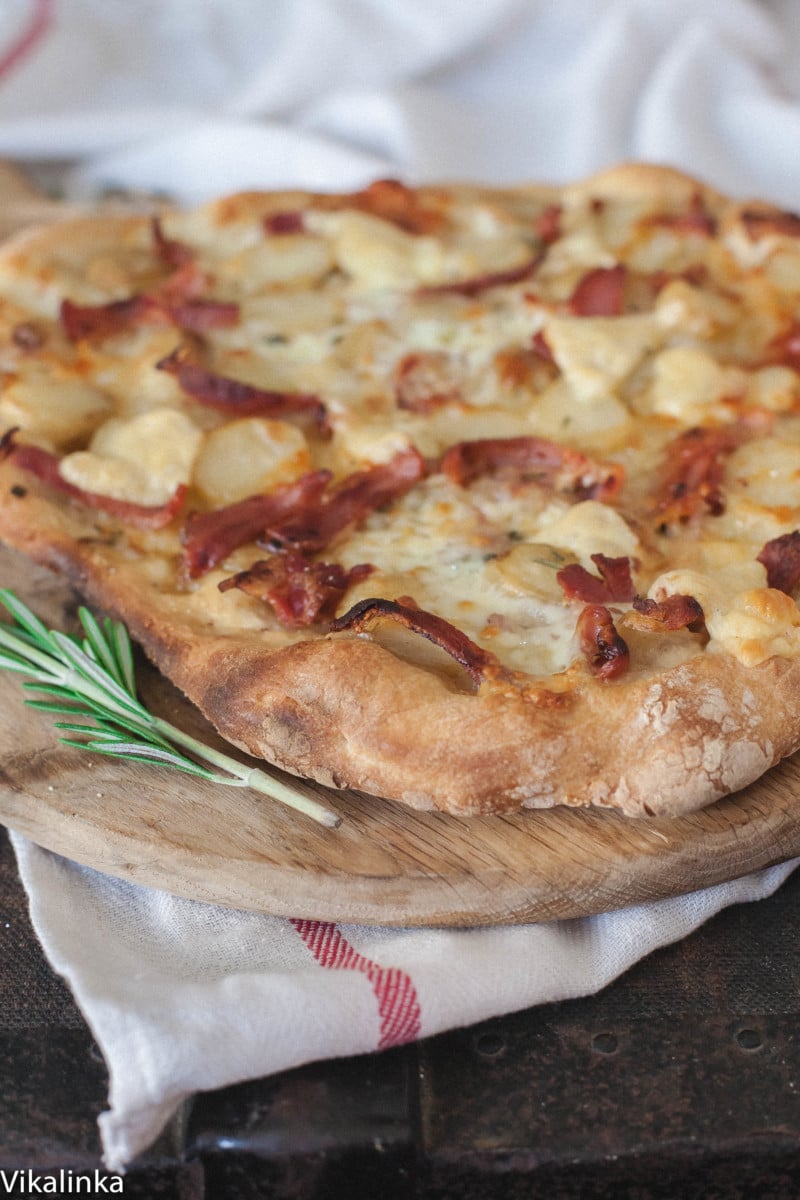 So what is so special about this potato pizza? Well to a Russian girl raised on meat and potato meals it felt like a warm hug on sad and chilly day she could never forget.  Just imagine golden potato rounds tossed with crispy pancetta flavoured with pungent rosemary and coated in fresh mozzarella! If this picture doesn't make you weep with joy, move on to something else, this pizza is not for you. If you are still with me listen on. After I topped my pizza with everything mentioned above I still had little gaps and I went a bit naughty and filled those gaps with more cheese…Edam to be exact.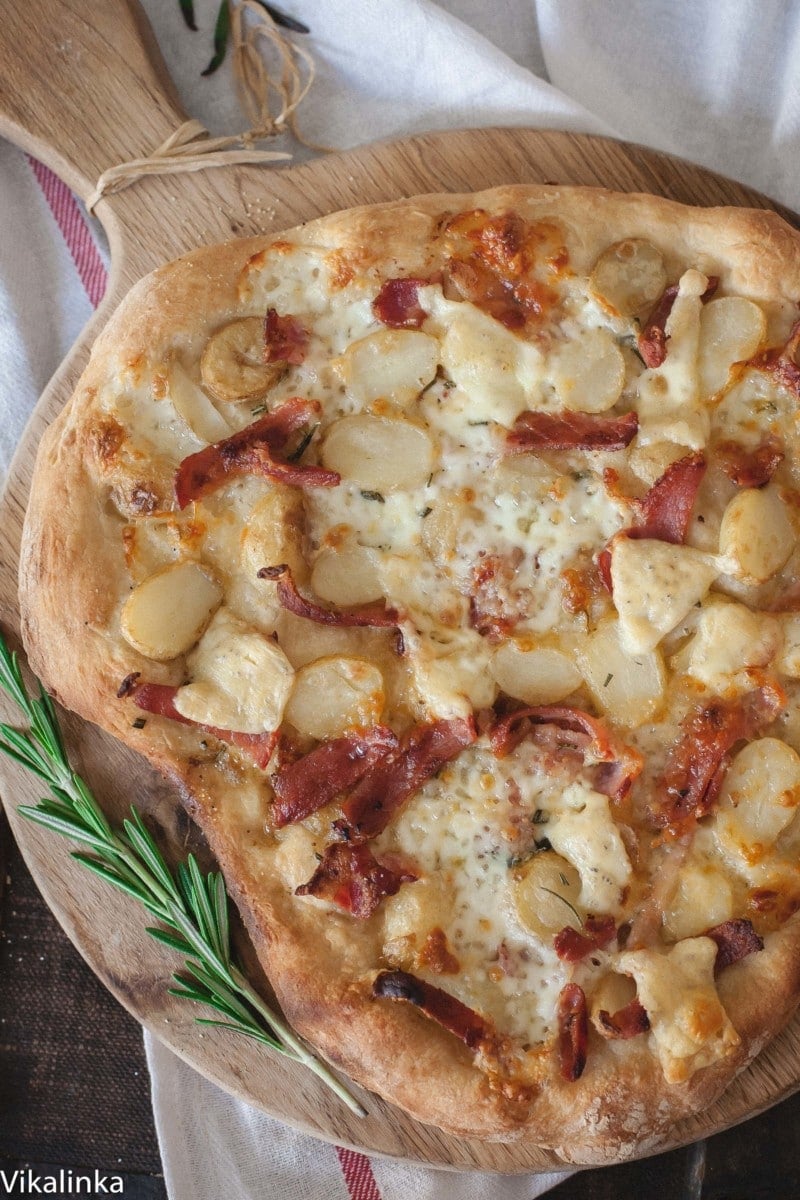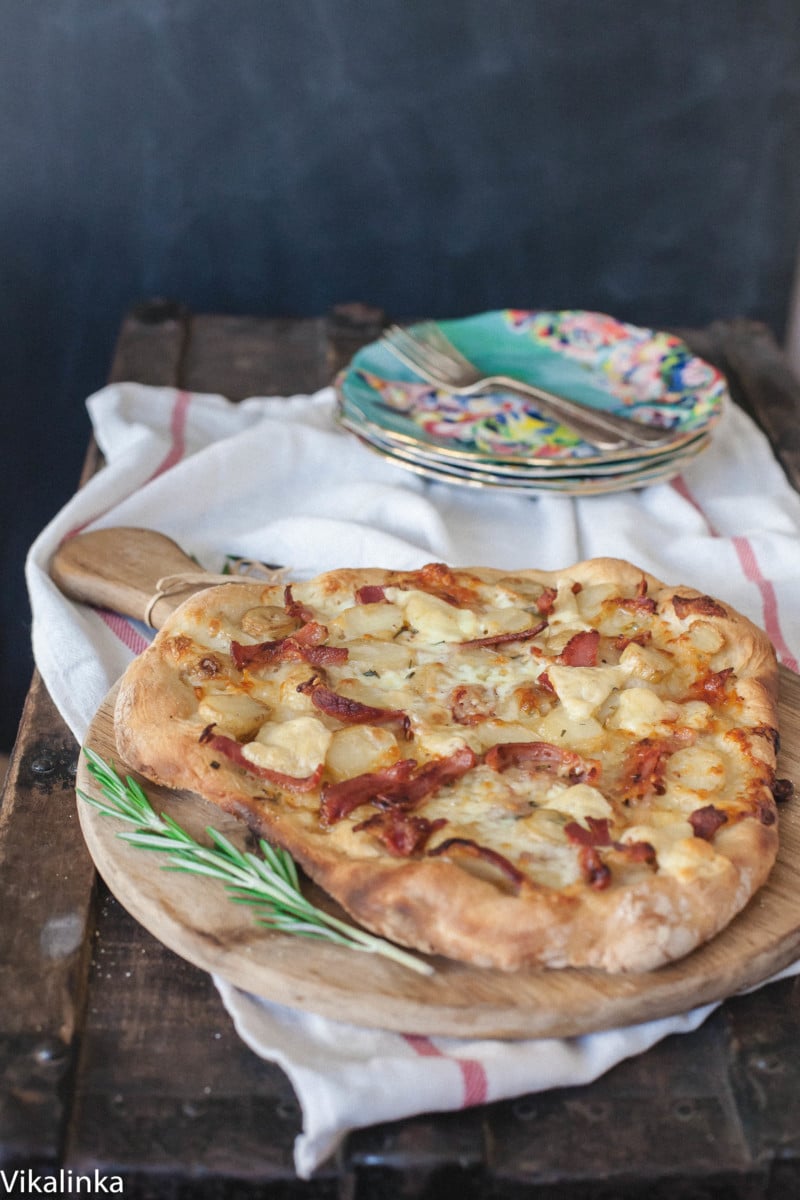 Ingredients
For the pizza dough
500

g

flour

2

tsp

salt

1

packet/7 g active dry yeast

1/2

tbsp

sugar

2

tbs

olive oil

325

ml

lukewarm water
For the toppings
3

tbsp

olive oil

8

pancetta strips/thick cut bacon

cooked

3

medium potatoes

boiled and sliced

2

rosemary sprig

leaves chopped

2

mozzarella balls

1/2

cup

Edam

grated
Instructions
For the pizza dough
In a bowl mix sugar, yeast, olive oil and lukewarm water and let the yeast work its magic for about 5 minutes.

Sift together flour and salt and empty the mixture in the food processor or a stand mixer, add the wet ingredients to the flour mixture and pulse it until the dough comes together.

Remove the dough from the food processor into a large bowl, cover it with a tea towel and let it rise somewhere warm for 2 hours. (You can easily make it by hand if you don't own the machines but they make this task a snap.)

Once the dough is doubled in size remove the bowl on a flour dusted surface and knead it a bit. Divide the dough into 3 equal sized balls.
For the toppings
While your dough is rising prepare the toppings by boiling unpeeled potatoes and cooking the pancetta or bacon.

When potatoes are cool enough to handle peel them and slice into 1/4" rounds.

Cut pancetta into strips and set both potatoes and pancetta aside.
Assemble pizza
Preheat your oven to 500F/300C or as high as it could go. If using pizza stone make sure it is preheating in the oven as well.

Stretch out your pizza dough until it is quite thin in the middle and slightly thicker around the edges and place it on a parchment paper that's been oiled or sprinkled with semolina or corn flour.

Spread 1 tbsp of olive oil on each pizza crust, then spread potato rounds and sprinkle with chopped rosemary, pancetta strips, mozzarella and Edam however you like it.

Transfer the pizza on parchment paper on the pizza stone.

Bake in it the preheated oven for 8-10 minutes. Don't wait longer than that or pizza will turn crunchy instead of soft and pliable.

Repeat with the remaining 2 pizzas.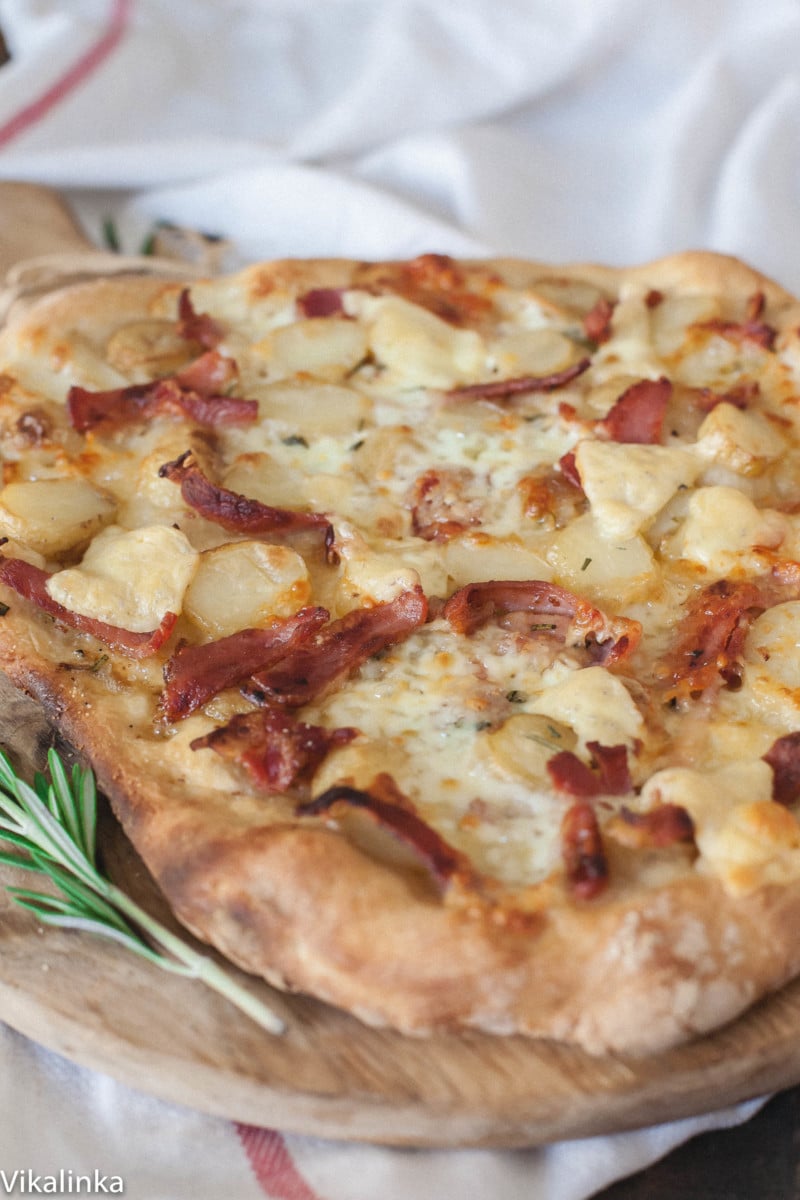 For more pizza recipes go to:
Spinach, Caramelised Onions and Roasted Garlic White Pizza is pure deliciousness from Two Red Bowls.
Beet Crust Pizza that looks like a work of art from Bakers Royale
Or this traditional and simply genius Italian pizza from an Italian (living in London) blogger and my secret crush London Fridge
Have a lovely week!
~Julia xx