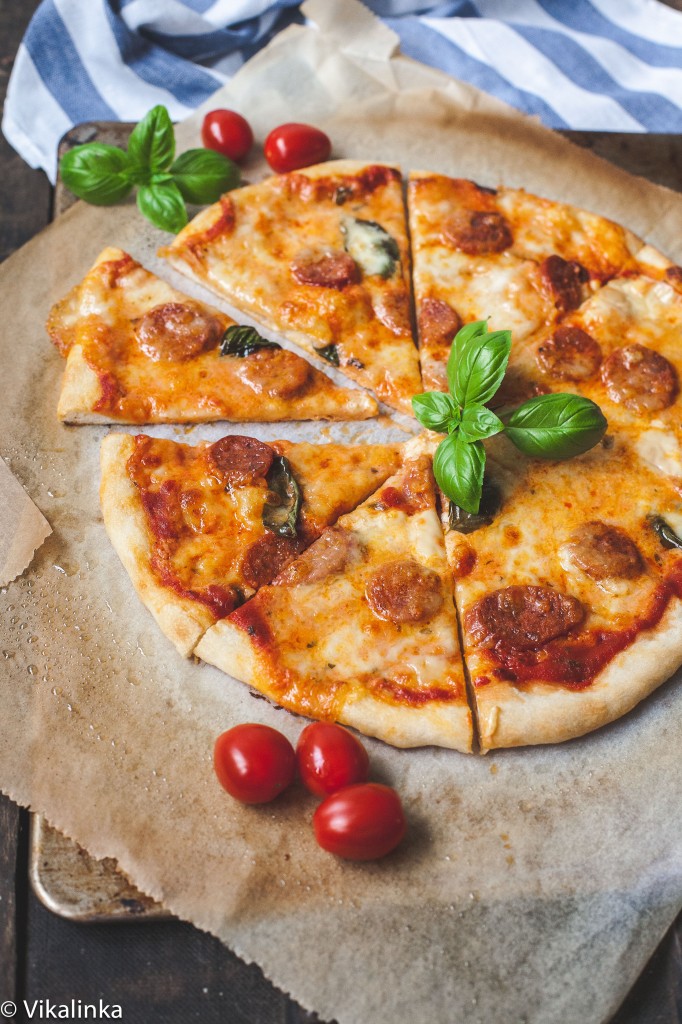 Friday is our pizza night. That is the plan anyway, it doesn't always happen. We don't always manage to make it ourselves, but when we do we aim to go big. My pizza dough recipe yield 4 medium size pizzas and the rule is they all have to be different.
Smoked Gouda and Chorizo pizza was not planned. It happened as an attempt to clean out the fridge and to please my little girl, the biggest chorizo fan known to man. I thought the slight smokiness of gouda and intense paprika flavour of chorizo would go nicely together.
No one prepared me for what a flavour bomb that pizza would turn out to be. Explosive. The kind that ripples through you long after it's gone leaving you longing for more. No other words to describe it. I will go even further to say it's imperative for every meat lover to indulge, and the sooner the better.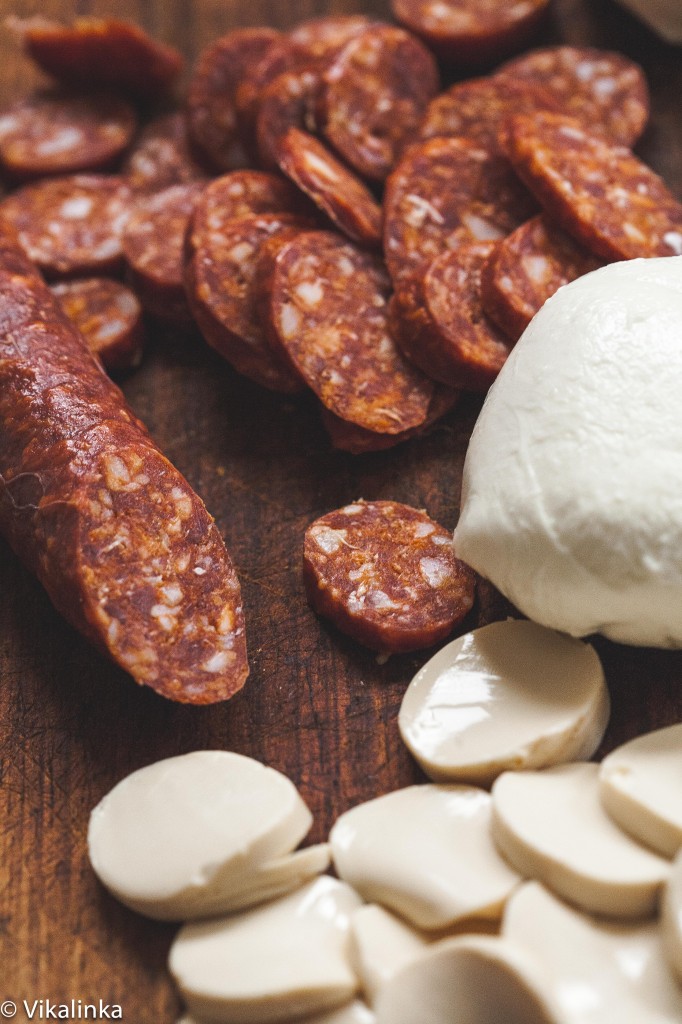 In the haze of pizza making and eating it hastily, as soon as it was snatched out of the oven, I couldn't be bothered taking any pictures. Even if I tried I would've had to pry it out my children's hands and mouths with a crowbar.
With the first bite, however, I knew this pizza deserved fame, and therefore needed to be made again and documented on this blog. So next week I made it one more there is a slight chance it will happen again the following week.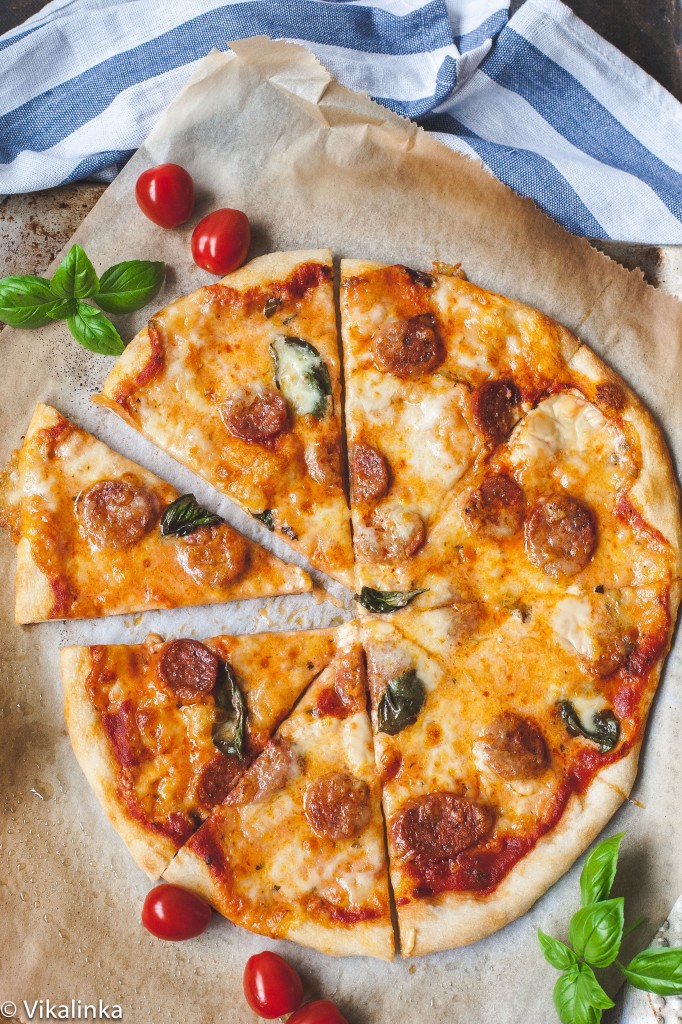 I am sure you can gather by now that I am absolutely smitten with these pizza toppings but what about the crust? I've had a standard pizza dough, that is extremely easy to make.
And it tastes great but not quite as great as in my favourite Italian restaurant in Greenwich. If you live in London or come here for a visit go to Bianco 43. Best pizza in London and even some parts of Italy.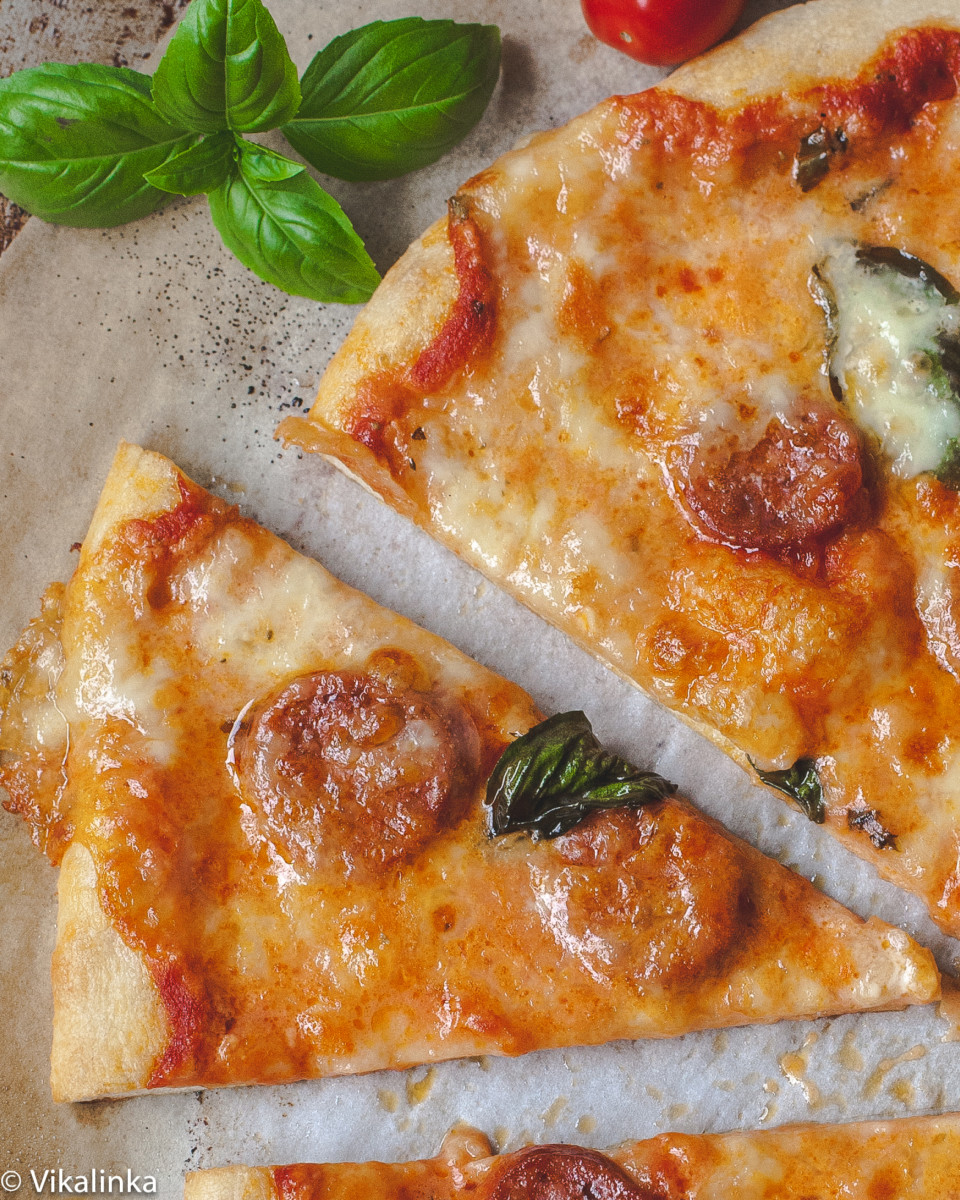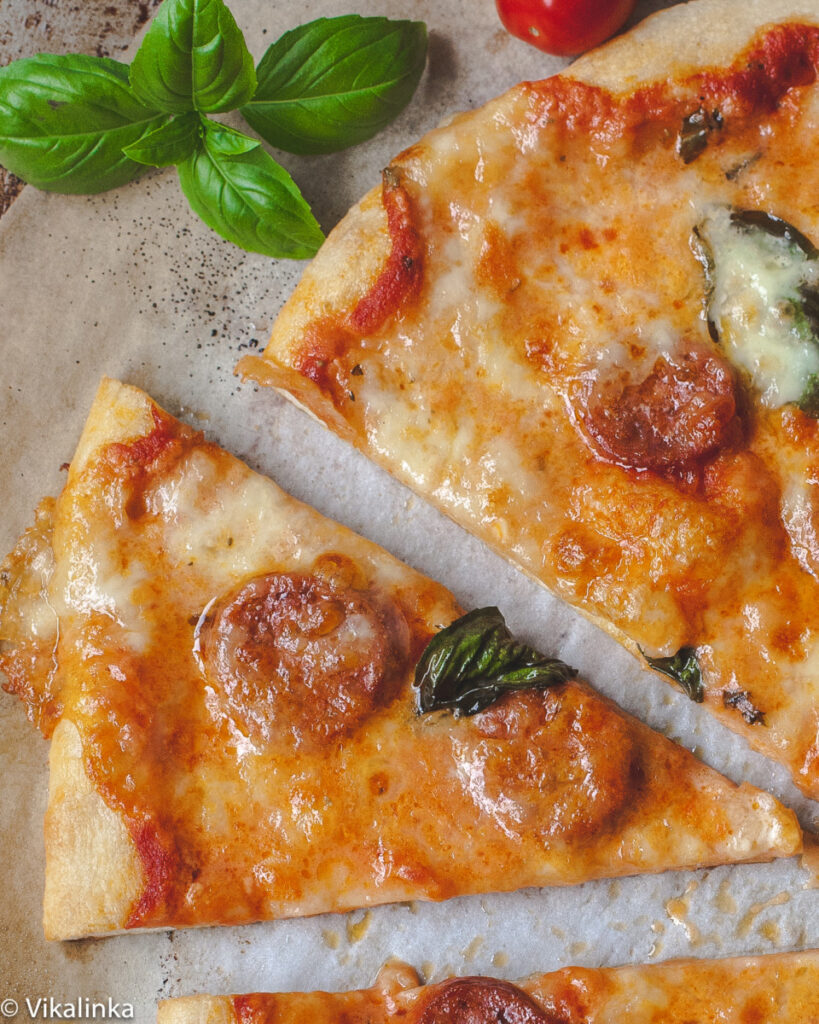 I am a perfectionist and I really wanted to nail that pizza dough. And given my recent obsession with no-knead bread I figured I could do the same with pizza dough.
So I searched the internet and I found this incredible recipe from Jim Lahey, which is what I used for this post. I think it's very important how pizza dough is handled and Jim Lahey shows exactly how to do it in his video.
The rising process is quite long but if you mix the dough, which takes 5 minutes, the night before it will be ready to be used in the morning. Perfect weekend treat.
I love no-knead dough, who wouldn't! Minimum effort that brings incredibly satisfying result. We all loved this new pizza crust- thin on the inside with the sides that puff up slightly and delight with a little crunch and a pleasant chew at the same time. Everything you'd want your pizza to be!
More Favourite Pizza Recipes: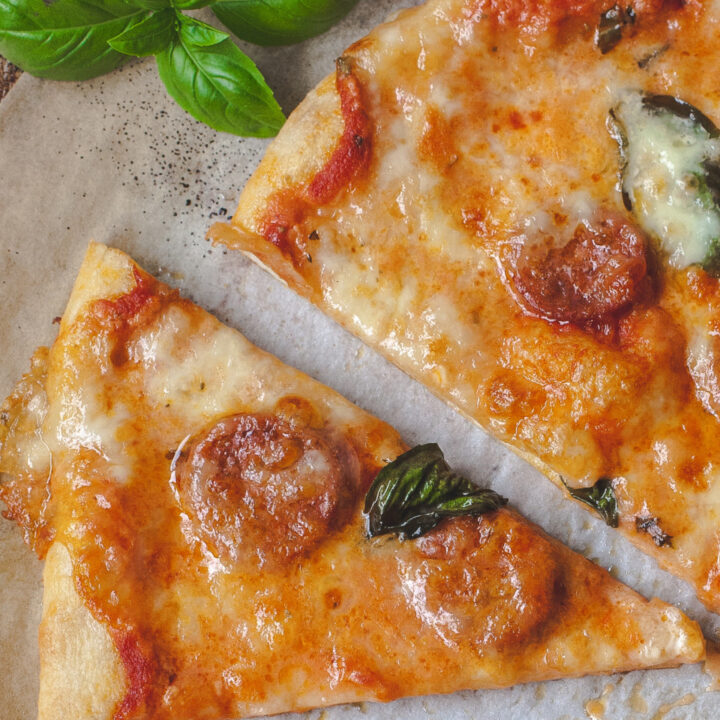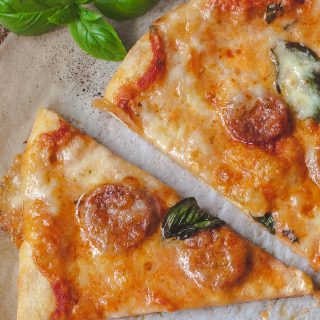 Smoked Gouda and Chorizo Pizza
Makes 2 medium pizzas
Ingredients
For the dough
400-450g/3 ¾ to 4 cups

bread flour

plus more for shaping the dough

¼

tsp

active dry yeast

2

tsp

sea salt

500ml/2

cups

warm water
For the pizza sauce
250ml/1

cup

tomato passata or crushed tomatoes

2

tbsp

extra virgin olive oil

4-5

fresh basil

chopped

½

tsp

dried oregano

salt
For the toppings
2-3 oz/60-80

g

chorizo

sliced

8oz/2X125g

fresh mozzarella balls

torn

4oz/100

g

smoked gouda

thinly sliced or shredded

6-8

fresh basil leaves
Instructions
The night before combine flour, salt and yeast in a large bowl. Add warm water and mix until the dough comes together. It will be scruffy but it's normal. Cover with a tea towel and put it in a warm place to rise from 8 to 16 hours depending on how warm your house is. (The dough should at least double in size, it took mine 16 to get there.)

Preheat your oven to 500F/260C. If using a pizza stone preheat it as well.

Remove your pizza dough on a floured surface, divide into two equal parts and roll them into balls. Cover with a tea towel and set aside.

Mix tomato passata with olive oil, fresh basil, dried oregano and salt.

Slice chorizo and smoked gouda.

Flatten your pizza dough ball into a disk and starting from the outside pinch it until it ¼" thin. Put your knuckles under the disk of the dough and gently stretch it until it's around 12" in diameter. (You can watch the link from Jim Lahey to get a good visual idea.)

Place the prepared pizza dough on a oiled parchement paper, spread some pizza sauce on it and top with chorizo, torn mozzarella ball, smoked gouda and a few basil leaves.

Carefully transfer on your hot pizza stone and bake for 10-12 minutes until the sides are puffed up and cheese has melted.

Repeat the process with the second dough ball.
Nutrition
Calories:
789
kcal
Carbohydrates:
80
g
Protein:
37
g
Fat:
35
g
Saturated Fat:
16
g
Cholesterol:
91
mg
Sodium:
2036
mg
Potassium:
421
mg
Fiber:
4
g
Sugar:
4
g
Vitamin A:
750
IU
Vitamin C:
6
mg
Calcium:
531
mg
Iron:
2
mg