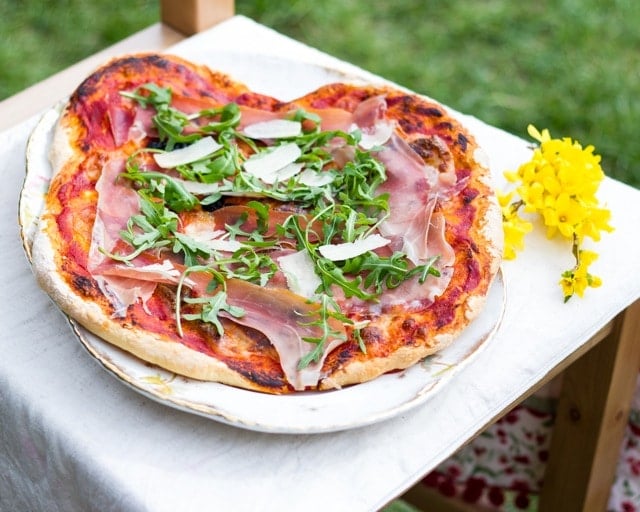 Who likes pizza? Who doesn't! I have a confession to make. I didn't like pizza for many years. I could eat pizza but it was never my number one choice if I had one. That until Brad and I went to Italy and had pizza the way God intended it to be. Thin yet satisfying crust crowned with a flavour galore of completely different toppings than we were used to…better toppings! The best part about Italian pizza is that flavour combinations are endless depending on the region of Italy you are visiting. With the variety you are facing one is guaranteed to find a favourite. Another great thing about Italian pizza is its simplicity. Is your mouth watering yet? Can't make it to Italy by the next weekend or no authentic Italian restaurant in your area? No problem. This post is all about the homemade pizza that tastes even better. In order to achieve that authenticity I asked my great friend Angela to join me. Angela is 100 % Italian who happens to be one of my best friends and since two months ago is my "next door neighbour". Alright, take that "next door neighbour" thing with a grain of salt, we do live in London after all but Angela and Tano and their two adorable girls live a stone throw away from us. That's better:-).
One beautiful Sunday afternoon we decided to get together for lunch in our garden and pizza seemed like a good idea. Needless to mention a good time was had by all.
Adorable child "numero uno" Signorina Gloria sporting "pizza face" 🙂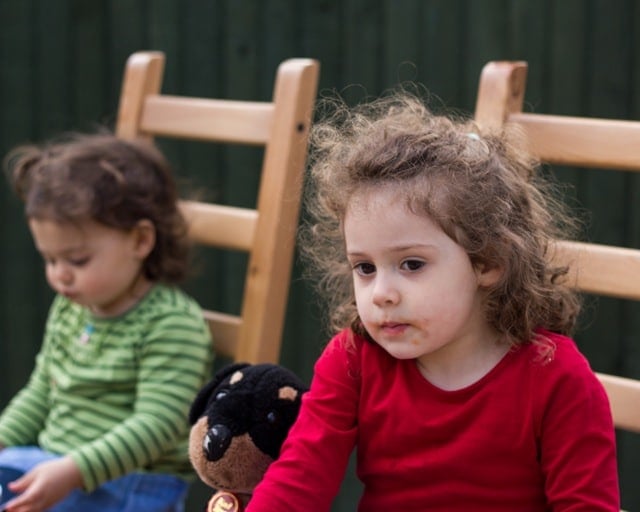 Adorable child "numero due" Signorina Sofia looking mischievous as usual.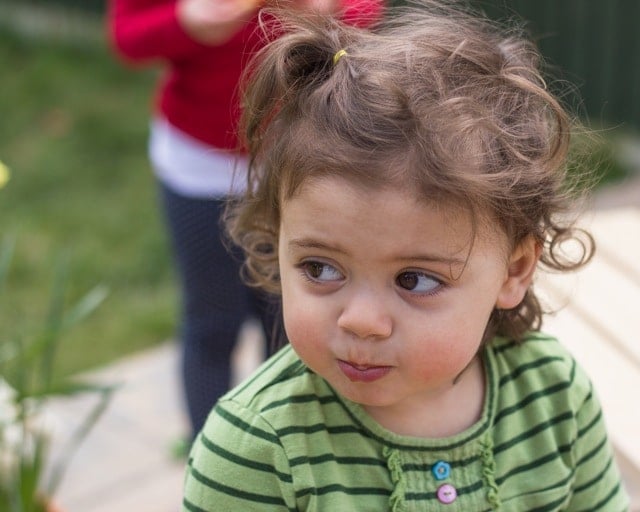 The usual suspects (minus me hiding behind the camera lens).


My children are taking a break from modelling this time and running wild in the garden while Sofia and Gloria are taking their place.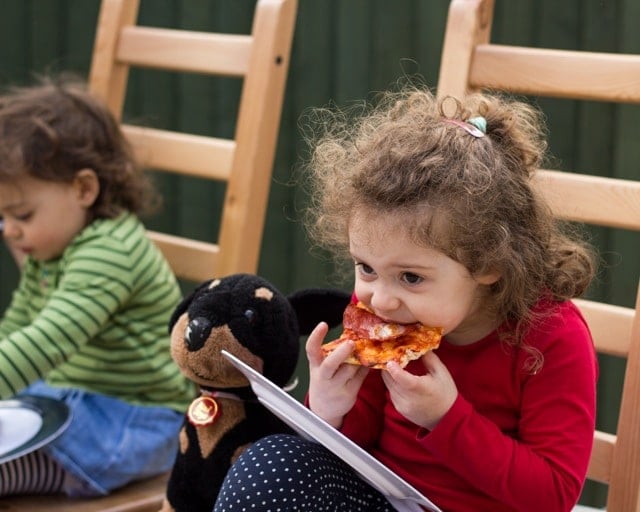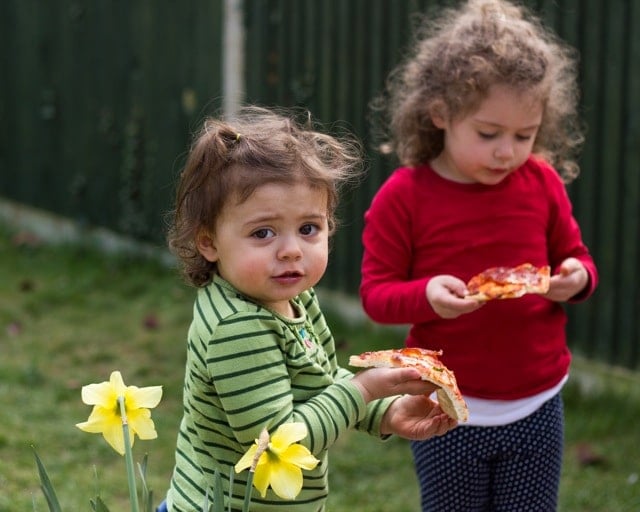 Here is a list of pizzas we made:
Prosciutto di Parma e Rucola Pizza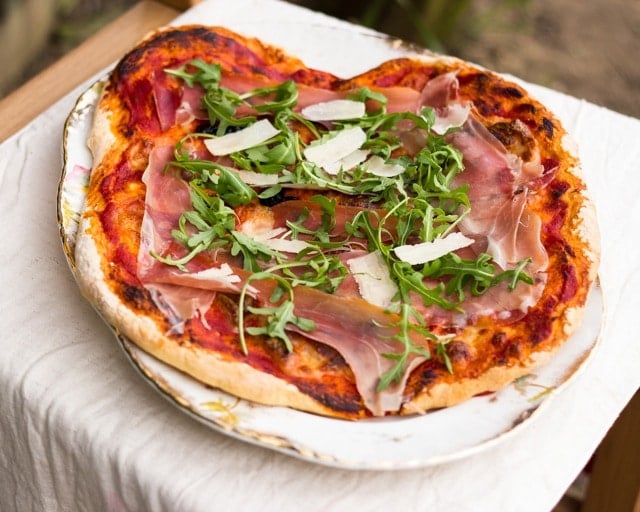 Salami and Mozzarella Pizza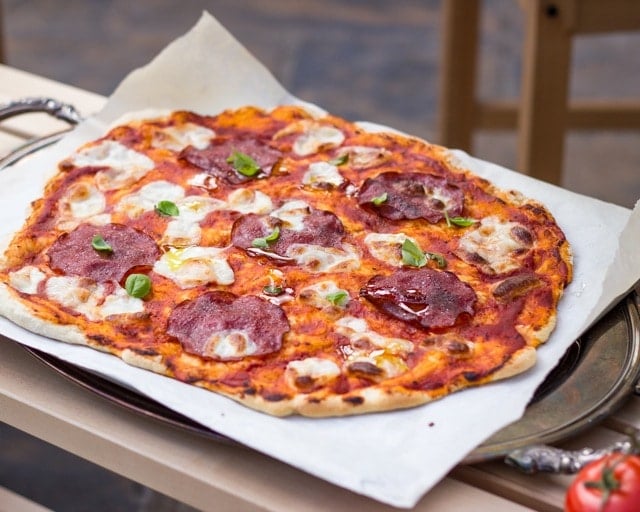 Ham, Artichoke and Moroccan Black Olive Pizza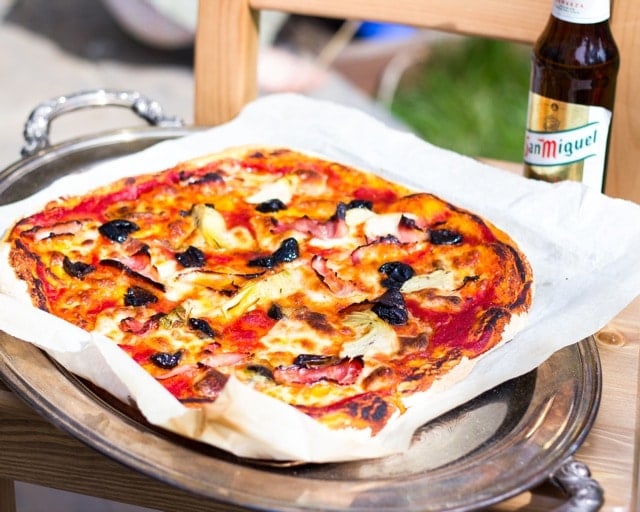 And here is how we made them. Ready?
Ingredients(for pizza dough): Makes 6 medium pizzas
Flour- 1 kg

Salt- 1 tsp.
Active Dry Yeast- 14 gr (2×7 gr packets)
Sugar- 1 tbsp.
Extra Virgin Olive Oil- 4 tbsp.
Lukewarm Water- 650 ml.
Method:
In a bowl mix sugar, yeast, olive oil and lukewarm water and let the yeast work its magic for about 5 minutes. Sift together flour and salt and empty the mixture in the food processor or a stand mixer, add the wet ingredients to the flour mixture and pulse it until the dough comes together. Remove the dough from the food processor into a large bowl, cover it with a tea towel and let it rise somewhere warm for 2 hours. (You can easily make it by hand if you don't own the machines but they make this task a snap.)
Once the dough is doubled in size remove the bowl on a flour dusted surface and knead it a lit bit. Divide the dough into 6 equal sized balls. Now Angela tells me that a real Italian never rolls out their pizza dough but works it by hand that is why their pizza is never perfectly round. I trust her wholeheartedly when it comes to Italian food. The girl can cook!
The picture below demonstrates 4 main steps in pizza making. (It's there just scroll down a teensy bit :-))
Ingredients for pizza sauce:
Tomato Passata (for non UK readers-passata is a smooth tomato puree)-1 tall jar
Olive Oil-1 tbsp.
Basil and Oregano-fresh or dried (I used fresh basil and dried oregano)
Ingredients for toppings:
Salami slices- 10

Fresh Mozzarella- 6×125/4 oz gr balls
Artichokes (from your local deli or tinned)- 4 0z/ 125 gr
Fresh basil – a handful
Black Olives ( we used Moroccan dry black olives from Sainsbury's)- 5-7
Prosciutto di Parma- 6 slices
Ham- 2-3 slices
Arugula/Rocket- a handful
Parmesan cheese- a few shavings
Method:
As you can see the quantities are hardly exact because it all depends on your taste. The main difference between American pizza and Italian pizza is that Italians don't overload it, instead they use a few really good quality ingredients that deliver that flavour punch. Usually there is only 1 or 2 toppings besides mozzarella. Also, Italian pizza crust is really thin. Pizza often gets a bad rep for being unhealthy but if you make it at home the Italian way it's not unhealthy at all!!!
Stretch out your pizza dough just like Angela is showing in the picture and let it sit for 10 minutes to allow it to rise again just a little bit. (However, if you like a very thin, I mean a paperthin pizza crust like Angela does, don't allow the second rise and top it right away.) Use 2 tbsp. of pizza sauce and 1 mozzarella ball per pizza, improvise with the rest! If you decided to make Prosciutto Di Parma e Rucola Pizza, place prosciutto slices and arugula on pizza after it's already baked with mozzarella and add a few shavings of Parmigiano Reggiano or any other good Parmesan cheese on top for the authentic touch.
Place your topped pizza on a parchment paper brushed with oil,( otherwise it will stick really badly as I learned the hard way) and bake at 450F/250C for 10 minutes or until the crust is baked all the way through and mozzarella is melted and bubbly.
The last and the main step is to enjoy it with your friends and family!