This fattoush salad is a dish everyone needs in their cooking arsenal!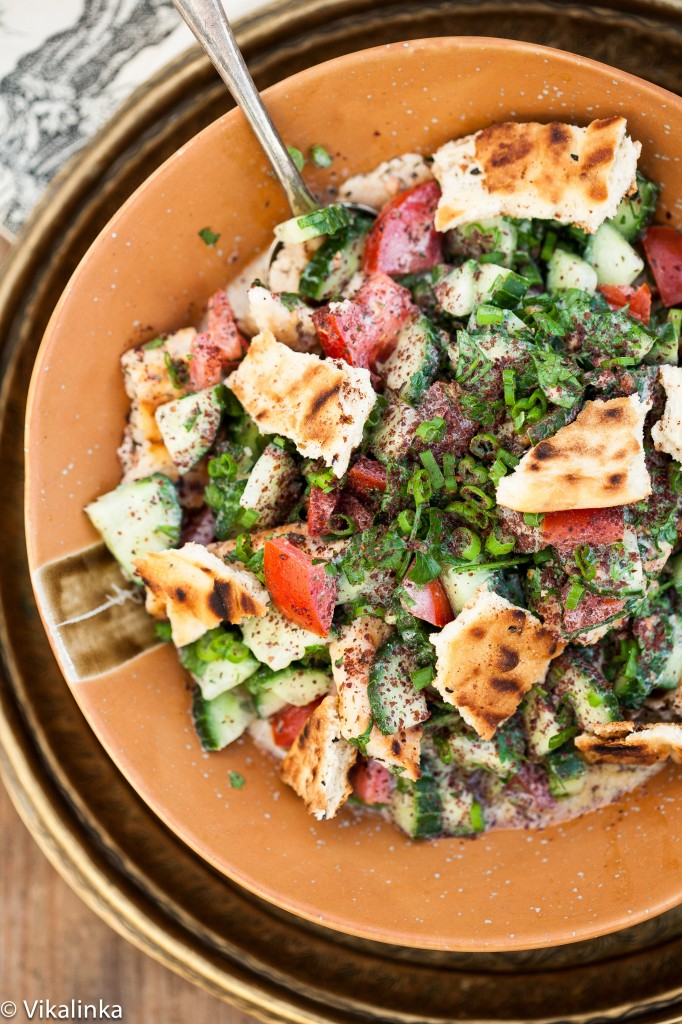 Last week while in Canada I met up with my friend Marla for lunch. I had no particular restaurant in mind so Marla took me to a Lebanese place called Kebab Village. As unimaginative name as that might be the same could not be said about the food.
It was fresh, creative and all around delicious.  As we scanned through the menu and then a kebab munching crowd, we decided not to join them but instead try new things, things with names that take linguistic training to pronounce.  Marla knew the menu better than me, and as she is an adventurous eater and cook, I could happily trust her with the choices.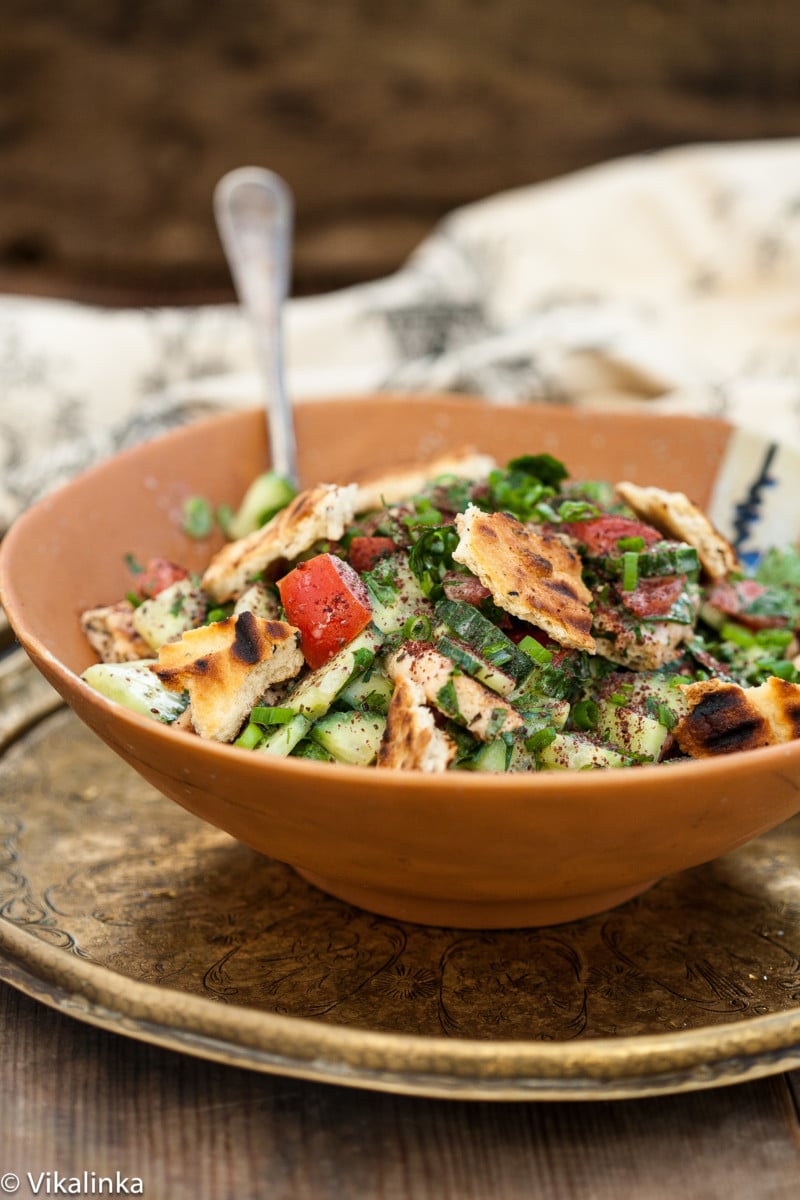 A few things arrived for sharing, almost none of which I could recognize. I am a regular hummus eater, I am no stranger to tabouleh and even shawarma but I didn't know most of the dishes that were served to us that day.
Luckily, I have no fear when it comes to tasting new food. It's fun for me! What did I discover? I really love Middle Eastern style of eating-loads of bold flavours and fresh herbs. What could be better!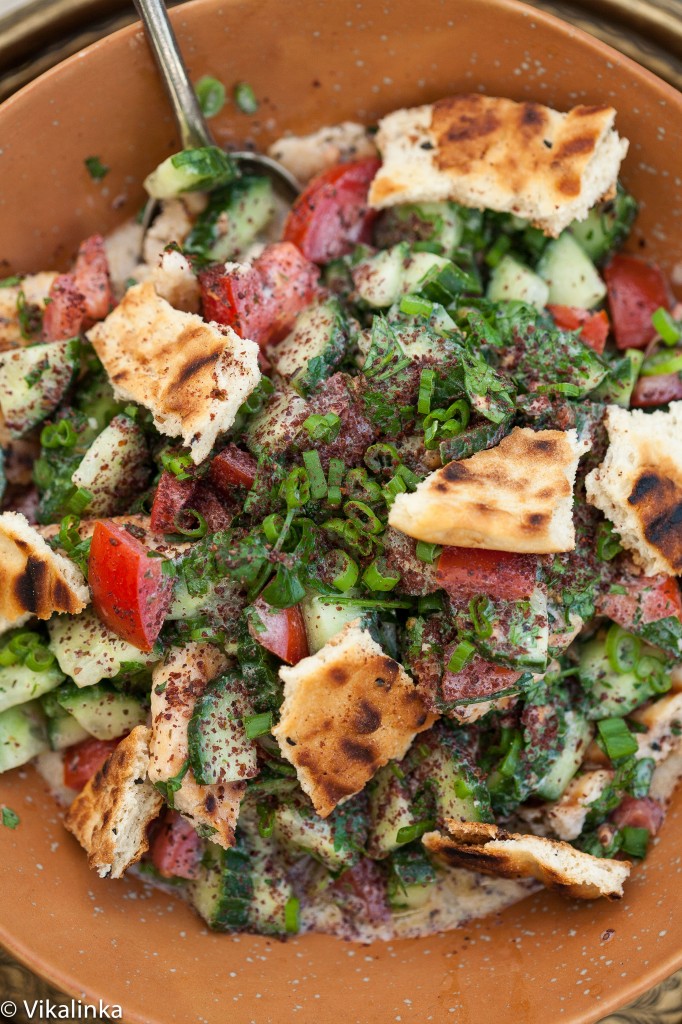 So when I got home I set out to re-create some of the flavours I loved.  Incidentally, one of my Christmas gifts was an amazing cookbook by Yotam Ottolenghi and Sami Tamimi, Jerusalem, a collection of the authors' personal favourites from their childhoods spent in Jerusalem.
This Fattoush salad comes from that book. It's slightly different from the one I shared with Marla at Kebab Village but as the authors say there are as many versions of this salad as cooks.
This famous salad uses fresh cucumbers, tomatoes, spring onions and lots of herbs. It's seasoned with a tangy buttermilk dressing. Pure Yum! What makes this salad a true winner with me is the addition of grilled flatbread.
My first attempt at making this salad was a complete success. I was afraid I wouldn't be able to re-duplicate the complex flavours of the salad at home, since all I had to work with was tomatoes and cucumbers but the result was  fresh and satisfying and far from plain.  I am adding it to my "regular" salad list.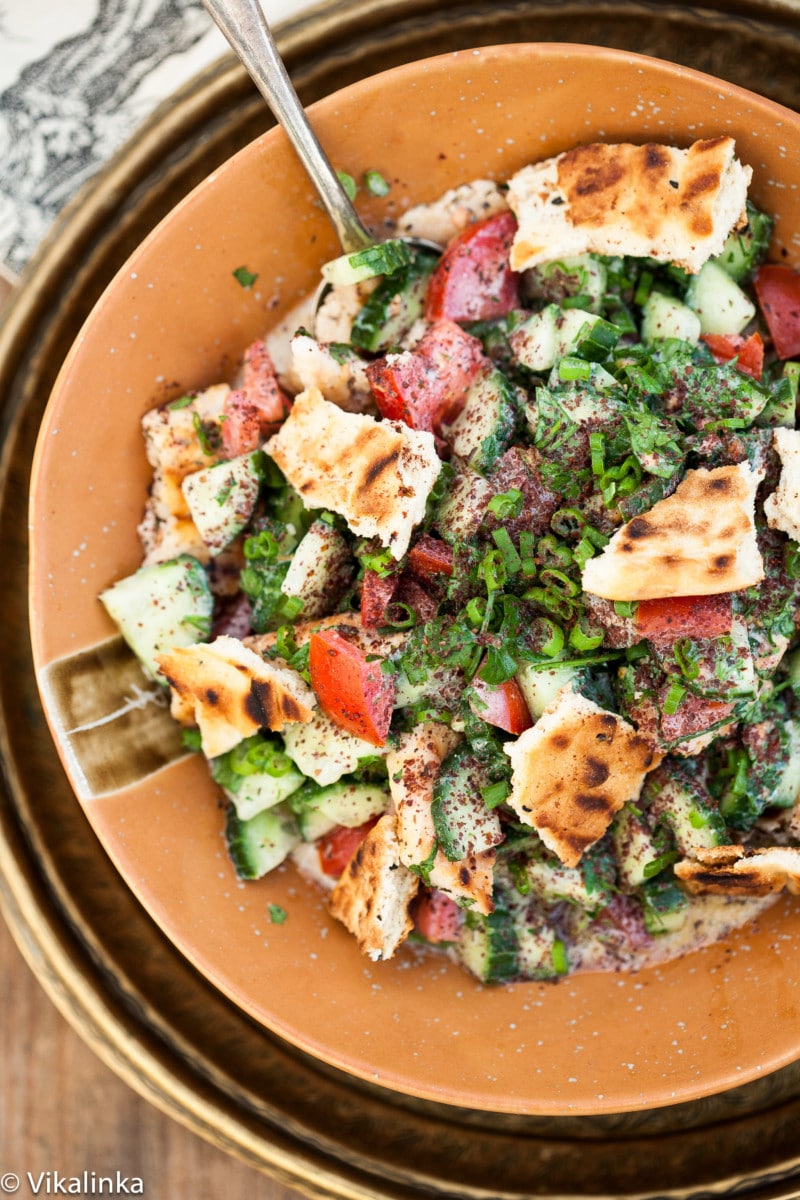 Ingredients
Stale Naan or Turkish flatbread

grilled- 1 large

Ripe Tomatoes

diced into 1/4 inch- 3 large

Thin English Cucumber or mini cucumbers

diced into 1/4 inch- 1 large or 3 mini

Spring onions

thinly sliced-2-3

Flat leaf parsley

chopped- 1 bunch/25 gr

Buttermilk- 1 cup/ 250 ml

Dried mint- 1tbsp.

Garlic

crushed- 2 cloves

Lemon juice- 3 tbsp.

White wine vinegar- 2 tbsp.

Olive oil- 2 tbsp.

Coarsely ground black pepper- 3/4 tsp.

Salt- 1 1/2 tsp.

Sumac

orange Middle Eastern spice- 1 tbsp.
Instructions
Grill or toast your naan or flatbread.

In a large bowl combine diced cucumbers, tomatoes, sliced onions, crushed garlic and chopped parsley.

In a small bowl combine buttermilk, lemon juice, white wine vinegar, olive oil, dried mint.

Pour the dressing over your vegetables, stir to combine and season with salt and pepper.

Tear the bread into small pieces and mix in the salad.

Sprinkle with sumac and let it sit for 10 minutes for the flavours to blend.

Serve on its own for a light lunch or as an accompaniment to a main course for dinner. The flavours will go with almost anything!