This edamame and butter bean hummus is a delicious and lighter take on the classic recipe. Made without tahini it's light on calories but not on taste!
For a chickpea hummus, take a look at our classic recipe!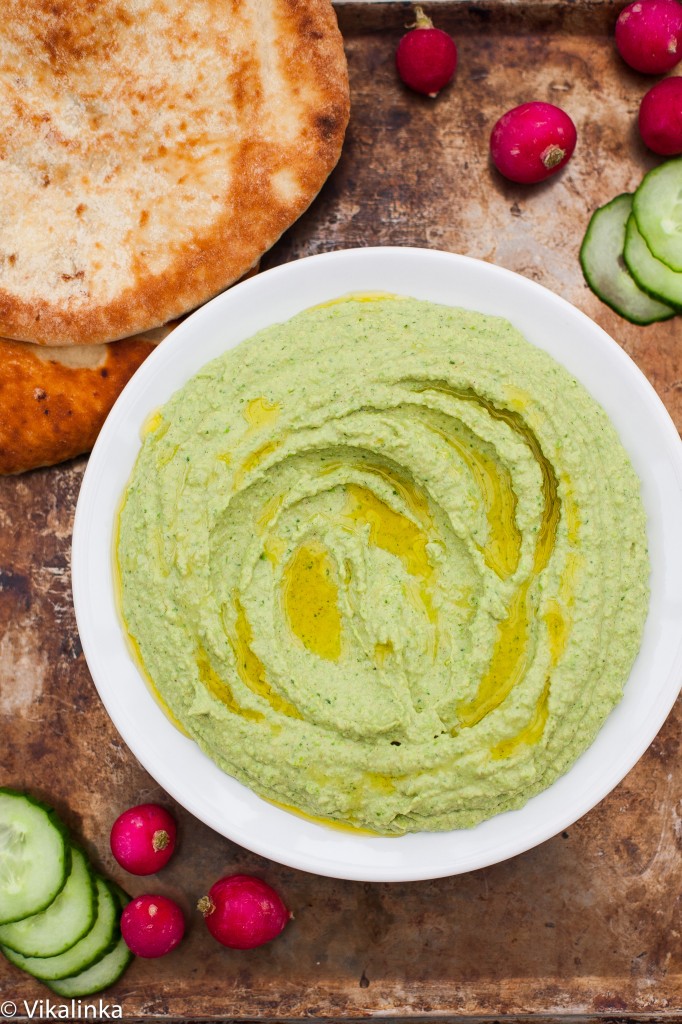 What's the mark of a good dip, you ask me? It's the speed at which it disappears at a party. And the one I've got here won't last long.
First off, it's gorgeous.
Secondly, it's a hummus of sorts.
Thirdly, do I really need to go on?
Okay if you insist, it's made with edamame beans which are a nutritionist's best friend- high in fibre, equally high in protein and carbs. Edamame beans are loaded with vitamins and minerals and taste so freakin' fresh and springy!
To up the springy taste I've also added fresh lemon juice and cilantro. Does cilantro taste like soap to you? Don't turn away yet, just sub it with fresh mint or flat leaf parsley. Honestly, it will work with any fresh herbs you love.
I usually make my own hummus, so much more economical and I know exactly what goes into it, plus I get to play with flavours and make it taste however I want. This hummus is the result of such experiments.
Butter Bean Hummus
Traditionally hummus is made with chickpeas, tahini and some extras. This bean hummus is a combo of edamame beans and butter beans. Let's talk about butter beans aka "my latest obsession" for a quick second.
I didn't really know about them in my "before England" life and it's a real shame. They are the creamiest beans you will ever meet, thus the name "butter beans" I suppose ,which make them absolutely perfect for hummus.
Butter beans are known as lima beans in North America.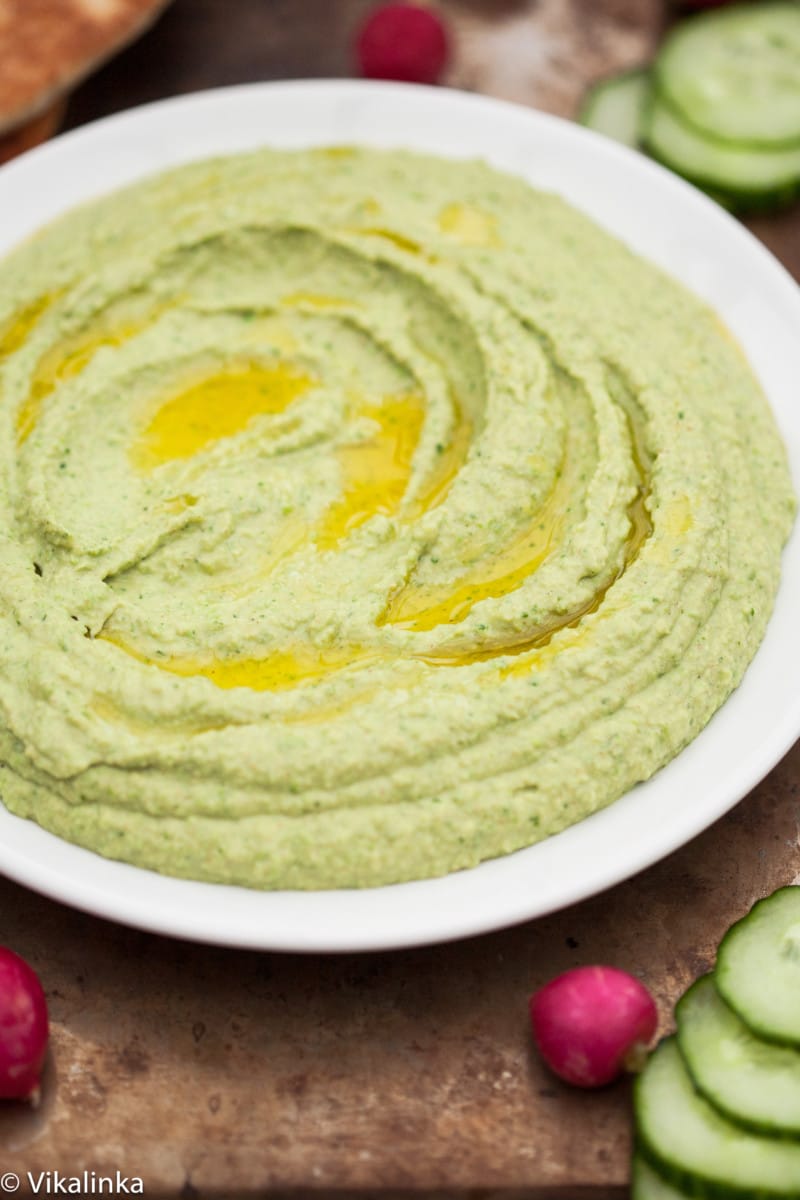 Is tahini essential?
Something else I should mention is tahini, I don't usually like hummus without it but in this particular recipe tahini doesn't add much flavour, in fact, I think tahini masks the natural taste of edamame. I've tried it both ways and I prefer this hummus without tahini. Less calories as well!
How to make it
The steps of making this hummus are as follows- throw all ingredients in the food processor (don't throw in the whole lemon though, just its juice :-)), press "start", release when the mixture looks like the last picture. Yes, that's it.
*When I grabbed my bag of frozen edamame beans from the freezer I realized that it was, in fact, a mix of edamame and broad beans. No matter, it works just as well.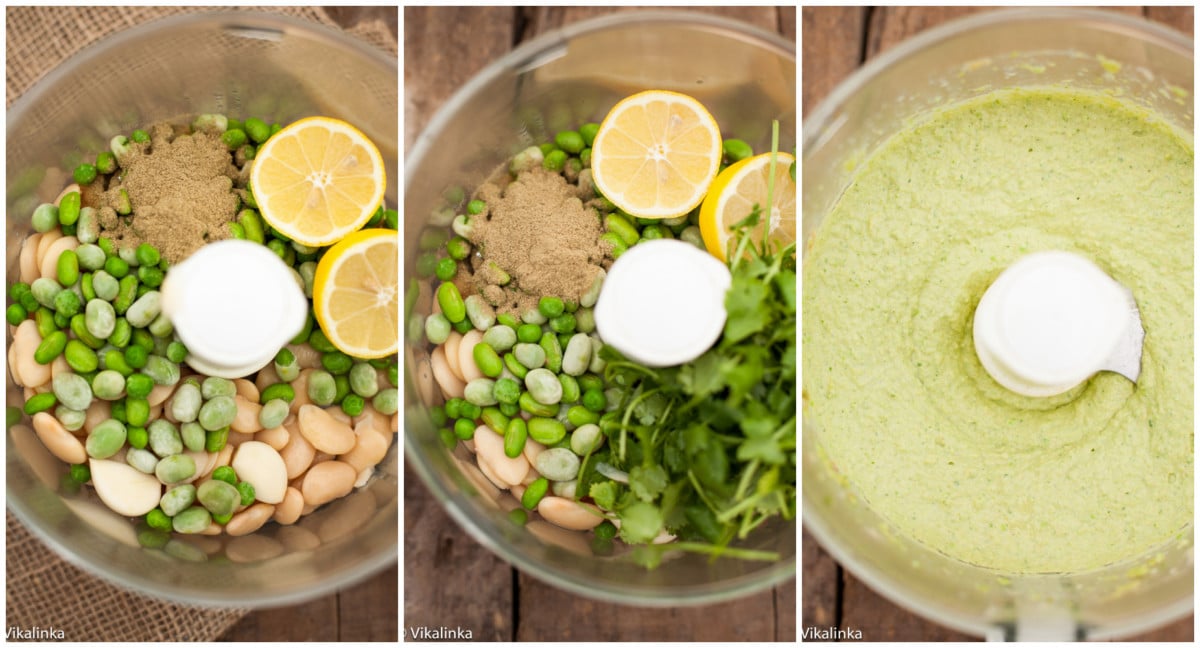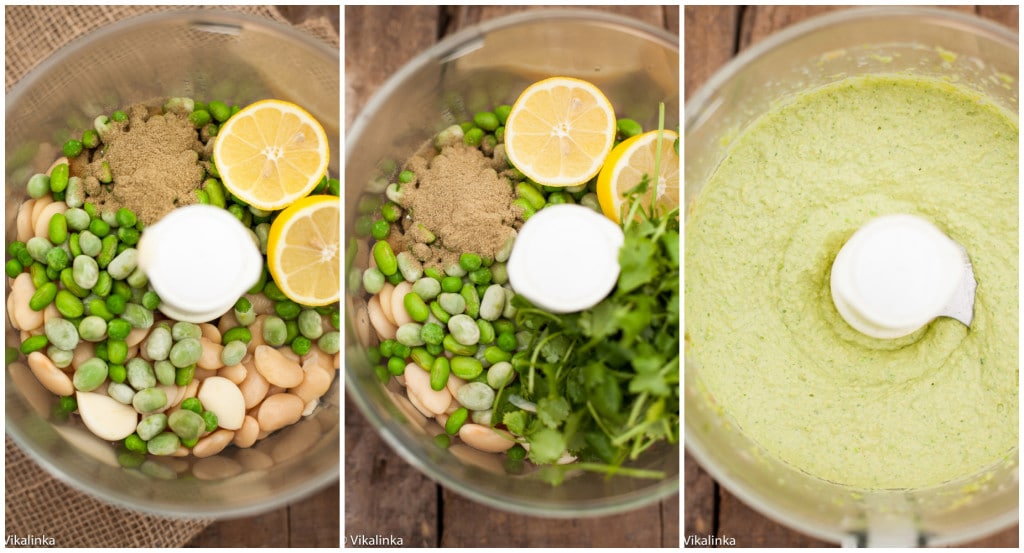 Serving suggestions
Pile freshly made hummus on a plate, make swirls with a back of a spoon and fill them with extra virgin olive oil. Serve with fresh vegetables, pita bread, crackers, etc. My absolute favourite pairing is naan bread!
Recipe originally published in 03/2014. Updated and republished in 02/2020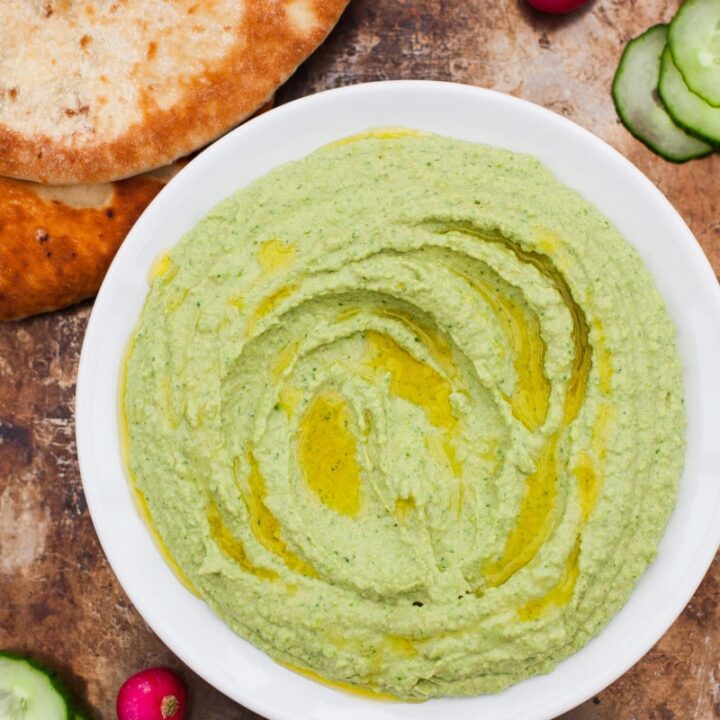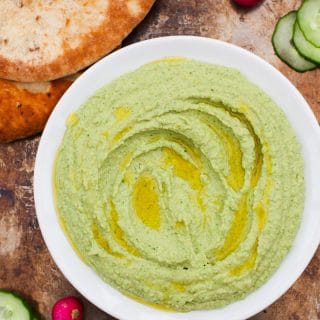 Lemony Edamame and Butter Bean Hummus
This edamame and butter bean hummus is a delicious and lighter take on the classic recipe. Made without tahini it's light on calories but not on taste!
Ingredients
1

cup

edamame

shelled

1

cup

canned butter beans or chickpeas

3

tsp

cumin

2

cloves

garlic

¼

cup

water

½

tsp

salt

1

lemon

juice of

½

cup

packed cilantro

leaves and stalks

¼

cup

extra virgin olive oil

¼

cup

This is an affiliate link.

tahini

optional
Instructions
Defrost your edamame beans if using frozen.

In a bowl of a food processor combine edamame beans, butter beans, garlic, cumin, water, salt, lemon juice, cilantro and tahini (if using).

Pulse until well blended, with the motor of the food processor still running pour in olive oil through the shoot in a slow, steady stream, blend for 10-20 more seconds till creamy and well combined.
Nutrition
Calories:
118
kcal
Carbohydrates:
9
g
Protein:
4
g
Fat:
8
g
Saturated Fat:
1
g
Sodium:
150
mg
Potassium:
241
mg
Fiber:
3
g
Sugar:
1
g
Vitamin A:
77
IU
Vitamin C:
9
mg
Calcium:
28
mg
Iron:
2
mg