This falafel with tabbouleh salad bowl is a game changer! A delicious salad bowl that is bursting with Middle Eastern flavours of tabbouleh, hummus and crispy baked falafel.
Serve with our easy flatbread for a glorious lunch or a vegetarian dinner.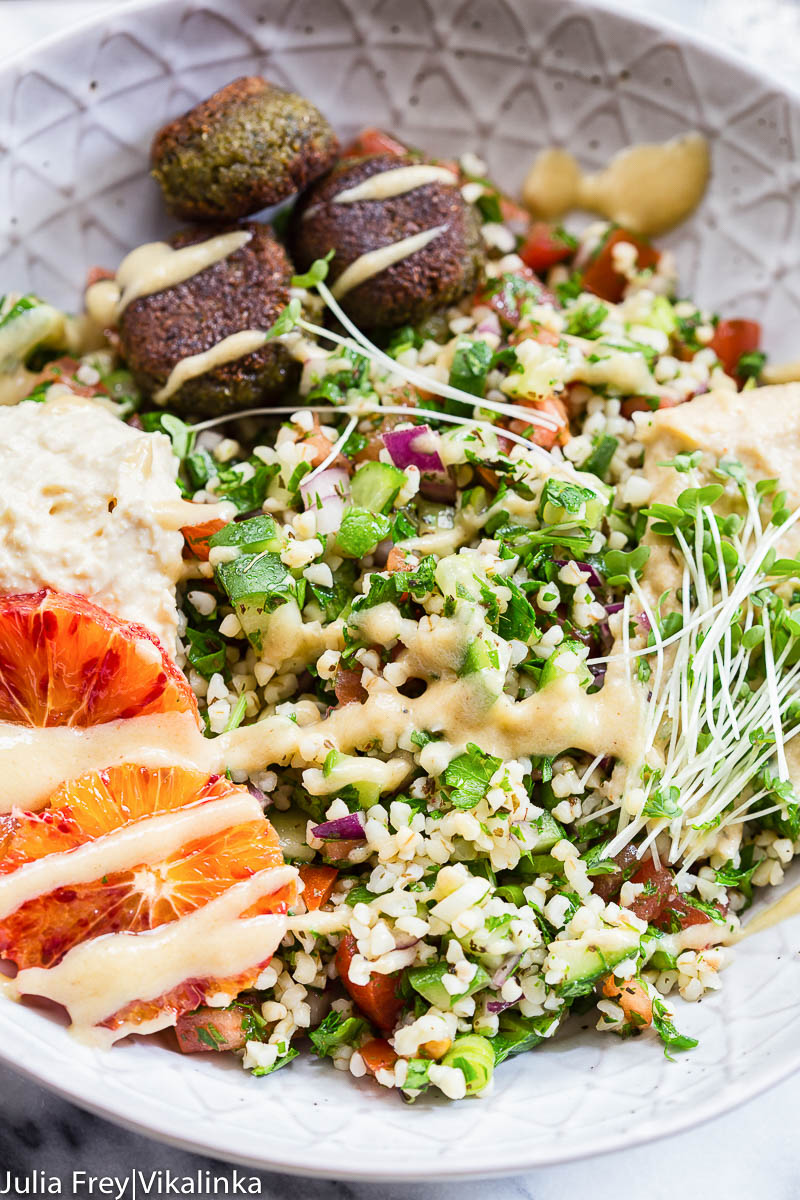 What do you guys eat for lunch? I try to eat salads every day but I am only human, and I occasionally stumble and fall.
What I crave is full blown FLAVOUR, which healthy salads often lack. But it doesn't have to be this way. It's easy to introduce flavour to salads without compromising on the "good for you" aspect.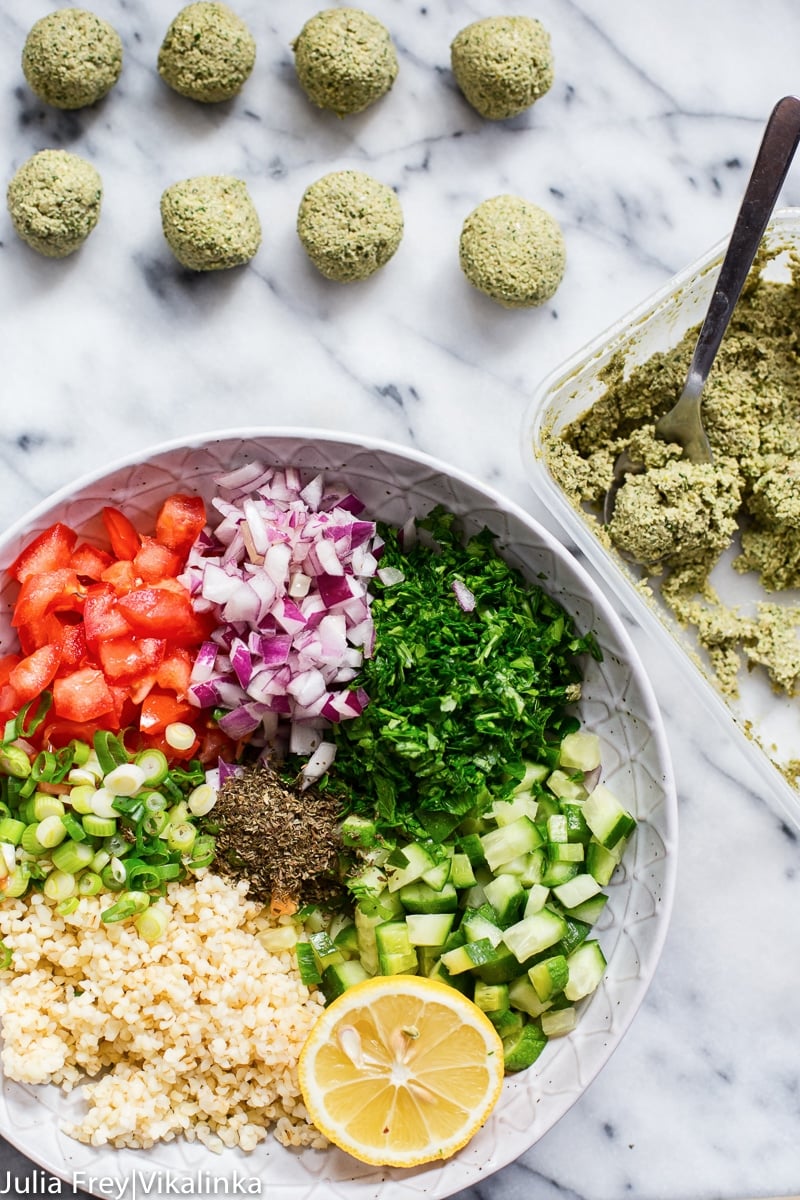 Salad Bowl Recipes
Let's take this salad bowl filled with veggies and packed with tabbouleh, creamy hummus, oven baked falafel and and smoky baba ganoush. All those individual items have got flavour for days and if you put them together, my oh my!
Without a doubt one of the best thing you could eat for lunch or dinner! No joke.
I adore bold and vibrant Middle Eastern cuisine with its liberal use of fresh herbs and vegetables. I shared a similar salad bowl but made with grilled chicken about a year ago, which we eat often.
My other favourite is a tomato and cucumber salad in a tangy buttermilk dressing with a hint of sumac aka Fattoush Salad. It is served with torn grilled flatbread, a snap to make.
All these recipes could be served together for a beautiful Middle Eastern feast. Don't forget to add creamy tzatziki and crunchy veggies to round it off.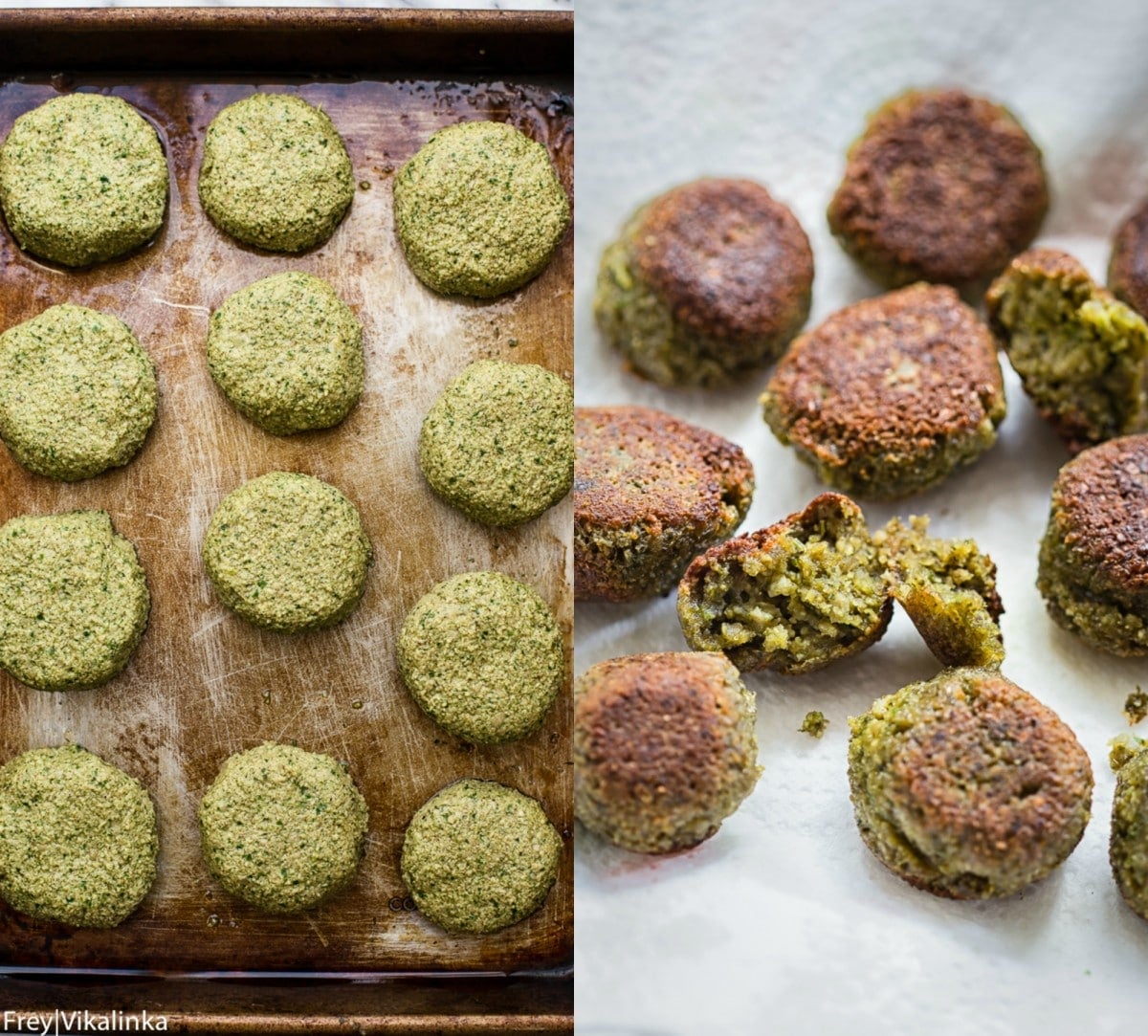 Top Recipe Tips
I guess what makes salad bowls difficult is multiple components. The good news is it's actually easier than you think. The answer is BATCH COOKING.
What I usually do is cook several servings of a grain of choice (grains makes salads more filling and are so good for us) like quinoa, buckwheat, farro or bulgur in this case.
Legumes like lentils or beans (the canned variety is also acceptable) and make or buy what I call "flavour makers" like hummus, feta, delicious salad dressings, and a side of protein like chicken, ham, tuna etc.
Then I just mix and match throughout the week and add various vegetables depending on what I like. This way my salads are way more interesting and are easily prepared the night before!!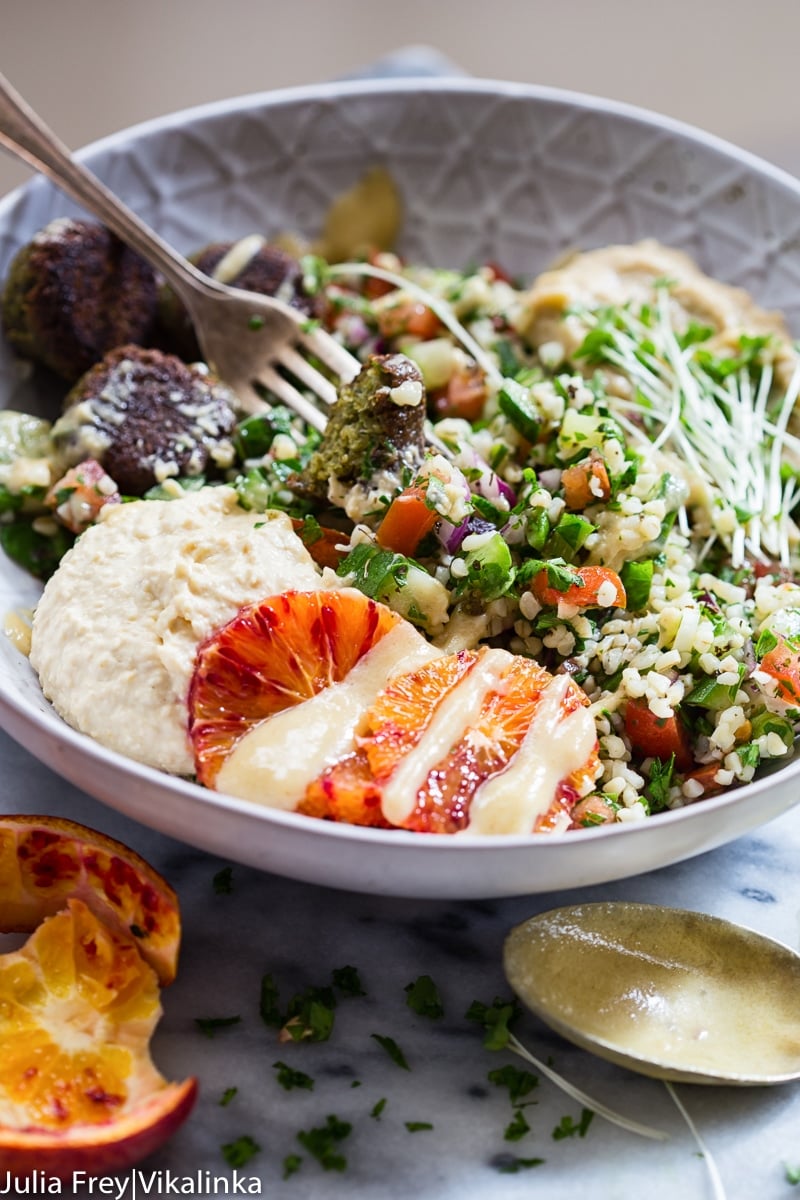 The Salad Dressing
Tahini dressing or a sauce is something I absolutely adore. It works so well in this falafel and tabbouleh salad but it also works great with plain roasted carrots!
Tahini is a paste made of ground sesame seeds. It is also what gives our beloved hummus its distinct taste and creamy texture. This gorgeous ingredient is widely available in every supermarket.
For the dressing all you have to do is to combine the tahini, lemon juice and garlic with a little water to make the mixture runnier. Done!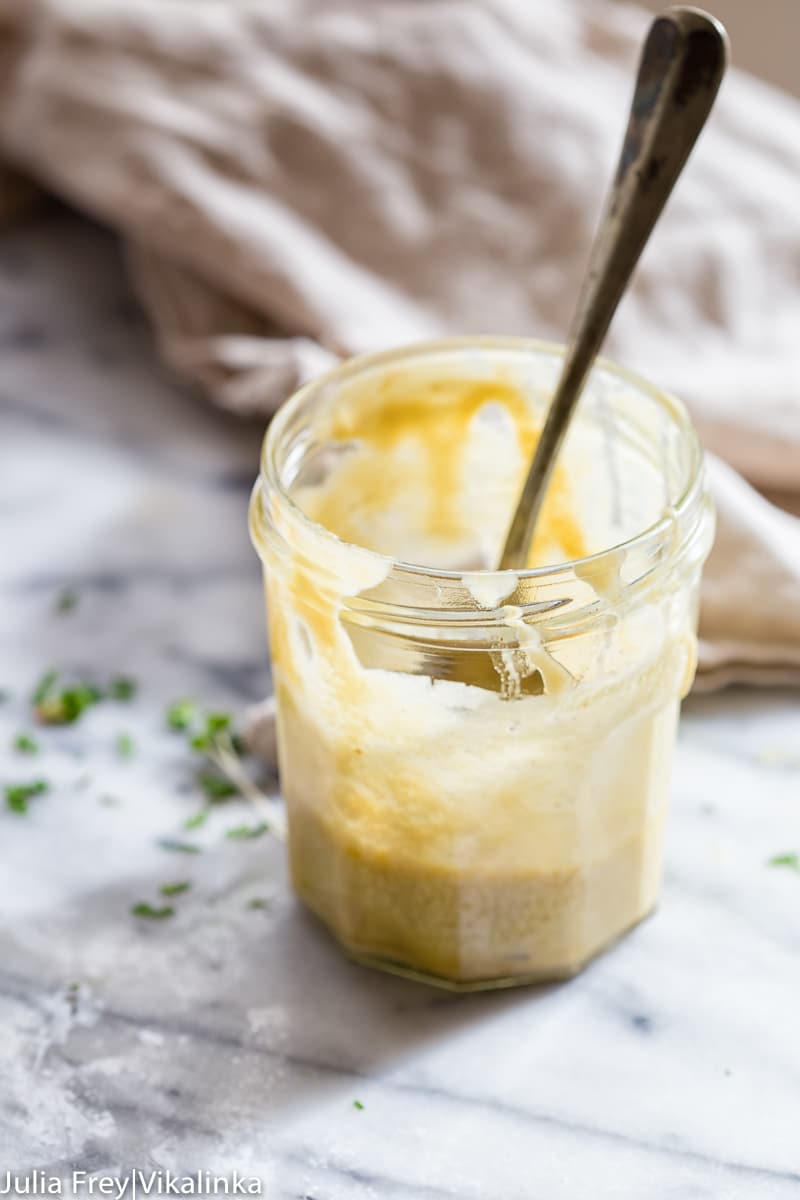 Can I bake falafel?
Alright, let's talk about falafel.
I am a big fan of falafel in general but I am even a bigger fan of this falafel in combination with this tabbouleh and all the other delicious things. Hummus, baba ganoush and the tahini dressing all add incredible complexity to this falafel bowl.
I've been hesitant to make my own falafel because I don't like to deep fry food. I decided instead to bake my falafel. I have done so in the past and liked it.
Baking falafel was okay but I found that through baking you either sacrifice the crispy exterior or moist interior. So on my second try I pan fried it. 2-3 tablespoons of oil is all you need!!
If you do choose to bake it, do it on an oiled pan at 190C/375F for 10 minutes on each side.
I know it looks like a LOOOONG ingredients list but the actual cooking is minimal. Most of the things only need to be blitzed in a food processor. Hummus and baba ganoush could be prepared a few days ahead of time or purchased in a store.
More salad bowl recipes: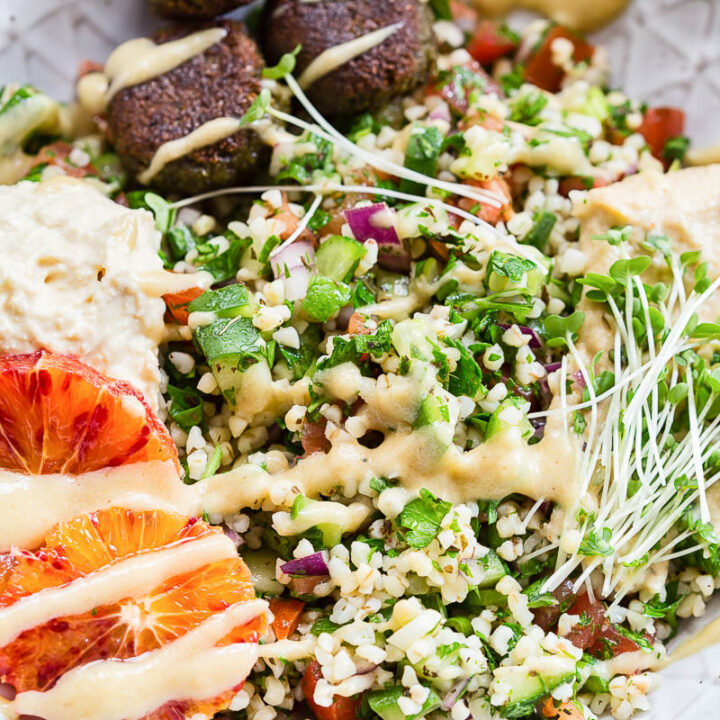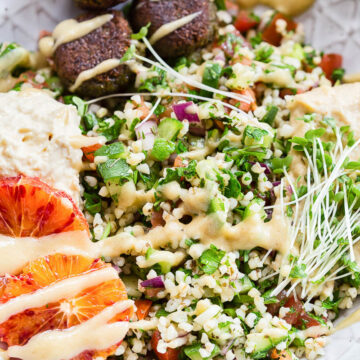 Falafel Salad Bowl
A delicious salad bowl bursting with Middle Eastern flavours of tabbouleh, hummus and crispy baked falafel.
Ingredients
For the falafel
250

g

/1.5 cups dried chickpeas

soaked in water

1

tsp

ground cumin

1

tsp

ground coriander

1

tsp

baharat spice

optional

1

tsp

salt

4

spring onions

chopped

4

garlic cloves

50g

g

/1cup cilantro

25g

g

/ ½ cup parsley

½

tsp

baking powder

2

tbsp

olive oil
For the tabouleh
260

g

/ 2cups bulgur

cooked

3

tomatoes

medium, diced

2

cucumber

medium, diced

1

red onion

diced

4

green onions

sliced

2

tsp

dried mint

1

cup/50g parsley

chopped

salt

2

lemons

juice of

3-4

tbsp

olive oil
For the baba ganoush
2

eggplants/aubergines

medium

1

garlic clove

1

tbsp

This is an affiliate link.

tahini

1

lemon

juice of

1-2

tbsp

olive oil

salt

1

tsp

smoked paprika
For the hummus
340

g

/ 2cups chick peas

3

tsp

cumin

2

cloves

garlic

4

tbsp

water

½

tsp

salt

1

lemon

juice of

4

tbsp

This is an affiliate link.

tahini

4

tbsp

extra virgin olive oil
For the tahini dressing
1

tbsp

This is an affiliate link.

tahini

1

lemon

juice of

2

tbsp

olive oil

2

tbsp

cold water

salt to taste

1

blood orange

optional

micro herbs like salad cress

optional
Instructions
For the falafel
Soak dried chickpeas overnight, they should swell and look the same as canned ones but still quite hard.

In a food processor combine all falafel ingredients and process until you have a paste. Roll falafel into small balls, approximately 2 inches in diameter, then flatten them slightly with your hand.

Heat 2-3 tablespoons of olive oil and fry falafel until crispy all around for approximately 3 minutes on each side. Set aside.
For the tabouleh
Cook bulgur according to package instructions and set aside to cool.

Once bulgur is cooled combine with all vegetables, herbs and dress with lemon juice, olive oil and salt to taste.
For the baba ganoush
Set your oven to a broil/grill mode on a highest temperature and set an oven rack approximately 6″ away from the top element. Place two eggplants on an aluminium lined shallow baking tray and cook for 15 minutes until the outside is charred and smoky and the inside collapses and turns into a mush.

Cool until safe to handle and remove the burned skin.

In a food processor or a blender combine eggplant flesh, sliced garlic, tahini, lemon juice, smoked paprika and run until smooth and creamy, then open the shoot and add olive oil with the motor still running until baba ganoush is desired consistency. Add salt to taste.
For the hummus
Add all ingredients to the food processor and process until smooth
For the tahini dressing
In a jam jar combine all ingredients except for water, put a lid on and shake very hard until you have a homogenised dressing, add water 1 tbsp at a time until you have a desired consistency.
Nutrition
Calories:
851
kcal
Carbohydrates:
106
g
Protein:
26
g
Fat:
42
g
Saturated Fat:
6
g
Polyunsaturated Fat:
9
g
Monounsaturated Fat:
25
g
Sodium:
1026
mg
Potassium:
1815
mg
Fiber:
31
g
Sugar:
20
g
Vitamin A:
2816
IU
Vitamin C:
94
mg
Calcium:
247
mg
Iron:
10
mg