Delicious Greek Tzatziki is a refreshing sauce you can easily make at home. Grated cucumber, garlic, lemon juice and mint mixed into yogurt.
It's the best when made fresh! Just a handful of common ingredients create a truly authentic dip that goes with a variety of food but especially well with my Chicken Souvlaki and Flatbread!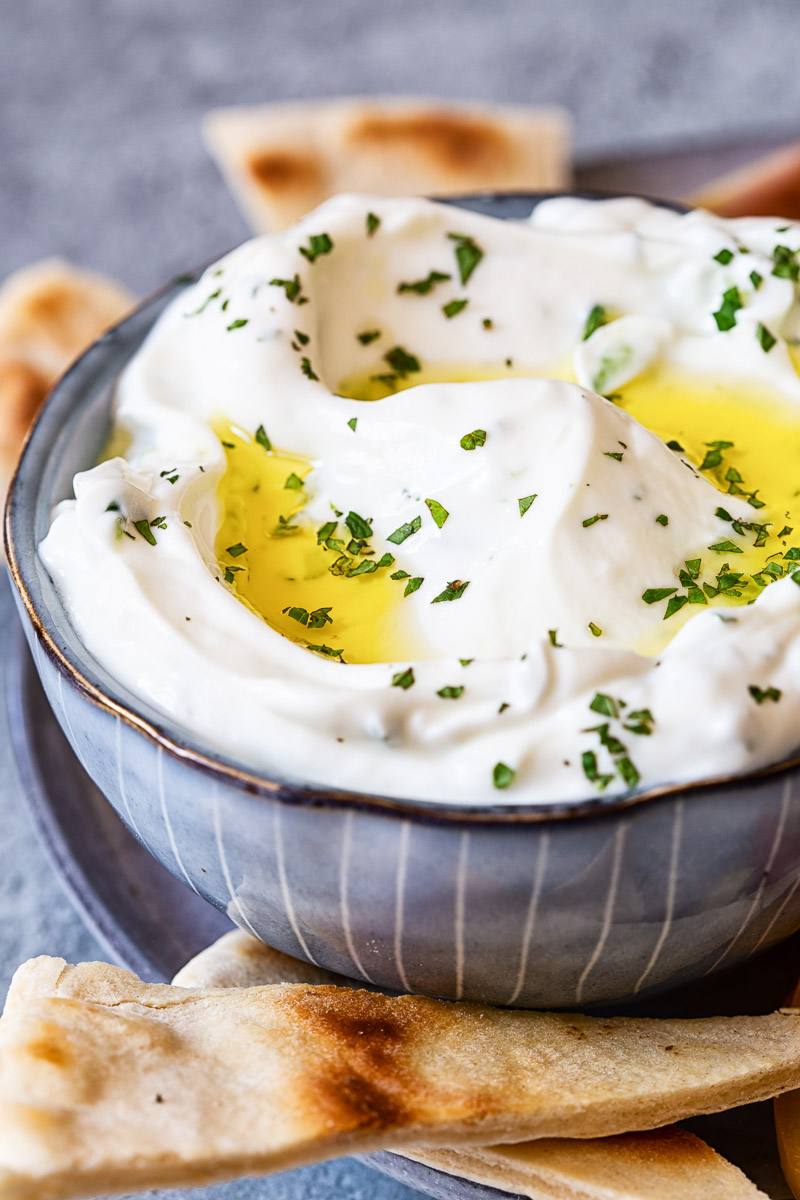 Summertime is all about quick dishes, snacks and fresh produce. No one wants to spend time in the kitchen when it's hot and beautiful outside!
As a mum of teenagers it's important to have a few healthy snacks on hand to satisfy ravenous hunger and to nourish their rapidly growing bodies. For this purpose I love having a container of cut up vegetables in the fridge, which could be dunked in delicious dips. Hummus and Tzatziki are our favourites.
Another winner is this Creamy Cilantro and Walnut Dip.They are as tasty as they are nutritious!
Tzatziki sauce is widely available in most supermarkets but none of them can compare with a fresh homemade version, which I am sharing today.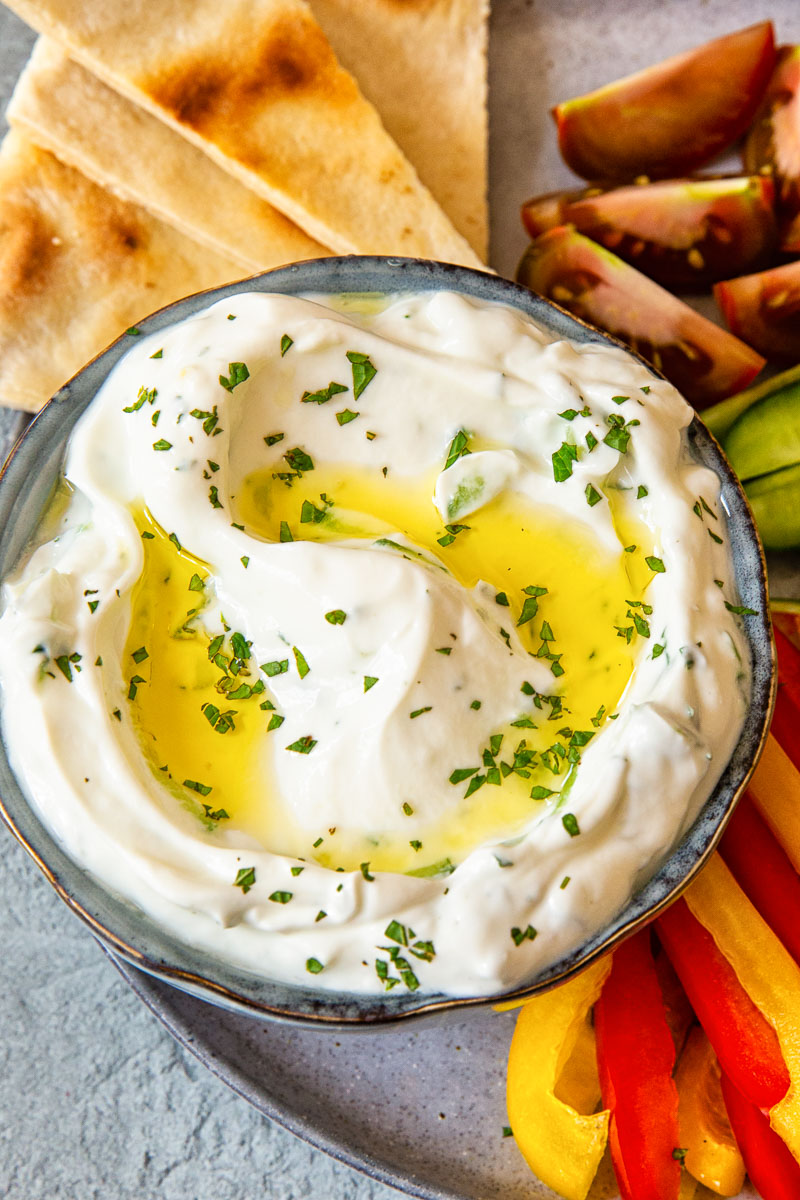 Tzatziki sauce has a complicated history. It's widely known as a Greek staple. However a little research tells us that the garlicky yogurt and cucumber dip arrived to Greece from India via the Ottoman Empire.
You know that cooling cucumber raita, which tastes absolutely amazing with fiery Indian curries? That is the distant predecessor of the tzatziki sauce!
Granted it's been changed along to suit the local palate to become the Tzatziki we know and love today.
Although the tastes changed slightly it still serves the same purpose. To provide a tangy counterbalance to the rich grilled meat. No wonder we usually see it served on top of Chicken or Pork Souvlaki and Lamb Gyros.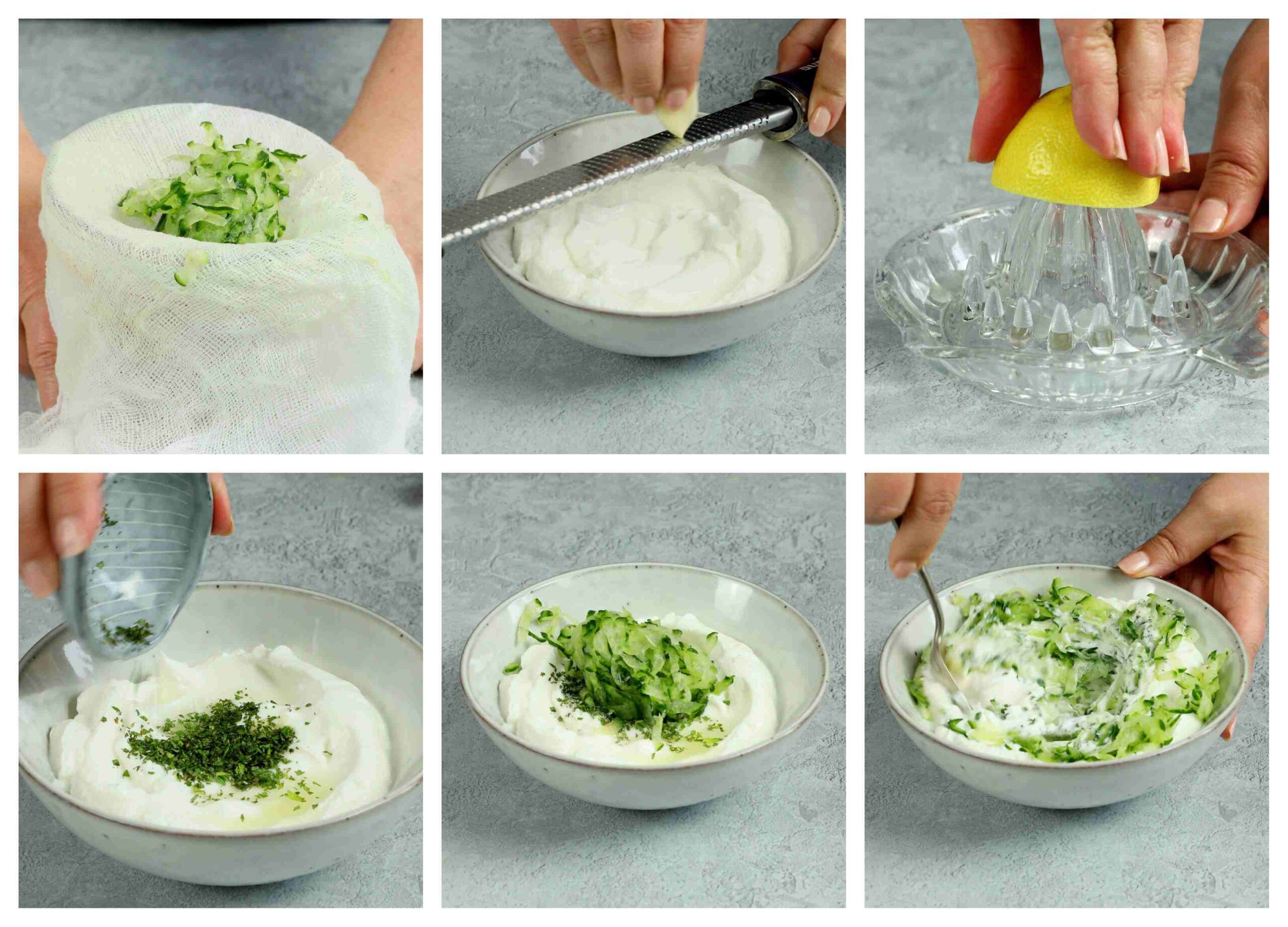 How to Make Tzatziki Sauce
Making it is so easy and only takes about 5 minutes. Just grate a cucumber and squeeze out the liquid. Don't skip that step, otherwise you will end up with a watery dip!
Then mix the grated cucumber into a thick Greek yogurt. You can use full fat or fat free yogurt to save on calories. Just make sure your yogurt is the thick, strained kind.
Then add grated garlic, lemon juice and fresh or dried mint. A good measure of sault is necessary! Drizzle with good quality extra virgin olive oil. Let it stand for at least 30 minutes to allow the flavours to meld.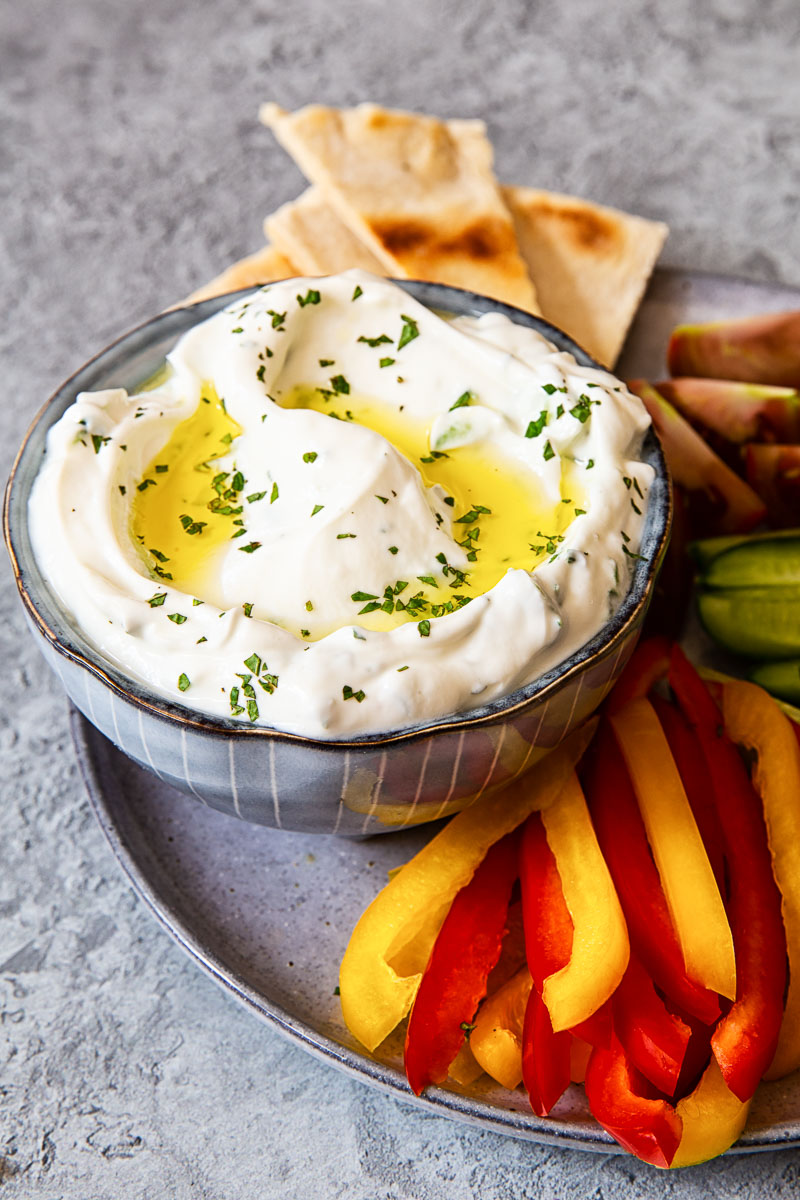 What to serve with it
As I mentioned earlier, it's ideal with grilled meat but it's also excellent as a vegetable dip, which makes it a healthy option!
Just cut up red, yellow and green peppers, carrots sticks, cucumbers, cherry tomatoes. Whatever your heart desires! It's absolutely delicious while light and refreshing!
Once prepared Tzatziki could be kept in a fridge for up to 1 week.
More Favourite Summer Dips to Try: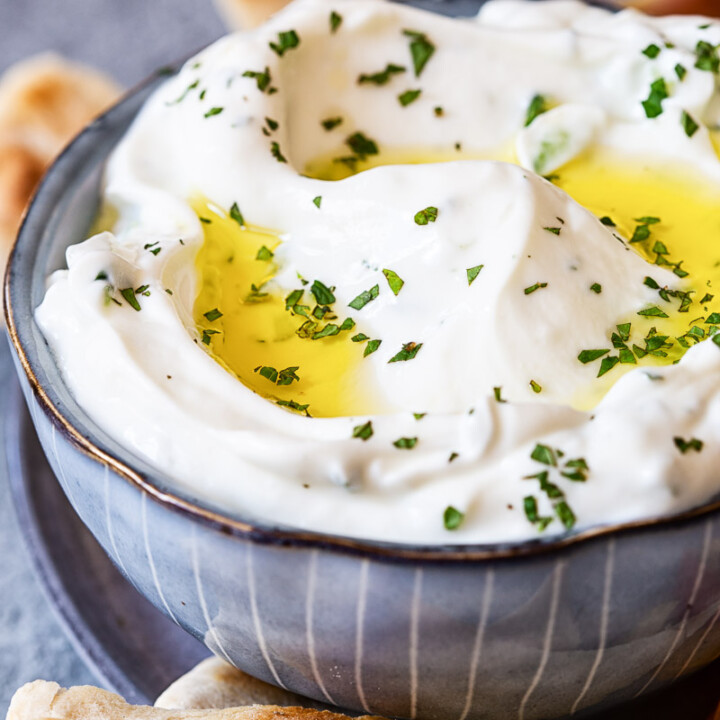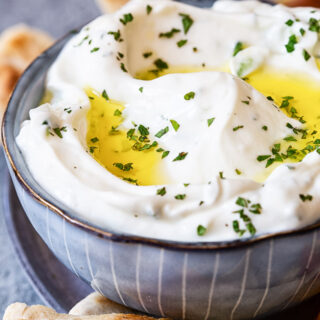 Greek Tzatziki
Delicious Greek Tzatziki is a refreshing sauce you can easily make at home. Grated cucumber, garlic and lemon juice mixed into yogurt.
Ingredients
250ml/1 cup

Greek plain yogurt (I used Fage)

full fat, low fat or non fat

50g/1/3 cup

grated cucumber

1

clove

garlic

small

½

tsp

fresh mint chopped or ¼ tsp dried mint

½

lemon, juice only

salt to taste

1

tbsp

extra virgin olive oil
Instructions
Grate the cucumber, then put in a clean cloth and squeeze out the liquid, discard the liquid.

In a medium bowl combine the yogurt, grated or pressed garlic, lemon juice, grated cucumber, finely chopped fresh mint or dried mint and salt to taste. Combine and let sit for at least 30 minutes for the flavours to blend. Then put in a serving dish and drizzle with extra virgin olive oil. Sprinkle with additional fresh mint.
Nutrition
Calories:
41
kcal
Carbohydrates:
2
g
Protein:
3
g
Fat:
2
g
Saturated Fat:
1
g
Cholesterol:
2
mg
Sodium:
13
mg
Potassium:
9
mg
Fiber:
1
g
Sugar:
1
g
Vitamin A:
18
IU
Vitamin C:
1
mg
Calcium:
37
mg