This Summer Fresh Cobb Salad is made with grilled chicken, crispy prosciutto, soft boiled eggs, seasonal vegetables and sharp blue cheese on a bed of salad greens. Add my exciting lemon yogurt dressing and it is a meal in itself. A delicious update on the popular classic!
If you love salads in the summer, give my Tuscan Panzanella Salad a try!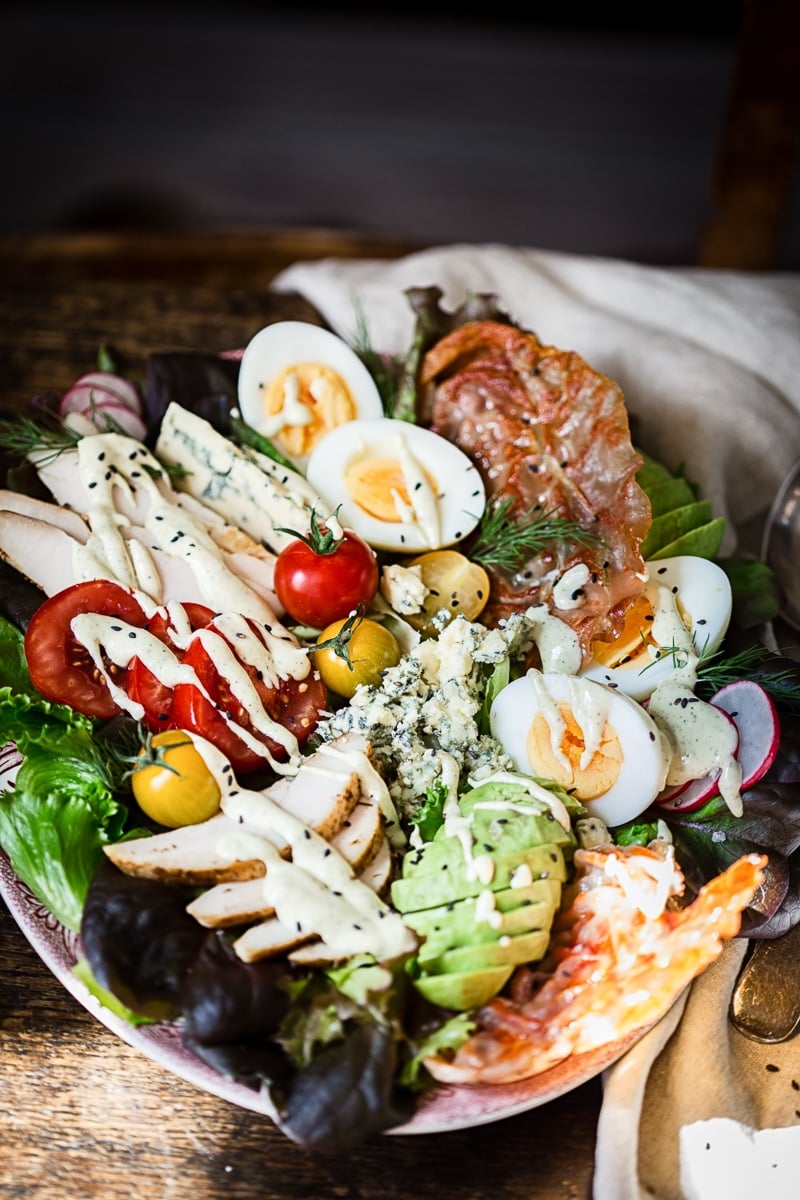 A few days ago I was trying to relax after a long day of unpacking and organising, so naturally I plunked myself in front of an episode of Friends, the one with Rachel being insanely jealous over Ross' new relationship with Julie.
Anyway, in one of the scenes she keeps drilling Julie in order to prevent what might come next if they all go home.
Julie : "And my third grade teacher was Mrs Cobb…"
Rachel: " Mrs. Gobb?
Julie: "No, Mrs Cobb, like Cobb Salad."
Rachel: "Now, what exactly is in the Cobb Salad?"
I might be paraphrasing a bit but maybe not. I have been known to quote Friends episodes in their entirety. That's what happens when you spend a year of your life in a foreign country with not a lot of friends and not a lot to do…you end up marathoning through Friends!!
At that point of the dialogue my tired brain switched off Friends and got stuck on Cobb Salad.
Whatever happened to Cobb Salad, I thought to myself? I am sure I haven't eaten or seen it since the 90s! And that, my friends, is all it took for the inspiration!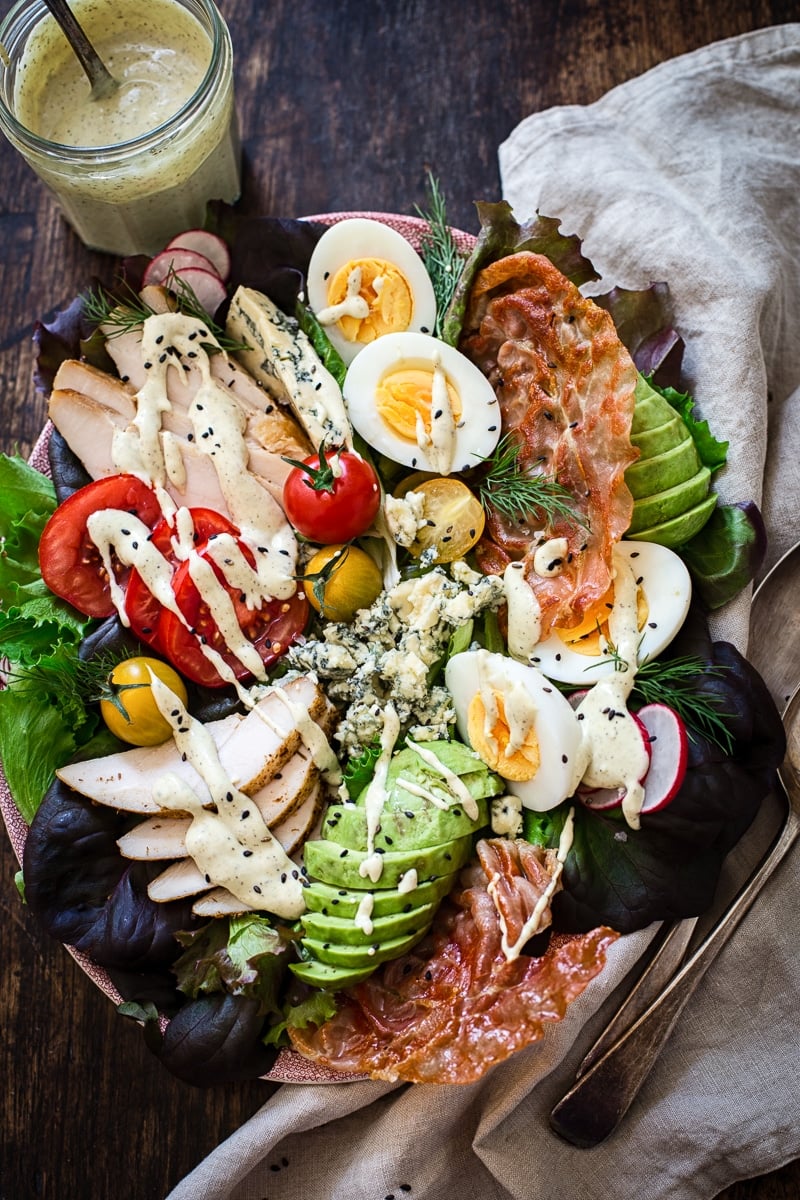 But getting back to Rachel's question
"What exactly IS in the Cobb Salad?"
It made me wonder. What I remembered from the 90s was a tossed salad heavy on cubed ham, cheese, bacon bits and boiled eggs drenched in ranch dressing. Nothing too inspiring!
When I checked the correct ingredients, I realised what I was able to afford on my student budget wasn't really IT. The original Cobb Salad was made with chicken, blue cheese and avocado!
Say what!! That's the salad I can get on board with!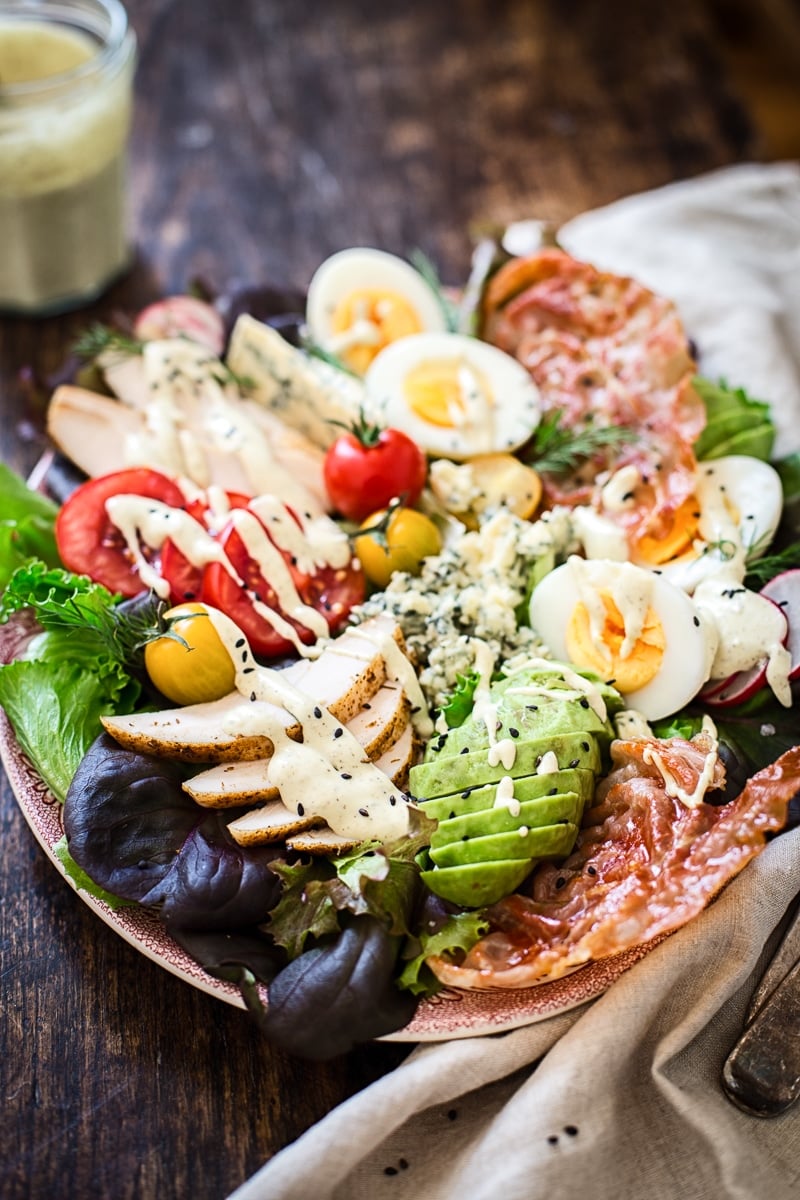 How do I make it?
However, what is the point of remaking something that is not broken unless you offer a slightly different perspective? With that thought in mind I set out to create my own version, which is also suitable for gluten-free and keto diet.
I wanted my Cobb salad burst with summer produce freshness! I also wanted it to be healthier than the original. So I replaced bacon with paper thin crispy prosciutto, then grilled some chicken breasts.
It was a good start but I knew the overall success of the salad rests in the dressing. It has to deliver an incredible flavour that would pull all the ingredients together and after DAYS of trying I got there!
My Cobb Salad Dressing
My dressing recipe is exciting, summery and zingy! And trust me it's NOTHING like you've had before but it's just as creamy as the original cobb salad dressing.
Made with preserved lemons this dressing boasts the most flagrantly lemony flavour you can imagine! It's also creamy but the creaminess comes from Greek yogurt, so it's all good!
Preserved lemons (usually available in Middle Eastern section of your supermarket or Amazon) are my new best friends. So versatile and a little goes a long way!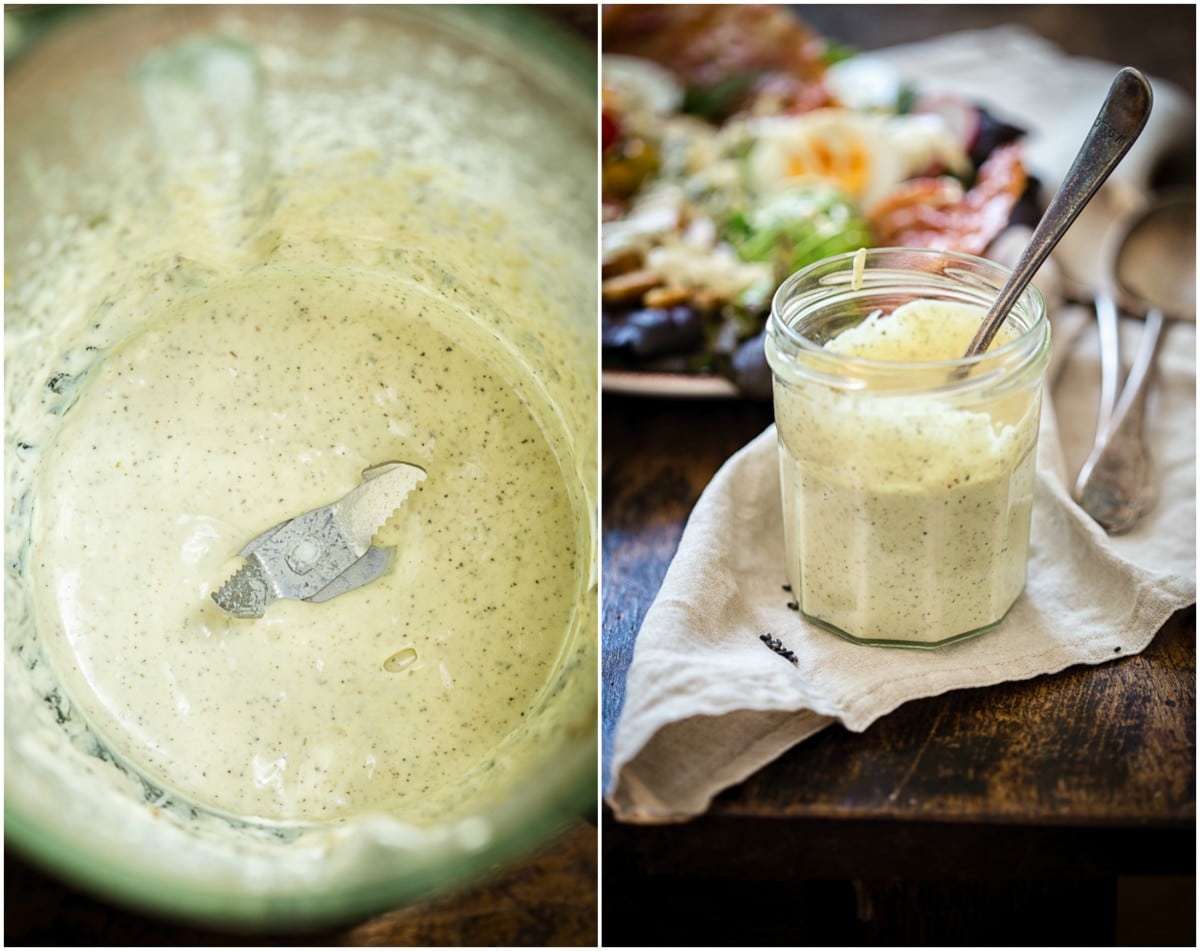 This salad is quite substantial, and therefore perfect for a light summer meal.
Brad and I enjoyed it on a warm Sunday night, and he was so happy and didn't complain once that a SALAD was for dinner!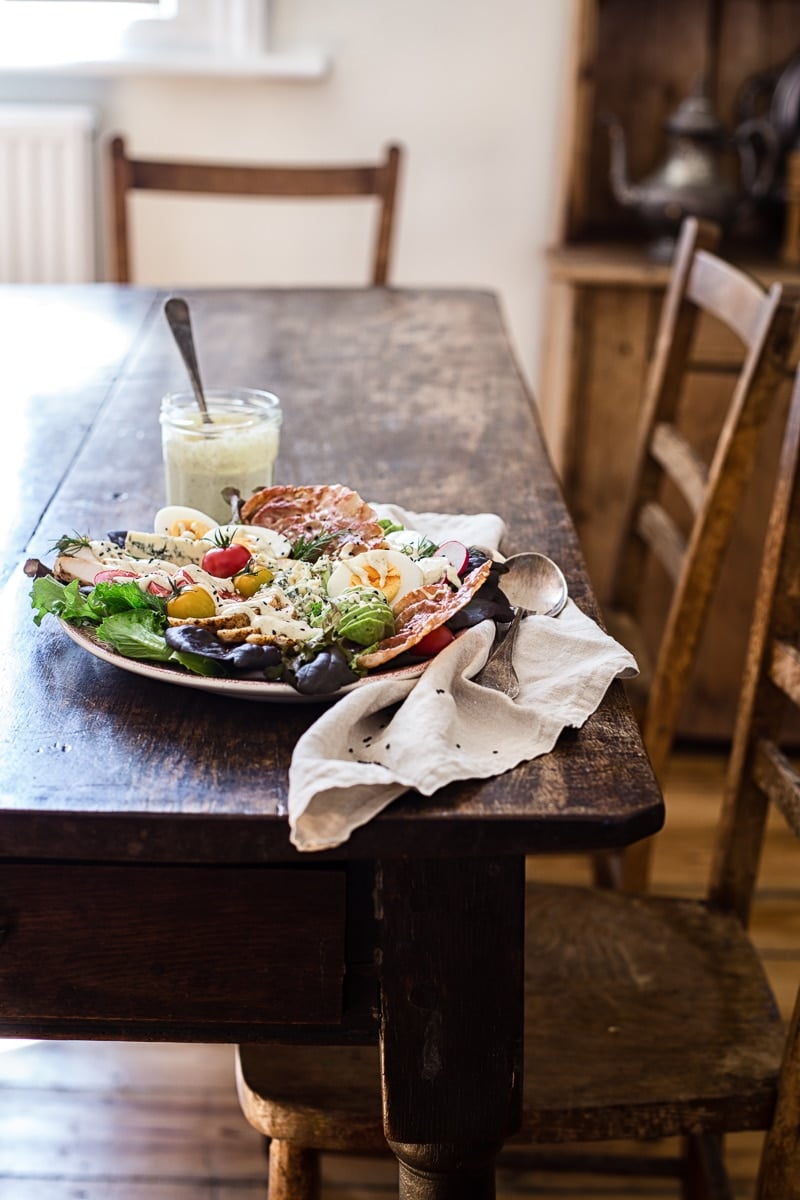 More Summer Salad Recipes:
Post originally published in 06/2017. Updated and republished in 07/2019.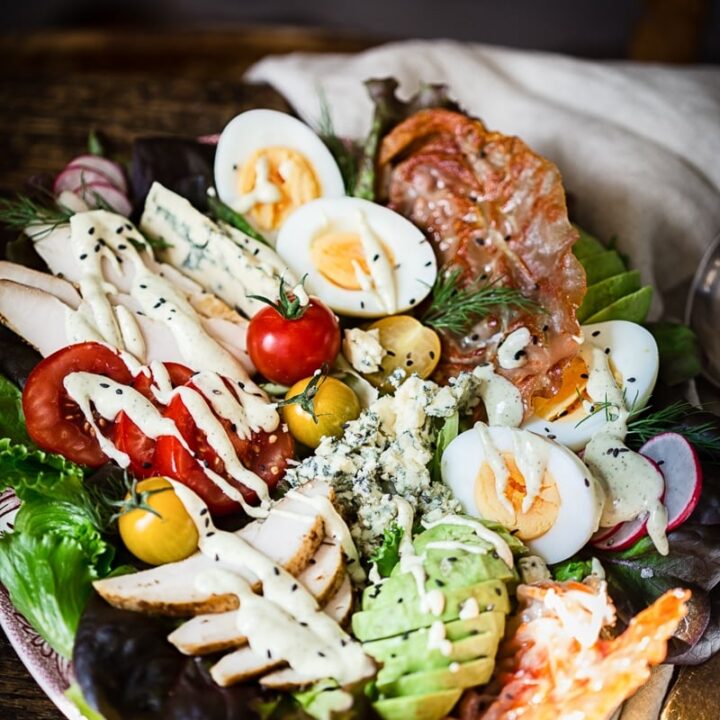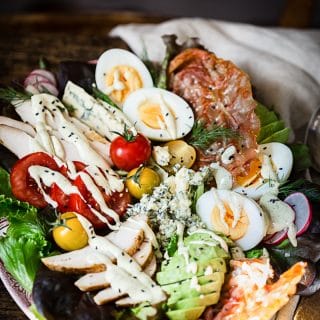 Cobb Salad with Yogurt and Preserved Lemon Dressing
This Cobb Salad is made with grilled chicken, crispy prosciutto, soft boiled eggs, seasonal vegetables and sharp blue cheese on a bed of salad greens with lemon dressing drizzle.
Ingredients
For the Yogurt and Preserved Lemon Dressing
2-3

slices

of preserved lemons

2

tsp

Dijon mustard

1

tsp

white wine vinegar

3

tbsp

olive oil

I used olive oil the lemons were preserved in

5

tbsp

plain Greek yogurt or sour cream/creme fraiche

½

tsp

of each dried basil and oregano

salt and pepper to taste
For the Cobb Salad
2-3

cups

mixed salad greens

1

chicken breast

3-4

yellow and red cherry tomatoes

1

avocado

3

tbsp

crumbled Stilton

2-3

slices

Italian Prosciutto/Parma Ham

2

eggs

2

radishes

2-3

dill sprigs

optional

black sesame seeds

optional
Instructions
In a blender combine preserved lemon slices, Dijon mustard, white wine vinegar, olive oil, plain Greek yogurt, dried basil and oregano and a pinch of salt and pepper. Blend until smooth. Taste and add more salt and pepper if needed. Pour in a jar with a lid and refrigerate until needed.

Season the chicken breast with your favourite seasoning or simply salt and pepper and grill on hot and oiled griddle or a barbecue for 5 minutes on one side, then 3 minutes on another. Timing may vary for a larger chicken breast.

Fill a small saucepan with cold water and add eggs to it. Bring to a boil, turn the heat off, cover with a lid and let them sit for 5 minutes, then plunge in cold water. (This way you end up with beautiful yellow egg yolks with no blue ring around them!) Peel once cooled and cut in half.

Then fry 2 slices of prosciutto in a dry preheated non-stick pan over medium heat until crispy. This will take no longer than 1 minute! Set aside.

On a large platter arrange mixed salad greens, use a combination you love! Top with sliced grilled chicken, sliced avocado, halved or whole cherry tomatoes, sliced radishes, halved boiled eggs, crispy prosciutto, crumbled Stilton and dill sprigs, sprinkle with sea salt or flaky salt like Maldon and black sesame seeds.

Served drizzled with Yogurt and Preserved Lemon Dressing.
Nutrition
Calories:
689
kcal
Carbohydrates:
14
g
Protein:
42
g
Fat:
53
g
Saturated Fat:
12
g
Cholesterol:
260
mg
Sodium:
649
mg
Potassium:
1200
mg
Fiber:
7
g
Sugar:
3
g
Vitamin A:
1244
IU
Vitamin C:
28
mg
Calcium:
214
mg
Iron:
2
mg