Shake up your lunch routine with this delicious Farro Salad! This Farro Salad recipe with olives, capers, cherry tomatoes and zucchini ribbons made extra flavourful by adding loads of herbs and dressing with French vinaigrette.
If you are looking for a chicken recipe to compliment this salad, check out my Spatchcock Chicken in Spicy Yogurt Sauce.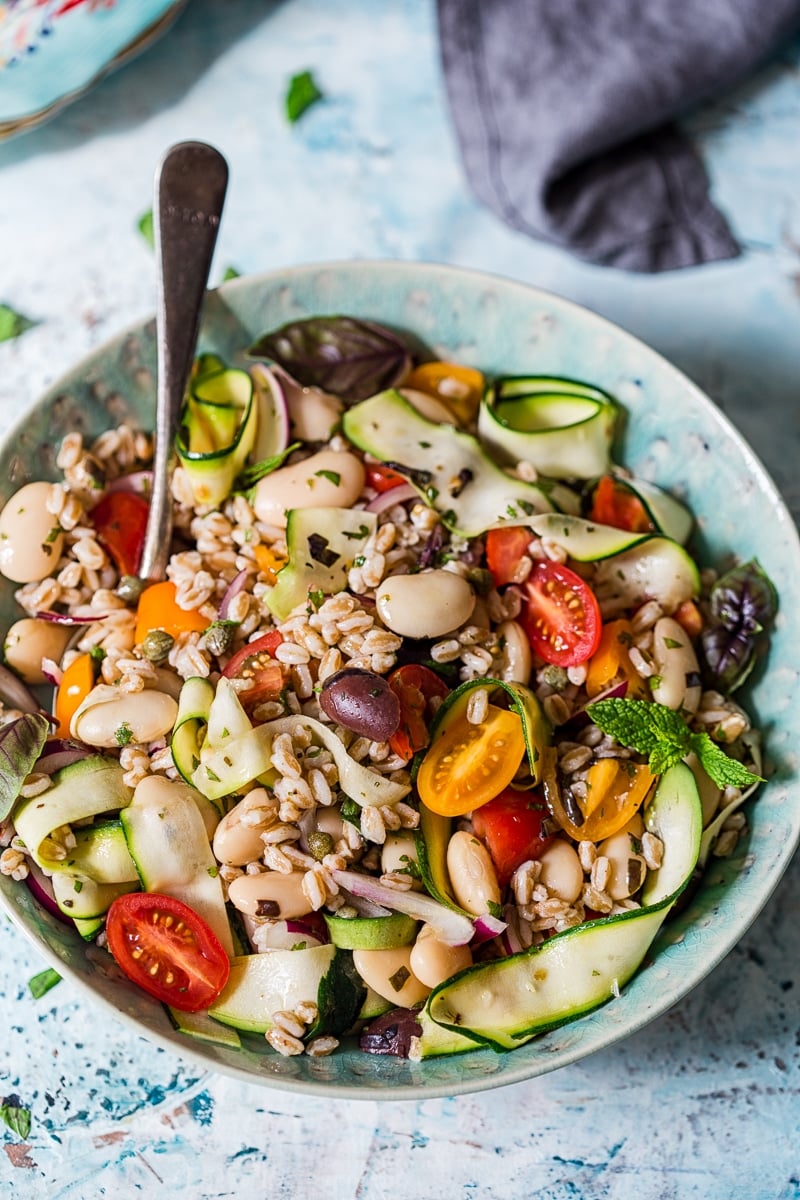 Another summer week, another salad recipe but trust me this farro salad is not JUST another salad. I've discovered the farro grain a couple of years ago and I was instantly smitten with its earthy taste.
I am a huge fan of adding healthy grains to my salads to give them more substance and nutritious value. So it's no wonder I would want more variety apart from quinoa.
I mix it up all the time by using different things like millet, buckwheat, lentils, beans, and quinoa. They make salads so satisfying and loaded with extra nutrients!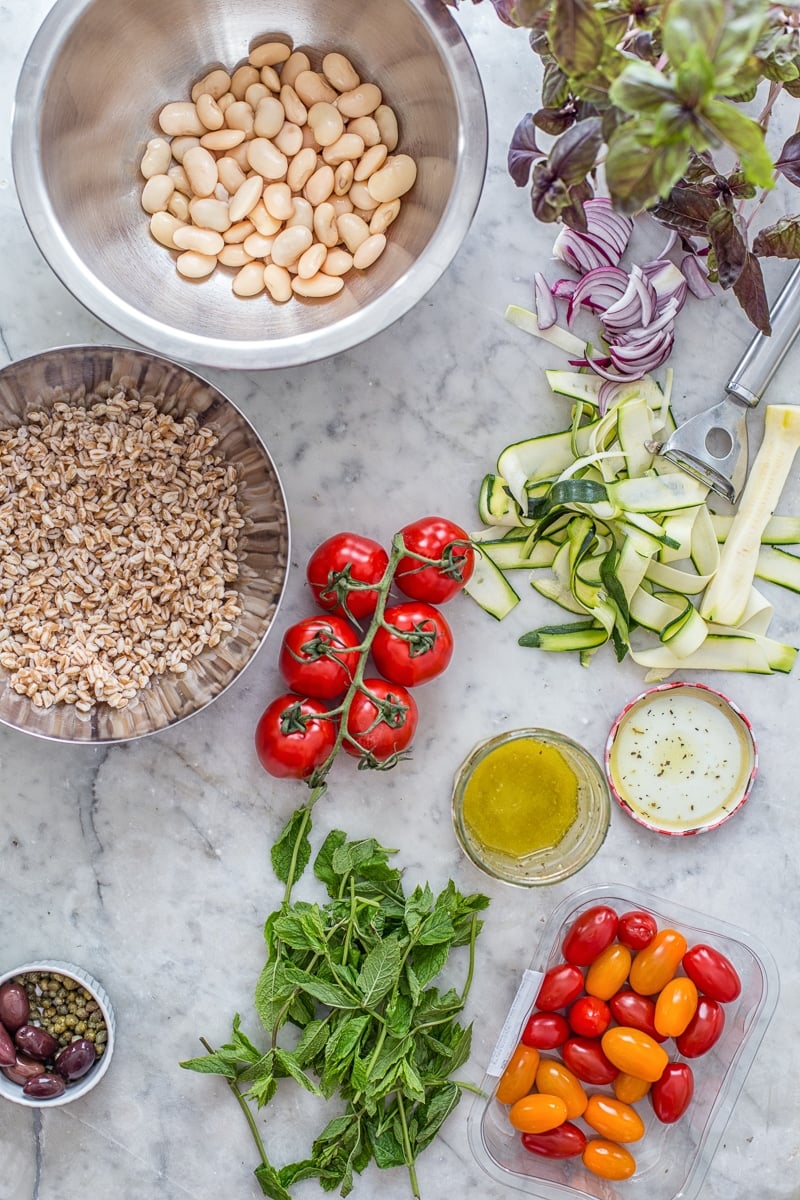 This farro salad is no exception. Brad's been so happy taking it to work for his lunches and then raving about it.
I consider that a personal victory since my husband loves his meat and this salad is quite meatless yet very filling and extremely satisfying.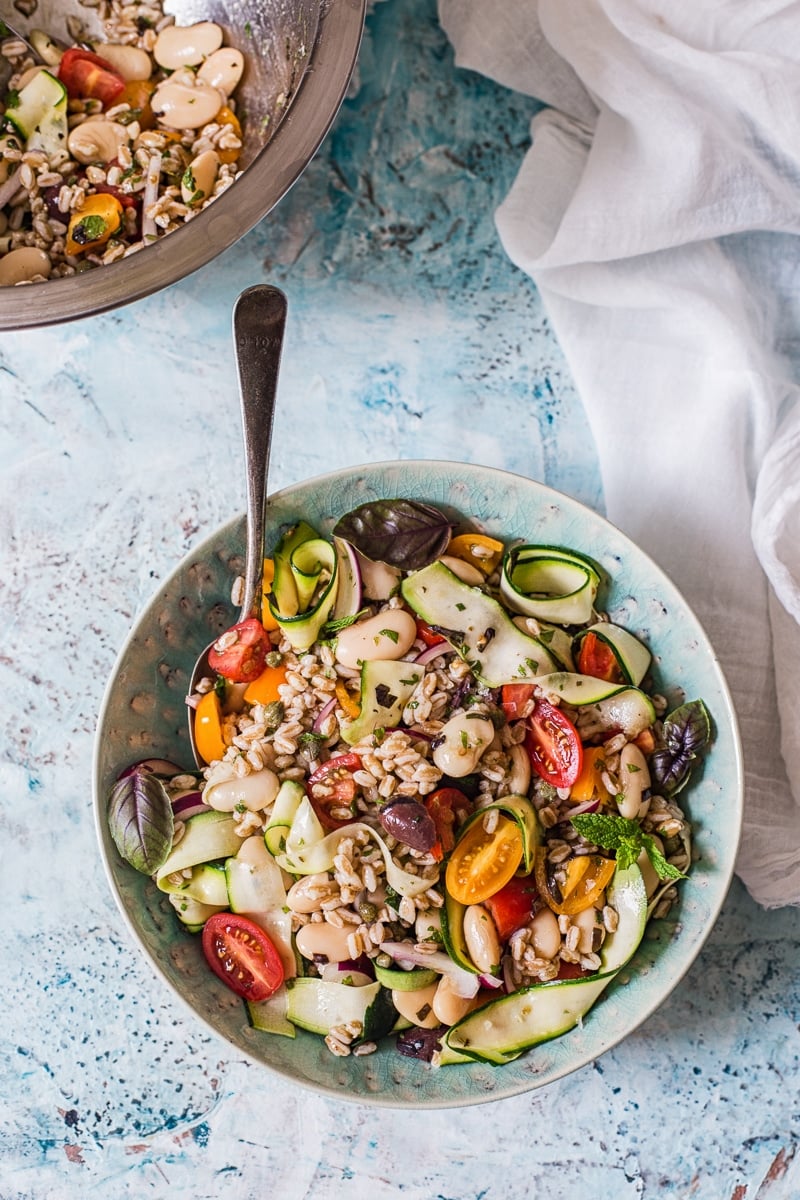 Farro salad recipe ingredients
Apart from farro this recipe consists of very normal, everyday ingredients like tomatoes, cucumbers and onions, except that I replaced cucumber with zucchini ribbons.
I quite like using new crop tiny zucchini raw in the summer. They are so crunchy and fresh!
You might think them tasteless, which could be the case if they are not properly flavoured, but they also become absolutely delicious at the touch of a well-made vinaigrette, which brings me to my next point.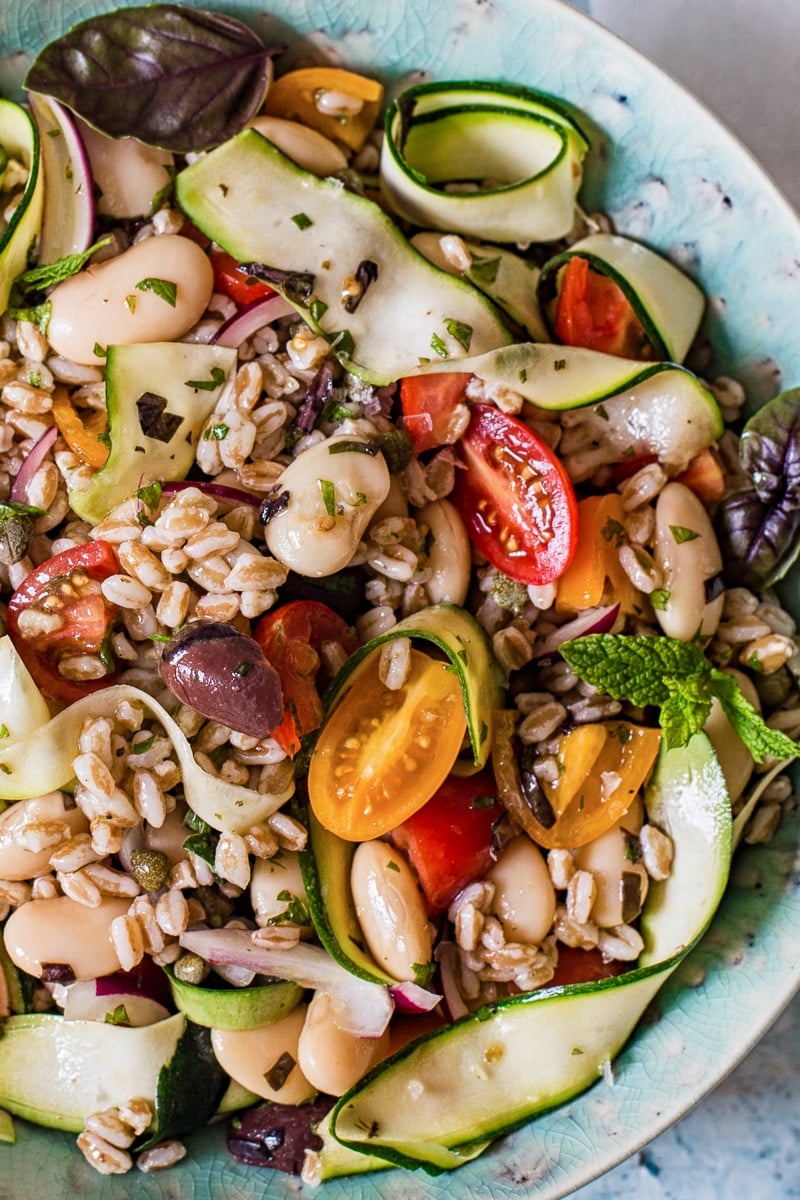 Simple vinaigrette recipe for salads
French Vinaigrette might sound posh but in reality it's the simplest thing ever!
Just mix olive oil, white wine vinegar, dijon mustard, and a tiny amount of garlic with salt and pepper. Shake well and enjoy over salads or grilled vegetables.
I've stopped buying bottled dressings years ago. When we first moved to the UK I couldn't find any salad dressings I was used to, so I gave up and started making my own.
What I discovered is that salads with homemade dressings taste miles better, are cheaper and better for you since you know exactly what's in there!
I usually double or even triple the recipe I am sharing today, change it up weekly by adding different combination of herbs and store it in a jam jar in the fridge, which lasts us about one week.
Farro Salad Ingredient Options
The vegetable combination for this farro salad is limitless!
You can add bell peppers, cucumbers, radishes, snap peas, quite literally anything your heart desires! Feta cheese is also an excellent addition to this salad!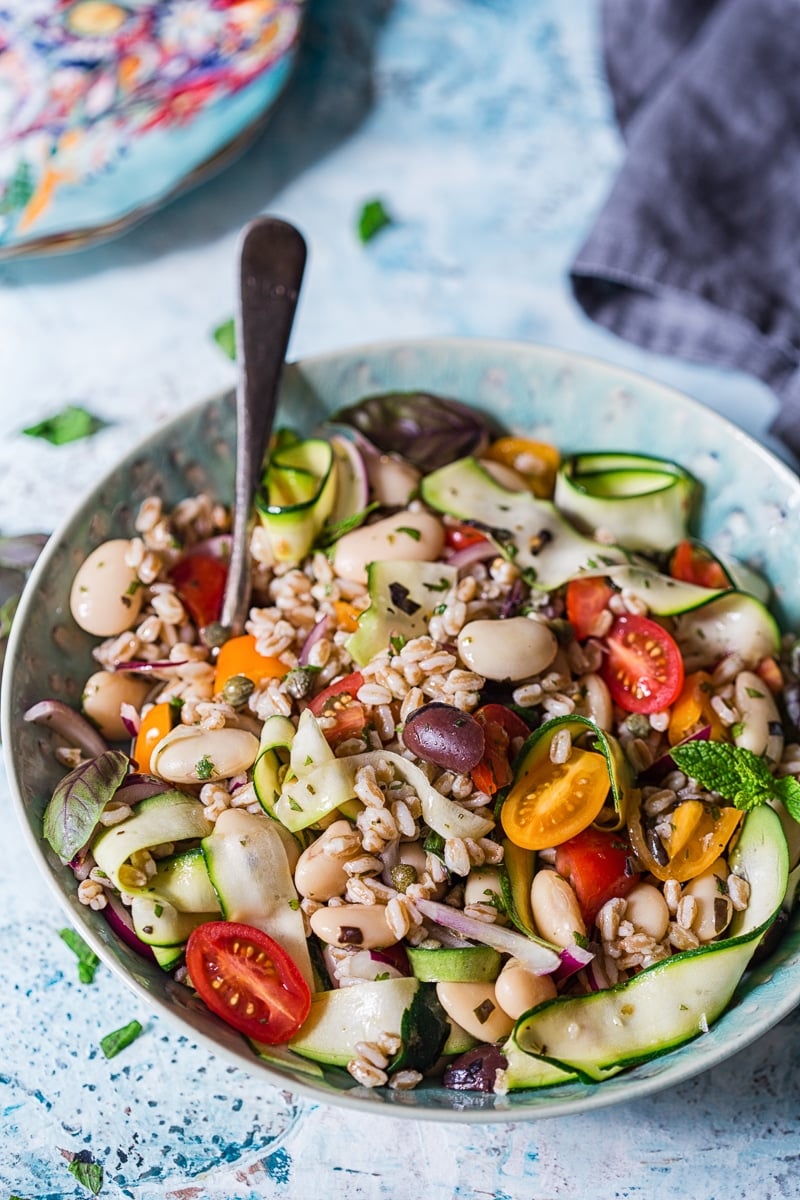 For more grain based salads check out my
The last one is not technically a grain but still falls in the category of filling salads.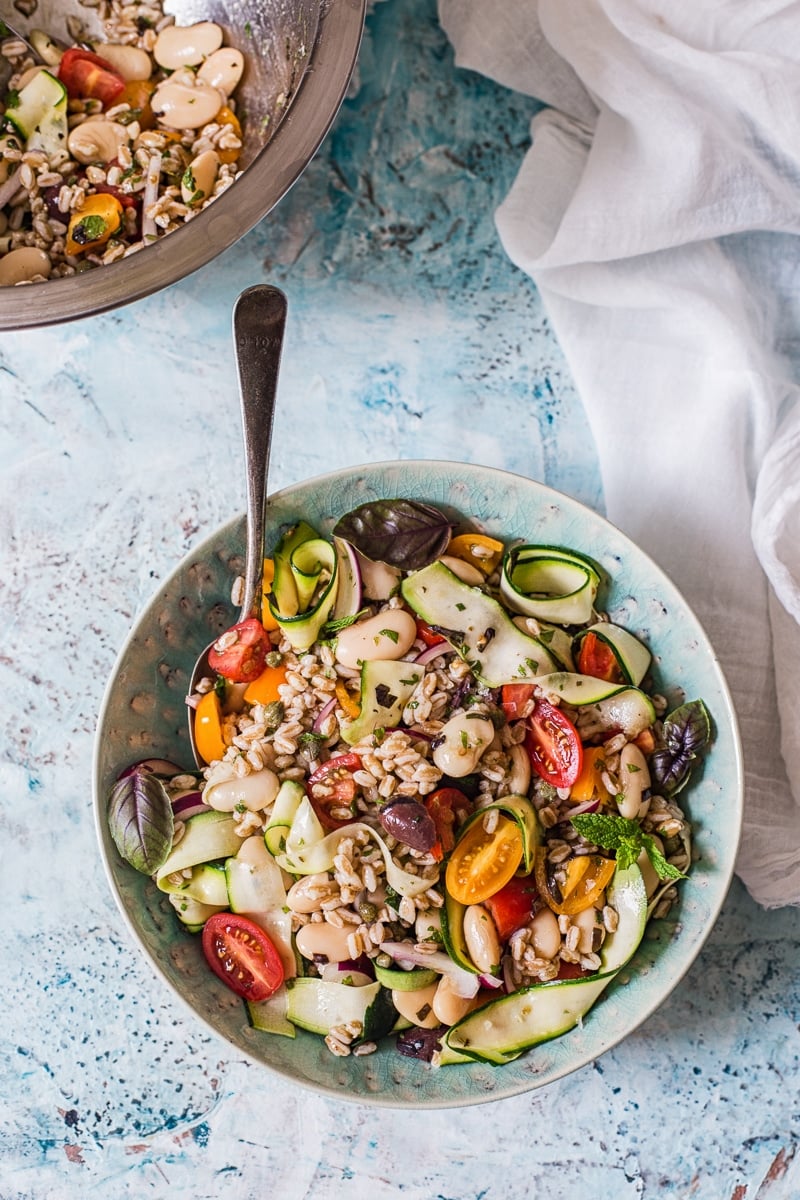 Ingredients
For the French Vinaigrette
1

tsp

Dijon mustard

1

tbsp

white wine vinegar

3

tbsp

Olive oil

1

clove

garlic

minced

salt and pepper

1

tsp

fresh or dried herbs of your choice

optional
For the Farro Salad
1

can

14oz/400g white beans, butter beans or cannellini beans, drained

2

cups/200g farro

cooked

1

small zucchini

shaved into ribbons with a vegetable peeler

6-7

red and yellow cherry tomatoes

1

tbsp

capers

5-6

Kalamata olives

pitted and halved

1/4

red onion

sliced

1

tbsp

fresh mint

chopped

2

tbsp

fresh basil

sliced

salt to taste
Instructions
Cook the farro grain according to package instructions, drain and cool.

In a large bowl combine all the French vinaigrette ingredients, mix with a whisk until the dressing is emulsified, then add the beans and cooled farro, let it sit for 10-15 minutes for the ingredients to absorb the flavour of the vinaigrette.

Then add the remaining ingredients and mix gently until combined.

Add more salt if needed.
Nutrition Facts
Herby Farro Salad with Olives, Cherry Tomatoes and Zucchini Ribbons
Amount Per Serving
Calories 669
Calories from Fat 549
% Daily Value*
Fat 61g94%
Sodium 109mg5%
Potassium 222mg6%
Carbohydrates 28g9%
Protein 4g8%
Vitamin A 230IU5%
Vitamin C 10.4mg13%
Calcium 23mg2%
Iron 1.4mg8%
* Percent Daily Values are based on a 2000 calorie diet.