This roast spatchcock chicken in spicy yogurt sauce boasts thin and crispy skin and the juiciest meat! And the entire chicken is cooked within 45 minutes!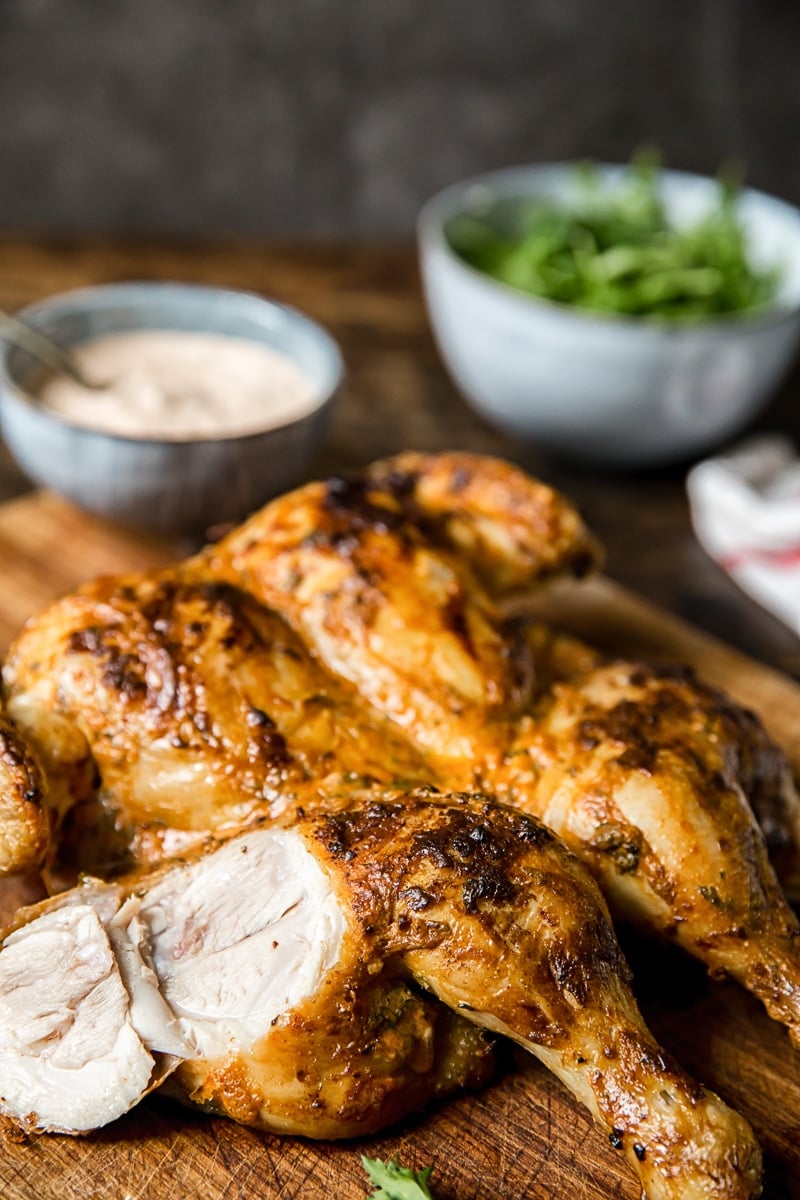 As we are in the dead of winter and days seem so short and bleak I find myself craving vibrant flavours to perk up our evening dinners. Don't get me wrong I love soups and stews on a cold, windy day but I also am very fond of spicy numbers that warm us up from the inside!
Spicy Spatchcock Chicken Recipe
This spatchcoked chicken in spicy yogurt sauce does just that! Its lively, spicy flavours paired up with creamy sauce satisfies the need for warmth. And brings luscious, velvety smooth goodness we all long for on a cold night.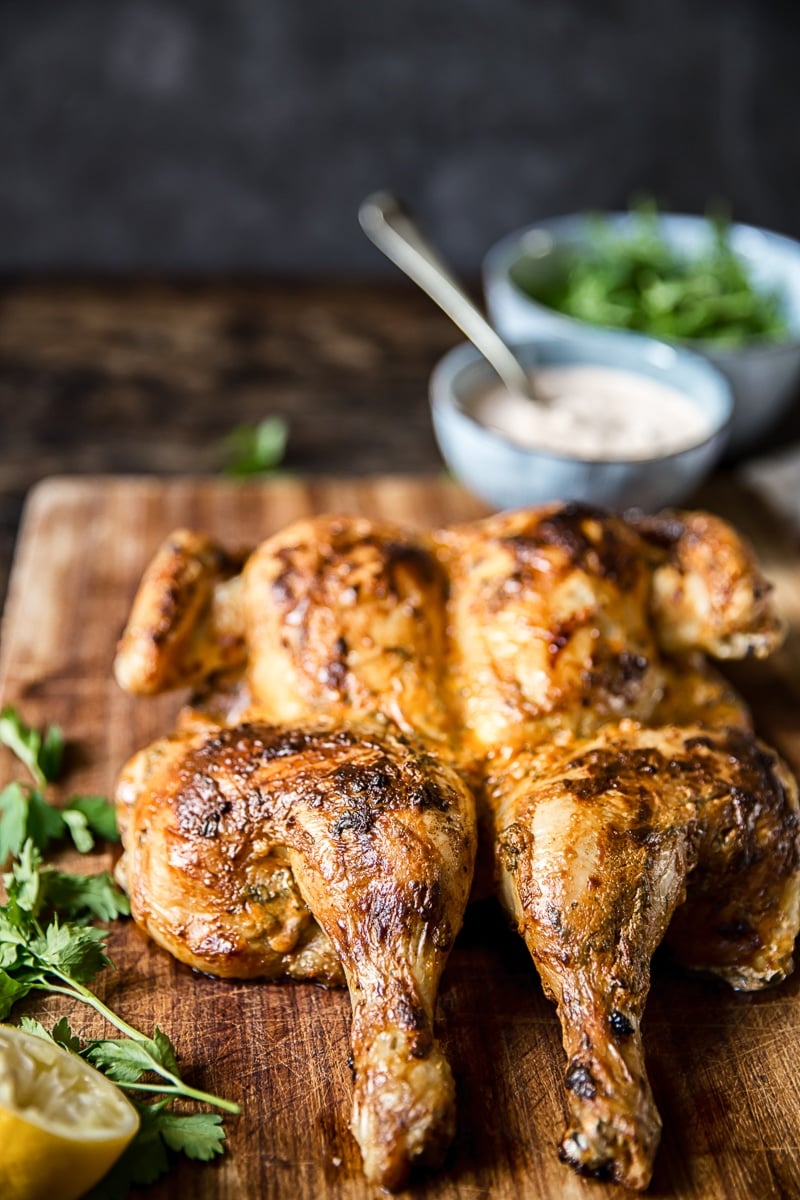 I was debating whether to roast this chicken whole or spatchcock it and finally decided on the latter as I was after a quick dinner and a maximum crispness of the skin! Did you know that cooking your chicken open flat like a book cuts your cooking time in half?
If you are intimidated by the process, don't be! I have handy photo collage to guide you through it and detailed instructions in the recipe card below.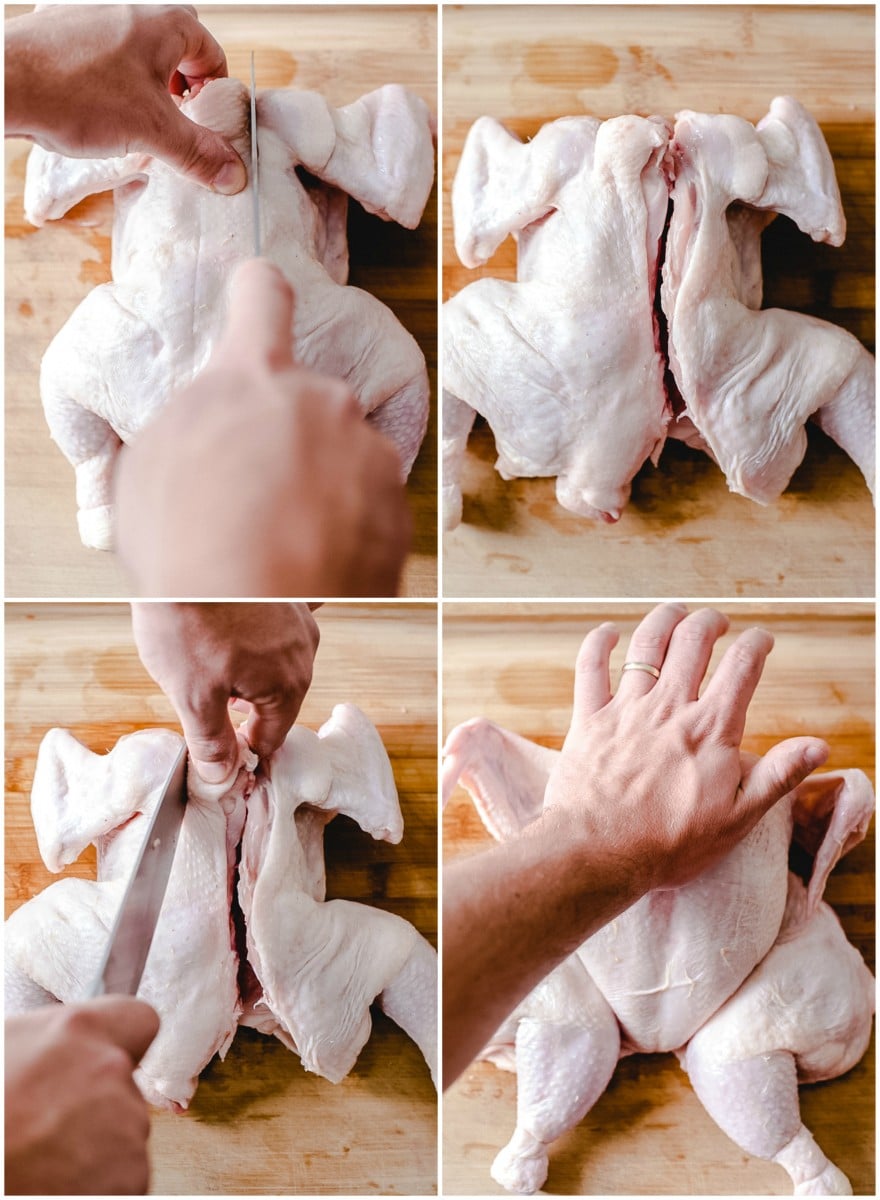 When I set out to create this recipe I wanted a chicken recipe that was reminiscent of summer barbecues, and to my utter joy I achieved just that! How did I do it? Well I double-sauced it!
First I marinated it for an hour in a very simple marinade but with an addition of smoked paprika that created an allusion the chicken had been grilled. And later I smothered it in a spicy yogurt sauce that gave that charred look we absolutely adore in the summer.
Why spatchcock a chicken
Because the chicken is spatchcocked not only does cook faster, it also cooks more evenly, so you don't end up with juicy legs and dry breasts. The chicken comes out juicy on the inside with crispy and flavourful skin. What's not to love?!
Just add a simple salad and maybe some couscous, hello easy side dish, and you are ready to roll! Tempted? I hope so!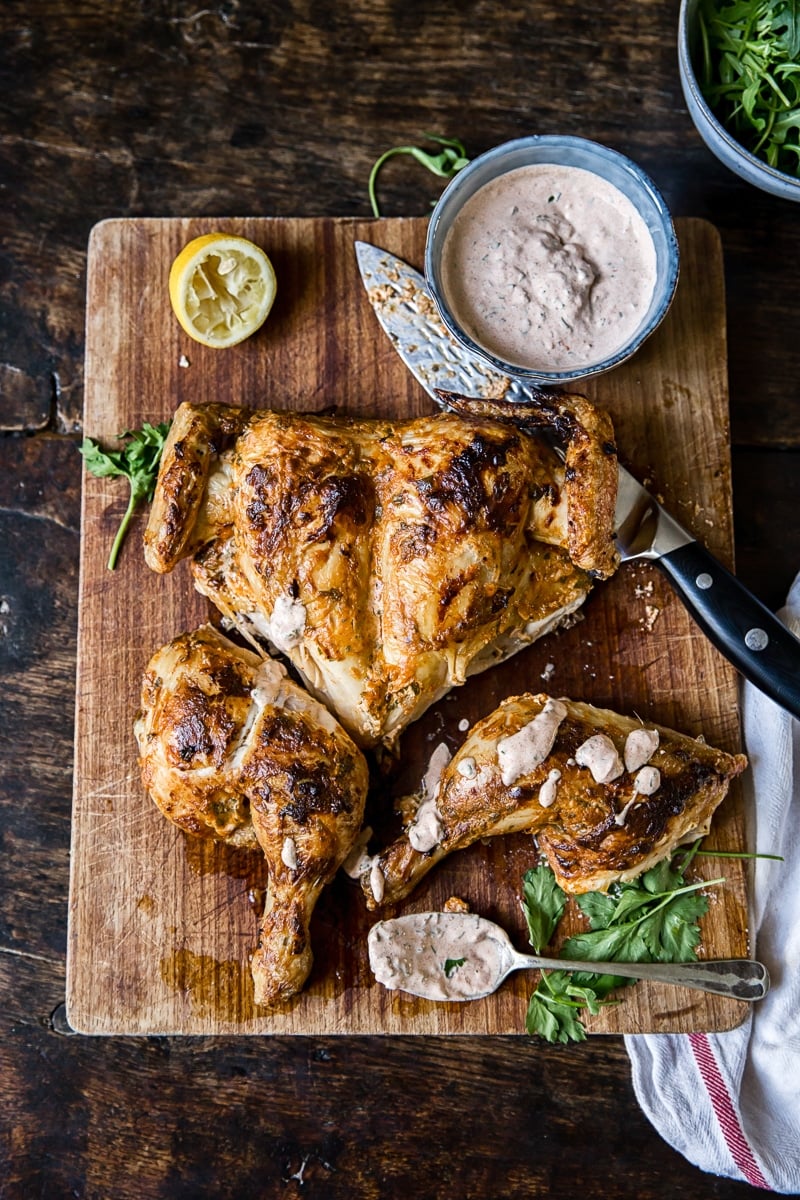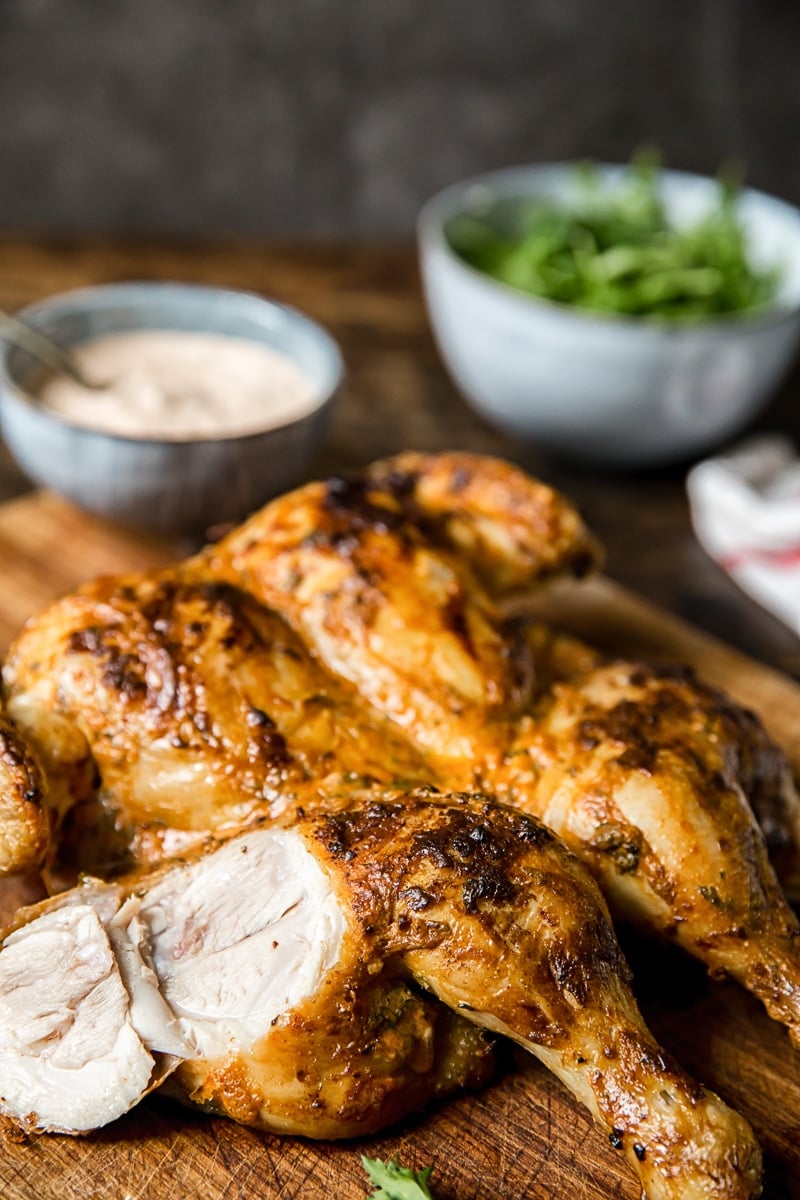 Ingredients
For the Marinade
2

garlic cloves

½

lemon

juice of

1

tsp

salt

1

tsp

smoked paprika

3

tbsp

olive oil
For the Spicy Yogurt Sauce
250

ml/ 1 cup plain yogurt

full fat

1

garlic clove

minced

1

tsp

smoked paprika

½

tsp

cayenne pepper

¼

tsp

chilli flakes

3

tbsp

parsley

chopped

1

tsp

fresh lemon juice

salt to taste
Instructions
To spatchcock a chicken place it breast side down and with a sharp knife or kitchen scissors cut along one side of a backbone then repeat with the other side. Remove the backbone and turn the bird the cut side down. Place the palm of your hand on the chicken breast and push down firmly to flatten it. Tuck the wing tips under the breasts to avoid burning. (See the photo guide in the post) Use the backbone to make a chicken stock or discard.

Mix the marinade ingredients together in a small bowl or measuring cup and pour of the spatchcocked chicken, let it marinade for one hour in the refrigerator.

Meanwhile preheat the oven to 450F/220C or 440F/200C on fan setting.

Mix the ingredients for the spicy yogurt sauce in a small bowl and refrigerate until needed.

When the chicken is finished marinating, cook the chicken in the preheated oven for 30 minutes. Then take out and smother with 3-4 tbsp of the spicy yogurt sauce, cook for 15 minutes longer until the skin is crispy and the temperature of the thickest part of the breast reads 150F/66C.

Serve with the remaining spicy yogurt sauce.