Enjoy these delicious air fryer Greek fries, topped with briny feta, guilt free. And don't forget to dip them in creamy tzatziki or garlic mayo.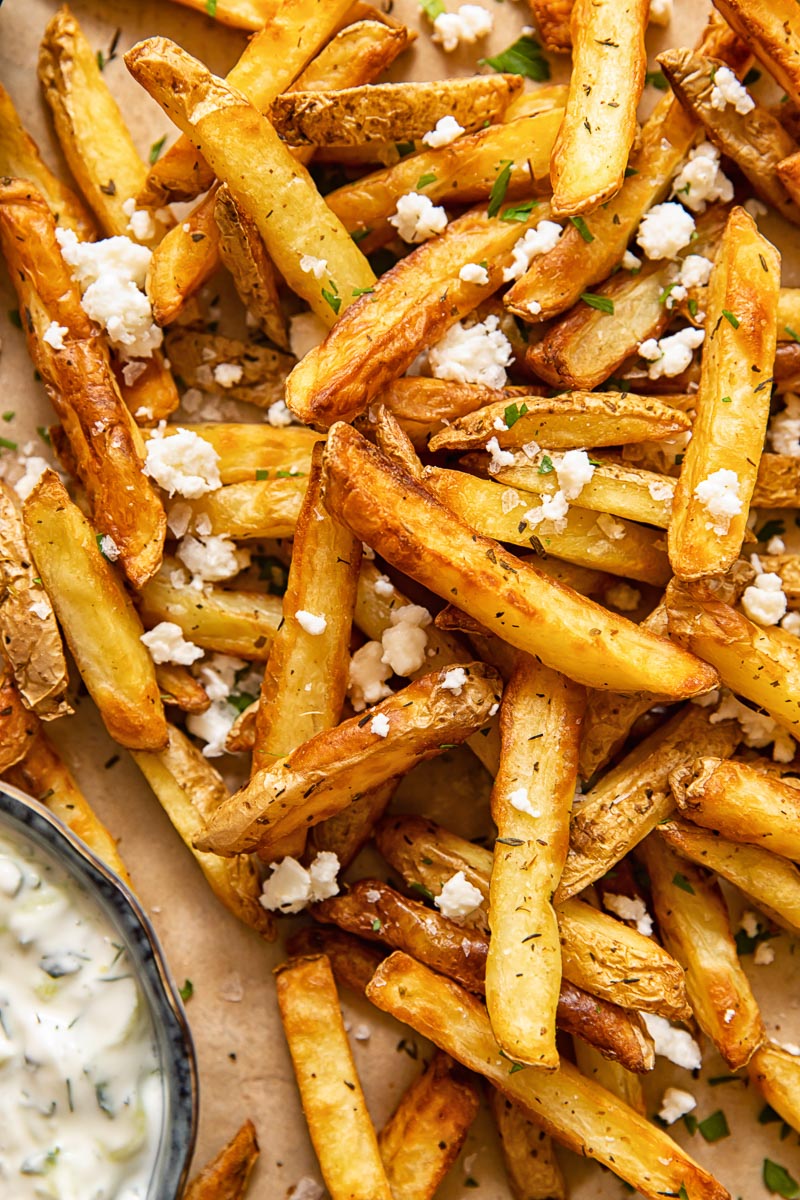 One of the joys of travel is discovering new food. Greece was on my bucket list for ages before I actually made my way there. Not only was I interested in checking out ancient ruins and soaking up the Mediterranean sun, I was also really curious about about authentic Greek food.
Lucky for me, one of my best friends is Greek, and she was able to give me a few pointers. Souvlaki was definitely her top pick. So as soon as we hit the ground in Athens, we were looking for a souvlaki street stand, which didn't disappoint.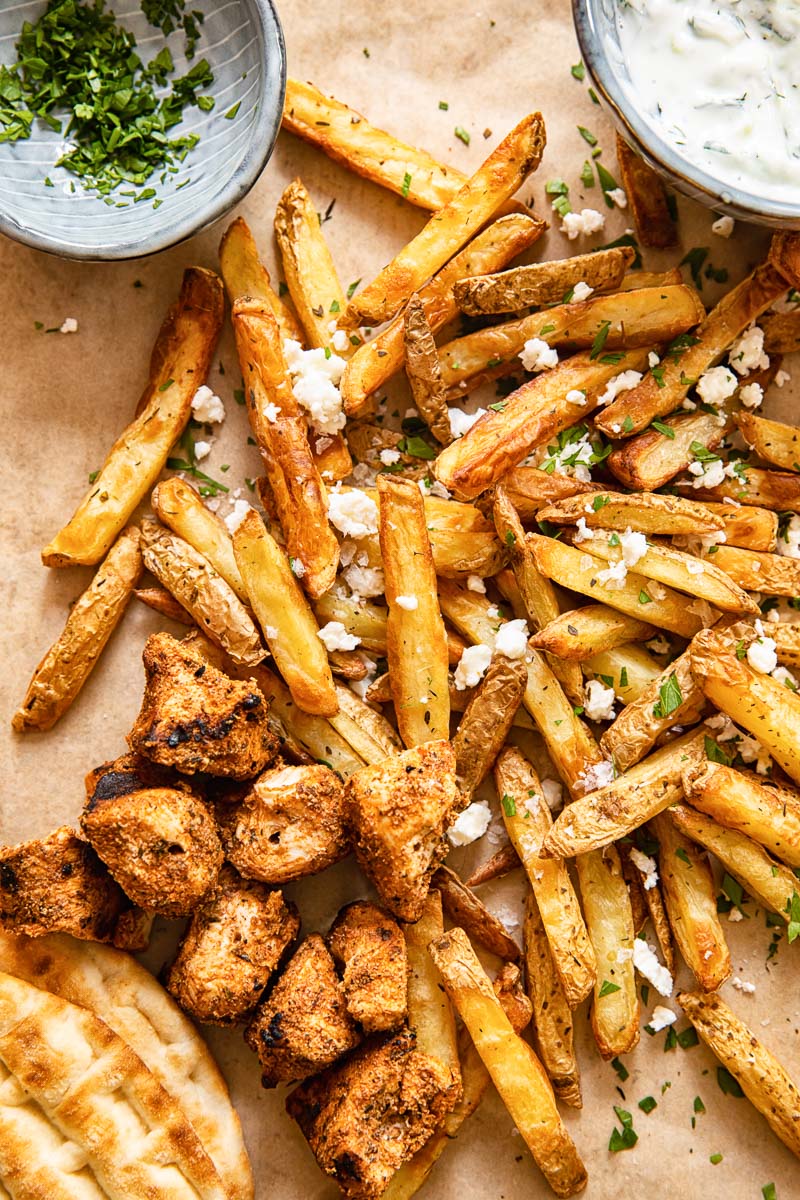 I was expecting to see pita served with souvlaki but what surprised me it also came accompanied by the most delicious potato fries.
Flavoured with thyme and oregano, deep fried in olive oil and served with creamy and garlicky tzatziki, Greek fries tasted heavenly. I didn't realise potato fries were such a fixture in Greek cuisine but I am here for it!
Air Fryer Fries
You might think you know how to make good fries but let me show you how to prepare them in an air fryer. Minimum amount of oil can and will create crispy on the outside and creamy on the inside fries when cooked in an air fryer, which uses convection method.
It might sound simple, and it mostly is, but you do need to know a few tricks in order to get the results you are craving.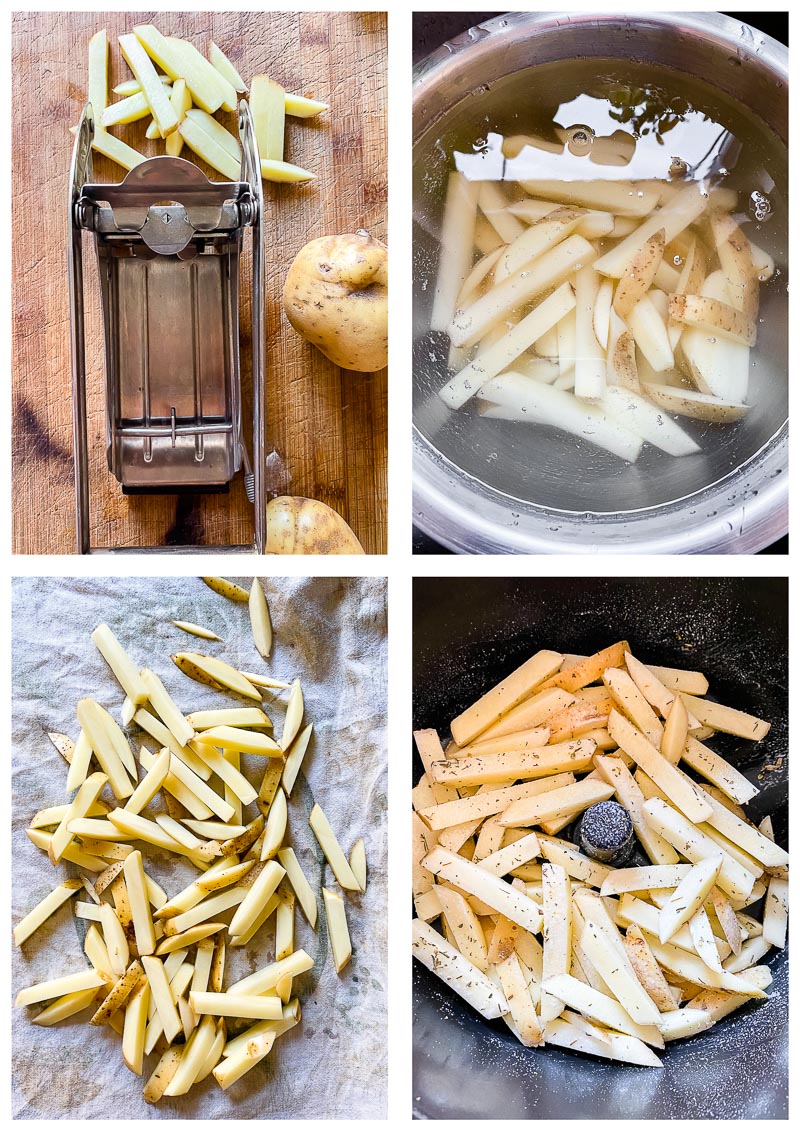 Recipe Tips and Notes
I make these so often I invested in a potato chipper, which cuts my potatoes in a recognizable, uniform shape and does it so quickly! You don't need it for this recipe but it makes the job easier.
Choose the right potato. Not all types of potatoes are suitable for fries. For example, the red potatoes won't crisp up. The best ones to use are Maris Piper in the UK and Yukon Gold in the US.
Don't overload your air fryer or potatoes will cook unevenly.
After you cut your potatoes, soak them in cold water for 10 minutes or at least rinse them very well until the water is clear.
Next, drain them and scatter on a kitchen towel and pat dry. I mean they need to be really dry for the method to work.
Spray with kitchen spray. I used olive oil flavoured spray. You can also use 1 tsp of olive oil but make sure it is evenly distributed, which isn't easy. That is why I prefer a spray.
In general air fryer potatoes taste best when they have extra seasoning added since they lack that layer of fat, deep fried potatoes or roast potatoes are famous for.
Season with salt and flavour with dry herbs. In this recipe, we are using dried thyme and oregano to evoke Greek flavours.
Air fry for 20-4o minutes depending on your air fryer. I know this is vague for a recipe but air fryers do vary and some need 20 minutes and others need 40. I've owned 3 air fryers from different brands. I know this from my own experience. My advice is get to know your air fryer and check on the fries as they cook.
Favourite Recipes with Greek Flavours: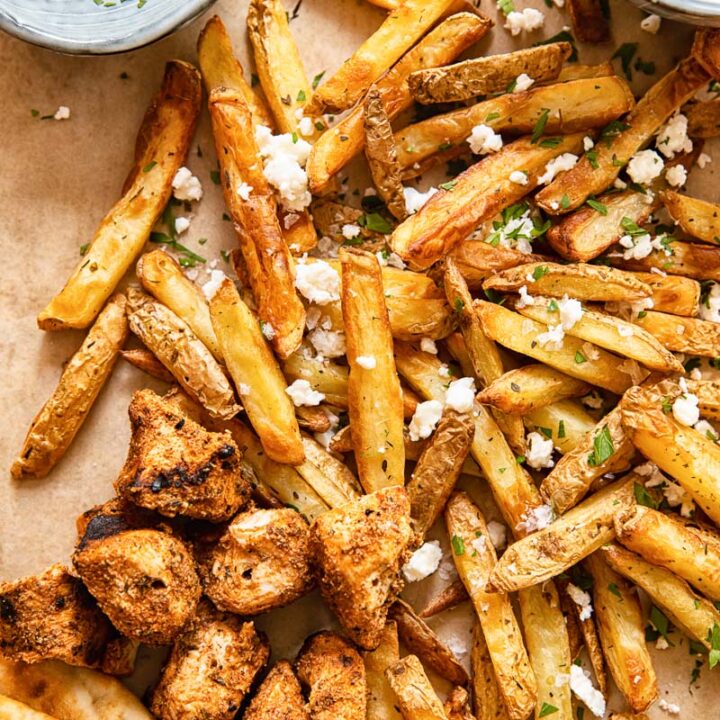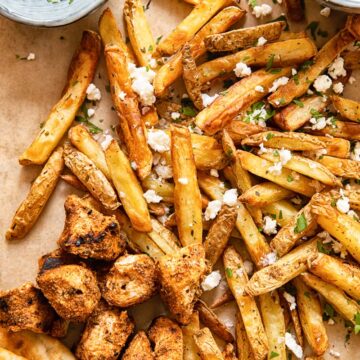 Air Fryer Greek Fries
Enjoy these delicious air fryer Greek fries, topped with briny feta, guilt free. And don't forget to dip them in creamy tzatziki.
Ingredients
5-6

medium potatoes

see notes

cooking spray

1

tsp

salt

½

tsp

dried thyme

½

tsp

dried oregano

4

tbsp

crumbled feta

½

cup

tzatziki
Instructions
Wash the potatoes and cut them unpeeled. You can use a knife or a potato chipper. Wash the cut potatoes again or better yet soak them in cold water for 10-20 minutes if time allows. Then drain and dry them thoroughly with a kitchen towel. There should be no moisture left on the surface of your potatoes.

Spray them with an oil spray all over, shake and spray again until evenly coated, then season with salt, dried thyme and oregano. Put your seasoned potatoes into the basket of an air fryer, select the Air Fry option and cook for 10 minutes. Then take the basket out, shake the potatoes very well, spray again and cook for 8-10 minutes longer until the potatoes are golden on the outside and cooked all the way through. Sprinkle with crumbled feta cheese before serving.
Notes
Best potatoes for this recipe are Yukon Gold (US) Maris Piper (UK). Avoid red potatoes.
Nutrition
Calories:
253
kcal
Carbohydrates:
47
g
Protein:
8
g
Fat:
4
g
Saturated Fat:
2
g
Polyunsaturated Fat:
1
g
Monounsaturated Fat:
1
g
Cholesterol:
15
mg
Sodium:
791
mg
Potassium:
1136
mg
Fiber:
6
g
Sugar:
2
g
Vitamin A:
86
IU
Vitamin C:
53
mg
Calcium:
122
mg
Iron:
2
mg