Juicy and flavourful grilled chicken breast in a brioche bun smothered with feta and tzatziki, then layered with lettuce, onion, tomato and avocado, this Greek chicken burger is a summer BBQ hit!
Summer is for grilling! Take a look at our traditional Burger Recipe if you are a beef lover.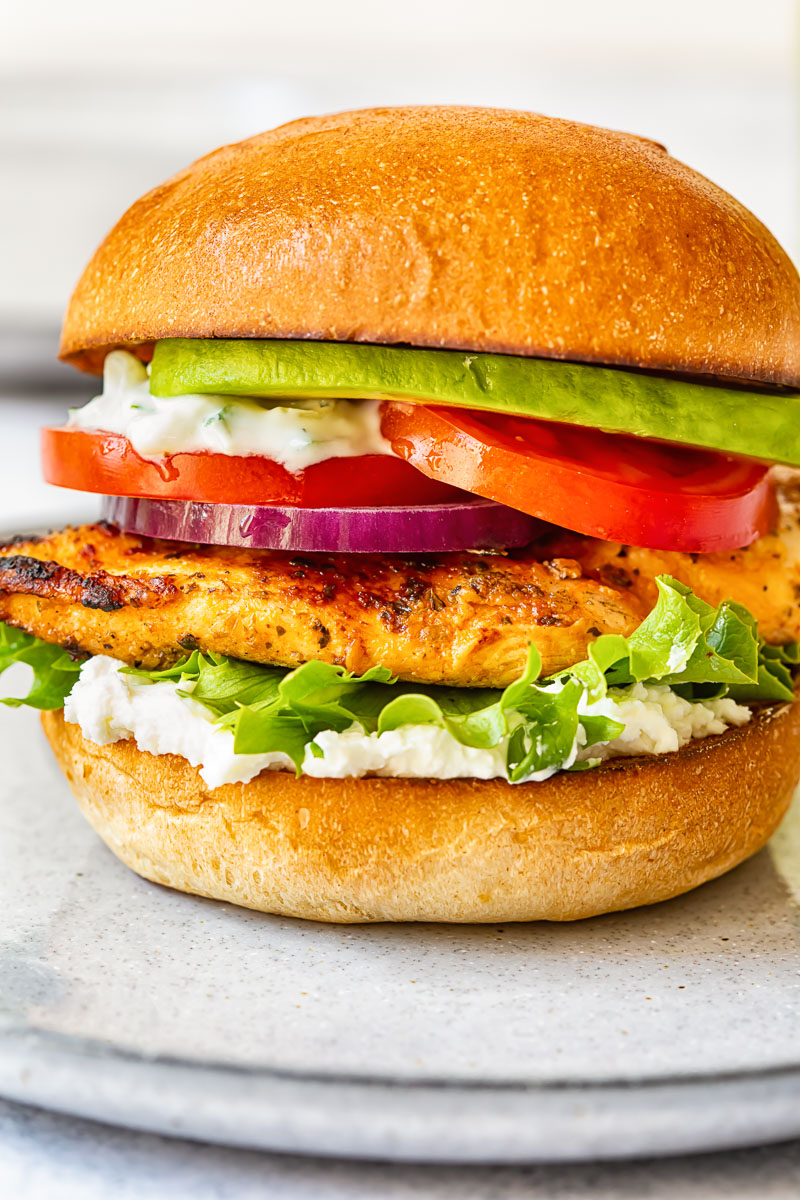 It might be because we just bought a brand new BBQ or could be due to the fact we spend the major part of the last year at home but all I want to do is to cook outside this summer.
My family is 100% behind me as they are enjoying all the burgers! I love a good burger, in fact a smash burger is one of my favourite things to eat but I can only have them a couple of times a month.
I crave lighter, veggie filled meals in the summer more than anything. That is why I am a huge fan of chicken burgers and I think you will be too once you tried my recipe.
This burger is off the scale delicious, made even more flavourful by the addition of Greek flavours, that I love so much!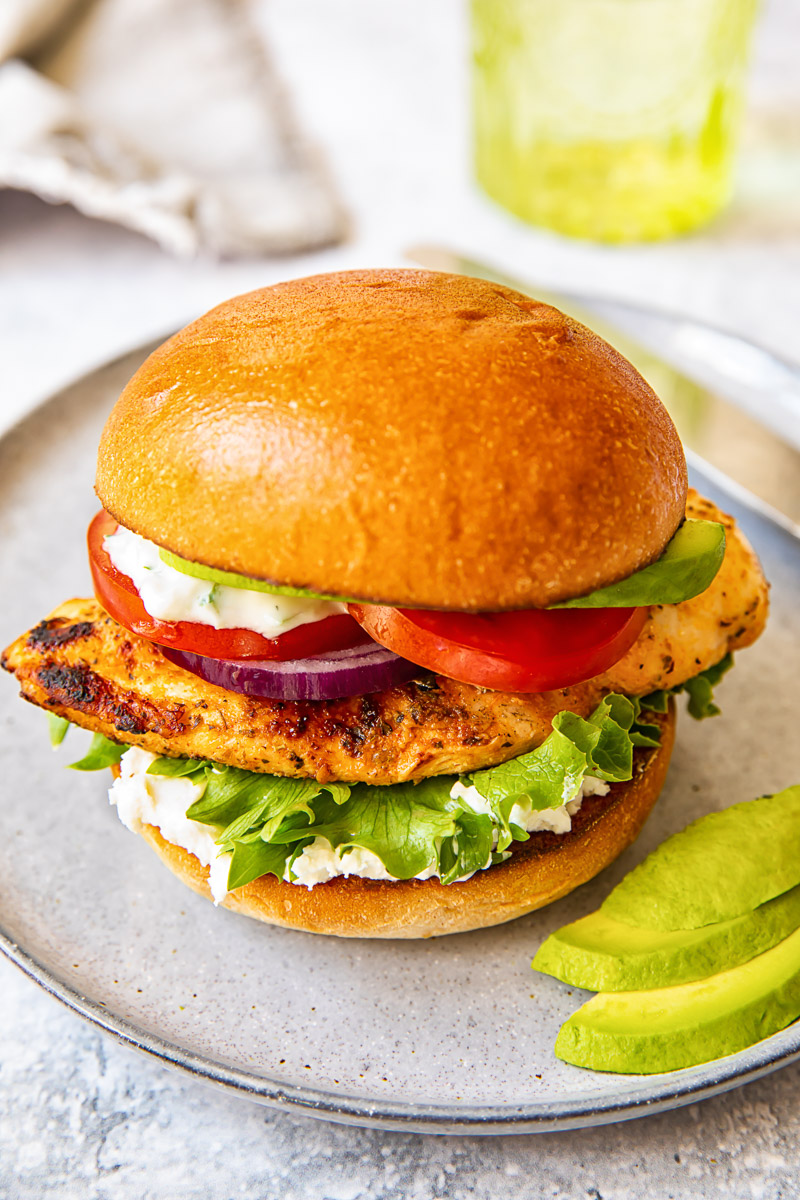 Greek Grilled Chicken
The inspiration for this burger came from the famous Greek street food Chicken Souvlaki. Marinated and grilled chicken is served in a warm pita bread with garlicky tzatziki and all the fixings. I took the concept, the flavours and turned them into a burger.
The Marinade
All the delicious topping aside, the star of the show is the bursting with flavour, chargrilled chicken breast. And the main contributor to the taste is my Greek chicken marinade!
It's no secret that a marinade improves the texture of the meat and also flavours it, so what you get is the juiciest chicken breast!
A typical Greek marinade is not crazy complex. Freshly squeezed lemon juice and zest, garlic, oregano, paprika, salt and a touch of good quality olive oil. Simple yet effective. You can marinate your chicken overnight. But if you forget, even 3 hour prior to grilling will do the trick.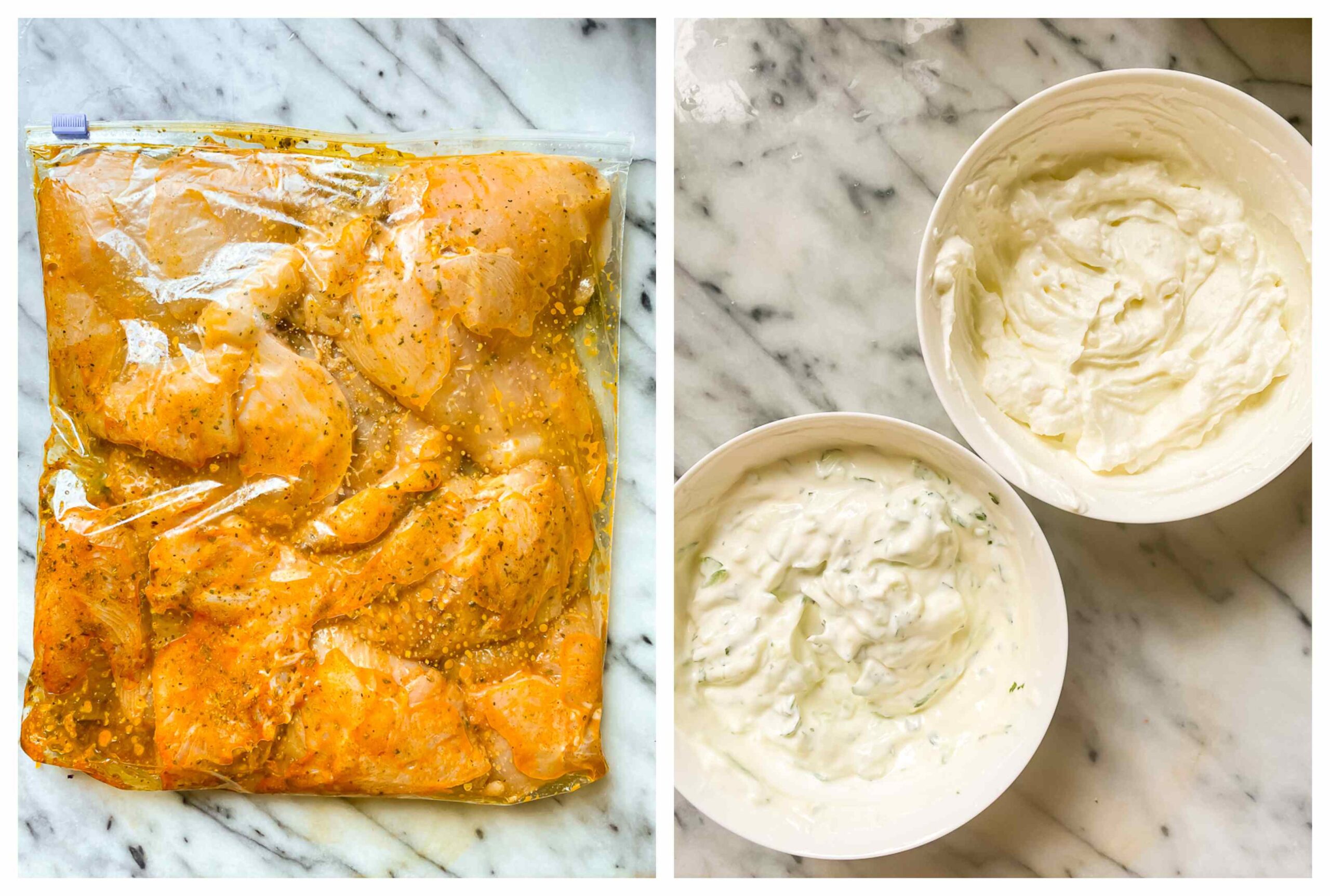 Recipe Tips and Notes
My main tip for this recipe is this one. You need to split your boneless, skinless chicken breasts into chicken cutlets before dunking them in a marinade. A thinner chicken breast is a lot more manageable in a burger plus it cooks more evenly and faster!
To cook your chicken breast to perfection and to avoid dry and rubbery result read my guide on How to Grill Chicken Breast.
Beside the grilled chicken breasts in a soft and buttery burger bun, I added two spreads to my burger to maximise the Greek flavour.
Everyone loves the salty and briny feta cheese but it's not easy to incorporate into a burger due to its crumbly texture. To overcome that little issue, I've combined my feta cheese with a couple tablespoons of Greek yogurt, which turned it into a gorgeous feta spread. So much creamy goodness and zero spillage!
If the bottom received the feta cheese treatment, the top of my chicken burger burger got slathered with my homemade tzatziki sauce. Feel free to use store bought for convenience but making your own takes 10 minutes and tastes so fresh! You can make both spreads a day ahead.
What you stack in the middle of your burger is entirely up to you but let me suggest a few toppings.
Chicken Burger Toppings
Like I mentioned above, the concept for my Greek chicken burgers came from souvlaki, so I used toppings typical for the dish. Lettuce, onions and tomatoes.
I also added sliced avocado simply because I love them and they add a nice creamy texture. But I have more suggestions for you.
Serve with Tomato Salad with Herb Vinaigrette and Feta or Creamy Cucumber Salad.
If you are a Greek food lover, take a look at our favourite recipes inspired by the flavours: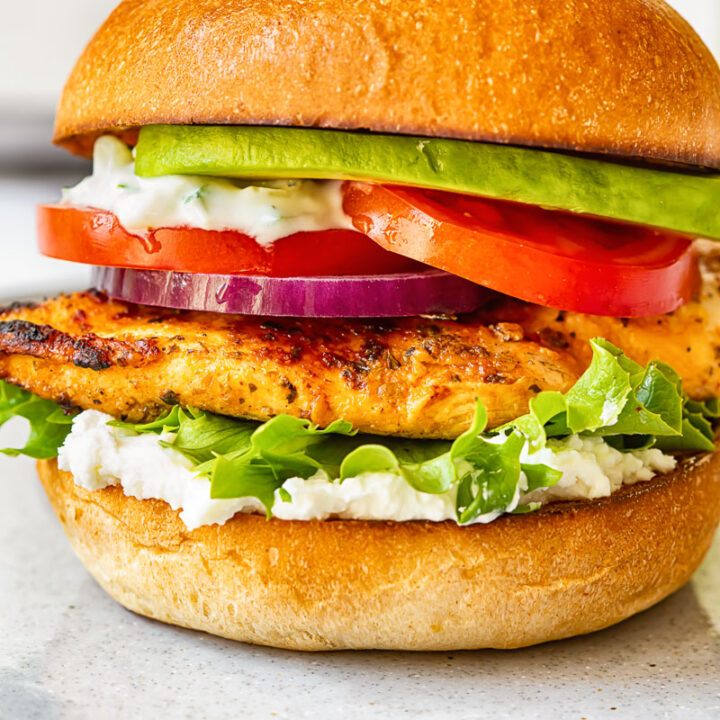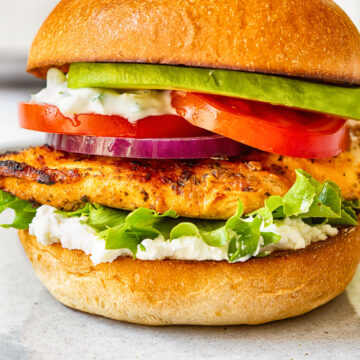 Greek Chicken Burger with Feta
Juicy and flavourful grilled chicken breast in a brioche bun smothered with feta and tzatziki, then layered with lettuce, onion, tomato and avocado this Greek chicken burger is a summer BBQ hit!
Ingredients
1 ½

lemons

juice and zest

2

cloves

pressed garlic or 1 tsp garlic powder

1

tsp

dried oregano

1

tsp

paprika

1

tsp

salt

1

tbsp

olive oil

2

chicken breasts

cut in half lengthwise

125g/1/2 cup

feta cheese

2

tbsp

Greek yogurt

plain

125 ml/1/2 cup

Tzatziki

½

onion

1

tomato

4

leaves

lettuce

1

avocado

4

hamburger buns
Instructions
Cut the chicken breasts in half lengthwise. Mix the juice and zest of lemons, pressed garlic, oregano, parika, salt and olive oil, pour all over chicken breasts and marinate for at least 3 hours or overnight.

Preheat the grill. Meanwhile, prepare the toppings. Make the feta spread by breaking up feta cheese with a fork into a paste, it doesn't have to be smooth, then combining it with the Greek yogurt. Make the tzatziki following this recipe or use a store bought version. Slice the onions, tomatoes, avocado and wash and dry the lettuce leaves.

Place the chicken breasts on a preheated grill on high heat and grill for 2 minutes on each side, then move to the indirect heat, cover the lid of the BBQ and cook for 5-7 minutes until cooked all the way through and the internal temperature reads 165F/74C. Rest for 5 minutes before using in a burger.

Assemble the burgers by spreading 1-2 tbsp of the feta spread on the bottom of a toasted burger bun, top with a lettuce leaf, grilled chicken breast, onions, then slices of tomatoes and avocados. Finish with 1-2 tablespoons of Tzatziki sauce and the top of the bun. Serve immediately.
Nutrition
Calories:
520
kcal
Carbohydrates:
37
g
Protein:
37
g
Fat:
26
g
Saturated Fat:
8
g
Polyunsaturated Fat:
3
g
Monounsaturated Fat:
10
g
Trans Fat:
1
g
Cholesterol:
105
mg
Sodium:
1434
mg
Potassium:
930
mg
Fiber:
7
g
Sugar:
8
g
Vitamin A:
899
IU
Vitamin C:
34
mg
Calcium:
318
mg
Iron:
3
mg