Cooking a whole chicken in an air fryer produces fast and delicious results. Let me show you how! I marinated mine in a zesty and flavourful marinade, inspired by the Greek cuisine.
Serve with Sweet Potato and Swede (Rutabaga) Mash for a delicious non-fussy dinner or make these rosemary lemon potatoes in the oven.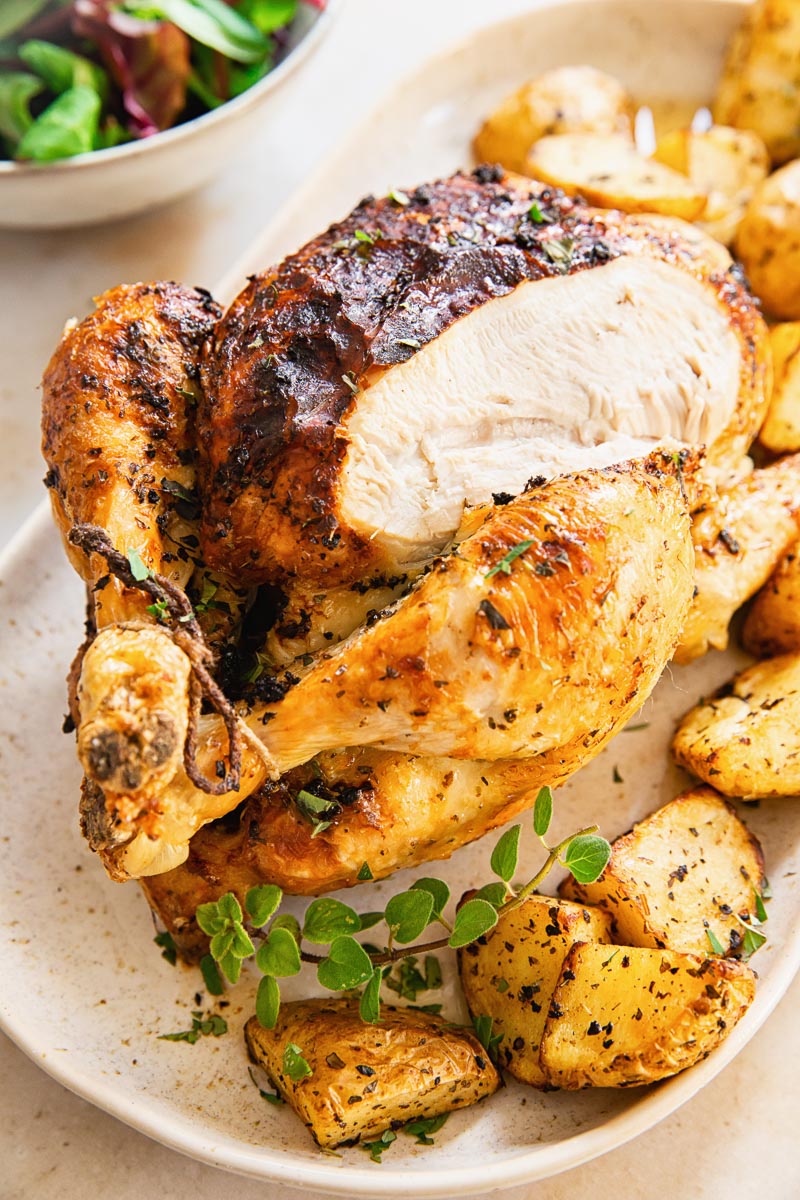 Roast chicken is firmly associated with special dinners in my brain because it takes a bit of time and effort to produce. What if I told you I've discovered a kitchen hack, that allows you to get a fully cooked whole chicken on the table in 40 minutes?
I mean this chicken is one of the best things I've had in awhile. Crispy, flavourful skin, tender and juicy flesh and the best part it's done super fast! Take a look these Air Fryer Green Beans for a delicious and speedy side too.
Let me introduce to you my air fryer whole chicken method together with the delicious marinade I used for this recipe.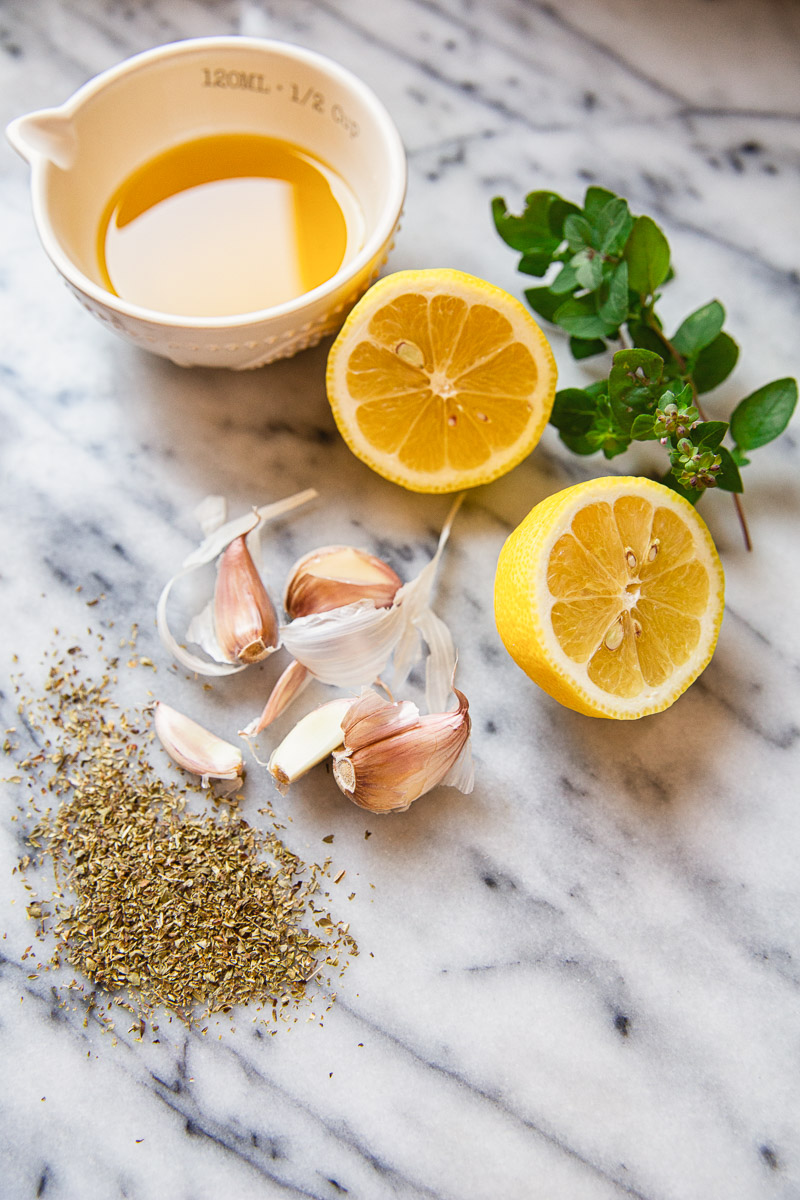 Greek Marinade Recipe
No need to go overly complicated on the marinade. Greek flavours are simple yet delicious. Zesty lemon, punchy garlic and fragrant oregano all brought together by the extra virgin olive oil.
Don't forget salt! Salt doesn't just season the chicken, it also draws out moisture from the skin and makes it crispy and delicious.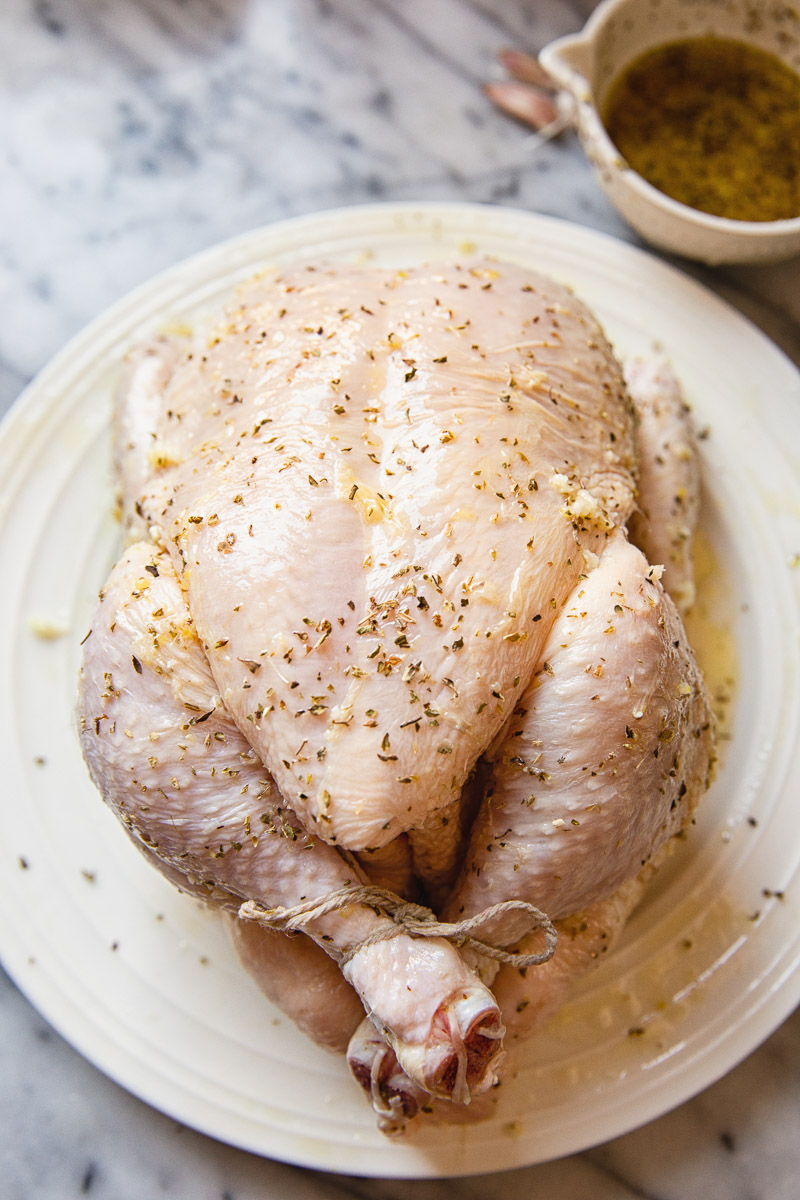 Air Fryer Chicken Top Tips
This recipe produces a chicken, which tastes very similar to a rotisserie chicken. So if you are someone who picks it up regularly from a deli, you are in for a treat! This style of chicken is so easy and quick to achieve in your air fryer. Here is how:
You need an air fryer with 4Q/4.2 L capacity or bigger.
Pick a small chicken, no larger than 3 lbs (1.5kg). This will ensure that the chicken cooks all the way through without burning on the outside. Plus it needs to fit in your air fryer! Increase cooking time if using a larger chicken.
Allow the marinade to work its magic for at least 30 minutes and up to 4 hours prior to cooking.
Cover the breast of the chicken with aluminium foil 15 minutes into the cooking to prevent excessive browning.
Use meat thermometer to ensure your chicken is cooked all the way through. (75C/165F internal temperature)
More Fast Whole Chicken Recipes: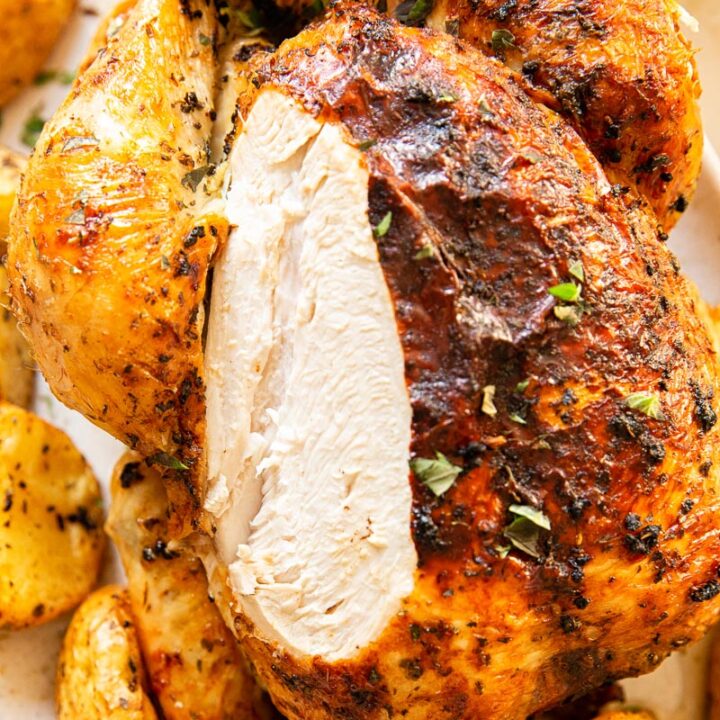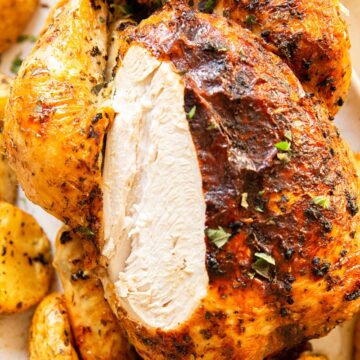 Air Fryer Greek Whole Chicken
Cooking a whole chicken in an air fryer produces fast and delicious results. Let me show you how!
Ingredients
1.5 kg/3 lbs

whole chicken

small

3

tbsp

olive oil

1

lemon, juice and zest

3

cloves

garlic

1

tsp

dried oregano or 1 tbsp fresh if available

salt
Instructions
Mix the olive oil, minced garlic, the juice and zest of a lemon, oregano and salt. Rub the marinade all over the chicken including the cavity. Put the squeezed lemon halves inside the cavity, tie the legs with a kitchen twine and marinade for at least 30 minutes or up to 4 hours in the fridge.

Preheat air fryer by selecting Roast and set the temperature to 170C/325F for 3 minutes.

Place the chicken in the air fryer breast side up and roast for 35-40 minutes. After 15 minutes cover the breast with foil to avoid burning and continue cooking for 20-25 minutes longer until the internal temperature of the thickest part of the chicken (breast) registers 165F/75C. Remove from the air fryer using two spatulas (the air fryer will be very hot). Let it rest for 15 minutes before cutting.
Notes
Increase cooking time if using a large chicken than the recipe indicates.
Nutrition
Calories:
360
kcal
Carbohydrates:
2
g
Protein:
27
g
Fat:
27
g
Saturated Fat:
7
g
Cholesterol:
107
mg
Sodium:
682
mg
Potassium:
293
mg
Fiber:
1
g
Sugar:
1
g
Vitamin A:
200
IU
Vitamin C:
10
mg
Calcium:
25
mg
Iron:
1
mg