This rosemary lemon chicken and potatoes recipe is one of those comfort food recipes that is handy to have up your sleeve.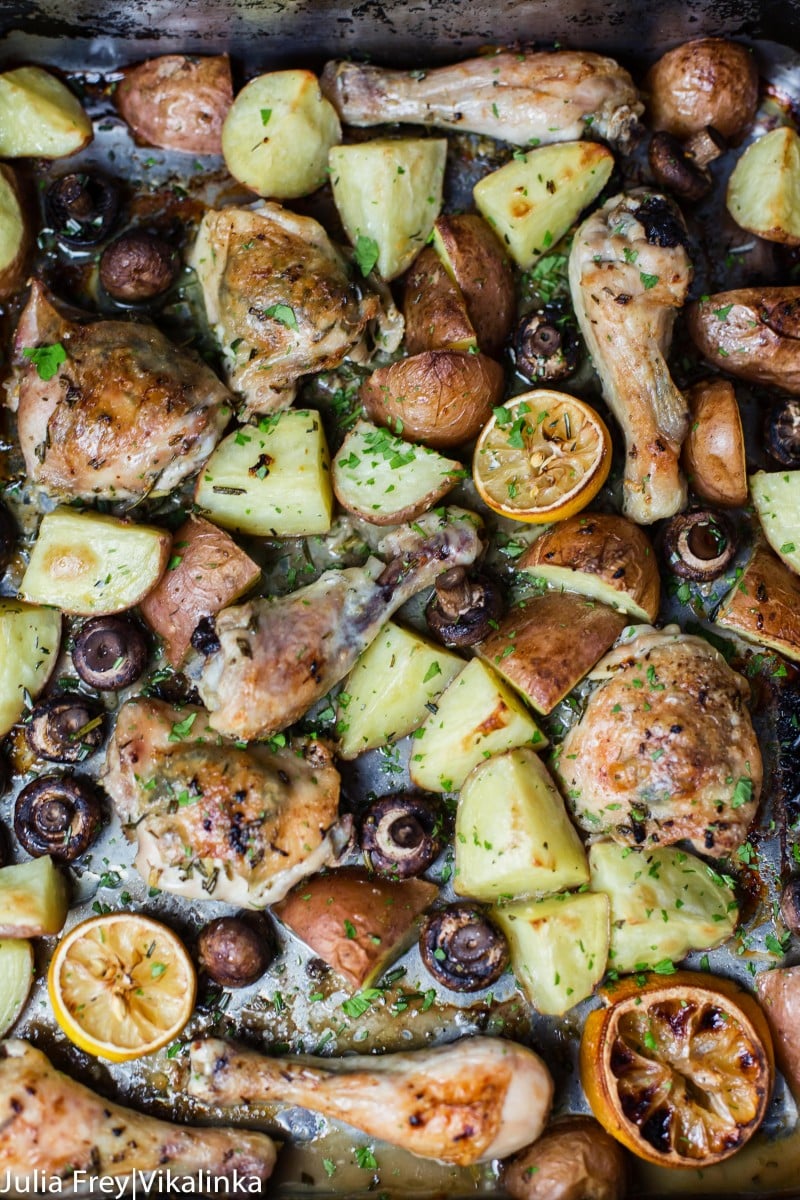 Another school year announced itself with the arrival of true British weather-rain, rain and more rain.
I am writing this while grieving our canceled park plans and listening to the heavy rain drops pounding on the roof of my conservatory.
The message is clear-summer is over. The hope, however is not…as long as this Rosemary Lemon Chicken and Potatoes Recipe exists.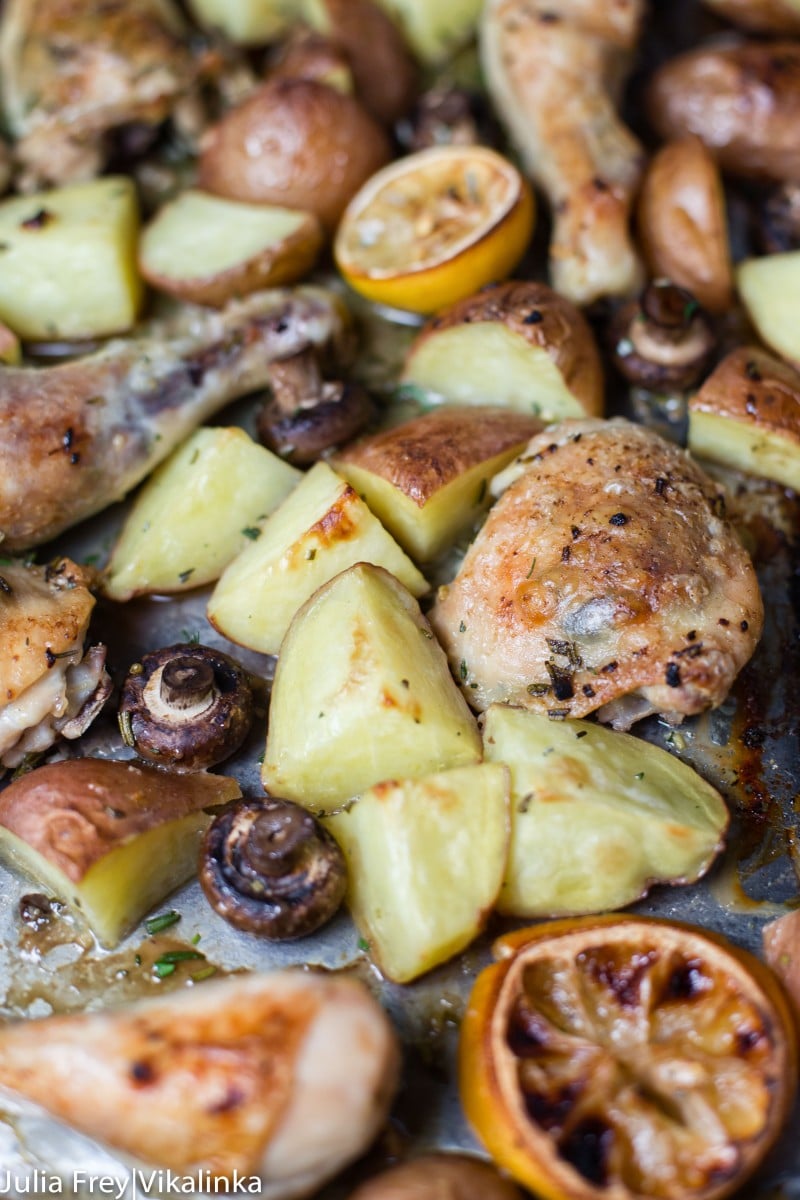 However, there is a silver lining in all of this. Cosy blankets, great books and delicious autumn food.
Roasted Rosemary Lemon Chicken and Potatoes is a one pot type of dish that never disappoints. The easiest yet the tastiest thing to throw together.
No marinade, no countless dishes, everything prepped and done within an hour and, because it uses the cheapest parts of the chicken like thighs and legs, is also economical.
No wonder it earned a permanent place on the menu in our house!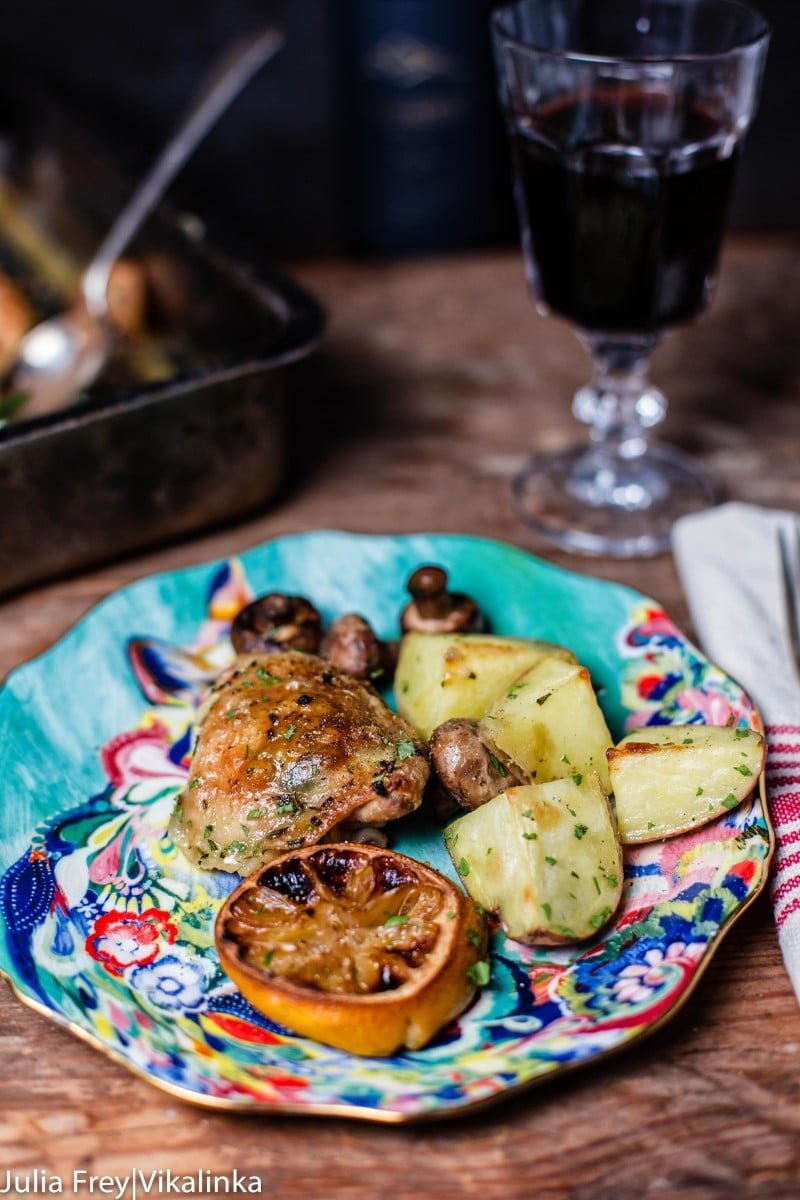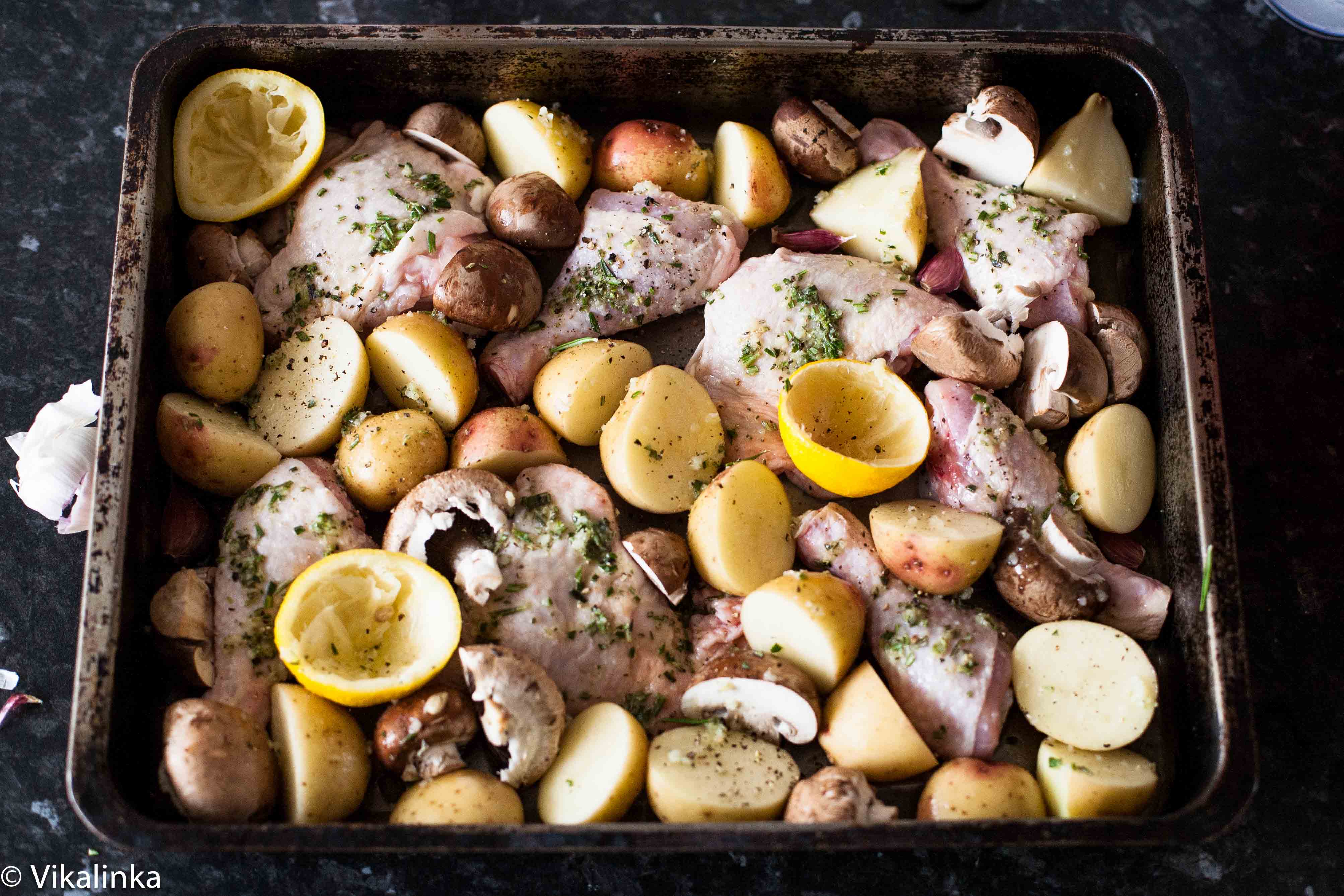 * This recipe has been updated on 20/11/2016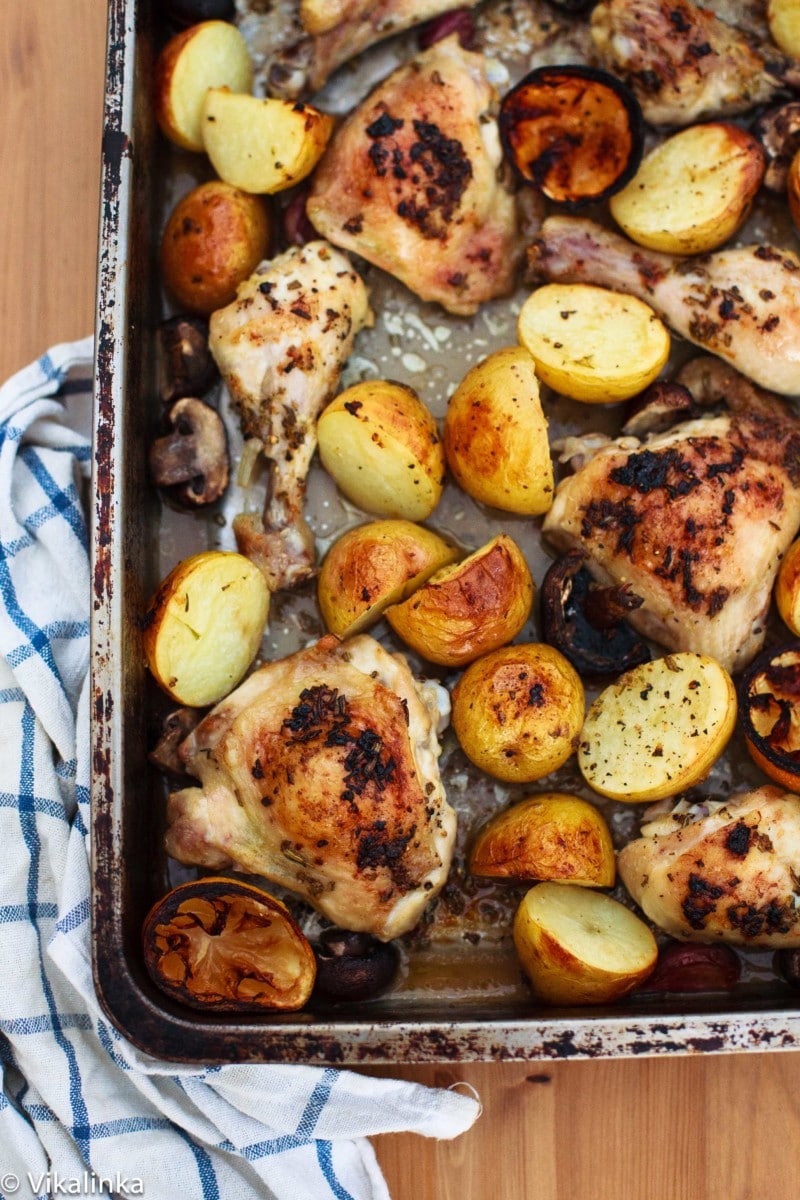 Ingredients
Potatoes

halved or quartered-4-6 medium

Chicken legs and thighs- 6-8

Chestnut/Brown Mushrooms

optional- 8-10

Lemons-1-1 1/2

Garlic cloves-3

Rosemary- 3 sprigs

Olive oil- 3 tbs.

Salt and pepper
Instructions
Preheat the oven to 450F/250C

On the cutting board chop up rosemary leaves roughly. In a mortar combine chopped rosemary, garlic, a pinch of coarse salt and 1 tbsp of olive oil and bash it all together with a pestle until you have a paste, then add the rest of the olive oil and the juice of the lemons, reserve the lemon halves.

Arrange the chicken pieces and potatoes on a baking tray and spoon the rosemary mixture on top making sure it covers chicken and potatoes. Stick the lemon halves wherever you have free space on the tray, they will infuse more flavour into the dish. Cook for 25 minutes.

Take out of the oven and add mushrooms, baste chicken, potatoes and mushrooms with the juices form the bottom of the pan. Cook for additional 25 minutes.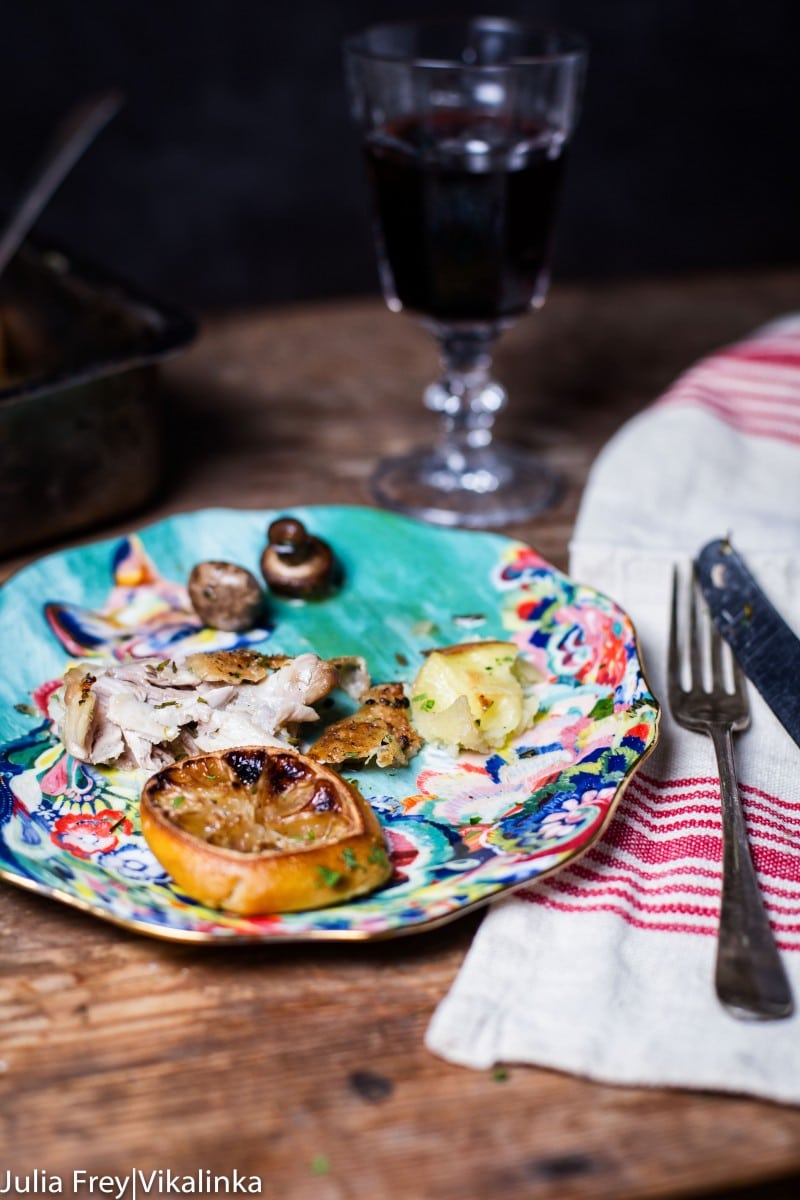 The recipe was adapted from Minimally Invasive.