This recipe for creamy tarragon chicken and potatoes will become your new favourite. Crispy-skinned chicken legs and baby potatoes in a delicious white wine and cream sauce with a hint of tarragon. French cooking at its best!
Looking for a great starter for this one pan meal? Why not give this Spinach Apple Salad with Bacon and Blue Cheese a try?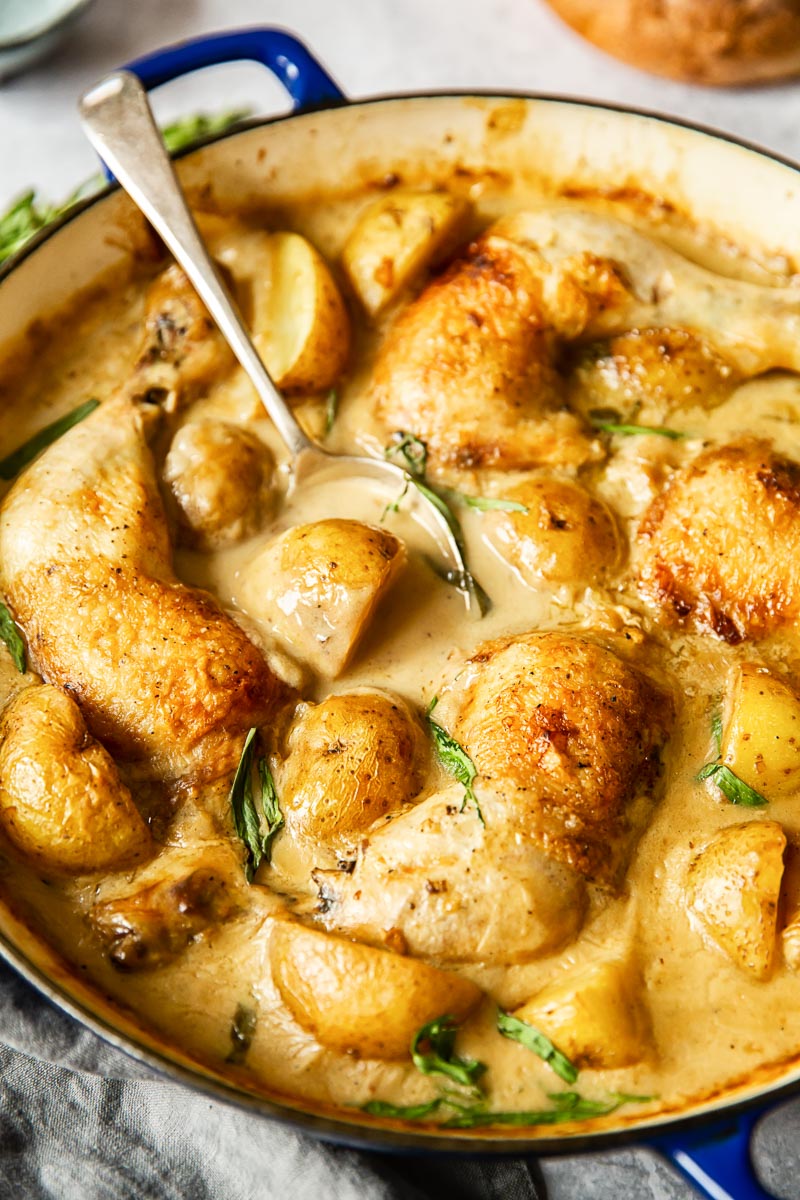 I am so thrilled to share this fabulous recipe with you. It's hard to go wrong when chicken in a cream sauce is involved. Am I right?
This tarragon flavoured sauce is one of the most beautiful inventions of the French cuisine but sadly not as popular in other countries and it should change. Tarragon is a fragrant herb that deserves recognition.
What is tarragon good for?
Terragon is a herb and it goes exceptionally well with chicken and fish as it has a sweet, almost anise seed like fragrance and a slightly peppery taste.
When used in right quantities it can elevate your dish and take it from every day to extraordinary. Tarragon is responsible for the taste of the famous Bearnaise sauce that goes so well with steak!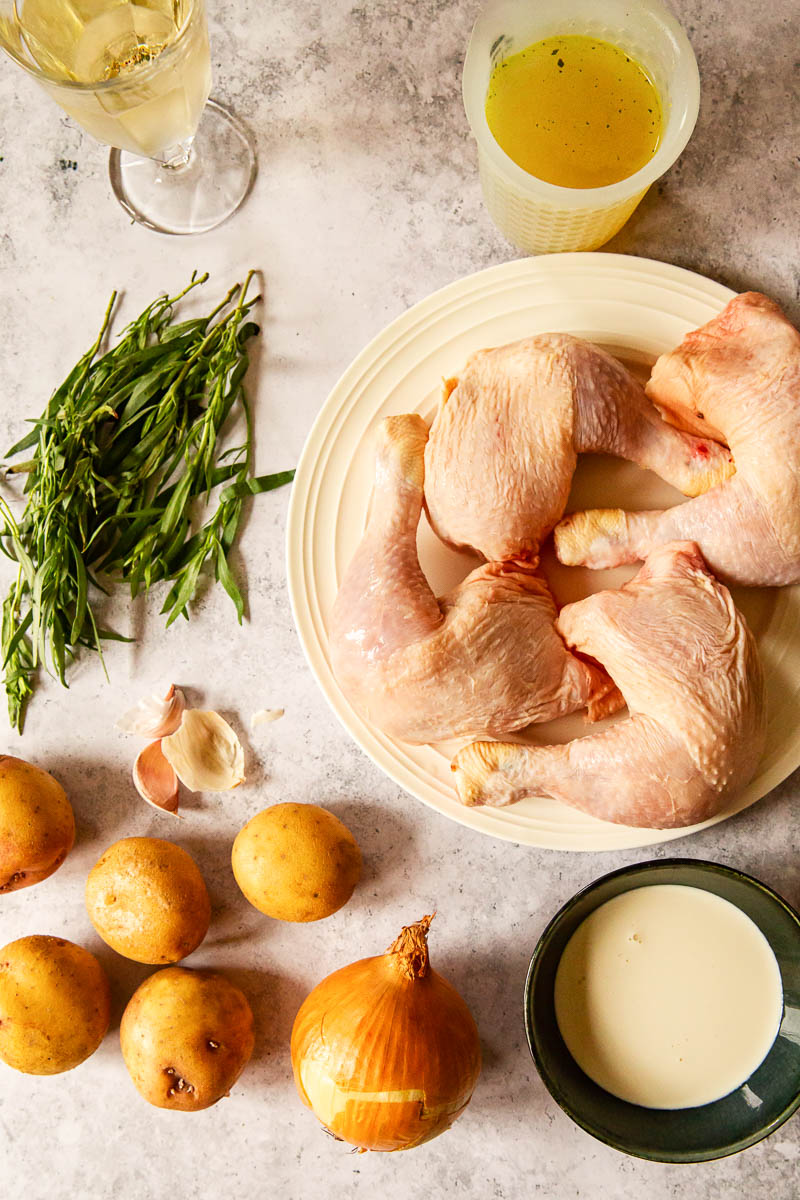 How do I make tarragon chicken and potatoes?
As you can see from the photo above this recipe doesn't have a very long ingredient list. It pretty much relies on proper techniques and quality ingredients to provide the taste as many French dishes do.
Since we are using skin-on chicken legs it's important to start the recipe by browning them well on each side. As messy as it is, the browning will improve the taste of the cream sauce and the texture of the chicken. If you really hate the splatter this step creates, you a splash guard to keep oil under control.
The rest is easy. Saute onions and garlic, then deglaze with white wine. Another flavour maker here! Chicken stock, cream and tarragon will finish the sauce, in which we braise the chicken and potatoes for about 40 minutes. Done.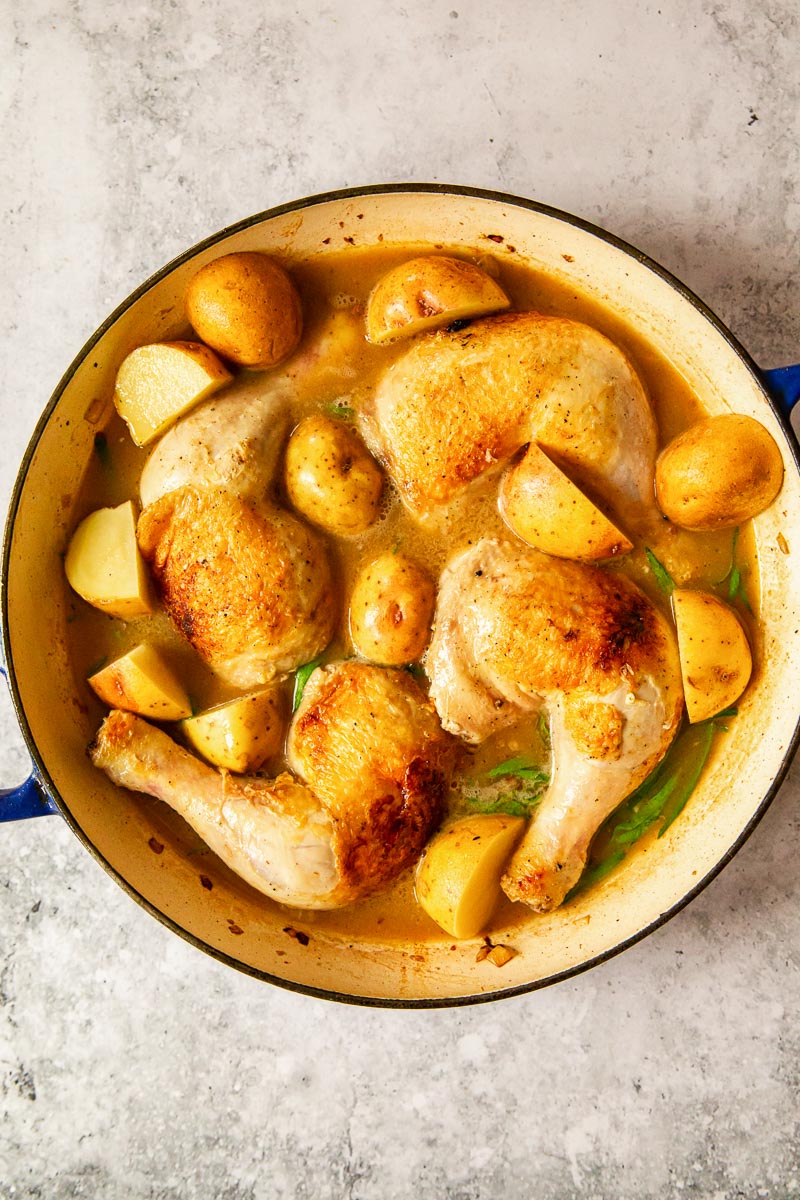 Do I cook the chicken in the oven or stove top?
You can do either. The key is to simmer your browned chicken in the sauce until it's cooked all the way through and tender.
I prefer cooking mine in the oven uncovered as it gives the chicken skin that beautiful colour and crispy texture. The cream is added in the last 10 minutes to avoid curdling as cream tends to do at high temperatures and prolonged cooking process.
What can I substitute for cream?
If you are avoid dairy for healthy or any other reasons, you can safely use a plant based alternative like Soya single cream. The one made by Alpro is our family's favourite.
As my son is allergic to dairy we tend to use it in place of cream in many dishes like Swedish Meatballs or Chicken and Bacon Pasta.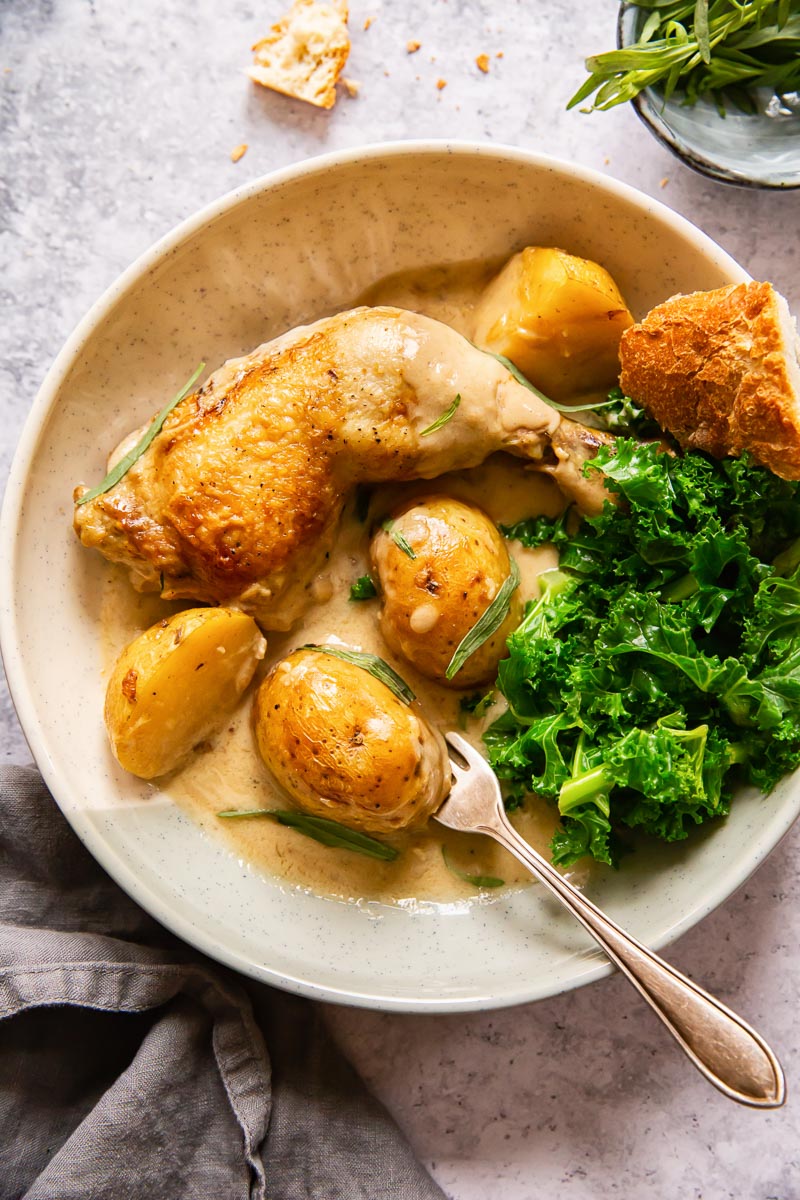 More favourite French Chicken recipes:
Ingredients
1

tbsp

olive oil

4

chicken legs

2 lbs

salt and pepper

1

onion, chopped

2

cloves

garlic

1

tbsp

flour, heaped

125ml/1/2cup

dry white wine

250ml/1 cup

chicken stock

4

sprigs

fresh tarragon, leaves only

1

lbs

potatoes or 5 small potatoes

125ml/1/2 cup

double cream/heavy cream

see notes
Instructions
Preheat oven to 180C/350F. Brown seasoned with salt and pepper chicken legs in olive oil until golden on each side but not cooked all the way through. Remove to a plate and set aside.

Add chopped onion and garlic to the pan and sauté over low heat for 5 minutes, add flour and stir it into the fat, let it cook for a minute or so, then pour in white wine, chicken stock and fresh tarragon leaves, stir until well combined and bring to a boil.

Bring the chicken legs together with the juices back to the pan, add halved potatoes and cook in the oven at 180C/350F uncovered for 35 minutes, then take the pan out and pour in the cream. Cook for 10 minutes longer until the potatoes are soft and the chicken skin is golden.
Notes
Single cream or Soya cream (by Alpro) could be used in place of double/heavy cream.
Nutrition Facts
Creamy Tarragon Chicken and Potatoes
Amount Per Serving
Calories 555
Calories from Fat 333
% Daily Value*
Fat 37g57%
Cholesterol 165mg55%
Sodium 225mg10%
Potassium 943mg27%
Carbohydrates 24g8%
Protein 27g54%
Vitamin A 662IU13%
Vitamin C 17mg21%
Calcium 101mg10%
Iron 6mg33%
* Percent Daily Values are based on a 2000 calorie diet.