This apple salad made with spinach, bacon, walnuts and blue cheese is as delicious as it is beautiful to look at. Absolutely perfect for your holiday table!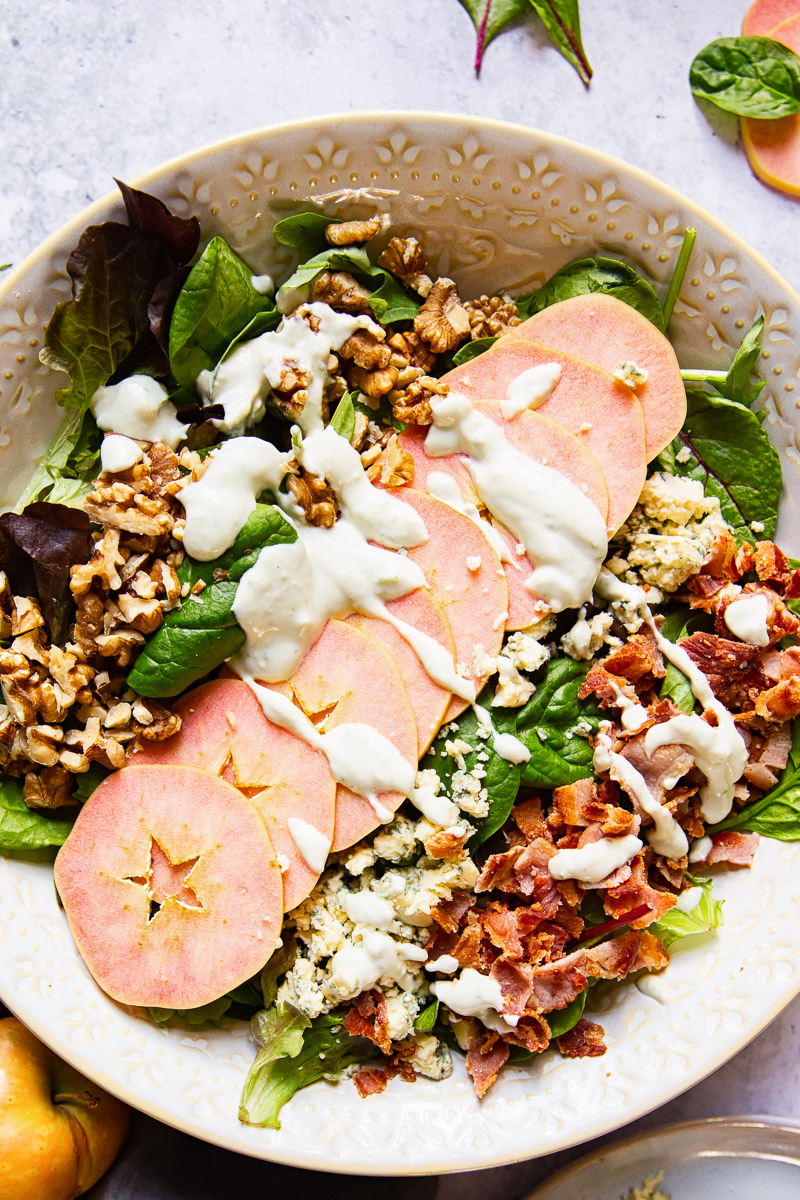 Is it okay to admit that the entire salad idea was inspired by one ingredient? I had some time to kill last week before I was to meet my husband after work, so I wondered into a grocery store…
That sounds like the beginning of a bad joke but in reality I often wonder though supermarkets looking for inspiration. Often I have no idea what I'd cook until I see something that immediately gives me an idea.
This time it was apples that are coral pink inside!
The variety I stumbled upon is called Kissabel and has a distinct berry flavour. I was so smitten with these pink-fleshed beauties I knew I had to showcase them in a dish where they'd be served raw.
I knew it would have to be an apple salad of sorts, so I just had to come up with ingredients that would compliment my apples.
How do you make an apple salad?
My general salad formula is simple. Something green, something savoury, something sweet, something crunchy, something tangy.
This particular apple salad is no exception. Once you have all your elements, it's easy to change things up and come up with a whole slew of tasty and nutritious salads. It's using the same ingredients over and over again that turns us off salads altogether!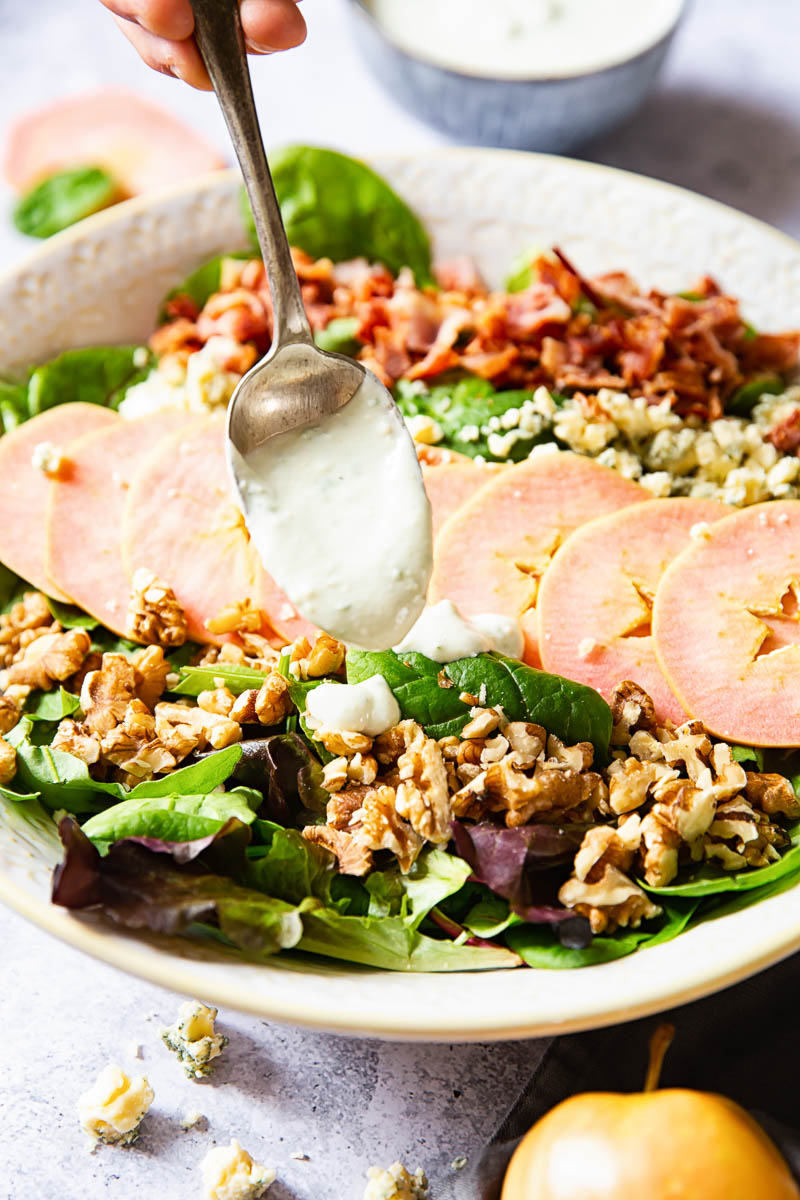 When picking ingredients for my apple salad I remembered a French farmer and cheese producer I met this past summer while visiting the Jura region of France. I was on a press tour learning about how a century old Comte cheese is made, which was presented by a charming lady.
Despite living in rural France and working with cows, she looked quite elegant. I was wondering how looking fab is so effortless for French women.
Then I heard about her lunch. An apple, a cube of cheese and a walnut. That's how!!
So you can say that the idea for this apple salad came from the fabulous French farmer!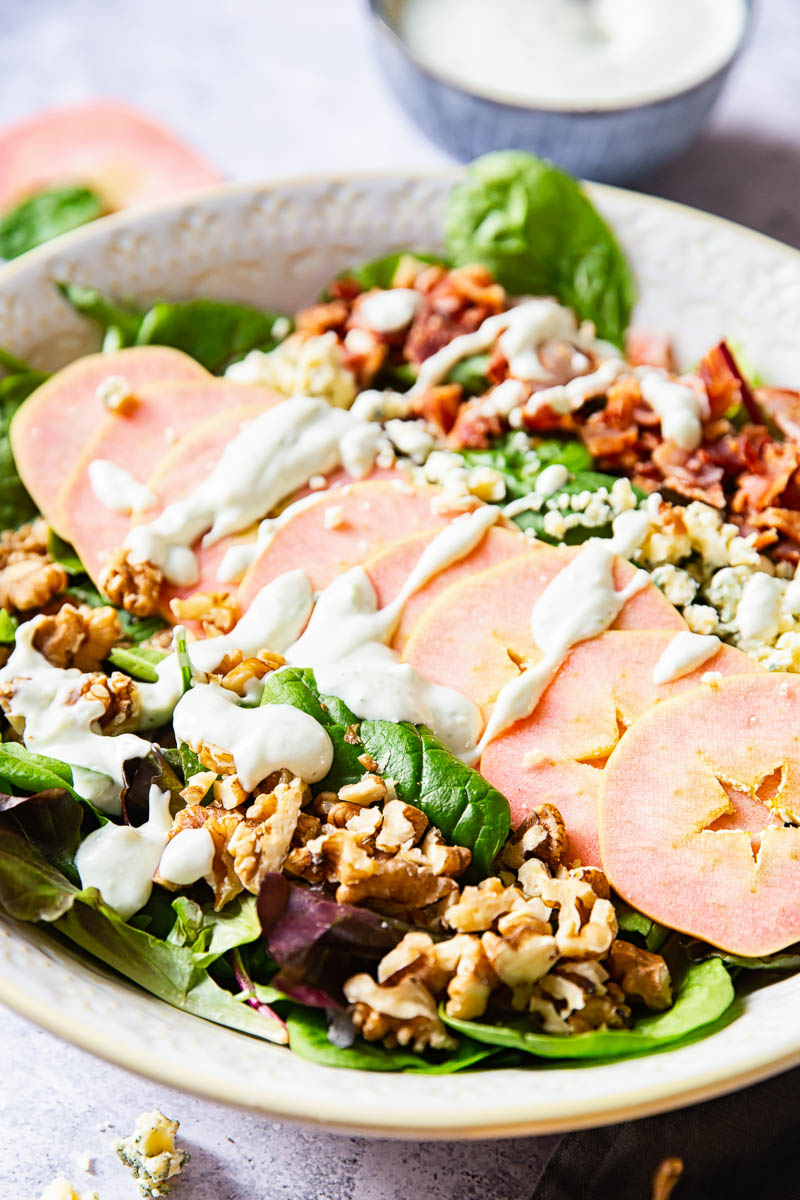 How do you make apple salad dressing?
You can choose either a creamy dressing or a vinaigrette. I chose to go with a creamy blue cheese dressing, which balances out the sweetness of the apples in a perfect way.
A simple French-style vinaigrette will also be delicious in this recipe.
I've made my blue cheese dressing in a food processor for a smooth finish but if you don't mind a bit of texture, just a fork and a bowl will do.
I was so pleased with how this apple salad turned out. Everyone in the family loved it. I think my son was the biggest fan due to a generous amount of cheese and bacon no doubt!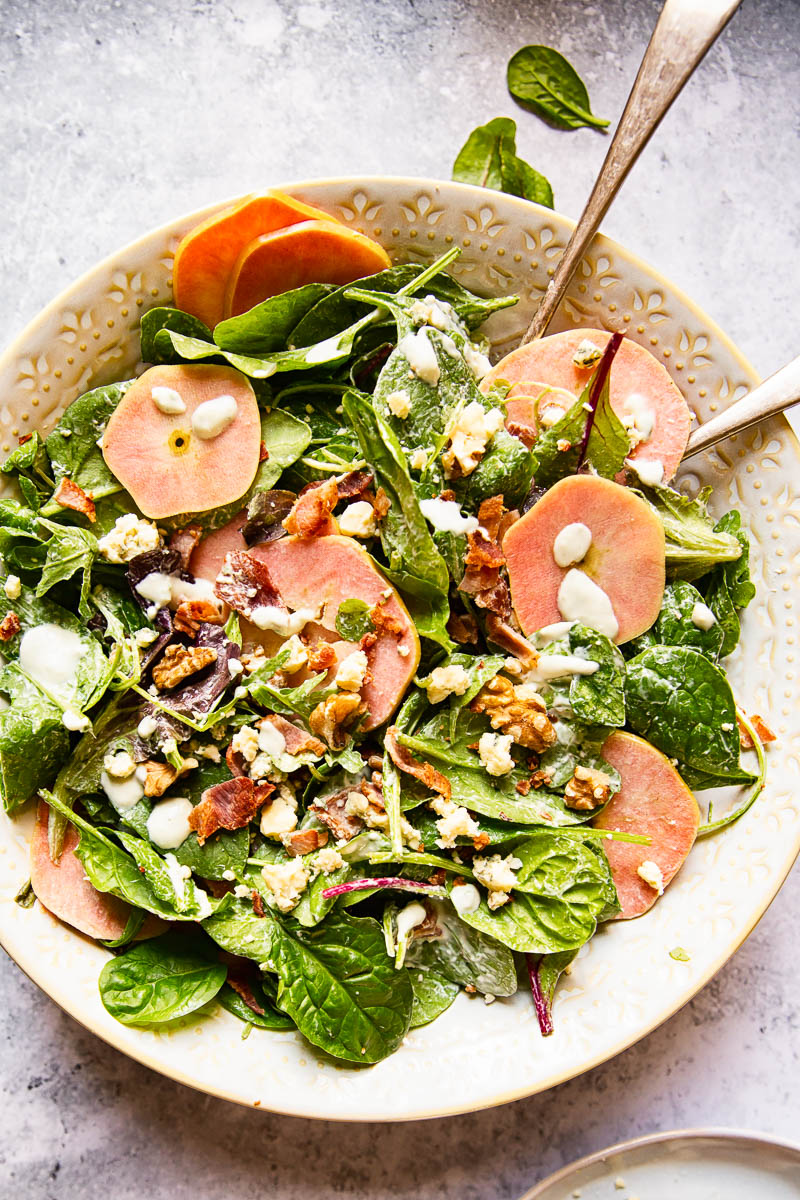 What apples should I use for apple salad?
This seasonal apple salad would be a perfect addition to your holiday table as it would bring a welcome balance to rich and creamy dishes. If you can find pink-fleshed apples, do use them.
Apart from being delicious and beautiful, they do NOT turn brown and keep their colour for hours, which makes this salad a great make-ahead dish!
Other pink-fleshed apple variety known to me in the UK is called Surprise. In the US the most common ones are Pink Pearl, Hidden Rose, Pink Sparkle, Mountain Rose and many more. You can read about them here.
More side dishes for your holiday table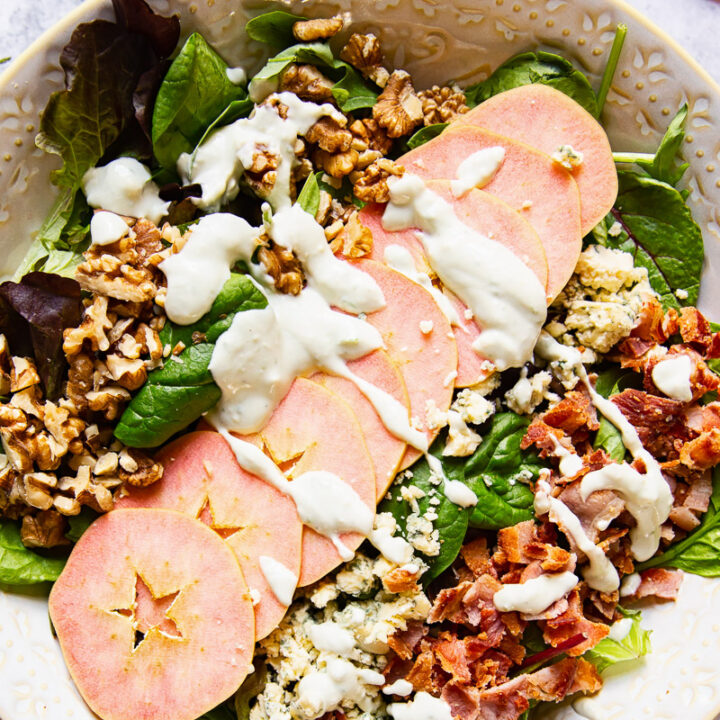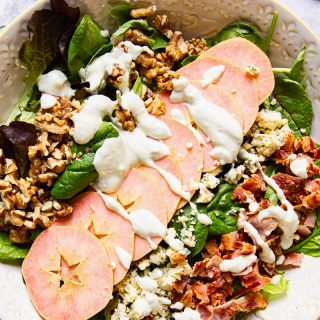 Apple Salad with Bacon, Walnuts and Blue Cheese
Delicious apple salad made with seasonal produce and blue cheese dressing, that is beautiful, nutritious and satisfying.
Print
Pin
Rate
Ingredients
For the blue cheese dressing
3

tbsp

blue cheese such as Stilton or Roquefort

180ml/2/3 cup

plain yogurt

2

tbsp

white wine vinegar

2

green onions

sliced

2

tbsp

olive oil

2-3

tbsp

water

salt to taste if needed
For the apple salad
150g/4 cups

salad greens such as lettuce, spinach, arugula

1

apple

sliced thinly

4

strips

bacon

4

tbsp

walnuts

2

tbsp

blue cheese
Instructions
For the blue cheese dressing
In a blender or a food processor combine crumbled blue cheese, yogurt, white wine vinegar, sliced green onions, water and olive oil. Blend until smooth. If the dressing is too thick, add an additional tablespoon or two of water. Salt to taste if necessary.

Alternatively you can make the dressing in a bowl using a fork to mash the blue cheese and combine it with the rest of the ingredients.
For the apple salad
Cook the bacon and place it on a paper towel -lined plate to absorb the excess fat. Then chop it up.

Slice the apple thinly on a mandoline or using a sharp knife.

In a large bowl combine the salad greens, apple slices, bacon and chopped walnuts. Drizzle with half of the blue cheese dressing and toss gently to coat.

Serve immediately sprinkled with additional crumbled blue cheese. Reserve the remaining salad dressing for another use.
Notes
Pink fleshed apples used in this recipe do not turn brown, which makes this salad an excellent make-ahead dish for your holiday table. If you make this apple salad several hours before serving, keep it covered in a fridge and add the blue cheese dressing immediately before dinner.
Nutrition
Calories:
130
kcal
|
Carbohydrates:
1
g
|
Protein:
3
g
|
Fat:
12
g
|
Saturated Fat:
3
g
|
Cholesterol:
10
mg
|
Sodium:
146
mg
|
Potassium:
147
mg
|
Vitamin A:
1470
IU
|
Vitamin C:
4.8
mg
|
Calcium:
45
mg
|
Iron:
0.6
mg