Step away from the ordinary and have your whole chicken cooked in half the time using your Instant Pot. And get the juiciest chicken ever! This chicken comes with a delicious glaze and a Thai flavoured sauce also made in the Instant Pot.
Serve this delicious chicken with rice and authentic Thai Papaya Salad!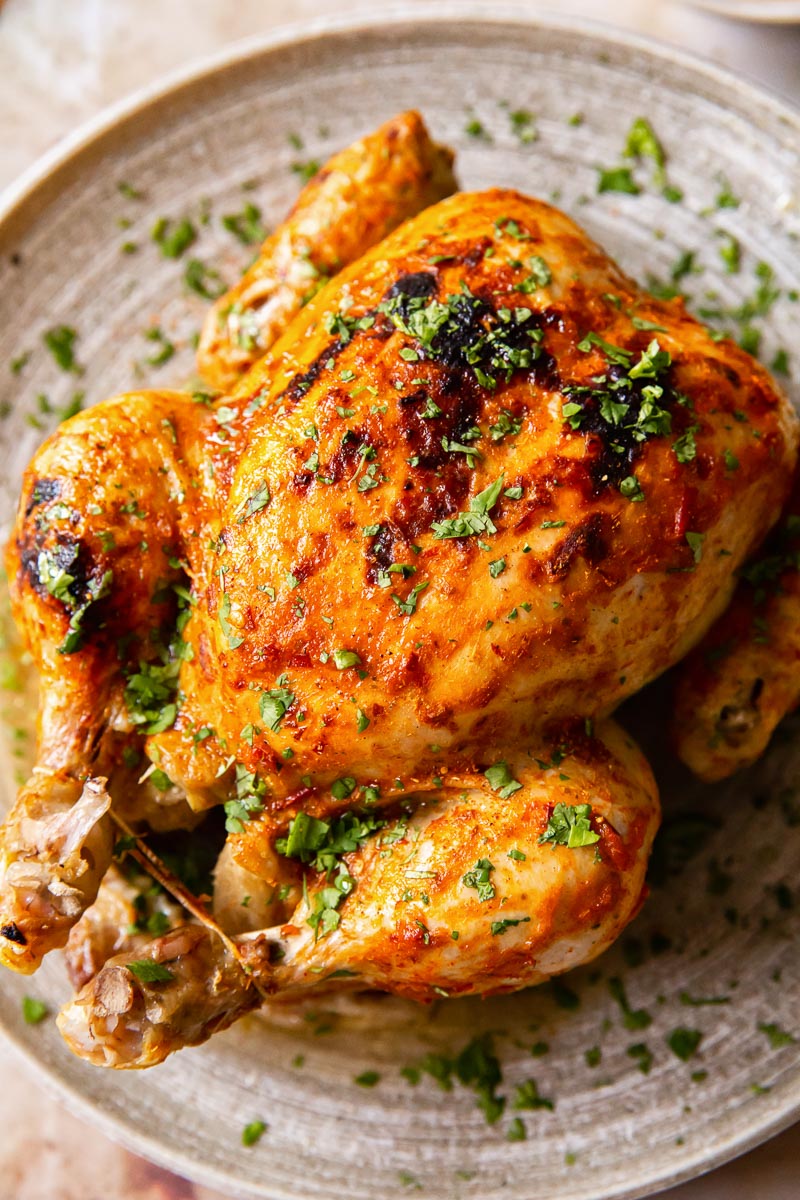 I believe that buying a whole chicken is the most economical way to feed a family. Better yet cooking your chicken whole is the easiest way! Very little prep, very little hands on time.
There is something special about sitting down to eat with a crispy skinned chicken crowning the dinner table.
Then there are leftovers that could be made into salads, sandwiches, quesadillas. The possibilities are endless. That is why we love buying those rotisserie chickens, don't we?!
The recipe I am sharing today is similar to those supermarket cooked chickens but it's made in your pressure cooker.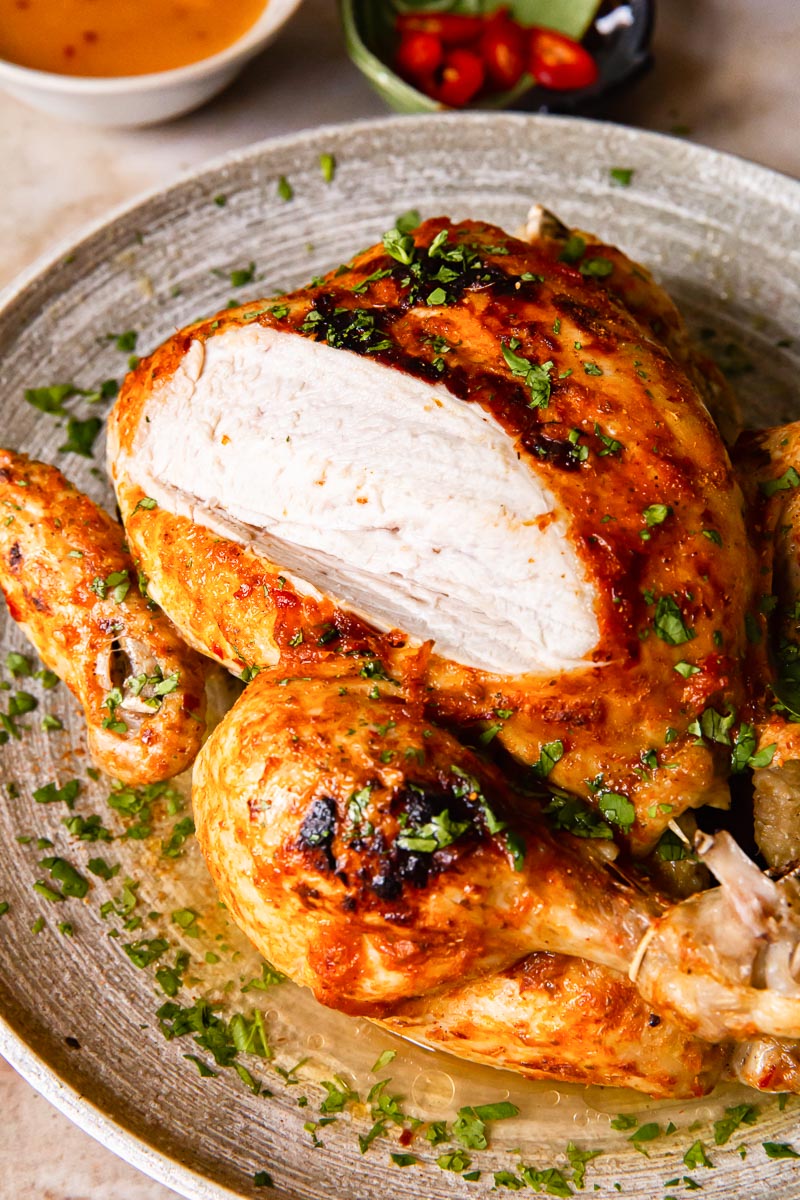 Benefits of cooking a whole chicken in pressure cooker
As mentioned above cooking a whole chicken is not very labour intensive but it does take some time in the oven. Depending on the size of your chicken you can wait for up to two hours before you can eat.
Enter Instant Pot. This amazing electric pressure cooker will cook your chicken in half the time and that is not all the benefits. It will also deliver a chicken that is:
very moist since it doesn't dry out in Instant Pot the same way it can when oven cooked
very flavourful because when cooked under pressure it also forces the rub penetrate the chicken deeper than with the conventional method.
How to cook a whole chicken in Instant Pot
Use a large enough Instant Pot to fit a whole chicken. 6 or 8 quart ones are definitely big enough.
Cover you whole chicken with a spice rub of choice. I went with Thai flavours for something new and exciting.
Add 1 cup/250ml of liquid to the bottom of the Instant Pot, a necessary step to build pressure according to IP manual.
Set a trivet on top of the liquid, which will prevent your chicken from getting soggy. I used coconut milk.
Pressure cook on high according to the Time Chart below.
Allow for a natural pressure release.
Remove the chicken and broil in an oven for 2-3 minutes to crisp up the skin.
Use SAUTE function on your Instant Pot to make a gravy by adding a combination of water and cornstarch to the the liquid.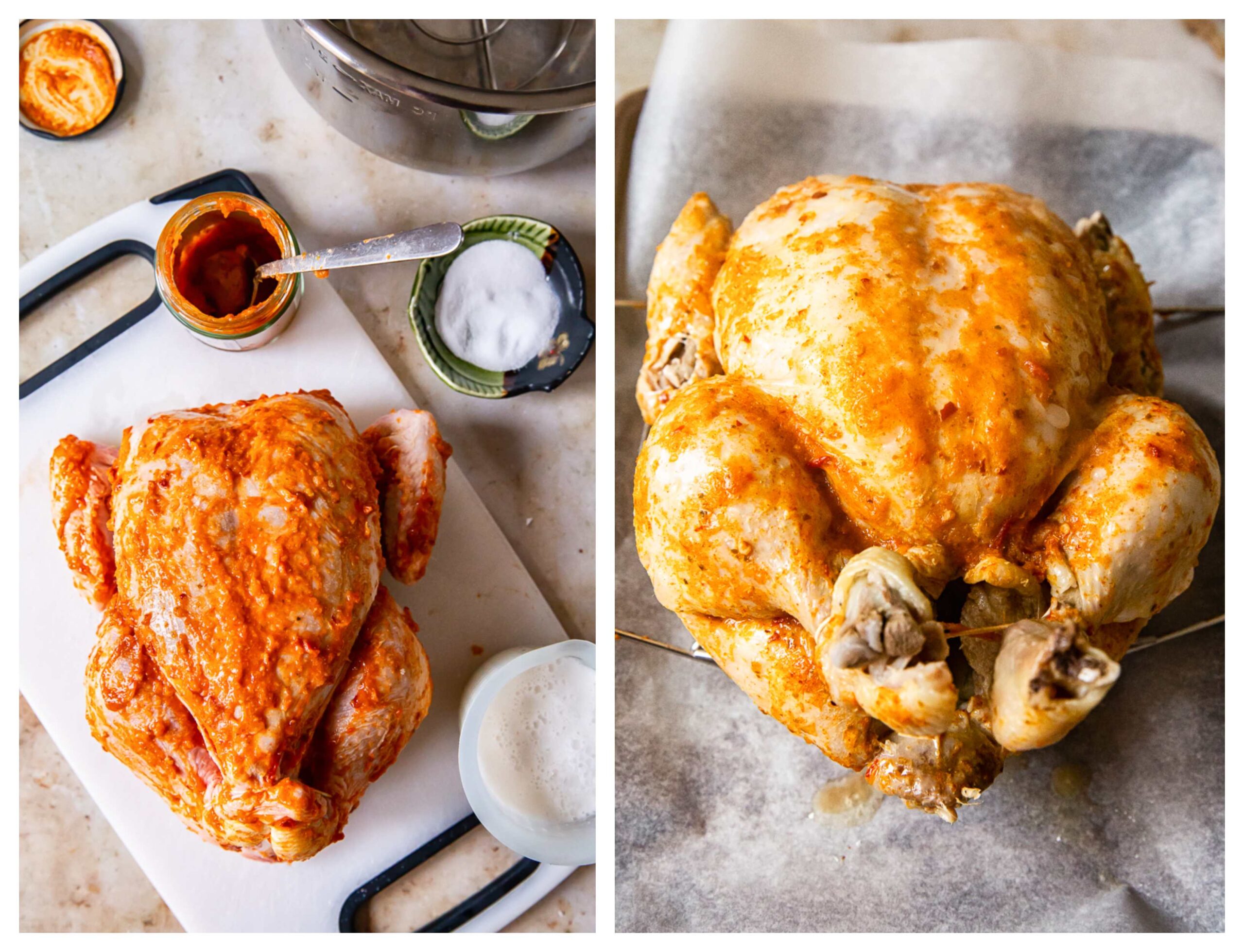 How long do I cook whole chicken in Instant Pot
The cooking time will depend on the size of your chicken. This recipe is for 3.5lbs chicken and it takes 23 minutes of cooking at HIGH pressure. Adjust the timing according to the weight of your chicken. It is possible to overcook a chicken, which will result in drier meat. If you chicken looks like it's falling apart, it is overcooked.
3.5 lbs-23 minutes
4 lbs chicken-24 minutes
5 lbs chicken-26 minutes
Always allow for a natural pressure release instead of manual.
How do I get crispy skin when cooking in a pressure cooker
There are many benefits to cooking in Instant Pot as mentioned earlier but the main downfall is the chicken skin. There is no way it can come out crispy like oven baked.
My solution is to quickly broil it in an oven for 2-3 minutes for a golden, crispy skin.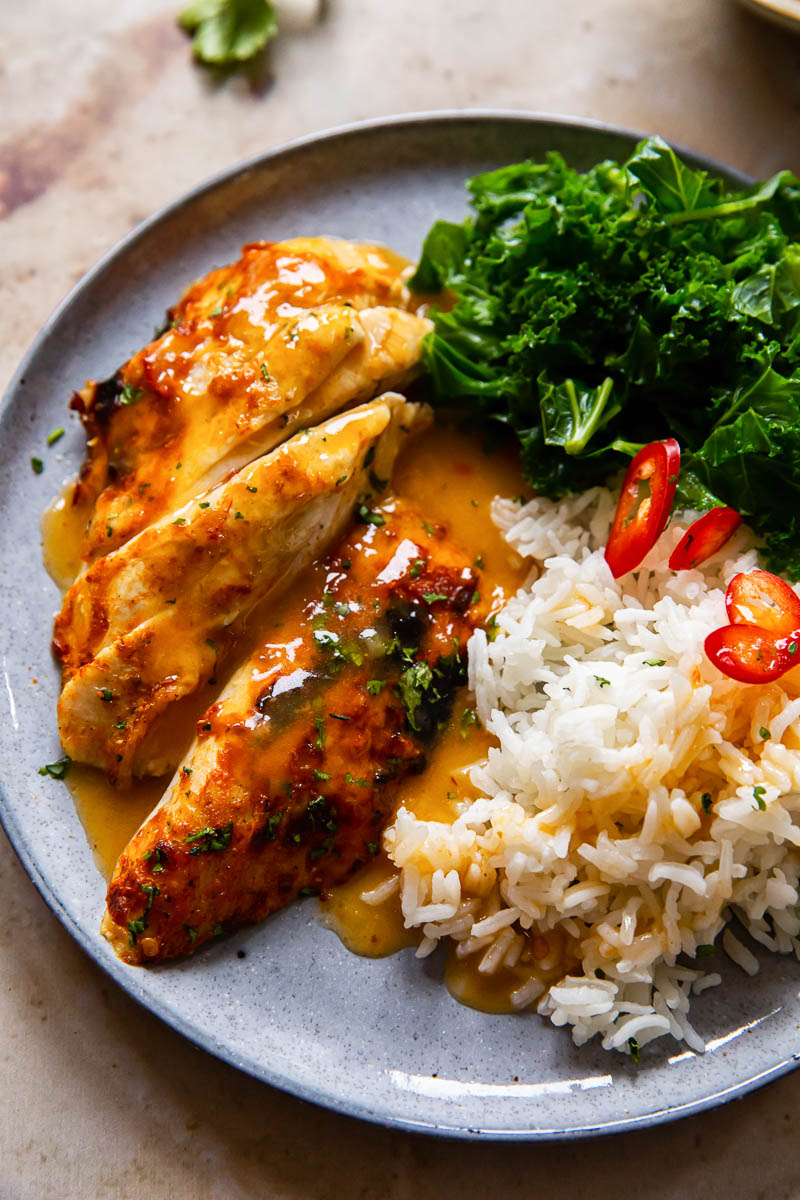 Chicken Gravy Recipe
Not the surprisingly my kids declared the sauce to be the best part of this chicken recipe. I laughed but I kind of agree with them.
Since I went with Thai flavours, the sauce tastes like a delicious and slightly spicy Thai red curry that I generously poured all over my chicken and rice. Making it is easier than any gravy you can imagine.
Once your chicken is cooked, take it out of the Instant Pot. You will have a red coloured liquid at the bottom. Turn the SAUTE button on and bring it to a boil, then stir in a slurry of cornstarch and water.
Your delicious Thai flavoured sauce is ready to be drizzled all over your chicken!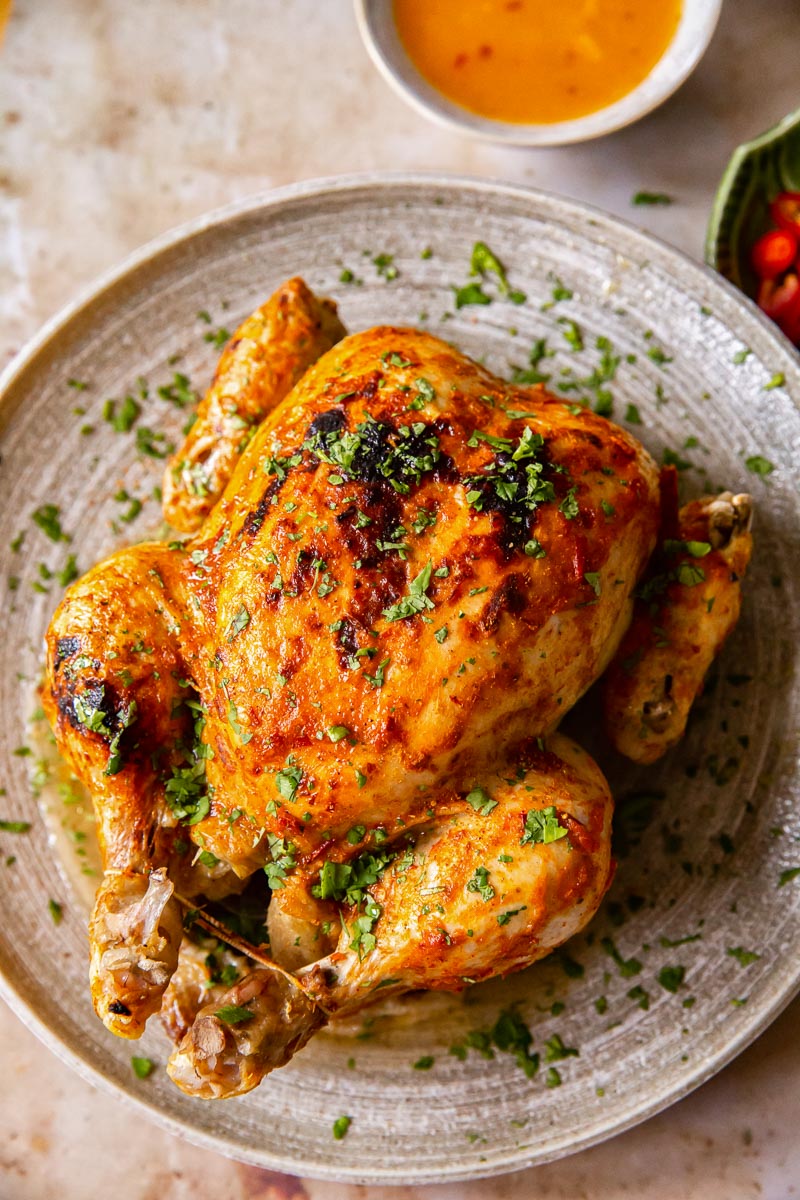 For traditionally oven roasted chicken recipes take a look at: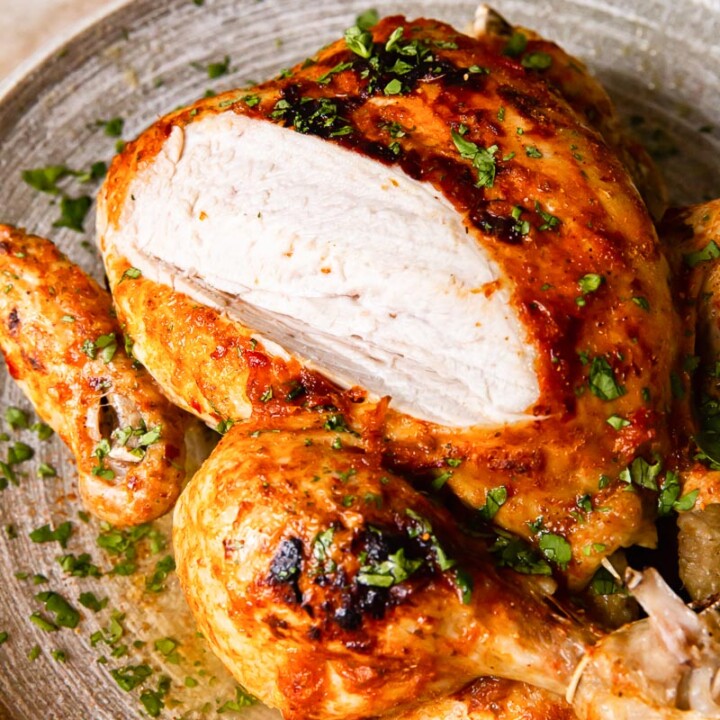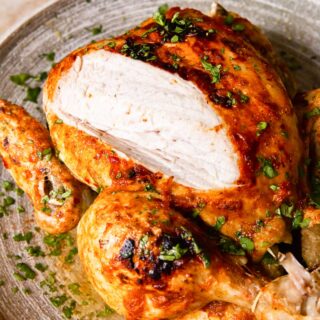 Instant Pot Whole Chicken
Step away from the ordinary and have your whole chicken cooked in half the time than the usual by using your Instant Pot. And get the juiciest chicken ever!
Ingredients
3.5

lbs

whole chicken

125ml/1/2cup

Thai red curry paste

salt

250ml/1cup

coconut milk

3

tsp

cornstarch/corn flour

1

tsp

water
Instructions
Add the coconut milk to the bottom of your Instant Pot and place a trivet inside. Rub the chicken with Thai red curry paste all over including the cavity, set aside 2 tbsp of the paste for later. Season with salt. Place the chicken on top of the trivet breast side up. Close the lid and seal. Manually pressure cook on HIGH for 23 minutes. (It will take up to 15 minutes for the Instant Pot to come to pressure.)

Once the chicken is done, allow the Instant Pot to naturally release pressure. Meanwhile set your oven to broil/grill mode. Carefully remove the chicken from Instant Pot by lifting it by the handles of the trivet. Leave the cooking liquid inside for the sauce.

Transfer the chicken to a parchment lined rimmed baking sheet. (I left it on the trivet.) Apply the reserved curry paste to the chicken breast and legs. Broil the chicken for 2-3 minutes or until the skin is crispy and golden. Watch carefully as oven temperatures vary. Take out of the oven and let it rest for 10-15 minutes.

While the chicken is resting make the sauce. Press the SAUTE button on your Instant Pot and bring the liquid to a boil, stir in a slurry of cornstarch and water and whisk until thickened. Turn the Instant Pot off and pour the sauce into a serving dish right away, otherwise it will burn.
Nutrition
Calories:
383
kcal
Carbohydrates:
4
g
Protein:
25
g
Fat:
30
g
Saturated Fat:
14
g
Cholesterol:
95
mg
Sodium:
95
mg
Potassium:
332
mg
Fiber:
1
g
Sugar:
1
g
Vitamin A:
3459
IU
Vitamin C:
4
mg
Calcium:
51
mg
Iron:
3
mg