Everyone has their own recipe for a roast chicken and potatoes and here is mine! If you follow my instructions, you will be rewarded with a juicy, crispy-skinned chicken and golden roast potatoes.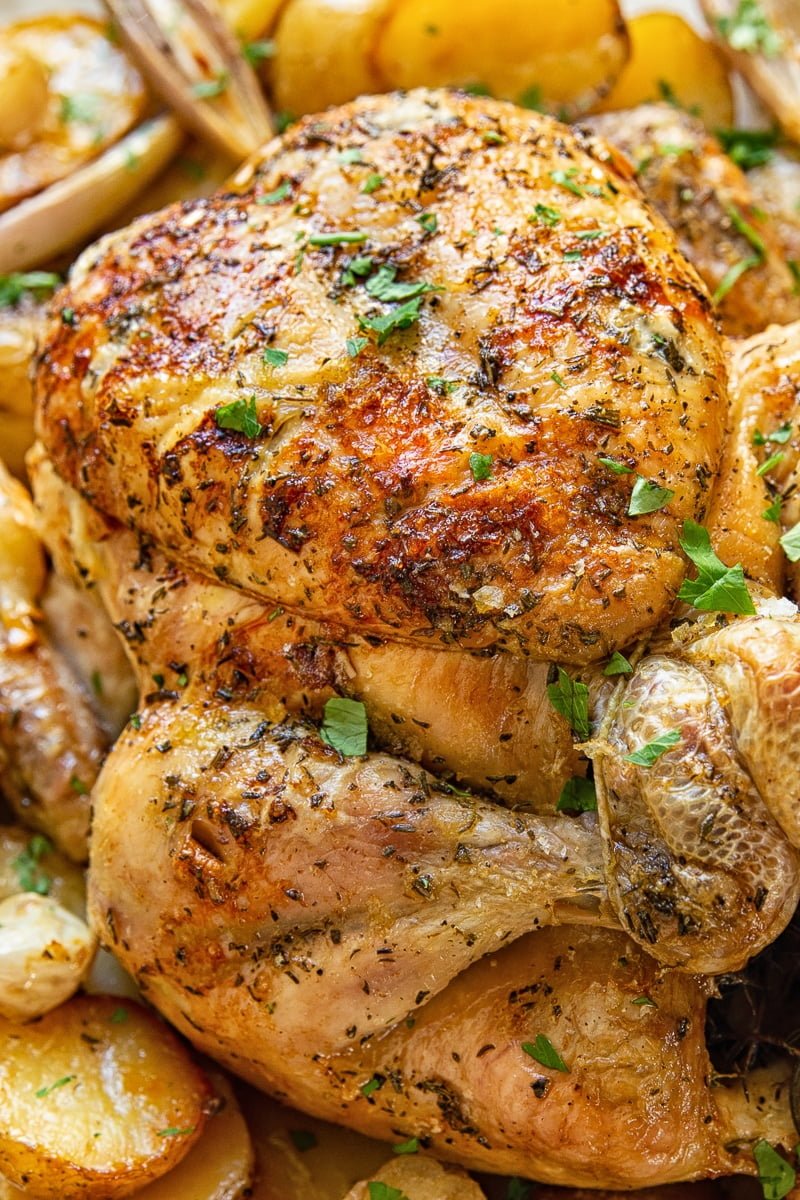 As much as I love all types of food from every corner of the world the ultimate comfort food for me will always be Roast Chicken and Potatoes.
This taste of childhood and the aroma that comes from the kitchen when mom is making a special dinner is something that cannot be easily replaced by the exotic flavours of Thai curry or sushi, at least not for me.
Fortunately, cooking a simple roast chicken is much easier and quicker than is assumed, and it doesn't have to be reserved for special occasions. Just because you serve a roast doesn't mean you have to have all the trimmings with it. Sometimes a simple green salad hits the spot!
What I also love about this meal is it only requires about 15 minutes of hands-on time and the rest of cooking is done in the oven without your involvement.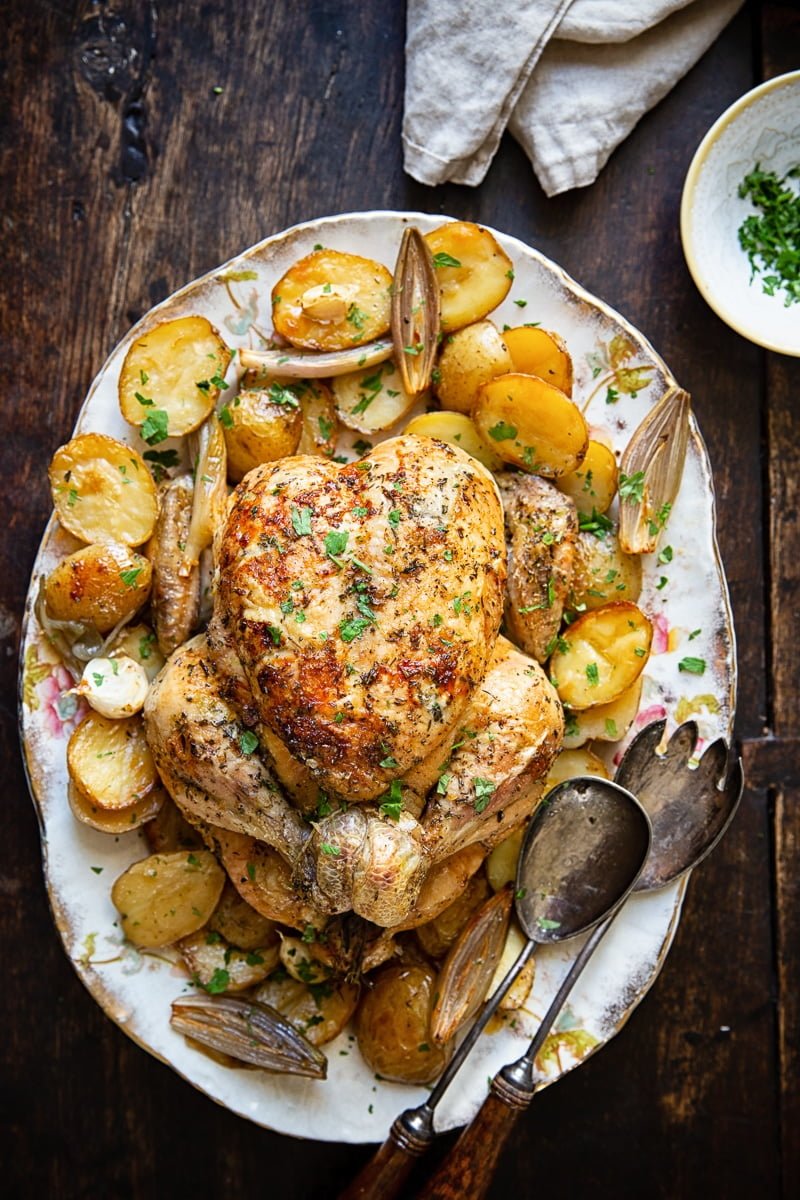 How long does it take to roast a chicken?
At this point you are probably wondering about the exact timing for cooking a whole chicken, and on average it takes about two hours for a 4lbs chicken.
Don't worry if your bird is bigger or smaller. The rule is to cook 20 minutes per pound plus 15 minutes additionally, so adjust your cooking time accordingly.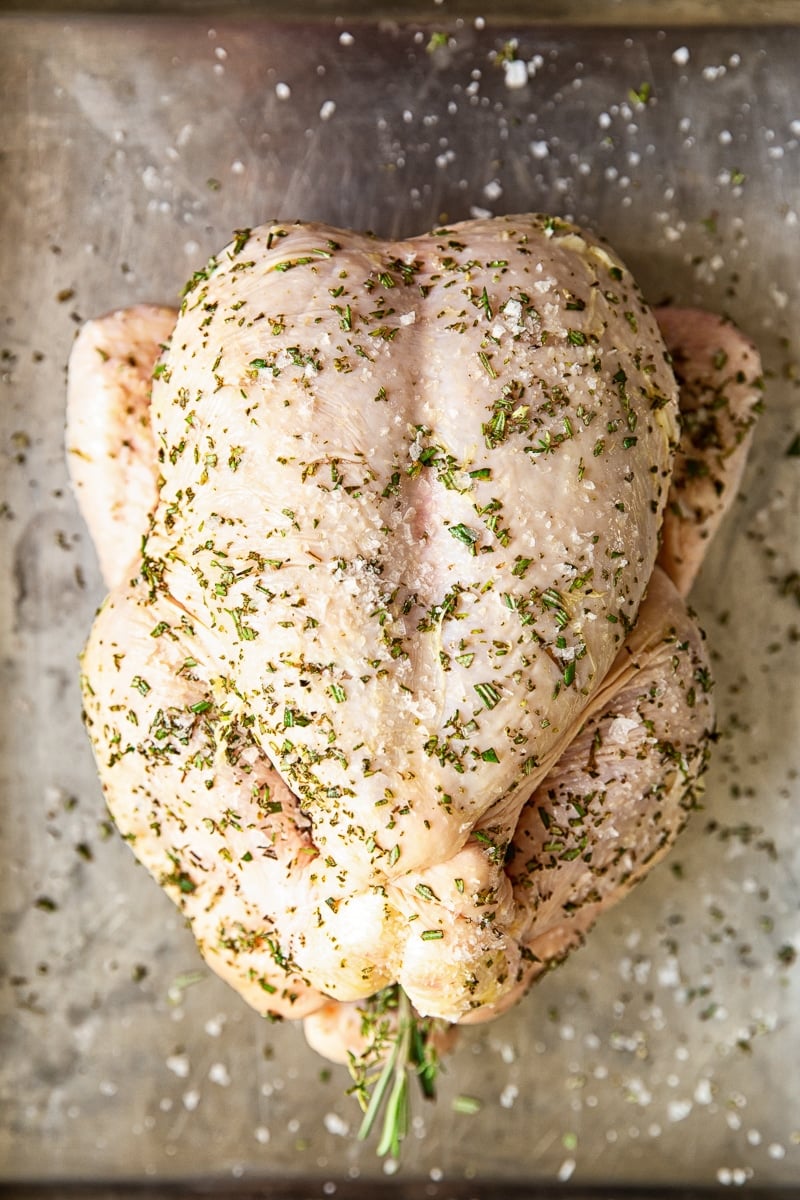 How do I avoid dry chicken?
The best way to ensure that your chicken is cooked to perfections is to use a meat thermometer. Towards the end of the cooking time insert it in the thickest part of the chicken and wait until the temperature registers at 165F/75C.
I personally prefer a digital, instant read thermometers. They are easy to use and read.
Anything above that temperature will result in a dry chicken and nobody likes that!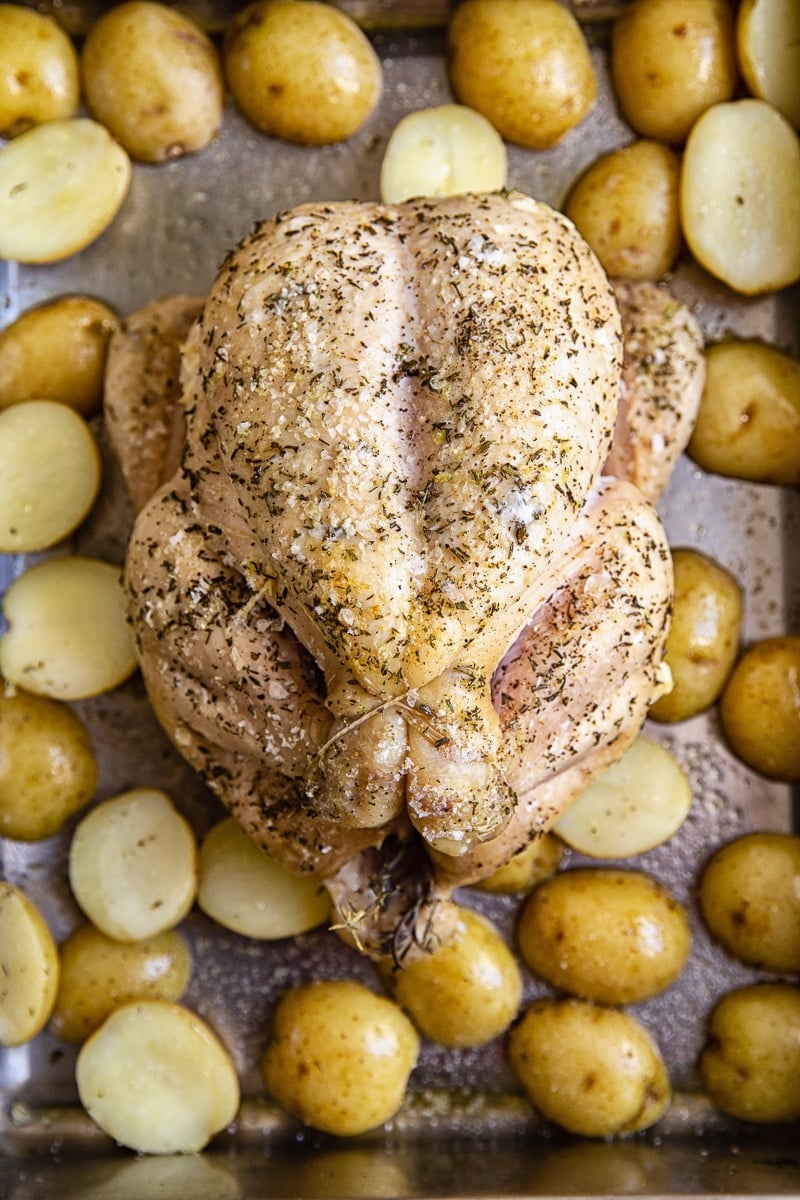 How do I flavour my roast chicken?
Roast chicken often gets a bad rep for being bland but it doesn't have to be this way! Chicken is so easy to add flavour to if you give it a bit of attention.
Chicken loves citrus, so inserting a lemon or an orange in the cavity will infuse your chicken from the inside.
Chicken loves herbs, any herbs you can think of will be better than no herbs. My personal favourites are rosemary and thyme. Those woodsy herbs endure the high heat of the oven quite well without turning into a crisp and do a beautiful job of flavouring your chicken.
Chicken loves garlic but you need to be smart about using it in the oven. If you crush it and rub your chicken all over, it will simply burn and turn bitter. I usually put little slits into chicken and insert garlic slices into them. This way the chicken will be infused with the garlic from the inside.
Take care of the chicken skin. We all love that golden, crispy skin that covers a roast chicken, right? The secret to achieving it is by rubbing the skin with flaky sea salt. The salt will draw the moisture out and leave the skin paper-thin and crisp!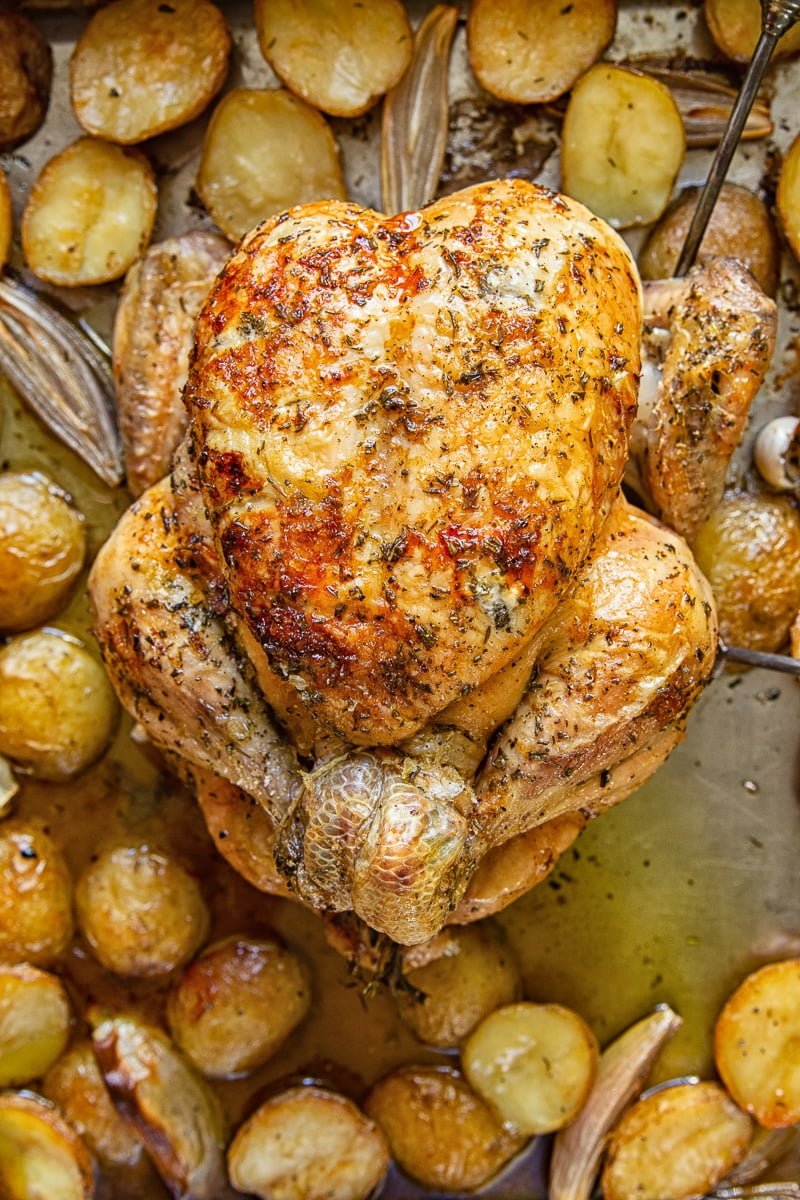 What can I serve with roast chicken and potatoes?
Serve your roast chicken and potatoes with any vegetables in season. Quite often I serve mine with a simple green salad dressed with a vinaigrette.
It's especially convenient because the salad dressing can double as a sauce since I don't want to make gravy for my everyday chicken! Red face and steamy kitchen…who wants that?!
How do I store my leftover roast chicken?
The best and the safest way to store your leftovers is to take the chicken flesh off the bones, since bacteria start growing on bones and then spread on the chicken, and refrigerate for up to 2-3 days.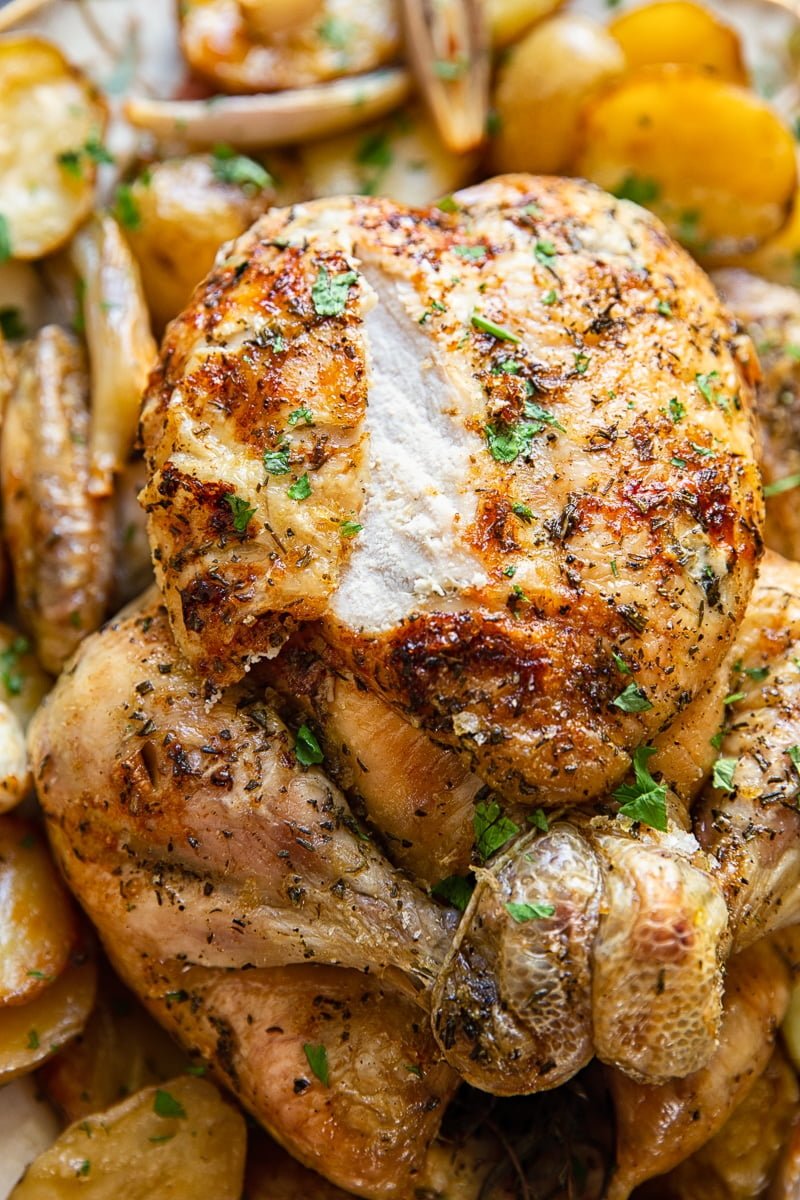 For more chicken recipes check out my personal favourites:
Spanish-style Baked Chicken Thighs and Potatoes
French Chicken Casserole a la Normande
Spatchcock Chicken in Spicy Yogurt Sauce
Georgian Chicken Tabaka with Spicy Blackberry Sauce
If you do make any of my chicken recipes, I would love to see them! Tag @vikalinka in your Instagram snaps to show off your creations!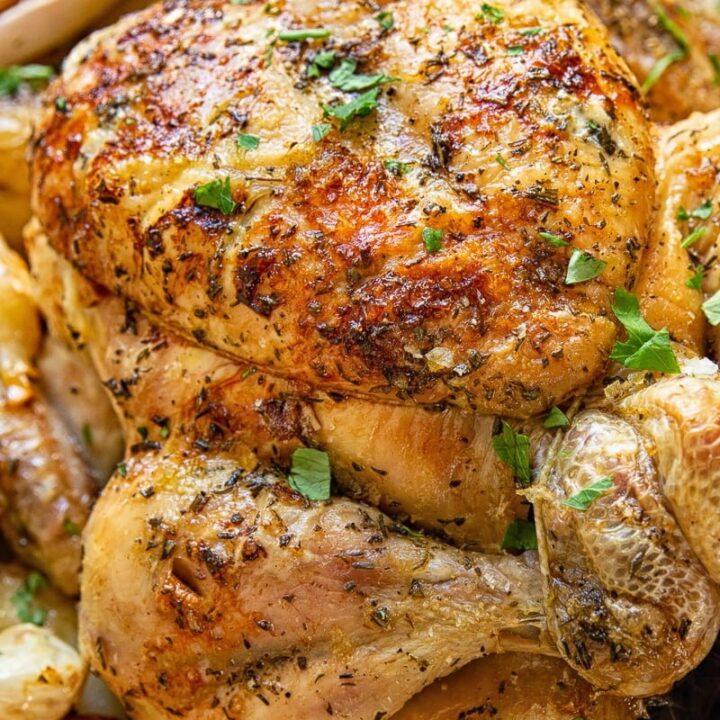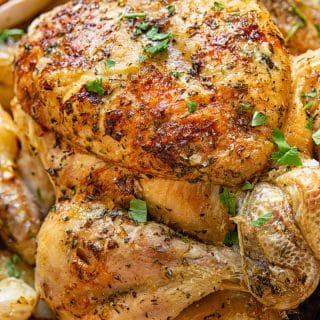 Rosemary and Thyme Roast Chicken and Potatoes
Crispy-skinned roast chicken infused with rosemary, thyme, lemon and garlic. A simple roast chicken and potatoes dinner for weeknights.

Print
Pin
Rate
Ingredients
1

3-4lbs

whole chicken

2-3

sprigs

each rosemary and thyme

3

cloves

garlic

1

lemon

2

lbs

potatoes

salt

to taste

pepper

to taste

2

tbsp

olive oil

5-6

shallots

halved, optional
Instructions
Pre-heat the oven to 375F/190C.

Chop up the herbs, peel the garlic cloves and slice them. Make little slits all over the chicken with the tip of your knife and slide the garlic slices into them.

Prick the lemon with a fork and put it inside the cavity along with the half of the chopped herbs and a clove of sliced garlic.

Rub the surface of the chicken with olive oil and the other half of the herbs. Sprinkle with a pinch of salt and pepper.

Put in the oven in a large roasting pan and set the timer for 40 minutes

While the chicken is cooking, get the potatoes ready. Wash the potatoes and cut them in half lengthways or in quarters if using large potatoes.

Put them in a pot with salted water and bring them to a boil, continue boiling for 7 minutes, then drain in a colander, cover with a lid and set aside.

When the timer for the chicken goes off take it out of the oven, baste it and scatter potatoes around it. Dip a pastry brush in the fat that collected in the roasting pan and brush the potatoes with it.

Put the pan back in the oven for 1 hour-1 hour 20 minutes, checking from time to time making sure that your potatoes are roasting evenly and turning crispy on the outside.

Half hour before the chicken is finished roasting add shallots if using.

Take out of the oven when the internal temperature of the chicken is 165F/75C and the chicken skin is golden. Let it rest for 15-20 minutes before carving.
Nutrition
Calories:
695
kcal
|
Carbohydrates:
36
g
|
Protein:
47
g
|
Fat:
40
g
|
Saturated Fat:
10
g
|
Cholesterol:
163
mg
|
Sodium:
179
mg
|
Potassium:
1498
mg
|
Fiber:
7
g
|
Sugar:
3
g
|
Vitamin A:
330
IU
|
Vitamin C:
47.7
mg
|
Calcium:
115
mg
|
Iron:
9.9
mg