Chicken tabaka is a Georgian spatchcock chicken that cooks in half the time! Moist, flavourful chicken every time, plus a tangy, fruity blackberry sauce!
For another take on spatchcock chicken, check out our Spatchcock Chicken in Spicy Yoghurt Sauce!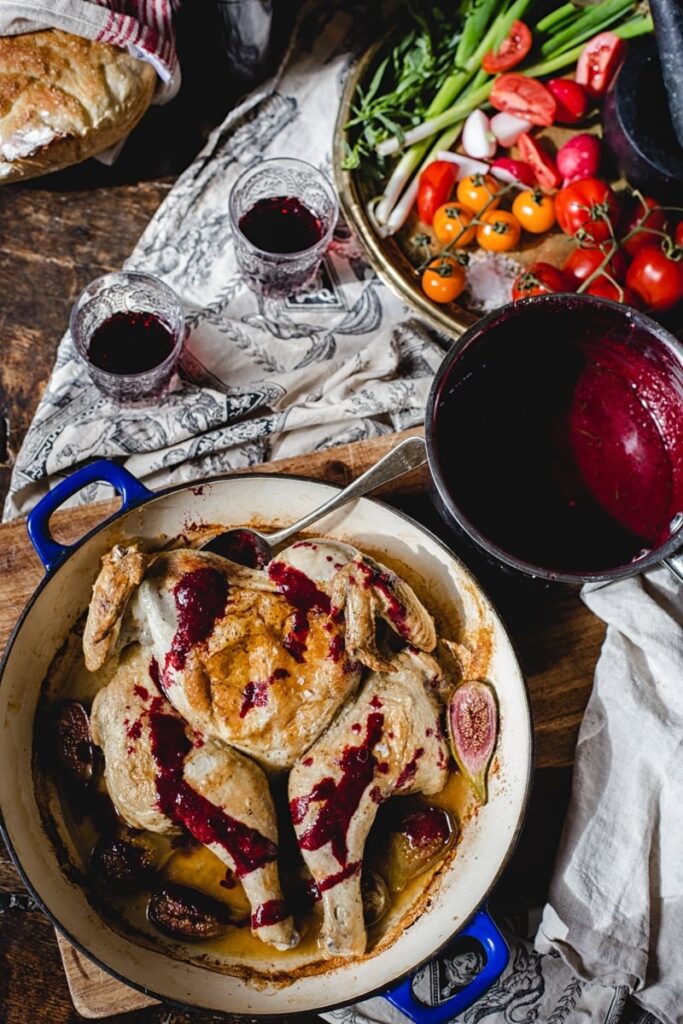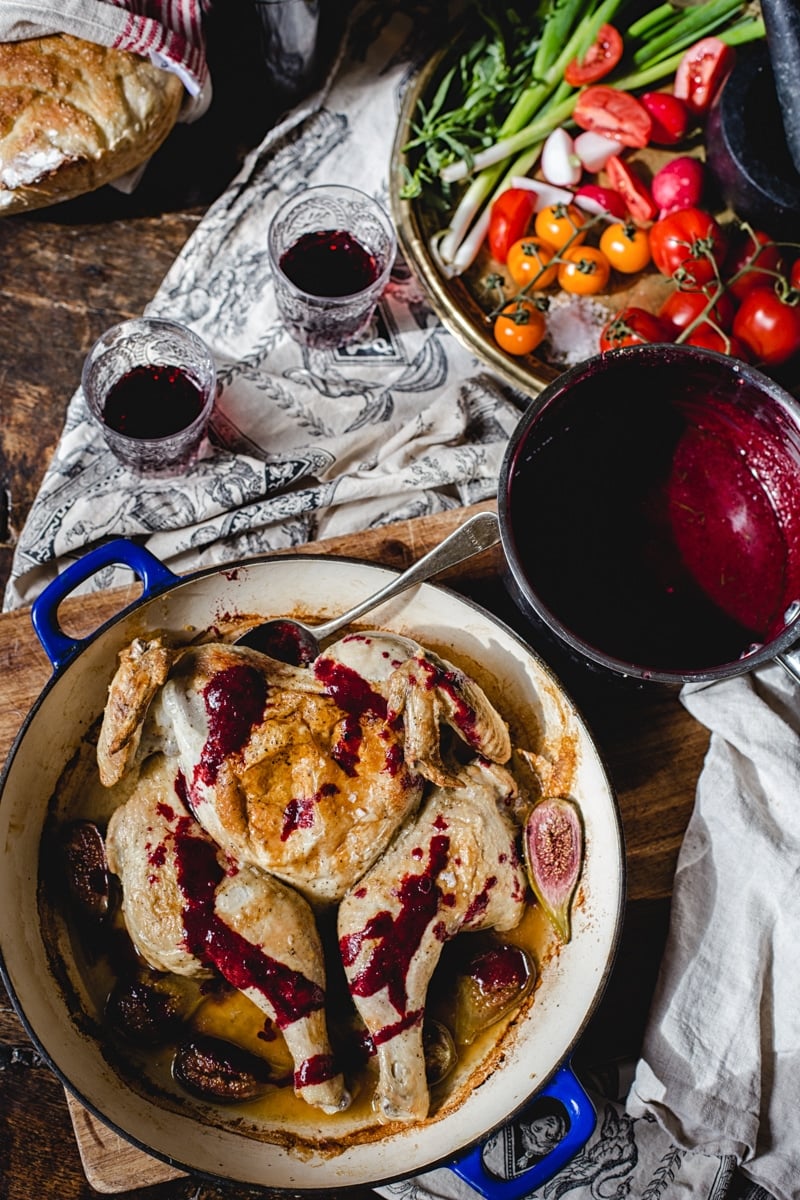 Although I have an entire bookcase filled with cookbooks I haven't yet found a good reason to stop buying new ones. It's not that I'm a cookbook junkie. It's just that shockingly good cookbooks keep coming available.
This is how I ended up with a copy of Olia Hercules' Kaukasis.
Olia is a Ukrainian food writer, whose work I got introduced to through her first book Mamushka. In that book she shared recipes from Ukraine and other former USSR republics.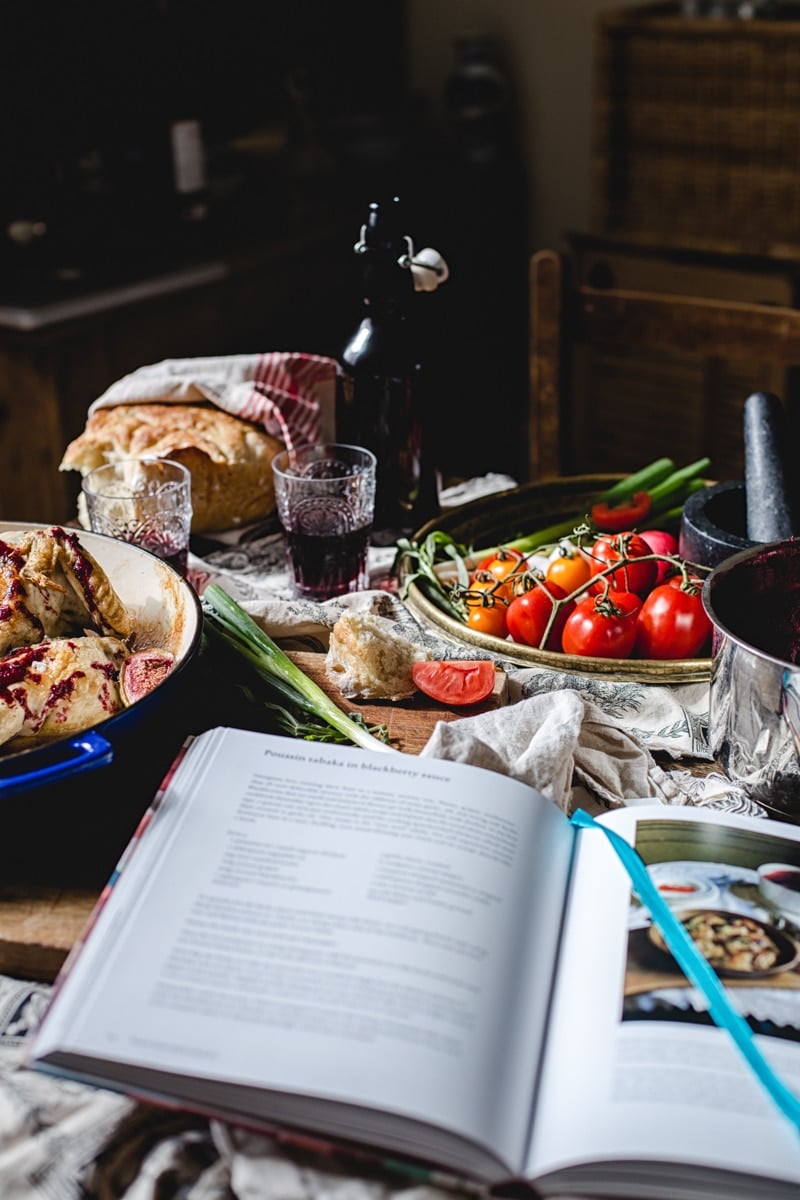 This hit home for me because food from across the former Soviet Union found its way to our home dining table. Haven grown up on these delicious and varied flavours, I love to recreate them for my family.
Georgian is a definitely a favourite. It's a shame that food from the gorgeous country isn't better known because it is both delicious and unique. Combining characteristics of the Mediterranean and Central Asia with a spin all its own, it certainly deserves its time in the sun!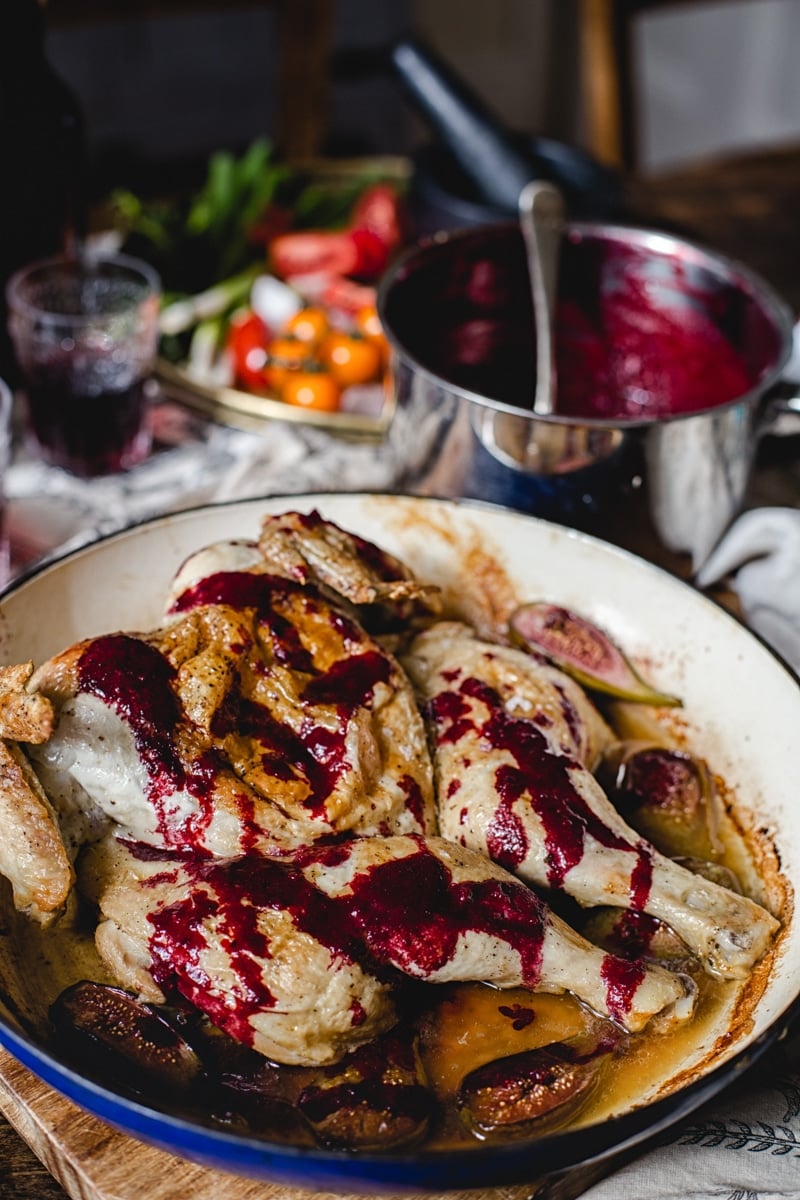 Georgian chicken recipe
My own discovery of Georgian food began with a family holiday to the Georgian coast. And as much as I love cooking and experimenting in the kitchen, I started with the recipe that is well known in my childhood home. Poussin Tabaka, which is a spatchcocked baby chicken cooked in an oven under a press.
As a young child I didn't know where the name 'tabaka' came from. As I've learned from Olia, it is derived from the word 'tapa', a cast-iron pan used for cooking it.
I assumed it to be something a lot more alluring and even dangerous. You see, "tabak" means 'tabacco' in Russian, so what's a young girl, who read too many 19th century novels to think but fire and adventure!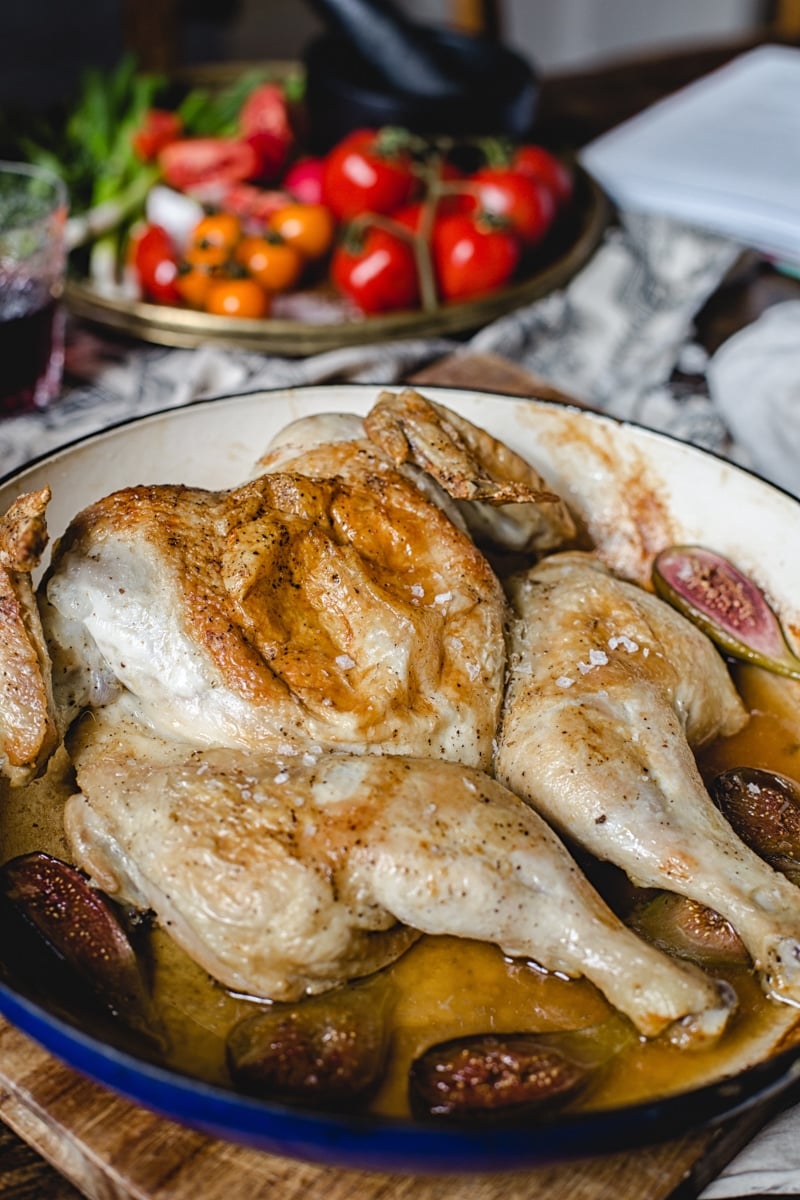 Spatchcocking as a technique can see intimidating if you haven't done it before. Added to the complex Georgian spices and this can seem like a challenging recipe.
In reality, spatchcocking or butterflying a chicken is very easy and results in such amazing chicken that it is worth learning. As well, most of the spices in this recipe are classic household staples, so nothing too scary to be found here!
This recipe is a great introduction to Georgian cuisine. If you'd like to try another, take a look at my Chicken in Garlic Walnut Sauce, or Satsivi!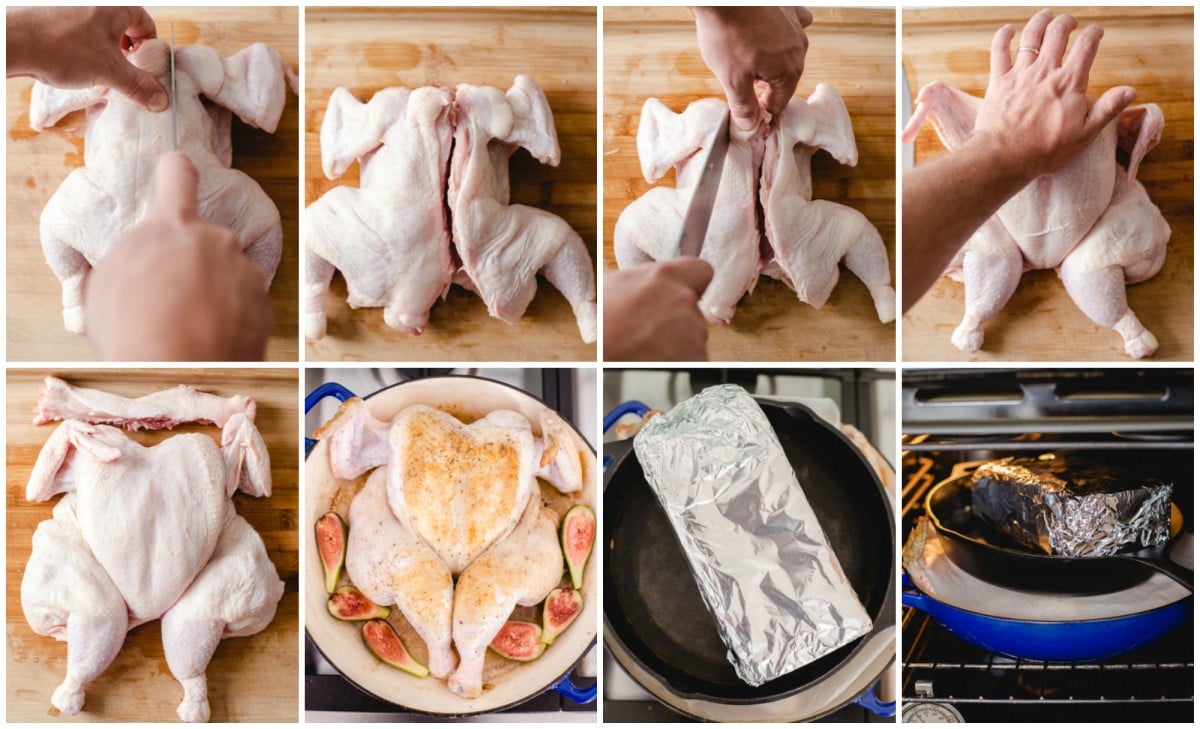 Blackberry sauce
For someone not familiar with explosive flavours of Georgian cuisine this might look like a bog standard roast chicken with cranberry sauce but let me tell you it's NOTHING like it.
The flavours of the Caucasus are bold and tantalising. This is accomplished through a liberal use of fresh herbs, spices and delicious vegetables the region is so rich with. You really get to experience it in this fantastic blackberry sauce!
And although the chicken itself is only seasoned with salt and pepper, the blackberry sauce carries a flavour punch that will you blown away. You will want to bottle this sauce up and pour it over everything. It is the most exciting thing that happened in my kitchen in a long time!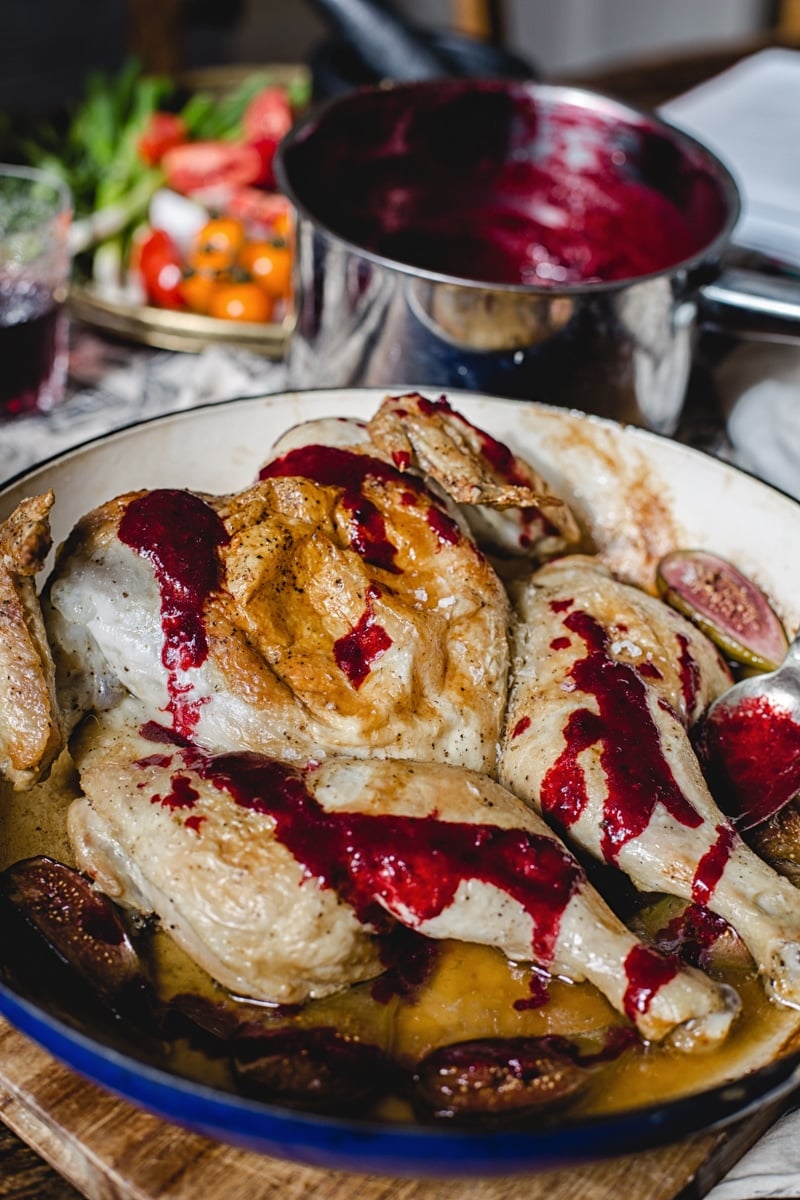 Recipe tips and notes
Make sure your chicken is the smallest you can find. Mine worked but was a bit too big.
I wasn't able to find unripe sour grapes, so I used regular green grapes.
Instead of coriander/cilantro stalks I used a small amount of crushed coriander seeds.
More whole chicken recipes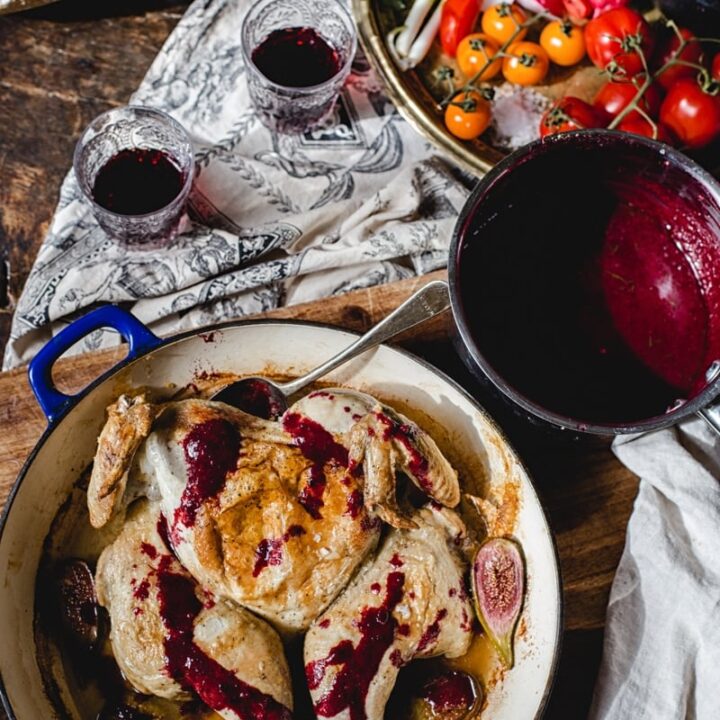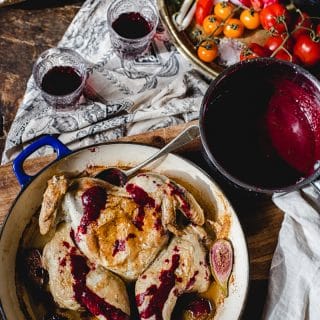 Georgian Chicken Tabaka with Spicy Blackberry Sauce
Moist, flavourful spatchcock chicken plus a tangy, fruity blackberry sauce.
Ingredients
1

small chicken

3 lbs

salt and pepper

3-4

figs

1

tbsp

vegetable oil
For the Blackberry Sauce
100

g

/ 3 ½ oz green grapes

300

g

/ 10 ½ oz blackberries

1

tbsp

pomegranate molasses

2

garlic cloves

minced

½

tsp

cayenne pepper

1

tsp

dried oregano

1

tsp

crushed coriander seeds

1

tsp

chopped fresh dill

salt
Instructions
Preheat the oven to 350F/180C

To spatchcock a chicken place it the breast side down and with a sharp knife cut along one side of a backbone then repeat with the other side. Remove the backbone and turn the bird the cut side down. Place the palm of your hand on the chicken breast and push down firmly to flatten it.

Salt and pepper the chicken, then brown on each side in hot oil for 5 minutes on each side. (Follow the photo collage in the post for visual guidance.)

Arrange halved figs around the chicken, cover the chicken with parchment paper cut to size and then weigh it down with something heavy like a cast iron pan and a brick.

Finish cooking in the preheated oven for 35 minutes. If your chicken is slightly pale at the end of cooking time, uncover it and leave it in the oven for 5 minutes longer to get more colour on it.

Make the blackberry sauce while your chicken in in the oven. Process blackberries and green grapes together in a food processor or a blender and then push through a sieve into a saucepan, add pomegranate molasses and cook for 5 minutes over medium heat, then garlic, cayenne pepper, crushed coriander seeds and chopped dill, bring to a boil and take off the heat. Salt to taste.

Serve the chicken tabaka with spicy blackberry sauce immediately.
Nutrition
Calories:
506
kcal
Carbohydrates:
24
g
Protein:
37
g
Fat:
29
g
Saturated Fat:
8
g
Polyunsaturated Fat:
6
g
Monounsaturated Fat:
12
g
Trans Fat:
1
g
Cholesterol:
143
mg
Sodium:
1300
mg
Potassium:
642
mg
Fiber:
6
g
Sugar:
16
g
Vitamin A:
611
IU
Vitamin C:
21
mg
Calcium:
74
mg
Iron:
3
mg