This Georgian chicken tabaka is a spatchcock chicken that cooks in half the time!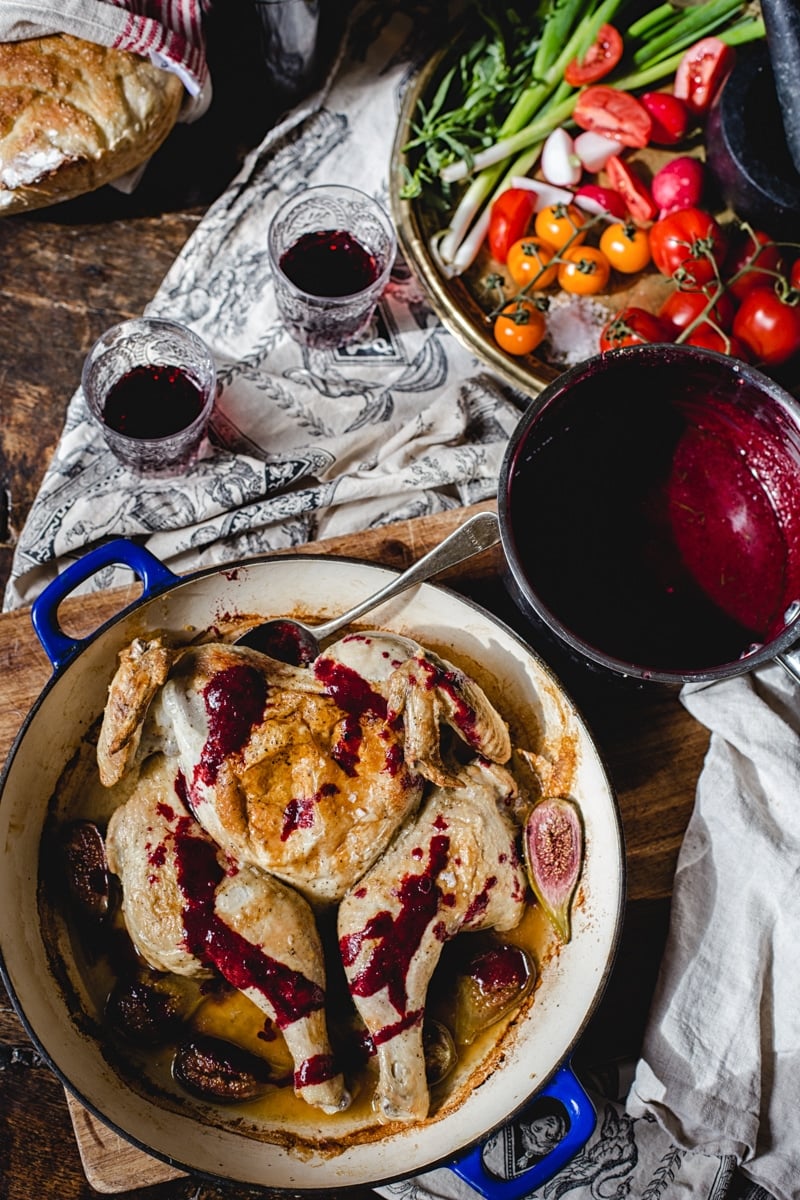 I have a confession to make. I have an entire bookcase filled with just cookbooks and nothing else, but it does not stop me from buying new ones.
Don't get me wrong: I am not a cookbook junkie and do not buy just anything but when a new and exciting book is coming out in the food world I am all over it, which was the case with Olia Hercules' Kaukasis.
Olia is a Ukrainian food writer, whose work I got introduced to through her first book Mamushka, where she shared recipes from Ukraine and other former USSR republics. No surprise the book got my attention immediately.
Apart from being a talented cook she is also an exciting writer, and I think I have mentioned once or twice how much that means to me. Having studied world literature in university as a minor, writing alone can make it or break it for me.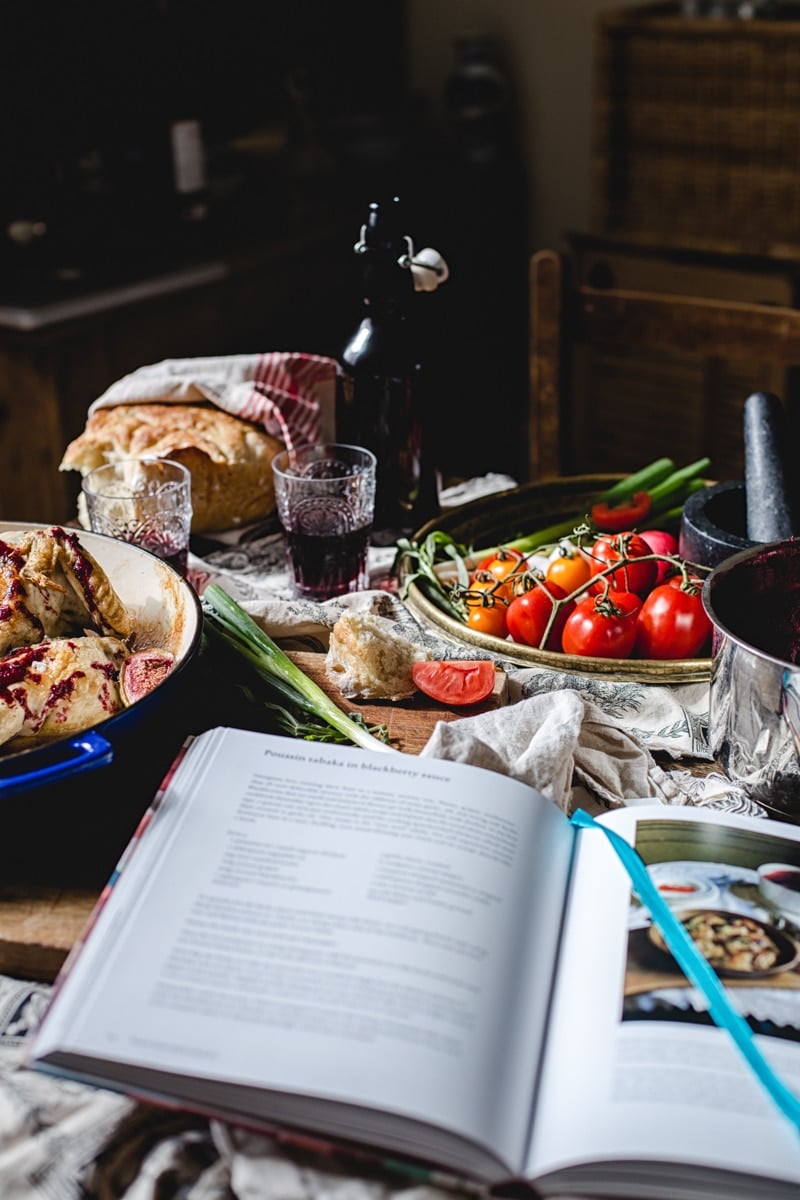 As much as I loved Mamushka and was thrilled someone had presented the food I grew up with in such a fresh and exciting way, Kaukasis is the book that got me really excited.
It is also the book where Olia Hercules has really shown herself as a writer. It is not very often or ever that an introduction of a cookbook has me in tears but that is exactly what happened while reading Kaukasis.
From the very first page she tackles a very sensitive subject of joint history and childhood memories that many Soviet-born people share and the brutal reality of where we are now. Once one nation, now plagued by dislike and resentment towards each other at best or even direct animosity or hatred.
These words are very painful to write for someone who had spent her childhood in Russia, born in the USSR. My family is a crazy tangle of nationalities as is the majority of people from that area.
My mum was born in Ukraine, my dad in Tajikistan, they met and got married in Russia. My mum's roots are equal parts Russian, Jewish and Armenian. My dad…I wish I knew… mostly Russian I guess but no one is purely Russian anymore, and no family is left on his side to ask these questions.
My point is we were not just pretending to be one. Many of us were. The collapse of the Soviet Union was a relief and a tragedy all rolled into one giant mess we are still trying to manage and recover from.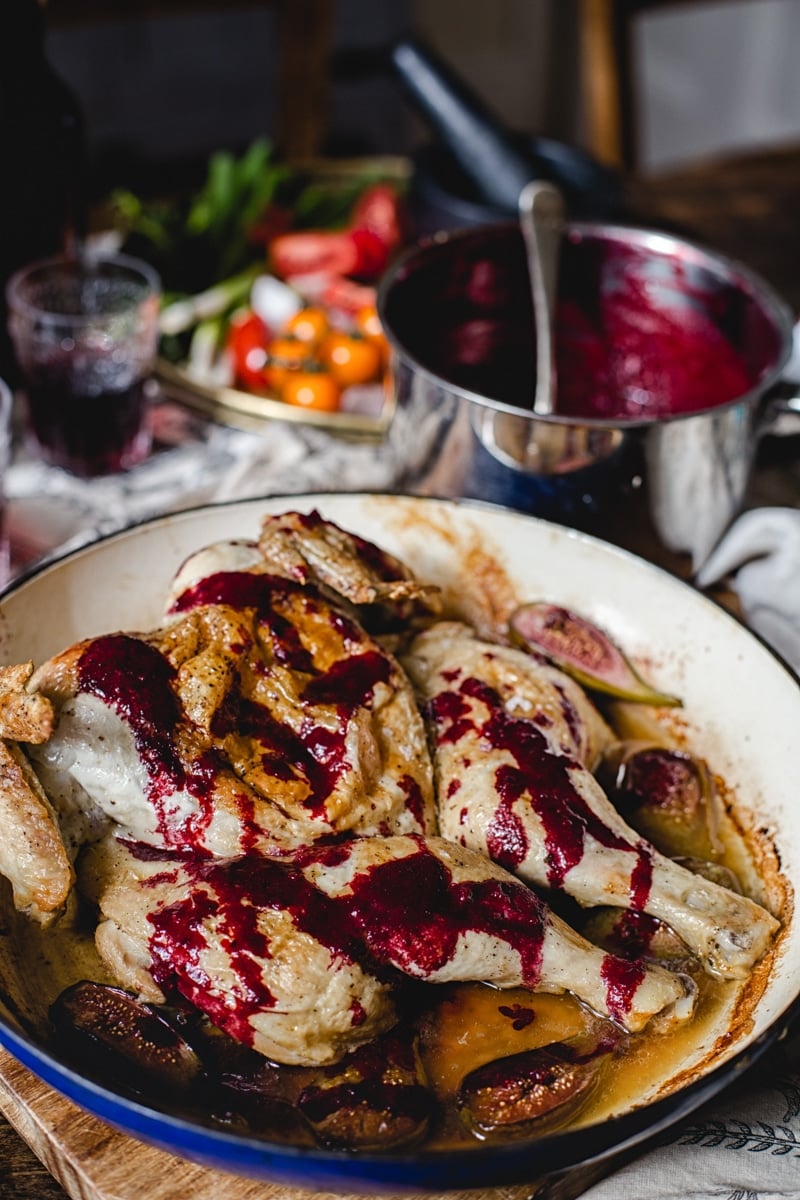 One happy outcome though is the culinary tradition that is not so easily shattered as the Soviet Union became. Georgian and Central Asian cuisine have come to be so loved in Russia. It's impossible to imagine a holiday table without an Uzbek plov or a picnic without shashlik cooked over hot coals.
But let's get back to the book. The flavours of the Caucasus are bold and tantalising, brought forth by a liberal use of fresh herbs, spices and delicious vegetables the region is so rich with.
All of this comes through beautifully through Olia's evocative writing and Elena Heatherwick's incredible photography. I was thrilled that unlike with Mamushka's recipes that were very familiar, Kaukasis is absolutely full of recipes that are very new to me.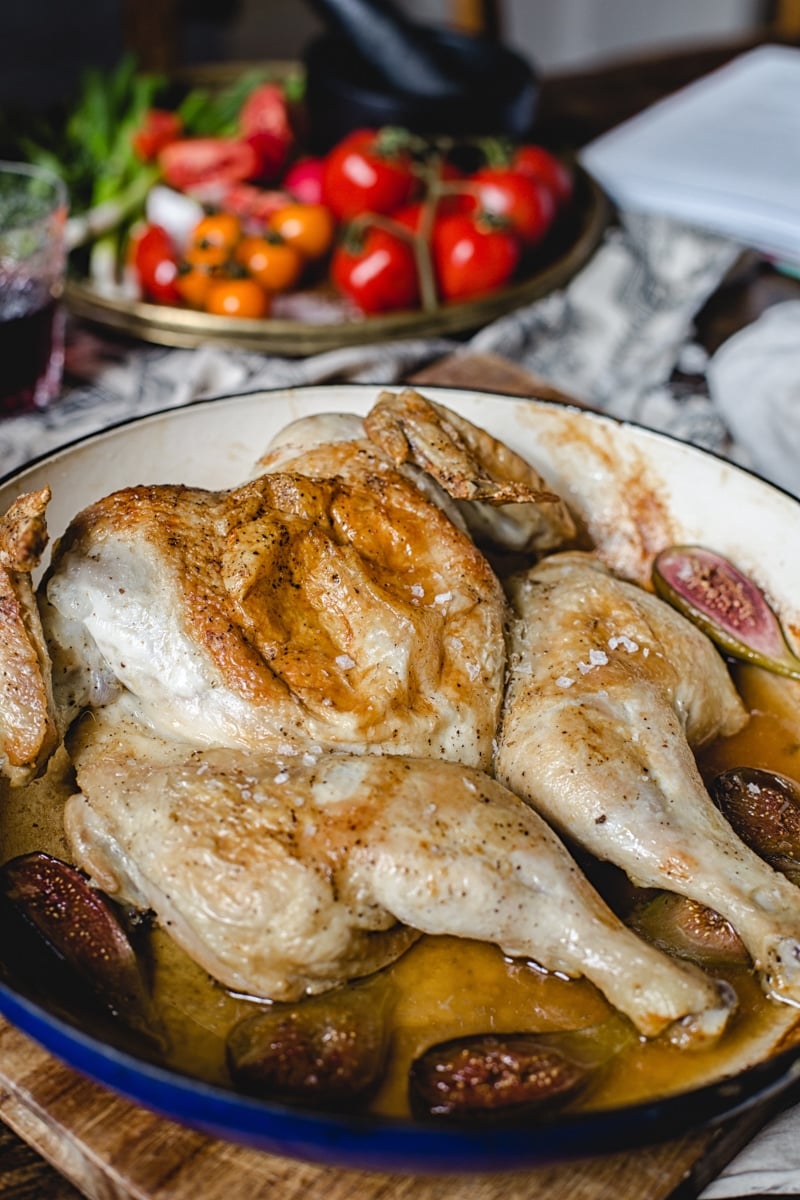 My own discovery of Georgian food began with a family holiday to the Georgian coast. I was 14 and apart from loving every minute of hanging out with my usually very busy parents and brother, swimming in the Black sea and exploring the Georgian countryside, I had my first holiday romance with a Georgian boy.
It was thrilling and slightly frightening at the same time but this post is about food not love or both?
As much as I love cooking and experimenting in the kitchen I am only human and naturally I started with the recipe that is very famous in my childhood home. Poussin Tabaka, which is a spatchcocked baby chicken cooked in an oven under a press.
As a young child I didn't know where the name 'tabaka' came from (apparently it is derived from the word 'tapa', a cast-iron pan used for cooking it according to Olia). I assumed it to be something a lot more alluring and even dangerous. You see, "tabak" means 'tabacco' in Russian, so what's a young girl, who read too many 19th century novels to think but fire and adventure!
I've always wanted to make Geirgian Chicken Tabaka but felt intimidated by the spatchcocking technique and complex Georgian spices. I was happy to learn that spatchcocking or butterflying a chicken is very easy and most of the spices used in Olia's recipe are just household staples.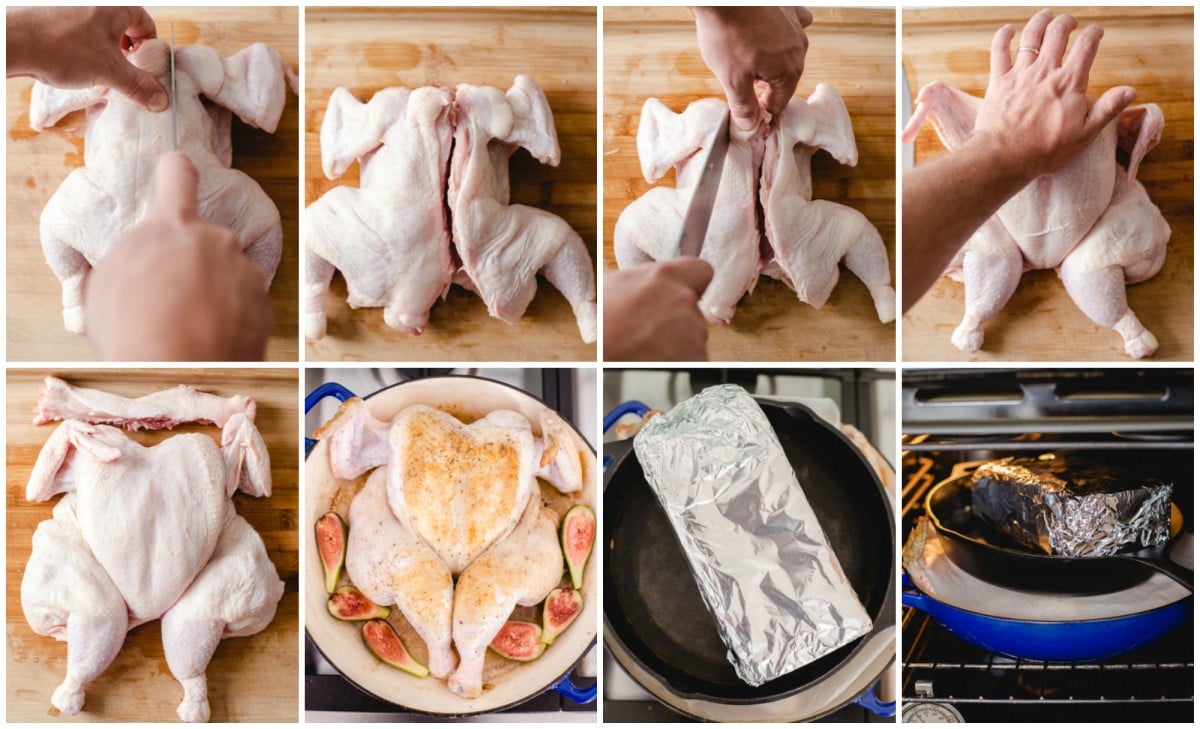 I stayed very close to the recipe in the book but I had just a few minor changes. I did use a chicken instead of a poussin since it was easier to source, and if you go that route, make sure your chicken is the smallest you can find. Mine was a bit too big.
I wasn't able to find unripe sour grapes, so I used regular green grapes and instead of coriander/cilantro stalks I used a small amount of crushed coriander seeds. I also added a few figs from my own fig tree.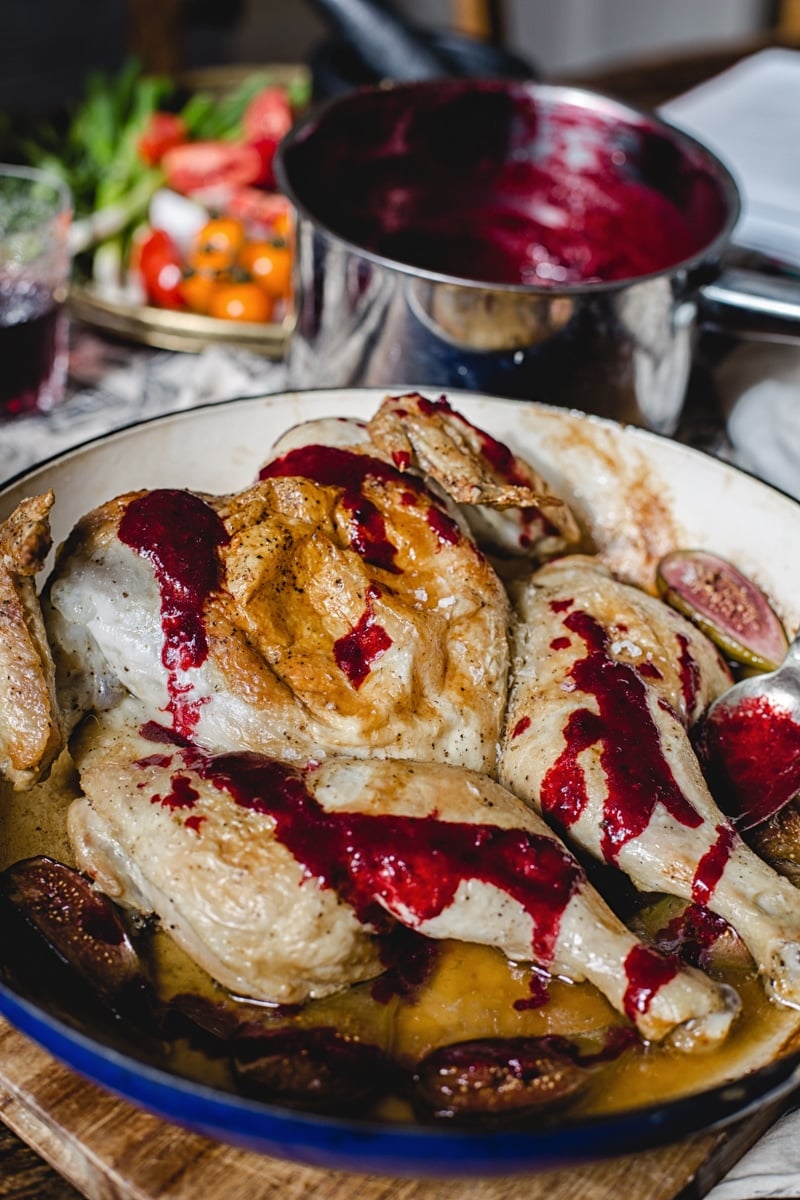 For someone not familiar with explosive flavours of Georgian cuisine this might look like a bog standard roast chicken with cranberry sauce but let me tell you it's NOTHING like it.
And although the chicken itself is only seasoned with salt and pepper, the blackberry sauce carries such a flavour punch you will be blown away. After you recover you will want to bottle this sauce up and pour it over everything. It is the most exciting thing that happened in my kitchen in a long time!
And if you love this, check out other Georgian recipes on my blog like this Chicken Satsivi and Green Beans in Walnut Garlic Dressing or better yet get yourself "Kaukasis" by Olia Hercules.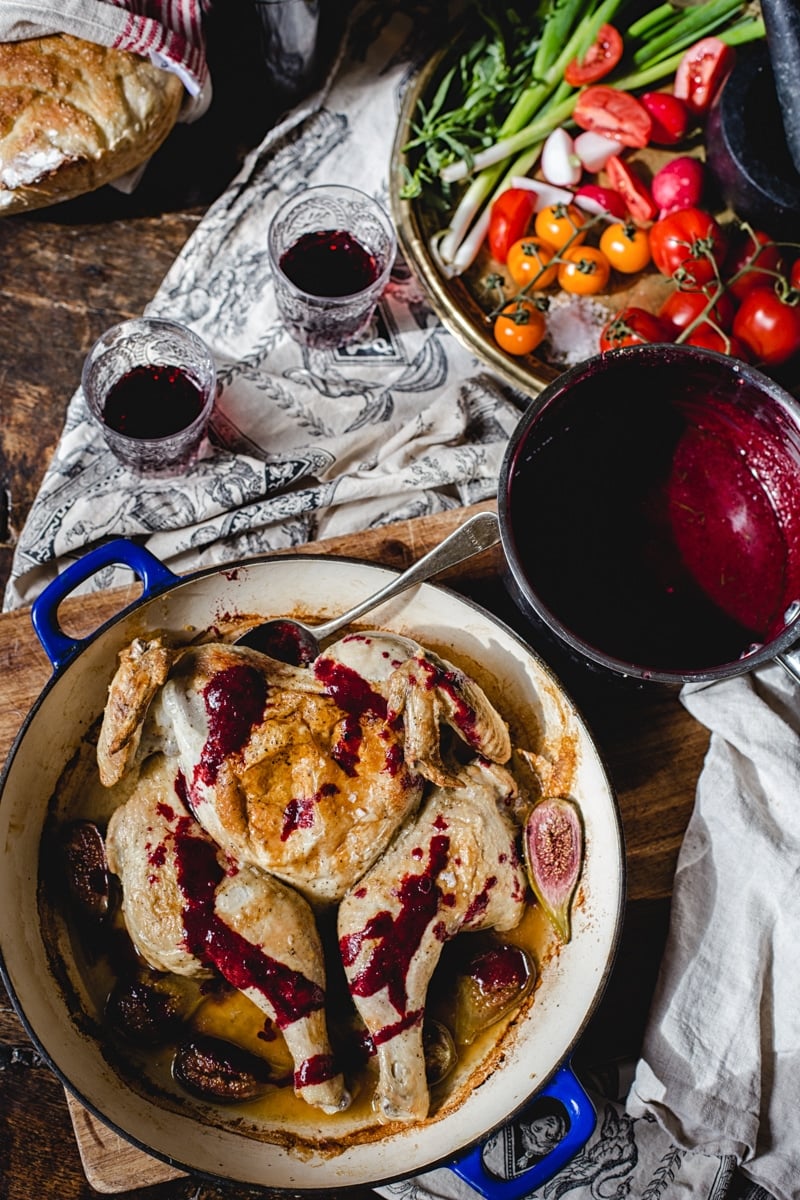 Ingredients
1

small chicken

3 lbs

salt and pepper

3-4

figs

1

tbsp

vegetable oil
For the Blackberry Sauce
100

g

3 ½ oz green grapes

300

g

10 ½ oz blackberries

1

tbsp

pomegranate molasses

2

garlic cloves

minced

½

tsp

cayenne pepper

1

tsp

dried oregano

1

tsp

crushed coriander seeds

1

tsp

chopped fresh dill

salt
Instructions
Preheat the oven to 350F/180C

To spatchcock a chicken place it the breast side down and with a sharp knife cut along one side of a backbone then repeat with the other side. Remove the backbone and turn the bird the cut side down. Place the palm of your hand on the chicken breast and push down firmly to flatten it.

Salt and pepper the chicken, then brown on each side in hot oil for 5 minutes on each side. (Follow the photo collage in the post for visual guidance.)

Arrange halved figs around the chicken, cover the chicken with parchment paper cut to size and then weigh it down with something heavy like a cast iron pan and a brick.

Finish cooking in the preheated oven for 35 minutes. If your chicken is slightly pale at the end of cooking time, uncover it and leave it in the oven for 5 minutes longer to get more colour on it.

Make the blackberry sauce while your chicken in in the oven.

Process blackberries and green grapes together in a food processor or a blender and then push through a sieve into a saucepan, add pomegranate molasses and cook for 5 minutes over medium heat, then garlic, cayenne pepper, crushed coriander seeds and chopped dill, bring to a boil and take off the heat. Salt to taste.

Serve the chicken tabaka with spicy blackberry sauce immediately.