This chicken in garlic walnut sauce is a fresh way to enjoy chicken!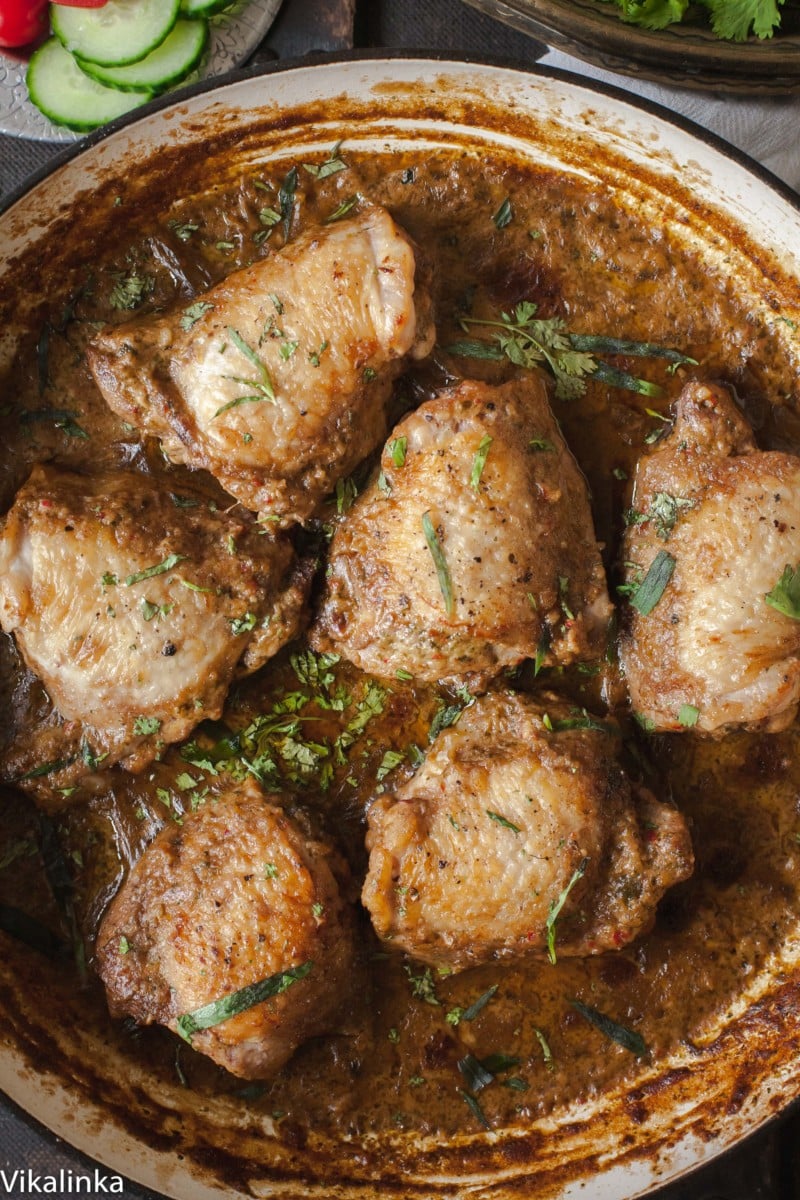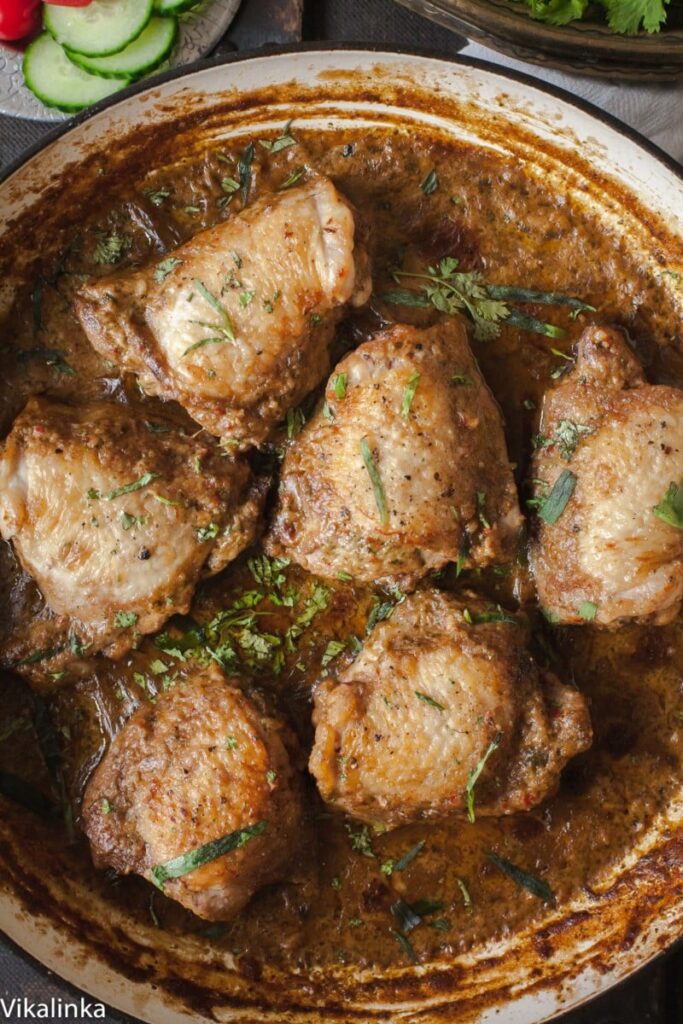 English summer is not something you can count on. Sadly, it's not as dependable as London buses, Big Ben or food poisoning from my local kebab stand.
Summer here comes and goes as it wishes, no explanations or apologies given. Truly hot days are more rare than we like to admit yet we go on buying suntan lotions and charcoal for barbecues in desperate hope that once the weekend is here, we will firmly plant ourselves in our tiny gardens, responsibly covered in SPF 15, with a sweet drink in hand.
And whenever a sunny day graces us with its presence, it's lovelier than you can ever imagine and just like that our resentment disappears quicker than a pitcher of Pimms.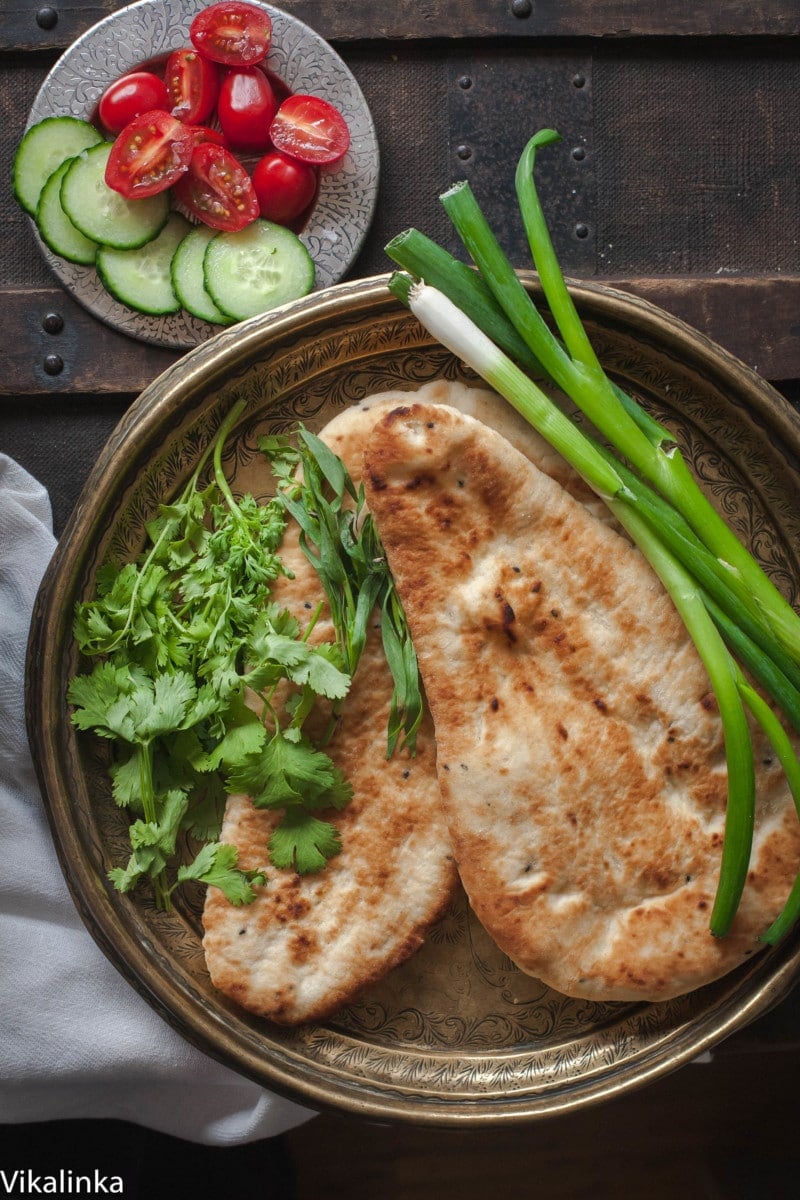 I spent my childhood in Russia with much more predictable and pleasant summers – at least that's what my memories seem to tell me.
They, however, might not be quite as reliable as I recall since my family wasn't always there, having spent at least one month lazing on the shores of the Black Sea almost every year, which might be why I remember so many sand-and-sea filled days interspersed with great food.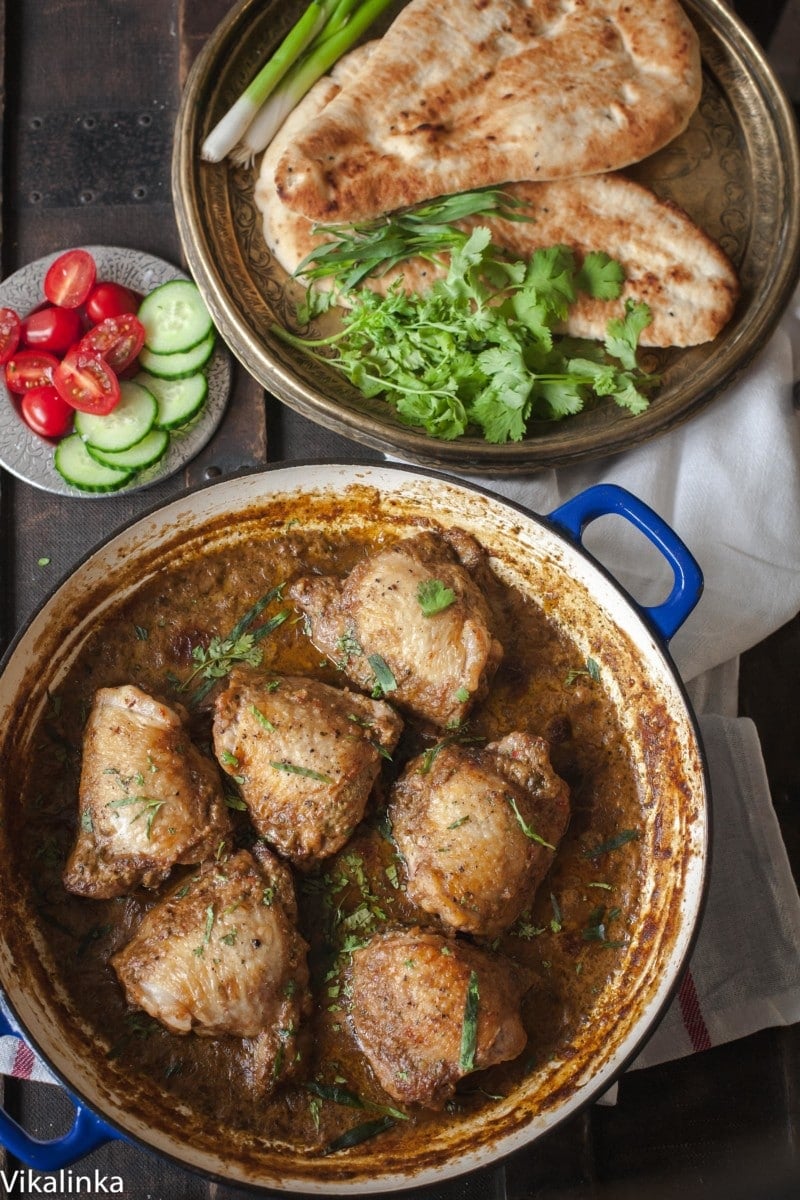 The last holiday I remember well was taken in Georgia… 3 years before the Soviet Union collapsed and Georgia became a separate country.
I was in my teens and a family holiday didn't hold as much appeal as it does for a child but I still remember my dad making a case for it by trying to convince me and my brother that it might be our last opportunity to visit Georgia before it is no longer a part of our country.
We finally surrendered and off we went. To this day that trip remains one of the funnest memories of our family time together.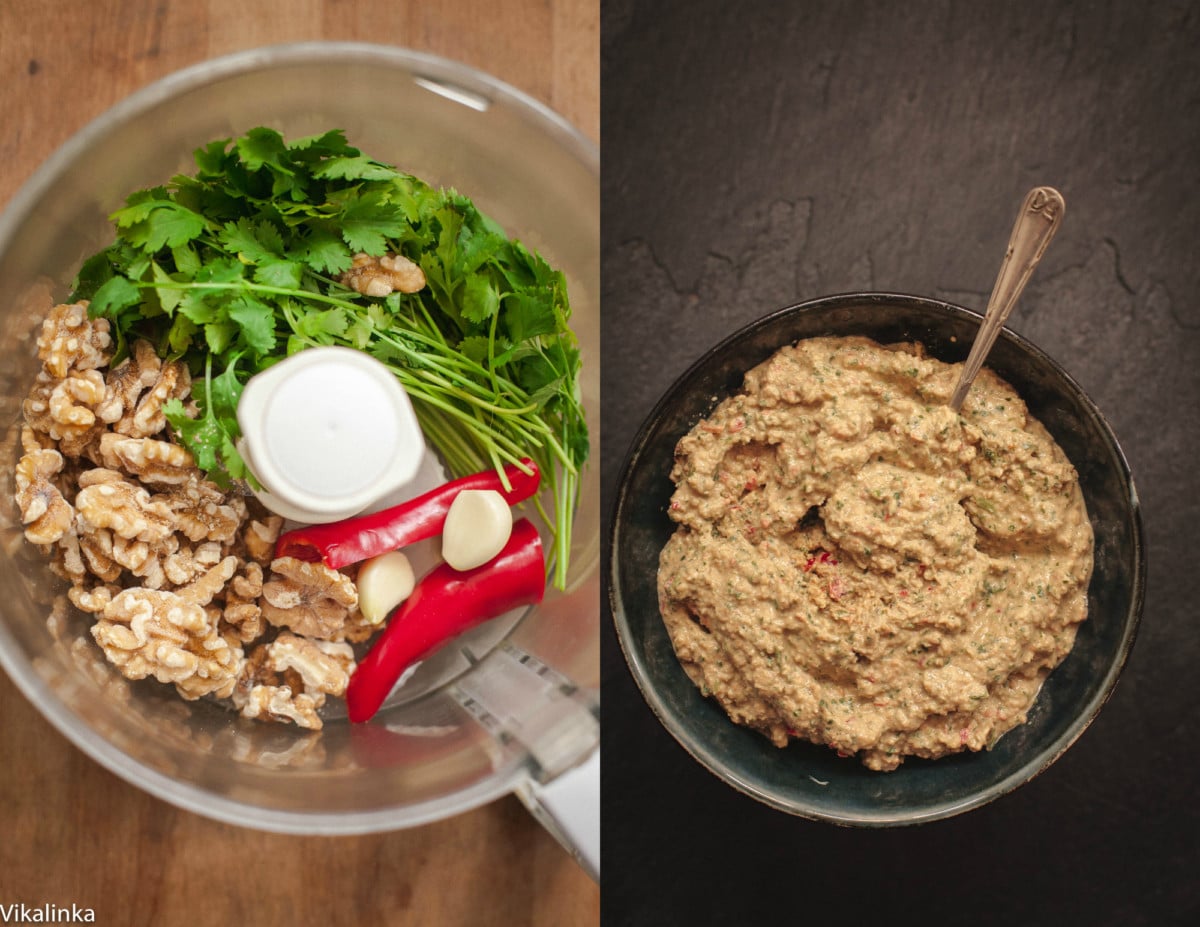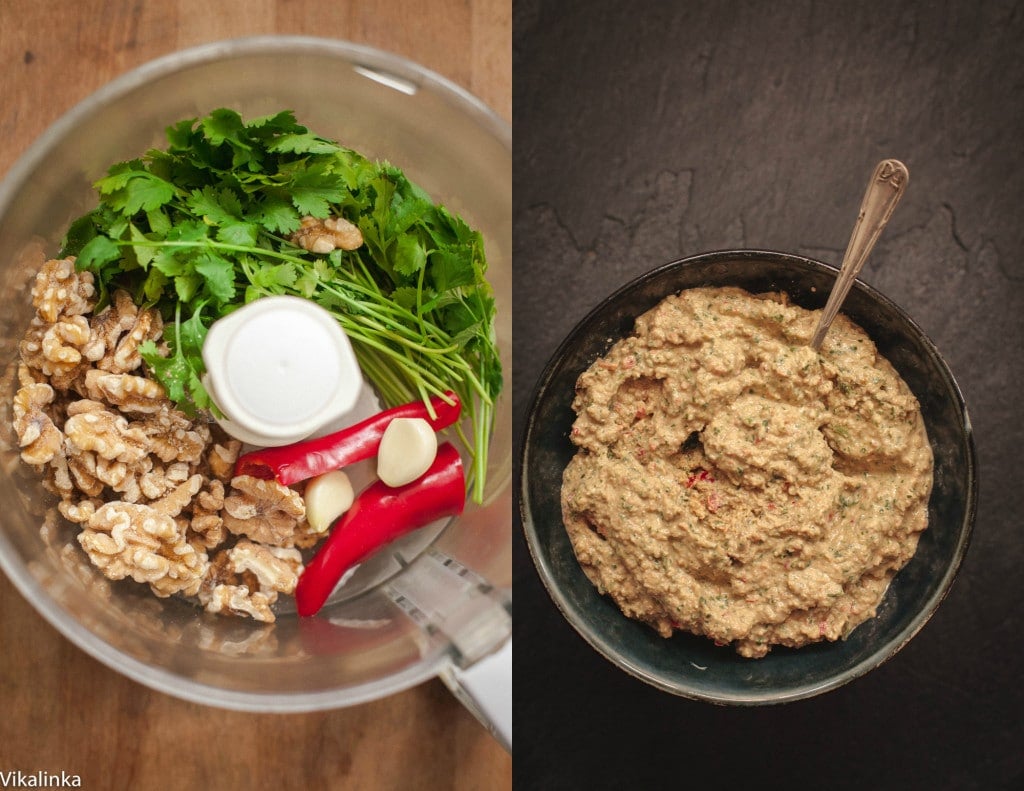 This Chicken in Garlic Walnut Sauce or Chicken Satsivi in Georgian is a well-known and loved dish in Russia. I adapted the recipe from one of my favourite cookbooks so it might not be ultra-authentic, but it's nonetheless absolutely fantastic.
Chicken Satsivi is an incredible dish for hot and sticky summer nights that will satisfy your craving for comfort food but will not leave you feeling stuffed and heavy.
The sauce base is made of herbs, spices and walnuts and is slightly reminiscent of Indian Korma but has a completely different flavour. My entire family immediately fell in love with this chicken in garlic walnut sauce while kids demanded to know what was in it.
It tends to leave a lasting impression. If you have any experience cooking with curry pastes you will find this one just as easy.
Serve it with rice, flat bread 'lavash,' (or naan if it's easier to find) and a simple fresh salad. I remember Georgian cuisine being heavy on grilled meat, fish, herbs, spices and vegetables. It's healthy, simple and delicious.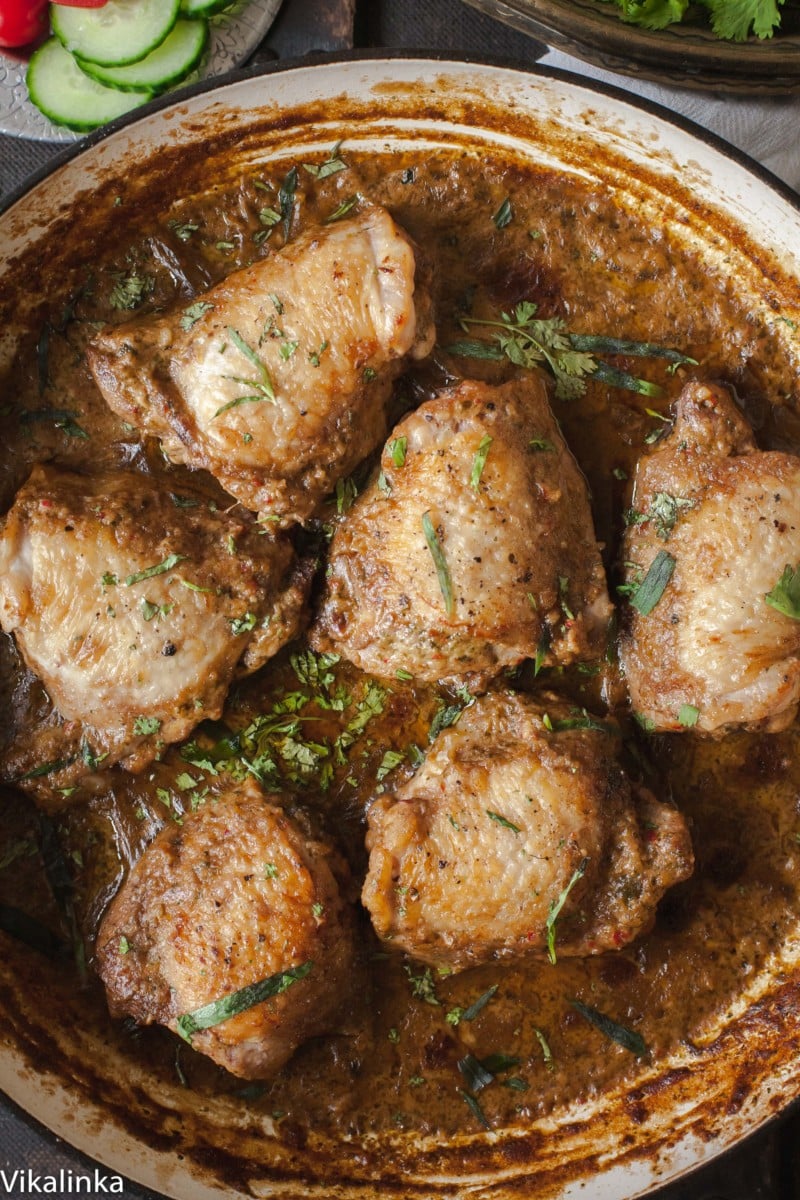 Ingredients
For the satsivi paste
125g/1

cup

walnuts

20

g

cilantro

1-2

chillies

2-3

cloves

garlic

1

lemon

juice of
For the chicken
1

tbs

olive oil

2

lbs

chicken pieces

salt

pepper

1

medium onion

2

tbsp

flour

2

cups

chicken stock
For the garnish
1-2

tbsp

tarragon

chopped

1-2

tbsp

cilantro

chopped
Instructions
In a bowl of a food processor or a blender combine walnuts, cilantro, chillies, garlic, lemon juice and ½ cup of chicken stock and process until you have a smooth paste. Set aside.

Heat a tablespoon of olive oil in a large pan and brown seasoned with salt and pepper chicken pieces on both sides over medium heat. Work in batches to avoid overcrowding. Remove browned chicken on a plate and set aside.

Discard all but 2 tablespoons of fat from the pan, then add chopped onion and cook for 5 minutes over low heat until tender but not coloured.

Add flour and stir, then add chicken stock gradually while stirring to combine and turn the heat up to bring to a boil, then turn it down, add the satsivi paste and stir to combine.

Return chicken to the pan with, bring the sauce to a boil, then turn heat down and simmer for 30 minutes uncovered until the sauce is the consistency of the sauce is thicker than heavy cream.

Sprinkle with chopped cilantro and tarragon before serving.

Serve with rice and flat bread.
Nutrition Facts
Chicken in Garlic Walnut Sauce (Satsivi)
Amount Per Serving
Calories 438
Calories from Fat 297
% Daily Value*
Fat 33g51%
Cholesterol 80mg27%
Sodium 191mg8%
Potassium 499mg14%
Carbohydrates 13g4%
Protein 26g52%
Vitamin A 489IU10%
Vitamin C 26mg32%
Calcium 60mg6%
Iron 2mg11%
* Percent Daily Values are based on a 2000 calorie diet.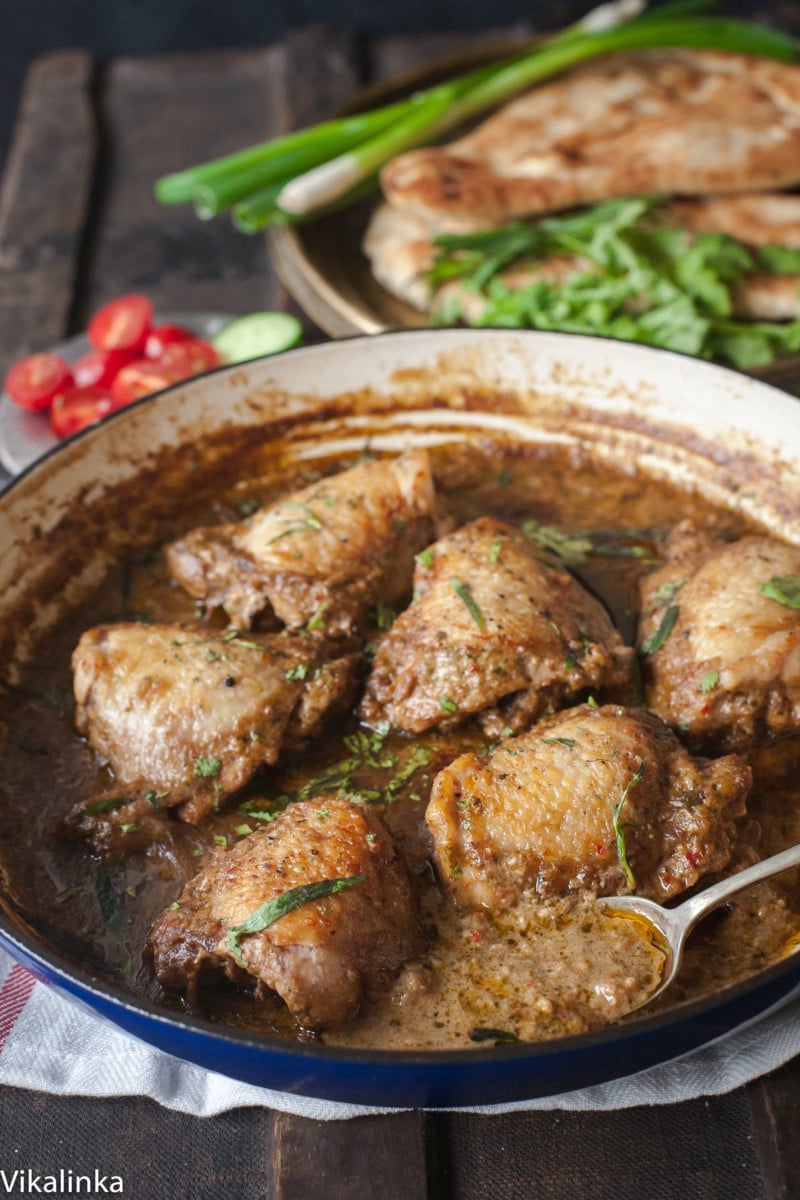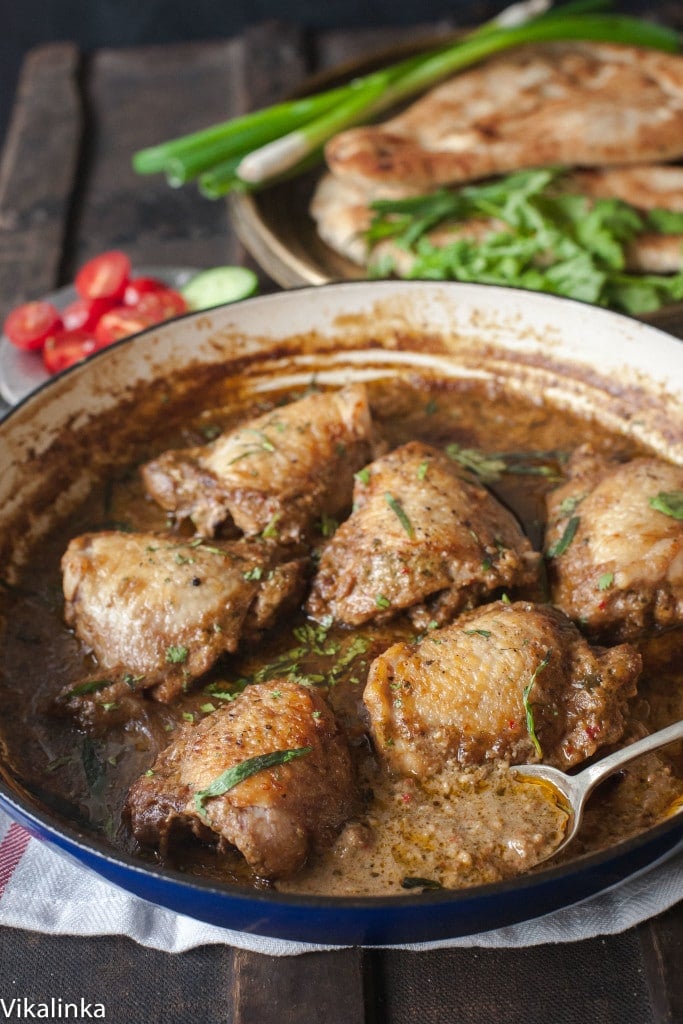 *Recipe adapted from "The Art of Russian Cuisine" by Anne Volokh