Cooking just doesn't get any easier with this recipe for spiced chicken thighs braised in milk. So delicious!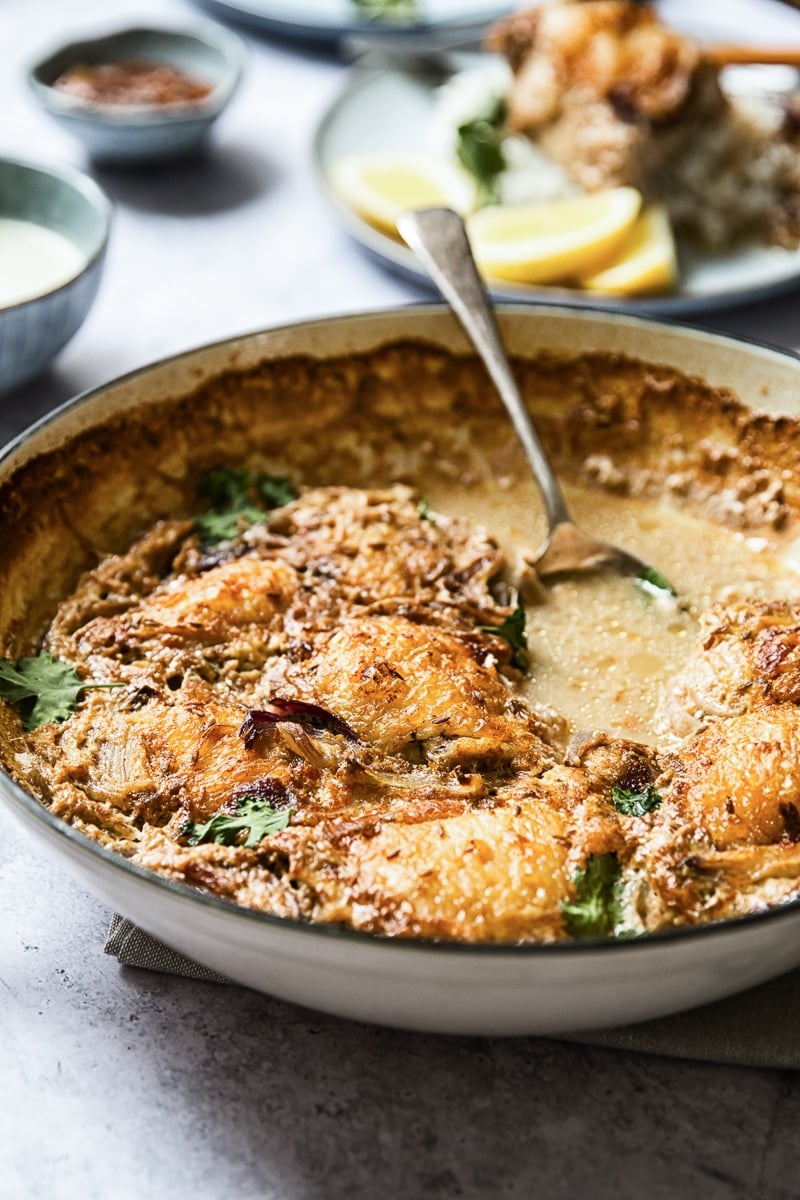 It feels like forever since I've been able to consistently cook and write recipes from my kitchen. Last two months have been the busiest in a while. In fact I'd spent more time in Canada and the US than I did in the UK. So much travel and work outside of this blog has kept me focused on anything but food.
Although saying I wasn't focused on food is a slight exaggeration. After all I did taste my way through a number of North American restaurants, which made my otherwise hectic life a great deal sweeter.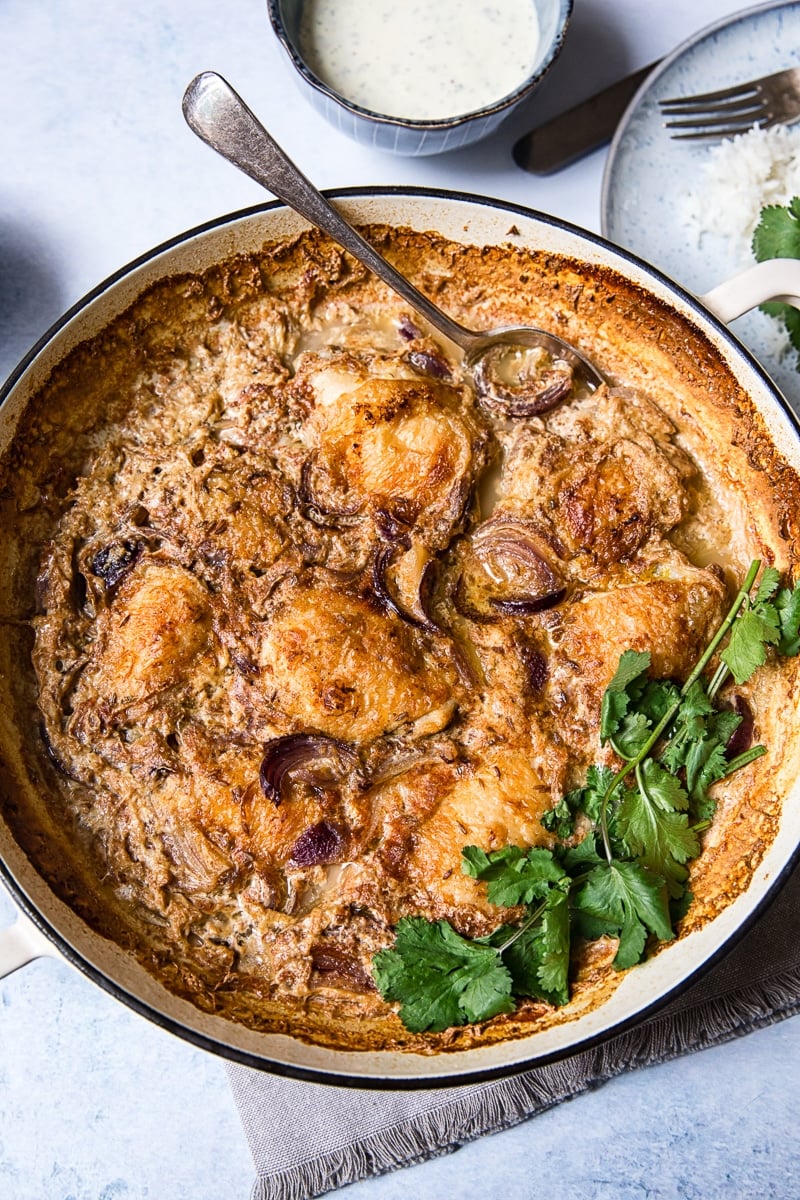 When I arrived home a week ago it took me a good few days to get over the initial jet lag and the flu before I could busy myself in my kitchn . And what I craved most was some good home cooking.
Nourishing and comforting. I wanted dinners that were nothing like restaurant meals I've been having while travelling. I wanted soups, stews and roast chicken!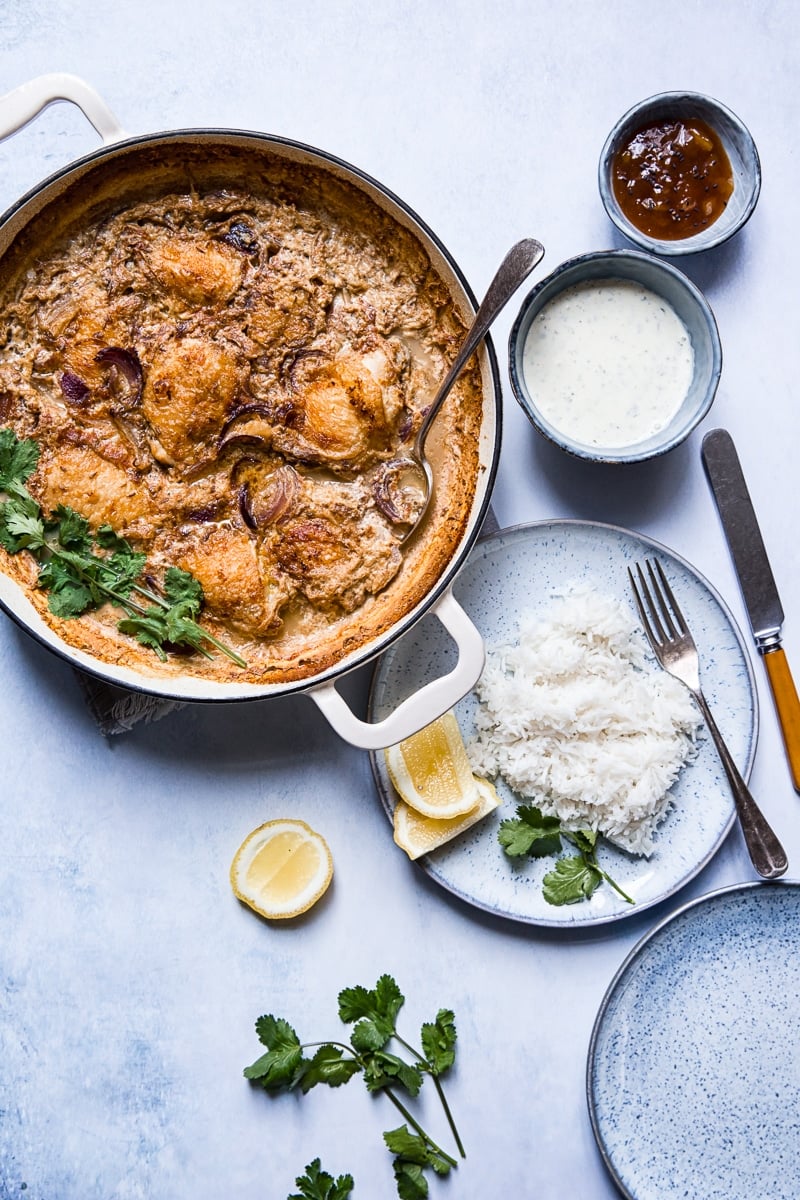 The recipe I am sharing today for spiced chicken thighs braised in milk was inspired by Jamie Oliver's famous Chicken in Milk. I had wanted to make it for ages and even bought a large cast iron casserole dish that would accommodate a whole chicken. Then I came across a spiced version of that dish in the October issue of Sainsbury's magazine, which intrigued me.
I tinkered with the recipe a bit and used chicken thighs instead of the whole chicken as that is what I had in the freezer and to make the process quicker.
My spiced chicken thighs braised in milk is one of the easiest recipes you can find. It's simple and can easily be done after work. The only step that is non-negotiable is browning the chicken before you braise them. Crispier chicken skins and deeper flavour!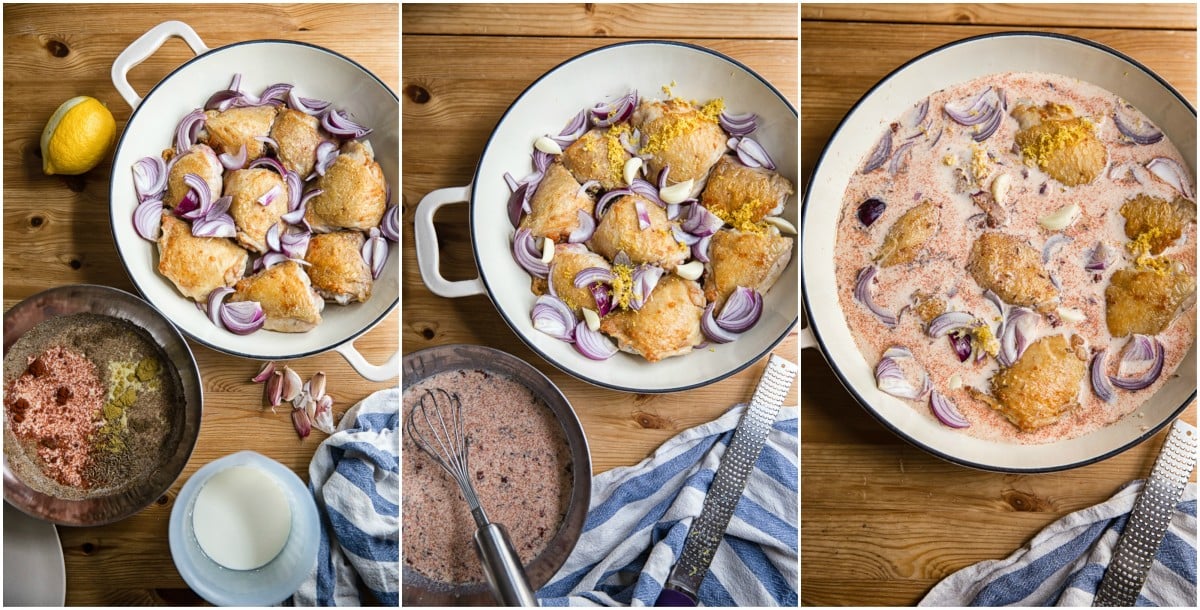 Why braise chicken in milk? Mostly because it adds flavour and richness a broth can't deliver, it creates steam and produces the most tender and moist meat. Milk separates in the process and milk curds form a "crust" over the chicken that tastes amazing!
I wouldn't say the sauce is the best part of that dish but it does leave us with spice-infused whey at the bottom of the pan, that if poured over rice is delicious.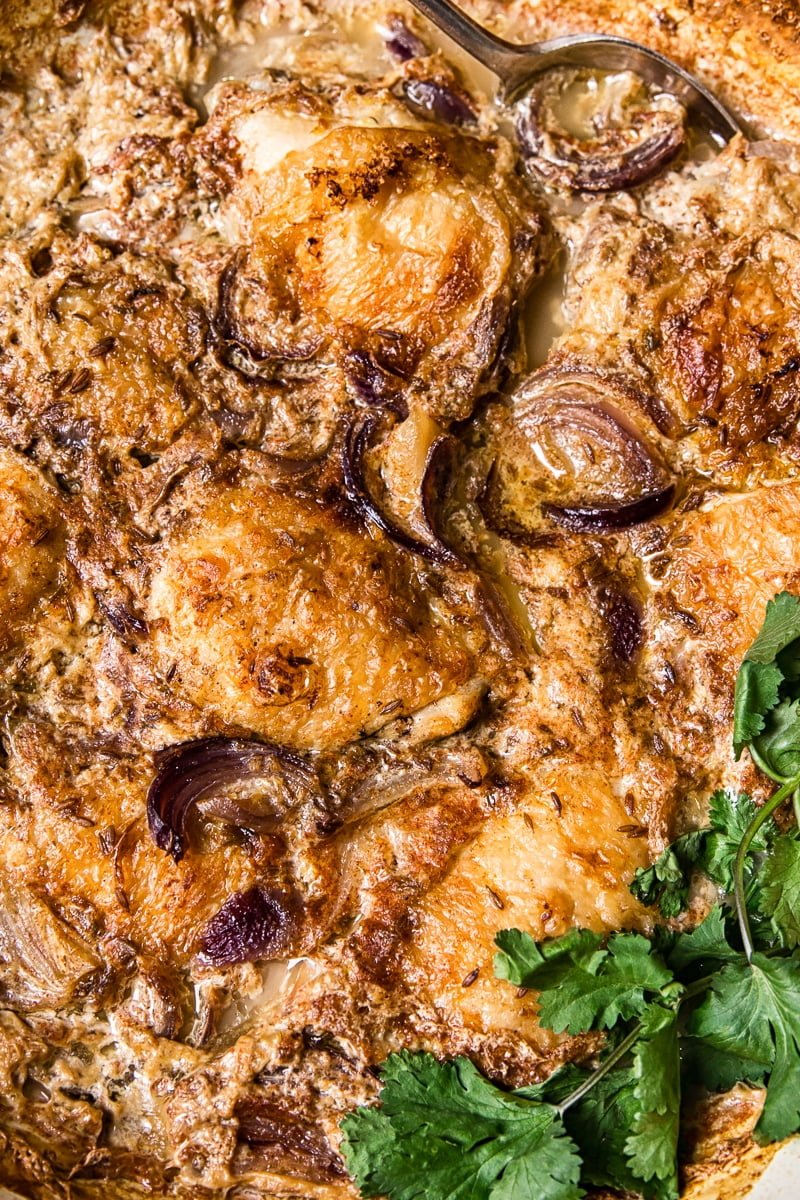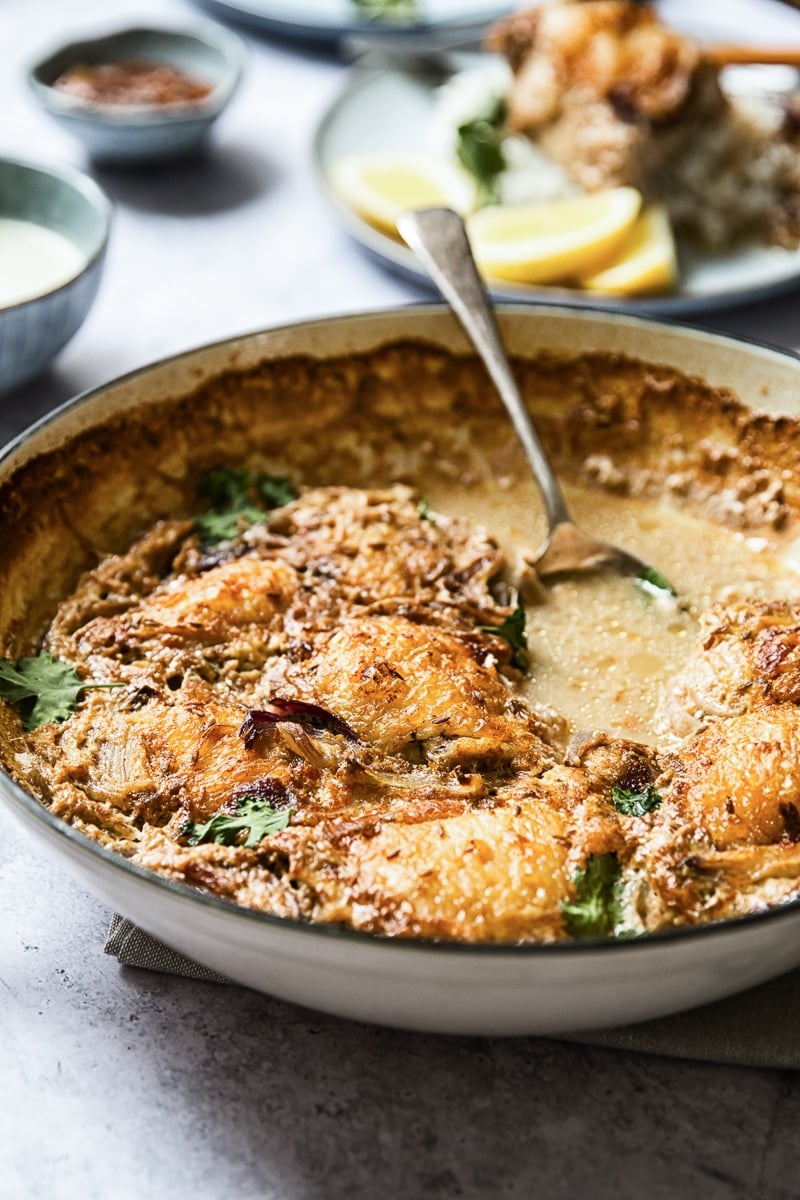 Ingredients
2

tsbp ghee or oil

8

chicken thighs

salt

1

onion

sliced

8

garlic cloves

peeled and left whole

400

ml/1 ½ cups whole milk

2

tsp

ground coriander

2

tsp

smoked paprika

2

tsp

curry powder of your choice

2

tsp

cumin seeds

2

tsp

grated ginger or ginger paste

1

lemon

zest of

fresh cilantro for garnish
Instructions
Preheat the oven to 180C/350F and salt the chicken thighs all over.

Heat the ghee in a deep pan and brown the chicken until golden. It will take up to 15 minutes.

Scatter the onions slices and garlic cloves over the chicken.

Mix all the spices with the milk and pour over the chicken.

Cover with the lid and braise in the oven for 50 minutes, then uncover and cook for 15 minutes longer until the liquid is reduced and the chicken skins are browned and crispy.

Serve with rice and mango chutney.