Cooking just doesn't get any easier with this recipe for spiced chicken thighs braised in milk. Tender and moist meat with aromatic spices in a rich broth for a delicious flavour!
For another chicken thigh recipe with a creamy sauce, try our popular Chicken Casserole!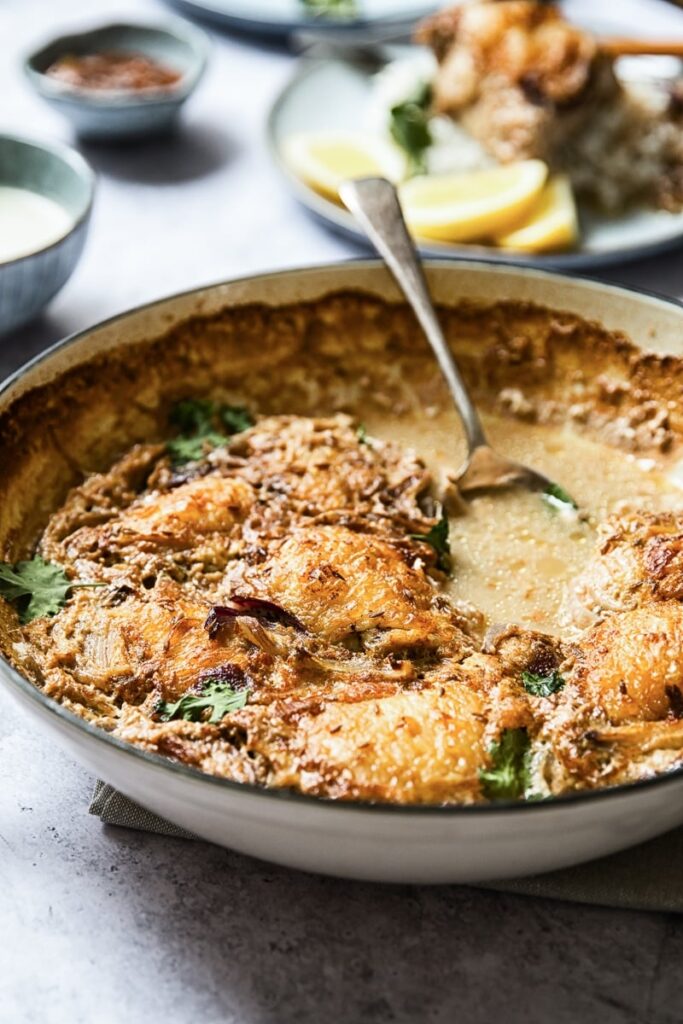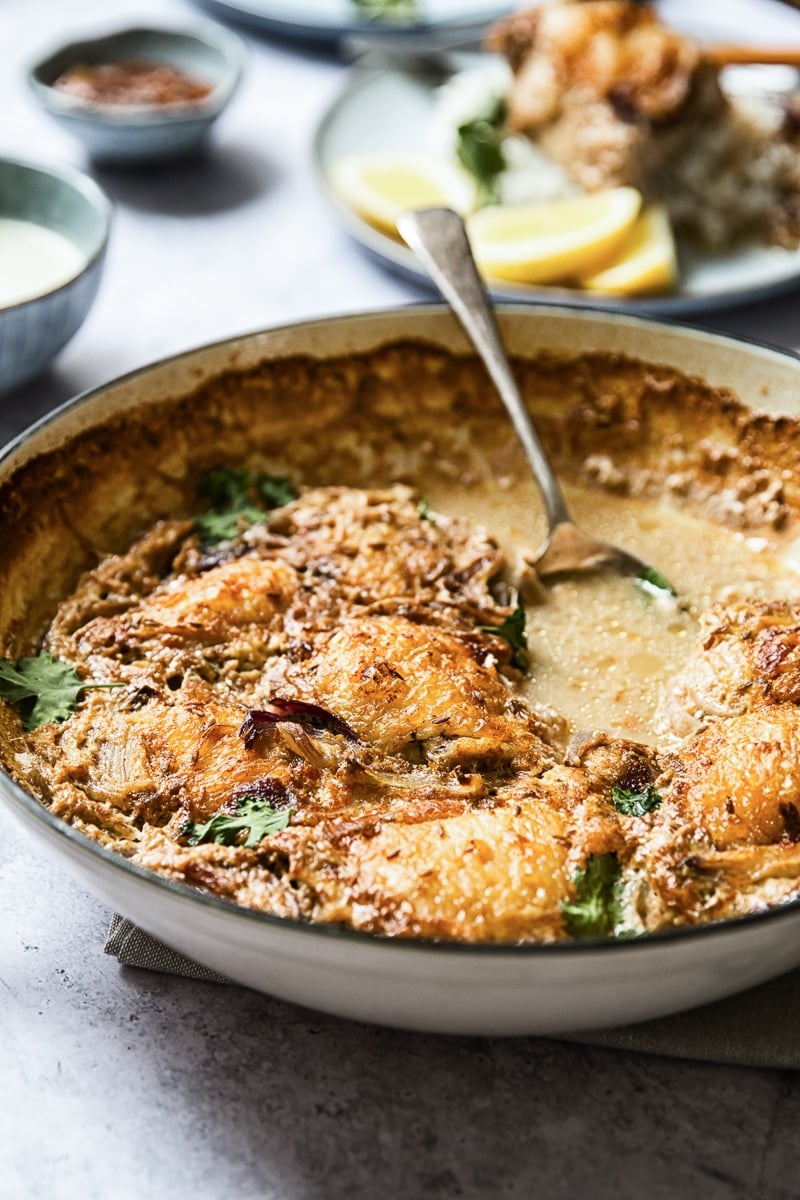 When I'm trying to figure out what meal to make at the end of a long day at work, I often end up craving something nourishing and comforting. I want soups, stews and roast chicken, food that is good for the soul!
I also would also rather put my feet up than spend a lot of time in the kitchen. Which is why I have so much affection for recipes like this one.
This recipe needs only 15-20 minutes of kitchen time, but you would never know how little effort went in when it's time to eat. The tender chicken thighs with crispy skin cook in a rich and flavourful sauce that could convince anyone that hours were spent getting this dish just right!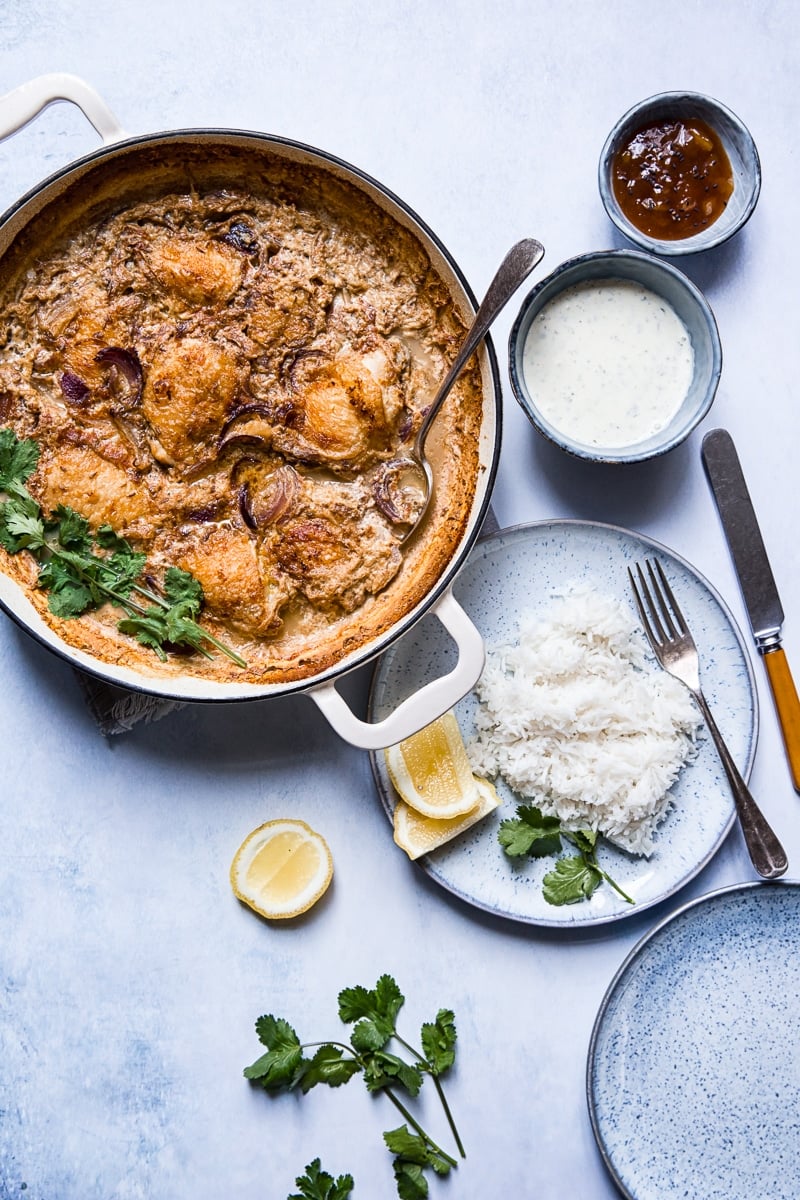 My spiced chicken thighs braised in milk is one of the easiest recipes you can find. It's simple and can easily be done after work. The only step that is non-negotiable is browning the chicken before you braise them. Crispier chicken skins and deeper flavour!
Although this recipe can be made with a whole chicken, I chose chicken thighs to make the process quicker.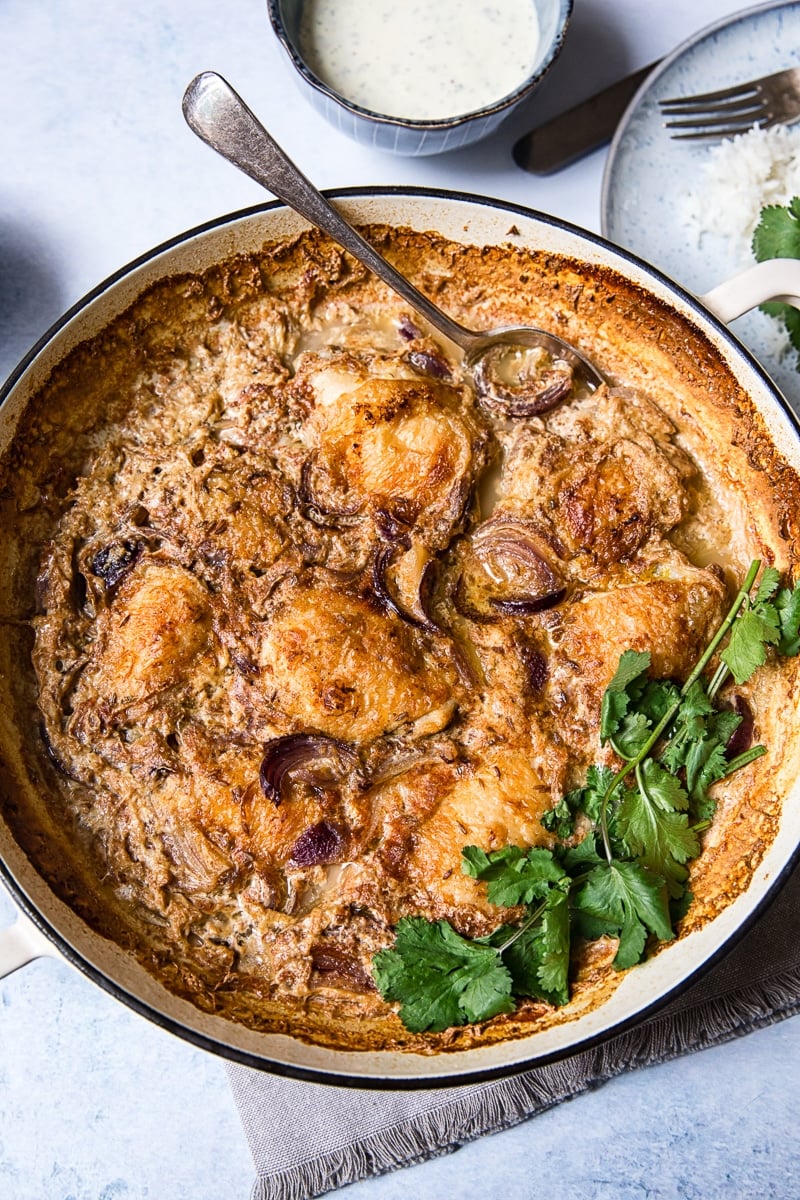 What is Braised Chicken?
Braising means to cooking a piece of meat in liquid without completely covering it. It is usually used for tougher pieces of meat because it is a great way to soften it while bringing out a huge amount of flavour. The meat absorbs the liquid when cooking and becomes perfectly tender and moist.
Why braise chicken in milk? Mostly because it adds flavour and richness a broth can't deliver, it creates steam and produces the most tender and moist meat. Milk separates in the process and milk curds form a "crust" over the chicken that tastes amazing!
Braising the chicken in milk results in a spice-infused whey at the bottom of the pan. It is delicious if poured over rice.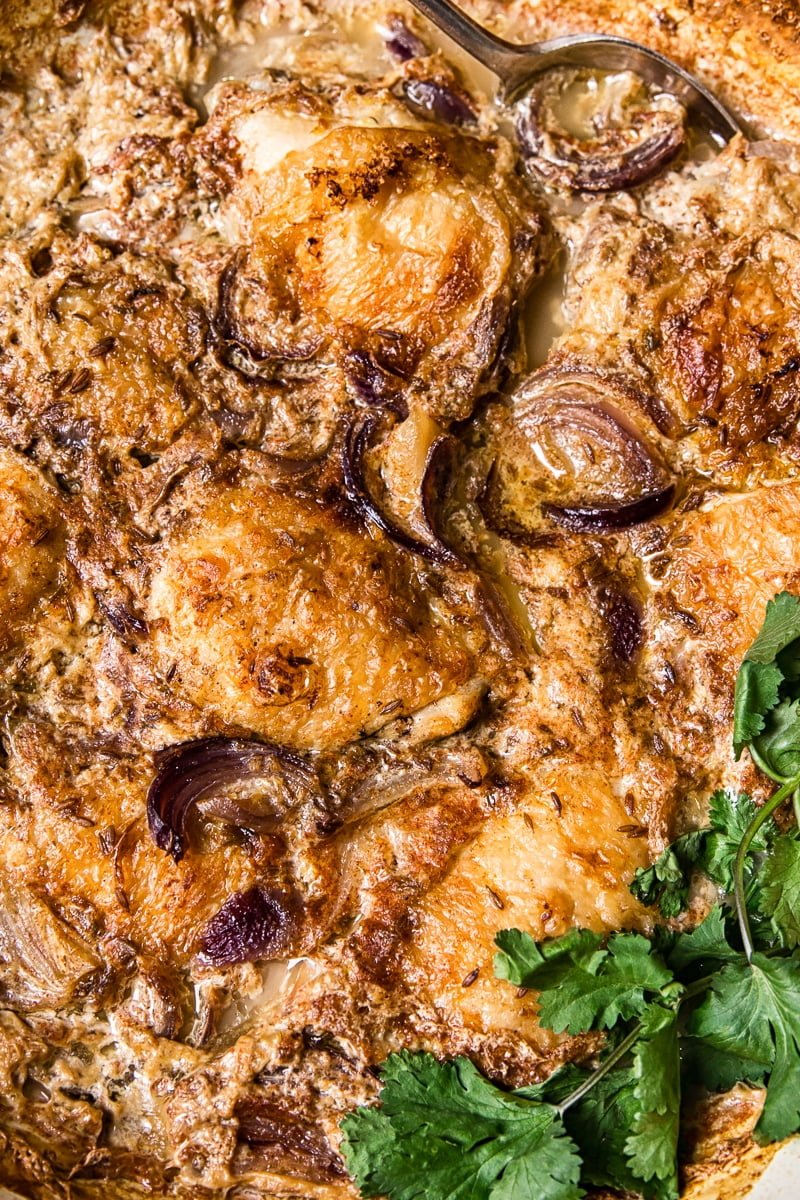 How to braise chicken thighs
While your oven is preheating, put on a large pan and heat up the ghee or oil. When it is good and hot, add the chicken and brown it until the skin is lovely and golden.
While the chicken is cooking, mix up the spices, ginger and lemon zest with the milk in a separate bowl. When the chicken is finished browning, spread the onions and garlic over the chicken and pour the milk and spices into the pan.
Cover the pan with a lid and place it in the oven the braise for 50 minutes. Now take the lid off and leave it in the oven for 15 minutes longer. This allows the sauce to reduce and the top of the chicken thighs to become crispy.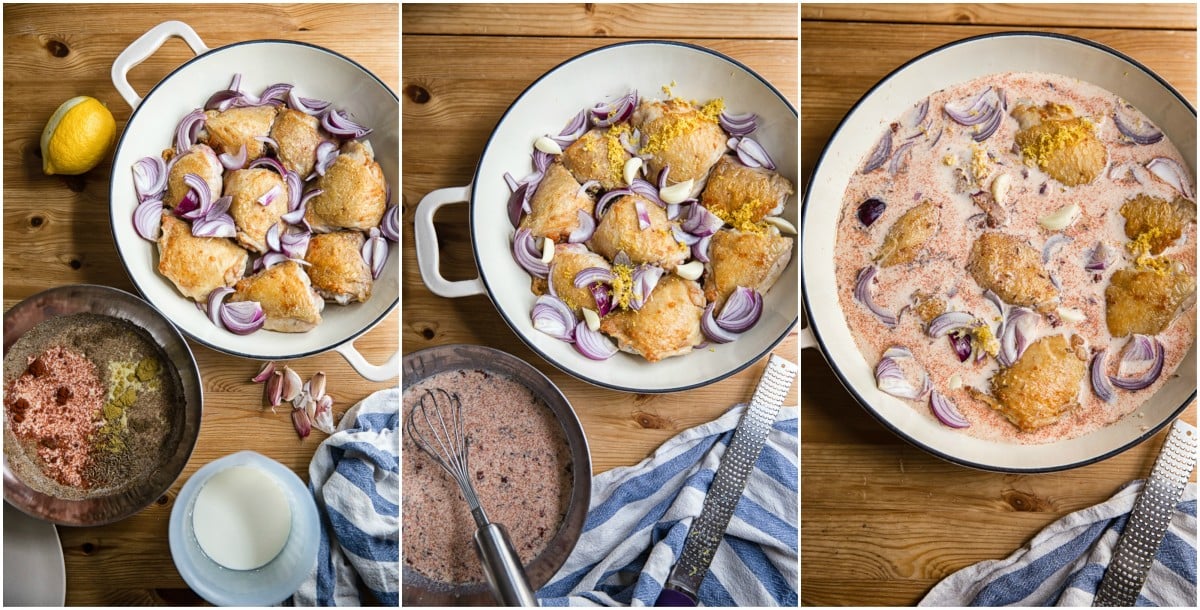 More chicken thigh recipes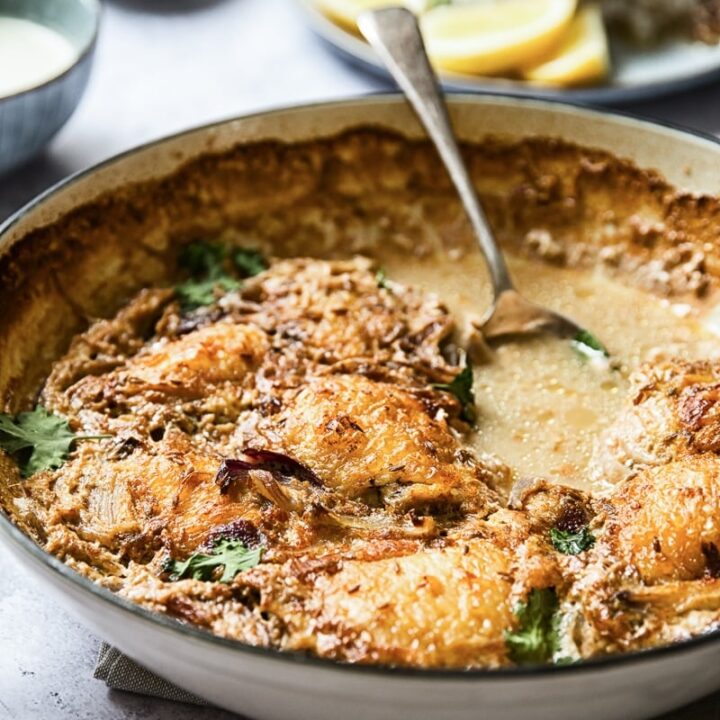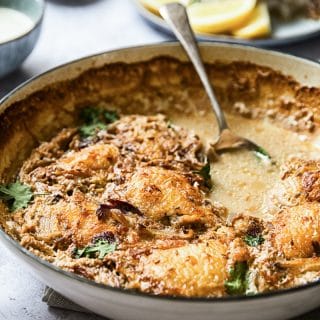 Spiced Chicken Thighs Braised in Milk
Tender and moist meat with aromatic spices in a rich broth.
Ingredients
8

chicken thighs

2

tbsp ghee or oil

1

onion

sliced

8

garlic cloves

peeled and left whole

400

ml

/1 ½ cups whole milk

2

tsp

ground coriander

2

tsp

smoked paprika

2

tsp

curry powder of your choice

2

tsp

cumin seeds

2

tsp

grated ginger or ginger paste

1

lemon

zest of

Salt

Fresh cilantro for garnish
Instructions
Preheat the oven to 180C/350F and salt the chicken thighs all over.

Heat the ghee in a deep pan and brown the chicken until golden. It will take up to 15 minutes.

Scatter the onions slices and garlic cloves over the chicken. Mix ground coriander, smoked paprika, curry powder, cumin seeds, ginger and lemon zest with the milk and pour over the chicken.

Cover with the lid and braise in the oven for 50 minutes, then uncover and cook for 15 minutes longer until the liquid is reduced and the chicken skins are browned and crispy.
Notes
I like to serve this dish with rice and mango chutney.
Nutrition
Calories:
442
kcal
Carbohydrates:
10
g
Protein:
28
g
Fat:
33
g
Saturated Fat:
11
g
Polyunsaturated Fat:
6
g
Monounsaturated Fat:
13
g
Trans Fat:
1
g
Cholesterol:
167
mg
Sodium:
149
mg
Potassium:
512
mg
Fiber:
2
g
Sugar:
5
g
Vitamin A:
574
IU
Vitamin C:
12
mg
Calcium:
119
mg
Iron:
2
mg